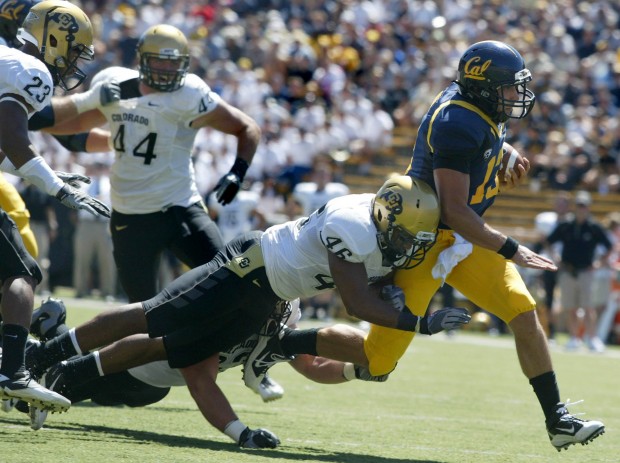 BOULDER, Colo. - Jon Embree was paired with Utah coach Kyle Whittingham at ESPN's offices last week - presumably while the rest of the Pac-12's coaches partnered, two-by-two, with their in-state rivals.
The Buffaloes coach joked with ESPN announcer Chris Fowler, a Colorado graduate.
"I said, 'This is not like the old-world marriage where you have two goats and a cow, and this is your wife,'" said Embree, a one-time star tight end at CU. "We don't do that.
"I thought times had changed a little bit."
It does feel a little forced.
Pac-12 newcomers Colorado and Utah have become rivals by default. They'll play Nov. 25, the same weekend as the Apple Cup, the Civil War and the USC-UCLA game.
"I will miss Nebraska," Embree said. "That's special."
Colorado and Nebraska played their first game in 1898, shared a conference for more than 60 years and grew to hate each other. The teams played on Thanksgiving weekend on national television.
But with CU joining the Pac-12 and Nebraska the Big Ten, the schools are not scheduled to meet again.
"Nebraska was a big deal around here," defensive back Anthony Perkins said. "For obvious reasons."
Embree, who grew up in Englewood, Colo., said he "never liked" Nebraska.
"Never liked red," he said.
Originally, the vitriol was mostly on the part of the Buffaloes, as Nebraska found Oklahoma a more worthy opponent. The Cornhuskers defeated Colorado every year between 1968 and 1985, and again from 1992 to 2000.
The Buffaloes' dislike of Nebraska formed fully in 1982, when football coach Bill McCartney took aim.
" 'Mac' just said, 'Hey, we want to put this place on the map; Let's pick out the biggest team in the league and say that's our rival,'" defensive coordinator Greg Brown said.
Brown, who is starting his eighth season and third stint as a CU assistant after spending last year at Arizona, said Nebraska didn't take the Buffaloes seriously at first.
Using the Cornhuskers as a measuring stick was part of the culture that led Colorado to a 1990 national title.
"After years and years, Nebraska had to admit, 'Yeah, this is a rivalry,'" Brown said.
Offensive coordinator Eric Bieniemy, a legendary Buffaloes running back, still lists a 62-36 win against Nebraska in 2001 as one of his coaching highlights.
"Am I looking forward to the challenge of playing in the Pac-12? Yes, that's going to be fun," he said. "It's going to be a great experience.
"But you know what? It'd be nice to line up and play them guys from the other state that wear that sea of red."
The two schools could schedule a nonconference series - the way Utah and BYU will continue their rivalry - but have not.
"I would love that," Bieniemy said.
"I think our fans would love that, and I honestly think our Nebraska fans would love that."
Timing would be tough, as the Buffaloes already play Colorado State annually in Denver.
"The in-state school is always the rival," said senior tackle Ryan Miller, a Littleton, Colo., native. "I don't care if it's the Little Sisters of the Poor."
Still, CU athletic director Mike Bohn said that "championships are built in your league, and it's a nonleague game."
Cultivating a rivalry the way McCartney did will be hard. Embree said he can't simply target the Pac-12's top team, Oregon.
"We don't play them every year," he said.
Utah - the Little Red to Nebraska's Big Red - seems the obvious choice for a Pac-12 rival. But it needs to be organic.
"I think a lot of people are trying to dub that the new rivalry," Perkins said. "It may be.
"As this season progresses, and as the next couple of seasons progress … I think rivalries are going to kinda be self-forming."
Colorado and Nebraska, of course, could meet again one day - as league champions.
"The great hope," Embree said, "is that you get to play them one day in the Rose Bowl."
The Arizona Daily Star's college football special section.