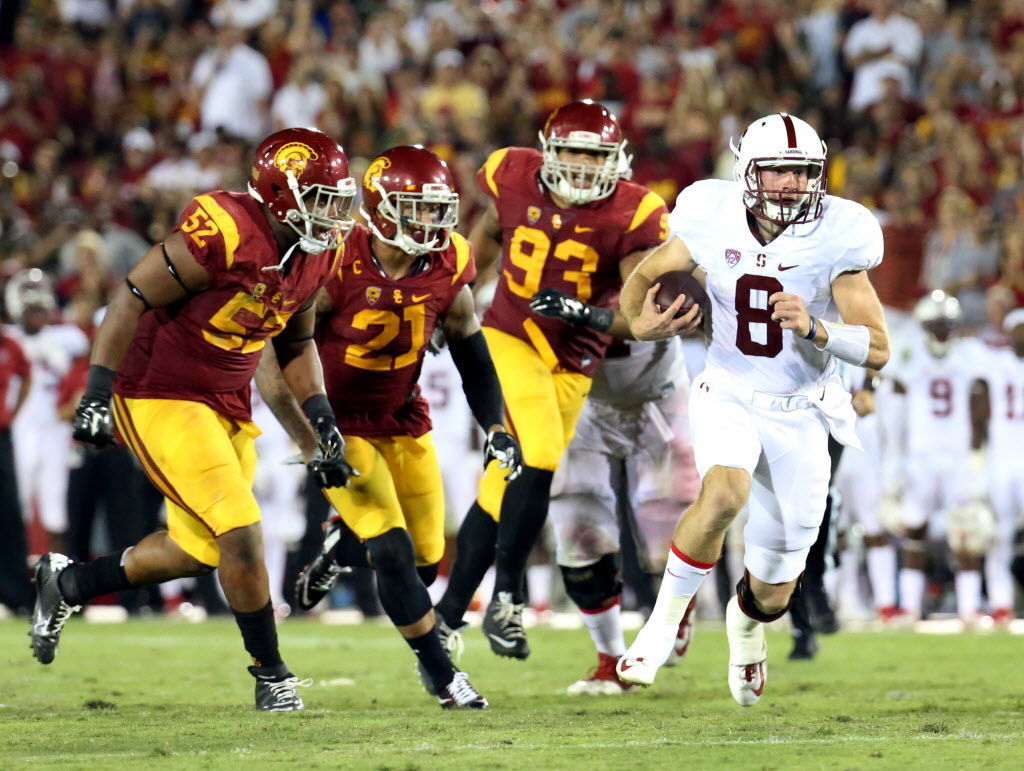 Clay Helton's internal alarm sounded after 30 seconds.
Despite an emotional Monday, he had to.
After weeks as USC's interim head coach, on Monday the Trojans announced the interim tag was no more, that Helton would, officially, be the permanent head coach.
"I hugged my wife and took a deep breath," Helton said.
Then, that alarm went off.
"Then it's time to put the blinders back on and be all ball all the time," Helton said on Tuesday's Pac-12 coaches conference call. "If you worry about anything else, you're not going to beat a well-coached Stanford team. … I'm trying to win a Pac-12 championship for these kids."
So Helton prepares for Stanford as head coach, 74 days after he did the same, but then as Steve Sarkisian's assistant.
It was a lifetime ago — or, at least, it feels like it — when Stanford and USC faced off in Los Angeles, with the Cardinal prevailing 41-31.
It was a game Stanford needed to win, two weeks after losing to a then-unranked Northwestern.
For USC, it was a game the Trojans, then ranked No. 6, would need, even that early in the season, to keep hopes up for a potential berth in the college football playoff.
A lot has changed since then.
And don't expect much of that September night to carry over into Saturday's Pac-12 Championship Game at Levi's Stadium in San Francisco.
"You take everything you see with a grain of salt knowing that the team has changed, and your team has changed," Stanford coach David Shaw said. "But to play them the same year, you guard against thinking the same thing that worked last time is going to work this time."
Back then, Helton was just an assistant, Cody Kessler was still a Heisman candidate, and most people still only knew Christian McCaffrey for his father, longtime NFL receiver Ed McCaffrey.
Well, now Helton is head coach after guiding the Trojans to five wins in seven games and a Pac-12 South title after replacing Sarkisian in October. Sarkisian was fired in the midst of reports of a drinking problem.
Kessler is far from a Heisman contender anymore, tallying only one 300-yard game since the loss to Stanford with just four touchdowns and four interceptions in three losses to Washington, Notre Dame and Oregon.
Since, USC has become a run-heavy team, led by a talented two-headed monster of Justin Davis and Ronald Jones II. Against the Cardinal, both Jones and Davis each had only six carries. In the six games since, Jones is averaging 15.8 per game and Davis 17.5.
"They're running the ball more, and they have the backs to do it," Shaw said.
On Stanford's side, the victory over USC was really the first game, at least statistically, where McCaffrey started to make a name for himself with 115 rushing yards. Since, he's blown up to the point where he should be invited to New York City for the Heisman Trophy ceremony. In the nine games since that first 100-yard night, McCaffrey is averaging 155.7 rushing yards per game and leads the nation in all-purpose yardage.
"Obviously," Helton said, "McCaffrey is as special as there is out there."
Largely thanks to McCaffrey, solid play from Kevin Hogan — an All-Conference selection — at quarterback and the typically impressive defense, Stanford is 8-1 in its last nine games with an outside shot, still, at the College Football Playoff.
Standing in the Cardinal's way, of course, is USC.
"I say talkers talk and players play, you know?" Shaw said. "I'm not on the committee, none of my players are on the committee, we have a football game to play, and it's up to us to play our best game and try to find a way to win it. …
"What matters is playing your best brand of football. If it's good enough, great, if it's not, fine. The bottom line for us is that we have a game to play, and we're going to try to play our best."
For Stanford, the Pac-12 Championship Game represents a chance, at minimum, to play in the Rose Bowl, and, at most, to play in the College Football Playoff with some help from around the country.
For USC and Helton, it's a chance for some quick validation for his promotion, which came as a surprise to some.
Should the Trojans win Saturday, though, you can bet the celebration will last more than 30 seconds.