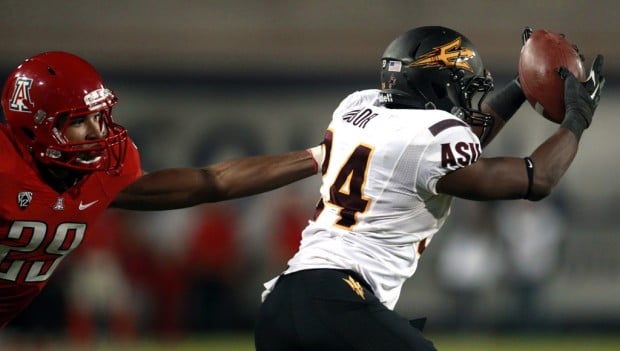 On the surface, Gino Crump's decision to become an Arizona Wildcat sounds simple.
"He just showed up," coach Mike Stoops said.
Crump, a reserve wide receiver, knows better.
"It's a long story, actually," he said.
Crump transferred to the UA last summer after spending the 2008 season at West Virginia. The year before that, Crump played at Glendale Community College. Before that, he was at Fork Union Military Academy in Virginia.
Crump graduated from Woodrow Wilson High School in Washington, D.C., in 2006.
That's five schools in as many years - and five programs that have been intrigued by Crump's skill set.
A 6-foot-2-inch, 210-pounder, Crump has the frame and ability to be a star. His consistency and accountability, on and off the field, are finally catching up.
Crump has ascended to second on the UA's depth chart at the "X" receiver spot, behind starter Juron Criner. And coaches like the way Crump has improved in the classroom and weight room.
Crump, 21, has been among Arizona's most-impressive players in spring drills.
"Gino has some talent. It's raw, but I think he's progressing with maturity, on and off the field," Stoops said. "It's something that has to happen for players to play at this level. Gino's starting to make progress in that direction."
Crump said he's been "doing what the coaches are asking me to do, and trying to find a fit in this offense.
"I've been waiting for this opportunity," he said. "I think I can bring a lot to this team. I sat out last year, and I had a chance to learn the offense and the playbook. I think I can help this team a lot."
Crump crisscrossed the country chasing his football dream. He went from prep school to Glendale Community College, where he stood out as a freshman. A connection at GCC helped Crump land a spot with the Mountaineers. He redshirted the 2008 season, but traveled with the team to the Meineke Car Care Bowl.
By last spring, Crump and West Virginia were a bad fit.
Crump said he knew exactly where he wanted to transfer. Arizona's basketball program had recruited Crump's brother, Givon, a few years ago. Givon Crump signed with Baylor, but Gino liked the UA.
Now, he'll have a chance to contribute.
"My goal is to be the best wide receiver in the nation," he said. "If that means helping this team reach the Rose Bowl, that's a role I'm ready to play."
• What: UA football spring game
• When: April 10, 1:30 p.m.