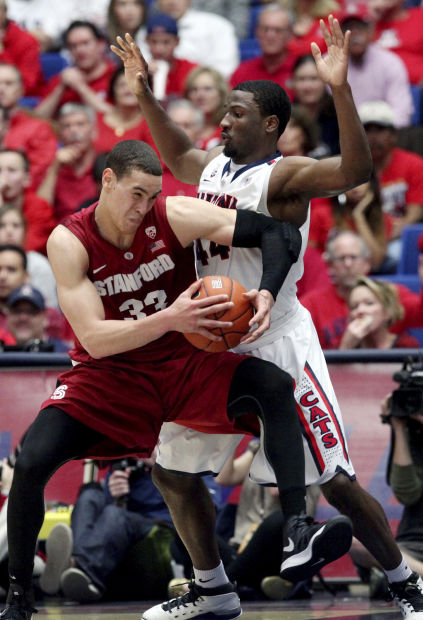 As Rich Rodriguez returned to Arizona Stadium for the second half of Saturday's Toledo game, he saw something he never saw at Michigan, West Virginia and maybe Glenville State, too.
He saw empty seats; thousands of empty seats. The Red Sea had departed.
Where the Zona Zoo had been, 10,000 strong in the first half, maybe 4,000 of the red-shirt gang remained.
"Many of 'em got lost at halftime," the coach later said with a smile.
But they didn't get lost at all. They got bored. They scattered to the first available party. It was, as is tradition on a Saturday night at the UA, Hangovers III.
Unless the Wildcats are playing Oregon, ASU or another team with recognizable initials, Zona Zoo arrives early, in force, and leaves early, in haste. They will not delay their social schedule for the Toledo Rockets, even if the game is heading for overtime.
And it's not just the college kids; on Saturday, thousands of citizen football fans were gone before the fourth quarter.
At times, UA football is the equivalent of a beat-the-rush, Dodger Stadium, seventh-inning exit, when the hearty few who stay to watch a 2-1 game can see a trail of taillights all the way to the Harbor Freeway
The culture of UA football has been that a patio seat at Dirtbag's, or a soft pillow, is more compelling than the second half of a game against Toledo and Oregon State, even if it's close. Can RichRod change that?
But it's also on college football to do something about games that never end. The Arizona-Toledo game went on and on and on. It went on for 3 hours and 47 minutes.
On opening weekend in the Pac-12, the average game time was 3:19. The Oregon-Arkansas State debacle went 3:35. The numbingly boring ASU-NAU game, played in 100-degree heat, lingered on for 3:11.
Those well-intentioned Zona Zoo regulars (and those in the baby boomers seats) weren't bored by RichRod's product; that's not possible when Matt Scott's whipping up 624 yards. They were bored by what happened between plays and especially when the game paused for yet another TV commercial.
These numbers are numbing: In 227 minutes, Arizona and Toledo snapped 182 plays. In real time, the plays added up to about 16 total minutes. The average play required about 4 1/2 seconds. Get out a stopwatch and time it yourself. At most, it's 5 seconds per play, on average.
If you sat in your seat for the full 3:47 Saturday, you saw 16 minutes of football.
The attention span of an average college-diploma-seeking football fan, on Saturday night, does not comprehend 3:31 of idle time. Not when someone's tapping a keg in the neighborhood.
And even if you are a postgrad, a grandpa or a seasoned fan who supported Jim LaRue and Jim Young, the game has become too long. If you had a 7 a.m., tee time Sunday, you were a sleepy no-show.
If you are a workout warrior, your planned beat-the-heat Sunday morning run was surely postponed till Labor Day.
The longest games in UA history are of recent vintage, and all had special meaning.
4:13 - Arizona vs. Wisconsin, 2004 (thunderstorm delay included).
4:08 - Arizona vs. Wazzu, 1997 (2 OTs).
4:06 - Arizona vs. Cal, 1995 (4 OTs).
4:03 - Arizona vs. ASU, 2010 (2 OTs).
3:56 - Arizona vs. Oregon, 2007. (UA beats No. 2 Ducks.)
3:56 - Arizona vs. Washington, 1998 (Leap by the Lake).
But now a 3:47 game seems routine.
In 2007, the NCAA implemented game-shortening measures, subbing an end-of-play 40-second clock for the much more time-consuming get-everybody-untangled-then-start-a 25-second-clock, among other changes. And yet the average time of an Arizona game last season was still 3:17.
Only one game, Arizona vs. NAU (2:56) was under three hours.
In 2007, the average UA game required 3:36.
There's not much chance that someone like Dick Tomey will be showing up, running the option, requiring just 2:39 to beat Oklahoma (1988). And it's likely RichRod, or any coach, will have the nerve to do what Larry Smith did at Wazzu in 1986, benching starting QB Alfred Jenkins and throwing just one pass the entire game, one that ended, mercifully, in 2:25.
We're in this for the (very) long haul.
If there is one thing I remember from my long-ago college days, it is that a football Saturday involves much more than a football game.
There's the Friday night/Saturday morning pre-pregame party that roars till 3 a.m.
There's the can't-miss pre-game primer Saturday afternoon.
And there's the bring-your-A-game, postgame party. Who won? Who cares?
UA athletic director Greg Byrne said Thursday that Zona Zoo officials are working on a few plans to encourage the Zoo to extend their stadium experience.
So far they've tried to entertain the crowd by installing a $5 million video board, playing trendy (and very loud) music, having Miss Arizona interview fans and showing highlights of Sean Miller's basketball players.
Maybe Saturday they can show a video of someone popular, someone like Rob Gronkowski wearing a his UA cap backward, pointing a finger at the Zona Zoo, saying "a good Wildcat fan is one who comes early and stays late."
Or at least until the second-half kickoff.