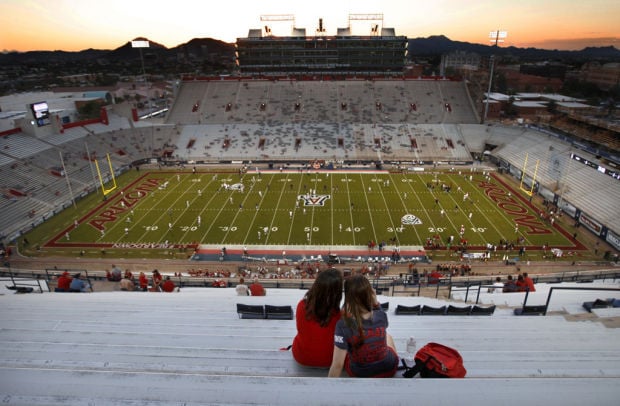 ALBUQUERQUE - The New Mexico Bowl is being billed as an offensive bonanza, a celebration of points and yards played on national television under sunny, clear skies.
The reality of today's game is bleaker.
It's going to be cold at University Stadium, and possibly wet. The stands will be empty.
And it's all going to come down to defense.
Nevada and the UA will face off today with a chance to finish their seasons on a bright note. The team that forces more turnovers, makes more tackles and stumbles on to more stops will win.
"We have one last time," UA linebacker Marquis Flowers, "to show everyone what we can do."
Neither team has played particularly well on defense all season, and it's a main reason why Arizona and Nevada finished just 7-5 despite boasting two of the nation's elite offenses.
Arizona surrenders 485.67 yards per game, making it the fifth-worst defense in the country. Nevada gives up 431.17 yards per game.
The Wolf Pack allows more rushing yards (213.17) per game than the Wildcats (189.75), but Arizona surrenders 77 more yards per game through the air.
Nevada's opponents are averaging 32.5 points per game. Arizona's score 34.25.
The Wildcats have two things going for them: Size and surprise. Though the UA defense is considered small by Pac-12 standards, it matches up nicely with today's Mountain West Conference foe. The UA should be able to get more "push" at the line of scrimmage and create more havoc when they bring pressure.
The UA's 3-3-5 "odd stack" defensive scheme could confuse a Nevada team that's never seen it before. Wolf Pack coach Chris Ault says the scheme "presents multiple problems," in part because it's an odd front. The personnel is good enough, Ault said, to stop anybody.
"You don't beat people like USC if you're not a football team that can beat people at the right time," he said.
Nevada will counter with its trademark "Pistol" offense, a deception-heavy rushing attack that has made better defenses look foolish for years. Today's game will mark a showdown between two tailbacks, Nevada's Stefphon Jefferson and UA's Ka'Deem Carey, who are looking to win rushing titles.
The Wildcats will try to be "very disciplined in what we do," linebacker Jake Fischer said. Neither team figures to dust off anything different, if only because they haven't had much time to prepare. The first game of the bowl season comes just two weeks after Nevada lost to Boise State on the road; Arizona has had a little over three weeks to rest and prepare for the bowl. Today, the Wildcats get one last chance.
"We're going to go all out and play as hard as we can," Fischer said. "Stick to the scheme."
• The Football Writers Association of America did not name Carey to its All-America team Friday, choosing UCLA's Johnathan Franklin and Oregon's Kenjon Barner instead. Carey is still considered a consensus All-American, even though he and Wisconsin's Montee Ball finished tied for second-most first-team selections.
• Ten UA players, including quarterback Matt Scott, will miss graduation today to play in the game. Scott said he didn't mind the conflict, even though it meant rescheduling a planned family gathering.
"As long as I know I graduated, I'm fine with that," he said. "I don't need to walk to know that I graduated."
• Who: Arizona (7-5) vs. Nevada (7-5)
• Radio: 1290-AM, 1490-AM, 104.9-FM, 107.5-FM
More inside Preview Arizona vs. Nevada in the New Mexico Bowl with our hotsheet, Insider and more. B4-B6
Join the fun with your fellow fans while you watch the Wildcats take on Nevada in Albuquerque: live.azstarnet.com