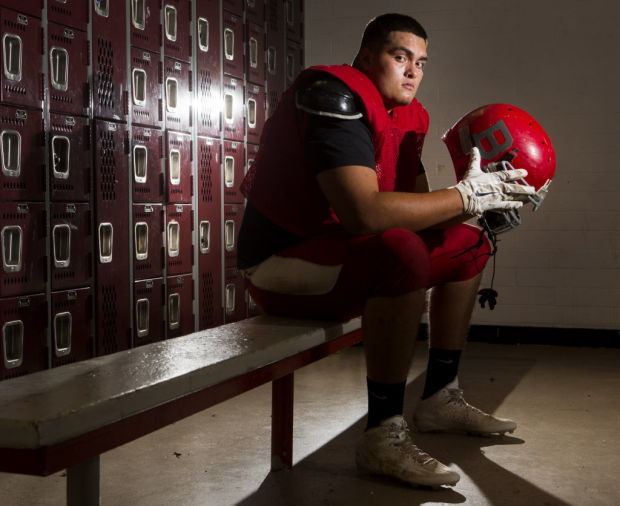 BISBEE — Out in this tiny town full of colorful buildings and colorful people lives a giant.
If this was another time, they might have said he was forged in those copper mines, that his footprint is Lavender Pit. Legends would have been written. Tales would have been told.
In 2014, not enough tales are told of Jason Linden. Colleges are only starting to learn his name. In a faraway land, the giant of Bisbee lives in relative anonymity. Except on game day.
That's when Bisbee football coach Chris Vertrees unshackles the mighty giant and lets the 6-foot-7-inch, 330-pound lineman lead the Pumas onto the field.
The opponents, from all those tiny towns that dot Southern Arizona, tremble.
"He's the most intimidating thing we've got," Vertrees said. "We line him up, put our smallest guy right behind him, and it'll crack you up. Kids can't take an eye off him when he walks on the field, especially the guys who have to go up against him that night.
The giant doesn't know how he grew into a giant. Dad, also named Jason and an assistant coach at Bisbee, stands 6-1, and he's second tallest in the family.
Linden hit 6 feet in fifth grade, a foot taller than his classmates. He stood out in every crowd. He moved to a new school down in Douglas in sixth grade, the new kid, the new big kid. He needed to find a place where being big wasn't a distraction, but an attraction.
The football field beckoned.
"I loved it; honestly, I love being the big dude," said Linden, a 17-year-old senior. "I love that. It's better than being average. It's nice to be different."
It was then that the giant realized football might be a path for him. One of his teachers was a Douglas High School assistant coach whom, Linden says, "trained me to be a Bulldog."
Linden played two seasons at Douglas before moving back to Bisbee. All the way through, he lifted and he grew and he lifted and he grew. He is now able to bench press 225 pounds 26 times.
Vertrees is more impressed by Linden's improved footwork than his strength, though. It doesn't take much for a giant to stomp all over people. But in the Pumas' zone-blocking scheme, Vertrees needs his linemen to be agile as well as brute.
"You have to slow your brain down, you have to let the plays develop before you attack," Vertrees said. "When you're a mauler, you see where your gap is and you hit it hard and fast. He's learned to keep his eyes up and track his targets."
Vertrees adds that Linden is the most physical player he's had, but that his footwork "from when we got him until now is night and day."
Vertrees believes his giant has become a bona fide college prospect, and that if he was playing in Phoenix or Tucson, he'd have multiple scholarship offers. But Bisbee is a small town, Bisbee High School is smaller — enrollment: 317 — and the Pumas play in Division V. They'll face Thatcher tonight with a chance to improve to 6-1.
Still, some junior colleges have called recently, and Linden's recruitment is picking up.
He would love to keep playing, he says, if his body holds up.
All the size and strength has put stress on the giant.
His knees have plagued him, though, he says, he rebounded from a torn meniscus in just a couple weeks. He played four games on a pulled hamstring this season.
Opposing coaches know, or, at least, they guess. Some try to take out his knees.
"One kid did it and I just kept slamming on top of him," Linden said. "I go, 'Dude, why are you going for my knees?' and he's crying and saying my coach made me, and I say, 'Dude, just block me on this play.' We were up 40, the dude was smaller, I just saw the fear in his eyes."
The giant sees the look often. He peers down, and across the line is a 5-foot-8-inch, 180-pound kid with sweat dripping down and an eye twitch.
"I see it every game," he said. "It gets to the point where I have to yell at them to hit me. I try to help them out, they get so scared."
What about the other kids, the ones who puff out their chest and take out their sword and try to take on the mighty giant?
"Some kids get brave," Linden said. "That's when I kick their (butts)."
Contact sports reporter Jon Gold at 573-4146 or jgold@tucson.com. On Twitter @TheCoolSub