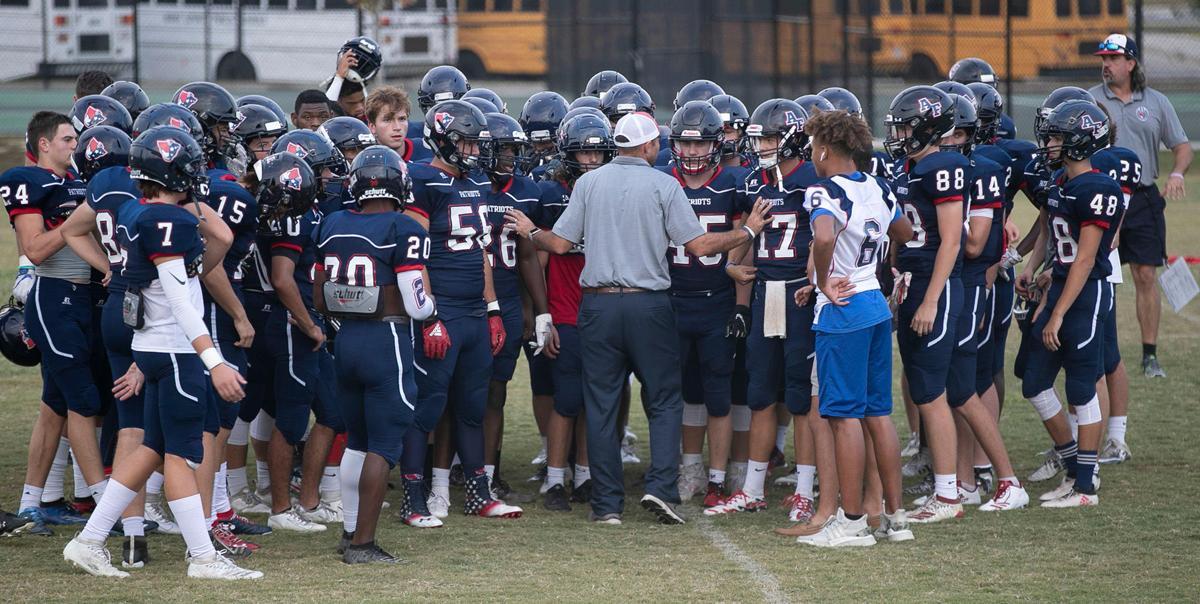 APEX, N.C. - It's a simple drill.
Four cones are placed 5 yards apart in two parallel lines. Three players stand shoulder-to-shoulder in the center of the resulting rectangle, an offensive player in the middle facing one way, two defensive players on either side facing the other.
On the coach's whistle, they each sprint to one of the four cones in front of them, then turn around. As they face each other, it becomes football at its most elemental. One ball-carrier. Two players trying to tackle him in a confined space. A zero-sum game. Someone wins. Someone loses.
On a bright September day at Apex Friendship High School, in the shadow of a plume of steam from the cooling tower at the Shearon Harris nuclear plant, linebacker Nate Hightower had it right. With a floppy haircut and tattoo of a guitar on his shoulder, Hightower looks like he should be singing folk tunes in a coffee shop. But here he is, hips squared, as he stands up the ball-carrier with a clean but crushing hit that sent his teammate to the turf on his posterior.
At just about any other football practice in the world, there would be hoots and hollers for a tooth-rattling hit like that. At Apex Friendship, there was only an awkward silence.
Adam Sanders, a 33-year-old former Furman fullback and the first and only football coach at the school that opened in 2015 just southwest of Raleigh, pulled Hightower aside and put his arm around him.
"We all make mistakes," Sanders said later. "It's what we do after it. He knows. I know. He just got revved up, and that kind of thing happens."
A mistake? Aren't hits like that what football is all about?
Not in practice at Apex Friendship, where the Patriots are going against conventional wisdom this fall and saving all the contact for Friday nights.
As research continues to link concussions to chronic traumatic encephalopathy (CTE), the brain disease that can cause dementia later in life, participation in high school football across North Carolina has declined 25% since 2010. But what Sanders is doing at Apex Friendship may be the future of football and a way to save the sport for future generations.
He spent three days at Dartmouth in May as a guest of coach Buddy Teevens and his staff observing the Big Green practice without hitting each other, without even tackling each other. That's how Dartmouth has done it for a decade. That's how the whole Ivy League does it now.
Sanders came back to Apex with pages of notes and a determination to see if it could work in high school - without the resources of a major research university, like robotic tackling dummies and virtual reality, or the collective knowledge of the engineering and medical schools.
His team had never finished better than 6-5 in its three varsity seasons, despite growing into the biggest high school in Wake County in only five years. Friendship isn't in a hotbed of football talent, surrounded by equally new suburban subdivisions that sprout constantly from the old farmland, a cash crop of cul de sacs.
The Patriots entered this season with two Division I recruiting prospects, both of whom are tall, rangy defensive ends. When Sanders was hired at Friendship, he quickly abandoned the spread offense he ran as an assistant coach at Chapel Hill High School for an old-school, Wing-T running attack that relies on effort as much as ability.
If cutting contact out of practice meant his team stayed healthier - his key players in particular - it might not just be the right thing to do. It might actually make his team better on Friday nights.
Other local programs have drastically reduced contact in practice with the same goals in mind. That's the trend these days. Sanders was willing to go all the way.
"I just don't know how many got on a plane and went to Dartmouth to try to figure out a better way to do it," Sanders said.
That's all Sanders was thinking about in May. He wasn't thinking about the bigger stakes, about the future of football at a time when people (and parents) are more aware of the connection between concussions and long-term brain damage, even repetitive sub-concussive hits.
Those stakes are high. A recent Boston University study of donated brains found the risk of developing CTE increased by 30% for each year of football. Essentially, the odds of developing CTE double with each additional 2.6 seasons of football played. A Texas-San Antonio examination of more than 700 brains of athletes and non-athletes alike found football had the highest frequency of CTE of any sport, with higher risks for athletes who continue to play beyond high school.
Fewer players are willing to take those risks. According to data compiled by the National Federation of State High School Associations, football participation in North Carolina has declined from an all-time high of 35,691 in 2010 to 26,962 last season. Over the same time period, the population of the state grew by 28 percent.
The implications of those trends prompted former North Carolina coach and CTE denier Larry Fedora to famously bluster last year that football is under "attack."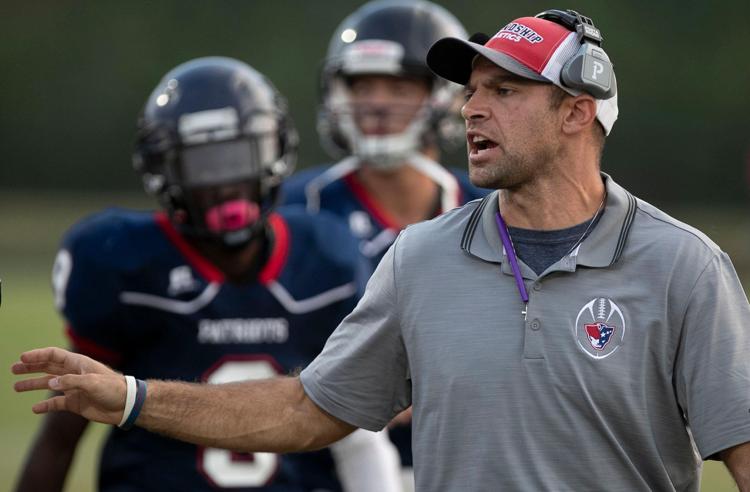 Sanders was sitting in the stands at Friendship's baseball stadium last spring, watching one of his wide receivers, Payton Bloom, play center field. Next to him was Josh Bloom, Payton's father, who is the medical director of the Carolina Sports Concussion Clinic in Cary and the team doctor for the Carolina Hurricanes. He also played football for Teevens at Dartmouth in the mid-'90s, a hard-hitting linebacker who was voted team MVP as a senior.
Bloom grew up in Alamosa, Colo., on the rural plains of southern Colorado. Football was his ticket out - to medical school and everything else. He believes in football, even as he treats dozens of concussions from the sport each year. He had no problem with his son playing football, but believes the game he played has to adapt.
Out of equal parts alumni concern and professional interest, Bloom closely followed what Teevens was doing at Dartmouth in the coach's second stint at the school. Teevens had gone from Dartmouth to Tulane and Stanford and then back to Dartmouth. In the summer of 2009, he was on the verge of getting fired. His team went 2-8 the year before, winless in the Ivy League. He was in the last year of his contract with a new athletic director and new university president. He had nothing to lose when he decided Dartmouth's players would neither hit nor tackle each other in practice - football anathema.
One Ivy title - Dartmouth's first since 1996 - and three runner-up finishes later, that little experiment has been a success. The Big Green has seen dramatic drop-offs not only in concussions but orthopedic injuries (torn ligaments, separated shoulders), and the change in practice habits shifted the direction of the football program. Teevens solicited help from Dartmouth's engineering school to build a robotic tackling dummy that can run a 4.7-second 40-yard dash. Bioengineers broke down tackling into individual, teachable components. Researchers from the medical school tracked injuries.
By focusing on the fundamentals of tackling instead of tackling each other, the Big Green saw its missed tackles on game day cut in half. Twenty-one of Dartmouth's 22 starters played in every game last season, and the one who missed a game could have played in a pinch, Teevens said. Dartmouth has not only seen fewer concussions but also fewer injuries of all kinds. Teevens insists a Dartmouth player over the course of a four-year career will have as many as 10,000 fewer subconcussive impacts than his Division I peers elsewhere.
It's part of the Dartmouth culture now.
"The challenge I face quite often is the first time we have a scrimmage-type environment, some freshman blows up the crossing tight end and gets up all excited," Teevens said. "The older guys, everybody's yelling at him: 'We don't do that!' "
What Dartmouth does is essentially how the NFL practices now, after the players' union secured drastic reductions in live practice during labor negotiations in 2011. Those changes were accompanied by an onslaught of hand-wringing (an actual NFL.com headline read: "How practice changes could negatively impact NFL games") that proved wildly overblown.
As a player, Bloom hit three days a week in practice at Dartmouth and played one year of professional football overseas before medical school. He was never diagnosed with a concussion, but he knows he had a few. He vividly remembers a call to his father from Europe, complaining that he didn't feel as sharp as he should, the toll of too many hits.
All of that was on his mind that night in the bleachers. Bloom had sent Sanders some of Teevens' videos on "The Dartmouth Way," but he proposed Sanders take it a step further and see it firsthand.
"My son wants to play, so No. 1, I want him to be in a good environment," Bloom said. "No. 2, frankly, I want it to be competitive. As I got to know Sanders, I knew his heart was in the right place. I also knew their limitations on the field, that they needed to have their guys be healthy, that the guys they needed in Week 1 needed to be there in Week 10."
Sanders went to Dartmouth not expecting to see a drastic change, but returned with a conviction that even if he didn't have all the answers, this was the next step in the evolution of football. The change in ideology wasn't a huge departure for the young coach, who even if he wasn't naturally concerned about his players' safety, couldn't risk losing so much as one key player to injury.
"We thought it was weird," senior defensive end Zach Johnson said. "It was different. We were like, 'We've never not hit full speed before.' So we were a little cautious about it."
Without Dartmouth's resources, Sanders used some of the football team's fundraising money to buy a stand-up tackling dummy - essentially a padded weeble that wobbles but doesn't fall down - and a gymnastics landing mat for tackling practice so when his players did practice taking each other to the ground, they would land softly. He bought padded sleeves for the offensive linemen's helmets, and a handful of the Catapult GPS trackers that college and pro teams use. He also encouraged the parents who could afford it to buy $900 Vicis helmets, the top performer in the NFL's helmet ratings.
"Adam's a smart dude, and he works really hard to try to reinvent himself, and to find ways to keep the kids safe, to give them confidence to make them into better men," defensive coordinator Greg Simmons said. "And so anything he comes to me with, I'm going to be supportive of, but that fit right into what I've believed for a while now."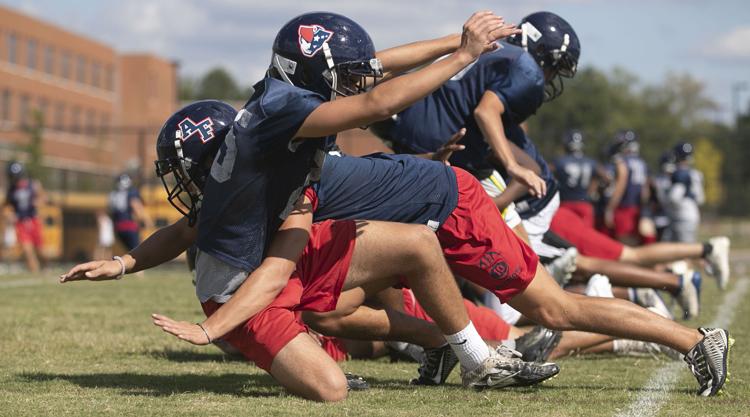 If it were up to Justin Reed's mother, he wouldn't be playing defensive end for Apex Friendship. He'd be playing golf. Or tennis. Or something. Anything else.
Nicole Reed grew up in Germany, where she met Justin's father while he was serving in the Army and moved to North Carolina with him. He died of cancer seven years ago, right about the time Justin started playing football in seventh grade. Nicole desperately tried to talk Justin out of playing the sport in high school. As a widowed single mother with no family in this country, she couldn't imagine what she would do if her son got hurt.
"After dealing with my husband's illness for three years, I couldn't do it," Nicole said. "Justin being broken and hurt? I couldn't handle it. This is my life. I couldn't risk my kids, at all. It was too much. And football, you put yourself on the railroad tracks and wait for the train to hit you."
She went to the first parents' meeting with the full intention of pleading with Sanders to keep her son from playing. To her unending surprise, she found herself won over by Sanders' message. (She also, this fall, bought one of the Vicis helmets for Justin.)
"Since Justin didn't have a father figure in his life, it kind of showed me, maybe give this a try," Nicole said. "Sanders has held true to that. He's such a mentor for all the boys on his football team. He's been a life-changer for my kid."
Nicole took a leap of faith entrusting her son to Sanders, and now Sanders was taking a leap of faith with his entire program. If doing things the Dartmouth way failed - if the Patriots were less competitive on the field or didn't see a decrease in injuries - so much of the slow, excruciating progress of building a program over five years would be wasted. But it wasn't so much that Sanders thought this was a better way. He truly believed it was the only way.
Compact, his hair closely cut, pen clipped to the collar of his shirt, Sanders is straight out of football central casting. So is Simmons, whose unruly shoulder-length salt-and-pepper hair and matching goatee make him look like he's going as NFL defensive coordinator Rob Ryan for Halloween. But both long ago parted ways with conventional wisdom. Simmons' defense defies categorization by traditional football schematics, but it works. Sanders played the hardest-nosed position there is, but doesn't coach the game that way.
Sanders' 5-year-old son Luke is a frequent guest at practice, standing with the coaches at midfield, playing catch with players between practice plays. Like Bloom, he wants football to be a game his son can play without fearing for his future. Apex Friendship's motto is "GBE" - Get Better Everyday - and Sanders holds himself to that as well, which is why he threw himself into what he learned at Dartmouth with such abandon.
"He has immense passion for the game, but he cares about these boys," Nicole Reed said. "He's watched so many boys get hurt, left and right. He was always trying to find ways to keep these boys safe."
To some extent, all college and pro football teams have removed hitting from practice. N.C. State coach Dave Doeren said the Wolfpack scrimmages live a few days in the spring and in August and conducts tackling drills in a "controlled setting" during the season. Duke coach David Cutcliffe said his team has six plays of live contact on Tuesdays, to keep its players dialed in. At North Carolina, Mack Brown uses tackling drills designed to avoid head injuries. They're all in similar places on the same spectrum.
Still, even the most progressive coaches worry about how to evaluate players in spring practice and the preseason without seeing them in something close to game action, and whether a team can show up for a game with the edge it needs on Friday or Saturday without getting the juices flowing a little bit during the week.
Teevens proposed last year that the Ivy League eliminate tackling in spring and preseason practice as well. He was voted down 7-1. Cutcliffe said there's no other way to evaluate who's ready to play, for their own safety if nothing else.
"My term, it doesn't catch up with you until it catches up with you," Cutcliffe said. "How do you develop game habits?"
This was a major concern for the Patriots throughout the season, manifesting itself in slow starts - Friendship was outscored 61-35 in the first half over the first four games - and missed tackles in the early going. Opponents noticed.
"They're definitely a second-half team," said Holly Springs coach Robert Furth, whose team jumped out to a 14-0 lead on Friendship, then held on for a last-second 24-21 win.
When Dartmouth assistant coach Dave Shula came down on a scouting trip, Bloom asked him was there a learning curve with this approach, with holding back in practice and cutting loose on game night?
"It's a process," Shula told him. "Our upperclassmen do it better than our freshmen."
At Apex Friendship, they were all freshmen at this. And not everyone was completely on board at first. Some thought hitting in practice was the only way to go.
"We do have some people on the team, I'm not going to lie, that do feel that way," Justin Reed said. "If they want to see progress or any success on this team, you have to be willing to make these types of sacrifices."
After a win at Athens Drive in late September ended a two-game losing streak, resistance peaked. A week earlier, the Patriots struggled to tackle elusive Wakefield quarterback Trexler Ivey in a disappointing loss, and then they started slowly against Athens Drive.
The ensuing Monday, a few players posted in the team's group text that they needed to hit in practice, that they weren't ready for games. Sanders is on the text, but waited to see how his seniors would handle it.
"That's part of being a 17-year-old kid," Sanders said. "If things are not going well, you want to kind of take out the aggression, you want to go hit somebody. But that's not how we get better."
A few of the older players snuffed out the rebellion. For Sanders, it was a sign that his players had bought in, that they understood what he was trying to do.
Amid the "no-sweat Wednesdays" and Thursday walkthroughs - very light practice days - Sanders tried to find other ways to generate intensity, adding "edge" segments where player subgroups known as "families" would compete in tug of war or the eight-cone tackling drill. Before the season, the coaches would drop in an edge period whenever they felt intensity flagging. During the season, they start practice with one.
The drill where Hightower delivered the big hit was part of an edge that went a hair too far.
"It's just football," Hightower said. "It's just what the sport is. But we do a good job of not pushing it, you know? Well, sometimes things happen. And for a defensive player, it's hard, because holding back can sometimes make you look bad."
Tackling was another concern, but Sanders found he was able to spend more time on the fundamentals of tackling than before, right up to the point of contact, without the impact.
Then there was the offensive line, especially in the retro offense the Patriots run. There's no finesse to it, just opening holes for runners the old-fashioned way, with muscle and hustle. This was initially something Peter Hagermoser, the offensive-line coach, worried about. He found himself spending more time thinking about how to adopt what the Patriots are doing on the football field to the school's varsity lacrosse team he coaches in the spring, coming up with new drills to break down open-field pursuit or ground balls into their component parts.
"It's not about, 'Should we?' " Hagermoser said. "My thought process is, this is going to happen. It's the future reality."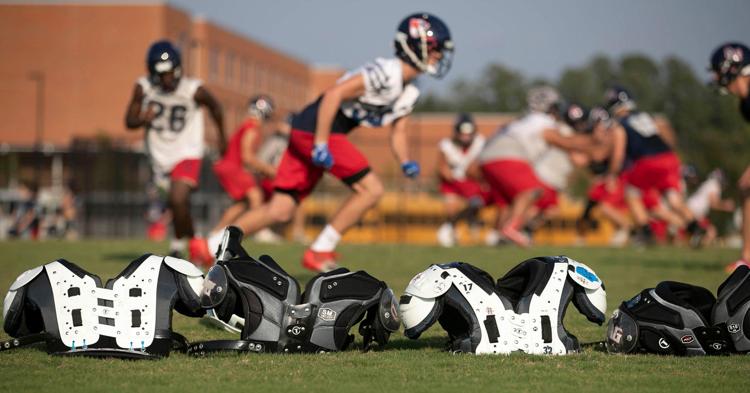 Hanging over all of this, from the NFL to Dartmouth to Apex Friendship and on down to Pop Warner and youth football, is the question of whether football can survive in an era when players, parents and fans are newly aware of the damage concussions can do to a brain, especially a young and growing one.
When Fedora claimed football was under attack, he was out over his skis, but he wasn't necessarily wrong: If coaches are not willing to change the way they do things, then the game certainly is under attack. The point coaches like Teevens and Sanders are trying to make is a different one, that the game has to evolve to survive, and this is the best evolution they have been able to find.
No one really knows at this point what's going to happen, only that the big, helmet-driven hits have to come out of the games themselves - the NFL suspended recidivist linebacker Vontaze Burfict for an entire season, and the NCAA ejects players for targeting fouls - and that the concussion rate has to go down or participation rates will continue to drop. There's always going to be an element of danger in games in a contact sport, but cutting down on practice injuries seems like low-hanging fruit. A 2017 study of youth football found that open-field tackling drills "resulted in significantly higher mean head accelerations than several other drills."
"People ask me, can other colleges do it? Yes," Teevens said. "Can high schools do it? Yes. Pop Warner? Yes. ... It's a collision sport. You are going to get guys hurt. We'll have an ACL tear. We'll have a separated shoulder. We'll have a concussion. But it's not with the volume, and it's not self-inflicted."
These high school players are the first generation to play with the conscious awareness that their future health may be at risk. They may not understand all of it, but they understand what they're doing now may have consequences down the road. It's difficult for any adolescent to come to terms with that.
"I certainly think there's a long-term impact," Patriots defensive end Johnson said. "You always see the highlights of people getting hit really hard or illegal hits. They make the news a lot. Especially now. Athletes are getting bigger, faster, stronger. You need to keep athletes safe, especially for the long term, because everyone's football career is going to end eventually. Keeping them safe after that, making sure they're healthy after that, is very important."
Added offensive lineman Kyle Crawford: "I try not to read too much about it, because it actually scares me."
But the pace of change is slow, especially at the youth level, where the latest research indicates even pre-teens can suffer life-altering brain damage playing football and there are legislative moves afoot in several states to ban tackle football below the age of 12. This fall, former NFL running back Leonard Fournette posted a video of a young player (identified as "baby fournette" but Fournette doesn't have a son that age) leveling a teammate in a tackling drill, leaving the child dazed.
The video went viral, all the way to ESPN's "SportsCenter" Twitter account, as vivid an example of any of the continuing and enduring reliance on hitting in practice as a training method in the football world. That conventional wisdom hasn't changed yet. At lower levels, especially in high school and youth football, there's a pervasive culture of hitting to "toughen up," the mantra of old-school, less-educated coaches still very much stuck in older ways.
"Not hitting in practice, or hitting the least possible amount, is the only way forward for football," said Chris Nowinski, a former Harvard football player and pro wrestler who founded the Concussion Legacy Foundation and co-founded Boston University's CTE Center. "I think what Buddy Teevens has done is he's creating a new model for how you teach football.
"From my perspective, having a team studying nearly 600 football players' brains, the old way of doing things had significant problems. We essentially need to retrain the football coach workforce if we want to stop giving far too many players CTE. The problem we're dealing with is most of the workforce doesn't want to be retrained."
Concussions are such a touchy issue at the high school level that after the News & Observer requested concussion information from the Wake County Public School System - every sports concussion must be documented and reported by state law under the 2011 Gfeller-Waller Concussion Awareness Act - the district ordered Sanders and Apex Friendship staff to stop cooperating with the N&O on this story.
Charlotte-Mecklenberg Schools, the state's second-largest district, provided that Gfeller-Waller data on request, broken down by school and date: Across all sports during the 2017-18 academic year, there were 255 documented concussions at the district's 20 high schools, up from 230 in 2016-17.
What Apex Friendship is doing is just one beaker bubbling away in a football lab to see if there's a better way. It may work. It may not. For people like Bloom, who love the game but see its negative impacts closer than anyone, doing things this way is the only way forward.
"I'm in the unique spot of having been a linebacker, running your head into the wall, and having the perspective of treating all these athletes, from high school to the NHL," Bloom said. "If this catches on, I think it will have an impact on the game."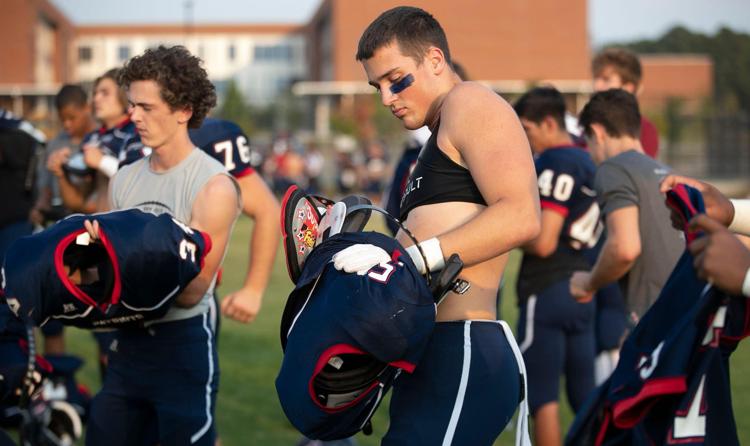 As the season approaches its end - the Patriots were off last week and finish at home against Garner on Nov. 8 - this small, limited experiment has been a success, not only in the training room but on the field, where Apex Friendship is 7-3 and still has a chance to win or share the conference title.
The players say they feel fresher, and Sanders insists they are, but even the most cynical players see a difference in how they feel on not only Fridays but on the mornings they used to wake up sore. Crawford, the senior offensive lineman, has had an injury-plagued career - two concussions, a sprained ankle, a sprained shoulder, a broken hand - but generally speaking, he has never felt better.
"You still want to go out there and do whatever, hit the guy as hard as you can, because you want it to feel like a game," Crawford said. "But coach mentioned, and I kind of thought to myself, 'This could be something that could really benefit me.' And it really has throughout the year."
The lack of major injuries speaks as loudly. Friendship's varsity team has suffered only three season-ending injuries: An elbow injury and two knee injuries. Over the school's previous three varsity seasons, the team suffered about six to eight such injuries each year. All 22 starters from the opening win over Northwood were healthy for the Patriots' last game, a loss at Holly Springs. The Patriots have sent only two players to Bloom for concussion evaluations this season, both freshmen, both on the first day of practice.
In the loss at Holly Springs on Oct. 25, with a chance to clinch a share of the South Wake Conference championship, running back Scott Sidney took a helmet-to-helmet hit in the second quarter and stayed in the game. One play later, he ran the ball up the middle and stayed down. Sanders, Bloom and two trainers stood over Sidney for a long time. Sidney walked off and spent several minutes getting tested for a concussion on the sideline before he was cleared to return.
"I thought I had a concussion, but I didn't," Sidney said. "I just had to bounce back from it."
Sidney went back in to score two touchdowns, but Apex Friendship missed a long field goal to tie with 30 seconds left in the devastating 24-21 loss. Any championship would have to wait two weeks, but there was still a title out there. And one smaller victory.
"That would have been our first varsity concussion," Sanders said. "But it wasn't."
That's ducking the national odds. A new study published recently in Pediatrics found the concussion rate in high school football games and practices to be 10.40 per 10,000 "athlete exposures," defined as one player participating in a practice (4.44 per 10,000 exposures) or game (39.07 per 10,000 exposures). Extrapolating that data, over the course of a season, a team like Apex Friendship could statistically expect to suffer about three concussions at the varsity level.
The NCHSAA tracks only "catastrophic" - fatal or life-threatening - injuries, submitting that data to the national center at UNC in Chapel Hill. (Only 25 such injuries were reported nationally in 2017-18.) The N&O has repeatedly requested the Gfeller-Waller information Wake County schools are required by law to track, but the school district has to date refused to release the reports or provide a summary of them as CMS has, citing student privacy issues. It does not have a district-wide concussion policy.
Apex Friendship athletic trainer Ashley Yelmini and athletic director Matt Clifton said they could not discuss the team's injury history without the school district's specific authorization. The WCPSS information officer who instructed them not to speak to the N&O did not respond to requests to interview Yelmini and Clifton or provide an explanation for the school district's interference.
In terms of football, and football alone, the Patriots are having the best season in the school's short history.
They beat rival Middle Creek for the first time ever, earning Sanders a Gatorade bath. (Not his first: "It's part of starting from scratch. You get a couple.") Even after the Holly Springs loss, they still have a chance to win or share the conference championship at home with a win over Garner on Nov. 8, the biggest game Apex Friendship has ever played, let alone hosted. And Justin Reed, in October, committed to play football for the U.S. Naval Academy. Practicing like this didn't hurt his recruiting stock.
Again, opponents have noticed.
"What they've accomplished in our league, as tough as it is, that's pretty good," Furth, the Holly Springs coach, said. "To experiment with what they've done and being as aggressive and as strong a team as they've been, it shows you what you can do if you coach and teach properly. You don't need all that contact."
Added Panther Creek coach Sean Crocker, whose team beat Apex Friendship 23-20 in Week 3: "They have some pretty physical guys. They get after it. They hit and play hard."
It's the kind of on-field validation Sanders was hoping to see.
"Is there a better way to do this? There is," Sanders said. "What we've been able to do so far in not just drastically reducing the contact in practice but completely taking out full contact in practice, it's been great. There are hurdles. There are pitfalls. There are roadblocks. There are other speed bumps throughout. But it's been really good to see the progress and know there's progress and keep working at it."
Up in New Hampshire, at least one informed observer is impressed by that combination of achievements.
"People will take a look at Adam and say, 'If he can do it, maybe we can do, too,' " Teevens said. "I would say: Yeah! We'd open our doors to anybody."