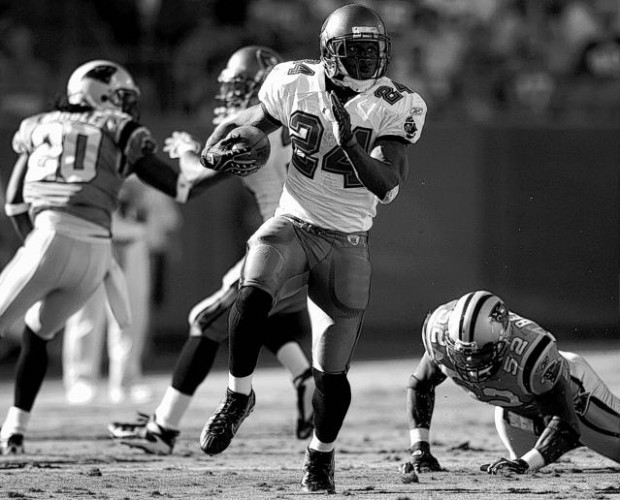 Tampa Bay running back Carnell "Cadillac" Williams and tackle Luke Petitgout will miss the rest of the season with knee injuries sustained Sunday.
Williams hurt his right knee when he was tackled by Carolina safety Chris Harris at the end of an 18-yard run during the first quarter of a 20-7 victory over the Panthers. Petitgout was hurt when defensive tackle Kris Jenkins fell into his right leg in the second quarter.
"That's a big blow. … We have some people who need to step up," coach Jon Gruden said Monday.
Williams was the 2005 NFL Offensive Rookie of the Year and Tampa Bay's leading rusher the past two seasons. Petitgout, a ninth-year pro who spent the first eight seasons of his career with the New York Giants, was signed to stabilize an offensive line featuring three starters in their first or second year in the NFL.
● Cardinals wide receiver Anquan Boldin, inactive against Pittsburgh, was scheduled to see a doctor about his hip injury.
"Every time he picks his leg up or moves his leg out, he's having a little bit of pain," coach Ken Whisenhunt said. "It got better. But we just want to make sure that there's not something going on in there that we don't know about."
● The Colts could be without Marvin Harrison, Bob Sanders and Joseph Addai when they host Tampa Bay on Sunday.
Coach Tony Dungy was awaiting medical updates, but acknowledged each of those players, along with linebacker Rob Morris and No. 2 tight end Ben Utecht, could be sidelined.
● Broncos running back Travis Henry had an MRI on his knee and ankle after being injured at Indianapolis. His status will not be known until later this week.
● 49ers quarterback Alex Smith will miss Sunday's game against Baltimore but will not need surgery on his separated right shoulder.
● Panthers quarterback Jake Delhomme said he hopes rehabilitation will allow him to avoid undergoing season-ending surgery on his strained right elbow, but he acknowledged surgery is possible.
● Panthers middle linebacker Dan Morgan revealed for the first time that he has a partially torn Achilles' tendon and is out indefinitely.
● Bills backup linebacker Kevin Harrison is lost for the season because of a knee injury, and starting safety Jim Leonhard and starting cornerback Ashton Youboty are likely to miss Monday night's game against Dallas.
● Suspended running back Ricky Williams applied for NFL reinstatement Monday, said his agent, Leigh Steinberg.
Williams has played in only 12 NFL games since the start of the 2004 season but rushed for 3,225 yards in 2002-03. His current suspension began in April 2006 after he violated the league's drug policy for the fourth time. He tested positive for marijuana this April, again delaying his return.
The reinstatement process could take up to 60 days.
● Keenan McCardell signed with the Redskins on Monday, adding depth to a team with only one healthy wideout who has caught a pass this year.
McCardell has 861 career catches with Cleveland, Jacksonville, Tampa Bay and San Diego. McCardell, a two-time Pro Bowl selection, was cut by the Chargers after last season. He was drafted by the Redskins in 1991.
● Bears coach Lovie Smith said Brian Griese will start Sunday night's game at Green Bay.