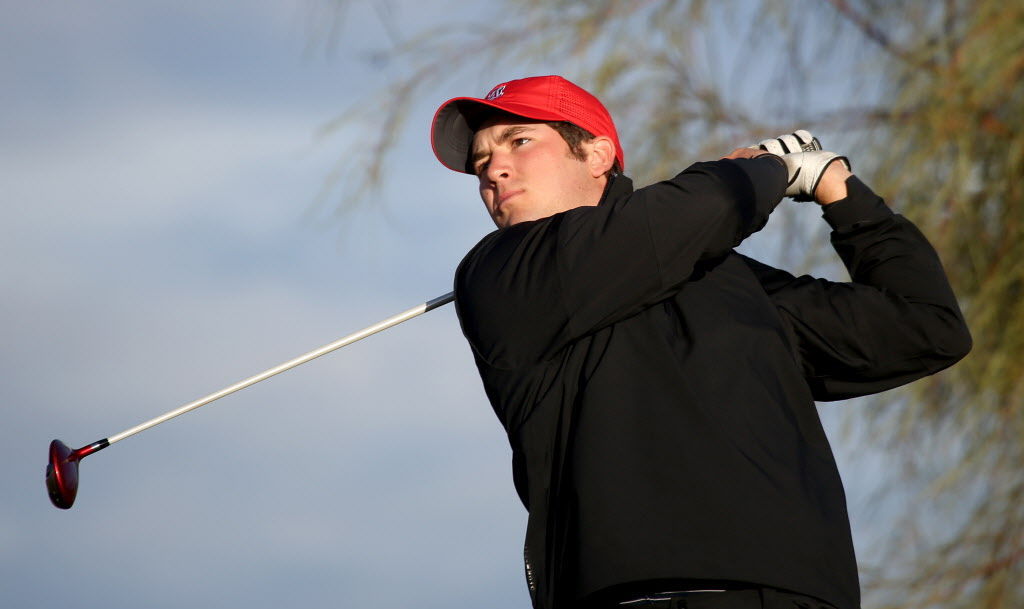 When you think of a golfer getting away from the grind, you don't necessarily picture the guy trading in his khakis for a pair of leather chaps.
But Arizona freshman George Cunningham is as familiar with Harley-Davidson as he is Phil Mickelson.
The Wildcats' freshman sensation, who will compete this weekend in the NCAA regionals after recently being named to the All-Pac-12 second team after a third-place showing at the conference tournament, practically spent the same time on the open road as he did the putting green.
He was bred in Arizona, first in Phoenix then in Tucson, blossoming into a world-class player by the time he could legally drive a car.
By then, he was putting in a full workweek on the golf course, sometimes with overtime.
But there was a balance, one that has kept him grounded and with a level of maturity even as he's taken the leap from home-schooled junior champion to collegiate star.
"Growing up, I did that as much as I did golf," he said of his time spent motorbiking and motorcycling with his family. "We'd go practically every weekend. I had cousins who did it, uncles who did it. We'd ride two, three days at a time."
This is a kid who understands that in order to become a better golfer, he sometimes has to — gasp! — not golf.
You don't climb to a top-15 national junior ranking and get rated the second-best golf recruit in the country without a yeoman's dedication to the work. But you don't stay there unless you're willing to put that work aside sometimes, as Cunningham has learned at the ripe old age of 19.
This is all happening in the time frame he thought it would. Cunningham had high hopes when he enrolled at the UA. His performance this year is not shocking, though the school year has somewhat been to him.
He could not brace himself for this amount of schoolwork, and this little golf. He's learned to cram eight hours of course time into four hours.
Homework, class — actually going to class, in lieu of his home-school education — that was a bit of an adjustment. He's smart, though. He introduced himself to his professors and made sure to maintain relationships with them to ensure that his education would still have that personal touch.
And he's made sure to get on the road, now and again.
"It's my time to relax and revamp," he says.
That ability to get away – to get onto the open highway and to feel each busted putt or shanked approach drift away with each passing mile — that is not lost on the young Cunningham.
"I think it's one of the most important things, especially if you're able to do it on the road if you're traveling," he said. "It lets you clear your mind. You're not intensely focused on golf, 24/7. I've had that problem in the past. I've thought too much about golf; even when I'm not on the course, I think too much of it. It honestly hurts your game if you do."
Before, Cunningham says he put anywhere between eight and 10 hours per day on the course. He saw more bunkers than an "All in the Family" reunion.
Now his life more closely resembles what it used to, before golf became the focus.
Cunningham did not grow up a golf prodigy. This was not a toddler Tiger Woods on "The Mike Douglas Show," flashing his advanced putting skills. Cunningham was introduced to the game by his father, who, he said, played "every sport except golf" as a kid and did not take it up until later in life.
Cunningham did not tear up the early junior circuit, and his time back then was divided among myriad sports and activities.
By his early teen years, though, Cunningham was all in, and at 13, he was fully committed. The time he spent on other sports went to golf.
As he did not attend a traditional high school, it's not as if he had many social organizations and extracurriculars to drop. He simply spent most of his day, sometimes all of his day, devoted to his sport.
"I made a decision that golf is what I want to do for a living," Cunningham said. "I don't like anything one-tenth as much as I like golf. If I can really put in the time, I thought, I might be able to play professionally. It didn't seem real that it could happen until recent years."
But now he's on the doorstep.
He's had a fantastic freshman season — he ranks second on Arizona's freshman single-season list for stroke average — with yet another shot this weekend to extend it. On May 4, Cunningham was tabbed for a spot in the NCAA regionals at The Farms Golf Club in Rancho Santa Fe, California. He will play as an individual, as Arizona failed to qualify as a team.
Cunningham will need to finish as the top individual not affiliated with a participating team in order to advance to the NCAA championships.
And from there, who knows?
Pretty soon, he might just be able to afford a Harley of his own.