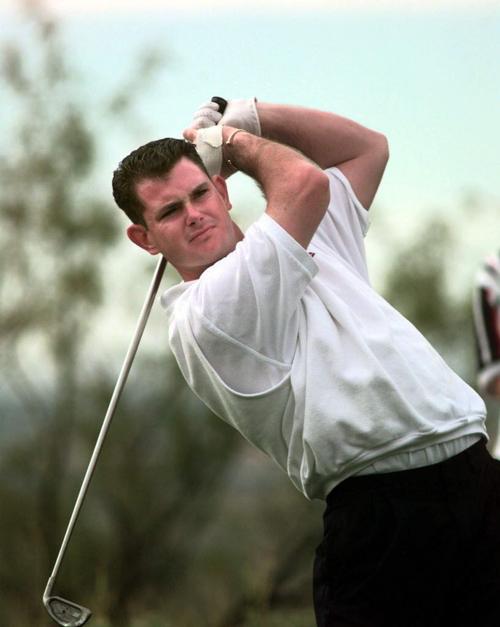 There isn't quite an Annika Sorenstam, or Lorena Ochoa, to pinpoint in Arizona men's golf history.
That is, a bona fide star in both college and professionally.
Jim Furyk is the most recognizable ex-Wildcat in the pros, with more than $60 million in career earnings, a U.S. Open win, a second-place finish in the PGA Championship, two fourth-place finishes at the Masters and four fourth-place finishes at the British Open.
Ricky Barnes has had a solid post-UA career — notably finishing in second place at the 2009 U.S. Open — and Rory Sabbatini has six PGA tour wins in his career, including a runner-up finish at the 2007 Masters.
In the 1970s and '80s, Don Pooley and Dan Pohl were stars in their own right.
But this isn't a list of the best post-college careers, anyway.
It's about what these golfers did while they were Wildcats.
And for that, Pooley, Pohl, Sabbatini, Barnes and Furyk are among the 10-best in program history. But they're not the best.
At the top, there are three golfers ahead of the pack — Chris Nallen, Robert Gamez and Manny Zerman, with David Berganio just behind them.
Gamez was both a national and Pac-10 player of the year, a two-time NCAA regionals champion and a three-time All-American.
Zerman came in third place at the NCAA tournament as a freshman, won a Pac-10 title, the U.S. intercollegiate, two NCAA West Regional titles, and was a two-time, first-team All-American.
But it's Nallen who sits at the top.
Nallen, now an assistant coach for UA, didn't quite pan out as a pro, largely due to a chronic back issue, but his Wildcats career was stellar.
And this is all from a guy who was overshadowed by Barnes for the early part of his collegiate career.
"Sometimes in college, he's put on the back burner, so to speak," then-coach Rick LaRose told the Star in 2003. "It's really not a thing that I'm very happy about because Chris Nallen is one of the best players in the country, day in and day out. I think he deserves a lot more recognition than he gets."
Nallen didn't mind shying away from the limelight, though.
"Team comes first here," he said. "To win individually is great and everything, but you want to help your team as much as you can."
Why Nallen? His consistency was perhaps the most impressive part of his UA tenure.
He's UA's all-time leader in career scoring average (71.19) and single season (69.79), and also holds the records for lowest 18-hole total in relation to par, lowest 36-hole aggregate total, lowest 54-hole total in relation to par, lowest 54-hole aggregate total and the second-lowest 72-hole aggregate total.
He won an NCAA West Regional, and also won the UA's Sapphire Award for best male athlete. He was a member of the 2003 U.S. Walker Cup team and the 2004 U.S. Palmer Cup team. Oh, and Nallen finished 2002-03 ranked No. 10, and 2003-04 ranked No. 3.
Not to mention, he was also a three-time All-American — twice first-team — and a four-time all-conference selection.
"The bar has been set really high here," Nallen said in 2004.
Nallen moved it even higher, too.
Here's a look at the top 10 UA golfers based on their careers at the school:
1976 first-team All-American
1976 All-WAC selection
Finished in fifth place at the 1977 NCAA championships
Arizona Hall of Famer
Won Fred Enke Award in 1972 and 1973
Arizona Hall of Famer
Runner-up (to Stanford's Tiger Woods) for 1996 NCAA title
Finished in sixth place at 1997 NCAA championships
Ranked No. 1 for most of the 1997 season
Two-time first-team All-American
1998 Pac-10 Golfer of the Year
Three-time all-conference
Arizona Hall of Famer
1969 WAC champion
Two-time All-American. The first-ever golf All-American at UA
Runner-up at the 1969 NCAA championships
1967 and 1969 WAC player of the year
Two-time all-conference
Arizona Hall of Famer
Two-time All-American
Three-time all-conference first team
As a senior, had seven top-10 finishes
Fourth-most career competitive rounds played in UA history
Won the 1993 Nike Mississippi Gulf Goast Classic
Arizona Hall of Famer
Won NCAA West Regional title in 1992
1992 first-team All-American
1992 all-conference
13th-best career scoring average in UA history
Won California amateur championship in 1991
Helped Wildcats win Pac-10 and NCAA West Regional titles in 1991
Arizona Hall of Famer
2001 Pac-10 champion
2002 NCAA West Regional champion
Posted four consecutive top-20 finishes at NCAA championships
Won 2002 U.S. amateur championship
2000 Pac-10 and NCAA Freshman of the Year
Three-time All-American
Winner of the 2003 Ben Hogan Award, given to nation's top golfer
2003 Pac-10 Golfer of the Year
Four-time all-conference
Ranked No. 19 in 1999-00, No. 27 in 2000-01 and No. 6 in 2002-03
Arizona Hall of Famer
Qualified for Masters in 1992 while he was still a Wildcat
1993 Pac-10 Golfer of the Year
Three-time All-American
Member of the 1991 and 1993 U.S. Walker Cup team
Three-time all-conference
Won USGA Public Links title twice
As a sophomore, had seven top-10 and 11 top-20 finishes
Won U.S. Intercollegiate Title
Played a key role in Arizona's 1992 team title, its first ever
Arizona Hall of Famer
1991 Pac-10 champion
Qualified for Masters as amateur in 1991
Won U.S. Intercollegiate in 1992
Twice finished third overall at the NCAA championships
Two-time first-team All-American
Three-time first-team all-conference
Two-time NCAA West Regional title winner
Arizona Hall of Famer
1989 NCAA Golfer of the Year
1989 Pac-10 Golfer of the Year
1989 NCAA West Regional title
Won eight college tournaments
Three-time All-American
Three-time all-conference
Member of the 1986 U.S. Walker Cup team
Eric Meeks (1986-88)
Ted Purdy (1992-96)
Larry Silveira (1987-88)
Mike Springer (1987-88)