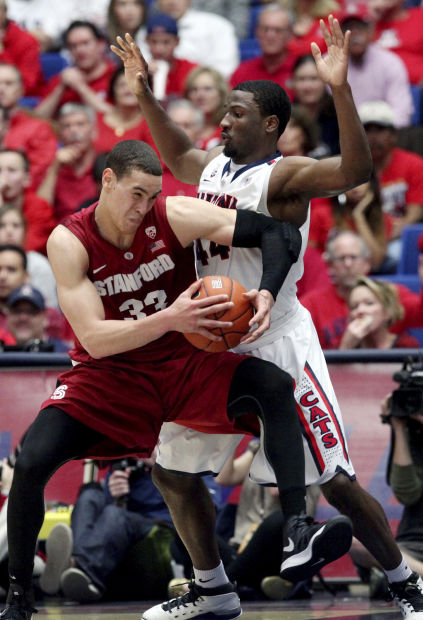 As he was standing in a buffet line Saturday, choosing between fettuccine and meatballs, Michael Thompson said the one thing all working men would like to be able to say on a hot August night.
"I'm playing in the PGA championship next week and the FedEx Cup after that."
This is a man who has already banked $1,226,834 this year and could double it before Labor Day.
This is a man whose summer schedule has included work in England, Canada, Washington, D.C., San Francisco, and, well, anywhere that Tiger and Phil go.
Before Thompson left Oro Valley Country Club, one of the 60 junior golfers playing in the eponymous Thompson Invitational asked if he could see Thompson's PGA Tour card. It was as if he wanted proof.
Is there really a PGA Tour card at the end of the golfing rainbow? Can life be that good?
Thompson opened his wallet and passed his card to the junior golfers.
"When I was your age," he said, "I told my friends at (Rincon/University) high school that I was going to be on the PGA Tour. They would just laugh. I never let anybody tell me it wasn't possible."
Mike and Beth Thompson sat at a dinner table Saturday night as their son spoke about his life. I watched them as much as I watched Michael handle himself so ably. Their eyes glistened. Can you imagine the pride?
This is no accident. You don't finish No. 2 at the U.S. Open, or runner-up at the U.S. Amateur, because you got hot. Thompson climbed to No. 57 on the FedEx Cup rankings for the same reason he earned 21 merit badges and became an Eagle scout. He put in the work.
"Michael is so positive," said Susie Meyers, a former UA star and LPGA regular who became his golf mentor 13 years ago. "You knew he'd be successful at whatever he chose."
Rather than spend last week preparing for just the fourth major of his young golfing life, Thompson chose to return home and spend three days hosting his own Junior Golf Association of Arizona event. It would've been easy to send his money and put his name on the trophies, but he went a step beyond. He came back and spent three days mixing with the kids and their parents.
Only then did he take a late afternoon flight to Kiawah Island, S.C., for the PGA Championship, which begins Thursday.
Thompson wasn't a golf prodigy or a child of privilege. He didn't spend his childhood at a country club. His father, Mike, grew up in Iowa and came to Tucson 55 years ago when his father, Don, opened a family restaurant here. Mike sells plumbing supplies. His mother, Beth, was an English teacher at Sabino High School.
Michael Thompson is a self-taught golfer. By 13, without a lesson, his handicap was 3. By 14, he was regularly breaking par.
"I backed the car over his golf clubs one day," his father said, laughing, "and the next day Michael went over to Fred Enke Golf Course and picked a new putter off the rack."
Now, more than a decade later - a state champion at Rincon/University, a two-time All-American at Alabama, the 2010 NGA Hooters Tour Player of the Year - Thompson has earned $2.2 million on the PGA Tour with the same putter.
Thompson told the JGAA golfers about "my humble beginnings." It was ironic that the Thompson Invitational was played at Oro Valley Country Club, because, as a junior golfer, Thompson didn't have access to Tucson's top clubs.
"I think I played (OVCC) two or three times, and it was always such a special thing, such a big-time golf course," he remembered. "I played a lot in the Ricki Rarick junior golf program at Randolph. I played at Forty-Niners and at Fred Enke. My parents would take me to Dorado golf club (a short executive course); I would putt and chip while they played. I would do it for hours."
After forming a partnership with Meyers during his junior career, Thompson chose to leave Tucson for some far-reaching reasons (forget that the UA didn't really offer him a scholarship). He chose to attend Tulane so he could broaden his golf game in a region where the wind was stronger and it rained more than in Tucson. He wanted to get used to different designs, different types of golf-course grasses, and play more than just desert golf.
Adversity soon introduced itself, as it does with all golfers.
Tulane eliminated its golf program after Hurricane Katrina devastated the Gulf Coast. Thompson moved to Houston, regrouped, gave the UA a second chance to recruit him (it didn't) and then became part of the Crimson Tide's NCAA powerhouse. (He met his wife, Rachel, at Tulane; they live in Birmingham, Ala.).
In 2009, he played the NGA Hooters Tour, virtually living out of the back seat of his car. He earned $22,000. His expenses were close to $80,000. He kept moving forward anyway.
"My attitude has always been that I'm going to be the most positive guy on the golf course," Thompson said. "That's why I'm holding this PGA card today."
And then he put the card back in his wallet. Nobody laughed.