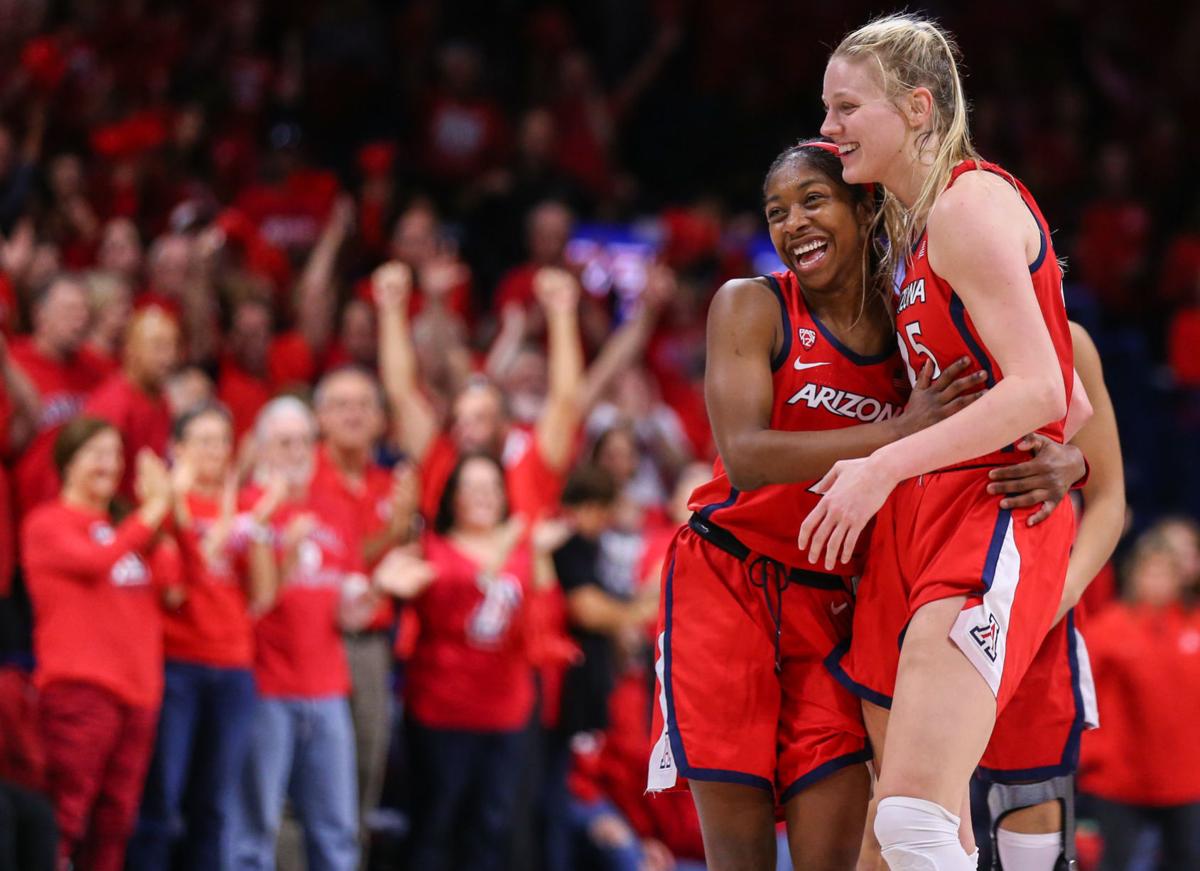 Women's basketball in the Pac-12 didn't work for 25 years because the league didn't have a clue about properly marketing the game. The men played a Thursday-Saturday rotation and so did the women.
This was an interest and revenue killer in Tucson more than anywhere else because when Lute Olson's men's team played on TV almost every Thursday and Saturday, TV ratings in Tucson must've matched the numbers of the Beatles on their first time on "The Ed Sullivan Show" in 1964.
Joan Bonvicini's UA women's basketball teams went to seven NCAA Tournaments in nine years, but who really knew?
Finally, in 2013, someone in Larry Scott's Pac-12 office suggested that women's basketball could improve its bottom line and hometown interest if it played a Friday-Sunday rotation.
Average attendance in the league was stagnant at 1,862. It soon grew to 2,572. Last season it was a record 3,110.
This year, after Arizona drew a regular-season school record 10,160 fans in a wild, crazy and physical 59-53 victory Friday night over No. 16 Arizona State, the league's average attendance for home basketball games hit 4,000 for the first time in history.
Arizona is late to the party. The UA's women's basketball program went off the grid for a decade, proof that bad basketball doesn't draw even if it has the calendar to itself; the Wildcats went 28-116 in conference games over the last eight years.
Well, get the party started; all of that has changed. Whatever that Arizona coach Adia Barnes says now goes to the A wire and it's not gimmicky or a hard-sell.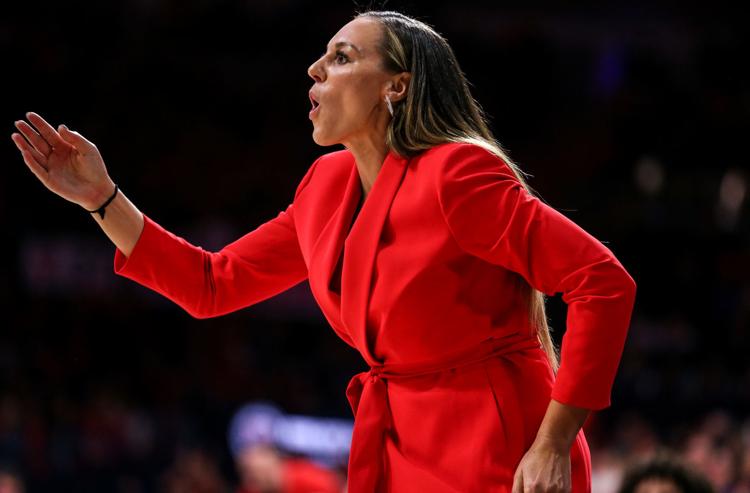 Worried about parking? It's free. It's a short walk at sunset.
Worried about the price of tickets? It's no worse than going to the Cineplex on Friday night.
Worried about the on-court product? After sweeping the Sun Devils in their season series, the Wildcats are 16-3, ranked No. 18, breaking home attendance records that most of us — me, included — never thought possible.
Worried about connecting with the coach? Barnes grabbed the microphone after Friday's win and said "I love all of you.''
This type of emergence and rise to relevance is unbroken territory in all but a handful of NCAA women's basketball precincts.
I was sitting in McDonald's with my grandson Thursday when a woman and her daughter asked if I was going to the basketball game Friday.
"It's Saturday in Tempe,'' I said.
"No,'' they said. "The women's game.''
Oh yes, the secret is out.
I'm not exaggerating when I say the crowd at McKale Center on Friday was as loud -- as energized and emotional -- as it gets at McKale when Sean Miller's team is playing the Sun Devils.
Now, if it's possible, it gets more difficult for Barnes. Pac-12 women's basketball is so unforgiving, so difficult, that Arizona has to continue to get better to keep the customers satisfied. No one said it would be easy.
ASU coach Charli Turner Thorne, who was hired by the Sun Devils in 1996 and should be a first-ballot Hall of Famer when she retires — she is only 54 and has now coached 499 victories — has only been able to win (or share) Pac-10/12 championships in 2001 and 2016.
How deep is Pac-12 women's hoops? The league received 25 NCAA Tournament berths over the last four seasons and seems sure to get six in March. Unless dynamic junior point guard Aari McDonald is injured, the Wildcats will be among the six in the NCAA Tournament -- Arizona last got a bid in 2005.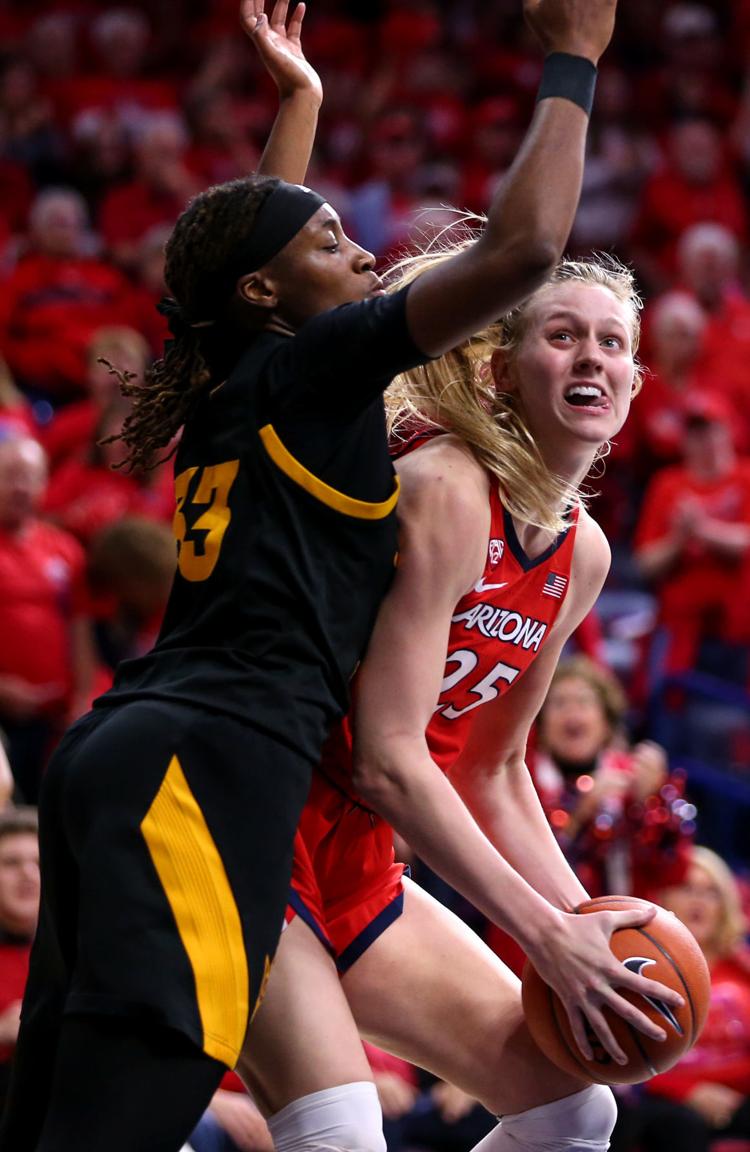 Beating the Devils probably enhanced the Wildcats' chances to be a first- and second-round host.
The women's NCAA Tournament still allows home teams to stage first-weekend games, a practice that was abolished in the men's tournament in 1988. But to be a host you've got to be seeded 1-16 and going to be a motivator, especially with remaining games against top 10 opponents Oregon State, Oregon, Stanford and UCLA.
The Sun Devils last played host to an NCAA Tournament in 2016. They lost a second-round game to Tennessee. Another key part of the process is submitting a bid to the NCAA and making it financially attractive.
If, somehow, Arizona is good enough to get that far, this year or in the near future, it could estimate about 7,500 fans per day. Tickets to the NCAA Tournament are far more expensive than the UA charges for Pac-12 games.
When ASU was a host in 2016, it drew just 3,154 and 2,957 for two games. If the UA's growing popularity in women's basketball can be sustained, it could triple those numbers and appeal to the NCAA.
Although the seed has been planted, and impressively so, that's a story for another day.
Contact sports columnist Greg Hansen at 520-573-4362 or ghansen@tucson.com. On Twitter: @ghansen711