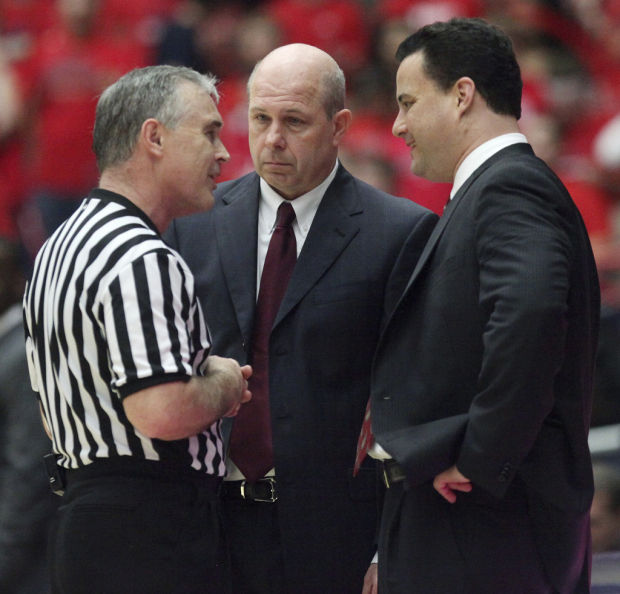 OK, let's say, just to prove your passion for UA hoops, you still have a ticket stub from the 1987 Duke-Arizona game in your wallet.
Let's say, when you're out with the boys, your encyclopedic knowledge of Arizona basketball, your ability to recite UCLA's starting lineup the fateful 1992 day the Bruins snapped Arizona's 71-game McKale winning streak - Tracy Murray, Don MacLean, Darrick Martin, Rodney Zimmerman and Shon Tarver - always earns you a free beer.
And let's just say, given your total recall, you understand the enormousness of Saturday's Arizona-Florida game and remember, without hesitation, the hurt from the last time two Top 10 teams played at McKale, way back in 2004.
You'd be right. No. 4 Stanford whipped the No. 3 Wildcats 82-72. It was the day Channing Frye referred to Stanford's superiority as both a "clinic" and a "spanking."
For manifold reasons, all connected to the departure of Lute Olson, McKale has gone more than eight seasons without a colossal showdown, Top 10 vs. Top 10, one of those I-wish-I'd-have-been-there games often part of the yearly backdrop.
So here come the Gators, feared, unbeaten, bent on winning another national championship, firing the imagination like the glory days of UA basketball.
To properly prepare for a game of such magnitude, to shake off the rust and remember what it was like to watch your team in a Tucson game attracting millions of basketball eyeballs, you must sharpen your Big Game Mentality.
A few things every McKale maniac must know before Saturday's tipoff:
• The only No. 1-ranked team ever to play Arizona in Tucson was La Salle. Hard to believe, right?
The Explorers arrived at Bear Down Gym 60 years ago next week, No. 1, building toward the 1954 NCAA championship, parading the best player to have ever stepped on a Tucson court, Tom Gola, whipping Fred Enke's Wildcats 87-68.
• The only time two undefeated, Top 10 teams played at McKale was Dec. 30, 1987. The 11-0 Wildcats shook off the 6-0 Blue Devils 91-85. It was the one-week anniversary of Arizona's first-ever No. 1 ranking. (The Blue Devils were No. 9).
And keep this in mind: Just because everybody is watching doesn't mean it will be a gentlemanly match, nice vs. nice.
Late in that Fiesta Bowl Classic title game, Duke's Danny Ferry was whistled for a foul near Arizona's bench. He turned to Olson and said, "We're getting homered."
In the din, Olson said something impossible for anyone to hear, but Duke coach Mike Krzyzewski didn't like any conversation. He charged from Duke's bench, toward Olson, only to be separated by referee Booker Turner.
"I would never yell at an opposing player," Coach K howled. Olson didn't give an inch, standing his ground, as the referee separated two heavyweights.
The first of 12 career games matching Top 10 teams at McKale was an epic.
• Arizona and UCLA have met as Top 10 teams just three times at McKale. It seems like a dozen.
In '91, the No. 6 Wildcats beat the No. 7 Bruins 82-77.
In '92, the No. 2 Bruins broke Olson's 71-game McKale winning streak, 89-87, beating the No. 6 Wildcats on a last-second jumper by the reviled Martin.
In '98, No. 8 Arizona prevailed, beating the No. 9 Bruins 87-75.
• Sometimes these battles between Goliaths bring out the worst of the home team.
In 2001, No. 8 Kansas took an unimaginable 19-point lead over Arizona and beat the No. 4 Wildcats 105-97. Salim Stoudamire, a freshman, shot 2 for 19 from the field.
• And sometimes the home team responds to the moment with excellence.
In 1999, No. 4 Michigan State arrived in Tucson with a squad that would go on to win the NCAA title. And yet No. 2 Arizona won somewhat routinely, 79-68.
Arizona led by 18 but the Spartans rallied to tie the game with seven minutes remaining. MSU coach Tom Izzo blamed himself, saying he had over-scheduled. In eight days before arriving in Tucson, the Spartans had played, and beaten, No. 5 Kansas and No. 2 North Carolina.
• The most enduring game among Top 10 teams at McKale was played Feb. 24, 1991. Duke was ranked No. 7. Arizona was No. 9.
The Blue Devils would go on to win the NCAA title, but lost here that day, 103-96 in a steamy double-overtime game.
Coach K called it "a war."
Duke guard Bobby Hurley said, "This is one of the toughest places to play in that I've seen. The fans are always yelling on your free throws and that can rattle you. The fans are on the refs all the time and that can influence them."
Before leaving Tucson, Krzyzewski complained that a three-point basket by Duke guard Greg Koubek, controversially changed to a two-pointer 57 seconds later - without the aid of TV replays - decided the game.
"There must have been some confusion at the scorer's table," Krzyzewski said with total sarcasm. "But I guess they're not used to close games here."
Now, 21 years later, close games, and not Big Games, have become the rule at McKale.
It's nice to be back on the map.