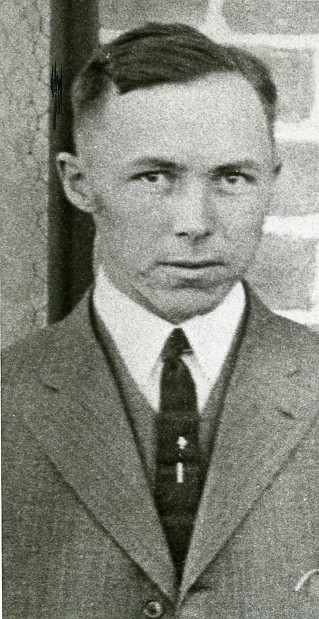 In celebration of Arizona's centennial, the Star is featuring our picks for the 100 best athletes, moments and teams. Throughout the summer, we have been showcasing our list. Here is the second of Greg Hansen's top 10.
Pop McKale, his wife Ada and three daughters lived at 801 E. Second Street, which is now a parking lot adjacent to the University Marriott hotel.
His first UA office, 5 feet by 5 feet, was at Herring Hall, a converted gymnasium which is now 108 years old and used by the College of Agriculture for general storage.
His first game as Arizona's football coach, in 1914, was played on the school's all-dirt field against the Douglas YMCA. His team's yearly budget was $575.
His 1914 team had no nickname and a mere 17 players, and was later described by letterman Orville "Speedy" McPherson as "17 men who were mostly hard-muscled from working on farms, ranches and in the mines."
This was starting at the bottom, or lower.
This was one man, James Fred "Pop" McKale, building, shaping and sustaining an athletic department for the coming century.
"It wouldn't have been possible without Mac," the late Swede Johnson, McKale's onetime student athletic manager and later a university vice-president, told me at the UA's 1994 homecoming weekend. "Without his direction, our athletic department could've been closer to those like NAU or New Mexico State."
In 1956, forced to retire when he neared the UA's then-mandatory retirement age of 70, McKale had been ahead of the crowd, the master builder of athletic departments in the Southwest. Imagine what changes he brought:
• The UA built its first true basketball arena, Bear Down Gym, in 1926.
• Its football stadium, built in 1929, was often sold out, with 27,000 fans.
• Its baseball program, which he started on a $10-a-year budget, was considered a perennial Top 10 squad.
The late Carl Cooper, a Tucson High grad who coached football and track at Arizona in the '50s and '60s and played for McKale from 1935 to 1939, told me that Arizona's emergence as the top athletic department in the Southwest was almost inconceivable.
"We never had an extra dime," he said in a 1996 interview. "But Mac always had a vision to be something special, something beyond the athletic departments in Albuquerque and El Paso and Tempe. He was talking about getting into the Pac-8 with USC and UCLA in the '50s."
McKale died in 1967. Serving in a consulting role for a few years in a small office at the UA Library, he suggested that the school would need to add a third tier, 20,000 seats, to Arizona Stadium. It did in 1976.
He had lobbied for more than a decade to build what became McKale Center, which was dedicated in 1973 and given his name.
"Pop had no fear. He didn't run a loose ship," Ted Keil, a UA grad who was McKale's student manager in the late 1940s, told me in a 1999 interview. "He was in command."
McKale's arrival in Tucson was total serendipity.
After getting his chemistry degree at Albion (Mich.) College in 1910, he taught school in Superior, Wis., for a year and then was offered a minor-league contract to play baseball for the Minneapolis franchise of the old American Association. They intended to dispatch McKale to Walla Walla, Wash. He chose to be a schoolteacher.
After growing up in Lansing, Mich., the son of a deputy sheriff, McKale had a touch of wanderlust. He knew that a fellow Albion grad, Harold Steele, was the principal of Tucson High School.
After reading about a THS teaching/coaching vacancy in a trade periodical, he wrote to Steele and was hired via telegram. He arrived in Tucson by train in 1911. The first thing he noticed was that there was no pavement, no road or sidewalks, in the dusty territorial town.
In a sense, he would be one of those who helped to pave those roads.
McKale was 24 the day he arrived in Tucson. The next 56 years played out like something from a movie.
He taught history and chemistry and helped to build the first football field at the high school. On his first Thanksgiving as a Tucsonan, his high school team stunned the UA junior varsity 11-0.
Here's what this newspaper reported the next day: "Coach McKale has his boys afraid of him. If any one of them makes a blunder, out he comes. The high school team has learned to play fast and sure; Coach McKale certainly deserves credit for the championship team he has developed."
Two years later, a group of UA students submitted a petition to hire the high school coach as their own after McKale's Tucson High team defeated Arizona in baseball. On June 2, 1914, the school hired him to coach all sports and gave him a salary of $1,700 per year.
"To me," former Tucson High and UA football player and later THS head coach Rollin Gridley said in the 1970s book "They Fought Like Wildcats," "McKale was like a God."
In many ways, building the UA athletic program from the ground up, he almost had to be.