Greg Hansen's 100 Best Days in Tucson Sports History
Star columnist Greg Hansen counts down the biggest events, people and personalities. 
Hansen: Series will connect Tucson's top sports personalities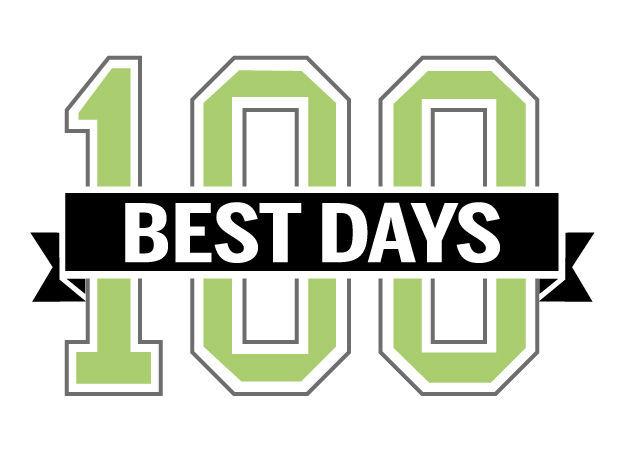 Section 16-D of Tucson's Evergreen Cemetery has for 49 years been the eternal resting place for James Fred "Pop" McKale.
If you walk 25 paces from McKale's grave, you find the burial site of Hiram S. "Hi" Corbett.
What are the odds that the two men most responsible for building Tucson's sports enterprise, college and pro, would die within 35 days of one another, and be buried no more than 35 yards apart?
For the first 67 years of the 20th century, Pop McKale and Hi Corbett were the singular titans of Tucson sports. McKale was the UA's athletic director and football, baseball and basketball coach. Corbett coordinated Tucson's acquisitions of the PGA Tour, major-league spring training and minor-league baseball.
"Without Pop," UA Vice President Swede Johnson said after both men died in 1967, "our athletic department would be closer to that of New Mexico State."
Without Corbett, Tucson's image to outsiders, especially potential residents and tourists, might have been closer to that of El Paso.
The Star's summerlong series, "The 100 Best Days in Tucson Sports History," will include events that began in 1912, in every conceivable sport from steer wrestling to auto racing.
Most of the 100 events we have chosen can be linked in some form to McKale and Corbett.
McKale, a chemistry major, graduated from Albion (Michigan) College in 1910 and was hired to be a coach and history teacher at Tucson High School, beginning Sept. 21, 1912. Seven years after McKale retired, the UA hired another Albion College grad, Cedric Dempsey, to be the school's first full-time assistant basketball coach.
Small world.
Before leaving Michigan, Dempsey went to Detroit's Southwestern High School to recruit prospects for Albion. The coach at Southwestern was Fred Snowden, who in 1972 was hired to be the NCAA's first African-American head coach at a Division I school and coach the first UA team at McKale Center.
The man who hired Snowden, Arizona athletic director Dave Strack, grew up in Michigan and often officiated Albion's varsity basketball games at the time Dempsey was a standout forward.
When Strack left Arizona's AD job in 1982, he was replaced by Dempsey, who eight months later hired Lute Olson as the UA's basketball coach.
In 2010, when Arizona was looking to fill its vacant AD job, the school hired Dempsey to identify the most suitable replacement. He suggested a young athletic director at Mississippi State, Greg Byrne.
It all lines up. McKale to Dempsey to Olson to Byrne in a tidy 98 years.
Many of the "best 100 days" on our list are part of that lineage.
Corbett, a third-generation Tucsonan who inherited his father's lumber business, took a different path to impact the 100 greatest days in Tucson sports history.
His influence in national matters of baseball and golf made it possible for Mickey Mantle and Joe DiMaggio to play baseball at — where else? — Hi Corbett Field. Corbett's determination ultimately led to Arnold Palmer and Tiger Woods winning golf championships here.
Our Top 100 won't be a coronation of Arizona's basketball success, but it will get due consideration. Of our 100 stories, 21 are from high school sports. Another 11 relate to professional baseball in Tucson.
Narrowing the list to 100 events was neither easy nor fun. Our original list of "must include" events reached 141.
When McKale and Corbett died in the summer of 1967 they had one strong link: Corbett had been the first president of the Towncats, a fundraising group that ultimately became today's Wildcat Club. They became such friends that when Corbett had a surprise 80th birthday party at the downtown Pioneer Hotel, McKale served as emcee.
McKale drew laughs when he told a story about how Corbett sat just below the press box at Arizona Stadium.
"At halftime, " McKale said in 1966, "Hi would walk up the stairs, poke his head through the door and say, 'What's the score in Tempe?' We always told him Tempe was losing, even if that wasn't the case. We wanted a man like Hi on our side."
A year later, both men had died. Their legacy is a significant part of our project.
No. 100 • Arizona baseball becomes UA's first-ever No. 1-ranked team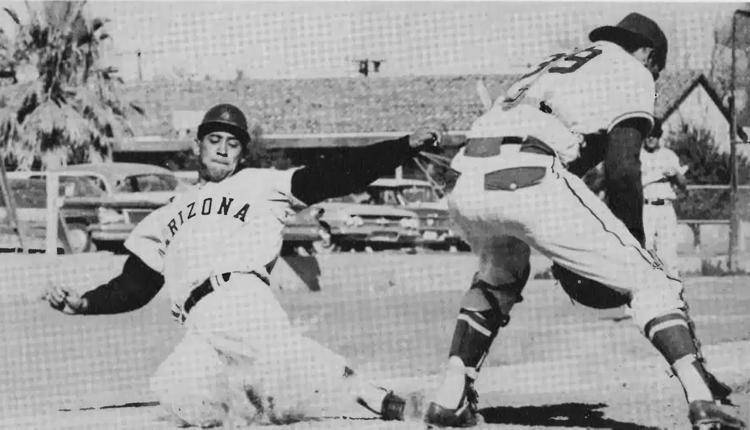 April 25, 1962: Arizona is ranked No. 1 for the first time in any sport
Cal scheduled a six-game series in Tucson in April 1962, and Golden Bears coach George Wolfman was familiar with the best of college baseball.
His team had played No. 1 USC before arriving in Tucson; the Trojans were the defending NCAA champions.
But when Arizona swept all six games, capped by an 11-0 blowout in which UA freshman Dan Schneider struck out 12, Wolfman was impressed.
"Position for position," he told the Star, "this is a better ball club than USC."
Arizona was then 33-3. Schneider, a lefty from Rincon High School, was himself 11-0 with an ERA of 0.95. Those who voted in the national poll had already ranked Arizona No. 2.
To get to No. 1 for the first time in school history, in any sport, Arizona would have to successfully maneuver a five-game trip to Los Angeles the following week. As was typical of college baseball in that period, the UA rarely left Tucson. It had played 33 of its 36 games at home.
Sancet knew the next poll would be released the day after Arizona played at UCLA. The Wildcats won 7-1 and late that night Sancet got a call telling him his club had climbed to No. 1.
Here's how the Collegiate Baseball poll of April 25, 1962 looked:
1. Arizona.
2. Florida.
3. Minnesota.
4. USC.
Attracting that much attention was rewarded immediately. The Los Angeles Dodgers invited the Wildcats to be their guest for a Saturday night game at Dodger Stadium against the Pittsburgh Pirates. Don Drysdale pitched a complete game in a 2-1 victory before 40,508 fans.
The Associated Press sent a reporter to Tucson; every newspaper in the country received a 1,000-word story on how the obscure school in the desert had become No.1. Arizona led the nation in attendance that year (1,353 per game).
But after leaving Los Angeles with a 39-3 record on May 2, the No. 1 ranked Wildcats encountered unexpected trouble. They lost two home games against Arizona State, including a 20-7 blowout, and another to Cal State Los Angeles.
Leadoff batter Lee Tosto broke his wrist, and the club's leading hitting, Joe Skaisgir, was in and out of the lineup with an ankle injury.
Arizona lost the No. 1 ranking but was given home games in the NCAA playoffs against the Texas Longhorns. A berth in the College World Series was at stake.
But Schneider, a first-team All-American who completed the season 13-2, and would sign a six-figure bonus contract with the Minnesota Twins over the summer, lost a thrilling 1-0 game to the Longhorns. Arizona was eliminated, finishing the season 40-8.
Where are they now? Schneider, who still owns the Arizona single-season strikeout record (186), made his MLB debut the following May and pitched 117 games in the big leagues. He retired from baseball in 1970 and now owns an insurance agency in Tucson. He has been chairman of the Arizona Baseball Commission and president of the Southern Arizona Sports Development association.
How they did it: Sancet, who coached Arizona to the College World Series in 1954, 1955, 1956, 1958, 1959, 1960, 1963 and 1970, did not win a national championship. He was allowed to give four full scholarships in 1962, and 16 more partial scholarships of books and tuition. He retired in 1972 and died in Tucson in 1985.
---
Photo: Arizona's Aurelio Martinez slides home safely to score the Wildcats' first run against Utah in 1962. From the 1962 Desert yearbook. Photo courtesy of UA Special Collections
No. 99 • Arizona softball caps NCAA's best-ever season with national title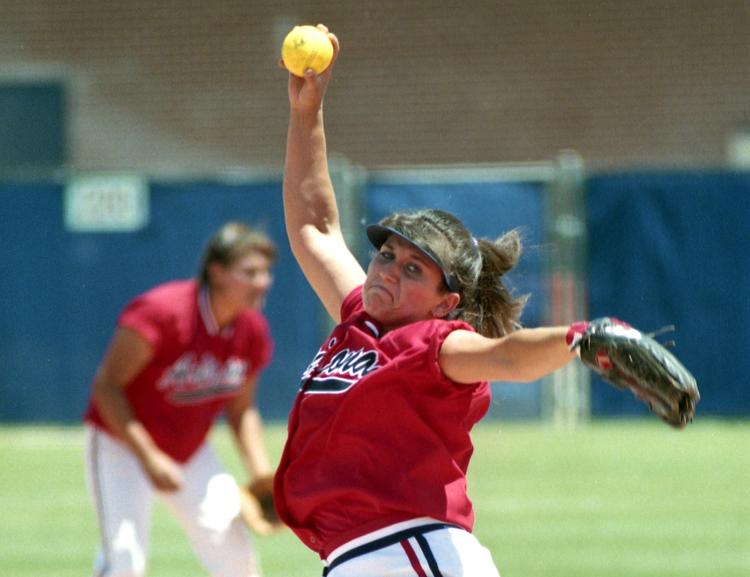 May 26, 1994: Arizona sets an NCAA record with its 64th softball victory and the school's third national championship
Arizona opened the 1994 college softball season on a 31-game winning streak, later added a 19-game winning streak and entered the Women's College Softball World Series with a 60-3 record.
No team had ever won 60 games in a season, not even coach Mike Candrea's national champions of 1991 (56-16) and 1993 (44-8).
Once at the finals in Oklahoma City, Cal State Northridge coach Gary Torgeson said, "Man, I thought the Yankees had a lineup. These are the Tucson Bombers."
Arizona swept four World Series games by a cumulative score of 20-2. It beat Cal State Northridge 4-0 in the championship game. But it wasn't as much bombing as it was pitching.
Senior Susie Parra completed the year 33-1. The Wildcats had six first-team All-Americans, hit an NCAA-record 93 home runs and scored 527 runs, then a college softball record.
Asked if the '94 Wildcats were the best team in softball history, Candrea replied "I'd say yes."
The Wildcats finished 23-1 in the Pac-10, the best record in league history. Not only was Parra 33-1 — she was selected the national player of the year — but the UA's secondary pitchers, Nancy Evans and Carrie Dolan, combined to go 28-2.
Arizona's '94 softball team didn't have a hole.
Leadoff hitter Amy Chellevold hit .504 and established a school record 30-game hitting streak. Shortstop Laura Espinoza hit an NCAA record 30 home runs. Freshman catcher Leah Braatz hit 18 more.
Future USA Olympic first baseman Leah O'Brien hit .416 as the Wildcats led the nation in attendance at 2-year-old Hillenbrand Stadium, 1,316 per game.
Where are they now? Parra, from Scottsdale Chaparral High School, is the co-head coach at Santa Ana Junior College near Los Angeles. She spent 10 years on the staff at Cal State Fullerton, and has been pitching instructor for youth league pitchers in Southern California and Arizona for 20 years.
How they did it: Arizona won 23 games by run-rule margins.
---
Photo: Arizona pitcher Susie Parra warming up for the 1994 NCAA Regionals vs. Texas A&M at Hillenbrand Stadium on May 2, 1994. Photo by Rick Wiley / Tucson Citizen 
No. 98 • Tucson High posts perfect season, claims state title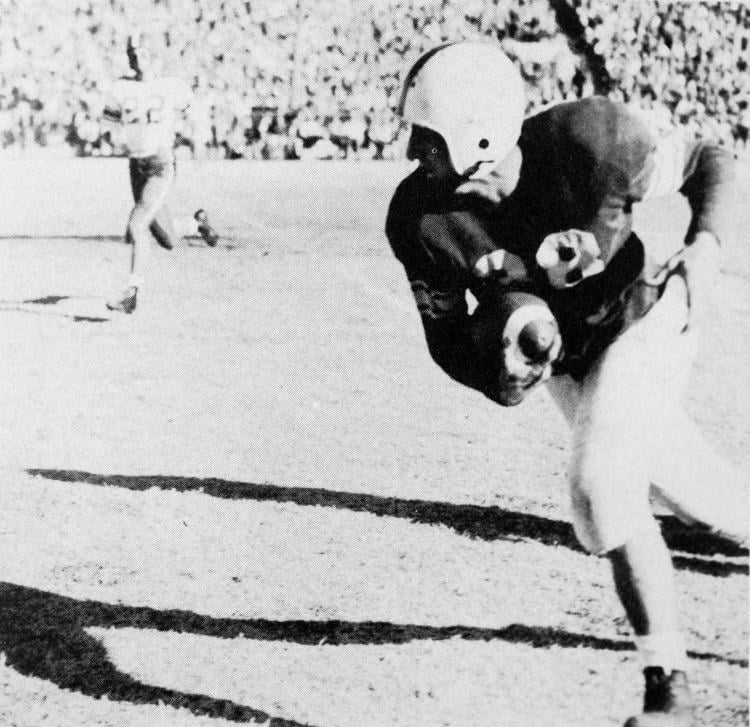 Nov. 27, 1952: Record crowd watches undefeated Tucson High win state title at Arizona Stadium
By 1952, Tucson High was no stranger to putting a state championship football trophy on display: The Badgers had won undefeated titles in 1943, 1944 and 1945.
Their winning streak in that period reached a state-record 32. It wasn't uncommon for the Badgers to overflow their home stadium, with more than 6,000 people ringing the field and standing in the end zones.
But during the '40s, Tucson's chief rival was Mesa High School, which it beat in the '43, '44 and '45 championship games. After that, Tucson went through a transition, replacing legendary coach Rollin Gridley with Red Greer.
Mesa would go on to win three of the next five titles.
When Greer and the Badgers returned to power, winning the 1951 state championship, they had finally developed a rivalry with the city's second high school, Amphitheater, which had the top football team in its brief history.
They would meet at 2 p.m., on Thanksgiving afternoon. Due to unprecedented city-wide interest, the game would be played in Arizona Stadium for the first time.
The Badgers were 9-0. The Panthers, 6-2.
Tucson had been so impressive that after a 27-6 victory at the annual "D Day" in Douglas, the Star began its game coverage this way: "Tucson High's unbeaten, invincible Badgers …"
To that point, the '52 Badgers were likely the top football team in Tucson history, and probably Arizona. College recruiters discovered that the off-the-beaten-track school had five Division I prospects: quarterback Pat Flood signed with Notre Dame; halfback Joel Favara went to Oklahoma State; fullback Mark Owen to Arizona; tackle Dick Nordmeyer to Illinois; and lineman Guy Barrickman to Missouri.
Amphi coach Murl McCain unwittingly gave the Badgers a vein of motivational gold.
"Flood can't pass when he's on his back and neither can Favara do much if he's tackled at the line of scrimmage," he told the Star in advance of the game.
By comparison, asked about his team's chances, THS' Greer said "now is not the time for praise."
The Thanksgiving game was of such importance in Tucson that it was the lead story on Page 1A of the Star's Thanksgiving morning edition. The headline: "THS-Amphi Duel To Jam Stadium Seats."
It was a sellout; 15,000 attended.
The Badgers had experienced just one close game all season, a 28-21 victory over Mesa. It rolled over eight other opponents by a combined score of 214-42.
Greer took no chances in looking past the rival Panthers, who would be meeting the Badgers for just the fifth time. He installed two trick plays — a halfback pass from Favara, and a tackle-eligible pass to Barrickman. Both worked for touchdowns. Tucson won 25-7.
Afterward, the Badgers celebrated an undefeated season by carrying Greer into the locker room and dousing him in the showers. Most of the team followed, in full gear, for a postgame celebration they would remember the rest of their lives.
Where are they now? Flood transferred from Notre Dame to Navy and played on Midshipmen teams ranked in the Top 10 in the Sugar and Cotton Bowls of the mid-'50s. After four years in the Navy, he returned to Tucson and earned a law degree. He worked more than three decades at the Phoenix law firm of Jennings, Strauss and Salmon. He was a WAC and Pac-10 official for almost 40 years, working the 1996 national championship game, the Rose Bowl and three Territorial Cup games.
How they did it: The Badgers' 1952 state championship was the end of Tucson's era as the state's top football program. They wouldn't win another championship until 1965.
---
Photo: Tucson High School football player Joe Favara, ca. 1952. Photo courtesy of Tucson High School 
No. 97 • Tucsonan Grabb ranked No. 1 in world tennis doubles
June 12, 1989: Jim Grabb ranked No. 1 in world tennis doubles
Jim Grabb's name appeared in a Tucson newspaper for the first time on Nov. 4, 1974. He was 10.
He had won the Boys 12U singles championship at the Kachina Classic in Tempe. It was the beginning of a meteoric climb that saw the son of a Tucson urologist who had immigrated to America from Byelorussia through Cuba become one of the world's leading tennis players.
Grabb never did win the state tennis championship while at Tucson High, but he helped Stanford win an NCAA championship, and he not only won matches at Wimbledon, the French Open and U.S. Open, but also won for the U.S. Davis Cup team.
In April of 1981, in the middle of his junior season at Tucson High, Grabb relocated to Scotts-dale so he could train against consistently better competition. He ultimately began working with long-time Arizona State coach Lou Belken, who was director of the Scottsdale Racquet Club.
"There just weren't that many serious tennis players in Tucson," said Grabb, whose first notable victory in Arizona tennis was against Scottsdale's Jonny Levine, ranked No. 1 in the Southwest in 1979, at the Tucson Racquet Club.
New Arizona coach Ted Kissell, who coached Grabb at Tucson High, recruited Grabb, but when Stanford's legendary coach Dick Gould offered a scholarship, the trajectory of Grabb's career forever changed.
From 1984-86, he was a three-time NCAA doubles and two-time singles All-American, helping Stanford win the NCAA title in 1986 and finish as runner-up in 1984.
Grabb's last notable competition in Tucson was March 23, 1984, when he returned to Tucson as a Stanford sophomore and beat long-time rival Mike Lee — Arizona's 1980 state singles champion from Sabino High School.
It took 6½ hours, with play stalled by rain and strong winds.
"When I had him in high school, Jim was short, thin and aggressive," said Kissell. "Now he's tall, thin and aggressive."
Grabb wasn't an over-achiever, he was merely an achiever. Gould said he ordinarily didn't recruit someone projected "as low as" No. 20 in the junior rankings, but saw something special in Grabb.
Modestly, Grabb said, "I kinda snuck in."
His career catapulted in a hurry.
He won an international singles championships in Seoul, South Korea, in 1987, beating Andre Agassi in the finals.
After pairing with Patrick McEnroe, he won the French Open doubles title at the famed Roland Garros stadium in 1989.
Grabb and McEnroe were then ranked No. 1 in the world. He was ranked No. 1 periodically through 1992, often with Richey Reneberg.
Grabb's career professional singles record was 179-199. In the small-world department, he beat former Arizona Wildcat standout Paul Chamberlain in a 1990 Wimbledon second-round match.
Grabb's last notable victory was the Men's 35 Senior Doubles, with Reneberg, at the 2002 and 2003 U.S. Open.
Where is he now? Grabb earned an economics degree at Stanford. He worked in New York City as a financial analyst from 2007-12. He is now a performance coach and mindfulness instructor at his own firm, Advanced Awareness in Sagaponack, New York.
How he did it: While visiting the Star newsroom in 1993, Grabb, now 52, said, "I felt pretty satisfied to make money doing what I like doing and I look at these (successes) as gifts rather than as things I deserve.
"I don't expect them. It's like icing on the cake."
---
Photo: Tennis star Jim Grabb at his parents' home in Tucson in September, 1990. Photo by Jim Davis / Arizona Daily Star
No. 96 • Rodeo champ Echols raises $5K for first La Fiesta de los Vaqueros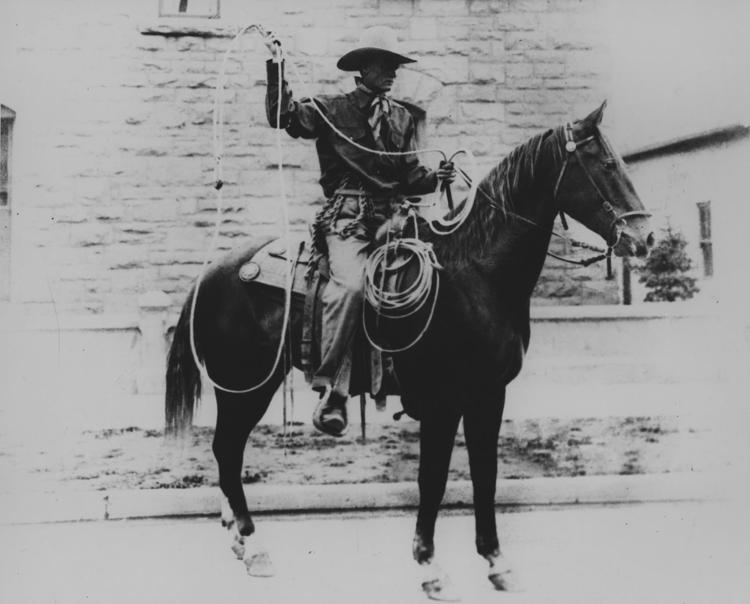 Feb. 21, 1925: World steer wrestling champion Ed Echols competes in the first La Fiesta de los Vaqueros
Ed Echols and Leighton Kramer were so prominent in Tucson's 19th century that you can now drive down eponymous streets named in their honor.
Echols Avenue.
Kramer Avenue.
Their lasting collaboration was the Tucson Rodeo — La Fiesta de los Vaqueros — a February celebration/holiday that has been staged from 1925-2016, with the exception of a World War II hiatus in 1943.
It has become one of the leading stops on the Pro Rodeo Cowboy Association tour, and is also the hallmark of Tucson's "high season," late February.
It began innocently enough at the inaugural Calgary Stampede in 1912, when Echols, a wrangler from the KH Ranch near Dragoon, won the world steer wrestling title. He was forever known — and long fostered his reputation — as "champion roper of the world."
In the mid-1920s, Kramer, something of an entrepreneur who was president of the Arizona Polo Association, met with Echols to discuss the creation of a rodeo and parade. The motivation was clear: drawing attention to Tucson's tourist season.
Echols, who would later become a five-term sheriff of Pima County, later said plans for the Tucson Rodeo were drawn up in a simple notebook at the Chamber of Commerce office.
"The Chamber put up $5,000," he said. "We had no grandstand or any arena, and had to start from scratch. Kramer had 160 acres south of Pima Street and we leveled it off — cost us a dollar a yard. We built a hog-proof fence and a grandstand to seat 2,500."
The first rodeo in Tucson was located across the street from the Arizona Inn.
"We had bronc ridin' and bulldoggin' and steer ropin' and calf ropin'," Echols said in his family memoirs. "Calf ropin' was the most popular, and drew 54 contestants. Steer ropin' was next and 45 men stepped up and paid their $150 entry fee.
"Well, we liked $11,000 to pay for all the work, but the rodeo was a big success. It was very encouraging the way people came from town and from all country around."
La Fiesta de los Vaqueros moved to an abandoned airfield at Irvington Road and Sixth Avenue in 1932. It initially seated 3,000. Now it seats 11,000, and is usually filled for the final four days of Rodeo Week.
More than 600 of the world's leading cowboys and cowgirls compete for about $350,000 in prize money every February.
Where are they now? Echols, who rode at the front of dozens of Tucson Rodeo Parades, retired as sheriff in 1960 and died in 1969. He is buried at Evergreen Mortuary and Cemetery. His gravestone says "Mr. Rodeo."
How they did it: To attract interest, the first Tucson Rodeo offered prizes to ticket buyers. First prize was a 750-pound block of ice. Interest in the February rodeo became such that ABC's "Wide World of Sports" broadcast live from the Tucson Rodeo Grounds in 1962, when that program was among the most popular on TV.
---
Photo: Tucson world steer wrestling rodeo champion Ed Echols shows off his roping technique. Handout photo 
No. 95 • Cholla's Overton leads Chargers to title, notches most points in Arizona high school history
Jan. 31, 1992: Cholla High's Chuck Overton breaks the state basketball career scoring record
Two months after Sean Elliott completed his basketball eligibility at Cholla High School, Paul Dull was hired as the Chargers' head coach.
Could there be any worse timing?
About that time, Brenda Overton and her two young boys relocated from Toledo, Ohio, and moved into Cholla's school boundaries.
This time, Dull was in the right place at the right time.
Brenda's son, Chuck Overton, then in the seventh grade, became a freshman starter at Cholla in 1988-89, about the time Elliott broke the Pac-10's career scoring record.
Three years later, Overton broke Elliott's records at Cholla, and on the final day of January 1989, needed 11 points to become the highest scoring prep basketball player in Arizona history.
In a midweek home game against Palo Verde, in a gymnasium named after Elliott, Overton scored late in the first quarter to give him 2,213 career points, breaking the record of former Sunnyside forward Deron Johnson.
Cholla officials stopped the game. Brenda Overton rushed to midcourt to embrace her son. Someone from the student body held up a sketch that showed Overton dunking. The artist asked Overton for an autograph.
By season's end, Overton improved his state scoring record to 2,535 points. What's more, he broke Arizona's single-season scoring record with 939 points, an average of 30.1 per game.
Dull's Chargers won the state championship, finishing 27-4.
In the years since Overton departed Cholla, the state scoring record has been raised to 3,002 by Shadow Mountain's Mike Bibby. Santa Rita's Terrell Stoglin scored 2,901 points, topping Overton's Tucson record.
But the '92 season at Cholla remains one of the most memorable in Tucson prep history.
Schools such as USC, St. Mary's and New Mexico recruited Overton, but he enrolled at Salt Lake Community College, where he led the Bruins to fifth place in the NJCAA finals in 1994. He then played two seasons at Cal State Fullerton.
Former SLCC coach Norm Parrish, who knew Overton had not academically qualified for Division I basketball, drove to Tucson in hopes of signing Overton, a versatile, 6-foot-4-inch swingman.
"He drove down to my house and knocked on my door, and I was like, 'Salt Lake City?'" Overton told the Salt Lake Tribune in a 20-year reunion celebration of that '94 SLCC team. "But I came here and have been here since. I love him."
After Overton averaged 28 points as a Cholla junior, making the All-State team, he joked that perhaps the school would rename something after him the way it named the gymnasium after Elliott.
"How about Chuck's Cafeteria?" he said. "I like to eat a lot."
As a Charger, Overton's teams devoured everything in their way to a 1992 state championship.
Where are they now? Overton is an accountant in Draper, Utah, a suburb of Salt Lake City. His son, J.J. Overton, is a top prospect in the Class of 2017, a 6-4 guard at Rancho Bernardo High School near San Diego.
How they did it: At Cholla, Overton averaged in double figures each of his four seasons: 12 points as a freshman, 19 as a sophomore, 28 as a junior and 30 as a senior. He scored a career-high 47 against Sahuaro in his junior season.
---
Photo: Cholla High School's Chuck Overton scored a game-high 32 points against Glendale Ironwood to lead Cholla to a 101-84 victory on Feb. 25, 1992 in Tucson. Photo by Xavier Gallegos / Tucson Citizen
No. 94 • Tucson High grad Davenport becomes first Tucsonan to pitch in MLB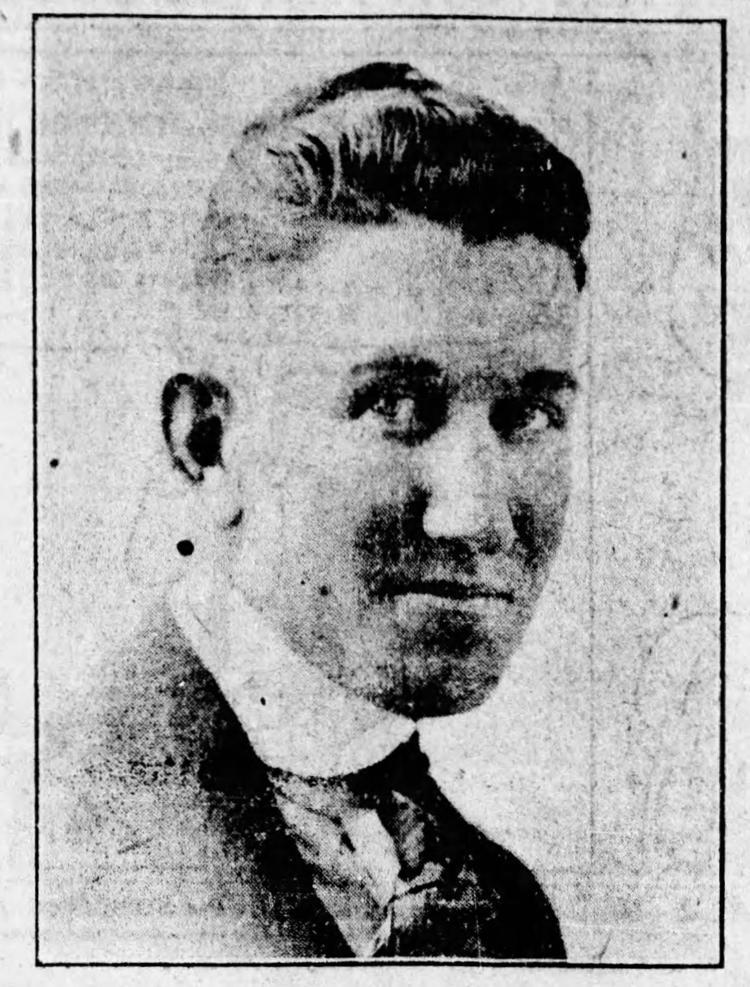 May 3, 1921: Joubert "Lum" Davenport becomes the first Tucsonan to play in the major leagues
Implications from the infamous Black Sox Scandal of the 1919 World Series reached all the way to Tucson in the fall of 1920.
That's when Chicago White Sox manager Kid Gleason, whose pitching staff had been devastated by allegations that the White Sox had been paid by gamblers to "fix" the series, was told of a teenage pitching phenom in Tucson.
Joubert "Lum" Davenport and teammate Andy Tolson, later the head baseball coach and principal at Tucson High School, had both made the 1920 All-State baseball team.
Davenport enrolled at the UA in the fall of 1920 and joined Kappa Sigma fraternity, but a White Sox scout took a train to Tucson and watched the fast-balling left-hander pitch. He was impressed.
Once the White Sox made an unspecified bonus offer, Davenport accepted and became the first one-and-done athlete in UA history, although technically, he was none-and-done. He signed with the White Sox and went to spring training with the team in Dallas.
Davenport didn't take long; he made his big-league debut May 3, 1921, six weeks before his 21st birthday.
The highlight of Davenport's major league career was almost immediate. Pitching against the New York Yankees on May 19, 1921, he struck out Babe Ruth in the ninth inning.
The Associated Press reported Davenport "struck out three men, including the redoubtable Babe Ruth, world's heaviest hitter and home run king."
But Davenport's baseball career was brief, scuttled by a series of arm injuries. He pitched his last MLB game in 1924 after 25 games and just 58 innings. His career record: 1-4. He kicked around the minor leagues until 1926, winning 14 games for the Double-A Omaha Buffaloes.
In 1922, the Star reported, "There's no doubt Davenport's stuff is as good as any southpaw in the major leagues, but the lack of control has retarded his progress."
He enrolled at SMU, where he completed his college degree work. He made his home and career in Texas.
Davenport's parents, Tom and Millie Davenport, were among Tucson's social icons of the early 1920s. Tom was the senior engineer for the Southern Pacific Railroad; Millie was president of the Arizona Children's Home Association and often held "sewing bee and tea" socials at the family's residence. Their home, on North Tyndall Avenue, is now occupied by UA student housing.
Where are they now? Davenport, who was a banker, died in 1961 in Dallas and is buried there. His son, David Davenport, was a bank vice president in Austin.
---
Photo: Joubert Davenport, pitcher at Tucson High School, shown in a May, 1920, edition of the Arizona Daily Star. 
No. 93 • UCLA ends Arizona's 71-game winning streak at McKale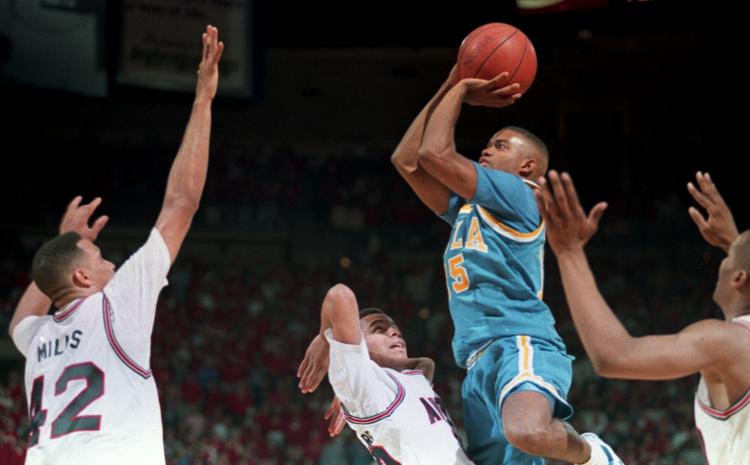 Jan. 11, 1992: Arizona's 71-game winning streak at McKale Center ends
During Arizona's 71-game winning streak at McKale Center, UCLA had been victim to No. 10, No. 32, No. 44 and No. 56.
If anyone seemed capable of breaking the streak in the 1991-92 season, it figured to be No. 16 LSU, which arrived at McKale on Dec. 7, 1991 with Shaquille O'Neal in his final college season.
A year earlier, in Baton Rouge, Louisiana, O'Neal scored 29 points and had seven dunks as the Tigers thumped Arizona 92-82.
But instead of being a streak-stopper, O'Neal was held to 10 points (no dunks) and fouled out with 4 minutes 48 seconds remaining. Arizona rolled to its 65th consecutive win at home, 87-67.
A month later, after the undefeated and No. 2 Bruins worked out a day before tipoff, star forward Don MacLean told reporters, "I think we've got a good chance of winning."
It took MacLean's career game, 38 points, to beat the Wildcats 89-87, in a game decided with 1.8 seconds remaining.
Guard Darrick Martin swished a 10-foot jumper to end a streak that began Dec. 4, 1988.
"This has been like hell here," said Martin.
Said UCLA's Gerald Madkins, "What this means to me is that I'll go down in UCLA history."
Until that Saturday afternoon in 1992, Lute Olson had been the real streak-breaker in the UA-UCLA series. When he was hired in 1983, the Wildcats were 1-20 against UCLA teams dating to 1923. Most of the differentials were humbling: 111-58, 84-48, 90-45.
But Olson and his team clinched its first Pac-10 championship at UCLA's Pauley Pavilion in 1986, and had beat the Bruins in 10 of their last 13 meetings.
Everything changed in the nationally televised game on Jan. 11, 1992. In a game that featured 27 lead changes, the Bruins took an 81-74 lead after Pac-10 referee Tom Harrington called what appeared to be a phantom technical foul on Olson with 5:55 remaining.
Harrington was about 30 yards away from the UA bench when he stopped, turned around and signaled a technical.
"I said nothing," Olson told reporters after the game. "I think it was retaliation for a technical they gave (UCLA coach) Jim Harrick in the first half."
The feud between Olson and Harrington — a five-time Final Four referee — was such that Harrington never worked another Arizona game. He was fired by the league a year later even though he had called three national championship games.
After Olson's technical against UCLA, the Wildcats ultimately tied the game at 85, but never again led.
The '92 Bruins comfortably won the Pac-12 at 16-2 and went 28-5 before losing to Indiana in the Elite Eight. Arizona didn't seem to fully recover after the streak was broken; the Wildcats completed the regular season by losing at UCLA and USC and were then stunned and eliminated in an NCAA Tournament first-round game against East Tennessee State.
Now, in retrospect, 24 years after the streak was stopped, it remains one of the most historically significant games at McKale, and surely one of the most absorbing games.
Martin, a point guard who had strongly considered playing at Arizona, said he cried in the locker room because "we finally – finally – got our chance to celebrate. Last year we should have beat them here."
There was no lasting effect to the streak's demise. Arizona beat the Bruins at McKale 99-80 a year later, and 96-69 the following season.
Where are they now? Martin played 14 seasons in the NBA, was an assistant coach for the Minnesota Timberwolves and is now UCLA's radio analyst.
How it's remembered: Arizona's 71-game streak remains the longest in Division I college basketball since 1991-92. The longest in history is 129, set by Kentucky from 1943-55. Arizona won 81 straight games at Bear Down Gym from 1945-51, which remains the fifth-longest home-court streak in NCAA history.
---
Photo: UCLA guard Darrick Martin shoots a jumper at the buzzer for the win against Arizona in McKale Center on Jan. 11, 1992. The UCLA victory broke a 71-game winning streak at McKale Center. Photo by Rick Wiley / Tucson Citizen 
No. 92 • Tucsonan Colwell wins national bowling championship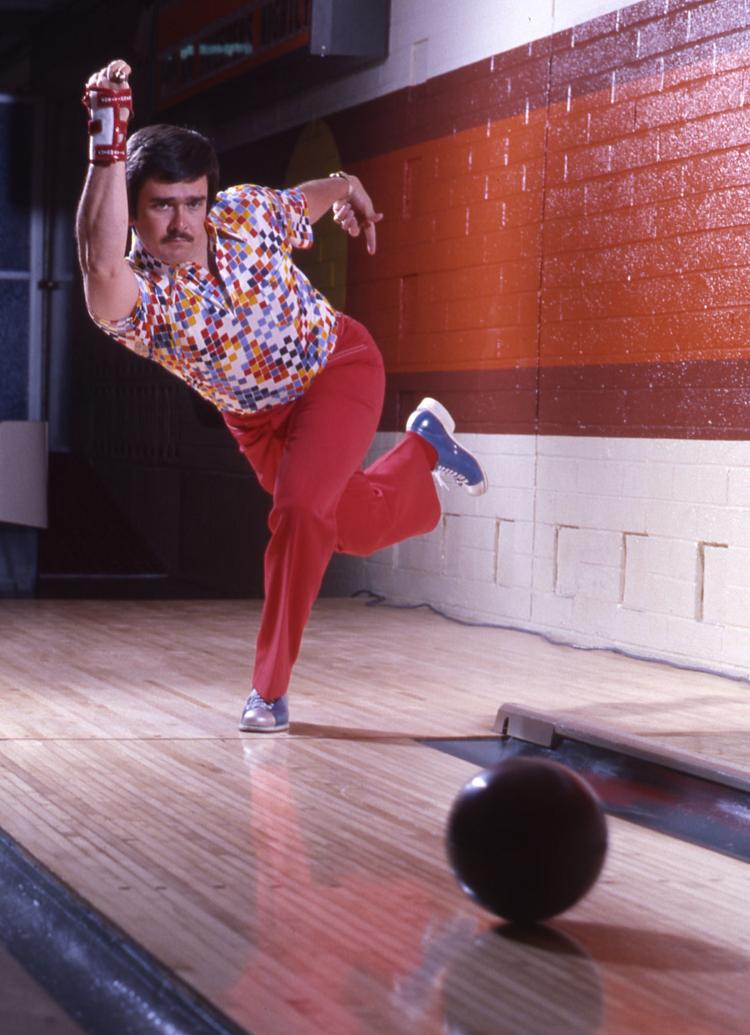 July 4, 1972: Catalina High School grad Paul Colwell wins the Tucson Open on the Pro Bowlers Tour
Paul Colwell's road to the Pro Bowling Association Hall of Fame began at the most unexpected place: on a concrete, outdoor bowling lane at 3425 E. Grant Road.
Yes, outdoor bowling.
Yes, concrete lane.
It wasn't Cactus Bowl or Golden Pin Lanes. It was the Colwell Backyard Lane.
One day in 1957, Colwell returned home from a day at school and saw his father, Ottis Colwell, pouring a cement slab in the back yard of the family residence.
Given his son's interest (and early success) in bowling, Ottis Colwell, sales supervisor for the Hostess Cake operation of Southern Arizona, built a 42-inch-by-60-foot bowling lane to match those Kegler's Lanes, an old Stone Avenue facility where Colwell began bowling two years earlier.
From those unique beginnings, Paul Colwell became the most accomplished bowler in Southern Arizona history.
He won nine PBA titles when pro bowling was a staple of the American sports landscape, televised live on ABC most Saturday and Sunday afternoons. He won the 1974 ABC Masters and the 1976 PBA National Championship, two so-called "majors" of the sport.
In 1991, he was inducted into the PBA Hall of Fame in Akron, Ohio.
Now an executive in the Freedom Equity Group, an insurance/investment firm in Tucson, Colwell thinks of his old concrete bowling lane when he drives past the intersection of Grant and Palo Verde roads. A mini-storage facility has replaced his childhood bowling mecca.
"I practiced every day on that concrete lane," he remembers. "My dad made it the perfect dimensions and almost as smooth as one you'd play at Kegler's Lanes. My friend Butch Rice and I would each bowl from one end, reset the pins, and alternate. Sometimes we'd do it for hours and hours."
By the time he was 14, entering Catalina High School, Colwell was on the cover of AJBC bowing magazine. He led the nation's junior bowlers with a 196 average.
This wasn't just some wanna-be bowler passing time. Colwell knew that to be as good as he wanted to be, he had to spin his bowling ball on the not-so-smooth concrete surface.
"You have to spin the ball to make the pins mix," he says. "And I couldn't loft the ball on that concrete lane or it would bounce all the way to the pins. It taught me to be exact. It taught me to be smooth."
It taught him how to be a champion. His first check was $600 at the Tucson Squirt Open in July of 1969.
On his 23rd birthday, on leave from his position as airman at Davis-Monthan Air Force Base, Colwell entered the 1972 Tucson PBA Open. He had made occasional appearances on Tour, earning $1,950 in 1969 and almost $8,000 the next two years as he fulfilled his military obligation.
No few predicted the local kid could actually win the Tucson Open against that day's heavyweights. He did just that, beating one of the era's top stars, Don Johnson, in the finals, 231-222.
Colwell was paid $4,000. He soon left the Air Force and went on tour. Over the next six years, he earned about $210,000 in official prize money. His most celebrated championship was the 1976 national title in Seattle.
In the final frame, Colwell opened with a gutter ball. The TV analysts were almost speechless. They had rarely seen a pro bowler, especially in the final frame of a four-day tournament, one of the two remaining bowlers, put it in the gutter.
"I can't believe it," he told reporters. "I lost it. I was so nervous I really couldn't concentrate. Sometimes you need something like that to jolt you."
Colwell completed the 10th frame with a spare and a strike and won the $9,000 first prize.
When bowling surfaces began to change in the early 1980s, to a more synthetic material, Colwell's mechanics and roll of the ball were notably affected. By 1983, he stopped touring full time. He was married and had two young daughters.
Instead of being on the road for about 40 weeks a year, he chose to walk away from competitive bowling. He had done more than enough to get into the Hall of Fame.
Where are they now? Colwell, 66, still bowls periodically in Tucson leagues. Last fall, he had a lifetime-best series of 845. He had scores of 300, 278 and 267. "I'm more casual now," he says. "I had a good run."
---
Photo: Paul Colwell of Tucson practices bowling in July, 1977, at Golden Pin Lanes, site of the Tucson Pro Bowlers Association Open. Colwell won the Tucson Open in 1972. Photo by P.K. Weis / Tucson Citizen
No. 91 • CDO's Duncan breaks city's career HR record in state championship game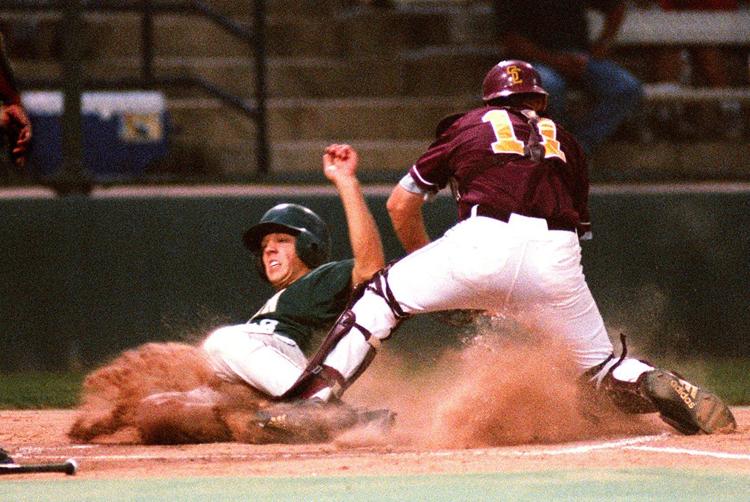 May 17, 1997: CDO's Shelley Duncan leads Dorados to state baseball title by hitting .706 
When Shelley Duncan graduated from Canyon del Oro High School, he held the Tucson prep record for home runs in a season (13) and career (26).
After he led Arizona to the 2001 NCAA Tournament, Duncan held UA records for home runs in a season (25) and career (55).
He remains the most-enduring power hitter in Tucson history, a 6-foot-5-inch son of a major-league coach who never had better timing than at the 1997 state championship game at Kindall/Sancet Stadium.
Matched against rival Salpointe Catholic in a Saturday night game that drew about 2,000 fans, Duncan hit two towering home runs, drove in five runs and pitched two scoreless innings in relief to save CDO's 12-11 victory.
In the 1997 state playoffs, Duncan hit .706 with 17 RBIs and four home runs. He also was the winning pitcher in the state semifinals against Gilbert Highland.
"The law of averages suggests that sooner or later, Duncan would get out," Salpointe coach Kent Winslow said after the championship game. "You wouldn't think he's going to get a hit every time."
But Duncan seemed bigger than life to his opponents in 1997 and 1998, when the Arizona Republic named him the state's Player of the Year twice; it had only done so with one other player in state history (in 1958-59).
After winning the '97 state championship, Duncan said he had never hit a ball with more oomph than the two-run homer that flew over a 375-foot sign in left field and landed in the old UA football practice field. 
"I can't ever top this," he said.
"That home run is the hardest ball I ever hit. I just crushed it."
It wouldn't be Duncan's last time in the spotlight at Kindall/Sancet Field.
In three seasons as an Arizona outfielder, he hit 55 home runs; no other player in UA history has hit more than 43. He broke the school's single-season record in 2001, hitting 24 home runs to edge George Arias' 1993 record by a single homer.
Duncan was selected as a first-team All-American by Baseball America and Collegiate Baseball. He was drafted in the second round by the New York Yankees and signed a $650,000 bonus contract.
After hitting 193 minor-league home runs, and 43 for the Yankees, Indians and Rays, Duncan retired in 2014, re-enrolled at the UA and served as a volunteer assistant coach for his alma mater. He will graduate in December.
Where is he now? Married and the father of twin sons, Duncan is in his second season as manager of the Class A Northwest League Hillsboro Hops near Portland, Oregon. The Hops, a Diamondbacks affiliate, won the league championship in 2015.
---
Photo: Canyon del Oro's Shelley Duncan (18) slides in safe under Salpointe catcher Matt Gjurgevich's (11) tag in the state championship game on May 17, 1997. Duncan went 4 for 4 in the game, including the game-winning home run. Photo by Sergey Shayevich / Arizona Daily Star  
No. 90 • Ex-Cat Sorenstam claims LPGA title in Tucson, sets record score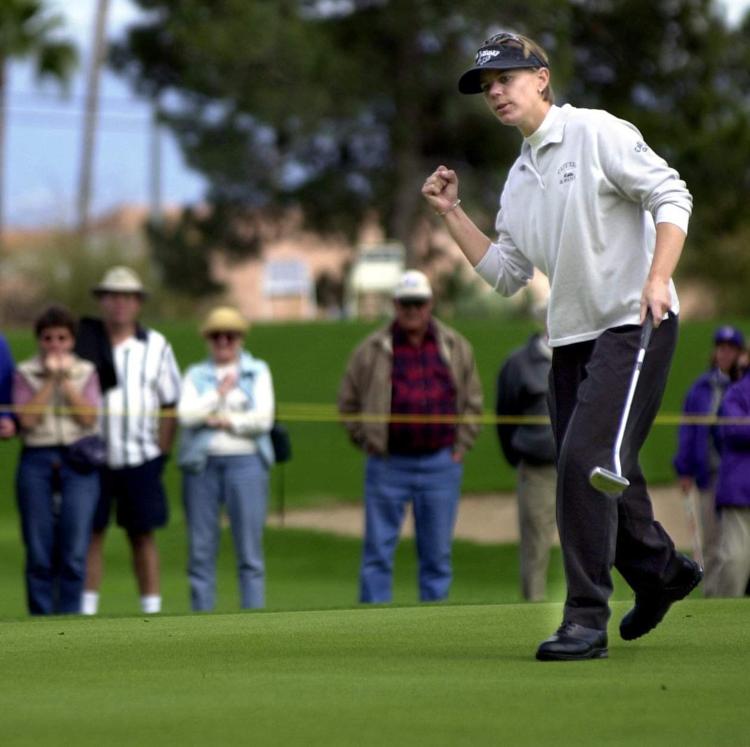 March 11, 2001: Annika Sorenstam wins second consecutive LPGA title at Randolph Park with record 23-under par score
Ten years after she won the NCAA championship as an Arizona freshman, Annika Sorenstam was the world's No. 1-ranked women's golfer when she returned to Tucson for the Welch's/Circle K Championship.
If anyone knew the turf, it was Sorenstam. She won the 2000 Welch's/Circle K title on the same course, but more than that, the Randolph North layout was where she evolved from an unknown Swedish freshman at Arizona to golf prominence.
"Annika would get up before classes, sometimes at sunrise, drive to Randolph and work in their short-game practice area for a few hours," remembers Pam Drake, a teammate who shared a midtown apartment with Sorenstam and later became Randolph's club pro.
"She was so diligent."
Sorenstam's finest hour in Tucson golf came at that 2001 tournament. She won by six strokes, at 23-under par, the second lowest score on LPGA Tour history. It was her 24th career win.
A day before the 2001 tournament, Sorenstam ate lunch at a Tucson Asian restaurant and opened a fortune cookie as she paid her bill.
"Your goals will all come true this week," it said.
And it wasn't just the week at Randolph, either. A week later, in the LPGA's Phoenix event, she shot an unprecedented 59. She remains the only LPGA player to break 60 on Tour.
Sorenstam's arrival in Tucson, a UA freshman in the fall of 1990, was pure serendipity.
She was playing with the Swedish National team in the Shiseido Cup in Fukushima, Japan, in 1989, with Arizona standout Martina Koch, who is Swedish.
UA coach Kim Haddow watched Sorenstam and was impressed.
"Annika's scores weren't that good but I loved her swing," she told the Star. "I asked Martina if she thought Annika was good enough to play for Arizona. Martina felt she was. So I approached her and asked if she was interested in playing for Arizona. She was. She really wasn't recruited by anyone else."
Sorenstam arrived to enroll in fall semester, 1990, without having visited Tucson.
After winning two regular-season tournaments and finishing second in the Pac-10 finals, Sorenstam won the 1991 NCAA championship at the Ohio State Scarlet Course, shooting 74-72-70-74.
Incredibly, she did not use a driver during her UA career. She was one of the shortest hitters among the elite college players, but was so accurate from longer distances that it didn't seem to matter.
After working with former Tucson Country Club pro Tom Olson, Sorenstam developed an almost unerring short game. Once retired PGA Tour standout Johnny Bulla, a Phoenix golf instructor, saw Sorenstam play at Arizona, he was sold.
"Annika hits the ball as pure as anybody I've seen since Sam Snead and Byron Nelson," he said. Bulla was correct.
In her LPGA career, Sorenstam won 72 events, including 10 majors. She was eight times the LPGA Player of the Year.
Sorenstam left Arizona after her sophomore season; she finished second in the NCAA championships that season, 1992, when Georgia's Vicki Goetze shot a final-round 65 to move in front. The No. 1-ranked Wildcats finished second in the NCAA event, held in Tempe.
Where are they now? Now 45, Sorenstam lives in Orlando, Florida. She retired in 2008. She runs a charitable foundation, has two young children, and stages a college golf tournament each fall, at which the UA has participated. She has endorsement deals with Rolex, Oakley, Cutter & Buck, Lexus and Callaway.
How they did it: Sorenstam's coach at Gymnasiet School in Stockholm was an Arizona State alumna and friend of ASU golf coach Linda Vollstedt. But the Sun Devils didn't offer a scholarship. "I didn't even visit Tucson," Sorenstam told the Star. "I told my parents, 'See you in nine months. If I don't like it, I'll be back earlier.'"
---
Photo: Annika Sorenstam celebrates after a birdie on the 9th hole of the LPGA Circle K golf tournament on March 12, 2001. She won for the second year in a row with a record-breaking 23-under par. Photo by Francisco Medina / Tucson Citizen 
No. 89 • Tucson Toros play first game at Hi Corbett Field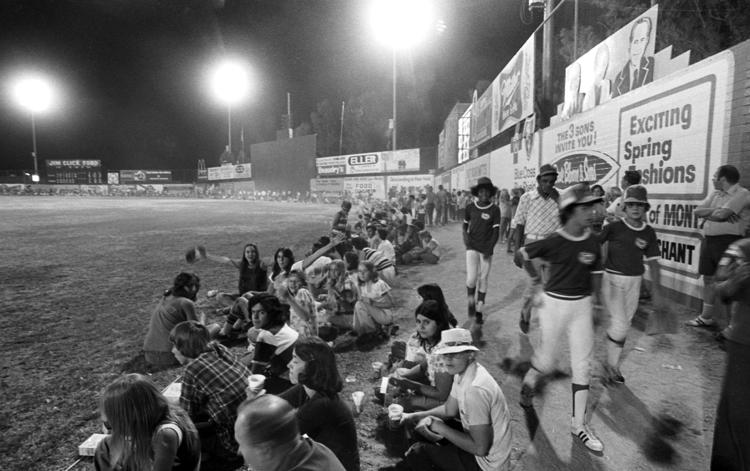 April 10, 1969: Tucson Toros play first Pacific Coast League game
An average of 307 fans attended 58 home games of the 1958 Tucson Cowboys.
Star sports columnist Abe Chanin wrote: "The advent of home air conditioning and the birth of television wrote the death of minor-league ball here, as well as in many parts of the country."
Tucson was dead times three.
The Class C Arizona-Mexico League of '58 included the Mexicali Aguilas, Juarez Indios, Chihuahua Dorados, Douglas Copper Kings and Nogales Mineros, but it was the Cowboys, the only-game-in-town in the growing Tucson metro area, who were last in the league in attendance.
At season's end, just as in failed Tucson minor-league ventures in 1933 and 1942, the Cowboys ceased operations.
Tucson grew and grew and grew, almost doubling in population by the late '60s. Finally, in this city's fourth incarnation of minor-league baseball, Pennsylvania businessman Roy Jackson — part of the Rockefeller family fortune — paid about $300,000 to get Tucson into the Class AAA Pacific Coast League.
He said he was ready to lose up to $80,000 in the first year, but thought the Tucson Toros would break even.
On opening night, April 10, 1969, it rained. The crowd was announced at 2,100, but it was probably half that. It would be a long and at times exasperating climb to acceptance.
Toros manager Billy Adair complained on opening night that the lights at Hi Corbett Field "left much to be desired."
The Toros replaced the Seattle Angels in the PCL; in 1969, the Seattle Pilots joined the MLB's American League (and later became the Milwaukee Brewers). It would cost about $50,000 to recondition Hi Corbett Field for minor-league baseball, and it wasn't always a popular concept.
Chuck Hollinger, vice-chairman of the Tucson Baseball Commission, had been president of the old Arizona-Mexico League.
"I just don't see how minor-league baseball is going to make it again in Tucson," said Hollinger, a former UA standout who is the namesake of Tucson's Hollinger Elementary School. "If we can only average a little over 2,000 per game for the Cleveland Indians spring exhibitions, how can they make it with 77 home games in the Pacific Coast League?"
The answer? It would take some time.
The '69 Toros drew 105,207 fans, roughly 1,450 per game. The novelty soon wore off, but the White Sox affiliate team was dreadful, 60-86, last place in the PCL South Division. But it changed.
In 1973, when the trendy Oakland A's replaced the White Sox as Tucson's parent club, the Toros won a division title and, incredibly, drew 233,004 fans. That record lasted until 1991, when the Toros drew 317,347 and won their first full PCL title (as a Houston Astros affiliate). They were spurred by former UA basketball point guard Kenny Lofton.
Pacific Coast League baseball continued in Tucson through 2013, under operating agreements with the Diamondbacks, Brewers and Padres. If nothing else, the '69 Toros left a legacy for endurance: 43 years of PCL baseball in Tucson.
The club drew more than 300,000 fans in seven consecutive years from 1991-97.
The Toros by any name were sold twice this century; Tucson businessman Jay Zucker sold them for $14 million to a group that moved them to Reno, Nevada. That was followed by the Tucson Padres, who were soon sold for $20 million to an El Paso group.
Where are they now? Jackson, who bought a 190-acre farm in Pennsylvania during his ownership of the Toros, developed thoroughbreds. In 2006, his horse, Barbaro, won the Kentucky Derby.
How they did it: The '69 Toros included three former World Series pitchers, ex-Yankees Bill Stafford and Rollie Sheldon, and ex-Dodger Larry Sherry. Former UA and Marana High left-hander Rich Hinton, then 22, pitched 28 innings for Tucson's inaugural PCL team.
---
Photo: A record crowd of 11,805 showed for Tucson Toros Fans Appreciation Night at Hi Corbett Field in Tucson on June 28, 1975. Photo by P.K. Weis / Tucson Citizen
No. 88 • Bear Down Gym becomes Arizona's basketball home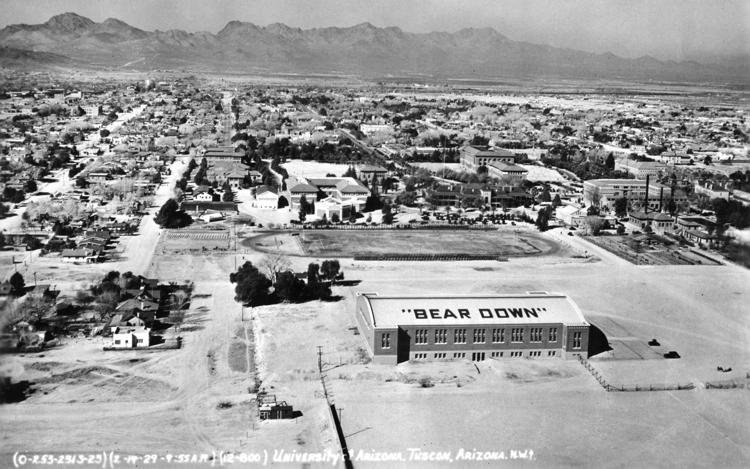 Jan. 21, 1927: Bear Down Gymnasium opens
Mostly, Pop McKale wrote letters to communicate. That's how he "met" and interviewed Fred Enke in 1924.
In many of the letters McKale mailed to the University of Louisville's football and basketball coach, McKale would tell Enke of a vision to build a new basketball gymnasium at Arizona.
"This gymnasium will cost in the neighborhood of $130,000," McKale told Enke. "We would like you to be our first coach in the new building."
Notre Dame football coach Knute Rockne had told McKale about the young coach at Louisville. Incredibly, Arizona had an athletic program superior to that of Louisville in the 1920s.
Enke, who grew up in Minnesota, had traveled only as far west at South Dakota State, where he had been an assistant football coach in 1922. His son, Fred W. Enke, told me that "Pappy" was fully skeptical of the small school in the middle of the desert.
At the time, Arizona's athletic department had no full-blown athletic plant. The baseball diamond and football field were essentially sandlot structures around which automobiles and horse-drawn wagons could watch ballgames.
Arizona played basketball at the City Armory from 1921 to 1926, but when McKale arranged home-and-home basketball series with UCLA and USC in 1923, fewer than 400 fans could squeeze into the old building.
McKale's vision was that Arizona could become one of the West's leading athletic departments if it could build the $130,000 "Men's Gymnasium" and become regular opponents of the Los Angeles schools.
It could help change the reputation of the UA from a dusty frontier school to that of a progressive, modern university.
Enke finally agreed to be Arizona's basketball coach, in part because its former coach, James. H. Pierce, a former All-America football player at Indiana, moved to Hollywood in an attempt to be a movie star. (Pierce would became the fourth actor to portray Tarzan.)
"We drove from Louisville to Tucson in an old Model T Ford, just like the Beverly Hillbillies," Fred W. Enke told me. "There was no direct route, no paved roads in some areas, and few reliable maps. I was just a little baby then, but Pappy would often talk about how amazing it was they survived the long drive."
When Enke arrived in Tucson in the late summer of 1925, construction on the Men's Gymnasium began. It was scheduled to be ready for basketball and about 3,000 spectators just after New Year's Day, 1927.
The Star's newspaper headline on the morning of Jan. 21, 1927, said:
IMMENSE CROWD
EXPECTED
TO WATCH
CATS TONIGHT
Welcome to big time college basketball. The opponent was TSTC — Tempe State Teachers College, now Arizona State.
The school distributed 1,500 tickets to students without charge; it sold the other 1,500 before tipoff. The Men's Gymnasium was said to be among the top two or three basketball arenas in the West.
Arizona defeated TSTC 29-18 that night, and 32-25 a day later.
A week before the game, UA football standout Martin Gentry proposed the adoption of the slogan "Bear Down" at a student body assembly. The motion was passed unanimously.
Almost overnight, the new arena was called "Bear Down Gym" in honor of ex-UA quarterback and baseball catcher John "Button" Salmon, who had been killed three months earlier in an automobile crash.
Enke coached at Bear Down Gym until he retired, in 1961, at which time the school began preliminary plans for a new gymnasium. McKale Center, which would cost $8 million, was completed in 1973.
Where are they now? Enke, who periodically attended games at McKale Center, died in 1985. He coached Arizona to its first NCAA Tournament, in 1951.
How they did it: Even with the modern basketball facility, Arizona didn't begin to play an out-of-region schedule until 1934, when Enke's team played at Drake, Purdue, Oklahoma City, Notre Dame and St. Louis, losing all five. The first national-level teams to play at Bear Down Gym didn't begin until 1951.
Greatest game at Bear Down Gym: Arizona beat No. 2 LIU 62-61 on Jan. 29, 1951. Newspaper reports estimated the attendance at "almost 5,000," a gymnasium record.
---
Photo: The campus of the University of Arizona with the football field directly west of Bear Down Gym. On Feb. 14, 1929, an unknown photographer and/or pilot took aerial pictures of the Tucson area. Arizona Daily Star file photo
No. 87 • Legendary coach McConnell, Sahuaro claim fourth state basketball title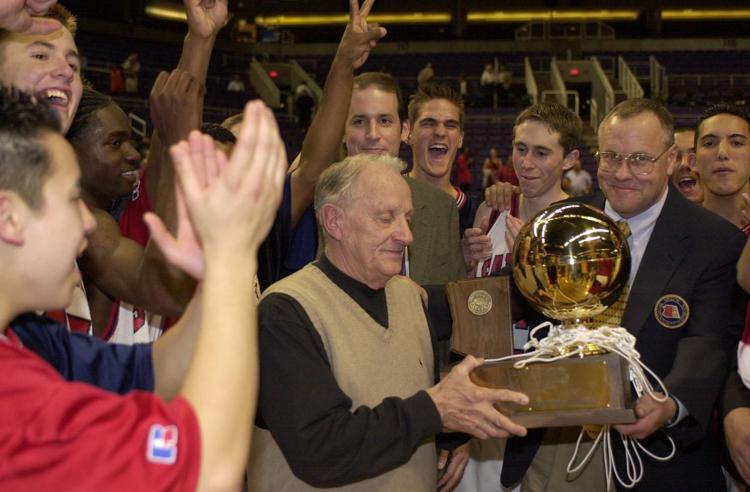 March 3, 2001: Dick McConnell coaches Sahuaro to a fourth state basketball championship
The most remarkable number of Dick McConnell's coaching career isn't the four state championships or the 774 career victories.
It's that he was one of 126 applicants to be the first boys basketball coach at Sahuaro High School.
On Nov. 21, 1967, nine months before Sahuaro would open, Cougars principal Hank Egbert hired the former Chicago Cubs minor-league shortstop whose only head coaching experience had been at Tombstone High School and two obscure Kansas schools.
For the next 39 years, McConnell justified Egbert's instincts over and over and over again.
It took McConnell just two years to win a state championship. The '70 Cougars, led by the Ferguson brothers (Jim and Dan) and the Henry brothers (Neil and Dave) went 22-3. It would get even better.
In 1982, the Cougars went 28-1 behind David Haskin and John Gwozdz, becoming the last Tucson team to win a state basketball title at the highest classification.
But McConnell saved some of his best coaching for last. Sahuaro won back-to-back state championships in 2000 and 2001, the latter a few days after McConnell turned 71.
The players who keyed Sahuaro's '00 and '01 victories, including Mike Wells and Matt Lohmeier, were the third generation of players with whom McConnell coached a state championship.
McConnell retired 13 days before practice was to begin in 2007. Fittingly, the Cougars were then playing in Dick McConnell Gymnasium.
"I was the junior varsity and freshman coach at Rincon for eight years, and, frankly, I worried at times that I would never become a head coach," McConnell said. "We were 5-15 the first year at Sahuaro, and I wondered how long they'd keep me."
It was the only losing season in McConnell's 39 seasons at Sahuaro.
Growing up in Topeka, Kansas, McConnell was a three-sport standout. Baseball might have been his best sport — he accepted a $2,700 bonus to play four minor-league seasons for the Cubs — but he was also Topeka High School's starting quarterback and a 5-foot-9-inch floor general in basketball.
He desperately wanted to be recruited by Kansas, Wichita State or Kansas State, but his size scared off most recruiters. Finally, McConnell walked on at hometown Washburn University. How did it turn out? In 1986, he was inducted into the school's sports Hall of Fame.
McConnell's introduction to Tucson was happenstance. He spent time in the Air Force at Davis-Monthan Air Force Base and decided that the climate was better than that in Narka, Kansas, where in his first varsity basketball coaching job his car "froze."
"I had to walk to work for a few weeks until it got warmer," McConnell said. "I decided I wanted to live in a warmer climate."
He was hired as the head coach at Tombstone High School over the phone, without ever visiting the Town Too Tough To Die. More happenstance: A year later, he was about to interview for the coaching job at Eloy High School; the same day, he was contacted by Rincon High School.
Would he be interested in coaching the Rangers' freshman team?
"I never met anyone who didn't like Dick," said Bob Vielliedent, McConnell's longtime assistant at Sahuaro. "He was such a good communicator; the kids loved him and so did the parents and the faculty. He was never a coach who yelled or demeaned the kids. He was one in a million."
Where are they now? McConnell and his wife, Clarine, are retired and live in Tucson. They operated a real estate business until retirement.
His son, Rick McConnell, has won more than 600 games as basketball coach at Mesa Dobson High School and was an All-State shortstop for Sahuaro's 1974 state champions.
How they did it: When the '70 Sahuaro team stunned No. 1-ranked Phoenix Union in the state semifinals, McConnell was unafraid. He employed a pressing defense that opposing coaches said wouldn't work against a team led by future ASU and NBA standout Rudy White.
"Coach told us, 'We're going to run with these guys; we're going to press these guys,' " said Sahuaro guard Jim Ferguson, later a two-time state title coach at Santa Rita. "I don't think anyone had dared to press them all year. But our press killed them."
---
Photo: Sahuaro High School basketball coach Dick McConnell holds the state championship trophy as his team goes crazy around him after winning the state championship game on Feb. 17, 2001. The Cougars won 62-55. Photo by Benjie Sanders / Arizona Daily Star 
No. 86 • Arizona's Singleton beat the odds, leukemia during harrowing 1989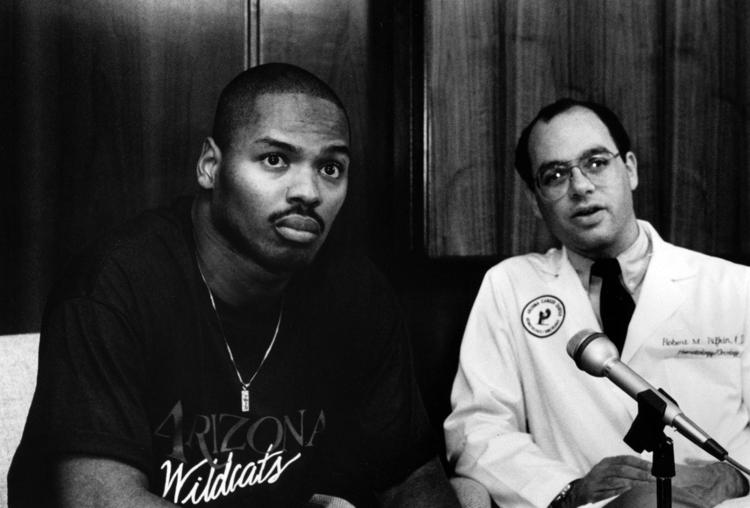 Aug. 8, 1990: Leukemia survivor Kevin Singleton returns to the UA football team
In July of 1989 while vacationing in Hawaii, UA football coach Dick Tomey got a phone call from Dr. Robert Rifkin, an oncologist from the University Medical Center.
It was the worst news imaginable.
Senior linebacker Kevin Singleton, who had made 116 tackles and earned honorable mention All-Pac-10 honors in 1988, had been diagnosed with acute lymphoblastic leukemia.
Tomey flew to Tucson that day. A press conference was held at UMC. It was awful.
Dr. Rifkin said that ultimately Singleton would require a bone marrow transplant, a procedure with a "40 to 65 percent chance of success."
No one talked in terms of football any longer. Singleton had become desperately ill in early July of '89; his temperature reached 105 degrees. He was taken to the hospital for a blood test.
At that news conference, Singleton sat by his twin brother, Chris Singleton, who would go on to be a 1989 All-Pac-10 linebacker and the No. 8 overall selection in the 1990 NFL draft. Kevin spoke candidly about what he had encountered.
"Next to dying, it was like I was being tortured," he said. "There were times when I wanted to say, 'I quit, just let me die.' But I've never been a quitter."
Kevin Singleton later spent 40 consecutive days in the hospital. Even as the Wildcats and his twin brother prepared for the '89 season, no one talked about a future in football for Kevin.
One day at Camp Cochise, Tomey emotionally announced that Kevin Singleton had been elected team captain, even though he would not play the '89 season.
"I'm an example of someone having everything go right for them," Kevin said. "I didn't use drugs, didn't drink, didn't shoot people, didn't rob people. I'm just someone that something happened to that changes the path of my life."
As the UA played the '89 season, Singleton endured six months of chemotherapy and radiation treatments.
On Jan. 16, 1990, it was announced Chris was a perfect match for a bone marrow transplant. He would bypass the NFL Combine and put at risk his status in the April NFL draft.
"I don't think I'm frightened," Kevin said then. "The most fear I had was when I was diagnosed."
The UMC medical staff extracted 1½ quarts of bone marrow from Chris and transplanted it into Kevin in a procedure that lasted about three hours. A week later, for the first time, he said he hoped to return to the UA football team if the NCAA would grant him an extra year of eligibility.
In early August, a day before Arizona opened a weeklong training camp at Camp Cochise near Douglas, the NCAA approved Singleton's extra year. As Kevin walked into the cafeteria, he was greeted by a large sign that arched over the room's entry:
WELCOME BACK KEVIN SINGLETON
The team and staff members, about 120 strong, cheered so loudly you could almost hear it in Mexico.
Tomey, who choked back tears while talking to a few reporters, said he considered Kevin Singleton "one of the greatest Wildcats of them all."
He was again elected team captain, for 1990, although, realistically, after a yearlong fight against leukemia, with almost no time to rebuild his strength, Singleton's chances of being a regular contributor were remote.
He made five tackles in 1990, and before the Aloha Bowl against Syracuse, said: "My life wasn't based on football. I came back because I wanted to play. And I contributed what I could."
After graduating with a degree in education in 1991, Singleton played a season with the CFL's Saskatchewan Rough Riders. He then got into coaching, at both Thunderbird and Horizon high schools in Phoenix. He returned to Tucson in 1994 as a graduate assistant coach for the Desert Swarm defense as he earned a master's degree. From 1996-98, he was a defensive coach at Cal State Northridge.
Where are they now? Singleton is an executive for Protection 1 Security Solutions, managing that company's North Phoenix marketing operations. He has a teenage daughter, Kaelan, and often speaks at charitable events raising funds for leukemia research.
How they did it: Arizona pulled a recruiting coup of note in 1985, signing the Singleton twins from Parsippany Hills High School in north New Jersey. They had been expected to sign with Notre Dame.
---
Photo: University of Arizona football player Kevin Singleton, left, with Dr. Robert Rifkin, an oncologist from the University Medical Center, during a press conference about Singleton's cancer diagnosis at the Arizona Cancer Center in Tucson in July, 1989. Tucson Citizen file photo
No. 85 • Amphi coach Friedli wins only state title after perfect season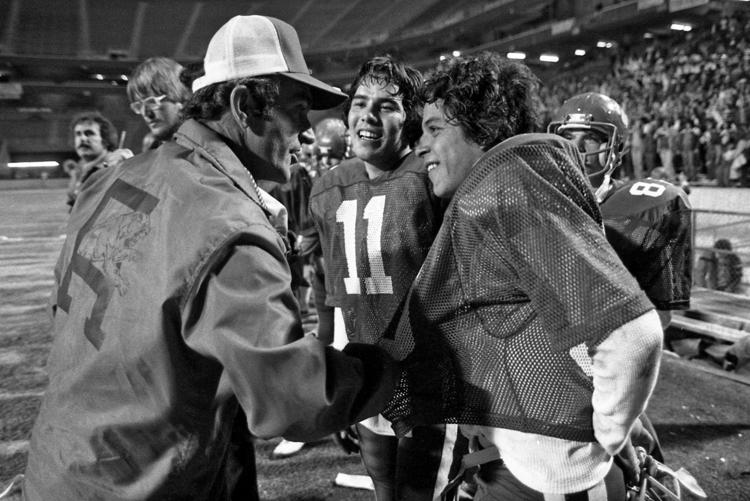 Dec. 6, 1979: Amphitheater becomes last Tucson football team to win state championship in largest classification
Nine buses each carrying 52 students and teachers left Amphitheater High School in mid-afternoon. It was a Thursday, an odd day to stage a state championship football game.
The Amphi football team had left school about an hour earlier; coach Vern Friedli scheduled a pregame workout at McClintock High School, a short drive from Sun Devil Stadium.
About an hour before kickoff, the Panthers got back on the bus. It wouldn't start.
"Are you kidding me?" Friedli said to no one in particular.
Nothing had stopped his 12-0 Panthers all season; they rolled past 12 opponents by a combined score of 287-74. The only close game had been the state semifinal, a 7-0 victory over Apollo High, a game in which Friedli's defense staged a goal-line-stand-for-the-ages in the final two minutes.
All the players got off the bus and began to push, hoping they could roll-start the engine.
As with everything connected to Amphi's 1979 football season, it was a success.
Over the next few hours, the Panthers routed Mesa High 27-0. It was Friedli's fourth year at Amphi. It would be the last state championship by a Tucson football team in the highest classification of Arizona prep football.
Amphi and Friedli might have won four or five more had they chosen to move down to a lower classification more reflective of the smaller student body. But over the next two decades, Friedli chose to play against the mega-sized schools from Phoenix. Best against the best.
Yet somehow, when he announced his retirement on Feb. 28, 2012, Friedli had completed his Amphi coaching career with a state-record 331 victories. The facility at Amphi had been named "Friedli Field" in 2001.
"You never expect anything like this. It's hard to put into words, really," Friedli said. "I've been blessed. That's about the best way I can describe it. All these good things shouldn't happen to one person."
The most tangible evidence of Friedli's "good things" was the '79 state title game.
The Panthers had just one first-team All-State player that season, running back Arlen Bethay. Yet they knocked off Tucson's top challengers, Salpointe Catholic 18-7 and Sunnyside 15-0 with a stubborn defense that was full of clutch players like Ron Conway, Kim Hewson, Randy German and Rob Liuerance.
"We just play good ol' Amphi football," said quarterback Sam Molina.
Friedli's offense of choice was for decades the Wishbone or triple option. Old school stuff, running behind linemen like Craig Geyer and Neil Hamilton.
In the championship game, Amphi was so dominant that Mesa ran just 11 plays in the second half and gained 110 yards in the entire game. A 56-yard touchdown pass to Sky Moore and a 26-yard run by Bethay put the game away.
"We didn't have any hot dogs on our team," said Bethay, who gained 1,063 yards rushing.
Friedli had a difficult act to follow at Amphi; the Panthers won the 1975 state championship, and coach Jerry Loper accepted a job in Phoenix.
Friedli, who had been 4-6 at San Manuel High and 1-9 at Casa Grande High in the previous two seasons, seemed like an out-of-left-field hire.
The would-be thespian from Humboldt, California, had relocated to Fort Huachuca in 1956 as part of his military service. He met and married an Amphi grad, found work as a coach at Sunnyside Junior High and got his first head coaching job at Morenci High School in 1965.
How did Amphi pick Friedli from the long list of coaching applicants?
Athletic director Cliff Haugh, a Marine from the Korean war, was looking for much more than a man who coached football.
"I taught math and physics," Haugh told me in 2001. "I wasn't impressed by wins and losses. We were looking for a man of character. We were looking for someone who would put the welfare of the kids first. We were looking for a man of even temperament. I was quite impressed by Vern Friedli."
Where are they now? Friedli, who retired in 2011 and turned 80 in September of 2016, suffered two strokes, the second of which he suffered in the spring of 2015. He died July 21, 2017. Molina, the 1979 quarterback, a retired police officer, is a safety supervisor for Tucson Electric Power.
How they did it: Amphi was undefeated at home from 1972 to 1981. Friedli attended a 1970s coaching seminar by Ohio State's Woody Hayes, who, Friedli said, spoke for 2½ hours but never mentioned winning. "It was all about care, share, be there and be disciplined."
---
Photo: Amphitheater High School football coach Vern Friedli, left, congratulates his players as the clock winds down against Mesa High School to win the 1979 Arizona state football championship on Dec. 6, 1979. Photo by Joe Vitti / Arizona Daily Star
No. 84 • Arizona's Young takes bronze in Mexico City Olympics, puts UA track on map

Oct. 16, 1969: George Young Becomes first UA athlete to win an Olympic medal
Because he didn't have a track scholarship at Arizona, George Young worked as much as he ran. He unloaded freight cars at the railroad station and had a part-time shift at the dog track. He took tickets at Bear Down Gym and helped with field maintenance at Arizona Stadium.
In the summer of 1955, UA track coach Carl Cooper didn't offer Young a scholarship because his best time in the mile at Silver City High School was 4 minutes 40 seconds.
"Nothing sensational," Cooper said.
But by the time he was 34, Young became the oldest person in history to break the four-minute mile (3:59.6). By then, he had won an Olympic bronze medal in the steeplechase and made the Olympic team in 1960, 1964 and 1968.
Young retired to teach school and coach in Casa Grande, but by 1972 he was back on the USA Olympic team for a fourth time. The great Steve Prefontaine called Young "America's greatest runner."
America's greatest runner was one of America's greatest success stories.
He was coached by his high school math teacher in Silver City, and, without a scholarship or much money, chose to enroll at Arizona because his girlfriend and her sister enrolled at the UA. As a freshman, he washed dishes at a fraternity house to pay expenses.
Running shoes? Young wore his old Converse basketball shoes. Had he not won the UA's intramural track meet of 1956, wearing his basketball shoes, Cooper may not have offered him a spot on the school's cross-country team.
In 1975, after his competitive career ended, Young wrote a book, "Always Young." It was fitting for an athlete who, at 35, was second in the USA 5,000 meter Olympic Trials finals, 1972.
Young might've won Olympic medals in 1960 in Rome and 1964 in Mexico City if not for a strain of misfortune.
"In Rome," he said, "I hit a hurdle in the steeplechase. If not for that, I think I could have won."
"In Tokyo," he continued, "I did a stupid thing. I wavered from my pre-race plans and ran too fast, too soon. Again, it cost me the race."
He once told me he sometimes wakes up at night and reflects on how he should've won the gold medal at the '64 Olympics.
But in Mexico City in 1968, having won 20 consecutive races, Young qualified in both the steeplechase and the marathon. Nobody attempts that double any more, but Young felt he could win the gold in both races; he was the American record holder in the steeplechase and won the U.S. Olympic marathon trials.
He led Kenyan teammates Amos Biwott and Benjamin Kogo most of the steeplechase final. It became one of the classic finishes of the entire Mexico City Olympiad.
Biwott won in 8:51.0.
Kogo was second in 8:51.6.
Young was third in 8:51.8.
A few days later, gassed, he finished 16th in the Olympic marathon.
"The lack of experience cost me the gold medal," he told Running.com four years ago. "I hadn't consumed enough liquids and even though I was running a pace I could handle, I got cramps in both legs from my hamstrings down to my heels with about 4,000 meters to go. I had to hobble in due to my lack of experience and not having anyone to tell me what I needed to do. All I knew was to go out and race."
In 1969, when Carl Cooper left the UA to become executive director of USA Track and Field, Young was offered a chance to be Arizona's head coach. He was 32, coaching and teaching at Casa Grande High School. He had announced his retirement from competitive running.
Young declined a chance to return to his alma mater, choosing to join the Dallas Smith Transportation Co. of Phoenix, a firm that transported automobiles. Two years later, working on his doctor's degree at NAU, he resumed training for the 1972 Olympics.
Where is he now? At 78, Young is retired and lives in both Casa Grande and Pinetop. For years he was the next-door neighbor of UA softball coach Mike Candrea, who lived in Casa Grande until 2005. In 1988, Young coached Central Arizona College to the NJCAA cross country championship; he would become athletic director at CAC.
How he did it: During Young's UA track days, 1955-59, the Wildcats held track meets at Arizona Stadium. It wasn't outfitted with two water jumps necessary for the steeplechase. Cooper created a makeshift steeplechase course for Young by spreading bales of hay where water should have been. In the first year of jumping into hay, Young finished second in the AAU national finals.
---
Photo: University of Arizona distance runner George Young, who went on to win a bronze medal in the 1968 Olympics. Photo by Arizona Daily Star
No. 83 • UA hosts NCAA cross country championships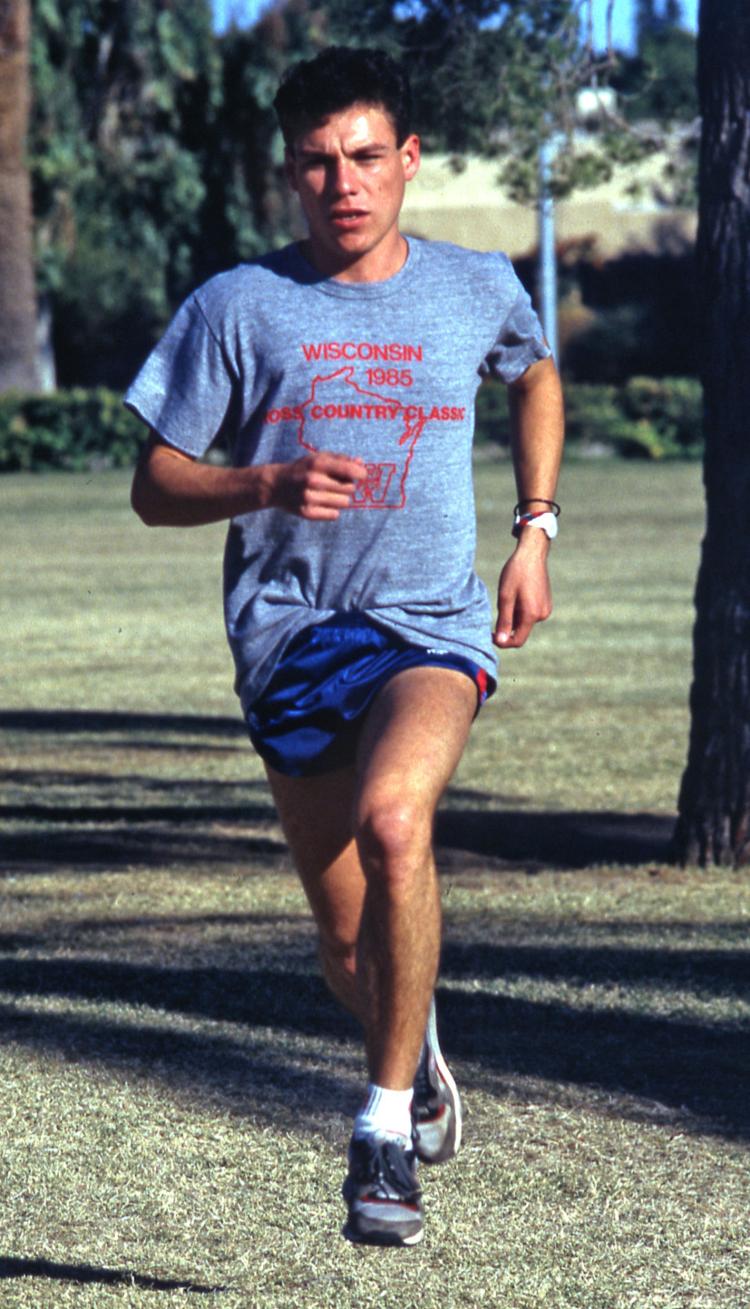 Nov. 24, 1986: Arizona plays host to the first of three NCAA cross country championships: 1986, 1991, 1996
In its transition from the WAC to the Pac-12, Arizona was a distance running power before anything else.
You can look it up. The Wildcats won four league championships in men's cross country before Lute Olson reached the 1988 Final Four.
During an impressive stretch in which Arizona won the 1983, 1984, 1986 and 1987 Pac-10 championships, athletic director Cedric Dempsey and cross country coach Dave Murray began thinking in bigger terms.
The Wildcats and the NCAA agreed to stage the men's and women's cross country championships in Tucson in 1986, 1991 and 1996. It was a fitting celebration to Arizona's arrival as a national power.
"As much as we wanted to showcase our program, we wanted to get the NCAA championships in a location with better weather in late November," remembers Murray, who is retired and lives in Tucson. "Now the championships are held almost exclusively in Terre Haute, Indiana, but we had a very nice run in Tucson."
Two weeks after winning the '86 Pac-10 title, Arizona's men's team was ranked No. 2 nationally on a sunny Monday morning when about 350 of the nation's top college distance runners — men and women — arrived at Oro Valley's El Conquistador Country Club.
The hilly terrain was supposed to be a home course advantage and then some.
"It took me about eight to 10 times to know how to run it," said UA standout Matt Giusto, who would go on to make the USA 1996 Olympic team.
Said Murray: "This course is going to get some people."
Ironically, it "got" Arizona more than anyone else.
UA senior Aaron Ramirez had the race of his life, winning the men's championship by five seconds over favored Joe Falcon of Arkansas. Ramirez passed Falcon in the final 300 yards.
Giusto was third overall. Had the rest of Arizona's lineup performed as expected, the Wildcats would've probably won the NCAA team championship, too.
But while running down one of the many hills at the golf course, Arizona's All-Pac-10 runner Jeff Canada was jostled by an opposing runner in a mix of bodies. Canada suffered two cracked ribs and withdrew 2½ miles into the race.
To make it worse, the UA's No. 4 runner, Chris Morgan, pulled a thigh muscle early in the race. He also withdrew.
"Without those two running near the lead group, we didn't have a chance," said Murray.
Arkansas won. Dartmouth, Boston and Oregon completed the Big Four. Arizona finished a disappointing sixth.
"The reason it's hard to win a championship," Murray says now, "is because you have to keep everybody healthy all year long. We kept 'em healthy until the last race."
By 1991, Arizona again hosted the NCAA championships, but moved the venue to Randolph Golf Complex.
Once again, the Wildcats were coming off another Pac-10 title. The Wildcats were led by freshman Martin Keino, son of Kenyan Olympic legend Kip Keino.
Keino and Arizona both finished fourth overall. Keino would win the 1994 NCAA title.
In 1996, the strength of Murray's distance running program had evolved; freshman Amy Skieresz won the NCAA title at the Randolph golf facility. Skieresz won by a whopping 16 seconds over Providence's Marie McMahon. The UA women's team was No. 6 overall.
Arizona won its last Pac-12 men's cross country championship in 1999.
The UA women's cross country team won its only league title in 2013.
Where are they now: Giusto, who won the 1988 NCAA championship at 5,000 meters, was the USA national champion in the same event in 1993 and 1994. He now operates the family business, a bakery and chef's supply firm, in San Francisco.
How they did it: After Skierez won the 1996 title, she finished second in 1997, 1998 and 1999, and won seven total NCAA championships.
She retired from running before attempting to make the USA Olympic team in 2000.
---
Photo: The UA's Aaron Ramirez won the men's cross country tile in 1986. Photo by Edward McCain / Tucson Citizen 1986
No. 82 • Colorado Rockies make Tucson spring training home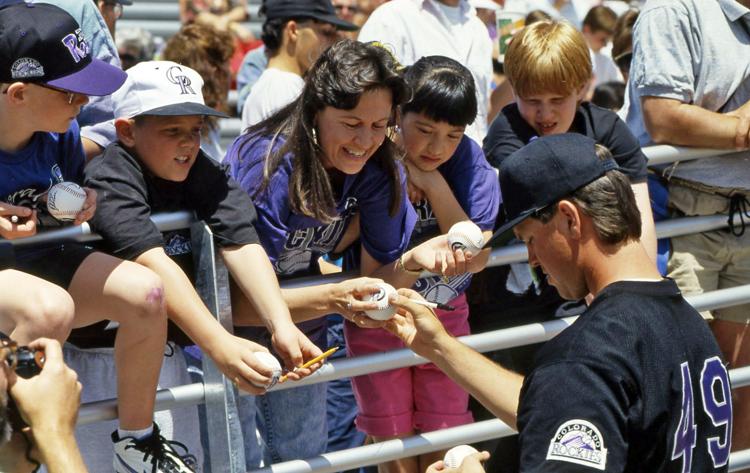 March 2, 1992: Colorado Rockies agree to hold spring training in Tucson
Disenchanted with the facilities at Hi Corbett Field, worn down by driving to Phoenix for 15 spring training games each spring, the Cleveland Indians announced 1992 would be the last of their 46 years in Tucson.
Few seemed to care; the Indians were an off brand, predictably lousy year after year.
A few months later, Major League Baseball awarded Denver an expansion franchise beginning in the 1993 season.
The attraction was immediate. Who wouldn't want to be part of the fresh and exciting Colorado Rockies' franchise?
The first man to act on acquiring the Rockies was Tucsonan Pat Darcy, a commercial real estate specialist who had grown up riding his bike to Hi Corbett Field to watch the Indians of the 1960s.
Within a few months, the former Cincinnati Reds World Series pitcher joined forces with another ex-big league pitcher and fellow Rincon High School grad, Dan Schneider. With Schneider as chief negotiator, they would be the point men in pursuing a replacement for the Indians.
Groups from Casa Grande and Sun City formed spring training task forces. The Rockies said they were also interested in Florida's Grapefruit League.
But during the 1991 NCAA Tournament basketball regionals at McKale Center, the Rockies' first director of promotions, Roger Kinney, phoned Darcy and arranged a meeting.
Two days later, Darcy and Kinney visited Hi Corbett Field. By September, the Pima County Sports Authority hosted Rockies executives in a meet-and-greet banquet.
Darcy believes the Rockies centered their interest on Tucson after vice-president John McHale and general manager Bob Gebhard took a helicopter tour of Pima County in January 1992.
"They didn't realize how big Tucson was," Darcy remembers. "It really turned their heads."
Negotiations moved quickly. On March 2, 1992, Rockies executives, Governor Fife Symington, Darcy, Schneider and many of Tucson's leading city politicians held a press conference at the Viscount Suites Hotel.
"We'd welcome another team, and then get our whole new complex," said McHale. "But we want to be the only team in Tucson, at least in 1993. We want to establish our identity."
The Rockies' inaugural game was March 7, 1993 at Hi Corbett. More than 80 media credentials were issued; the new press box was part of a $4.5 million makeover.
Joe Girardi, now the Yankees' manager, scored the first run for Colorado. Barry Bonds, batting third for San Francisco, struck out in the first inning as a capacity crowd of 7,726 watched.
"It wasn't just another game," Colorado manager Don Baylor said. " Maybe for someone else, but not for me. I got a little butterflies when I started writing the lineup out. I forget how to sign my name, almost. This time it was for real."
The Rockies' were an immediate success in Tucson; they drew 117,543 fans in their first season; Cleveland drew 79,973 a year earlier.
It didn't take the Rockies long to exhibit a wandering eye. In 1994, Gebhard said "we're very impressed with the facilities, but the downside (of one team) in Tucson is Interstate 10. It's awfully hard if you have to make 15 trips to Phoenix and spend four hours on a bus."
The Rockies pushed for Pima County to build a new spring training facility near I-10 on the northwest side of town. "We should have the first chance to play in the new stadium," said Gebhard.
Those plans would change when the Arizona Diamondbacks were born in 1998, and CEO Jerry Colangelo arranged for the Chicago White Sox to join them in the county-built Tucson Electric Park on Ajo Way.
After that, the Rockies would forever be a secondary attraction in Tucson.
Where are they now? The Rockies spent 18 springs at Hi Corbett Field before moving to Salt River Fields in Scottsdale for the 2011 season. The Rockies averaged 10,598 fans in their first year in Scottsdale, more than double the 5,243 they averaged during their final year in Tucson.
How they did it: Tucson involved former Arizona All-American shortstop Eddie Leon and Roy Drachman in attracting the Rockies. Drachman had been one of the key negotiators in signing Cleveland to stage spring training in Tucson in 1947.
---
Photo: The Rockies drew 117,543 fans to Hi Corbett Field in their first season of spring training in Tucson in 1993. Colorado spent 18 years here before leaving for Scottsdale. Photo by Rick Wiley / Tucson Citizen 1993
No. 81 • Arizona takes down No. 1-seed Missouri, advances to Final Four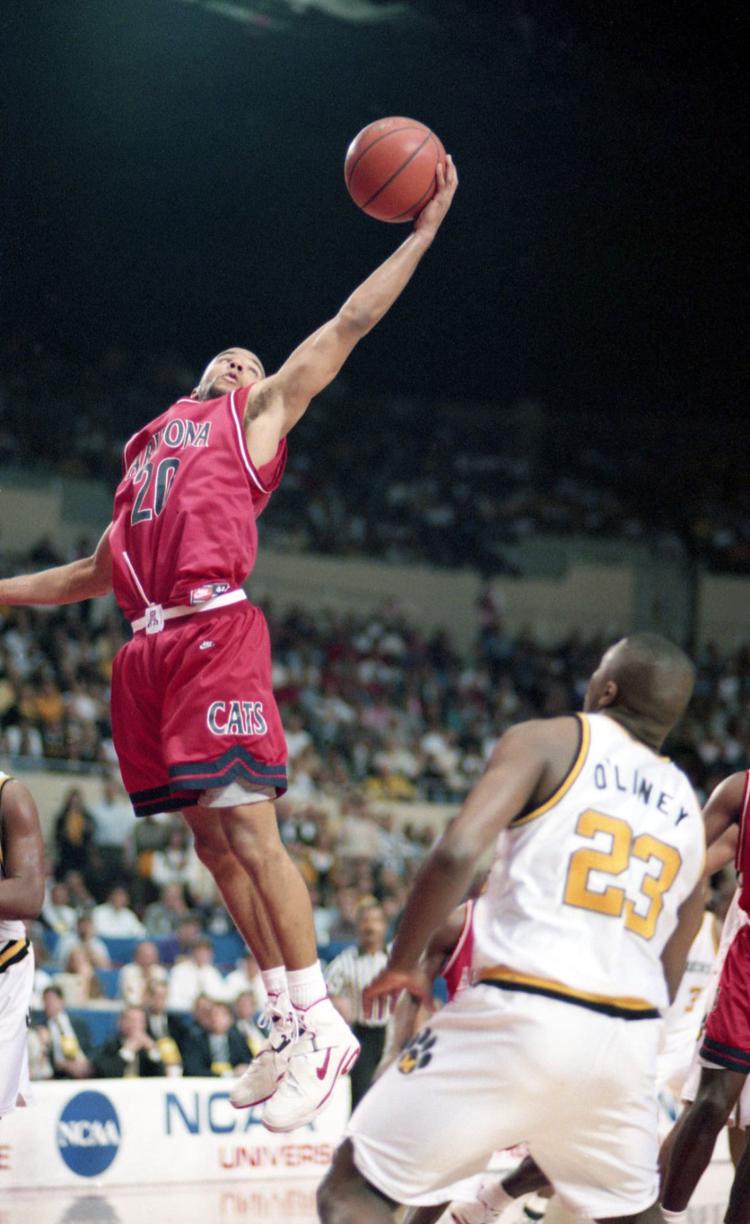 March 26, 1994: Arizona upsets No. 1 seed Missouri to go to the Final Four
You want pressure? Lose NCAA Tournament first-round games to Santa Clara and East Tennessee State in successive years.
"Everybody has their arrows to shoot," UA coach Lute Olson said before the 1994 NCAA Tournament. "We've been the target for a lot of them."
The '94 Wildcats opened the season ranked No. 18 and rolled to a 12-1 record; the only loss was dramatic 93-92, last-second game to Kentucky on Maui. Arizona then returned to McKale Center and routed No. 7 Michigan 119-95 on a night senior guard Khalid Reeves had the game of his life, scoring 40 points on 13-for-14 field goal shooting.
Expectations soared.
The team that disappointed everyone in 1992 and 1993 had remade itself minus NBA players Chris Mills, Sean Rooks and Brian Williams.
The most obvious theme was "Thunder and Lightning." Reeves, a powerful, attack-the-basket guard, averaged 24.2 points as a senior. He was Thunder. His '94 season remains one of the most impressive in school history.
Quick and elusive, 5-foot-10-inch guard Damon Stoudamire was Lightning. He would in 1996 become the NBA Rookie of the Year.
The Wildcats, however, suffered two puzzling losses late in the season. They lost 74-69 at Washington, and closed the regular-season stumbling at ASU, 94-87. On Selection Sunday, Arizona was a No. 2 seed, sent to Sacramento to play Loyola (Md.) and Virginia.
As much as Thunder and Lightning helped to win those first two games 81-55 and 71-58, it was the UA's defense that was more effective. Led by junior guard Reggie Geary, the Wildcats held Loyola to 28 percent shooting; Virginia shot 31 percent.
Reeves scored 62 total points; Stoudamire 36.
At the Sweet 16, played at the dismal Los Angeles Sports Arena, Arizona again used defense to shut down Louisville, winning 82-70. That set up a Final Four-or-bust showdown against Big 8 champion Missouri, which completed its conference season 14-0.
"I consider this a home court for us," said Geary, who played at Mater Dei High School in nearby Orange County. "The place should be filled with red."
It was.
Geary was assigned to guard the Big Eight Player of the Year, Melvin Booker, who had averaged 25 points in the NCAA Tournament. Geary limited Booker to 14 points and when Arizona built a 78-57 lead with 5:43 remaining, Geary held four fingers aloft as he was replaced at garbage time. Missouri shot 35 percent.
Thunder and Lightning were too much for Mizzou; they combined for 53 points.
"Our critics were never shy in jumping on us," Olson said in a testy postgame news conference. "I'm not sure they understand what it takes to get to this point."
The 1994 Final Four seemed like a bonus for the Wildcats. They were matched against overall No. 1 seed Arkansas in Charlotte, North Carolina. The winner would meet Duke for the national title.
For 36 minutes, the Wildcats and Razorbacks exchanged punches. The most telling blow was that Stoudamire had his worst night of the season, shooting 5 for 24 afield. In the final four minutes, Arkansas center Corliss Williamson dominated inside. The Razorbacks won 91-82.
"I've got no regrets," Reeves said after the game. "We won 29 games. We got a lot of people off our backs."
Where are they now: Junior forward Ray Owes, who averaged 12.3 points and 8.1 rebounds, scored 16 points at the Final Four. He was an All-Pac-10 pick in 1995 and played one season for the Golden State Warriors. He works as a probation officer in Phoenix. He is married to Arizona's 1992 All-Pac-10 Freshman first-teamer Laura Bartsch Owes; their daughter, Kalen Owes, high school class of 2019, is a member of the USA Volleyball National Youth Training Team.
How they did it: Arizona won the Pac-10 at 14-4, one of the top years in league history. Cal had Jason Kidd at point guard and UCLA was one year away from winning the national championship.
---
Photo: Arizona point guard Damon Stoudamire had 27 points and 10 rebounds in the Cats' 92-72 West Regional final win over No. 1-seed Missouri in 1994. Photo by Rick Wiley / Tucson Citizen
No. 80 • Tucsonan Nymeyer named NCAA's Woman of the Year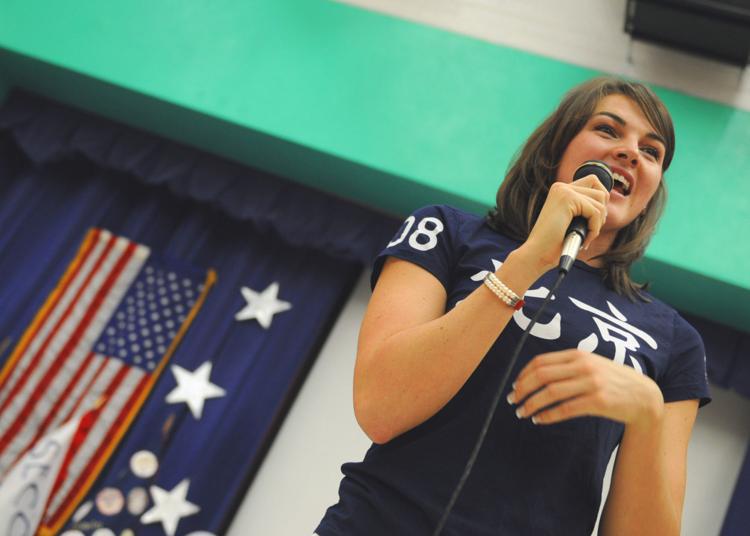 Oct. 18, 2009: Tucson's Lacey Nymeyer named NCAA Woman of the Year
If someone ever commissions an artist to draw a portrait of the Perfect Arizona Wildcat, one of the first calls will be to Lacey Nymeyer.
Without any editorial comment, here are the numbers:
Her GPA at Arizona was 3.89.
She won the NCAA swimming title in the 100 freestyle.
She was team captain of Arizona's 2008 national championship team.
She won a silver medal at the 2008 Beijing Olympics.
She was the Pac-10 women's swimmer of the year
She championed the UA's CATS life-skills program, working at volunteer centers, speaking at charitable events and to youth groups.
Here's some editorial comment: Nymeyer, who was a state championship swimmer at Mountain View High School with a 3.99 GPA, is on a short list as the most accomplished women's athlete in Tucson history.
How short? You'll never count to five.
In the summer of 2009, Nymeyer was one of 130 nominees as NCAA Woman of the Year. It is the Heisman Trophy of women's college sports.
By October, the list of 130 was pared to 30 finalists. They gathered in downtown Indianapolis and Nymeyer was so impressed with the credentials of the other 29 finalist that she said "you can picture any of the girls winning it; they are all so incredible."
The NCAA's Woman of the Year award is determined by athletic achievement, academic performance and community service.
The granddaughter of former UA career basketball scoring leader Ed Nymeyer, nicknamed "Pearl" by UA coach Frank Busch, was much more than a pearl that night. She was gold.
"When they called her name, Lacey was so overcome she almost couldn't get out of her chair," Busch said.
Nymeyer, ever modest, limited her acceptance speech to a brief 1 minute 55 seconds.
After acknowledging her coaches and parents, she said: "I love being an Arizona Wildcat. I love it, I love it, and I love swimming for it and training for it and I love wearing those red and blue colors."
In the audience, Busch fought back tears.
"I was thinking about how much Lacey has grown since I met her," he said. "She has come out of her shell but she kept her humility. No wonder she won."
Nymeyer began swimming at 6. By 9, she was devoted to becoming a champion.
Current UA head coach Rick DeMont, then an Arizona assistant coach, had known Nymeyer for most of her life. His daughter, Angela, and Lacey swam in the same age-group pool in Oro Valley. Even a former world record-holder such as DeMont cannot predict Olympic glory from 15 years out, but he saw a special something in Nymeyer.
"I remember the little tiny thing whose swim cap was too big, but she was a tiger from the beginning," he said. "I don't remember how many times I've seen her be the first to touch the wall. I've lost count."
Where are they now? Nymeyer, 30, married former Eastern Arizona College basketball player Chandler John; they have a 3-year-old daughter, Juniper. Lacey, who now goes by Lacey Nymeyer John, has returned to her alma mater and works as an assistant athletic director for community relations, special events and life skills.
How they did it: At the 2008 NCAA championships in Columbus, Ohio, Nymeyer scored 52 points, including being part of three Arizona relay teams that won national titles. On the Fourth of July, 2008, in Omaha, Nebraska, she qualified for the 2008 USA Olympic team.
---
Photo: Olympic swimmer Lacey Nymeyer visits her former school, Richardson Elementary School, on Friday, Sept. 5, 2008. She won the silver medal in the women's 100 freestyle relay at the 2008 summer Olympics in Beijing. Photo by Janelle Montenegro / Arizona Daily Star
No. 79 • Tucsonan Reed sets world record with 300-mile run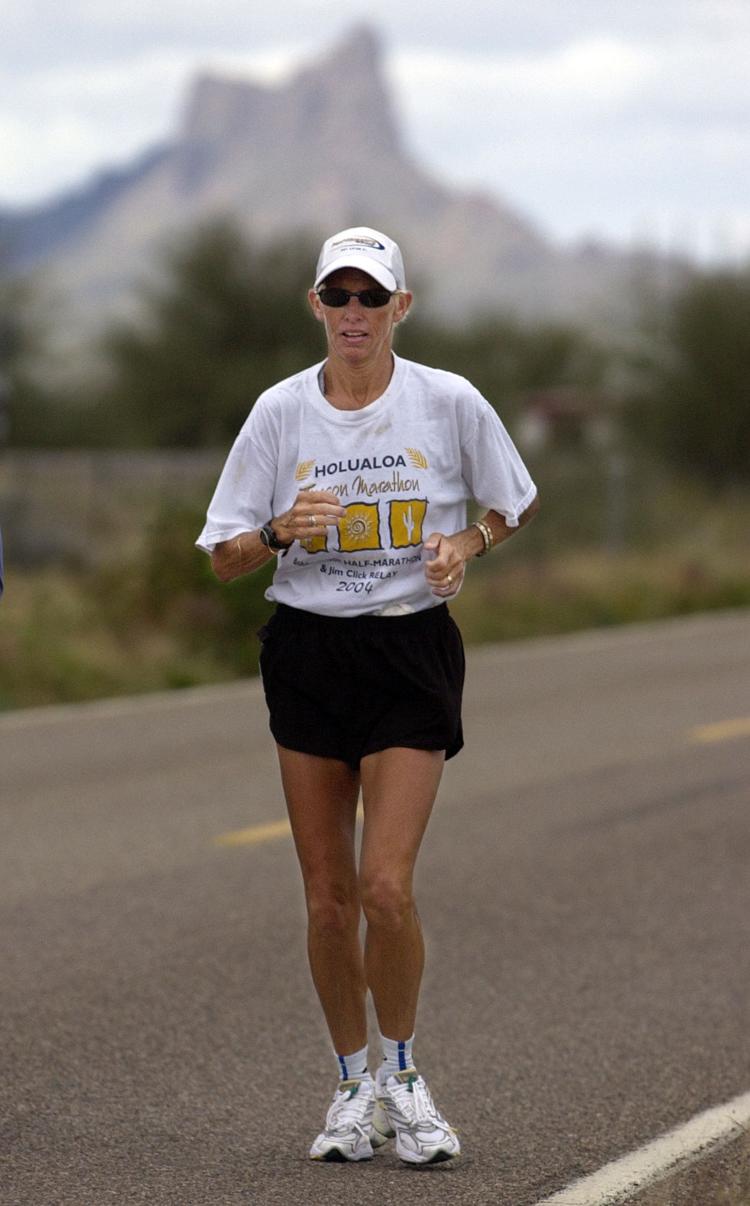 March 28, 2005: Pam Reed runs world-record 301 miles without stopping
Tucson ultramarathoner Pam Reed was a guest on the "Late Show With David Letterman" in April 2003; he wanted to know what she was paid to win the 135-mile Badwater Marathon, through Death Valley, in days when temperatures exceeded 120 degrees.
"I got a belt buckle," she said.
"Good Lord," Letterman replied, "sign me up."
Pam Reed runs not for money but joy. Or something related to joy.
Ten times she has run the Badwater Marathon. She ran the Boston Marathon twice in a day. She has run the Leadville 100, at 10,000 feet in elevation in Colorado, and the Arrowhead 135, in subzero temperatures in Canada.
But nothing compares to the 79 hours in March 2005 when she ran 301 miles on a frontage road near Picacho Peak. No sleep. No lunch breaks. Nothin' but runnin'.
It was so impressive that CBS' "60 Minutes" flew a crew to Tucson to do a feature on Reed's career.
Here's how I started a column on Reed the day after she finished the world-record for sustained running:
"At 4 a.m. Friday, Pam Reed got out of bed in the Tucson foothills, changed into her running clothes, was driven to the middle of nowhere and started to run.
"She ran all day and all night Friday. She ran all day and all night Saturday. On Easter Sunday she did not attend church, did not appear in an Easter parade, did not sit down to Easter dinner. She ran for 24 hours on a 12½-mile loop on a highway frontage road between Picacho Peak and Marana.
"About 2 in the morning, every day, I got very sleepy," said Reed. "But I kind of closed my eyes and it went away."
"At 5:52 a.m. Monday, in the dark, followed by two support vehicles and flanked by two friends, Reed reached the 275-mile mark. The (previous) unofficial world record for sustained running, male or female, is 262 miles.
"Reed kept going. At 1:55 Monday afternoon, she completed 300 miles. But rather than chance the math, she ran a final mile, No. 301, just to be sure."
I stood at the finish line as Reed stopped for the first time in 79 hours and 55 minutes. She calmly embraced her mother and father, a few friends, and walked over to chat with reporters.
"I'm amazed I did it, but I'm more amazed at how (good) my body feels," she said. "I've hurt more after a (26-mile) marathon."
And that was about it. After 80 hours and 301 miles of running, both believed to be world records, Reed had comfortably broken Dean Karnazes' 262-mile record.
A day later she flew to New York to be on a few syndicated TV shows.
Pam Reed was a high school tennis player in Michigan who moved to Tucson in the early 1980s. She was married with three kids. She later divorced and married UA grad Jim Reed, a CPA and triathlete. A lot of couples go to the movies or play tennis for fun; the Reeds ran. And ran. And ran.
She was first sighted on the world running radar after winning the 2002 Badwater Marathon, not just the first woman overall, but also finishing ahead of every man in the race. The Badwater race was the idea of Tucson attorney Chuck Giles.
"Do you think I'm crazy?" Reed told him.
Giles and Tucson judge Susie Bacal became Reed's loyal supporters; serving as her crew on Badwater-type races, and encouraging her to believe that she was strong enough to become an international ultra-marathoner.
When David Letterman and "60 Minutes" both turn their heads, you know you've done well.
Where are they now? Reed, 55, longtime director of the Tucson Marathon, spends much of the year in Jackson, Wyoming, with her family. Last summer she ran the Zion 100 in southern Utah in 26 hours.
How they did it: After winning her inaugural Badwater 135, Reed said temperatures near 120 didn't stop her. "I felt fine," she said. "My crew handed me water and ice, and I drank some energy drinks to get some calories in me."
---
Photo: Tucsonan Pam Reed runs along the I-10 frontage road on Friday, March 25, 2005 during her 300-mile run near Picacho Peak. Photo by Jim Davis / Arizona Daily Star
No. 78 • UA's Lalang sets Pac-12 record for most national championships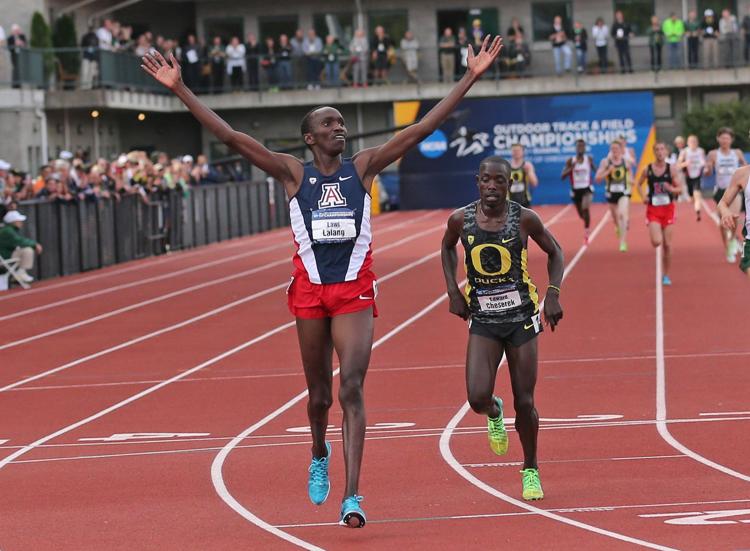 June 13, 2014: Lawi Lalang wins his eighth NCAA championship 
In his last race as an Arizona Wildcat, Lawi Lalang was in his most unfamiliar position.
Underdog.
After winning seven NCAA distance-running championships and eight Pac-12 titles, Lalang was matched against Oregon's Edward "King" Cheserek, who has gone on to be the most successful distance runner in college history.
The 5,000-meter showdown would be held on Cheserek's turf, Hayward Field in Eugene, Oregon. Even though Lalang was coming off 2013 NCAA championships in the 5,000 and 10,000 meters, Cheserek was undeniably the rising star of American distance running.
Three weeks earlier, Lalang held on to beat Cheserek by a nose in the Pac-12 1,500 meters championships, setting an American record in one of the most exciting races of the year.
The two Kenyans had arrived at the 2014 finals by entirely different routes. Cheserek had gone to a New Jersey prep school and was unsuccessfully recruited by Arizona. Lalang, who was recruited only by Arizona distance running coach James Li, arrived in Tucson just after Christmas 2010; he had never been in America.
Lalang had never participated in an official race until he was an Arizona freshman; Li watched him run on a dirt track in Eldoret, Kenya, while visiting his older brother, Boaz Lalang, a world-class 800 meters runner coached by Li.
As a UA senior, Lalang had accomplished so much that he earned his degree in 3½ years and was chosen the Pac-12 Scholar-Athlete of the Year for track. Cheserek was a freshman who had won two NCAA Indoor titles earlier that year, beating Lalang twice.
"I know I must be at my best," Lalang said before the epic 5,000 meters showdown. "But so must Cheserek."
With 100 yards remaining and more than 12,000 Hayward Field fans stomping and cheering for Cheserek, Lalang trailed by about 5 yards. But in an incredible home stretch, Lalang pulled even, took the lead by a stride, and held it to the finish, beating Cheserek by about 5 feet.
"It was my greatest comeback," said the soft-spoken Lalang. "It is a good way to finish my career."
Lalang ended his UA days as he started them. He won the NCAA cross country championship as a UA freshman, exhibiting such grace and athleticism that Li — coach of the great Bernard Lagat — wasn't quite sure how to describe him.
"Lawi's achievement this year is very impressive," Li said. "Very few people in the history of cross-country have done it. I wonder how many. I don't know.
"Almost all of the situations, I tend not to overstate my praise, that's for sure. But this guy, really, what can you say? I don't know how many people have done what he's done, ever."
Lalang was a 16-time All-American at Arizona, breaking the standards set by a formidable group of ex-Wildcat All-America distance runners Martin Keino, Abdi Abdirahman, Robert Cheseret, Matt Giusto, Marc Davis and Tom Ansberry.
Where are they now? Lalang continues to train in Tucson and Flagstaff and run internationally. He ran in pro races in Japan and Belgium in May and is a regular on the Diamond League tour each summer.
How he did it: Lalang is a front-runner. His strategy is to set a fast pace and run from the front.
---
Photo: Arizona's Lawi Lalang, left, celebrates after winning the men's 5,000 meters while Oregon's Edward Cheserek, right, come in second at the NCAA track and field championships Friday, June 13, 2014, in Eugene, Ore. (AP Photo/Rick Bowmer)
No. 77 • Arizona golfer Ochoa sets NCAA record for most wins in a season
April 7, 2002: Lorena Ochoa wins seventh straight golf tournament
Had everything gone as Lorena Ochoa planned, she would've played golf for the Texas A&M Aggies.
But when the time came for the Guadalajara, Mexico, golfer to enroll at Texas A&M in the summer of 1999, she didn't believe her English-speaking skills were suitable.
She delayed her college plans by a year.
She also made herself available to be re-recruited, and after Arizona won the 2000 NCAA women's golf championships, coaches Todd McCorkle and Amy Solfisburg arranged for the six-time world junior champion to visit Tucson.
She agreed to be a Wildcat.
Ochoa won her second tournament as an Arizona freshman, the Dick McGuire Invitational in September 2000.
"She's a blessing," said new UA coach Greg Allen.
By the end of her freshman season, Ochoa was named the Player of the Year by the National Golf Coaches Association.
She even contended in the 2001 LPGA's Ping/Welch's Championship at Randolph North and finished seventh.
Entering her sophomore season, Ochoa was ranked No. 1 in college golf.
She had won five consecutive tournaments, undefeated, when she entered the UA's Wildcat Invitational in February 2002 at Arizona National. She won by five shots.
"She has the perfect game," said Allen.
"She's long and straight with her driver. Her iron shots are pure and at the flag on every shot.
"Then she has a great short game with unbelievable imagination around the greens. Everything you need."
When Arizona went to Tempe to play in the ASU Ping/Invitational in April, Ochoa was seeking her seventh consecutive victory, unprecedented in women's college golf.
It didn't take long for her to grasp control of the event; she had a hole-in-one in the first round and shot 68 to take the lead.
She went on to win her 11th overall victory at Arizona, tied with the great Nancy Lopez, who won 11 tournaments at Tulsa from 1975-77.
"I was just trying to be patient," Ochoa said later, admitting that she had been feeling sick all week, battling a cold.
"I'm very happy to win the seventh in a row.
"This is a very special tournament for me."
At the NCAA championships a few weeks later, Ochoa finished second again, as she had in 2001. Her scoring average of 70.33 was an NCAA women's record. The Wildcats finished second as a team as well.
Beyond her 11 UA career victories, and seven in succession, Ochoa's finest day at Arizona might have been at the 2002 LPGA Ping/Welch's Championship at Randolph North. This time she finished fifth overall, tied with Karrie Webb, shooting 67-69-68 in the final three rounds.
As an amateur, Ochoa could not accept the $47,000 prize money for fifth place.
About a month later, she announced she would turn pro after her sophomore season. When she climbed to No. 1 in the world in 2007, she replaced another ex-Wildcat, Annika Sorenstam. 
Where are they now: At 34, Ochoa has been retired from the LGPA Tour since 2010.
She was ranked No. 1 in the world from 2007-2010, winning 25 LGPA events and earning $14.9 million. She lives in Mexico, operating a charitable foundation, is married and the mother of two children.
How she did it: When she enrolled at Arizona, Ochoa — called "Lolo" by her teammates — watched movies and listened to music to better learn English. She insisted on conducting all media interviews in English as a freshman.
---
Photo: Lorena Ochoa of Mexico sizes up her putt on the first green in the final round of the LPGA Betsy King Classic, Sunday, Aug. 25, 2002, in Kutztown, Pa. (AP Photo/Brad C Bower) 
No. 76 • Pop McKale begins legendary career as UA baseball coach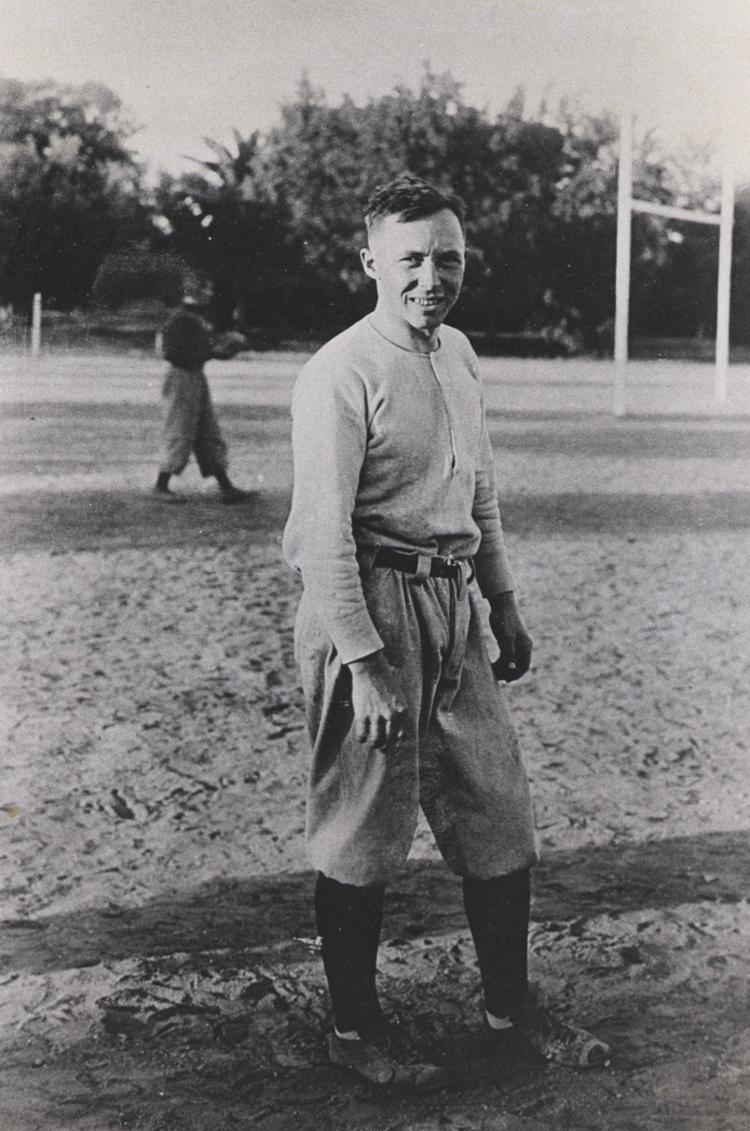 May 8, 1914: Arizona hires James "Pop" McKale as coach, athletic director  
Arizona employed nine football coaches from 1899-1914. The transient nature was worse in baseball: 10 men coached UA's baseball teams from 1904-14.
The teams had neither a nickname (they were referred to as the "Varsity") nor an identity. To this day, more than a century later, the school's archives insist that there was no UA basketball coach from 1906-11.
That all changed in the spring of 1914 when a headline in the Daily Star said:
McKale Is
Wanted By
Downtown
Folk
James Fred "Pop" McKale had been so successful in his two years as Tucson High's football, baseball and basketball coach, routinely beating the UA, that even the school's most noted coach, Raymond Quigley, agreed that McKale should be hired.
"McKale made sure Quigley did not want the job," the Star wrote on April 30, 1914. Quigley stepped aside when he was hired as the director of Tucson's city playgrounds.
The financial details weren't lavish. McKale agreed to a salary of $1,700 as head coach of the football, basketball and baseball teams. He was given a budget of $835 to be the school's first-ever athletic director.
He spent $575 on football, $200 on basketball, $40 on tennis and $10 each on baseball and track.
It was such a popular hire in a town whose population was probably close to 5,000, that on the day McKale was hired, the Star's headline said:
Practically All Students
at University Want
McKale as Coach
"A petition requesting the appointment of J.F. McKale as athletic director was signed by about 100 students and the sporting writers of both newspapers."
McKale was appointed to his position by the Board of Regents that afternoon, and over the next 40 years, the trajectory of the UA athletic department ultimately led to a growth far greater than regional rivals ASU, New Mexico, Texas Tech and UTEP.
It was slow growth.
McKale hired his first UA assistant coach, of any sport, in October 1914. That's when agriculture professor Raymond Barnes became a line coach.
But mostly, McKale was a one-man gang for his first decade at Arizona, not atypical for a small-school athletic department in the early 20th century.
Before McKale began work as football-basketball coach in the winter of 1914-15, the school asked that he further his education. McKale spent the summer of '14 at the University of Illinois, spending eight weeks studying "Theoretical and Practical" courses in football, baseball, track and athletics.
Having completed his so-called graduate degree, McKale returned to his hometown of Lansing, Michigan, and took a train back to Tucson to begin his first year as an AD on Sept. 19, 1914.
His first football game, in 1914, was played on the UA's dirt field against the Douglas YMCA.
He stayed on the job until 1956, retiring when he was 70. He made the most of few resources.
"We never had an extra dime," longtime UA track coach Carl Cooper told me in a 1996 interview.
"But Mac always had a vision to be something special, something beyond the athletic departments in Albuquerque and El Paso and Tempe. He was talking about getting into the Pac-8 with USC and UCLA in the '50s."
Here's the official Pop McKale boxscore:
Athletic director, 43 years.
Baseball coach, 34 years.
Football coach, 17 years.
Track coach, seven years.
Basketball coach, six years.
During most of that tenure, McKale and his wife, Ada, lived at 801 E. Second St., which is now a parking garage near the Marriott hotel. He walked to work, counted pennies and signed most of his correspondence "Fear God and vote Republican."
Predictably, McKale was old school in his appearance and manner.
Five-time Tucson High state championship football coach Rollin Gridley, who played football for McKale in the 1920s, told the Star that McKale "was like a God."
Where are they now: McKale's first office at the UA was at Herring Hall. It was 5 feet by 5 feet. It is now used as storage by the College of Agriculture. McKale died in 1967.
How he did it: McKale captained the construction of Bear Down Gym in 1927 and Arizona Stadium in 1929.
---
Photo: Undated Arizona Daily Star file photo of Pop McKale.
No. 75 • Big-time Sugar Ray continues unbeaten streak in front of Tucson crowd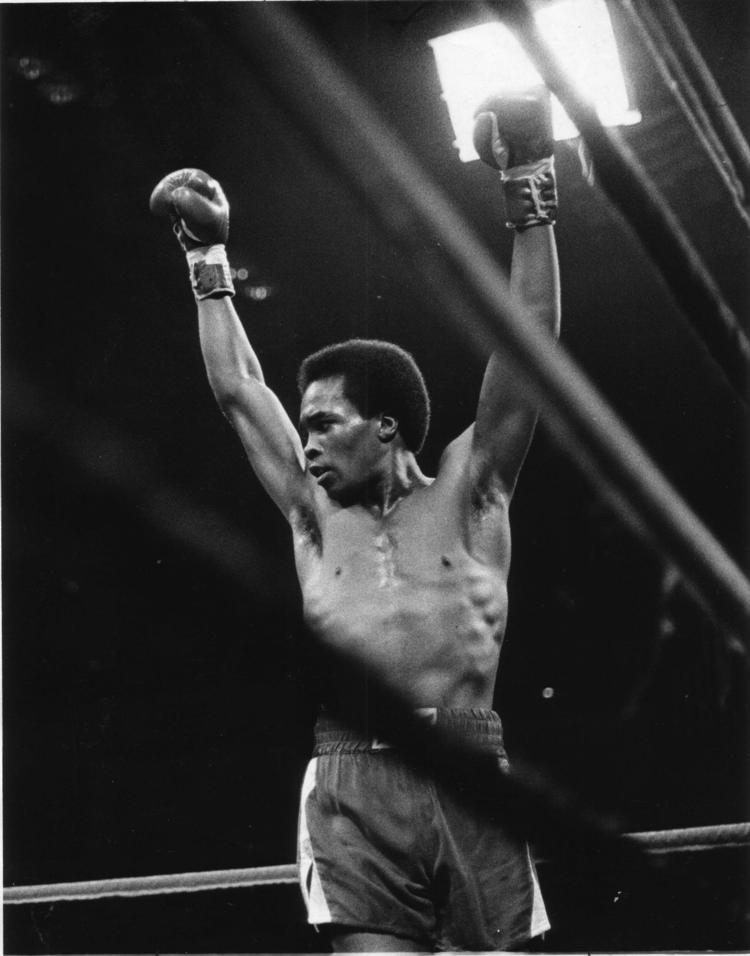 March 24, 1979: Sugar Ray Leonard improves unbeaten boxing record in Tucson  
Aside from an aging Muhammad Ali, the two biggest names in American sports in 1979 were probably combative TV analyst Howard Cosell and charismatic boxing star Sugar Ray Leonard.
After wining the 1976 Montreal Olympics gold medal and impressively winning his first 19 professional fights, Leonard agreed to a made-for-TV fight at the Tucson Convention Center against 66-2 welterweight Daniel Gonzales.
Cosell was the key part of ABC's "Wide World of Sports" telecast on a Saturday afternoon in March, attended by 6,422 Tucsonans.
It remains the largest boxing audience in Tucson history, surpassing the 5,100 who saw local boxers Paco Flores and Johnny Rico fight at the TCC five years earlier.
Leonard knocked out Gonzales in 2 minutes 3 seconds of the first round, and the crowd was not happy at the brevity of the long-anticipated fight. They threw empty beer cups, some of them hitting Cosell.
"They're animals," Cosell said. "This is the last time I'll ever do a fight in Tucson."
Cosell was later escorted to a car by 10 policemen.
Leonard, then 23, went on to win five world championships, a star among stars, matched against boxing immortals Roberto Duran, Thomas Hearns and Marvin Hagler.
In 2004, I played golf with Leonard at Arizona National while he was in town promoting boxing events at a casino.
He recalled his knockout over Gonzales not as anything controversial, but as a indication of his prowess.
"I was still a young fighter, and at the time (Gonzales) was probably the toughest opponent I'd faced," he remembered. "The crowd wasn't happy, but what could I do? I couldn't just carry him. I still consider it a big step in my career."
Getting Cosell and Leonard to Tucson was an idea generated by Phoenix promoter Steve Eisner. He told reporters he put up $75,000 of his own money to pay for use of the TCC, a local hotel, travel expenses, publicity and guarantees to the fighters.
The fight grossed more than $200,000; TCC officials said the previous largest gate for an event was $120,000 for an Elvis Presley concert. Leonard was paid $46,000, while Gonzales got $10,000.
Leonard was so popular that Eisner said about 2,000 of the tickets were bought in Phoenix.
When Leonard arrived in Tucson, he was accompanied by Hall of Fame trainer Angelo Dundee. He told reporters he anticipated a difficult fight. Gonzales had not been knocked out in 68 fights.
"He's clean-faced, and I don't like that," said Dundee. "It means he knows how to cover himself up, to protect himself, and he hasn't taken too many punches."
But in the first round, Leonard delivered a quick right-hand punch that landed squarely on Gonzales' chin.
He was out.
"I hope the sportswriters continue to say I can't punch," said Leonard. "It was a beautiful punch. I'm as happy as the devil. There's no wear and tear on me."
Gonzales was on his feet at the count of six, but wobbled and spit out his mouthpiece. "I didn't know what was happening," he said.
After five more fights in 1979, including another first-round knockout, Leonard won the world welterweight championship, beating Wilfred Benitez on Nov. 30 in Las Vegas.
Where are they now: Leonard, 49, retired from boxing after a failed 1997 "comeback," when he was knocked out for the only time in his career by Hector Camacho. He is an occasional TV analyst and actor.
How he did it: While playing golf at Arizona National in 2004, Leonard saw a bobcat near the green at the No. 3 hole. He refused to continue until the bobcat moved back into the desert.
Three foursomes piled up behind Leonard's foursome, irritated, wondering what stopped play. When two men drove their cart to the No. 3 green to complain, Leonard got out of the cart and pointed to the bobcat.
They recognized the boxing champion, waved to their playing partners, and for about 15 minutes, Leonard signed autographs and took photographs with golfers, maintenance workers and beverage cart drivers.
---
Photo: Sugar Ray Leonard celebrates a first-round knockout of Welterweight Danny Gonzales on March 24, 1979 in Tucson, Ariz. Tucson Citizen file photo
No. 74 • Tucson High caps perfect season with baseball championship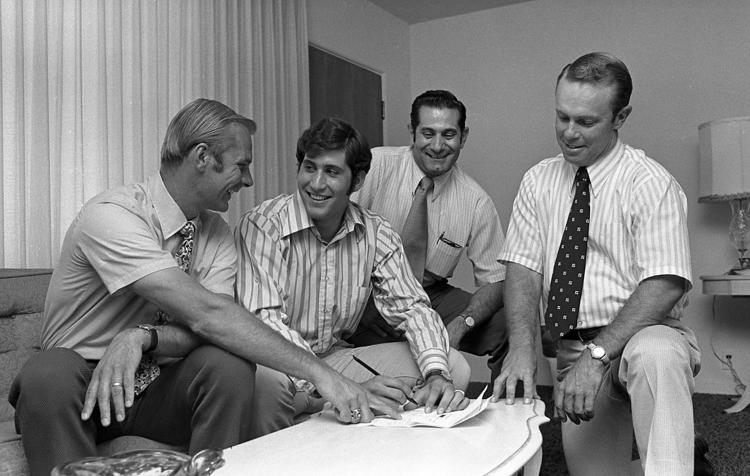 May 19, 1972: Tucson High goes 25-0 to win state baseball title  
The list of undefeated high school baseball teams in modern Arizona history is brief.
2000 — Willcox High, 33-0
1972 — Tucson High, 25-0
1965 — St. David High, 17-0
There were a few other undefeated teams from 1910-50, including a 20-0-1 Tucson High team of 1941, but they played so few games that it doesn't endure.
So here's the question: Are the '72 Tucson Badgers the best baseball team in state history?
Badgers coach Ray Adkins won the 1959 state title and reached the championship game in 1960 and 1970, but after the Badgers rolled to a pinch-yourself-it's-true unbeaten season in 1972, he told the Star, "If there's a better team than this one, I've never seen it."
It wasn't just the 25-0 record, it was the drama of Tucson's final two victories at the state tournament.
The Badgers beat Scottsdale Coronado 6-5 in the state semifinals when future UA All-American and MLB standout Ron Hassey hit a walk-off single in the bottom of the ninth inning, a game in which Tucson trailed 5-2 in the fifth.
The championship game was even more theatric.
Chandler High led 3-0 in the second inning and Adkins' supply of pitchers was exhausted. The state's player of the year, Tucson senior Frank Castro, had pitched a complete-game victory two days earlier in a 10-1 victory over Carl Hayden High.
A day later, in Tucson's comeback against Coronado, Castro was summoned for five innings. He didn't allow a run.
So when Mike Odum, a .484-hitting center fielder and No. 3 pitcher, couldn't get out of the second inning, Adkins asked Castro, who also played second base and batted cleanup, if he had a few more innings left in his arm.
Remarkably, Castro pitched the final 6º innings, allowing just two hits and no runs, while the Badgers rallied to tie the game at 3-3.
"My arm was a little sore," Castro said, "but I told the coach I'd be ready if he needed me."
That would never happen in today's pitch-count world of baseball. But over three days, Castro went 3-0 by pitching 18º innings, allowing just six hits and one run. It was surely the greatest single state tournament performance by any baseball player in Arizona history.
Castro also had three RBIs and batted .300 in the tournament.
But that wasn't the end of the '72 championship game. When Castro shut out Chandler in the top of the eighth inning — extra innings — the game remained tied at 3-3.
That's when future UA College World Series first baseman Al Lopez smashed a home run over the left-field fence to win the title, 4-3.
"Are you kidding?" Adkins said. "These kids didn't lose their poise all week."
The Badgers completed the season with a team ERA of 0.68. Although statistics are not kept by the state from year to year, it is surely the lowest team ERA in state history. Castro finished 13-0, and that's not all. Six months earlier he was the starting quarterback on the 1971 state championship team.
Where are they now: After playing at Pima College and NAU, Castro worked in Tucson until his death in 2013; he was 59. Hassey, who played shortstop at THS and converted to catcher thereafter, played 14 seasons for the Yankees, White Sox, A's, Expos, Cubs and Indians. He caught three perfect games. In 1976, he was one of the leading players as Arizona won its first College World Series. He retired from coaching in the Pacific Coast League two years ago. He is 63.
How they did it: "We started six sophomores in 1970, and finished second in state," said Adkins. "So to have them now, as seniors, winning the whole thing, going undefeated, well, how can you beat that?"
The six sophomores-turned-seniors included Hassey, Lopez, Castro, Odum, Jesus Lopez and Tony Figueroa.
---
Photo: Arizona baseball coach Jerry Kindall, left, smiles as he watches Tucson High shortstop Ron Hassey sign a national letter of intent to attend UA on May 22, 1972. Ron's father Bill Hassey looks on with assistant baseball coach Jim Wing, far right. Photo by Art Grasberger / Arizona Daily Star
No. 73 • Arizona's Skieresz begins dominant career with first NCAA championship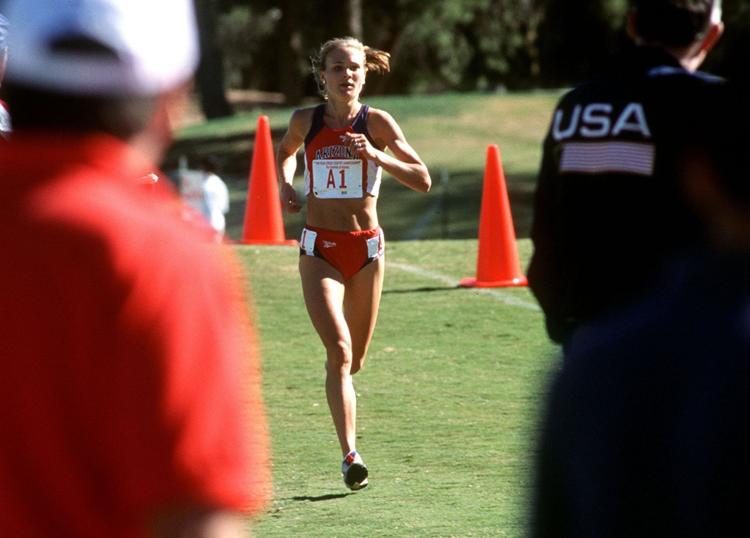 Nov. 18, 1996: Amy Skieresz earns the first of seven NCAA championships
The stewards operating the 1996 NCAA Women's Cross Country Championships handed each of the 183 runners a bib with a letter and a number, indicating their starting position.
Amy Skieresz was given A-1.
Whatever she wore during her UA career, A-1 was most appropriate.
At the '96 championships, held at Dell Urich Golf Course, Skieresz was in such command that she said "I didn't know where anybody else was."
She won by more than 25 seconds, the first of her seven NCAA championships.
"You never know what will happen down the line, with injuries or things like that," said UA coach Dave Murray, "but this could be the first of many great races for Amy."
Two years later, at the Rim Rock Farm near Lawrence, Kansas, Skieresz was the favorite for the last time in her UA career. By then she had won seven NCAA championships, including two each at 5,000 and 10,000 meters in outdoor track and field, and two NCAA 5,000 indoor titles.
Few, if any, suspected that the '98 NCAA finals on an over-the-river-and-through-the-woods type of course in Kansas would be Skieresz's last race for the Wildcats.
Three days before the Wildcats flew to Kansas, I interviewed Skieresz near Reid Park as the Wildcats gathered for a final workout. She was withdrawn and distracted. Murray told me he could not comment.
Is she injured?
Murray grimaced but said nothing.
Over the weekend, I flew to Kansas City, drove an hour or two to Rim Rock Farm and saw Murray in the lobby of a Lawrence hotel.
He again declined comment on the nation's top female amateur distance runner.
The next morning, a chilly and overcast Monday in the woods, Skieresz ran without an expression during warmups. That was her style; in a streak of 20 consecutive victories — on the track and in cross country — leading to the 1998 NCAA cross country finals, Skieresz was inscrutable, a cold-blooded runner whose style was to grab the lead and keep it.
By then she had won two Honda Awards, the track and cross country equivalent of the Heisman Trophy. She had twice been the Pac-10 track and field Athlete of the Year.
"She has zero ego," said Murray. "She doesn't like a lot of attention. She's a consummate teammate."
But there was something troubling Skieresz in Kansas, the final race of her college career. She wasn't thinking about overhauling Suzy Hamilton, the career NCAA leader with nine distance titles. She was thinking about a pain in her leg.
Five days earlier, worried about discomfort in her upper right thigh — an injury that she worried might be cancer-related — Skieresz wasn't at 100 percent. Doctors weren't sure about the extent of her injury.
Yet in the final half-mile of the '98 championships, Skieresz and Michigan's Katie McGregor were far ahead of the pack. The difference was that Skieresz ran with a noticeable limp.
McGregor won in 16 minutes 47 seconds. Skieresz was six seconds behind.
She embraced her father, Bill Skieresz, himself an avid cyclist and runner who has lived in Tucson for almost 20 years. It was an emotional scene.
It was the last time Skieresz ran for the Wildcats.
A few weeks later she was told the injury was a benign tumor that would dissolve over time. She decided to skip the 1999 track and field season and begin the process of making America's 2000 Olympic team.
Skieresz joined the Nike Project and trained in Australia and at Stanford, ran a few races, but one afternoon in 2000, a month before the U.S. Olympic Trials, Murray phoned to tell me his franchise athlete was retiring from running. She was 23.
"It's time for me to find a job and get on with life," she told me that night. "Running isn't the lifestyle I want to lead. But to be an Olympic runner you've got to be 100 percent committed and I am not. I've been running since I was 8. Enough is enough."
Last fall, Amy was named the Pac-12's Women's Cross Country Runner of the Century.
Where are they now? Skieresz joined Murray's staff as an assistant coach for three seasons. After returning to her home in Westlake, California, to help coach a high school team, Skieresz left organized track. She married former Arkansas All-America runner Ryan Wilson. The two have three children and live in Palm Desert, California.
How she did it: During her UA career, and for a few years after, you could often see Skieresz running near Reid Park or on the Rillito bike path, or through the Sam Hughes neighborhood. After she had her first child, she would do the same, pushing a stroller.
---
Photo: University of Arizona's Amy Skieresz crosses the finish line in the NCAA championship of the women's cross country race in 1996 in Tucson, Ariz. She finished first in the 3.16-mile race with a time of 17 minutes 4 seconds. Photo by Linda Seeger Salazar / Arizona Daily Star
No. 72 • Heredia pitches Pima baseball team to NJCAA championship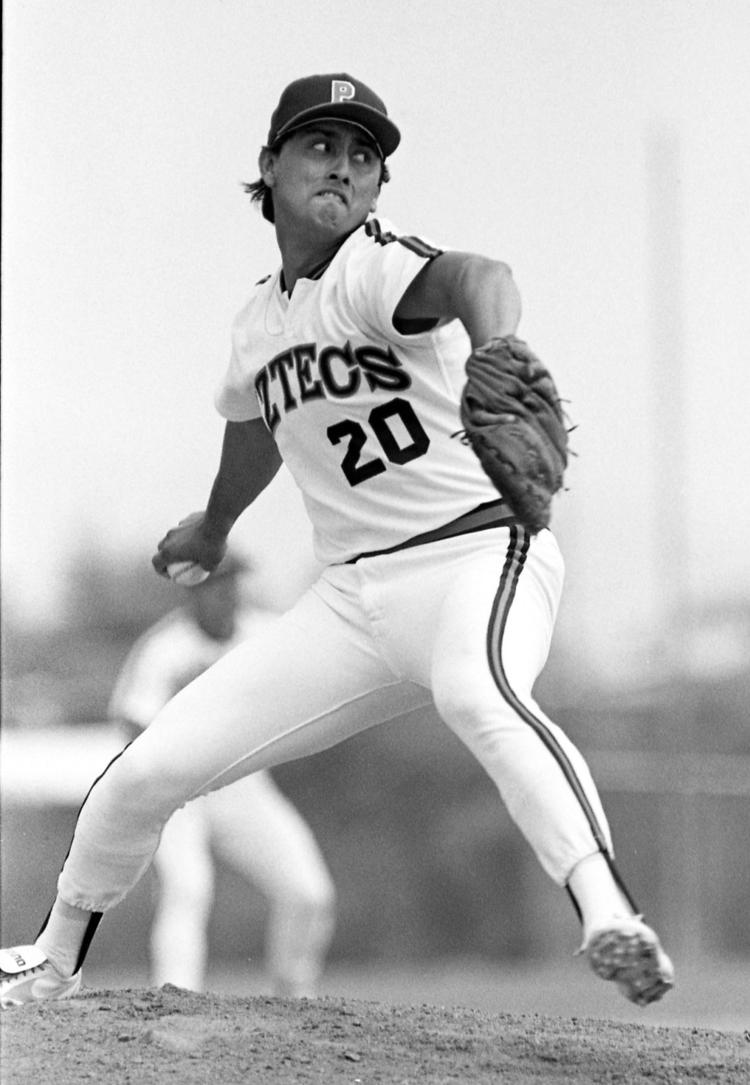 May 28, 1985: Pima College plays for NJCAA baseball championship
As the starting quarterback for Tucson High's 1965 state championship football team, Rich Alday was given a commemorative patch, not a ring.
"I always thought a ring would've been nice," Alday says now. "The patch was good, but most of the other championship teams get a ring."
After his high school days, Alday became a standout baseball catcher at Kansas' small-school national power Emporia State. But no ring.
So when Alday became the first baseball coach in Pima College history, building a powerhouse that reached the 1981, 1983 and 1985 NJCAA World Series, he had outgrown the patch from the '65 Badgers.
At the 1985 World Series in Grand Junction, Colorado, Alday had the team he had waited for; it was the best Aztecs team of his 17 seasons, 1974-1990, and remains the most accomplished in school history.
Future major-league pitcher Gil Heredia of Nogales was 13-0 heading to Colorado. Shortstop John Alva of Thatcher, an All-American, had 80 RBI and the Aztecs hit .371 as a team. Former Sabino High standout Jim Kimbrough hit a state-record .619 for the 1983 Sabercats, and became one of the leading players in the NJCAA. Sierra Vista's Chuck Huffaker was an All-ACCAC first-baseman, hitting 14 homers.
Not only that, but Alday surrounded himself with a coaching staff equal to almost any in major-college baseball. In the lead-up to the World Series, Alday met with future Miami Marlins vice-president of operations Jim Fleming, a Salpointe grad, and Scott Stanley, Arizona's 1980 College World Series standout, a Catalina High grad who has been a MLB scout for 23 years.
Once in Colorado, the Aztecs rolled. They clouted Indian Hills JC of Iowa 13-1 in the opener as Heredia improved to 14-0. After losing a second-round game, Pima beat Triton College, Connors State and San Jacinto College by a combined score of 42-10.
A rematch with 54-7 San Jacinto of Texas would be for the championship on a Saturday night at Stocker Stadium, filled with 7,500 fans. Pima would face 16-0 Steve Bowden for the title.
Pima fell 6-5 as Heredia pitched on two day's rest against the top-seeded Gators.
"As disappointing as it is to lose," Alday said that night, "I'll always remember what a terrific group this has been. I told the guys to keep their heads up. They've come a long way."
Alday left Pima in 1990 to become the head coach of the New Mexico Lobos; he would win 513 games in Albuquerque, which, combined with his 496 victories at Pima, gave him 1,009 baseball coaching victories. He returned to Tucson and has since coached Ironwood Ridge's girls softball team to state championships in 2014 and 2016.
Championship rings?
Alday finally got one when the Lobos won the Mountain West Conference championship in 2004, and now he's getting his second ring at Ironwood Ridge.
"Actually, the guys we could round up from the '65 football team at Tucson High got together recently and ordered championship rings," he said. "I guess it's never too late."
Where are they now? Heredia, who pitched UA to the 1986 College World Series title, pitched 10 seasons in the major leagues and is now the pitching coach for the Triple-A Reno Aces, the Diamondbacks' top affiliate. Kimbrough is the president of P3Solar energy company in Tucson. Alva played seven minor-league seasons in the Braves organization.
Pima's 1992 encore: Under Alday's successor, Roger Werbylo, Pima reached the '92 NJCAA championship game. The '92 Aztecs, who finished 34-22, got hot late, winning the Region championship behind ex-Sahuaro High pitcher Marc Barcelo and former Pueblo High third baseman George Arias, who would later play for the San Diego Padres and Los Angeles Angels.
---
Photo: Gilbert Heredia, a native of Nogales, Ariz., pitches for Pima College during the 1985 NJCAA World Series. Photo by David Sanders / Arizona Daily Star 
No. 71 • Arizona claims 1992 NCAA men's golf championship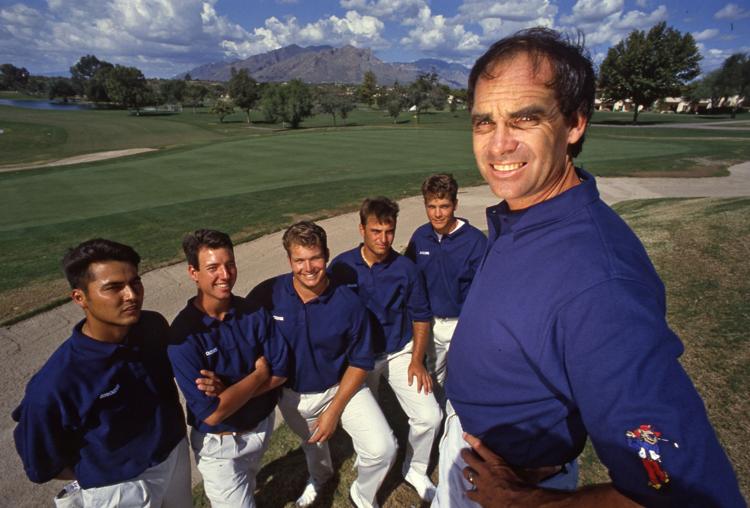 June 5, 1992: Arizona wins NCAA men's golf championship
Arizona was ranked No. 1 a total of 13 times in Rick LaRose's 34 years as the school's golf coach, but perhaps the most unlikely season for Arizona to win the NCAA championship was 1992.
That was when the Wildcats ran into Phil Mickelson, playing his final event as an amateur, shooting a 63 in the first round as Arizona State jumped to a 10-stroke lead over the Wildcats.
The quotable LaRose didn't leave reporters with an empty notebook that day in Albuquerque. "For all practical purposes, this tournament is over," he said. "The rest of us are playing for second place."
Whether LaRose had his fingers crossed or gave a noticeable wink to those who reported his comments has been forgotten.
On the second day of the four-day championship, Mickelson shot 65. The Sun Devils' lead was cut to six strokes by No. 1-ranked Arizona, but LaRose didn't change tactics.
"Our little team is playing nicely," he said.
The '92 Wildcats were not a "little team."
Manny Zerman had twice reached the finals of the U.S.Amateur (losing to Mickelson, of course). David Berganio won the U.S. Public Links championship. Harry Rudolph, who was at his best during the '92 NCAA finals, would ultimately finish second to Mickelson, shooting rounds of 71-69-66-72 (or 10 under par).
It wasn't until Round 3 that Arizona's depth was manifest, and the Wildcats took the lead. Rudolph shot a 66, Zerman 67, Berganio 71 and senior Jim Furyk 71. That's how good the Wildcats were; Furyk, a future U.S. Open champion, was the No. 4 player in Arizona's 1992 lineup.
Entering the final round, Rudolph was paired with Mickelson, who had won the PGA Tour's Tucson Open a year earlier, an amateur beating all the pros.
"I'd have to shoot 52 to beat Phil," Rudolph told the Star, "so I'm thinking about the team."
Unexpectedly, Mickelson double-bogeyed the first hole. Rudolph got a par, extending Arizona's team lead to eight strokes. Even though the Sun Devils got as close as one stroke after 14 holes, Mickelson did not play well. He shot 74.
Berganio, who would ultimately become a PGA Tour regular until a back injury scuttled his career, made birdie putts at 16 and 18 to clinch it for Arizona. The Wildcats finished on top with 1,129 total strokes. ASU was second with 1,136. No other team was within 14 strokes.
"All we needed was a little leadership," said LaRose, who was inducted into the Golf Coaches Association of America Hall of Fame in 2002. "Manny and Harry stepped up."
Zerman, now a teaching pro in Miami, said: "I've been on great teams for three years. I knew we could win it, but when? It was so hard to get here."
LaRose's team finished third in the 1990 NCAA finals; he later coached the UA women's team to the 1996 NCAA championship.
Where are they now? Rudolph played on the Asian, Canadian and Web.com tours for about 10 years. He now operates Harry's Restaurant in La Jolla, California, a family institution that dates to the 1950s. Berganio played in 151 PGA Tour events, earning $1.79 million.
How they did it: The Pac-10 was so good in the early '90s that Stanford won the 1992 league championship behind current TV analyst Notah Begay, but Arizona had the most depth. Furyk and Rob McIvor often rotated in the No. 4 and No. 5 spots.
---
Photo: University of Arizona golf coach Rick LaRose, right, and the 1992 golf team in September, 1992, at Tucson National. From left, Ted Purdy, Manny Zerman, Jason Gore, David Howser and David Berganio Jr. Photo by Ed Compean / Arizona Daily Star
No. 70 • Arizona plays in its first-ever NCAA Tournament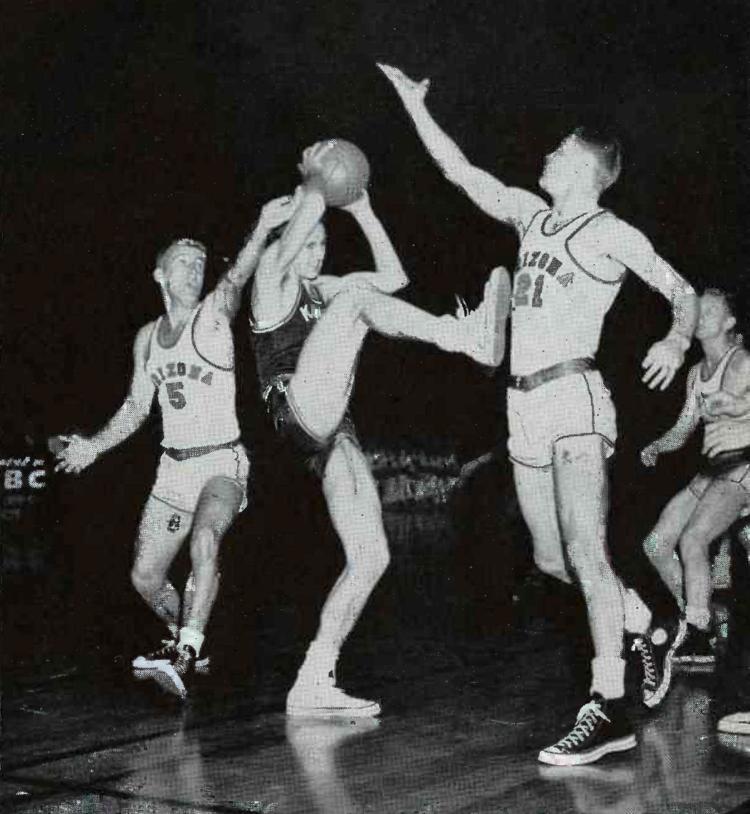 March 21, 1951: Arizona plays in its first NCAA basketball tournament
In the winter of 1950-51, Long Island University was today's college basketball equivalent of Kansas or Kentucky. The Blackbirds were coached by Hall of Famer Clair Bee, and it was considered a coup when Arizona arranged to play LIU on that club's return from a swing through California.
When the teams met at sold-out Bear Down Gym on Jan. 29, 1951, LIU was ranked No. 2.
If ever coach Fred Enke's program was going to test a national power, the time was ripe. In a six-season period from 1945-51, the Wildcats went 132-40 and built an 81-game winning streak at Bear Down Gym.
In what was then viewed as the Game of the Ages in Tucson, the Wildcats beat LIU 62-61, using four Tucson-raised players — Bob Honea, Roger Johnson, Leo Johnson and Jack Howell — in key roles.
Afterward, Bee complained bitterly about the referees, both from the UA's Border Conference.
"I don't know who could win here," said Bee.
Honea, who later became mayor of Marana, replied to Bee's complaints by saying "Oh, foot!"
Arizona went on to win its sixth consecutive Border Conference championship, running its home-court winning streak to 79. On what would now be called Senior Day, the Wildcats beat Texas Tech 76-68 to finish 14-1 in the league. It was Enke's 400th victory at Arizona as a capacity crowd of 3,700 cheered wildly.
Enke told reporters that the Wildcats not only expected a return trip to the NIT — then perhaps the strongest of all college basketball postseason tournaments — but also would be invited to the NCAA Tournament for the first time.
When Enke's prediction was realized, community leaders staged a banquet at a downtown hotel. Boosters presented Enke with a check for $1,000 in appreciation, and a local bakery presented each player with a cowboy hat, as well as luggage for the trips to the NIT in New York City and to play Kansas State in the NCAA in Kansas City.
There was no established NCAA compliance office to limit gifts in 1951.
"We have something most teams don't," said Enke. "We have the will to win. We have wonderful harmony, too."
After a flight to New York City, the Wildcats were matched against Dayton in the NIT at Madison Square Garden on March 14. Although Roger Johnson had been named a third-team All-American by the Sporting News — the first basketball All-American in school history — the Wildcats couldn't cope with 6-foot 7-inch Dayton center Don Meineke.
He scored 37 points as the Flyers eliminated Arizona 74-68.
After returning to Tucson, the Wildcats flew to Kansas City four days later. In their inaugural NCAA Tournament appearance, they fell behind KSU 54-33 as Kansas State coach Jack Gardner — later Utah's head coach — pulled his starters.
In one of the most thrilling comebacks in UA history, the Wildcats rallied to get as close as 60-59 with 1:31 remaining. KSU made a free throw down the stretch to win 61-59.
It wasn't the type of finish Leo Johnson anticipated. The comeback didn't satisfy him.
"We gave the impression we're a hick basketball team," he said.
Arizona did not return to the NCAA Tournament for 25 years.
Where are they now? Johnson died in 2010; he was 79. He became a second-team All-American outfielder at Arizona in 1951, following a career at Tucson High in which he helped the Badgers win state basketball and baseball championships. He was drafted and joined the Air Force in 1952 and became a pilot. He retired as a colonel after 30 years.
How they did it: The 1950-51 Arizona basketball team first appeared on the national radar on Dec. 28, 1950. That's when the Wildcats beat defending national champion CCNY at Madison Square Garden, 41-38. CCNY was ranked No. 11. Later, CCNY was revealed to have fixed a number of games for gamblers, including the Arizona game. When told of the scandal, Enke told the Star, "The way we played that day, we would have won anyway."
---
Photo: Arizona's Robert Johnson and Dave Schuff battle Kansas State players in the 1951 NCAA Tournament. KSU won 61-59. Photo courtesy of 1951 Desert Yearbook
No. 69 • Arizona's Gamez wins Tucson Open during first year on Tour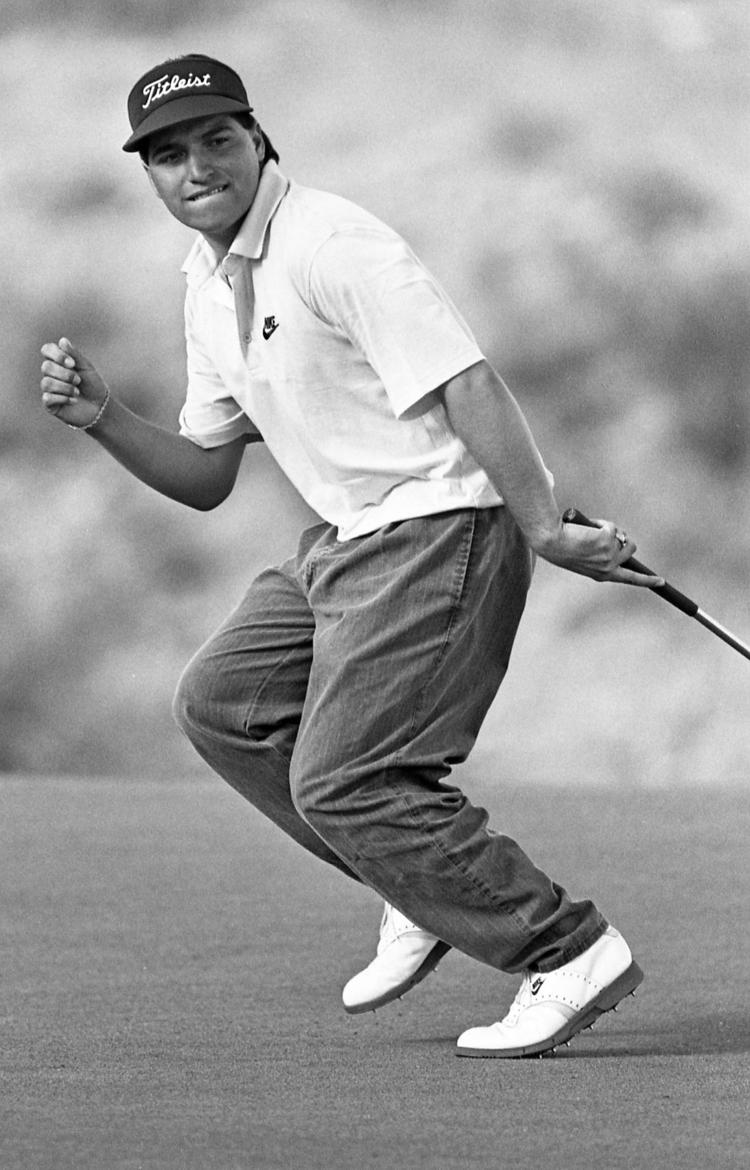 Jan. 14, 1990: UA's Robert Gamez wins Tucson Open in his first year on the PGA Tour
The final sponsor's exemption for the 1990 Northern Telecom Tucson Open was offered to 1959 Masters champion Art Wall, who was retired and living in Sonoita.
But after Wall drove to TPC Starr Pass and played the new course, he decided that two of the par-5's were too long for his game. He told the sponsoring Tucson Conquistadores to offer the exemption to someone else.
It didn't take the Conquistadores long to settle on Robert Gamez, who a year earlier had been the NCAA's men's golfer of the year at Arizona. Gamez bypassed his senior year at Arizona, turned pro, and at the conclusion of the '89 season played in two Tour events. He was No. 237 on the money list with $4,827.
The '90 Northern Telecom Open used two courses: Each golfer would play a single round at Randolph North and three at Starr Pass. It was considered a coup for Tucson to be part of the TPC system, and Starr Pass was getting it first extended exposure nationally, both as part of ESPN's live coverage of the tournament and as a PGA Tour host.
Gamez said he had played Randolph, a muni course, just two or three times in his UA days, and was more familiar with Starr Pass. You wouldn't have known that when he shot a seven-under par 65 in the first round.
He trailed David Frost, who opened with a 60. Frost missed an 8-foot putt with a chance to shoot 59. More than 100 golfers broke par.
"I'd like to win," said Gamez, "but it would be hard my first year."
At Starr Pass for the second round, Gamez was outstanding. He shot 66; Frost fell back with a 70. Gamez led his first tournament as a fully exempt player on the PGA Tour. Ben Crenshaw, in 1973, was the last PGA Tour member to win his inaugural event.
Gamez played the modesty card.
"Well, I got it around and I didn't die," he said, chuckling with his brother Randy, his caddie.
After another strong round on Saturday, a 69, Gamez led Frost by one stroke, Jay Haas by two, Mark Calcavecchia and Corey Pavin by five.
In the lead-up to Sunday's finish, at which the Conquistadores estimated 35,000 people attended, Gamez was fully aware of what was at stake. If he won, he would be eligible to play in the 1990 Masters and have two full years of privileges on the PGA Tour. He would also earn $162,000.
Not bad for the son of casino employees from Las Vegas.
Under pressure, Gamez thrived. He built his lead to five strokes after 12 holes. He was so far ahead that when he double-bogeyed No. 18, it didn't matter. He beat Calcavecchia and Haas by four strokes.
Tucson pro golfer Cindy Rarick, who won five LGPA championships in her career, ran onto the green and doused Gamez with champagne.
"I've had a few dreams come true," he said, "but I never dreamed I'd win this tournament."
Where are they now? Gamez, 47, won a second PGA Tour event, the Nestle Invitational in Florida, in 1990, when he made a 176-yard eagle with a 7-iron on the 18th hole. He did not win again until the 2005 Valero Open. He was on and off the Tour beginning in 1999, and has not played a full season since 2008. He lives in Orlando, Florida.
How he did it: Gamez was the top men's golfer in UA history when he left school in 1989. He won six tournaments and was a consensus All-American. He made the U.S. Walker Cup team that year.
---
Photo: Robert Gamez double-bogeyed 18 but won the 1990 Northern Telecom Tucson Open by four strokes. Photo by Rick Wiley / Tucson Citizen 1990
No. 68 • Tucson High's Batiste breaks own national record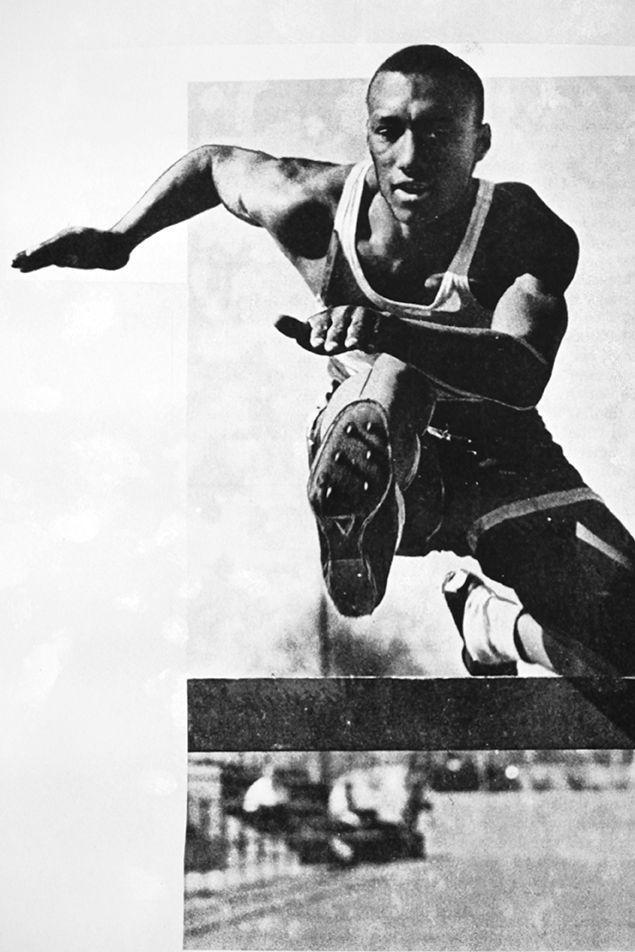 May 5, 1939: Tucson High's Joe Batiste breaks his own national record
For most of the day before the 1939 state track and field championships, the Arizona Interscholastics Association argued about the eligibility of Tucson High athlete Joe Batiste.
The AIA had been told Batiste was 20, which was too old for him to be eligible. But Tucson High had a birth certificate showing Batiste's age as 19.
Batiste was one of the top high school athletes in the nation in the 1930s. He set a national prep record of 14.5 seconds in the high hurdles, and, remarkably, high-jumped 6 feet 6½ inches when the world record was 6-8.
Once the AIA accepted Batiste's birth certificate, he was approved to run in the state meet at Arizona Stadium. He didn't disappoint. He lowered his U.S. record in the high hurdles from 14.5 to 14.0, a record that would stand for 18 years.
More? He was also the Arizona football Player of the Year in 1938.
Batiste was so popular that the state track meet was broadcast on two radio stations, Tucson's KVOA and Phoenix's KTAR.
On the day of the 1939 state track meet, the Arizona Daily Star wrote: "Joe is conceded an excellent chance of lowering his national high school record tonight."
Unfortunately, neither the UA nor ASU recruited Batiste. Neither school had to that point deployed an African-American athlete in any sport.
So Batiste enrolled at Sacramento Junior College and began training for the 1940 Olympics. His only other scholarship offer was from Oklahoma Baptist.
Sacramento coach L.W. Weldon, who would later coach Bruce Jenner to the 1976 Olympic decathlon medal, said he thought Batiste could be a gold medalist in the decathlon.
In the summer of 1939, Batiste upset reigning NCAA high hurdles champion Fred Wolcott of Rice in an AAU meet in Lincoln, Nebraska. He ran in the heavily contested Compton Relays early that summer, against Pacific Coast champion James Humphrey of USC, losing in a neck-and-neck finish to the Trojans' standout. He later won a high hurdles race against 1936 Berlin Olympic hurdler Joe Staley.
But because the Olympics were canceled by World War II in 1940 and 1944, Batiste became little more than a regional legend. He led Sacramento JC to national track championships in 1941 and 1942, and then enlisted in the Army.
For what it mattered, the AAU named him to the "mythical" USA Olympic team of 1940 and 1944 as a decathlete.
When Batiste was discharged in 1945, he had gained about 25 pounds. He enrolled at ASU and was part of the Sun Devils' track team, but no longer a world-class athlete.
Batiste was part of what was probably the most skilled athletic family in Tucson history.
Older brother Ernie built a jumping pit in the family backyard near South Stone Avenue. Ernie, who was a standout football player of the 1930s, was not allowed to play football at Tucson High because African-Americans were not permitted to play contact sports. He broke his neck while playing sandlot football while at Tucson High.
Younger brother Frank enrolled at Compton College and set California JC records in the low and high hurdles.
The oldest Batiste brother, Fred, became the first African-American football letterman in UA history. Fred was both the Arizona prep football and track player of the year while at Tucson High.
Where are they now? After leaving ASU, Joe Batiste was arrested several times, for, among other things, drunkenness and burglary. In 1957, he was hospitalized for alcoholism and liver problems. He died in February 1958. He was 38.
How he did it: After winning an AAU national track meet and setting the American record for high school age hurdlers, Batiste returned to the Tucson train station and was greeted by several hundred people in 1938. An impromptu parade was held in downtown Tucson.
---
Photo: Joe Batiste, track star at Tucson High School, Class of 1939. Photo courtesy of THS Badger Foundation 
No. 67 • Kenzie Fowler caps spectacular high school career with state title at CDO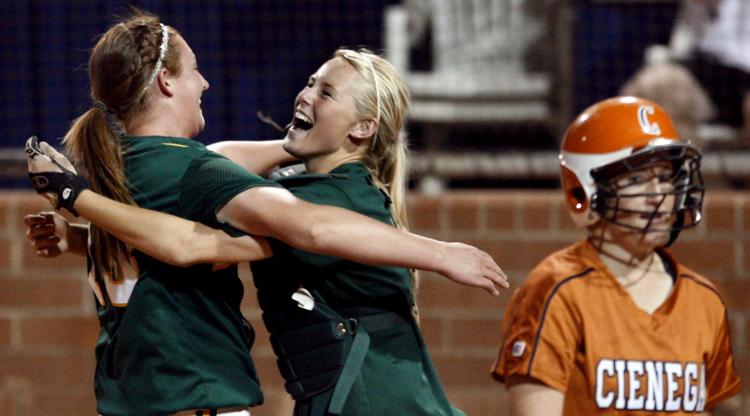 May 22, 2009: Kenzie Fowler pitches Canyon del Oro to its third state championship
Kenzie Fowler's name first appeared in the Star on Dec. 6, 2001. She was a sixth-grader at Orange Grove Middle School who had gone 11-0 in a Phoenix softball tournament for her parents' team, Desert Thunder.
Then came this in July 2004: "Kenzie Fowler, a local softball standout, managed to excel among more than 700 players at this month's Triple Crown World Series in Park City, Utah.
"Fowler, who originally went to the tournament to watch her sister, Mattie, play for the 10-and-under Desert Thunder, was named the MVP of the entire competition after she was added to the roster of the Pirettes, a 12U team from Grand Terrace, California. Kenzie pitched 49 innings and did not allow any runs in the Pirettes' championship."
When Fowler entered Canyon del Oro High School for the 2005-6 year, her fastball was clocked at 69 mph. Arizona's All-American pitcher at the time, Alicia Hollowell, regularly threw about 65-67 mph.
What followed was the most accomplished high school softball career in Tucson — and probably Arizona — history.
CDO won state titles in 2007, 2008 and 2009. Fowler went 104-8. The only time CDO didn't win the championship was Fowler's freshman season, 2006. The Dorados lost in the title game, 1-0, and Fowler struck out 13.
Fowler committed to play for Arizona in the fall of her sophomore season. The best was yet to come. In 2008 and 2009, she was named the Gatorade National Softball Player of the Year. She was part of the USA Softball Junior National team while a sophomore at CDO.
Arizona had won eight NCAA softball championships when Fowler enrolled in the fall of 2009. Expectations were ridiculous; some thought the Wildcats could win four consecutive championships with Fowler on the mound.
That talk didn't subside much in 2010 when Fowler went 38-9 as a freshman, a first-team All-American, striking out 371 in 284 innings. The Wildcats finished second at the Women's College World Series; Fowler pitched all but nine innings.
"To do what she did, I think it's probably one of the best sports feats I've seen in a long time," UA coach Mike Candrea said. "Honest to God. You think about the two days to get us here. C'mon."
In the tournament, she threw 805 pitches over 36º innings.
Fowler's run capped one of the great years, freshman or otherwise, in the history of Wildcats pitching.
"Her composure and her presence on the mound was not that of a freshman," said Jennie Finch, a UA legend. "Being a Wildcat, you watch her and you're so proud knowing what an incredible freshman she is."
Finch won 24 as a freshman, 14 fewer than Fowler.
Unpredictably, and tragically, Fowler would never again match the excellence of her freshman season.
Near the end of a sophomore season, 2011, in which she was posting numbers similar to her debut season's, she was struck in the head by a foul ball while sitting in the dugout and missed nearly three weeks with a concussion.
A season later, 2012, Fowler pitched through back pain all season and her production slipped. She was 15-9.
Fowler's physical discomfort eventually led to lumbar microdiscectomy (LMD) surgery in the fall of 2012 to repair a herniated disk and a decision to redshirt the 2013 season rather than rush her recovery.
When Fowler returned for a fifth year, 2014, she couldn't recapture her pitching mastery. She went 8-6 and wasn't even the UA's top pitcher.
It almost didn't seem fair, especially after what Fowler had gone through seven years earlier.
In 2007, after going 28-4 as a CDO sophomore, Fowler was hospitalized for 13 days after undergoing surgery to treat thoracic outlet syndrome. The procedure restored the blood flow from her collarbone to her ribs.
"I had such a wonderful career," she said after leaving competitive softball in 2014. "I had a few bad breaks, but overall I was blessed to enjoy softball for almost 15 years."
Where are they now?: After graduating from the UA with a degree in journalism, Fowler was hired as an analyst by the Pac-12 Networks. Her sister, Mattie, was Arizona's softball Player of the Year in 2011, leading CDO to another state championship.
How she did it: Fowler didn't tiptoe into high school competition. She pitched two perfect games in the first month of her freshman season at CDO.
---
Photo: Canyon del Oro pitcher Kenzie Fowler, left, rushes to her catcher Sammi Noland after striking out Cienega batter Brittany Johnson for the final out in the state finals of the 4A-I softball championships at Hillenbrand Stadium, Tucson, Ariz., Saturday, May 16, 2009. Kelly Presnell / Arizona Daily Star
No. 66 • Tucson's Kellner was an American League all-star, Ted Williams foe in '49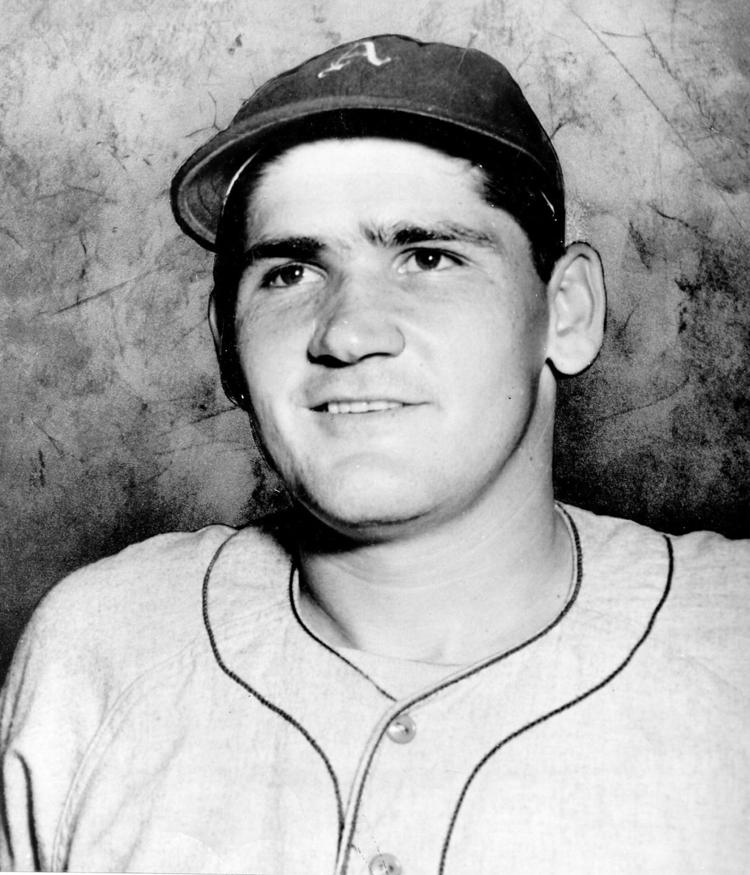 July 12, 1949: Alex Kellner makes the American League All-Star team
John Justus Kellner, a rancher and composing-room foreman at the Arizona Daily Star, was so influenced by baseball pitchers of the 1920s that he named his sons after Walter Johnson and Grover Cleveland Alexander.
Alex Kellner would go on to win 20 games for the 1949 Philadelphia A's.
Walt Kellner would later join his brother on the Athletics' pitching staff.
The Kellner family baseball tree is probably the most impressive in Tucson history. Pop Kellner, who pitched in the semipro Copper State League, pitched a no-hitter in the dedication game at Randolph Park (now Hi Corbett Field) in the 1920s.
Relief pitcher Joey Kellner was part of Arizona's 1980 College World Series championship team, and infielder Frank Kellner played seven years in minor-league baseball, including two stints for the Tucson Toros.
But it was Alex, a lefty, who carried the flag for the Kellners, selected to the 1949 American League All-Star team in just his second year in the big leagues. The big left-hander arrived at Ebbetts Field on July 12, 1949, and sat in the same clubhouse with Ted Williams, Joe DiMaggio and Yogi Berra.
Alex Kellner's ascent to the All-Star Game was almost predicted by those who saw him dominate Southern Arizona opponents while at Amphitheater High School. Alex pitched two no-hitters for Amphi in 1941 and struck out 17 Bisbee hitters in another game.
He then signed a professional contract to play for the Class C Tucson Cowboys when he was 16. He was so overpowering as a first-year pro that in one 12-inning game, he struck out 27 batters. After that, stalled by three years in the Army during World War II, an MLB scout saw Alex  pitch for a service team in Norfolk, Virginia, and signed him.
In the first half of the 20th century, Alex Kellner and UA three-sport star Fred W. Enke were the most accomplished athletes in Tucson.
In a 1994 interview, Alex said the highlight of his baseball career was earning his 20th victory for Philadelphia, in the penultimate game of the '49 season. He finished 20-12.
"We had been rained out twice late in the season, but Connie Mack (the A's manager) told me I'd get one final start," Alex  said. "We fell behind the Senators in the sixth inning, and Connie's son, Earl, came to the mound to take me out.
"By that time I was boiling. I was mad that I had given up a few hits, and I was mad that Earl was going to pull me.
"Well, that was my game to win or lose. It had no bearing on the season, and I simply wasn't going to leave the game. So I didn't give Mack a chance to say a word. I used some pretty strong language — and I was pretty loud, too — and I just told him to get the hell off the field."
Alex  stayed in, and Philadelphia rallied to win 5-4.
Even though he went 11-12 in 1953, Alex Kellner had some of his finest moments. He shut out the world champion New York Yankees in the season opener in Yankee Stadium, then went back to Philadelphia and shut out the Yankees in the Athletics' home opener. He completed his career at 101-112.
In a 1991 interview with the Star's Mark Stewart, 72-year-old Hall of Famer Ted Williams vouched for Alex Kellner's ability.
"He was a tough left-hander and a real good left-hander," Williams recalled. "He had a hell of a curveball — his curve was his best pitch against left-handers.
"He got me out better than I wanted him to get me out. There weren't too many like him in the league. He was not terrifically fast, but he had a pretty damn good fastball. He was a big, square-shouldered guy, and he was tough to hit."
Where are they now? Alex Kellner died in 1996 at 72. After baseball, he was a hunting guide and construction worker. He coached youth league baseball for 15 years; among those he coached was future big-league catcher Ron Hassey.
How they did it: Walt Kellner, who briefly pitched for the UA after his Amphi career, served 15 months in the Air Force before being signed by the Athletics. He made his big-league debut on Sept. 27, 1952, teammates with his brother. Walt, a right-hander, played in just three MLB games and returned to the minor leagues until 1959. He died in 2006; he was 77.
---
Photo: Alex Kellner in a 1953 file photo. Arizona Daily Star file photo
No. 65 • Tucsonan Cervi claims first rodeo world championship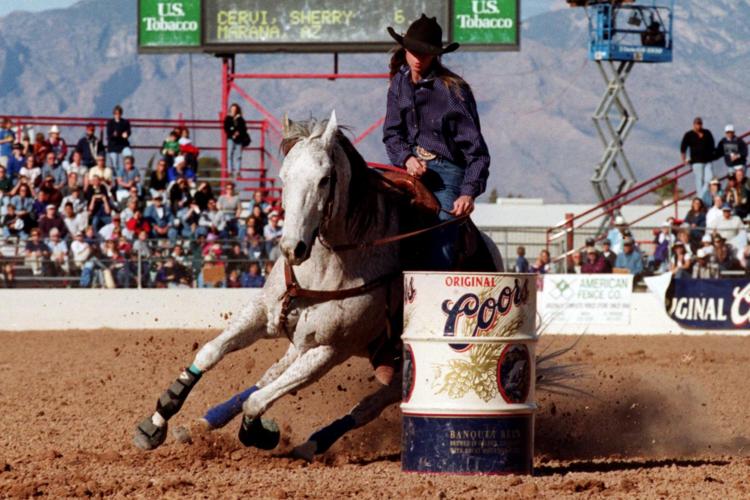 Dec. 10, 1995: Sherry Cervi wins the first of four rodeo world championships
In 1995, when Sherry Cervi won the first of her four world barrel racing championships, she said, "I lucked out."
But not really. A year earlier, at 19, Cervi thought she had a better year and a superior performance at the National Finals Rodeo but finished second by an eyelash.
Over the next 20 years the eyelashes were on Cervi's side. She won world titles in 1999, 2010 and 2013, becoming the most successful barrel racer in history, pushing her career earnings past $3 million.
A former all-conference basketball player at Marana High School, Cervi started rodeo competition when she was 6. It figured; her parents, Mel and Wendy Potter of Marana, were both successful members of the Pro Rodeo Cowboys Association. Her older sister, Jo Lynn, was the national all-around cowgirl champion as a teenager.
But it has never been easy. In 2001 her first husband, Mike Cervi, a rodeo stock contractor, was killed in a private plane crash in Wisconsin; Sherry and Mike had been married for six years.
In 2013, she married one of the top tie-down ropers in the PRCA, Cory Petska.
When Cervi won the 2013 world title, her road to the top was typical of the devotion required at the elite level of pro rodeo. In a one-month period in June and July, 2013, Cervi won $242 in Clovis, New Mexico, another $738 in Wainwright, Alberta, and $686 in Belle Fourche, South Dakota. She drove to small-town rodeos in Silver City, New Mexico; Walla Walla, Washington; and to Fourth of July-type celebrations in Prescott and Payson. She won the granddaddy of all rodeos, the Cheyenne Frontier Days Rodeo.
That was a month's work.
But after more than 45 rodeos and tens of thousands of air and highway miles, she ended up winning 12 championships in 2013, the most notable being the National Finals Rodeo, at which she earned $155,899.
A few days before Christmas in 2013, back on the family ranch in Marana, Cervi posted this on her Facebook page: "Don't judge each day by the harvest you reap but by the seeds that you plant."
That old Robert Louis Stevenson line defined her 2013 season, her remarkable career, one rodeo by one rodeo.
At 5 feet 10 inches, Cervi might have been built better for basketball than rodeo. She did both sports in high school, hurrying home from the gym to ride in the family's arena until dark.
With her mother as chauffeur, she would often play basketball games for Marana on Friday night, wake up and dawn and drive to a rodeo somewhere in Arizona for the rest of the weekend.
"Her mom was pretty well that way — kind of a workaholic," Mel Potter told Western Horseman magazine 10 years ago. "I think that's probably where Sherry got that determination."
After her high school days, Cervi enrolled at Central Arizona College to compete on the school's rodeo team. A year later she quit the CAC team but stayed in school while beginning a pro career.
A year later she was a world champion. By 1999, winning her second world title, she broke the world record for most money won in a season by a barrel racer, $245,000.
Where are they now? Cervi, 40, has reduced her competitive schedule. She had competed in just 15 rodeos through late June; the money leaders averaged close to 40. Cervi spends time working at her family's other business enterprise, Ocean Spray Cranberries Inc., in Wisconsin. The Potters have a 400-acre cranberry bog in Wisconsin. She also stages Sherry Cervi Youth Championships for hundreds of young cowgirls in the West.
How she did it: Cervi's father and mentor, Mel Potter, a Tucson High grad, competed actively on the PRCA circuit for about 30 years. In 2015 he received pro rodeo's greatest award, the annual Wrangler "Legend" award presented during the National Finals Rodeo in Las Vegas.
---
Photo: Sherry Cervi screams past a barrel during the women's barrel racing competition at the 75th annual Tucson Rodeo on Feb. 25, 2000. Photo by James S. Wood / Arizona Daily Star
No. 64 • Ex-Cat Abdirahman makes first USA Olympic team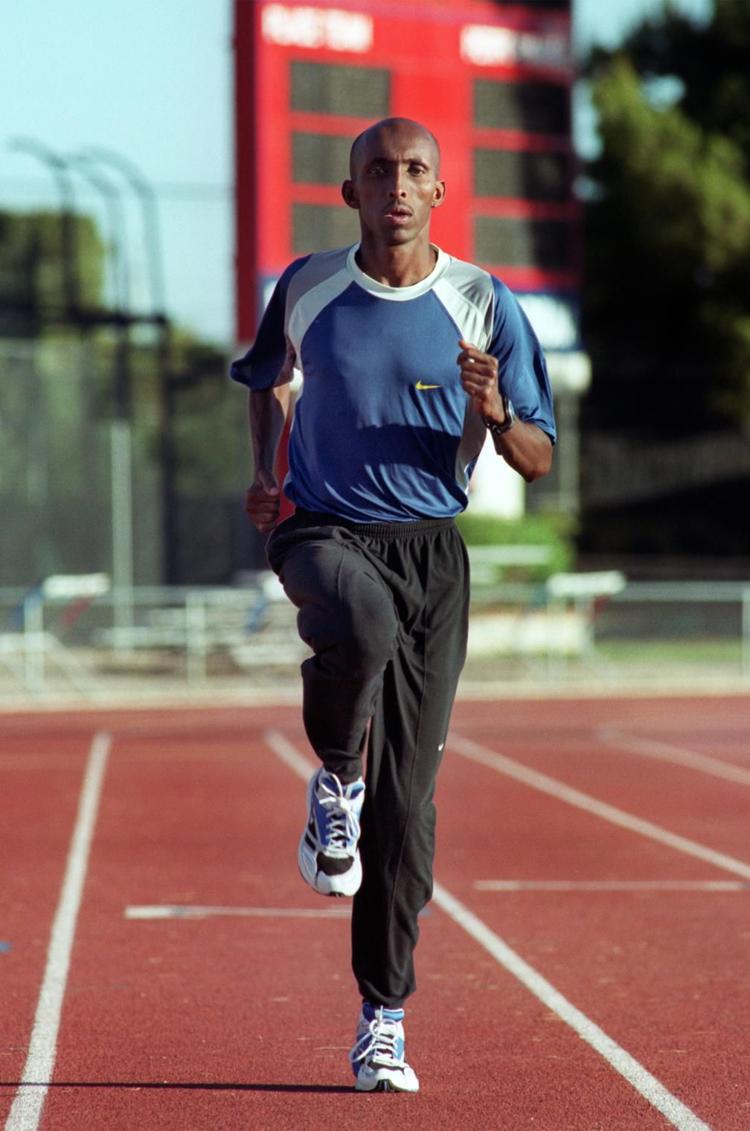 July 14, 2000: Abdi Abdirahman makes his first USA Olympic team
Among the thousands of assignments I've been given in my years at the Star, few compare to a journey to the 2000 U.S. Olympic Track and Field Trials in Sacramento.
It was the Week of Abdi.
Nine months after he became a U.S. Citizen, Abdi Abdirahman stepped to the starting line at Hornet Stadium on a hot summer night, one of 36 runners bidding to make the Olympic team at 10,000 meters.
No one had a story like Abdi's. Not even close. How was this even possible?
He grew up in Somalia, one of 10 children of Mahamed and Halima Abdirahman; he was 13 when his family fled the anarchy of their home nation and ruler Siad Barre. Abdi's, father, who worked as a manager for Conoco Oil in Kenya and Somalia, had a brother living in Tucson.
Abdi spoke no English and played no sports. He enrolled at Tucson High School, learned to communicate in English, graduated and got a job as a sales clerk at Mervyn's. He had never run a competitive race in his life.
After enrolling at Pima College, Abdi met Arizona All-America distance runner Martin Keino, son of 1964 Tokyo Olympics gold medal legend Kip Keino.
"You should become a runner," Keino suggested.
"I don't like to run," Abdi said.
Later that fall, at track team tryout at PCC, Abdi bit. He finished second of all the runners. He was wearing soft-soled work shoes.
Five years later, the six-time Pac-10 distance running champion battled nerves in Hornet Stadium in the race of his young life.
"He told me he was scared," UA coach Dave Murray said later that night. "But he hung in there."
On the 17th lap, Abdi began to chew on his jersey, his stride slowing, his mind begging him to quit.
At the west end of Hornet Stadium, Murray recognized the signs and couldn't bear to look.
"Every time Abdi has had a bad race," Murray said, "he has started chewing on his jersey. It had me very worried."
Abdi considered dropping out about 20 minutes into a 29-minute race.
"Just when I was about to drop out, I told myself that it would be four years until the next Olympic trials," he told me that night. "That's just too long. I told myself to bear down."
And so he did.
In the final seven laps, cheered on by 20,000 fans, the most unlikely Olympic distance runner in America gutted it out, finished third and qualified for the U.S. Olympic team. It was the capstone to a remarkable come-from-nowhere success story.
He took a victory lap, blowing kisses to the crowd. America's 1964 Olympic 10,000-meter legend Billy Mills was among the first to congratulate Abdi.
The next morning, surrounded by Nike representatives, Abdi held a news conference near the Sacramento State campus. He had been the first in line that morning to fill out his official documents for the 2000 Sydney Olympics.
I asked Abdi if it might not have been easier to run for his native country, Somalia.
"No, because I never ran in Somalia," he said. "I have only run in America, and now I'm an American. This is my country."
Three years earlier, Abdi finished second in the NCAA Cross Country Championships in Lawrence, Kansas, beating, among others, his current Tucson training partner Bernard Lagat. No longer was he the mystery guest of American distance running.
Over the next dozen years, he was on the U.S. Olympic team at Athens in 2004, Beijing in 2008 and London in 2012. He moved from 10,000 meters to the marathon in London. He became the first American distance runner since Arizona grad George Young, 1960-72, to run in four Olympiads.
Abdi, who enjoys being referred to as the "Black Cactus," finished 10th in the 2000 Olympics, 15th in 2004 and 17th in 2008. He withdrew 20 miles into the 2012 Olympic marathon with a leg injury.
Where is he now? Abdirahman, now 39, was injured and did not participate in the U.S. Olympic marathon trials in February. Nike remains his sponsor; he runs in most of the top road races in America every year. Abdi was born on New Year's Day, 1977, in Hargeisa, Somalia.
How he did it: Several times during the 1996 cross-country season, Abdi and his PCC teammates would run the dirt trails west of the school on the same day Arizona's cross-country team would be there.
"We'd pass each other on the trails, on our training runs, and I would always say hello," Murray, the UA coach, said in 2000. "I wanted to stop and talk to him about running and recruiting, but that's against NCAA rules. Abdi's a natural runner, I could see that. But did I anticipate him being this good? No."
---
Photo: Abdi Abdirahman, former UA track star and possible Olympian, works out at the Drachman Stadium track on June 15, 2000. Photo by Benjie Sanders / Arizona Daily Star
No. 63 • Hadie Redd becomes first black basketball player in UA history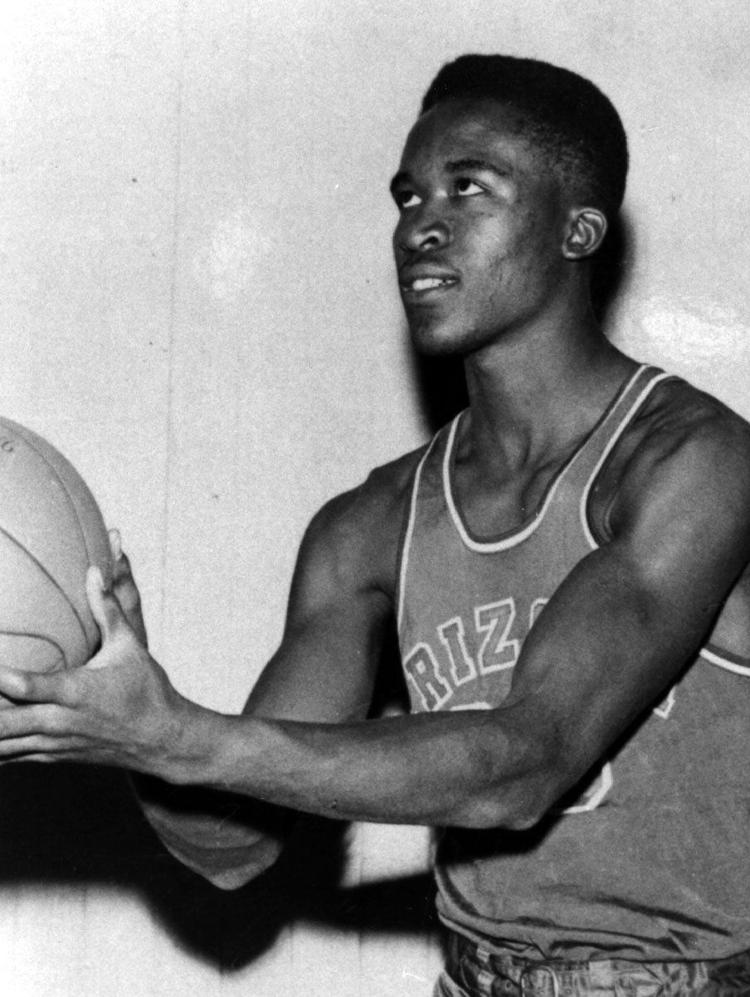 Dec. 8, 1951: Hadie Redd becomes the first African-American to play basketball at Arizona
The racial tension in Tucson in the early 1950s was such that the 1950 Tucson Open Golf Tournament changed its name to the Tucson Open Invitational Tournament to keep Joe Louis, the world champion boxer, from playing at the then-private El Rio Country Club.
The UA's basketball team, which had competed in the 1951 NCAA Tournament for the first time, had never suited up or recruited an African-American player.
But when the Class 3A state championship was held at Bear Down Gym in March 1951, UA coach Fred Enke watched undefeated Miami High School beat the all-black Phoenix Carver High team.
With great interest, Enke followed Carver's 6-foot-2-inch senior forward Hadie Redd. He knew Redd was skilled enough to play for the Wildcats, a program coming off 24-6 and 26-5 seasons, with an 81-game home winning streak.
Enke thought Redd could be a star. Before Carver left Bear Down Gym that day, Enke introduced himself to Redd and offered a scholarship.
"I said, 'You don't have any Negroes,'" Redd told me in 1992. "And Coach Enke asked if I would be willing to be the first? I was so excited that I forgot about losing that state championship game."
Nine months later, playing at Madison Square Garden against Canisius, Hadie Redd, the son of a Phoenix maintenance man, scored 20 points for Arizona.
After that it got much more difficult.
The star freshman became academically ineligible and left school in March of 1952. He returned to Phoenix, got a job, and gave the money to help pay for his mother's medical needs. He was tempted to join and Army and forget basketball, but former Tucson High all-state running back Hayzel Daniels, then a judge in Phoenix, an African-American with exceptional influence in the African-American community, encouraged Redd to return to school.
And then it really got difficult.
In the 1953-54 season, Arizona's road games in the Border Conference — especially in Texas — became a montage of racial ugliness.
At West Texas State, a fan displayed a sign that said "Go Home Blackbird."
"They thought I was a demon," Redd said in that '92 interview, returning to Tucson to be inducted into the UA's Sports Hall of Fame.
To its credit, the UA threatened to sever relations with Texas Tech, among other Border Conference schools, unless its "ban against Negroes" was lifted.
Redd was allowed to play all Border Conference games in his final two UA seasons, but he did not accompany his team in Texas hotels or restaurants. He stayed with local African-American families.
The same thing happened in 1955, when he became the starting first baseman on Arizona's baseball team. Progress was painfully slow.
At the conclusion of the '55 baseball season, Redd joined the Army. He was married and would have two children. He did not return to Tucson until 1988, when he was a featured guest at the All-Black Alumni Basketball Game at McKale Center.
By then, Hadie Redd had established an identity that went far beyond his ballplaying days at Arizona.
He joined the San Francisco Police Department at an entry level. He was soon promoted to the community relations department, then the District Attorney's Office. In 1971 he was named chief investigator for the SFPD.
His work and reputation was such that on Sept. 11, 1992, the son born to laborers in Tyler, Texas, in 1933 was honored in San Francisco on "Hadie Redd Day," as proclaimed by Mayor Frank L. Jordan.
"There were times I felt I wanted to leave and go some other place," Redd said in '92, "but there was too much at stake to quit."
Redd scored 784 points in his Arizona basketball career, but it comes off more like 8,000. That's how much he meant to the school. He was the UA's equivalent of Jackie Robinson, breaking barriers in what was sometimes a painfully prejudicial city, even in the late '50s.
"I meet with quite a few young men in Northern California, and I tell them about my college days," he said. "They find it very difficult to believe. Why? Because we had it entirely different then. Today's young man just hasn't experienced it. They appreciate what you talk about and are grateful for hearing about any progress that has been made, but it's difficult for them to understand. They just don't have firsthand knowledge of it."
Where is he now? Redd died of a stroke in 2011.
How he did it: After he retired, Redd was a volunteer in a San Francisco-based group, Black Men in Action, an organization to help young black men understand and deal with the evils of racism.
---
Photo: Hadie Redd, the UA's equivalent of Jackie Robinson. Photo by Tucson Citizen
No. 62 • Tucsonan Updegraff plays in first Masters tourney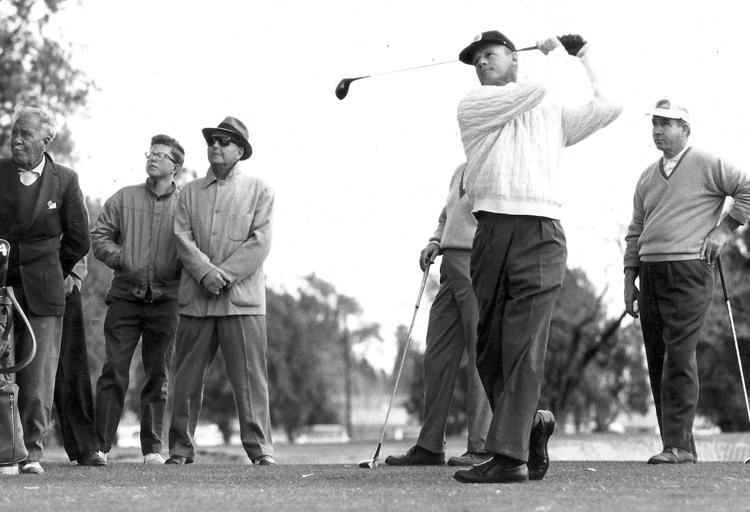 April 5, 1962: Ed Updegraff competes in his first Masters
In 1932, at Iowa's Boone Golf and Country Club, 8-year-old Ed Updegraff first caddied for his grandfather, Clarence Edgar Updegraff.
Even though grandpa Updegraff was a banker, it didn't pay well: 10 cents for nine holes. But for Ed, it became a priceless education.
Thirty years later, on April 5, 1962, Dr. Ed Updegraff, a Tucson urologist, stood at the No. 1 tee at Augusta National and played in the first of six Masters championships.
"I hope I don't shoot 95 and embarrass all the people who have wished me luck," Updegraff told the Star that week. Instead, he shot 74, the same score as golfing immortal Gene Sarazen.
Over the years, Updegraff became the most accomplished amateur golfer in Arizona history.
He was born in Iowa, but has lived 65 of his 94 years in Tucson. In the golf community, everyone knows "Doctor Ed."
He won 12 Tucson City Amateurs, four Arizona Amateurs and 27 Tucson Country Club yearly championships. The back tees at the TCC are appropriately called "the Updegraff tees."
If you find anyone more respected and well-liked than Edgar Rice Updegraff, a graduate of the University of Colorado medical school, call me. It'll be a scoop.
In 1999, the USGA honored Updegraff by selecting him as the recipient of the Bob Jones Award, the USGA's highest honor. It has been awarded to Nancy Lopez, Jack Nicklaus, Ben Hogan, you name it.
For Updegraff's 90th birthday, TCC members held a party at which Nicklaus sent a video telling of his memories of Updegraff. Arnold Palmer sent a poignant, handwritten letter. The emcee was Lanny Wadkins.
Most who meet Updegraff ask about 1969, the year he finished fourth in the Tucson Open (won by Lee Trevino), or about his 1981 championship in the U.S. Senior Amateur, or about those wonderful stories he tells about the days he played with Sam Snead and a list of golf's most memorable players.
But Updegraff doesn't often bite.
He's got a wonderful sense of humor, marked by self-deprecating stories about the times he wasn't the best golfer on the course.
I've twice had the pleasure to play golf with Dr. Ed. I was beyond nervous; I was almost frozen with fear, knowing that ultimately the man who was captain of the 1975 U.S. Walker Cup team — a squad that included Craig Stadler and Curtis Strange — would realize he was stuck for hours with a Golfer Who Couldn't Hit It Straight.
Instead, he was welcoming and entertaining.
This is a man who has played competitively at St. Andrews, Turnberry, Pebble Beach, Augusta and Oakmont, but whose character-filled stories also include tales about his days at the local munis, like El Rio and Fred Enke.
The question Updegraff gets more than most is this: Why didn't you turn pro?
"I couldn't hit it long enough," he told me. "I was always a strong iron player, but I just didn't have the length off the tee."
His first "major" amateur victory was the 1957 Western Amateur. Why don't you turn pro, he was asked.
"I don't regret not having turned pro. In fact, it doesn't enter my mind. This way, I have more fun out of it."
His urology practice limited the amount of time Updegraff could work on his game. A typical week was to play on Wednesday and Saturday, then hit a shag-bag of balls on the way home from work another afternoon.
I asked Updegraff about his finest moment in the six Masters he played.
Instead, he talked about his worst. It was 1963, and he was the No. 5-ranked amateur in the U.S. He was paired with Snead. At No. 15, a par 5 over Rae's Creek, Updegraff was within range of making the cut, 75 yards from the pin.
He bladed his short wedge shot over the creek. He finished with a 9.
"I was so nervous," he said. "I missed the cut. That was probably the most unfortunate moment of my career."
One of very few.
Where are they now? Updegraff has been shooting his age since he was 67. He now plays frequently at Rolling Hills, an executive course on Tucson's east side.
How he did it: "My first year in the Masters, 1962, I stayed at the course, at the cabins on the first hole," he said. "They charged me $1 a day for lodging and $1 a day for meals. I never left the course.
"My expenses for the week were $14. I haven't been back to Augusta since I last played there, in 1970."
---
Photo: Dr. Ed Updegraff at the Tucson Country Club in 2001, when he was 79. Updegraff has had many memorable experiences, including being paired with Sam Snead in the 1963 Masters. Photo by Jori Klein / Arizona Daily Star
No. 61 • Cubs play first spring training game in Tucson history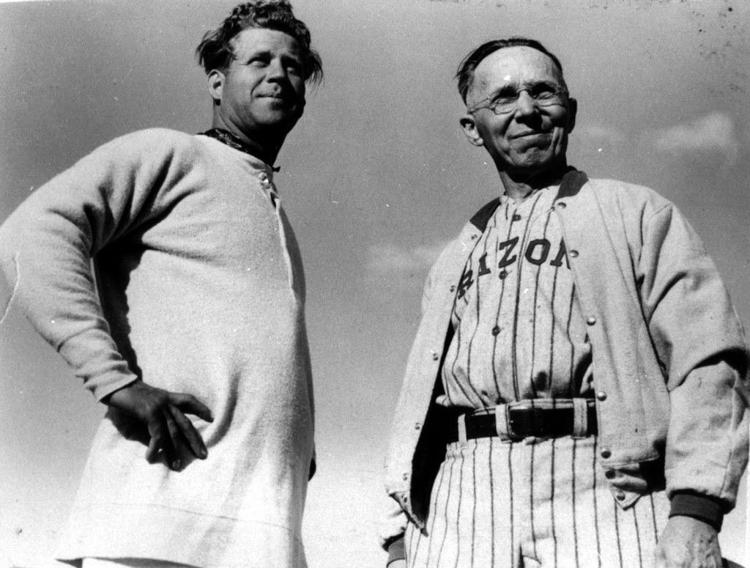 April 11, 1919: Chicago Cubs play first spring training game in Tucson history
Six months after playing the Boston Red Sox in the 1918 World Series, the Chicago Cubs sent a telegram to UA baseball coach Pop McKale with a most intriguing proposition:
Would the Wildcats be available to play the Cubs on April 11 on the UA campus?
Would they? McKale cleared the calendar and pinched himself. It was true.
The '19 Cubs were the only major league team to stage spring training in the West — in Pasadena, California — and planned to stop in Phoenix, Tucson, Bisbee, Douglas, El Paso and Dallas on a barnstorming train voyage to opening day, April 24, in Chicago.
The news was greeted with such enthusiasm that the Star included these words on the front page of its April 6, 1919 issue:
"The day will probably be more generally observed as a holiday than any other on the calendar, for business will be practically shut down for the afternoon."
Arizona had been a state for just seven years; the idea of a big league club playing a game in Tucson — the defending National League champions, at that — was met with unusual anticipation.
"There will be a regular convention of baseball fans on campus Friday afternoon," the Star reported. "Those who intend to go to the game in automobiles are urged to make arrangements as soon as possible for parking space. Parking will be given free to any party of four who present full price tickets."
When the game began at noon on a Friday afternoon, every parking space and grandstand seat was full, an estimated crowd of 2,000, thought to be more than quadruple the size of any previous crowd at a baseball game in Tucson.
The Cubs played their starters, including infamous World Series figure Fred Merkle. McKale eschewed the chance to use two Cubs pitchers, choosing to use his collegians.
The Cubs won 7-3.
"The varsity boys showed no evidence of stage fright," the Star reported. "Finding themselves in World Series company, the boys touched up two Cubs pitchers for 10 hits, thrilling the crowd, which completely filled the grandstand, with an overflow audience filling over 100 automobiles parked to either side."
It would be another 10 years before an MLB team, the Detroit Tigers, staged full-time spring training in Arizona (in Phoenix) and it wasn't until 1947 that the Cleveland Indians moved their spring training operation to Tucson.
But the 1919 game at Wildcat Field set the stage for spring training in Tucson. As far as can be accurately researched, the Pirates, White Sox and Tigers played multiple spring games in Tucson between 1928-1941.
Although no major league team was west of St. Louis until 1958, teams had been training west as early as 1903, the Cubs' first year in Los Angeles. In 1905 the Cubs moved to Santa Monica. Cubs spring training stops followed in Champaign, Illinois, New Orleans, Louisiana, Vicksburg, Mississippi, Hot Springs, Arkansas, and Tampa, Florida, before the club settled in Pasadena from 1917 to 1921.
Then came Catalina Island, off the coast of Los Angeles, the Cubs' winter home from 1922 through 1951.
Where are they now? UA pitcher Louis Slonaker "covered himself with glory," according to the Star's game story. "He twirled a heady, cool game throughout, allowing the World Series contenders of 1918 only nine bingles." Slonaker was a four-year UA letterman in baseball, basketball and football, an assistant athletic director from 1922-47, and Dean of Men from 1947-63.
How they did it: The Cubs' train odyssey to and through Tucson continued immediately after their game against the UA. The management of the El Paso and Southwestern railroad company held the scheduled train from Tucson to Bisbee for two hours, from 2:30-4:30 p.m.
---
Photo: J. F. "Pop" McKale, right, and his Arizona Wildcats took on the defending National League champion Cubs in a spring training game in Tucson in 1919. Chicago won 7-3. Handout photo
No. 60 • Arizona running back Luppino goes off on only six carries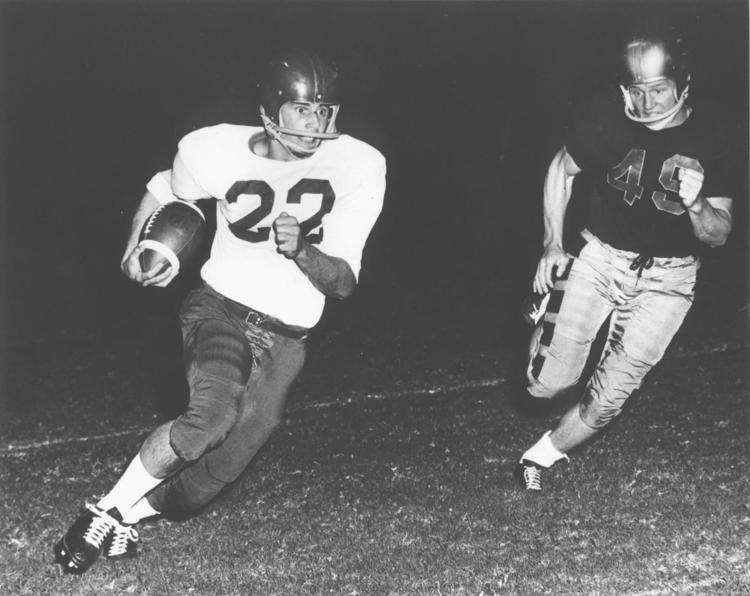 Sept. 18, 1954: Art Luppino gains 228 yards on six carries 
I was driving to Husky Stadium in the fall of 1991, listening to the Washington radio analysts chat about that day's game between the eventual national champion Huskies and Arizona.
The voice on the radio said: "Our next guest is Art Luppino, the greatest football player in Arizona history."
I parked in the press lot and sat in my car until Luppino completed the interview. I had never met the "Cactus Comet," and knew little about him beyond his seemingly untouchable rushing and scoring records established from 1953-56.
What touched me was the bitterness in Luppino's radio message. Thirty-six years after he became the first man to lead the NCAA in rushing in successive years (1954 and 1955), Luppino had not reached peace with his alma mater.
At the start of Luppino's senior season, 1956, he injured his knee in practice. Given the medical technology of the time, UA coaches and its training staff advised Luppino to gut it out and play through the injury.
Rather than have surgery and sit out a season, Luppino limped on through 10 games. It ended any chance he had to play in the NFL. The man who had gained 1,358 and 1,313 yards in back-to-back seasons, soldiered on through the '56 season, gaining a mere 372 yards.
He felt betrayed by the school at which he gained 3,381 yards, a record that would stand for 38 years. For more than 30 years, he didn't try to hide his bitter feelings.
Finally, in 1999, in a campaign led by UA associate athletic director Tom Sanders, the UA retired Luppino's jersey, No. 22, and put it on display in the end zone at Arizona Stadium.
By then, I had gotten to know Luppino, played golf with him, talked to him at length about his UA days. After a career as an educator (among other things) near his home town of La Jolla, California, Luppino moved back to Tucson in the 1990s.
His Wildcat blood pumped again; it was as if the Cactus Comet was rediscovered.
In 2013, after Luppino moved to Kerrville, Texas, he watched on TV as Ka'Deem Carey rushed for 366 yards in a blowout over Colorado. Many called it the greatest performance in school history.
By then, most had forgotten about the 1954 season opener when Luppino, a relatively unknown sophomore, gained 228 yards against New Mexico State on just six carries. Luppino also scored on an 88-yard kickoff return and a 43-yard punt return that night.
Carey went on to gain 4,239 yards at Arizona and obliterate all the rushing records. The morning after Carey's Colorado performance, I received an email from Luppino (who signs his correspondence "The Comet.")
"Having a record broken is not pleasant," Luppino wrote. "But when records fall to Ka'Deem Carey, all the former Wildcats hold their heads higher. I have no problem."
It was about that time that Luppino drove to Tucson for homecoming and invited me to play golf at Tucson Country Club. Late in the round, Luppino's old football injury became manifest. His knee locked up; he couldn't walk. He got into a prone position on the grass of the 16th fairway and did several leg lifts.
"My knee goes out periodically," he said, regaining his feet. "It reminds me of all the times I couldn't get out of the way of a tackler."
Where are they now: Luppino, 82, lives with his wife, Camille, who he met at the UA, near Austin, Texas.
How he did it: Film of Luppino's epic 1954 game against New Mexico State was thought to be lost forever. But in 1995, he walked into the office of UA associate AD Tom Sanders, who was the force behind the memorabilia collection in the UA Hall of Champions.
"What's this?" Sanders asked, not daring to believe it was actually precious film of the Luppino Wildcats, of which he had solicited for quite some time.
"Just a few old tapes," Luppino said. "I blew the dust off and wondered if you might have some use for them."
Included was the '54 New Mexico State game, in which Luppino ran just six times, including touchdown bolts of 74, 53, 48 and 37 yards, in addition to a kickoff and punt return for touchdowns.
Luppino played less than half of the game.
A week later, at Utah, Luppino returned the opening kickoff 93 yards for a touchdown. The Cactus Comet was born.
---
Photo: Undated photo of Arizona running back Art Luppino (22). Photo by Jack W. Sheaffer / Arizona Daily Star
No. 59 • Tucsonan Cheesbourg notches 10th place finish at Indy 500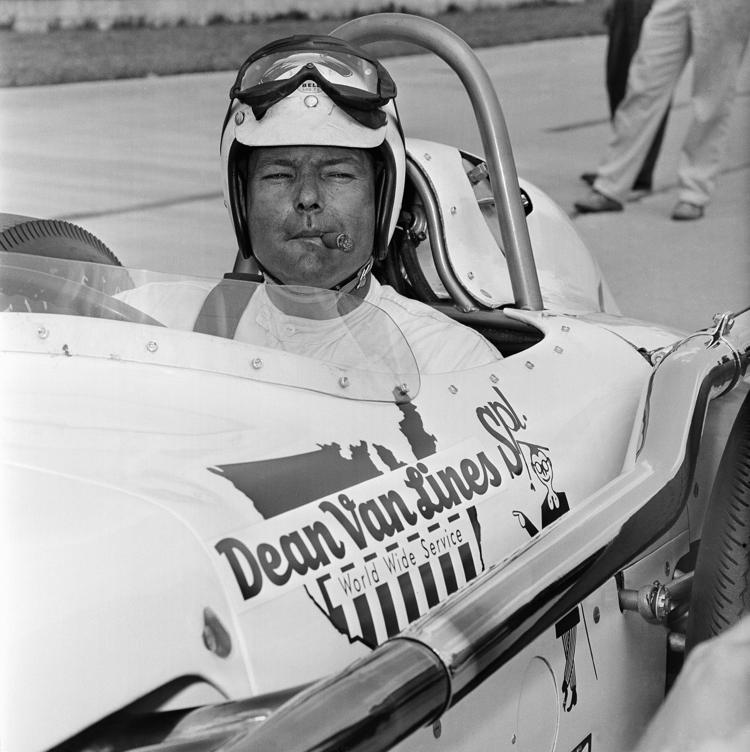 May 30, 1958: Bill Cheesbourg finishes 10th at Indy 500
The American sports culture of the 1950s and 1960s was such that the four leading events of the year were (1) World Series; (2) Rose Bowl; (3) MLB All-Star Game; (4) Indy 500.
It was during that period that Bill Cheesbourg, a self-taught driver from Tucson's dirt tracks, qualified for and raced in seven Indy 500s on a shoestring budget without a sustaining sponsor.
"He could have won Indy if he had had a good car," said Bob Huff, who promoted auto racing for many years, mostly at the old Tucson Speedway on Orange Grove Road. "He never had the right connection to get into a car that had the ability to do what he had the ability to do."
But that didn't mean Cheesbourg, a Tucson High grad, didn't get close.
After finishing 26th as a rookie Indy driver in 1957, Cheesbourg felt he was one of the favorites in the 1958 Indy 500.
The lead story in the Arizona Daily Star sports section on race day, May 30, 1958, included the headline: 'I'M GONNA WIN 'ER'
"If the chassis holds together, I think we'll go all the way," he said.
It was about time the racing gods smiled on Cheesbourg.
The first time he went to Indy, in 1956, he didn't get to qualify when powerful rainstorms cut the qualifying rounds short. In 1957, he qualified for his first Indy 500 but a day later was told that his 2-year-old son, Billy Jr., died from a sudden illness at St. Mary's Hospital.
Cheesbourg flew to Tucson to arrange funeral services and mourn with his family. When he returned to Indianapolis, he finished 26th. He was near the lead in that 1957 race when his car developed a fuel leak.
So in 1958, the man who won his first race, the Soap Box Derby, as a 13-year-old Tucsonan, felt his time had come.
It took one lap for him to encounter more misfortune.
In a 15-car pileup on Lap 1, a crash that killed driver Pat O'Connor, the rear sway bar on Cheesbourg's Novi Special broke.
"There wasn't a car I couldn't pass on the straightaway," he told the Star. "But those turns hurt me. The guys I passed on the straightaways ran off and left me in the turns. I had to make almost four complete turns around the steering wheel to get around a curve."
Somehow he finished 10th anyway.
Cheesbourg returned to the Indy 500 and qualified in 1959, 1961, 1964 and 1965, but the increased science of auto racing mechanics related more to finances than driving. An old dirt track driver like Cheesbourg couldn't keep up with those more well-funded.
In '59, he set an Indy 500 lap record by passing 17 cars on the first lap, but engine trouble ended his race after 127 laps.
Away from Indianapolis, Cheesbourg was a pillar of Arizona auto racing.
He built and raced jalopies during the 1950s at the long-since-gone Gilpin Speedway on Prince Road near where Interstate 10 passes. He also raced at the Tucson Rodeo Grounds and later at Tucson Speedway before reaching the top level of automobile racing.
In 1975, he won a NASCAR race in Phoenix but mostly stuck to stock cars at Tucson's old Corona Speedway and Tucson Raceway Park, becoming something of a mentor for weekend racers.
Still, his Indy 500 appearances were enough to attract attention from Champion Spark Plug. The company hired Cheesbourg to tour the country and talk to high school students about highway safety.
"He was so personable, he could grab kids' attention and hold it," Huff said. "He was a great storyteller."
Where are they now: Cheesbourg, a mechanic, died of cancer in Tucson in 1995. He was 68. He was survived by six children.
How he did it: After winning the Tucson Soap Box Derby as a teenager, Cheesbourg took his vehicle apart and studied the parts, learning the intricacies of what made it go faster (or slower).
A decade later he was racing at speeds of 150 mph against the world's best.
"Back then, when you touched the wall, the thing came apart," he said in a 1994 interview. "Car parts flew everywhere, including into the drivers compartment. I see guys jump out of crashes today that would have annihilated guys in my day."
---
Photo: Bill Cheesbourg, Tucson, Arizona poses in his car on May 13, 1961 in Indianapolis, Indiana after qualifying for the 1961 500-mile auto race at Indianapolis Motor Speedway on May 30. His qualifying speed was 145.873 mph. (AP Photo/Larry Stoddard) 
No. 58 • Arizona pitcher Thomas was unhittable in late April 1956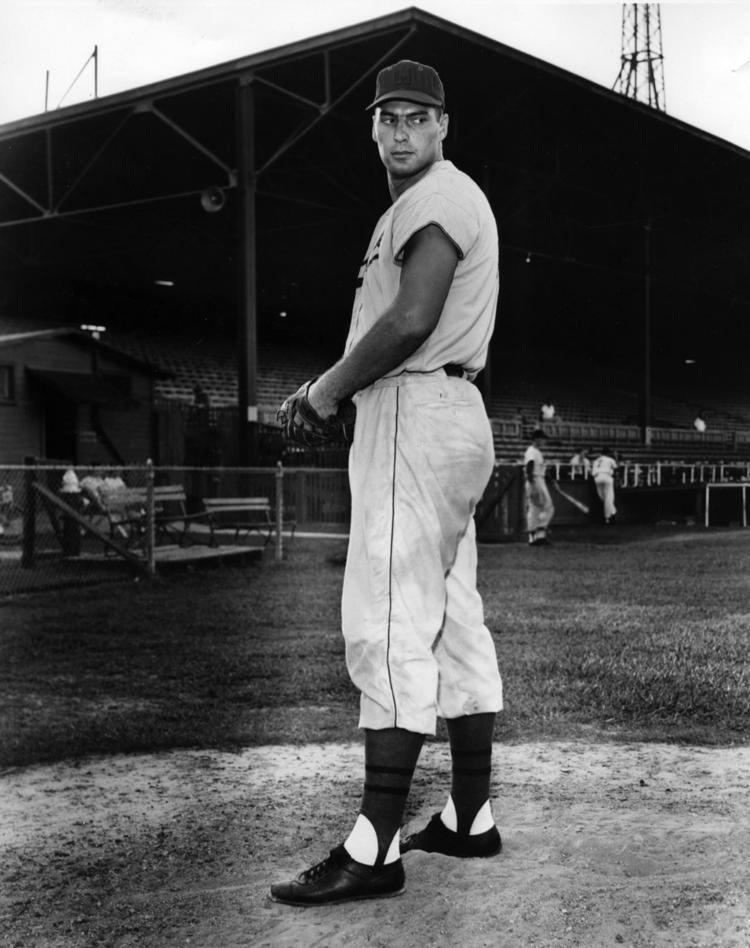 April 27, 1956: Carl Thomas pitches second straight no-hitter 
Arizona baseball coach Frank Sancet, football coach Warren Woodson and basketball coach Fred Enke all recruited 6-foot 5-inch, 245-pound Carl Thomas.
He was a three-sport star like few other recruits in UA history, although he made his mark as a two-way football player at Minneapolis Central High School.
Choosing to leave the cold winters of Minnesota, Thomas enrolled at Santa Ana Community College near Los Angeles. Sancet, Enke and Woodson all made a pitch for him. After a year at Santa Ana, Thomas moved to Tucson in the fall of 1953.
By the time he left, in June 1956, Thomas had pitched the Wildcats to back-to-back-to-back College World Series appearances and remains, arguably, the most dominating pitcher in school history.
But it was his back-to-back no-hitters in April 1956 that most defined his excellence.
On April 21, Thomas pitched a no-hitter at ASU. He was one walk from a perfect game.
On April 27, he pitched another no-hitter, against UCLA. This time he walked six.
"I had some troubles out there, but my teammates helped me stick it out," he told the Star. "It's something I'll always remember."
How Thomas chose baseball at Arizona was something of a fluke.
"Carl came to Tucson on a baseball scholarship, but he had played basketball at Santa Ana , and he was a high school football star in Minneapolis," his widow, Eunice Taylor, told me in 2013.
"The UA gave him a job hashing for the football team at the stadium dormitory. Well, he got tired of doing it and said, 'If I play football, I won't have to feed them anymore, they'll feed me.' So he did.
"After the football season, (basketball coach) Fred Enke told Carl he wanted him to play basketball. Carl planned to, but at the last minute he said, 'I want to go home for Christmas.' Coach Enke wouldn't let him, so he stuck to baseball."
Combining with lefty Donnie Lee to create the most formidable pitching twosome in school history, Thomas left this kind of a mark on UA baseball:
• He remains No. 1 in school history in career strikeouts, with 422.
• He remains No. 1 with fewest hits allowed over nine innings, 5.4.
• He is No. 2 in victories, 35.
• He is No. 2 in winning percentage, .875.
• He is No. 2 in complete games, 35.
• He is No. 5 in strikeouts per nine innings, 10.5.
He even drove in seven runs in a game at the College World Series, helping to beat Oregon 12-1, in 1954.
After Thomas' no-hitter against UCLA in 1956, a Philadelphia Phillies scout arranged a "secret tryout" that night. The Wildcats swept the Bruins in a doubleheader that day (Lee shut out UCLA 10-0 and pitched a one-hitter). The scout said Thomas and Lee had a "blank check" if they'd sign.
But after thinking it over, Thomas and Lee declined because the Phillies were awful and desperate for young pitchers.
"We couldn't let our teammates down," Lee once told me.
They stayed for the remainder of the season and pitched Arizona to the national championship game. Ironically, they lost to Minnesota, whose lead player was shortstop Jerry Kindall, who would coach Arizona to 1976, 1980 and 1986 national championships.
Where are they now: Thomas died in Scottsdale in 2013. He was 80. He pitched in just four MLB games, in the Cleveland organization, and was 51-49 in the minor leagues. He retired from baseball in 1962 and worked for the Phoenix Cement Co. and other concrete-related businesses in Phoenix.
How he did it: Thomas became close friends, and regular handball partners and fishing buddies, with ASU Hall of Fame coaches Bobby Winkles, Frank Kush and Baldy Castillo.
"Carl had a lot of respect for the Sun Devils, but he loved the Wildcats," his widow, Eunice, told me. "That's where his heart was."
Thomas was buried in Eunice's family cemetery plot in the Chiricahua Mountains near Douglas.
---
Photo: Former University of Arizona baseball pitcher Carl Thomas in 1960. Arizona Daily Star file photo
No. 57 • Pueblo wins back-to-back state basketball championships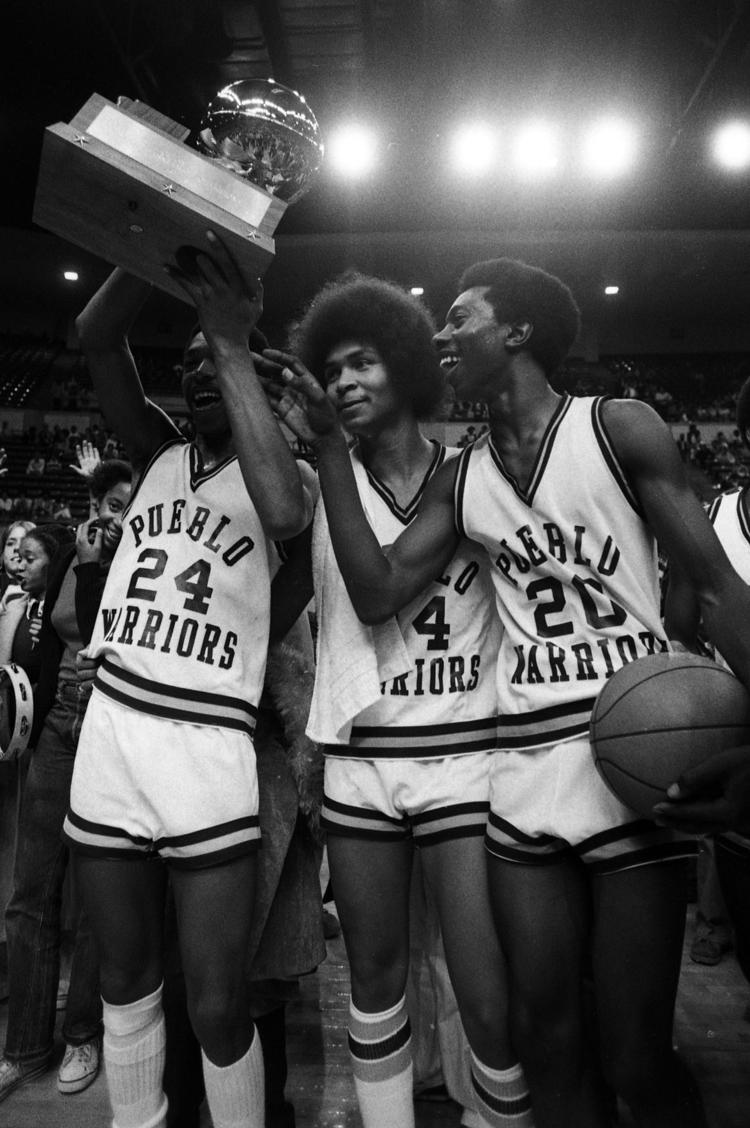 March 6, 1978: Pueblo wins back-to-back state basketball titles  
It rained so hard in Phoenix the day of the 1978 state basketball semifinals that defending state champion Pueblo was stalled in traffic and almost didn't get to the game on time.
By the time coach Roland LaVetter's Warriors walked into ASU's Wells Fargo Arena, tipoff was 15 minutes away. To make it worse, the Warriors were virtually the "walking wounded" — seven of LaVetter's players were injured, including the state's player of the year, Lafayette "Fat" Lever.
To cut his losses, LaVetter ordered his team to play a four-corners offense against powerful Phoenix East High School.
Kill the clock.
It almost killed the 26-0 Warriors.
East led 27-26 with 2:34 remaining until Tony Mosley scored on a layup and John Cheatham stole the ball for the Warriors. Pueblo won a harrowing 29-28 game on a night it scored just six points in the second half.
"Who don't we have that isn't injured?" LaVetter asked after the game.
The Warriors' recuperative powers were amazing; a night later they routed Rincon 70-54 to win a second straight state title and finish the season a perfect 28-0. It was the first time a Tucson team had won back-to-back championships since Tucson High, 1948-49.
A year earlier, Pueblo won the state title as an underdog, 25-5 overall, as the No. 6 seed. The emergence of Lever, a 6-foot 2-inch, do-everything guard who would become an NBA All-Star, keyed one of the most remarkable runs in Tucson prep basketball history.
Lever scored 28 points in the championship game.
In the '77 season, Lever made two foul shots with four seconds remaining to upset Arcadia High School, leading to a run of 34 consecutive victories over two seasons. And it wasn't easy. At the time, Tucson High was blessed with David Vann, who went on to excel at St. Mary's and get drafted by Golden State.
In the '77 state championship game, a 42-37 victory over Sunnyside, Lever scored a team-high 14 points even though the Blue Devils' Greg Cook was the tournament MVP.
Together, Lever and LaVetter became two of the biggest names in Tucson prep basketball history.
Lever moved with his family from Pine Bluff, Arkansas, in 1970. When the Levers moved into the Pueblo school district, it united Lafayette — called "Fat" by almost everyone — with LaVetter, a Tucson High and UA grad who became Pueblo's head coach in 1969.
LaVetter played freshman basketball at Arizona and became a teacher at Mansfeld Junior High School. He was soon blessed with a core of talent that included Lever and Jeff Moore, who signed with Loyola-Marymount, Ken Martin and the Mosley brothers, Dan and Tony.
LaVetter was part of one of Tucson's top basketball families. His brother, Chuck LaVetter, played at Arizona, helped coach the UA freshman team, and became a Hall of Fame basketball coach at Eastern Arizona College. Roland LaVetter's son, Lance LaVetter, was an assistant coach at Seattle University; he previously coached at Washington, St. Louis, Portland and New Mexico State.
Where are they now: LaVetter retired from Pueblo in 1980 and became a coach at Rincon. He was one of the state's top summer-league coaches in the '80s, directing a local forerunner to what is today's AAU system. He is retired and living in Tucson.
How he did it: Lever ranks as the second-most-accomplished basketball player in Tucson history, trailing Sean Elliott. Lever was an All-Pac-10 guard in 1981 and 1982 at ASU, and an NBA All-Star selection in 1988 and 1990 for the Denver Nuggets.
How did the UA fail to land such a talented local player? Then-UA coach Fred Snowden didn't actively recruit Lever until ASU, Colorado, Hawaii, Utah State, Michigan and San Diego State made offers. Lever did not take a recruiting visit to Arizona.
"I didn't think I'd fit in," he told the Star in 1980. "They had a lot of young guards like Joe Nehls, John Smith and Russell Brown. ASU was always interested."
LaVetter said the UA blew it. "If Fat lived in a bigger city, he'd be a first-team (high school) All-American," he said. "Beyond that, I very seldom think of Fat as a basketball player. He's a beautiful human being."
Today, Lever is a radio analyst for the Sacramento Kings and the club's director of player development.
---
Photo: Pueblo High School players, including Lafayette Lever, left, after defeating Rincon High School in the Arizona State AAA basketball championship in Tempe, Ariz., on March 4, 1978. Photo by Jose Galvez / Arizona Daily Star
No. 56 • Arizona AD Clausen instrumental in UA joining Western Athletic Conference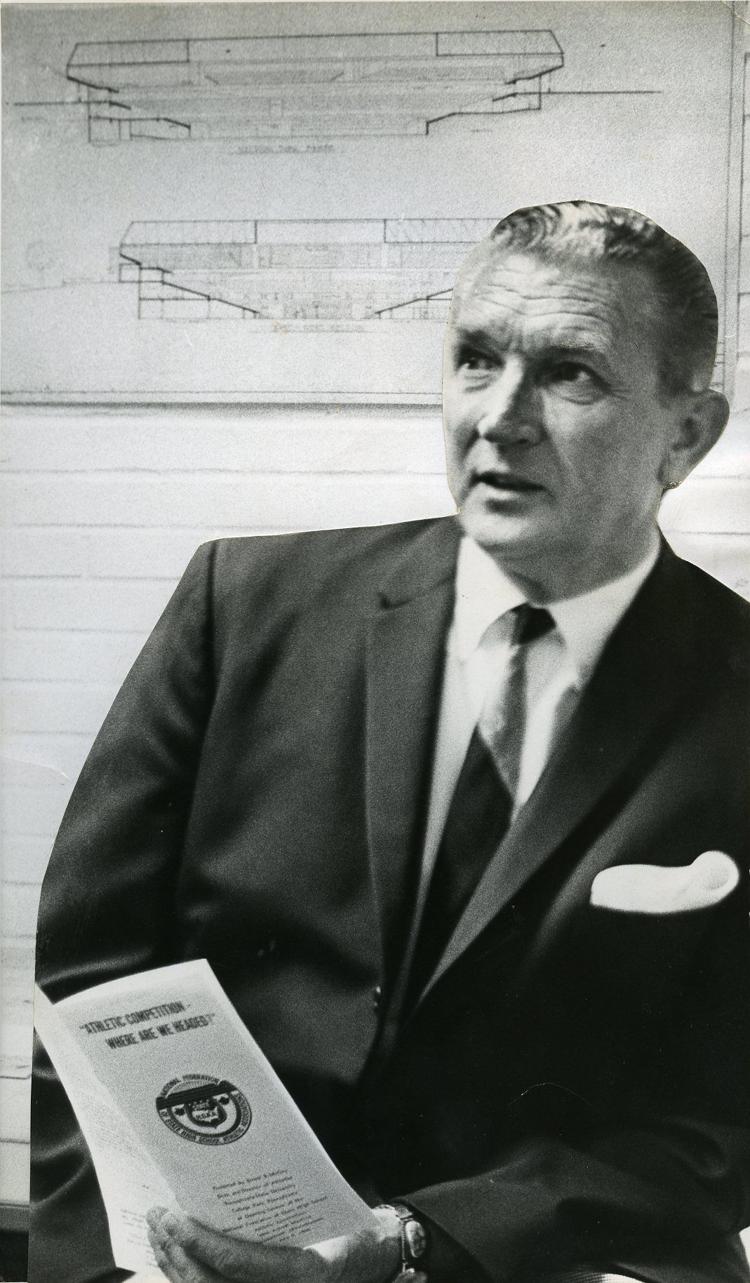 July 27, 1962: Arizona joins the new Western Athletic Conference
In his first days as Arizona's athletic director late in 1958, Dick Clausen got a sinking feeling. Had he made a terrible mistake by leaving his football coaching job at New Mexico?
The UA's football and basketball facilities were antiquated. Basketball coach Fred Enke had lost his touch; the Wildcats would go 4-22. The football program, coming off 1-8-1 and 3-7 seasons, was under NCAA sanctions for making illegal payments to players.
Clausen told me in a 1998 interview that his first priority was to leave the Border Conference and persuade athletic directors at ASU, Utah, New Mexico, Wyoming and maybe Oregon, Washington State and Oregon State to form a new conference.
"We had Idaho on our football schedule five years in a row and the crowds kept getting smaller," Clausen said in the '98 interview. "One day, my business manager came in and said we had to start playing somebody else. So we scheduled Nebraska, Ohio State and Michigan."
Determined to at least give the UA a chance at better things — to attract a growing and more sophisticated Tucson population that had reached 250,000 — Clausen pulled the Wildcats out of the Border Conference after the 1960 season and began recruiting allies that would result in the Western Athletic Conference.
At first, the working name was the Great Western Conference. Clausen planted seeds with ADs at the NCAA Conventions of 1959 and 1960. The Wildcats, who were the muscle behind formation of the Border Conference in 1931, were now the key lobbyists for a more modern athletic alliance, leaving Hardin-Simmons and New Mexico State behind.
Oregon, Oregon State and Washington State were interested; at the time, they were not part of the West Coast fivesome of Cal, Stanford, USC, UCLA and Washington.
But ultimately, meeting secretly at Gilhooley's Restaurant in New York City in 1960, Clausen and the ADs from Wyoming, New Mexico and Utah settled on six schools. After political differences were solved, ASU and BYU were the last to be added.
"We had to step up in class," said Clausen, who said the idea of the WAC was formally presented at the 1960 NCAA Convention in an agreement between him and New Mexico AD Peter McDavid. "We had many, many talks with the Oregon schools, but it became clear to me that they wanted to get back with USC and UCLA. So we moved on."
It didn't help that the Portland Oregonian newspaper referred to Arizona and ASU as "cowtown" schools, even though the population of Tucson was more than four times that of Oregon, OSU and WSU.
On Sept. 22, 1962, Arizona played its first game as a founding member of the WAC, beating BYU 27-21 in front of a sellout crowd at Arizona Stadium. A few months later, Clausen announced 10,000 seats would be added to the stadium. Plans to replace Bear Down Gym as home of UA basketball began that year, although it would take another decade to complete the financing and construction.
"No tears were shed when they laid the Border Conference to rest," wrote Star sports columnist Abe Chanin in 1962. "The Border Conference was a failure. It had failed to live up to the dreams of its founders and it came to a sorry end in almost total disintegration.
"From its inception in 1931, the Border Conference had a healthy growth until after World War II. But soon Texas Tech and New Mexico left for better opportunities. And Arizona has simply outgrown its old place."
Where are they now: Clausen remained Arizona's athletic director until 1972. His administration was as productive as any in school history. He got McKale Center built, hired Jerry Kindall (cq Jerry Kindall) as baseball coach, hired the first NCAA Division I African-American head coach in any sport, track coach Willie Williams (Cq Willie Williams), and laid the groundwork for gaining admittance to the Pac-10 in 1978. He died in Tucson in 2000; he was 88.
How they did it: Tucson was also the birthplace of the Border Conference, in 1931. UA professor Emil Larson was the conference commissioner for the entire duration of the league, 1931-61.
---
Photo: Arizona athletic director Dick Clausen, April 8, 1969. Photo by Jack W. Sheaffer / Arizona Daily Star file photo
No. 55 • Arizona wins first national softball title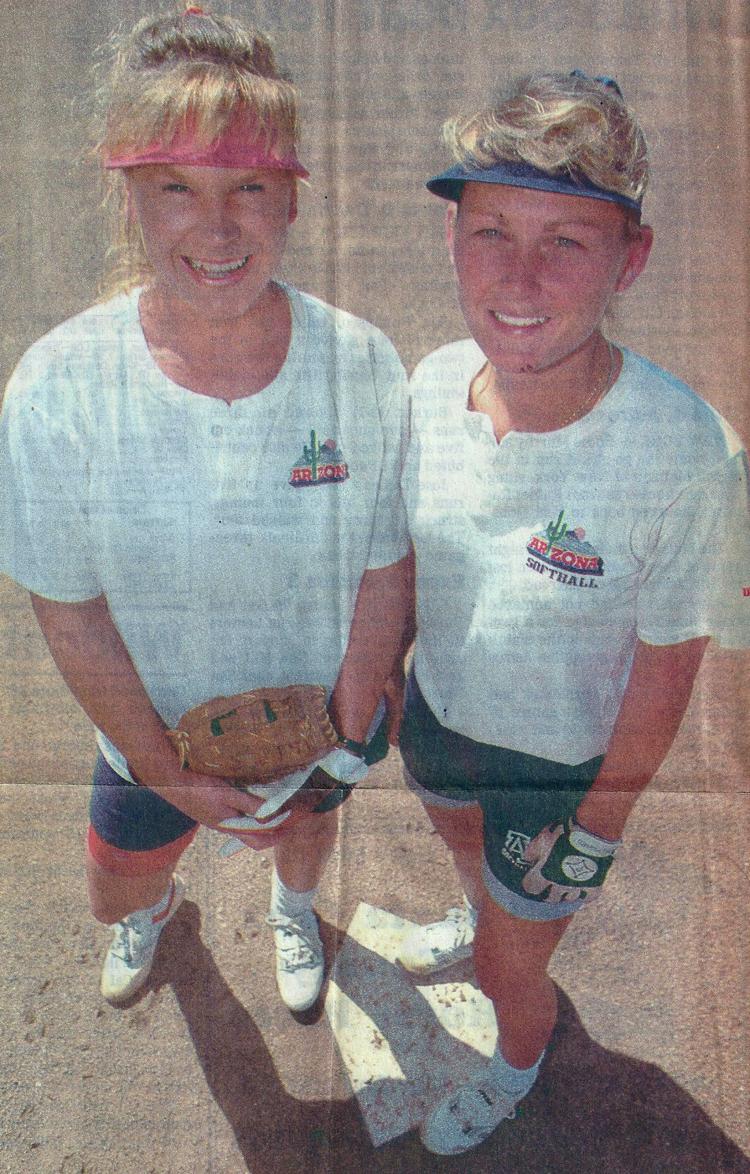 May 27, 1991: Arizona wins its first NCAA softball championship 
In the summer of 1985, the Pac-10 was putting together a women's softball league, and the UA could sell what everyone else in women's athletics was selling in 1985: potential. Applications came from everywhere, including one from Casa Grande.
"Every time I'd ask someone for a recommendation, I'd get the same name," former UA associate athletic director Mary Roby told me in a 1996 interview. "I called all over the country and everyone would tell me about Mike Candrea."
At the time, Candrea was in his fifth season as softball coach at Central Arizona College, where he had twice won the NJCAA championship. He was a baseball player turned, somewhat reluctantly, softball coach.
So Roby phoned Central Arizona athletic director George Young, an old friend and four-time Olympic distance runner from the UA, and got down to business.
"Listen, George," Roby said, "I've heard so many good things about Mike Can. . . ."
"Oh no, I know where you're going with this, and I don't like it," Young said, not entirely in jest.
"Well, George, you're a Wildcat, and you know I'm a Wildcat, and we've got to do what's best for the Wildcats," Roby said. "We want to hire Mike."
And so it was done. If Roby wasn't quite sure what she was getting, Young had no doubts.
"I remember telling Mary that I'd be surprised if Mike didn't win the national championship someday."
Candrea was hired on August 21, 1985, a few days before school started. He won the first (of eight) national championships on May 27, 1991, in Oklahoma City.
The UA's 1991 team squeezed into the Women's College World Series by sweeping ASU in two playoff games in Tempe. The Wildcats were not yet considered in the class of three-time defending national championship UCLA, which rolled to the Pac-10 championship.
Arizona had gone 11-9 in the Pac-10; the Bruins won it at 16-2 and had gone 163-19 the previous three seasons.
Candrea had coached Arizona to the World Series in 1988, 1989 and 1990, but couldn't get to the championship game. His '91 team didn't dazzle anyone; it included two starters from Yuma, another from Cholla High School and a transfer pitcher from Texas-Arlington, not exactly on the softball map.
That pitcher, junior Debby Day, had gone 26-8 in the regular season with an 0.53 ERA. The heart and soul of the team was a shortstop from Anaheim, California, Julie Standering.
But as Arizona clinched a berth in Oklahoma City, it lost All-Pac-10 outfielder Jamie Heggen, the club's leadoff hitter. She tore the MCL in her knee and would not be able to play in Oklahoma.
College softball was a different game in 1991 than it is in 2016. Two runs was considered a productive game. The Wildcats opened with a 1-0 victory over UNLV in 13 innings.
Then it won 1-0 again, a nine-inning ledge-walk over No. 1 seed UCLA.
It then lost 1-0 to Fresno State and, at last, qualified for the championship game by eliminating Long Beach State – yep – 1-0.
The Wildcats would meet UCLA for the title.
"We're not here to watch UCLA win again," said Candrea. "We're not intimidated."
After beating the Bruins two days earlier, the Wildcats were insulted when UCLA coach Sue Enquist reacted to the loss by saying "that's a real slap in the face. We're all stunned."
Thus motivated, the Wildcats routed the Bruins 5-1 as Day won her 30th game on a four-hitter. To be fair, the Bruins had to play an elimination game an hour earlier, outlasting Long Beach State in 13 innings.
"I would have gone with Debby Day until the dam broke," said Candrea. "This didn't happen by accident."
Where are they now: Day, a two-time All-American, has been the head softball coach at Cal-Lutheran for 14 seasons. She is also an assistant athletic director at the school. She graduated from Arizona in 1992 with a degree in American Literature.
How they did it: Arizona won its first Pac-10 championship at year later, 1992, but finished No. 2 to UCLA at the World Series, losing 2-0 to Bruins pitcher Lisa Fernandez. The Bruins finished the season 54-2, with its only two losses coming to Arizona.
---
Photo: Debby Day, left, seen here with Jody Miller-Pruitt, won 30 games in 1991 as UA captured its first national title. Photo by Ed Compean / Arizona Daily Star 1992 
No. 54 • Tucsonan Thompson wins PGA Tour Honda Classic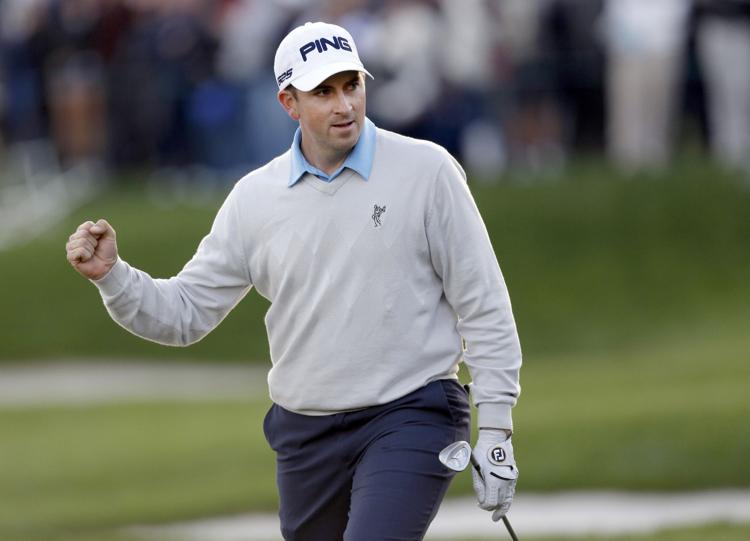 March 3, 2013: Michael Thompson wins the PGA Tour's Honda Classic 
Eleven years before he earned $1,080,000 by winning the PGA Tour's Honda Classic, Michael Thompson slept four-to-a-room as his Rincon/University High School team won the state championship in Phoenix.
For entertainment, Thompson and the Rangers watched "Jackass." It's a movie.
The next 11 years would be like a movie, too. Something like "A Magic Carpet Ride."
Thompson didn't grow up in the country-club culture. His mother, Susan, was a teacher at Sabino High School. His father, Mike, sells plumbing supplies. At 13, without a lesson, Thompson's handicap was 3. By 14, he began shooting in the 60s.
Now 31, Thompson is surely the best golfer in Tucson history. He has earned $5,905,151 on the PGA Tour, but that's just a figure. These are the indelible memories since Thompson helped Rincon win the 2002 state championship:
He finished No. 2 at the 2007 U.S. Amateur.
He was the SEC Golfer of the Year (and first-team All-American) at Alabama in 2008.
He was the 2010 Hooters Tour Player of the Year.
He finished second at the 2012 U.S. Open, after his first-round 66 led all golfers.
Thompson didn't play for the hometown Arizona Wildcats because, incredibly, the school did not seriously recruit him. Even after he was forced to leave Tulane in 2005 — Hurricane Katrina literally erased the Green Wave's golf program — the Wildcats didn't offer him a scholarship to return home.
Thompson got on with life. At the 2008 U.S. Open, he was the low amateur, finishing 27th. I walked the entire 18 holes with Thompson in the first round that day. His playing partners were Rocco Mediate and Brad Bryant, known as "Dr. Dirt."
Mediate, a laugh-a-minute, chatty playing partner, would go on to play Tiger Woods in a memorable playoff. Bryant's most telling play of the day was to walk to the bushes at the No. 5 hole at Torrey Pines and, ahem, relieve himself, with hundreds of spectators standing nearby.
Welcome to the PGA Tour, kid. Somehow Thompson persevered, earning full playing privileges by the time he was 25, coached by his teenage mentor, former UA and LPGA golfer Susie Meyers.
He won the 2013 Honda Classic by making a 50-foot eagle putt on the No. 3 hole, shooting a 9-under-par 71 to beat former U.S. Open champion Geoff Ogilvy by two strokes.
"This week was magical; this is everything," Thompson said. "This is a childhood dream come true. I've dreamed of playing out here since I was 7 years old, and to win, it's just unbelievable. I just can't put it into words. The whole day was awesome."
Thompson returns to the Oro Valley Country Club every summer to help operate the Michael Thompson Invitational for the Junior Golf of Arizona Association. He has always skipped a PGA Tour event to donate his time and money to the JGAA.
"I played a lot in the Ricki Rarick junior golf program at Randolph North," he said. " I played at Forty Niner and at Fred Enke. My parents would take me to Dorado golf club (a short executive course); I would putt and chip while they played. I would do it for hours."
After winning eight college tournaments at Tulane and Alabama, Thompson played the NGA Hooters Tour, virtually living out of the backseat of his car. He earned $22,000. His expenses were close to $80,000. He kept moving forward anyway.
"I'm not a flashy player," he said. "I'm not dramatic or anything like that. I just kind of plod away, make my pars, eliminate the big mistakes and make a few birdies here and there. If I keep doing that, I'm going to have a great career."
Where are they now: Thompson has struggled this season, earning $289,115 and falling to No. 163 in the FedEx Cup standings. He has been as high as No. 66 in 2013. He and his wife, Rachel, live in Birmingham, Alabama.
How he did it: When he finished second in the 2007 U.S. Amateur, Thompson earned a spot in the 2008 Masters. He drove from Tuscaloosa, Alabama, to Augusta, Georgia, six times for practice rounds. It is 346 miles one-way from Tuscaloosa to Augusta. Thompson missed the cut when he famously called a penalty on himself in the second round of the Masters, telling rules officials his ball moved imperceptibly while getting ready to putt.
---
Photo: Tucsonan Michael Thompson has earned almost $6 million in his career, and won the Honda Classic in 2013. Photo by Wilfredo Lee / The Associated Press
No. 53 • Arizona Wildcats win 2012 College World Series championship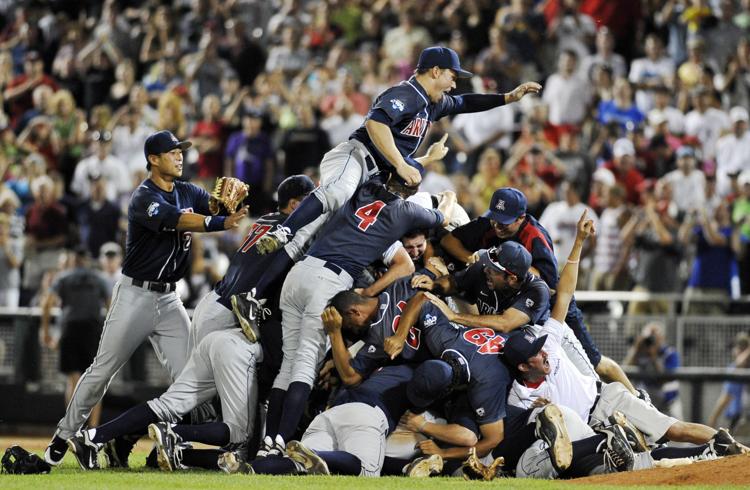 June 26, 2012: Arizona wins its fourth College World Series 
Arizona's 2012 Road to the College World Series began 1,319 miles and 30 days from the championship game in Omaha.
As with most important events in UA sports, it began with a showdown against Arizona State.
On a Friday night, May 25, at Hi Corbett Field, entering the game unranked against No. 13 ASU, the Wildcats were no one's idea of a potential national champion. Andy Lopez's team was 36-16, a club that had lost recent Pac-12 series to UCLA and Oregon.
But when the Sun Devils and Wildcats went to the bottom of the ninth inning in a scoreless game, 5,451 fans at Hi Corbett Field came alive. Everything changed. Outfielder Robert Refsnyder was on first base with two outs as third baseman Seth Mejias-Brean drilled the ball down the left-field line.
As Refsnyder sped around second base, UA third-base coach Matt Siegel held up his arms. Stop.
Refsnyder kept going; everyone in the ballpark stood, gasping, watching Refsnyder race the throw to the plate.
Arizona won 1-0 as Refsnyder's head-first slide beat the throw by an eyelash or two.
"I love Robert," Lopez said, shaking his head. "He'll push the limits."
Two days later, in another bit of ninth-inning theater, Arizona rallied to beat the Sun Devils 8-7 when outfielder Johnny Field's two-out single scored Joey Rickard to clinch a tie for the Pac-12 championship.
"I really wanted to be up there," said Field.
"It felt like the World Series," UA starting pitcher Kurt Heyer, who would go 13-2, said. "Oh, dude, all hell broke loose."
That was the way it was for the '12 Wildcats, a seize-the-moment, clutch team like few in the school's formidable baseball history. What felt like the World Series soon became the World Series.
Arizona didn't lose again. It swept a sub-regional series at Hi Corbett Field against Missouri and Louisville by a combined 47-10. It then routed St. John's in the Super Regionals at Hi Corbett and went to the College World Series on a six-game winning streak.
But nobody was picking Arizona to win it all, even after a perfect 5-0 run in which it outscored opponents 27-8.
"This is the Ray Tanner Invitational," Lopez said upon arrival in Omaha, subtly putting the pressure on South Carolina coach Ray Tanner and the Gamecocks.
And why not?
South Carolina had won the 2010 and 2011 national championships, winning 20 consecutive post-season games.
But before Arizona could worry about the Gamecocks, it first had to beat Florida State twice, and shut out Pac-12 power UCLA 4-0 behind sophomore pitcher Konner Wade.
Then came the South Carolina showdown. Arizona's winning streak had reached nine. No longer were the Wildcats a feel-good Cinderella story, especially after they beat the Gamecocks 5-1 in the opener behind Wade, who pitched his third straight post-season complete game.
"It's been a long time since I've been part of something like this," Lopez said.
The championship game was stocked with drama. The Wildcats won 4-1, but not before South Carolina put the tying runs on base in the ninth inning. Fittingly, the last out was a fly ball caught by Refsnyder, who emerged as the CWS' most outstanding performer, hitting .444 with two homers in the expansive TD Ameritrade Stadium.
It was Arizona's first national championship since Jerry Kindall coached the Wildcats to 1976, 1980 and 1986 titles. After the celebration and trophy ceremony, Lopez tried to put his first national title since coaching Pepperdine in 1992 into perspective.
"One thing I've said to every club, right after the game, get them off to the side, under the clubhouse, I said, 'This is a great moment, a phenomenal moment, you'll remember the rest of your life, but it's not your identity, it's not who you are as a person. It's a moment. Cherish the moment. But your identity is who you are as a man and as a father.'"
Three years later, after extensive open heart surgery, Lopez retired.
Where are they now: Refsnyder is a semi-regular for the New York Yankees. Outfielder Joey Rickard, who scored the winning run in the Pac-12 finale against ASU, plays for the Baltimore Orioles.
How they did it: The Wildcats had career-type seasons across the board.
Field led the Pac-12 with a .370 batting average. Mejias-Brean hit .356. Shortstop Alex Mejia, the Pac-12 player of the year, hit 357. The UA hit .329 as a team, which included a timely .301 from freshman catcher Riley Moore.
Heyer, 13-2, won more games in an Arizona season than anyone since Scott Erickson in 1989. Wade and James Farris, two under-the-radar starting pitchers, combined to go 18-6.
---
Photo: Arizona players dog pile on each other following their 4-1 victory over South Carolina in Game 2 to win the NCAA College World Series championship in Omaha, Neb., Monday, June 25, 2012. (AP Photo/Eric Francis)
No. 52 • Arizona's Brigetta Barrett's silver another shining moment for 'High Jump U'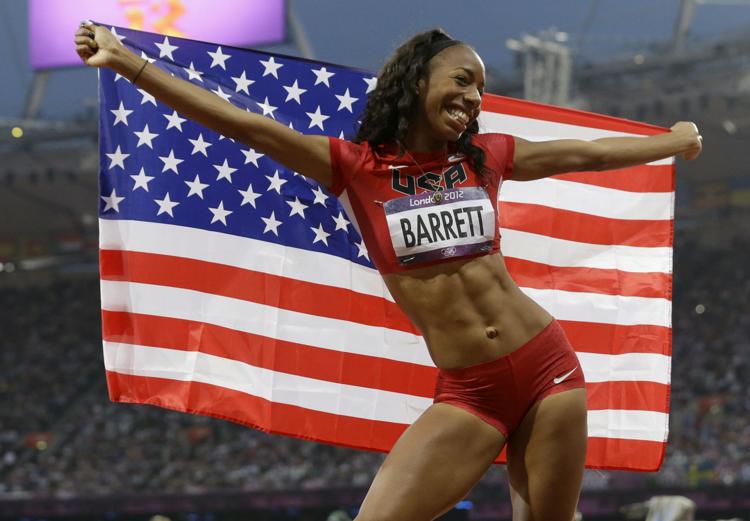 Aug. 11, 2012: Brigetta Barrett wins silver medal in London Olympics 
Nobody refers to Arizona as "High Jump U." It's not as sexy as "Point Guard U" and, besides, Americans pay about as much attention to the high jump as they do to rugby and synchronized swimming.
But when I got a do-the-math email from former UA assistant track and field coach Bob Myers a few days ago, the numbers were astonishing:
Since the UA's Ed Caruthers won the 1968 Mexico City Olympics silver medal, the Wildcats have won 13 NCAA high-jump championships and finished second 10 times, indoors and outdoors.
In 1985, during Myers' days on the staff, Arizona finished an unprecedented 1-2-3 in the NCAA women's high jump finals. Katrena Johnson was first, French Olympian Maryse Ewanje-Epee was second and Camille Harding third.
After that, the UA really became a factory for high jumpers.
Tanya Hughes won three straight NCAA championships in the early '90s. The Pac-12 record book lists seven Wildcats among the league's 10 best women's high jumpers ever: Hughes, Johnson, Liz Patterson, Julienne Broughton, Erin Aldrich, Cristina  Fink-Sisniega and the great Brigetta Barrett.
Nick Ross was the league's top men's high jumper from 2012-15, and Edgar Rivera-Morales became an All-American.
Ross jumped 7 feet 6½ inches at Drachman Stadium in his final home meet, breaking the record of All-American James Frazier set more than three decades earlier. Ross finished third at the 2012 Olympic Trials.
But it was Barrett who became the Sean Elliott of High Jump U.
She won six consecutive NCAA championships (indoor and outdoor) from 2011-13, broke the Pac-12 and NCAA record and at the 2012 London Olympics, cleared 6-8 to win the silver medal.
"One of the first times Liz Patterson walked into my office I told her that Arizona has arguably the greatest high-jumping history in all of college athletics," said UA head track coach Fred Harvey. "I challenged her to carry on the tradition."
Patterson won the NCAA championship in 2010. Her young teammate, Barrett, then a freshman, would be better.
Former UA jumps coach Sheldon Blockburger discovered Barrett at a Texas high school. The nation's top track and field schools hadn't properly evaluated her.
When Blockburger went to Texas to recruit Barrett, he wasn't sure what he had. She was a theater arts specialist, a singer and dancer who had been a standout in volleyball and cheerleading. Oklahoma, Nebraska and Texas Tech had tried to recruit her, but she was looking, she said, "for the best high-jump coach and that is Sheldon."
How did she know?
"We were in the coaches office at my high school and Sheldon saw a picture of me high-jumping," Barrett told me in 2011. "He said, 'Hey, you're not doing anything right on that jump. Your body is in the wrong position. This is wrong. That is wrong. It was cool that he could just look at a picture and know what I needed to do to jump higher."
By her senior season at Arizona, Barrett was the Pac-12 Woman of the Year. She won her final 25 college competitions.
In the history of women's athletics at Arizona, Barrett ranks with distance runner Amy Skieresz, swimmer Lacey Nymeyer, softball pitcher Jennie Finch and golfers Annika Sorenstam and Lorena Ochoa as the best ever.
Where are they now: An honor student at Arizona, Barrett chose not to compete in track this year, bypassing a chance to return to the Olympics. She lives in Los Angeles and is pursuing a career in acting and singing. On her website, she describes herself this way: "I sing, dance, act, write poetry and so much more."
How she did it: In the week she graduated from the UA in 2013, Barrett's mother, Lottie flew to Tucson for the ceremony. They continued on to Los Angeles for the Pac-12 championships.
In a Twitter message, Barrett wrote: "The high jump collegiate record is going down!!!"
She cleared 6 feet, 6¼ inches to become the greatest female college high jumper ever.
---
Photo: United States' Brigetta Barrett poses with her national flag after her silver medal finish in the women's high jump during the athletics in the Olympic Stadium at the 2012 Summer Olympics in London, Saturday, Aug. 11, 2012. (AP Photo/Lee Jin-man)
No. 51 • UA's Desert Swarm defense shuts out Miami in 1994 Fiesta Bowl victory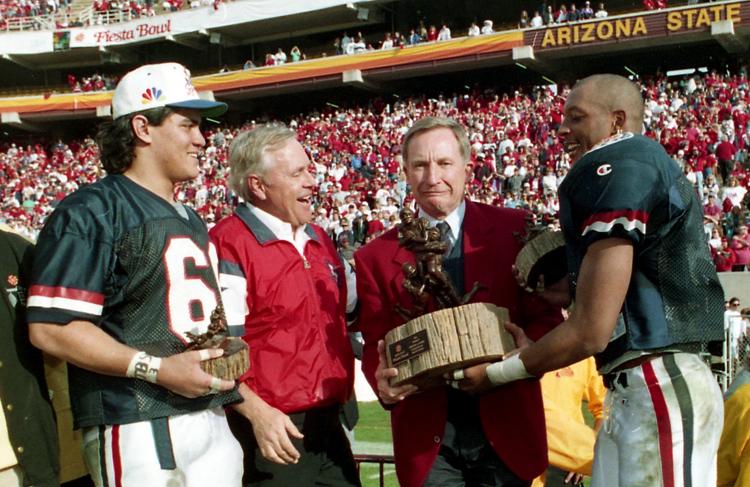 Jan. 1, 1994: Arizona beats Miami 29-0 in Fiesta Bowl 
Dick Tomey moved back to Tucson this spring and the first time I saw him he asked why I recently wrote Arizona has never won the Pac-12 championship.
I didn't have an answer he liked.
In 1993, Arizona, USC and UCLA tied for the league title at 6-2. There was no clear winner; Arizona routed the Trojans 38-7 but lost to the Bruins 37-17 on a day the Wildcats played without injured quarterback Dan White.
UCLA was awarded the Rose Bowl, a tiebreaker berth, by beating USC 27-21.
But after the bowls were played, after Arizona impressively pummeled No. 9 Miami in the Fiesta Bowl, the Wildcats were ranked No. 10 in the final AP poll; the Bruins were No. 18 after losing to Wisconsin in the Rose Bowl.
The UA athletic department erected a sign — PAC-10 CO-CHAMPS, 1993 — that has been on display at Arizona Stadium for 23 years.
Arizona was so good in the Fiesta Bowl, dealing the Hurricanes their first shutout loss since 1979, never allowing the 'Canes inside the 40 yard-line, that you wondered how any team beat the '93 Desert Swarm.
"They kicked the living tar out of us," said Miami coach Dennis Erickson.
Nose tackle Rob Waldrop was a consensus All-American. Defensive end Tedy Bruschi was a second-team AP All-American. Linebacker Sean Harris was a third-team AP All-American.
Opponents scored just 13.4 points against a Desert Swarm defense that included future NFL players Waldrop, Bruschi, Tony Bouie, Brant Boyer and Brandon Sanders.
But After Arizona lost at Cal 24-20 on Nov. 13, it didn't feel like a championship season. The "co" part of "co-champs" seemed empty.
But Tomey, whose teams came within a whisker of Rose Bowl berths in 1992, 1993, 1994 and 1998, and whose program had the league's second best winning percentage in the 1990s, insists that the banner at Arizona Stadium reflects a championship season.
There would have been no confusion had Arizona been able to close out Cal on that November afternoon in Berkeley. The Wildcats led 20-0 at half and regained possession with four minutes remaining, protecting a 20-17 lead.
In what is possibly the most damaging play in more than 100 years of UA football, a short pass to receiver Terry Vaughn bounced off his hands into those of Cal cornerback Eric Zomalt.
Unfortunately, Zomalt caught the ball in stride and ran without opposition 35 yards down the sideline. Touchdown.
Cal won 24-20 even though the Wildcats had a first-down at the Cal 19 with a minute remaining. Two passes in the end zone were incomplete.
Thus, the Wildcats went to the Fiesta Bowl and made the best of it.
Finishing 10-2 was the first time Arizona won 10 games in a season. Humbling the nationally-recognized Hurricanes further strengthened Desert Swarm's reputation. In addition, it help ease the bitterness of a 1992 loss to the No. 1 Hurricanes at the Orange Bowl; a missed 51-yard field goal attempt on the game's final play allowed Miami to escape with an 8-7 victory.
In retrospect, those three Desert Swarm seasons, 1992-94, are the most celebrated in school history. Winning the Fiesta Bowl was the exclamation point.
"We physically took it to them," said Boyer, a linebacker. "It wasn't close."
UA junior Chuck Levy, an All-Pac-10 kick returner who played tailback, quarterback and receiver, put the game on ice when he bolted 68 yards for a touchdown in the second quarter. Levy ran up the middle, broke to his right, juked two Miami defensive players and, whoosh, was gone.
It remains one of the most scintillating plays in school history.
"We came here with a lot to prove," said Levy, who bypassed his senior year and was a second-round NFL draft pick. "We proved we're as good as anybody."
Where are they now: Tailback Ontiwaun Carter, who gained a team-high 837 yards, is now the CEO and head pastor at International Restorer of the Breach Ministries in Las Vegas.
Bouie, who was a consensus All-American safety in 1994, is the former executive director of the Arizona Lottery.
How they did it: "When the DBs were walking out for pre-game warmups, (Miami) told us they thought the Desert Swarm was just a joke, that it was just print," said Sanders, now the athletic director at football coach at Pueblo High School.
"But you can't see our speed on film. You have to come out and play, and by then it's too late. They were like, 'These guys are really fast.' They got a taste of us last year, but a lot of us went to work over the summer and we just got better."
---
Photo: Arizona athletic director Cedric Dempsey, second from right, buckles after being handed the 1994 Fiesta Bowl trophy by Chuck Levy, right, Tedy Bruschi, left, and coach Dick Tomey. Photo by Rick Wiley / Tucson Citizen
No. 50 • UA's Neethling wins nine NCAA titles, gold medal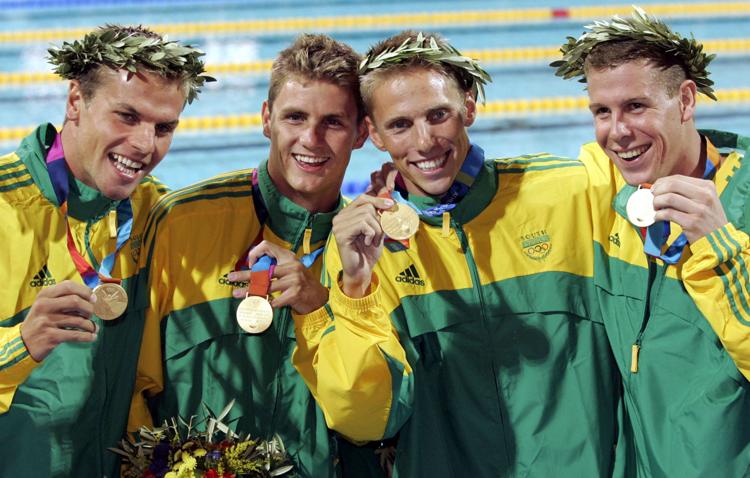 March 24, 2000: Ryk Neethling wins his ninth NCAA championship 
Since he left Tucson 13 years ago, Ryk Neethling married Miss Universe 2012, has been on the cover of BMW International Polo magazine, earned a fortune selling wine and real estate in wine country and won a gold medal at the 2004 Athens Olympics.
I met him at the 1996 Atlanta Olympics after he finished fifth in the 1,500 finals. At 18, he was probably the most hotly recruited athlete on campus — and if not him, his former girlfriend, Olympic gold medalist Amanda Beard. I asked why he chose to attend Arizona.
"I've never been to Tucson but I'll be there in two weeks," he said. "My father went to Tucson to check everything out. He told me it is a wonderful place."
Over the next seven years, Neethling would live A Wonderful Life in Tucson.
Our interview that night in Atlanta was interrupted by a TV news crew from France. I watched as Neethling spoke fluent French to the TV people, and, moments later, spoke in his native South African to a crew from Cape Town.
I had no idea that the son of a Bloemfontein, South Africa, real estate executive was an internationally known athlete. I knew his name only from a brief news release in which the UA listed Neethling among its Class of 1996 swimming recruits.
Why Tucson, of all places?
"Coach Frank Busch is the best long-distance coach in the world," Neethling said. "He has a great reputation, and so does (UA assistant) Rick DeMont. There was no other choice to be made."
By the time Neethling swam his last stroke as an Arizona Wildcat, he had become the most accomplished swimmer in school history, and one of the most successful athletes, any sport, in university history.
He won nine NCAA swimming championships. Only Olympic gold medalists Pablo Morales of Stanford and John Nabors of USC had won more. In 1999, Neethling was named the NCAA Swimmer of the Year.
And yet in Tucson, a basketball town, Neethling was virtually incognito outside the Hillenbrand Aquatic Center.
He rode a bike from place to place on campus, virtually unknown, no trace of celebrity. He was a regular at McKale Center, one of UA's most attached basketball fans. (He vaulted over press row, over my laptop, when Arizona stunned No. 1 Stanford in 2000, the only known court-storming in the last 30 years of UA home basketball.)
After Neethling won his ninth NCAA championship, I asked what he would remember most about his Wildcat days.
He said it was beating Stanford at the Pac-10 finals. Nothing about the Olympics, or the silver medal in the World Commonwealth Games or being the NCAA Swimmer of the Year.
"It was such an accomplishment for our program," he said. "When I came here we qualified just four swimmers for the NCAA tournament, and dominant teams like Stanford just killed us every year. It was so fulfilling to turn that around."
He was more known in Australia, a stronghold of swimming interest, than in Tucson.
At the 2000 Sydney Olympics, Neethling was painted as the Big Bad Villain by the Australian press. He was the opponent most feared as the Aussies planned to finish 1-2 in the 1,500 meter finals behind stars Grant Hackett and Kieren Perkins.
"Neethling is the most hated man on the continent," Hackett said the day before 17,000 people squeezed into the 1,500 finals at the Sydney Aquatic Center.
Neethling swam the fastest 1,500 of his life that afternoon — 15 minutes and 0.48 seconds — and was a heartbreaking fourth. It wasn't until the 2004 Athens Olympics that he broke through and won a gold medal in the 4x100 relay with two All-Americans he helped to recruit to Arizona, Roland Schoeman and Darian Townsend.
Where are they now? Neethling lives in his native South Africa, married to actress Sahar Biniaz, who was Miss Universe Canada, 2012. On their first date, they flew to Dubai to watch Prince Harry play polo. Among other business pursuits, he is director of marketing at the Val de Vie estate and resort, South Africa's equivalent of Napa Valley.
How he did it: Neethling was probably the most versatile swimmer in the NCAA over the last 25 years. He won national titles in sprints (200 freestyle) and distance events (1,650 freestyle).
"I can't describe how coming to the UA changed my life," he said in a 2000 interview. "The Aussies can break all the world records they want while I'm in college, but they'll never experience what I've experienced. To be a student, to be on this team, is my best choice."
---
Photo: South African swimmers react after winning gold medals for the 4x100m freestyle relay at the 2004 Olympic Games on Sunday, Aug. 15, 2004 in Athens, Greece. From left to right are: Ryk Neethling, Lyndon Ferns, Roland Mark Schoeman and Darian Townsend. (AP Photo/Mark J. Terrill)
No. 49 • Sunnyside wins first wrestling championship under Klostreich, setting up dynasty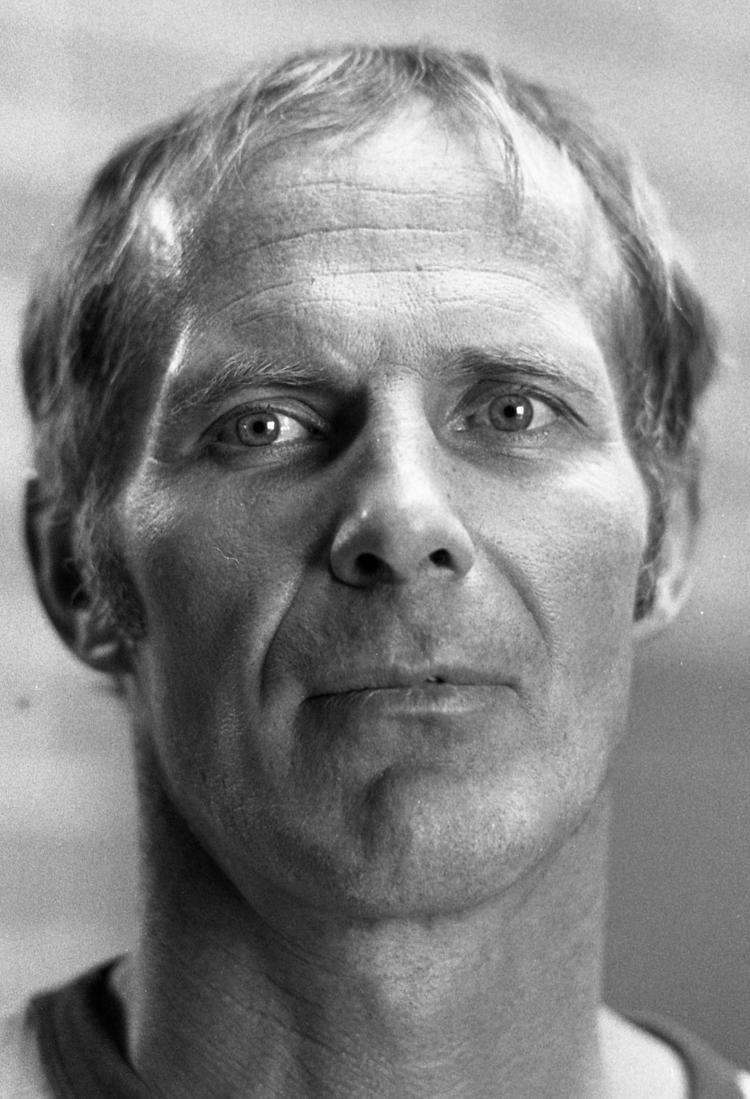 Feb. 24, 1979: Sunnyside wins the first of 30 state wrestling championships
If you've ever seen the trophy cases at Sunnyside High School, or the plaques and banners that hang on the walls in the wrestling room, you wonder if someone got carried away and ordered two of everything. Nobody could win all of these, could they?
Don Klostreich ignited Tucson's most enduring sports dynasty in 1979, coaching the Blue Devils' first state wrestling championship. From 1981-88, the Blue Devils won eight straight.
Richard Sanchez picked up the torch in 1990 and won five consecutive state titles.
Then came Robert DeBerry, who unimaginably increased the pace. Under DeBerry, the Blue Devils won 15 state championships in 16 years, including 14 straight.
How did all of this happen? It started with a punch.
Klostreich was the head football coach at Phoenix Carl Hayden High School in 1973, a former North Dakota prep wrestling coach who was, shall we say, of the no-nonsense brigade. At an offseason coaching meeting, Klostreich overheard another coach demeaning the Falcons.
Words were exchanged. Punches were thrown. Klostreich lost his job.
But because he once worked with Sunnyside High football coach Paul Petty, Klostreich wasn't out of work long.
"Paul got me hired at Sunnyside," Klostreich told me in 1986. "He had been on my staff at Carl Hayden. One thing led to another and it all worked out."
Under Klostreich, the Blue Devils produced some of the great names in Arizona wrestling history, especially Eddie Urbano and Thom Ortiz.
"It's work and it's time," Klostreich said in that '86 interview. "There's no place for part-time."
By 1990, with a 161-9 dual meet record, Klostreich was exhausted. He moved first to California and then to Yuma; he said he needed a change of scenery. The Blue Devils somehow picked up the pace.
Sanchez, who had been a football and wrestling assistant coach at Sunnyside for 15 years, won five straight state championships, 1990-94. He left to become the Blue Devils' football coach, building a longtime losing program into state champions in 2001 and 2003.
Sanchez's approach was a lot like that of Klostreich.
"Work works," said Sanchez.
DeBerry arrived in 1995 and finished second in the state finals. The Blue Devils then won every state championship from 1998-2011. Sunnyside overflowed with wrestling champions, including Nate and Nick Gallick and Erik Larkin, who became NCAA All-Americans.
DeBerry's formula: "There's no pressure; just don't lose."
In the summer of 2011, DeBerry chose to take a break and leave Sunnyside. The legacy was such that the Blue Devils had won 29 state championships in 32 years. He chose to be positive.
"Dr. Seuss is one of my favorite authors," he told me. "Don't be sad it's over; be glad it happened."
After the Klostreich to Sanchez to DeBerry excellence, maintaining Sunnyside's wrestling tradition has been continued by new coach Anthony Leon. He coached the Blue Devils to the 2013 state championship and has been second in 2014, 2015 and 2016.
Under Leon, the Blue Devils have arguably the top wrestler in the state, junior Roman Bravo Young, a two-time undefeated state champion, who last month won the USA Cadet Freestyle championship and will be part of Team USA in the world championships this summer in Europe (in Tbilisi, Georgia.)
Where are they now: At 76, Klostreich has been an assistant wrestling coach in Yuma. Sanchez, who served as the Sunnyside school district athletic director after his coaching days, is retired. DeBerry is the athletic director at Tucson High.
How they did it: Sunnyside was so dominant that it won state championships by more than 100 points four times: 190-63 over Mesa in 1983; 191-81 over Tempe McClintock in 1986; 199-67 over Mesa Mountain View in 1984; and 282-177 over Sunrise Mountain in 2000.
In 2005, Nate Gallick and Matt Lopez became the 18th and 19th Sunnyside wrestlers to win four state championships in their careers. The most decorated ex-Blue Devil is probably Eddie Urbano, who won state wrestling titles in 1979 and 1980, NJCAA championships at Pima College in 1981 and 1982, and an NCAA championship at Arizona State in 1985. Urbano committed suicide in 2012; he was 50.
---
Photo: Don Klostreich. Photo by Joe Vitti / Arizona Daily Star
No. 48 • 'Tito' Francona leads Arizona to 1980 College World Series title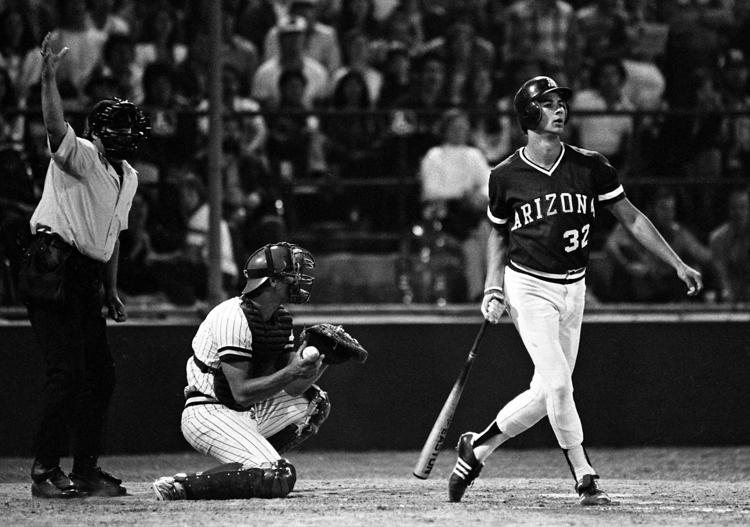 June 5, 1980: Arizona wins its second College World Series championship
Now that the statute of limitations has expired — baseball code for not showing up an opposing coach — it can be told that Arizona pitching coach Jim Wing successfully deciphered signals by the Michigan and Hawaii coaching staffs at the 1980 College World Series.
"We knew virtually every pitch Michigan threw that night," UA shortstop Clark Crist, a Palo Verde High School grad, has told me several times. "Coach Wing was that good."
The Wildcats shut out Michigan 8-0 and beat the Rainbows twice in Omaha, 6-4 and 5-3, to win the '80 national championship. Over the last decade or so, especially when the Wildcats staged reunions at Hi Corbett Field or McKale Center, the chatter ultimately circles back to Wing's undercover work.
The one time I asked Wing about it, he just smiled.
"No comment," he said.
It's not that the '80 Wildcats weren't good enough to win the College World Series. They won the school's first Pac-10 championship, featuring .401-hitting NCAA Player of the Year Terry Francona. And they established an ability to win in the clutch — they trailed Cal 8-3 in the semifinals before rallying for an 10-9 victory, and stormed back to beat Hawaii a day earlier when Catalina High grad Scott Stanley hit a grand slam to overcome the Rainbows' lead.
All of this happened after future MLB All-Star lefty Frank Viola, then a St. John's All-American, beat the Wildcats in the World Series opener 6-1.
"We were so far back at times that it took everything we had to just stay alive," said UA coach Jerry Kindall. "We didn't have all the superstars like we had (in the 1976 national championship season), but we had a whole group of guys like Don Hyman, Casey Candaele, Clark Crist who never gave up."
What the 1980 Wildcats had as much as anything was a baseball acumen and resulting pedigree like few in college baseball history.
Much like Wing, they learned the game thoroughly and made a lifetime of it. No one keeps an official record of post-college baseball success, but the '80 Wildcats might be the most accomplished coaching and teaching group ever to play at Omaha.
Check out this list of the '80 Wildcats and their post-UA baseball careers:
Francona is the manager of the Cleveland Indians and twice managed the Red Sox to a World Series title.
Candaele, an infielder, is the Seattle Mariners' first base coach after playing 11 seasons in the big leagues.
Crist, a shortstop, is the Arizona Diamondbacks national cross-checker (essentially lead scout).
Infielder Pat Roessler is the New York Mets' assistant hitting coach.
Infielder Alan Regier is the Chicago White Sox scout for the American League Central division.
Pitcher Jeff Morris of Catalina High is a longtime pro/advance scout for the Cincinnati Reds.
Outfielder John Moses, who played 10 MLB seasons, is the Atlanta Braves' minor league hitting instructor.
First baseman Wes Clements, who made the 1980 All-CWS team, has been the Houston Astros Single-A and Double-A manager.
Stanley, an outfielder, has been a Miami Marlins scout for 22 years.
Pitcher Ed Vosberg of Salpointe Catholic, who played for nine MLB teams, has been a minor-league pitching coach for the Oakland Athletics and Diamondbacks.
Lefty pitcher Craig Lefferts, winning pitcher in the '80 championship game, played in MLB until he was 36. He is the director of pitching rehab for the A's.
Outfielder and leadoff hitter Dwight Taylor played for the Kansas City Royals, and closer Greg Bargar, a Tucson detective/sheriff, pitched for the Montreal Expos and St. Louis Cardinals.
Where are they now: Taylor, who hit .361, scored 82 runs and stole 42 bases, is the coordinator of safety at Metal Coaters Inc., in Jackson, Mississippi.
How they did it: Francona was recruited to Arizona out of New Brighton, Pennsylvania, where he hit a national-leading .769 as a high school senior. He drove in 84 runs in the 1980 season and was a first-round draft pick of the Expos.
"I'd have to rank him with Dave Stegman as the two finest talents we've ever had," Kindall said after the '80 World Series. "We've had other outstanding players, guys in the big leagues like Ron Hassey, Brad Mills. But when you look at running, throwing, hitting and fielding, Stegman and Terry are the best pure talents we've had in years."
---
Photo: Arizona's Terry Francona hits during the West Regional against Gonzaga in May, 1980. UA won the 1980 College World Series. Arizona Daily Star file photo
No. 47 • Wildcat McCray sets UA record with 46 points in one game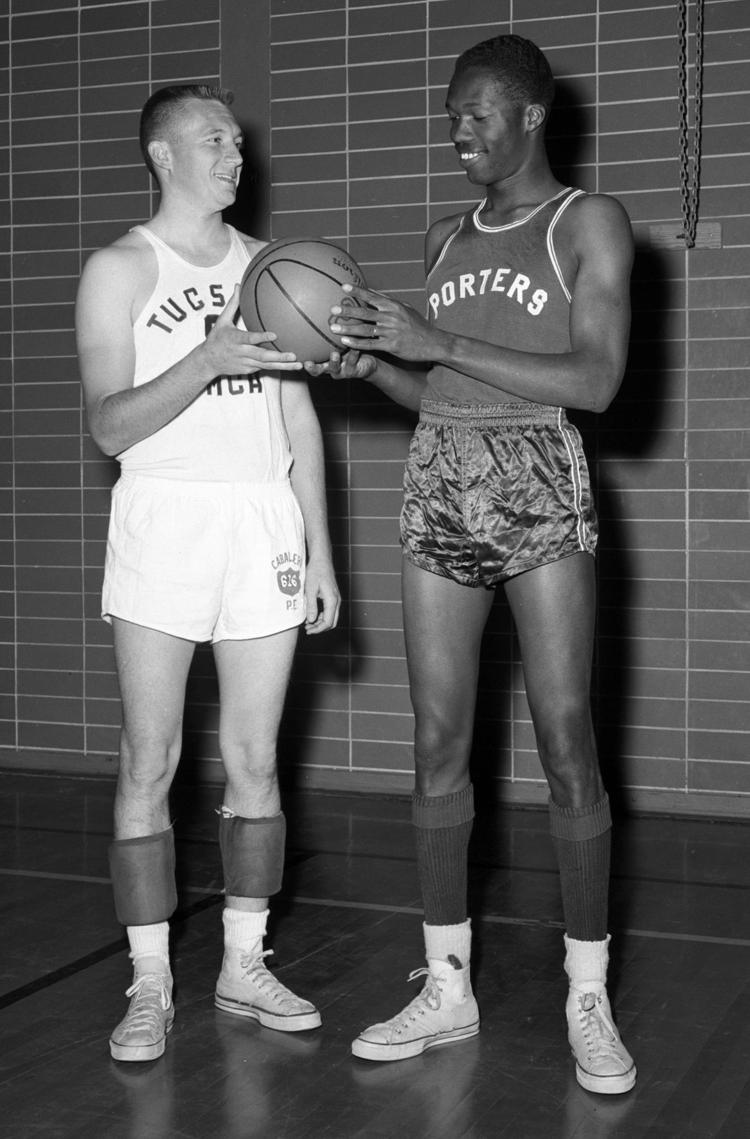 Feb. 6, 1960: Ernie McCray scores a UA-record 46 points in a game
At one point during the 1959-60 UA basketball season, it was suggested that Arizona's basketball media guide should begin with this byline:
"By Ernie McCray."
When the 6-foot 5-inch Tucson High product played his final basketball game at Arizona, he held 11 school records. The only major category that escaped him was free throw percentage.
All but one of those records have been touched by time and changed to names like Sean Elliott and Khalid Reeves.
But no Wildcat has been able to erase McCray's 46-point game against Cal State Los Angeles on an early February night, 1960.
Damon Stoudamire scored 45 in an overtime game at Stanford in 1995. Joe Skaisgir in 1962 and Coniel Norman in 1974 both scored 44 in a game.
Now, given a share-the-ball and slow-the-pace style of coaches like Sean Miller, it seems preposterous to think that anyone will challenge McCray's 56-year-old record.
If ever a UA record seemed in danger — Teddy Lazovich had scored 38 points against ASU in 1955 — it was the night McCray walked into Bear Down Gym against the Diablos.
Cal State LA led the NCAA in scoring, 96.3 points per game, and had scored more than 100 points in seven games. The Diablos' opponents had exceeded 100 in five games. The pace of play in 1960 was such that Arizona averaged 67.6 points, but the run-and-shoot LA team hoped to outscore foes, not stop them.
Arizona won 104-84; it was a school record and only the third time in school history the Wildcats scored 100 or more in a game.
When McCray broke Lazovich's record late in the game, play was stopped for almost a minute as a crowd of 2,055 stood and gave him a thunderous ovation. McCray made 16 of 26 field goal attempts and 14 of 16 free throws.
Two games later, McCray became Arizona's career leading scorer, breaking Ed Nymeyer's total of 1,225 points. Again, that game was stopped to honor the former Badger center; a photograph in the Star depicts coach Fred Enke presenting McCray with the game ball in a Feb. 10 game against New Mexico. McCray, who averaged 23.9 points, scored 28 that night.
Only Khalid Reeves' 1994 season, at 24.2 points, has surpassed McCray's senior season.
McCray was not entirely happy about his UA career. First, the Wildcats of his era were awful. They were 10-14 that season and 24-51 in his career. Enke coached one year after McCray graduated and then retired.
Over the last 56 years, McCray, a skilled writer who has been featured in San Diego newspapers and periodicals, has been vocal about racial discrimination in his days at Arizona and growing up in Tucson.
In a 1989 essay for the Star, McCray wrote:
"Sitting back, enjoying watching (ex-Wildcat star) Linc Richmond fake a defender out of his jock took the sting out of being called 'Eightball' or being harassed by a cop who asks, 'What are you doing around here, boy?' while I'm standing in front of my own house, minding my own business, praying that this dude will leave me alone.
"When the cheers of the game had died, there were still restaurants where I could not eat.
"I left the UA, heading for San Diego with two degrees in my cedar chest, a horde of points and records in the records books and head full of mixed-up love/hate feelings."
McCray was not inducted into the UA Sports Hall of Fame until 1989, 13 years after the inaugural class. He was inducted into the Pima County Sports Hall of Fame in 1991, part of its second class.
Where are they now? McCray spent 37 years as a teacher, vice-principal and principal in the San Diego Unified School District. He remained active in basketball until his mid-40s. He is now 78 and living in San Diego.
How he did it: A first-team All-State center at Tucson High in 1956, McCray was just the second African-American player on the UA basketball roster. In his sophomore year, he was joined by fellow African-Americans Elmer Green and Eddie Mitchell. McCray and Mitchell were featured on the cover of the school's 1957-58 media guide. But in his senior season, McCray was the only African-American on the roster.
---
Photo: Ed Nymeyer, left, and Ernie McCray, former Arizona basketball star, right, in March, 1961 in Tucson. Tucson Citizen file photo
No. 46 • Johnny Miller sets record score at 1975 Tucson Open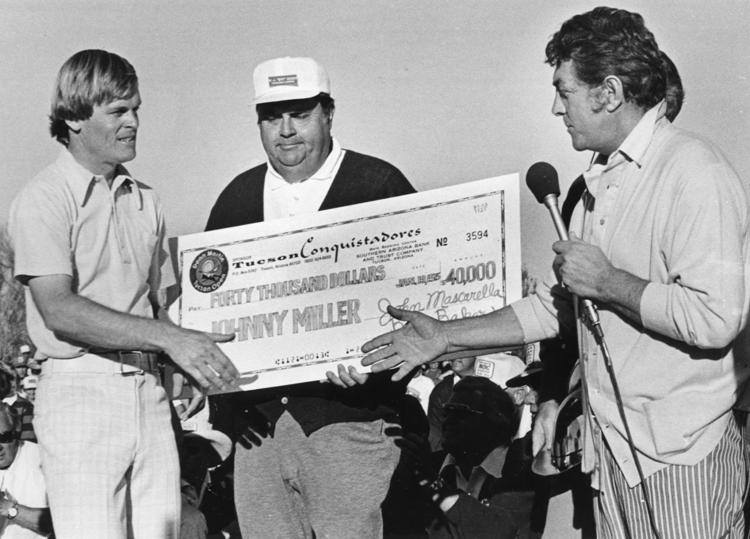 Jan. 19 1975: Johnny Miller shoots 25 under par at Tucson Open
Phil Mickelson won the Tucson Open in 1991, 1995 and 1996, but no one ever called him the Desert Fox or had the nerve to ask him if Tucson held a special place in his heart.
Sure, part of it was that Mickelson was an ASU Sun Devil, but by the time he won three Tucson Opens, all of the "firsts" and "bests" had been plucked from the tree.
Arnie's Army marched at Tucson National in 1967, and as Arnold Palmer won here during the prime of his career, it was difficult to imagine anything surpassing the feeling.
But when the blond, glamorous and charismatic Johnny Miller won the Tucson Open in 1974, 1975 and 1976, he did so with such style that Tucson almost forgot about Arnie's Army. In 1981, Miller won the Tucson Open for a fourth time and, if nothing else, put his legend in untouchable territory, beyond that of those to come, like Mickelson.
In '75, Miller shot rounds of 66-69-67-61 and won by nine strokes. Tucson National wasn't a muni — at 7,200 yards, it was the third-longest course on the PGA Tour that year — and he wasn't beating the junior varsity. Tom Watson shot 72-67-67-67 that week to finish third.
Miller's 25-under-par score was the lowest on the PGA Tour since 1954.
The poets of the press box got busy typing.
"Last week out in a glorious part of the Old West, on a painted lady of a golf course called Tucson National, Johnny Miller strolled along looking his usual low-key, half-sleepy self, which is pure deception, and completed a historic triple," wrote Dan Jenkins of Sports Illustrated.
"In the annals of the PGA tour, going back to the days when Walter Hagen used to pass the hat and coming right up through Jack Nicklaus' diet program, nobody had ever before won the first three tournaments of the year. Until Miller."
Miller wasn't some obscure rising talent when he began his run of success at Tucson National. He had won the 1973 U.S. Open with a historic 63 in the finishing round.
Miller rose to prominence via the U.S. Open, but he became a familiar face on network TV in January of 1974 and 1975 when he won the Tucson Open and Phoenix Open back-to-back.
He wasn't Nicklaus or Palmer; he was a new and modern brand of golf.
"He is a television commercial, a registered trademark, a corporation, a big name to drop at a cocktail party," Sports Illustrated reported after Miller's Tucson victory of '75. "He drives a Porsche. His wife is beautiful. His children are precious. Celebrities want his autograph. He is 27 years old, has a 30-inch waist, a movie star's profile, a full head of blond hair. And he can putt."
Miller played so well in Tucson that Miller compared his final-round 61 to the 63 that won the U.S. Open.
"It's the greatest I ever played in my life, even better than the 63 I got to win the U.S. Open," he said that day in Tucson. "I hit the ball so good it was a joke."
At 55, when Miller returned for the 2002 Tucson Open Pro-Am, he amended his long-ago statement with a career of perspective.
"The best golf I ever played in my life was in 1975 in the final round at Tucson National," he told the Star's Mark Stewart. "I was playing behind John Mahaffey. He birdied three of the first seven holes and lost two shots.
"I was in a total zone and ended up winning by nine shots. Without pressure, that was the best golf I ever played. With pressure, it was the 63 I shot at the U.S. Open.
"I had won (at) Phoenix by 14 the week before. Obviously I was on a major roll, walking on air. I was just kicking butt then. Golf was just so much fun. How things change, huh?"
Miller won 25 times in his career, including a U.S. Open and a British Open, but he is identified as much with his golf in Tucson as anything else.
"When I go to Tucson, there's something special, a feeling I don't get anywhere else," Miller told me in a 1992 interview. "I'm not bragging, but it's almost like that's my tournament. I get a real warm feeling about being there."
Where are they now? Now 69, Miller is in his 27th year as NBC's lead golf analyst. He grew up in San Francisco, enrolled at BYU and was a PGA Tour member at 22.
How he did it: After winning at Tucson and Phoenix in 1974 and 1975, Miller appreciated momentum.
"Two years ago I would have gone home after I won a tournament," he said in 1976. "Now I'm intrigued with winning. After I won Phoenix for two in a row — or three, counting Spain last fall — I caught myself thinking, 'I don't want anybody else to win out here, ever.' Sure, I'm going to play in Tucson. I feel like I'm going to win. Now that's crazy."
---
Photo: Tucson Open winner Johnny Miller, left, accepts a $40,000 check from host Dean Martin during the 1975 Tucson Open. Miller shot a record-setting 61 and overall score of 263, 25-under par at Tucson National. Arizona Daily Star file photo
No. 45 • Tucsonans John, Tommie Rhodes become world champion cowboys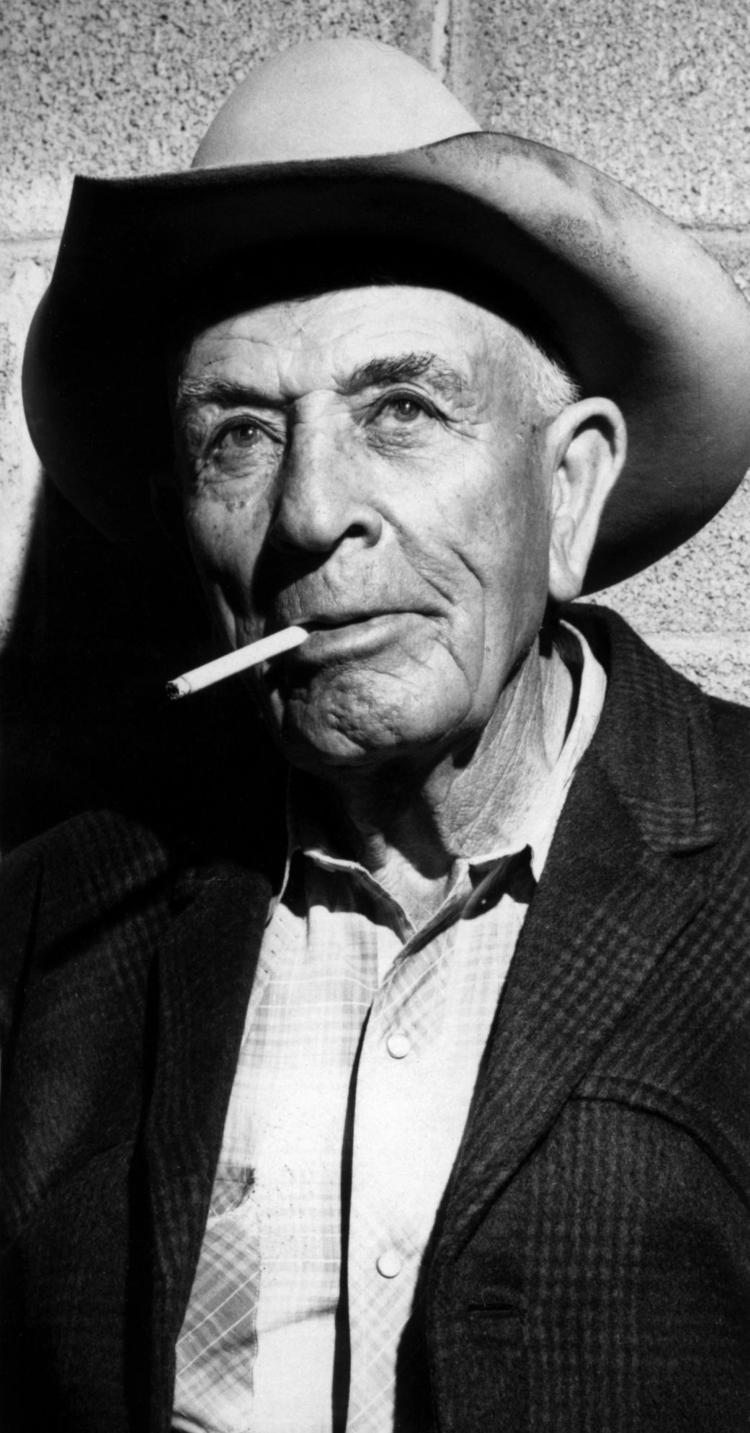 Aug. 22, 1943: Tommie Rhodes joins father as world champion
John Rhodes was working on his ranch near Mammoth — officially it was a place behind the Catalina Mountains known as Sombrero Butte — when the first Tucson rodeo was held in 1919.
He put a saddle on his horse, got his ropes together and made the 50-mile trip to Kramer Field, near what is now the Arizona Inn.
By 1936, Rhodes was the world champion team roper, and again in 1938. Not bad for a rancher who didn't begin in the rodeo business until he was 31.
His son, Tommie, a Tucson High grad born in 1915, followed his father's lead. In 1943, Tommie Rhodes won the first of his two world championship team roping titles. He won again in 1944.
The Rhodeses were charter members of the Cowboys' Turtle Association, which became today's Pro Rodeo Cowboys Association. They were on the ground floor of a flourishing industry.
Tommie's CTA membership card was No. 46. John's was No. 56. They became the first father-son combination to win world championships. (The next father-son combo to become world champs was John and Clark McEntire, the father and grandfather of country music superstar Reba McEntire.)
The Rhodeses didn't sing. They roped.
"Tommie was a cowboy who got after 'em because he was raised with ornery cattle and good horseflesh as a youngster," Pro Rodeo Sports News wrote in 1978. "He was taught how to do it all, rope calves, trip steers, pick up hind feet below the hocks. He could work in a horse corral with a minimum of effort and great natural ability and know-how."
He was so good that in his early 20s he was offered a spot in Tex Austin's European Wild West Show, all expenses paid.
"But Tommie didn't want to become a professional roper so early in the game," the Cowboys' Turtle Association newsletter of May 5, 1938, reported. "He is a practical rancher as well as rodeo contestant."
His father, John, was a backbone member of La Fiesta de los Vaqueros, which began in 1925 and continues today. He competed in all but two of the Tucson Rodeos until he was 80. He won so many steer roping and team calf roping championships in Tucson that many forgot he was a judge and prominent member of the organizing group for its first 10 years.
In rodeo lingo, John Rhodes was a heeler. That means he roped the back leg of a calf or steer in team tie-down competition. For decades, he was as good as anyone in the sport.
He won the most prestigious rodeos in the West: the Calgary Stampede, the Cheyenne Frontier Days Rodeo and the Pendleton Roundup. And then so did his son, Tommie.
By 1950, Tommie discontinued regular rodeo competition and became a full-time rancher. But his father's love for the sport went on and on.
In the 1950s, when 15 seconds was considered a world-class time in a team-roping event, John and his partner were timed at 13.1 in the annual Phoenix Rodeo.
"When the announcer blurted out the time," Pro Rodeo Sports News reported, "the crowd went crackers.
"Rhodes simply doffed his beaten up old cowboy hat and waved it at them. He was great for years, decades, not moments. He surely must have heeled with brilliance far longer than any other professional roper. He was still competing at top southwestern rodeos when he was in his 70s."
Where are they now? Tommie Rhodes died in an automobile accident near San Manuel in 1981. He was 66. John Rhodes died in 1973. He was 83.
How they did it: John Rhodes was paid $1,200 for winning the 1944 Pendleton Roundup.
"First prize was usually a leather saddle," he said, "but leather was rare in the war years."
Tommie Rhodes was a natural. He used to teach roping to students at Tucson's Evans Elementary School.
A columnist for the Pro Rodeo Sports News once wrote that he saw Tommie waiting for a rodeo competition near Willcox in the 1930s.
"I saw Tommie do extraordinary things with a 23-foot rope," the columnist remembered.
"He was sitting cross-legged on his horse just outside the arena. He was loafing and playing with his rope when a small calf skittered by. It had been cut from the regular roping stock and doubled back and escaped through a hole in a fence.
"As quick as a flash, Tommie pitched out a tiny loop of rope and snagged the little critter right around the neck. It was done in a split second. Tommie then raised his hands in air as if to signal an imaginary judge.
"All hands around clapped and cheered."
---
Photo: Roping champion and famed Tucson rodeo cowboy John Rhodes in 1965. Arizona Daily Star file photo
No. 44 • Tucson Sidewinders become champions in 2006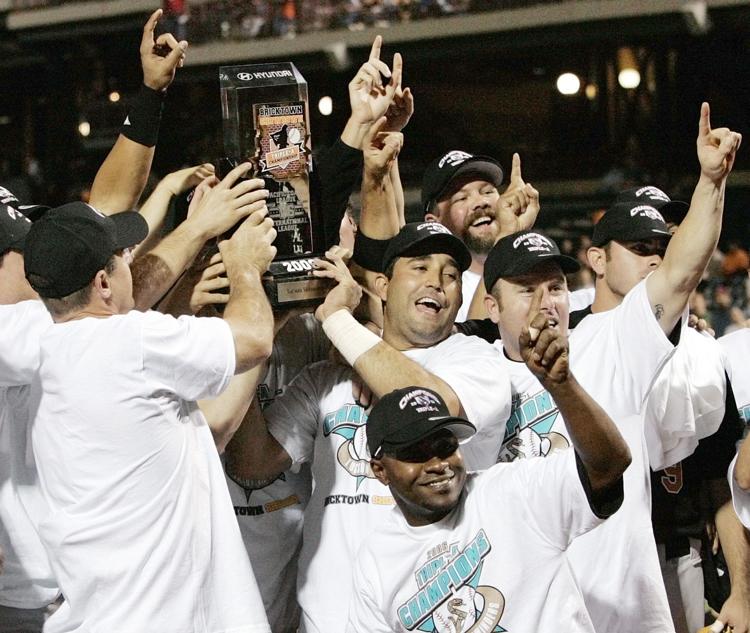 Sept. 20, 2006: Tucson Sidewinders win franchise-record 98th game, Triple-A championship
The Tucson Sidewinders began the 2006 Pacific Coast League season 4-11 and without their manager. Expectations? Not much more than the previous season's 68-76 club.
Manager Chip Hale opened the '06 season with the parent Arizona Diamondbacks, filling in as third base coach while Carlos Tosca recovered from surgery.
When Hale returned to Tucson on May 2, the Sidewinders began a compelling march that would culminate in the greatest season in Tucson's 43 PCL seasons.
They won a PCL division title at 91-53; no other Tucson team had won more than 87 games. Then the Sidewinders went 6-1 to win both rounds of the PCL playoffs and capped it by winning the 2006 Triple-A championship, beating the Toledo Mud Hens in the Bricktown Showdown in Oklahoma City.
Overall, Tucson finished 98-54. The last minor-league team to win more games was the 1992 Class AA Greenville Braves.
"You look at the number of prospects, and it really was a situation of being flooded with all this talent," D-backs farm director A.J. Hinch said. "And then you had veteran leaders helping the younger players along. This team really was the perfect balance of youth and experience."
Of the 52 players who suited up for the Sidewinders, 23 also played for the Diamondbacks.
Eight players — shortstop Stephen Drew, center fielder Chris Young, right fielder Carlos Quentin, relievers Tony Peña and Doug Slaten, starter Enrique Gonzalez, catcher Miguel Montero and second baseman Alberto Callaspo — made their major-league debuts in '06.
Callaspo was the organization's minor-league Player of the Year, but it was a close call.
Sidewinders third baseman Brian Barden hit .298 with 16 homers and 98 RBIs. Left fielder Scott Hairston of Canyon del Oro High School hit .323 with 26 homers and 81 RBIs. First baseman Chris Carter hit .301 with 19 homers and 97 RBIs.
Even when the D-backs took a top prospect from the Sidewinders, the club kept winning.
Tucson's roster, which underwent 101 transactions, was replenished by a combination of journeymen and Double-A prospects.
Micah Owings, the organization's 2006 Pitcher of the Year, did not lose a Triple-A game after being promoted June 12, going 10-0.
Veteran Mike Bacsik, who signed as a free agent 10 days into the season, went 11-0 both as a starter and reliever.
The Sidewinders had 13 walk-off victories at Tucson Electric Park in just 53 home games.
"We've come back so many times," said Hairston. "I can't put into words how it feels as a player, being down 5-1 in the eighth and we never give up. That's characteristic of a championship team."
What wasn't characteristic was that the Tucson audience didn't fully grasp the Sidewinders championship season. Attendance was 271,698, which ranked 15th of 16 PCL clubs. The old Tucson Toros, based at Hi Corbett Field, drew 45,000 more fans during seasons in the 1990s.
Where are they now? Barden helped Team USA win the 2008 Beijing Olympics bronze medal and completed his big-league career in 2010 after playing 119 games for four MLB teams. He is now an insurance executive in Scottsdale. Bacsik's MLB career ended in 2007 after he infamously yielded Barry Bonds' 756th career home run, breaking Hank Aaron's long-standing record. Bacsik is now a sports-radio talk show host in Dallas.
How they did it: Right-hander Dustin Nippert had a career season, winning 13 games as the club's top starter. He was soon promoted by the D-backs but had a journeyman-type MLB career, winning just 14 games in six seasons. He then signed to pitch in Korea, where he has flourished, winning 72 games in six years. He is still active at 35, with a 12-2 record through July 18.
---
Photo: The Tucson Sidewinders hold the championship trophy and pose for photos after winning the Bricktown Showdown Triple-A baseball championship game against the Toledo Mud Hens on Tuesday, Sept. 19, 2006, at the Bricktown Ballpark in Oklahoma City. Tucson won 5-2. Photo by Nate Billings, The Oklahoman
No. 43 • Tucsonan McCluskey takes third at Indy 500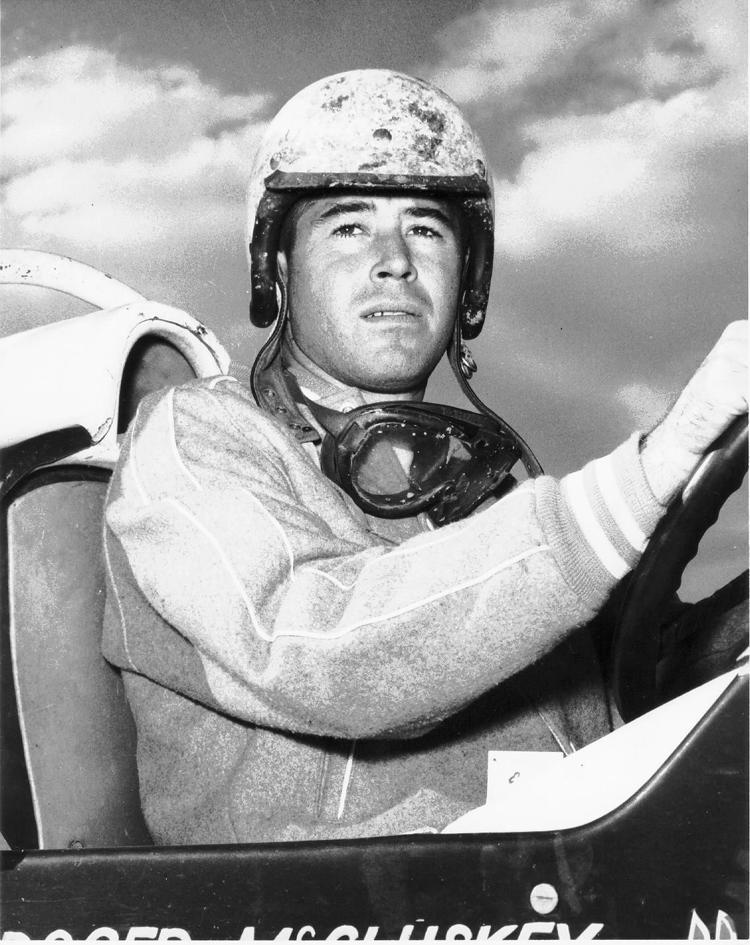 May 30, 1973: Roger McCluskey finishes third in Indianapolis 500
For about 15 years, from 1965 to 1980, the Star employed a full-time auto racing writer. It was known as the McCluskey Beat.
Over those years, there were probably more words written about Roger McCluskey in this newspaper than any other Tucson sports figure.
Late in 1979, the Star selected him as its Sportsman of the Decade.
His career comes off as a tale from the days of black and white television. He was a high school dropout who built and raced cars on Tucson's old dirt racetracks, became A.J. Foyt's partner and ultimately the vice president and chief operating officer of the USAC, then the most powerful organization in auto racing.
McCluskey's story doesn't have a happy ending. He struggled with bladder cancer the last three years of his life and died when he was only 63.
But for 45 years, he always had his foot on the accelerator.
"Somewhere along the line," Star auto racing writer Calvin Reynard wrote in 1973, "they forgot to tell McCluskey that nice guys finish last. Or maybe they told him and he just didn't listen."
By 1973, McCluskey was Tucson's most prominent sports figure, beyond anyone in the UA athletic department. What didn't he win?
McCluskey won 23 USAC Sprint Car championships, 22 USAC Stock Car titles and five USAC national championships. The only thing he didn't win was the great Indy 500, although it wasn't because he didn't try.
From 1961-79, McCluskey raced in all but one Indy 500 when it was America's premier auto racing event and probably one of the four leading sports spectacles in the country.
Something bad always seemed to happen just as McCluskey seemed poised to win it all: a broken radiator, an oil leak or a crash that engulfed his car.
"I've had bad luck at Indy, but so has everyone else," he said in 1972. "But my time will come."
McCluskey led at Indy in 1962 and 1963, and started as high as No. 4 in 1970.
His time arrived in 1973. McCluskey was third at the Indy 500 on a day he might've won it all. Unfortunately, after a five-hour rain delay and a tragic month in which racers Art Pollard and Swede Savage were killed on the track, the race was stopped after 332.5 miles.
In 1966, he drove near the lead in lap 126 of 200 laps when disaster struck.
"I saw nuts, bolts and wheels flying at me," he said. "Cars were coming at me from all sides."
He would finish 13th.
Over a racing career that began in 1947, when he would whiz up and down the streets adjacent to Tucson High School, McCluskey was involved in so many crashes he lost count.
He broke his cheek, his jaw, his nose, his shoulder, his collarbone, but only in 1964, recovering from a crash in California, did he miss the Indy 500.
"If you don't want to go 200 mph, you should quit," he said. "And after you get to 200 mph, if you don't want to go 205 mph, you should quit."
McCluskey retired from racing in 1979, at 49. He won his last big race, the Tony Bettenhausen 200 in Milwaukee, and then became one of USAC's top executives for the rest of his life.
Where are they now? In 1993, dying of cancer, McCluskey was given the honor of telling the Indy 500 racers: "Gentlemen, start your engines." He died three months later.
How he did it: In 1930, McCluskey moved to Tucson from San Antonio after his mother was diagnosed with tuberculosis. He learned welding from his stepfather, which led to his interest in racing and building his own cars.
In 1947, after leaving high school a year early, he built a jalopy from a 1937 Ford coupe that he raced on an old cotton field near Romero Road on the northwest side of Tucson. His first paycheck, in a dirt-track race at the Tucson Rodeo grounds, was for 91 cents.
---
Photo: Roger McCluskey, who raced at the Indy 500 multiple times, sits in his race car on Nov. 15, 1962. Arizona Daily Star file photo
No. 42 • Tucson High takes 8 straight state baseball championships in 1940s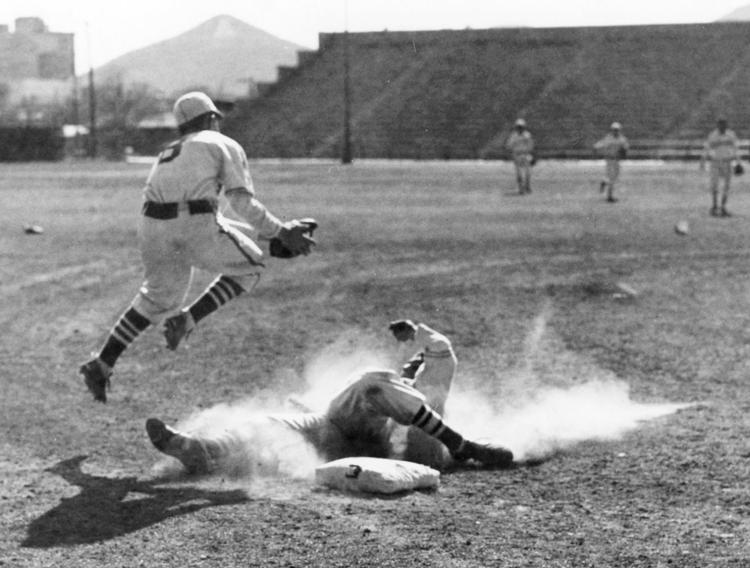 May 3, 1946: Tucson High wins eighth straight state title in baseball
The records created when Tucson High School won the state baseball championship each season from 1939 to 1946 have long confused those who tried to keep up.
The Badgers won a state-record 52 consecutive games against high school competition from 1942-46, but some of that was misleading. Coaches Andy Tolson and Hank Slagle would often play six or eight games a season against the UA freshman team.
A few times they played games against teams from California after they won the state championship.
Sometimes those games would be added to the team's record, such as in 1945, when the Badgers are listed by the AIA to have finished 16-5. In fact, they were 12-0 in high school games.
The Badgers of that era were so good that they won state title games 20-0, 16-0 and 14-0. The only advantage they had was that all eight of those games were played at the UA baseball facility as part of "University Week," at which the state baseball, track and tennis championships were played in Tucson from 1912-1949.
Tucson's streak began, innocently enough, on May 3, 1939, the day after Lou Gehrig's consecutive-games streak of 2,130 games ended for the New York Yankees. As Gehrig tragically ended his baseball career, the Badgers rolled.
What strikes me most about the Badgers of '39 to '46 is how many of their key players became prominent in Tucson long after their high school championships.
The '39 team included star outfielder George Genung, after whom the Amphitheater High School gymnasium is named. Genung, who coached Amphi's basketball team for almost 40 years, was one of the first American soldiers into Hitler's Bavarian retreat, Berchtesgaden.
The '40 Badgers included outfielder Corky Moore, brother of prominent Tucson umpire/official Don Moore. Corky was killed by a Japanese sniper on Iwo Jima.
The '41 club, which went 12-0, not the 20-0 as listed by the AIA, included second baseman Bud Grainger, who went on to twice umpire at the College World Series championship game and work 192 games between Arizona and ASU.
The '42 Badgers included infielder George Bland, youngest brother of UA Sports Hall of Fame quarterback Ted Bland. George scored the winning run in the state championship game against Phoenix North and later became a charter member of the Tucson Conquistadores.
The '43 team was led by Gil Carrillo, who would coach Rincon High School to the 1963, 1964 and 1968 state championship games.
The '44 Badgers included Al Kivel, who has gone on to be one of the most prominent real estate developers in Tucson history.
The '45 THS team included three-time All-State outfielder Bill Hassey, whose son, Ron, caught three perfect games in the major leagues and was a first-team All-American at Arizona in 1976.
The '46 Badgers, who were 16-0 before losing to the San Diego city champions a week after the state title game, might've been as talented as any in Tucson history.
The '46 roster included Brad Tolson, who would go on to win 17 consecutive games as an Arizona Wildcat; Cliff Myrick, who coached Catalina High to the 1967 state championship; Lee Carey, who coached the Badgers to the 1954 and 1955 state championships; Chet Vasey, who hit a state-record seven home runs in 1946; and Bob Murray, who became the UA's first consensus All-American baseball player in 1950.
"We just didn't lose," Grainger told me in a 1999 interview. "Baseball was a way of life for us then. It was a good influence."
Where are they now? Catcher Frank Kempf, who was a first-team All-State catcher in 1942 and 1943, was killed near Berlin as part of an American infantry unit late in World War II.
How they did it: After Andy Tolson coached the Badgers to the 1939, 1940 and 1941 state championships, he became the principal at Tucson High. He was replaced by Hank Slagle, who played four seasons in the minor leagues before returning to Tucson.
Slagle, who hit .507 as a UA catcher in 1937, coached 10 state baseball championships at THS and retired with a 161-37 record. Incredibly, Slagle has yet to be inducted into the Arizona Coaches Association Hall of Fame. After being principal at Rincon and Santa Rita high schools, he died in 2004; he was 88.
---
Photo: Tucson High's Bill Hassey slides into third base during a 1945 Tucson High School baseball game. Arizona Daily Star file photo
No. 41 • Yankees DiMaggio, Mantle play at Hi Corbett in Tucson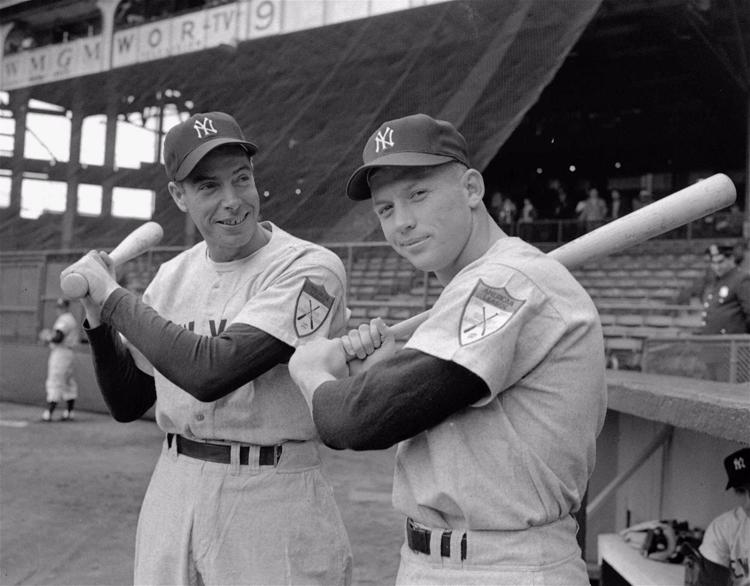 March 10, 1951: New York Yankees play at Randolph Park 
Tucson mayor J.O. Niemann stood on a platform at Armory Park on an early March afternoon in 1951, celebrating the Cleveland Indians arrival for the spring training baseball season.
It was the Indians' fifth season in Tucson and the occasion was marked by a downtown parade in which all of the Indians players and coaches rode to Armory Park in shiny new convertibles.
Bands from Davis-Monthan Air Force Base and Amphitheater High School played; hundreds of Tucsonans listened to speeches by Indians executives. After that, the mayor thanked all for attending and added this punch-line:
"Next Saturday afternoon at Randolph Park, the Indians will open the season by playing the New York Yankees."
According to newspaper reports, the ovation was so loud it all but shook oranges off the trees at Armory Park.
The Yankees of the '50s were the biggest name in American sports. They had never played a spring training game west of Texas, but in 1951 New York owner Del Webb, who was developing his Sun City empire in Phoenix, successfully persuaded New York Giants owner Horace Stoneham to swap spring training facilities for one year.
The Giants went to Florida; the Yankees to Phoenix.
That meant the Yankees would play in Tucson on March 10 and March 12, and four days before the March 10 game, a Saturday, all tickets were sold. A record crowd of 5,380 squeezed into Randolph Park and fans weren't disappointed.
The Yankees brought all of their big names: Joe DiMaggio, Phil Rizzuto, Yogi Berra and 19-year-old rookie Mickey Mantle, playing his first game in a Yankees uniform. The only missing piece was Whitey Ford, who spent the 1951 season in the Army.
When the sellout crowd settled into the stadium that afternoon, they couldn't have imagined that 15 future Hall of Famers were in the ballpark.
The Yankees had six: Mantle, DiMaggio, Rizzuto, Berra, outfielder Johnny Mize and manager Casey Stengel.
But incredibly, it was the Indians, favored to win the 1951 American League championship, who had the most (nine) future Hall of Famers in their dugout.
Bill Veeck, the owner.
Hank Greenberg, the GM.
Al Lopez, the manager.
Pitcher Bob Feller.
Pitching coach Red Ruffing.
Hitting coach Al Simmons.
Outfielder Larry Doby.
Pitcher Early Wynn.
Pitcher Bob Lemon.
Through six decades of spring training baseball here, it was surely the largest gathering of Hall of Famers in Tucson history.
The Yankees won the Saturday afternoon opener, 6-5 in 12 innings. Mantle, a 19-year-old rookie, had three hits. DiMaggio lined out to shortstop as a pinch-hitter.
A day later, the teams drove to Phoenix as the Yankees made their debut in downtown Phoenix before a crowd of 7,398. Then the teams returned to Tucson for a Monday afternoon game, in which Mantle again got three hits; the Yankees won 10-8 in 10 innings. DiMaggio, who was playing his final season for the Yankees, walked in a pinch-hitting appearance. Only 2,333 attended Monday's game.
Even though the Yankees and Indians were the only MLB spring training teams based in Arizona in 1951, they would not meet again in Tucson. Immediately after the March 12 game at Randolph Park, the Yankees and Indians began an 11-game, 12-day swing through Los Angeles, San Francisco, Sacramento and Oakland, mostly against Pacific Coast League teams.
Randolph Park was unoccupied for 15 days.
A year later, the Yankees returned to Florida and did not play another game in Arizona until the 2001 World Series in downtown Phoenix.
Where are they now: The Indians continued staging spring training in Tucson until 1992. Now they train at Goodyear Ballpark outside Phoenix, sharing the facility with the Cincinnati Reds.
How they did it: The Indians openly discussed leaving Tucson as a spring training site as early as 1951. Veeck told the Star "Will we be back? Why, we haven't even been invited. We'll see what our options are."
Upon reading Veeck's comments, Tucson real estate developer Roy Drachman, who was a key part of bringing spring training to Tucson, went into his business mode:
"We prefer to have Cleveland train here," he said. "But if the Indians can't see their way to stay, we want to know by April 1. We'll try to get someone else to train here. From the results that Cleveland has gotten from spring training here, we have the proof necessary to interest other major league teams in coming to Tucson."
---
Photo: FILE — Joe DiMaggio, left, New York Yankees' star center fielder, and Mickey Mantle, right, who hopes to duplicate Joe's success, shoulder bats for a picture at Ebbets Field in Brooklyn, N.Y., April 14, 1951, where the Yankees met the Brooklyn Dodgers in an exhibition game that marked Mantle's New York debut. (AP Photos/File)
No. 40 • Arizona wins third College World Series championship in 1986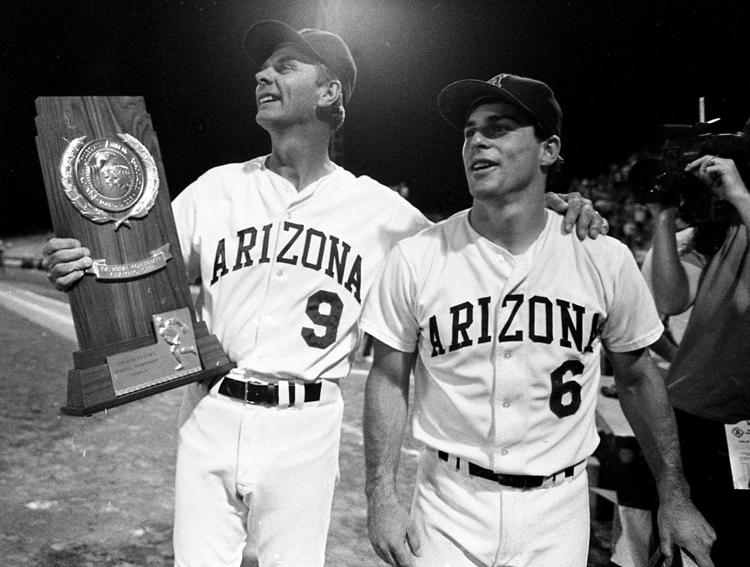 June 9, 1986: Arizona wins its third College World Series title 
On the day Arizona reached Omaha to play in the 1986 College World Series, reserve outfielder Dave Shermet injured his thumb while catching a line drive in batting practice.
"I took a couple of cuts that day (Wednesday) and was barely able to hold the bat," Shermet said. "I was not swinging with any authority and was scared to death of an inside pitch."
Shermet's sore thumb wasn't regarded as big news because the No. 5 Wildcats hadn't used Shermet as a starting outfielder for two months. He had batted just seven times since April 2.
"I iced my thumb all day Friday," he said. "You could still see seam marks from the ball."
In their CWS opener against Maine that night, the Wildcats weren't likely to need Shermet anyway. The starting pitcher was Nogales junior Gil Heredia, 15-3, who had tied the school record for victories. The Wildcats had a team batting average of .337, highest at the school since 1957, and, behind 15 home runs from first baseman Todd Trafton, the most team home runs in school history.
Further, behind second baseman Tommy Hinzo's 45 stolen bases, the Wildcats led the nation in steals, setting another school record (with 147).
And no one was glassy-eyed by the competition. Arizona returned eight starters from the 1985 CWS, including future MLB infielders Chip Hale and Dave Rohde.
"Last year, we were looking at everybody," Hale said before the opener against Maine. "We were going 'hey, there's Texas, hey, there's Oklahoma State.' We were just content to be there. We didn't have the type of team that could win it. This year we do."
And then Maine climbed all over Heredia and took a 7-0 lead.
It remained that way going to the bottom of the seventh.
"I was very doubtful we could come back," said right fielder Gar Millay. "I thought we'd get some runs, but not eight."
Millay and Trafton both hit two-run homers in the eighth to chop Maine's lead to 7-5. The UA was in such a stressful situation that it had to pinch-hit for star catcher Steve Strong, who had a broken knuckle. Strong hit .423 in the regular season, leading the Pac-10, but couldn't properly grip the bat in Omaha. He was replaced by seldom-used Dave Taylor.
When Taylor was announced as the UA hitter in the bottom of the ninth – two outs, with outfielder Mike Senne on second base – it was a 7-6 game. Arizona coach Jerry Kindall told Shermet to get a bat.
It was serendipity, or something like that.
On a 3-2 pitch, Shermet hit a home run over the left-field fence. Arizona won 8-7. Most of the writers wrote lead paragraphs that said something about "Remember Maine."
Maine has mostly been forgotten, but Shermet's dramatic, walk-off home run remains the most singular at-bat in UA baseball history.
"The pitch was right down the middle," he said that night. "You couldn't have walked the ball to the plate and put it in a better spot."
Given such a great escape, Arizona rolled to the national championship. It beat Loyola-Marymount 7-5 two days later and then mashed No. 1 Florida State 9-5 as Heredia won his school-record 16th game. After losing to Miami 4-2, the Wildcats clobbered Florida State in a rematch, 10-2 in the title game.
The team that began the season No. 3 nationally, was No. 1.
Where are they now: Shermet, who spent 22 years as a cruise director of 20 different ships, traveling the world, now works near his hometown, in Laguna Beach, California. He is co-founder of Laguna Beach Free Walking Tours, an art, history and culture company. Millay, who played six years of minor-league baseball, died of brain cancer in his hometown, San Diego, in 2011.
How they did it: Kindall's third CWS championship team was so talented that Rohde, a future MLB shortstop, batted ninth. Rohde is now a vice-president of an accounting/auditing firm in Denver.
Senne, who was the MVP of the 1986 World Series, hit .476 in Omaha and .521 in the postseason. Sahuaro High grad Joel Estes, who became the school's career saves leader, was so effective in the postseason that he pitched 8ª innings of relief to beat No. 4 Texas in the regional held in Austin, Texas.
---
Photo: University of Arizona head coach Jerry Kindall, left, celebrates with Chip Hale after Arizona beat Florida State, 10-2, on June 9, 1986 to win the NCAA College World Series in Omaha. Photo by Bruce McClelland / Arizona Daily Star
No. 39 • Pima softball notches 71 wins on way to NJCAA championship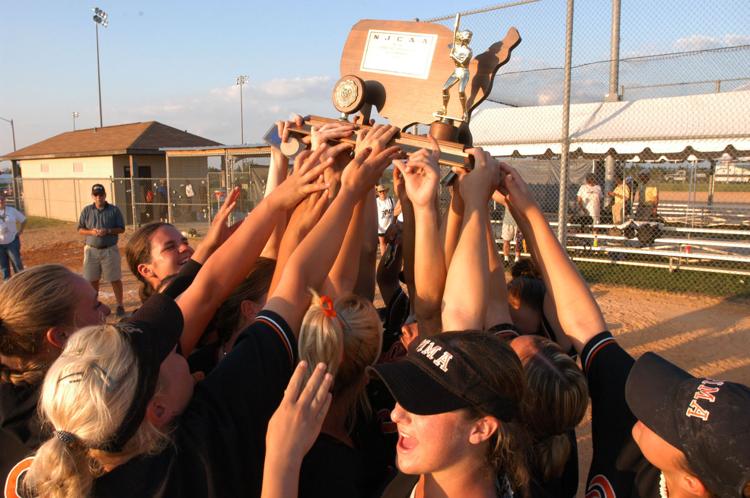 May 26, 2004: Pima College wins the first of two NJCAA softball national championships
The 2004 NJCAA women's softball World Series was played at a muni-type four-plex just outside Orlando, Florida. There were few bleachers, less shade, and virtually no chance for Pima College to win the national championship.
When the Aztecs arrived (through the loser's bracket) at the modest facility in Clermont, Florida, on the Saturday morning of Memorial Day weekend, they faced a schedule like none in school history.
At 10 a.m., they would play Indian Hills College of Iowa.
If they won that game, they would play Indian River College of Florida.
If they won that game, they would play Florida Gulf Coast College, the nation's No. 1 team.
Improbably, if PCC won all three of those games, they would then meet Florida Gulf Coast again in a winner-take-all championship game.
It was about 5:30 p.m. when the Aztecs and Florida Gulf Coast took the field for the fourth game of the day. Temperatures had been in the 90s all day and it took such a toll on the players (and spectators) that Pima's All-ACCAC shortstop Rebecca Lesback was treated for heat exhaustion. Catcher Angela Guerra could barely walk on a bad knee.
Lesback, a .413 hitter who would become a first-team All-American, played anyway. Guerra would drive in the day's most important run.
That's the way it was for coach Stacy Iveson's Aztecs. Nothing stopped them in 2004.
The Aztecs went 4-0 that day, beating Indian Hills 8-0; Indian River 7-0; FGCC 12-0; and, in a thrilling championship game, 1-0, in extra innings, on Guerra's single in the eighth inning.
"I think everybody's exhausted," Lesback, a Salpointe Catholic grad, told me after the game. "But I know I'll never forget what we did and what it took to become champions."
The Aztecs finished 70-8 and had a 35-game winning streak during the season. Fifteen of the 18 players PCC took to Florida were from Southern Arizona. Four of the first-team All-Americans were Tucsonans: Lesback; first baseman Ashley Monceaux of Flowing Wells; third baseman Lisa Parks of Sahuaro; and right fielder Kendra Palmer of Salpointe. Left-fielder Miriam Romero of Douglas hit .425 with 44 stolen bases.
The pitching staff was an All-Tucson duo: Sahuaro's Nikki Johnson went 22-1 and Catalina Foothills' Veronica Ralston 27-3.
"We established that we can win with local girls," said Iveson, a Catalina High grad who played on Mike Candrea's first Arizona teams, 1986-89. "I don't think you've seen the last of Pima College, either."
Iveson was right. Two years later, Pima College won another NJCAA national title, finishing 60-10, behind Salpointe catcher Amanda Duran, who set a national record with 109 RBIs, and World Series MVP Dana Alcocer, a pitcher from Canyon del Oro.
Where are they now: Palmer (now Kendra Palmer Forgacs) is principal of Desert Willow Elementary school in Vail. Monceaux, who was an All-Big 12 first baseman at Baylor and coached at Evansville, is the softball coach at Mountain View High School.
How they did it: Iveson is the leading name in Tucson women's softball history. She was pitching coach of the UA from 1995-2001, a period in which the school won three national championships as she coached Jennie Finch and Nancy Evans, both first-team All-Americans. Iveson also coached Salpointe Catholic to the 1993 state championship.
In Iveson's four years at Pima College, she went 253-88. She left in 2008 to become head coach at rival Yavapai College. The Roughriders went 213-44 in her four years in Prescott, winning NJCAA national championships in 2009 and 2011. She returned to the UA as an assistant coach in 2012.
---
Photo: Pima softball players hoist the championship trophy after winning their final championship game against Gulf Coast Community College in Clermont, Fla., Saturday, May 22, 2004. Pima won, 1-0. (AP Photo/Phelan M. Ebenhack)
No. 38 • UA pitcher Heist fans 21 batters in 1940 game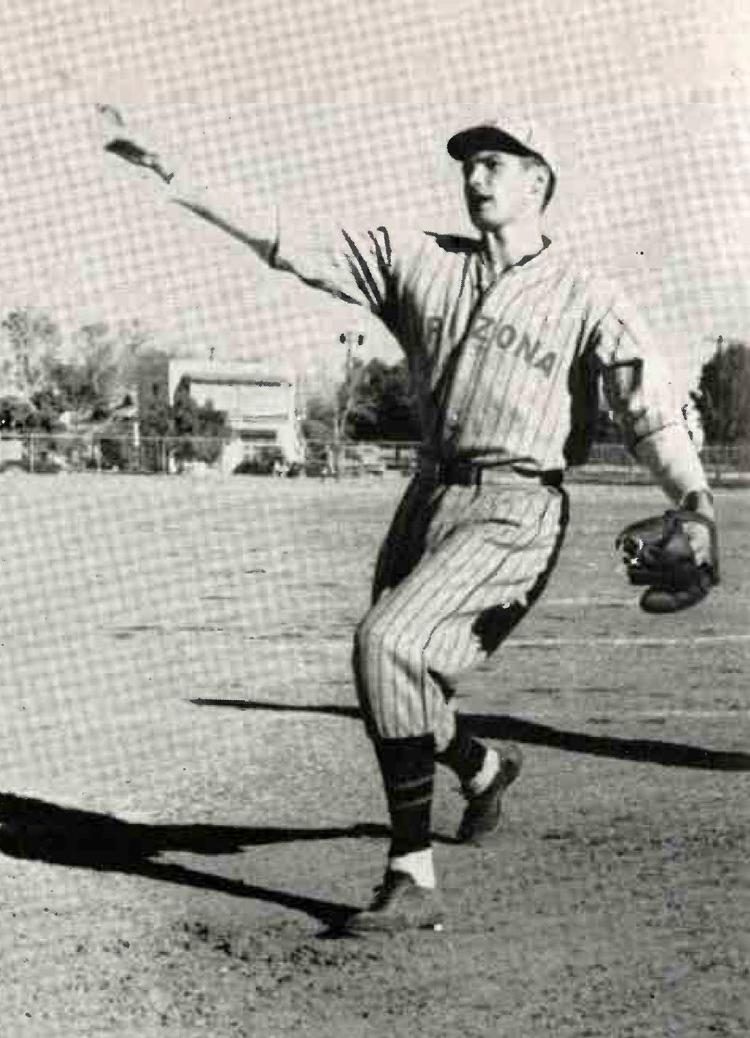 April 26, 1940: Ken Heist strikes out record 21 batters
The last time he pitched against Arizona State, Kenny Heist gave up 13 hits and lost to the Sun Devils — then called the Bulldogs — 5-4.
It was the UA's last game against ASU that year, and the first time Arizona State had beaten Arizona in six years, since 1934. There would be no chance to erase that nagging feeling of defeat.
Or would there?
Arizona coach Pop McKale scheduled a three-game road trip to Hermosillo, Mexico, playing that region's all-star team. After the long bus ride, Heist pitched the opener in Hermosillo, struck out 16 batters and pitched a three-hitter.
Those 16 strikeouts broke the UA school record.
Once the Wildcats returned to Tucson, Heist pitched his final varsity game at Arizona. It would be for the Border Conference championship against New Mexico.
This time he struck out 21, which remains a school record, although it wasn't always well-remembered.
In the UA's 1981 baseball media guide, it listed the school's strikeout record as 20, shared by Leon Hooten, 1969, and Dan Schneider, 1962.
Ultimately, Arizona's sports information staff did the appropriate research and have corrected the record books. Kenny Heist, a right-hander who grew up in Buffalo, New York, and moved to Tucson in 1937 to live with his mother, hasn't been challenged for more than 40 years.
Not that he spent the rest of his life telling friends and family members about his exploits as a UA pitcher, specifically the night in 1940 when he struck out 21 Lobos.
"My dad had a lot of John Wayne in him," his son, Ken Heist Jr. said last week. "He didn't blow his own horn or talk much about his days at Arizona. We knew he played baseball and reached the minor leagues, but he never said a word about that strikeout record."
The Star's account of Heist's 21-strikeout performance included a headline that said "scintillating."
"Burning 'em over with a rocket-like velocity, Kenny mowed the Lobos down in almost mechanical manner," it reported. "Only 19 men faced him during the first six innings."
Not many watched the game on the UA campus on a field that is now the main library. The box score listed attendance at 500.
Heist struck out the side in the ninth inning to preserve his shutout in the 8-0 victory. The Lobos finished with four singles.
"The (Lobos) would have been just as well off waving flags as bats," the Star reported.
Heist had one more big game for the Wildcats. McKale typically completed each season of that era with a best-of-seven "Civil War" series against the UA freshman team. Heist lost the opener to the UA freshmen 4-2 and then, pitching on two days' rest, beat the freshman team with a two-hitter, striking out 12.
It was his final appearance as a Wildcat. He then pitched two years in Single-A with Rocky Mount and Greensboro in North Carolina. It was there he met his future wife, LaBruce, who represented South Carolina in the 1940 Miss America contest.
"My dad injured his elbow while pitching in the minor leagues and that basically ended his career," his son said. "The medical techniques of the day couldn't successfully rehabilitate his arm."
Where are they now: Heist died in 2004 in Greenville, South Carolina, where he lived most of his life after leaving Tucson. He served in the Army Air Corps in World War II and ultimately retired as a Lieutenant Colonel in 1978. He was part of the Tactical Air Command Historical Office, and once wrote "The History of the Ninth Air Force."
How he did it: Washington's Daryl Burke struck out 22 batters against Pacific Lutheran in 1958, and Arizona State's Sterling Slaughter struck out 22 against Colorado State five years later. The NCAA record is 26, set by Miami of Ohio's Buddy Schultz in 1971 against Wright State. Heist's 21-strikeout performance against New Mexico is believed to have been the NCAA record until Burke and, later, Slaughter dominated on the mound.
---
Photo: University of Arizona baseball pitcher Ken Heist in 1940. Photo from Desert Yearbook / UA Special Collections
No. 37 • Arizona's Baena leads Cats to 1996 NCAA golf title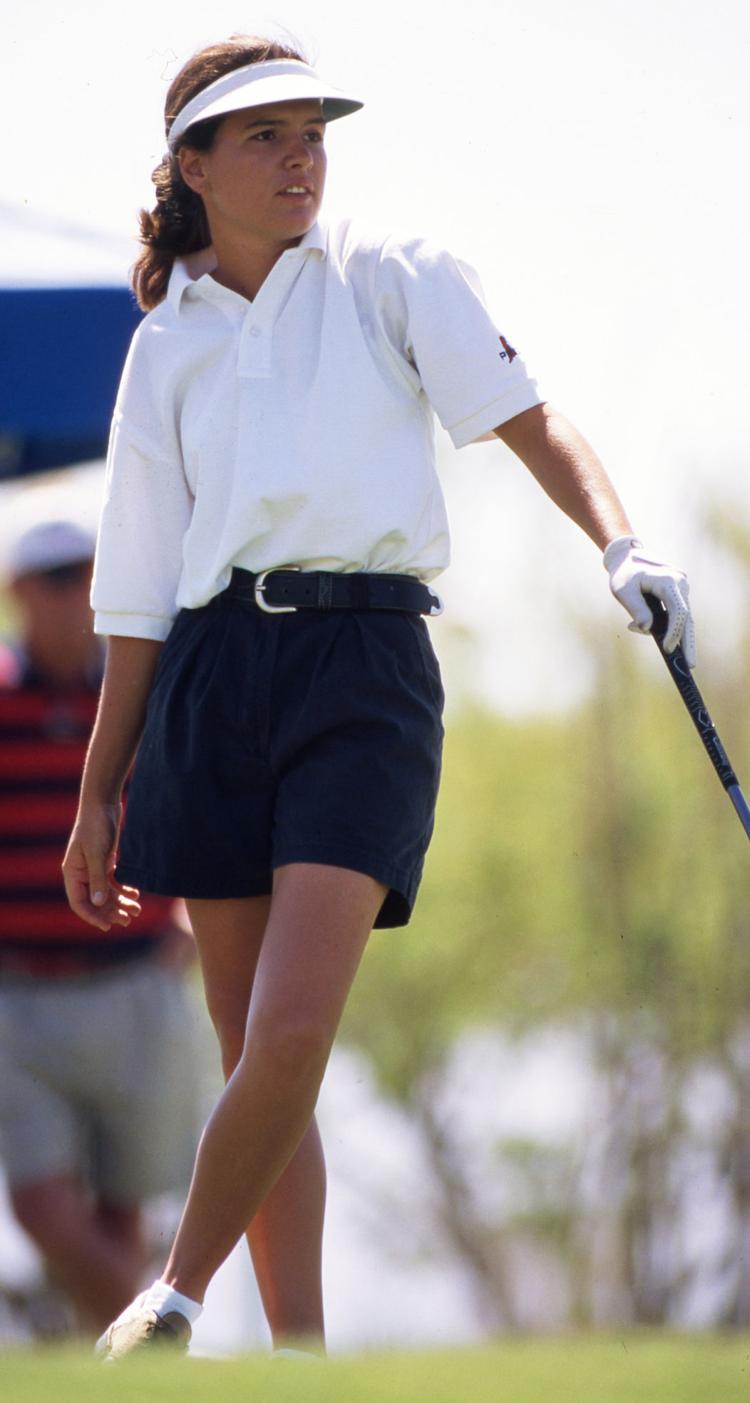 May 25, 1996: Arizona wins women's NCAA golf title on Marisa Baena's sudden-death eagle
Details that have been forgotten over the last 20 years: On the final hole of regulation at the 1996 NCAA women's golf championship, Arizona's Marisa Baena missed a birdie putt that would've made the Wildcats national champions.
After four days and 72 holes, Arizona and San Jose State ended in a tie, each with 1,240 strokes. There was some confusion as NCAA marshals ordered four Wildcats and four Spartans to play an aggregate, sudden-death playoff.
On the first extra hole, Arizona's Heather Graff, Krissie Register and Jeanne Anne Krizman combined for 13 strokes. The San Jose State foursome shot a combined 16.
Baena, a freshman who had already won the NCAA individual title by a whopping seven strokes, stood 147 yards away from the 18th green, ready to hit her second shot. Just at that moment, the TV crew following Baena did an untimely personation of the Keystone Cops.
She stepped away from the ball four times as cameramen scrambled for a better angle. Anyone else might've freaked out, but the freshman from Pereira, Colombia, thought it was funny. She chuckled.
"Marisa's a world-class smiler," UA coach Rick LaRose told me. "If she was nervous, you couldn't tell."
Baena's 7-iron shot bounced onto the green at the La Quinta (California) Dunes Course and into the cup for an eagle. The Wildcats won the NCAA title by a stroke.
"That's probably the greatest clutch shot in collegiate golf history," said LaRose, who also coached Arizona to the 1992 men's national title. "Given the pressure and the circumstances, I can't think of anything to top it."
Arizona's women's golf program has been stocked with star-level players, from Annika Sorenstam and Lorena Ochoa, to LPGA majors winner Christa Johnson and NCAA individual champions Susan Slaughter and Jenna Daniels.
But you can make a case that in 1996 and 1997, Baena was best of all, spending time ranked as the No. 1 female amateur in the world, finishing second at the U.S. Women's Amateur and being selected the NCAA Player of the Year both years.
Baena won 10 tournaments in her three seasons at Arizona, even though her final year 1997-98, was marred by a serious shoulder injury (thoracic outlet syndrome), which kept her idle for five months and probably damaged her future years on the LPGA Tour.
But what she accomplished at the 1996 NCAA finals ranks as one of the most singular moments in UA sports history. An eagle to win the national title? C'mon, who does that?
Baena was an exchange student, attending Dixie High School in St. George, Utah, when LaRose began to recruit her. She had won the Junior World championship in 1991 and 1993 and wanted to move to the United States to learn English and prepare for a life on the LGPA Tour.
She hoped to attend UCLA but when she called Bruins coach Jackie Steinmann, the Bruins said they didn't have an available scholarship. Even LaRose was slow to recruit her.
"We didn't know if she could handle (the English) language," LaRose told me. "When she got to high school in Utah, she could barely speak a word."
As it turns out, Baena became a personality like few others on the UA campus. She was an upbeat, glad-to-meet-you charmer. She liked the UA and Tucson so much that her sister, Cristina, moved to Tucson and led Canyon del Oro High School to the 1997 state championship. Cristina was part of the UA's 2000 NCAA championship team.
Where is she now: Marisa Baena's pro career included just one LPGA victory, the 2005 HSBC Women's World Match Play, in which she won $500,000, then the largest winner's check in tour history. She earned $1.98 million as a pro and effectively quit playing regularly in 2008 after she married Colombian businessman Juan Aristizabal. She has two children, lives in Dallas, and does charity work for junior golfers.
How she did it: "I never take golf as an obsession," Baena told Sports Illustrated in 1997. "My life and my golf game I like to keep separate. If I win or lose on the course, I like to live like everyone else. I am not somebody who spends four hours on the driving range," she told the magazine.
"When the coach says, 'Take a day off,' I will. I'm gone."
---
Photo: Marisa Baena led the University of Arizona golf team to the NCAA golf championship on April 24, 1996 in Tucson. Photo by Linda Seeger Salazar / Arizona Daily Star
No. 36 • UA's Bates takes bronze at 1992 Olympics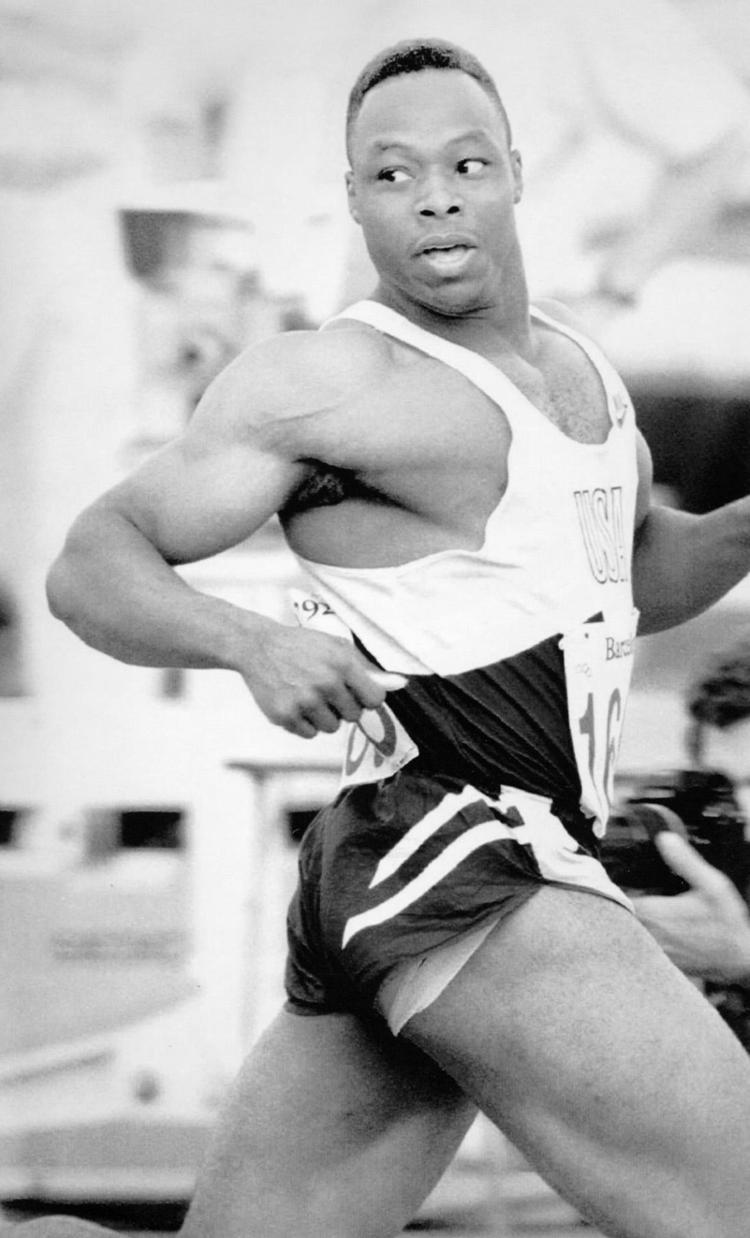 Aug. 5, 1992: Michael Bates wins bronze medal at Barcelona Olympics
The earliest I ever recall walking into the Arizona Daily Star newsroom was 7 a.m., on college football letter-of-intent day, 1989.
It would be the day Amphitheater High School running back and sprinter Michael Bates chose a school. Arizona? ASU? USC? Virtually every publication ranked Bates as the No. 1 prospect in the West.
The phone began to ring as soon as I took a seat.
"Where's Bates going?" the voice said.
It was like that all morning.
"Did Bates pick Arizona?"
Bates was such a talent — in my research and in my opinion, he is the leading athlete in Tucson history — that some people said he could win an Olympic medal and play in the NFL's Pro Bowl.
Yes and yes. He would do both.
Bates chose to play for Arizona coach Dick Tomey that February morning 27 years ago, and although he played just two seasons for the Wildcats, becoming an All-Pac-10 kick returner and the league's two-time track and field male athlete of the year, he was inscrutable, private and soft-spoken.
You could see it coming during his days at Amphi. Bates was probably the greatest sprinter in state history during his sophomore and junior years as a Panther, setting state records in the 100 meters (10.34) and 200 meters (20.68) and then choosing to bypass his senior year of competition, disputing some archaic scheduling rules by the Arizona Interscholastic Association.
By then, Bates had already made his mark.
He rushed for 1,557 yards in his senior football season even though injured. He played just eight games. The Panthers of that era, under Vern Friedli, were so dominant that Bates rarely played a full game. In the state playoff opener of '88, Bates played just the first half against Phoenix Trevor Browne and scored four touchdowns; he was tackled only twice.
The intrigue about Bates was always thick with the unknown: Would he choose football or track?
He chose both.
Arizona made him a receiver and kick returner — he scored on a 97-yard kickoff return against Washington State in 1990 — and Tomey referred to him as "the toughest fast guy I've ever coached."
That would be Bates' hallmark when he reached the NFL. He was five times (1996-2000) a Pro Bowl special-teams player, noted not just for his kickoff returns (9,110 career yards and five touchdowns in an 11-year career) but for being the top kickoff coverage man in the NFL.
Yet looking back, I suspect the greatest day of Bates' career had nothing to do with football. It was June 28,1993, on a hot and humid day in New Orleans. That's the day he beat six-time Olympic gold medalist Carl Lewis to get the final spot on the USA Olympic 200-meter team.
It was considered remarkable, if only because Bates had fully concentrated on being a sprinter for only one season since leaving the UA football program. His opponents had been full-time sprinters for years. Bates ran 20.14 seconds; Lewis was fourth by a whisker in 20.15.
"I made the right decision," Bates told reporters when asked about choosing track over football. "Look where I am now."
Six weeks later at the Barcelona Olympics, Bates and then-UA sprint coach Fred Harvey were stunned and disappointed when Bates was given Lane 1 for the 200-meter finals. Rarely does an Olympic sprinter win a medal unless running in the middle of the track, in lanes 3-4-5-6.
"Michael would've won the silver had he gotten a better lane assignment," Harvey told me. "He had the tightest turn. It's such a disadvantage. What he did was remarkable.
"The significance of this, is that Michael was a person on the outside of the track community. He was just trying to get into meets. He had the talent but not the, quote, titles, unquote. It's amazing because he finished sixth in two consecutive NCAA 200-meter races (in 1990 and 1991) and now, suddenly, here he is an Olympic medalist."
The payoff? Bates put on a Seattle Seahawks cap during the medal ceremony in Barcelona. The Seahawks had drafted him the sixth round a few months earlier, hopeful that he would return to football after the Olympics.
Bates skipped the 1992 NFL season, reshaped his body for football and reported to Seattle's training camp in 1993. By 1996, playing for Carolina, he made the first of five consecutive Pro Bowls.
Where is he now: Bates lives in Tucson and has worked mostly as a personal trainer. His youngest brother, Mario Bates, an All-Pac-10 running back at ASU in 1993, played seven NFL seasons and gained 3,048 yards.
How he did it: After winning the bronze medal in Barcelona, Bates pumped his fists in celebration. It was one of the few times he showed his emotions during a football game or a track meet.
"I told him, 'You said you wouldn't let Lane1 bother you, and you didn't,'" said Harvey. "He was as emotional as I've seen him. But that was really about the extent of it."
---
Photo: UA's Michael Bates in the 200 meter at the 1992 Barcelona Olympics. Handout photo
No. 35 • Tucson High's Daniels becomes city's first black football player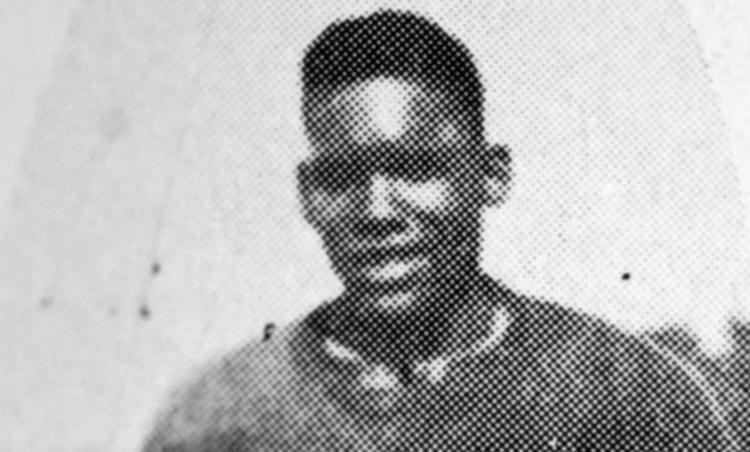 Nov. 21, 1925: Hayzel Daniels gains state-record 301 yards
Early in the 20th century, no high school football game in Tucson had been more anticipated than the Oct. 16, 1926, showdown between Tucson High and El Paso High School. Extra bleachers were erected next to the Badgers' field, but there was a troubling piece of news.
The last paragraph of the Star's game preview said: "Hayzel Daniels, the Ebony Flash Badger halfback, will not participate Saturday because of a ruling in El Paso that prevents teams from that school playing with or against players of a colored race."
When the Texas team arrived for pregame drills, Daniels was in uniform, working out with the Badgers. The El Paso coach asked THS coach Syl Paulus why Daniels was on the field.
As the story was told to me 30 years ago by Martin Gentry, a 1920s Badger/UA linemen, then a Bisbee attorney, Paulus said: "Why, he's our best player."
"We're not playing against a colored player," the El Paso coach replied.
"Then I guess you better get on your bus and drive back to Texas," said Paulus.
The game went on; Tucson won 12-7. Daniels scored the deciding touchdown.
Hayzel Daniels was the state's Player of the Year in 1925 and 1926. He had not been permitted to play in a 1925 game in El Paso — Texas college football teams had a similar racial barrier — but once he returned to Tucson his legend grew.
On Nov. 21, 1925, he gained 301 yards against Bisbee, a state record that stood for 62 years. The Star's account of that game included a play-by-play:
Daniels rushed 12 times for 94 yards in the first quarter.
Eight times for 68 yards in the second quarter.
Ten times for 79 yards in the third quarter.
Eight times for 60 yards in the fourth quarter.
Long before Grantland Rice referred to Notre Dame's running backs as "The Four Horsemen," the Star called Tucson's running backs "The Four Cowboys."
But on that night against Bisbee, two of the Cowboys, Butch Caid and Gyp Manzo, were injured and couldn't play. So Daniels became a wrecking crew of one.
A year later, in his final high school football game, against Douglas, Daniels gained 300 yards in a 66-6 victory over Nogales. The Star's headline said:
"Badgers' Flying Ebony Romps Over Apaches"
Daniels is believed to have been the first African-American to play any sport at Tucson High School, then the only high school in Tucson. He was born in Fort Clark, Texas, in 1907 and moved with his family to Tucson in 1913 when his father was employed at Fort Huachuca.
Daniels gained 1,632 yards as a THS junior in 1925, a city record that stood until the mid-1980s. His best game wasn't viewed as either of his 300-yard performances, or leading the Badgers past El Paso High, but a 1926 game against Phoenix Union when the Badgers broke a 14-year losing streak to what was then the state's runaway football powerhouse.
Before a sellout crowd at THS that night, Daniels scored the winning touchdown in a 13-12 game.
Unfortunately, UA football coach Pop McKale did not recruit Daniels. He told the Star that Arizona's Texas opponents refused to play against African-Americans, and it would create significant problems. (The UA, however, played against only two Texas teams, Rice and UTEP, during what would've been Daniels' varsity career.)
Daniels, who did play one season on the UA freshman team, left school in frustration. He got jobs busing dishes, working as a switchboard operator at the upscale Old Pueblo Club, and as a handyman.
He enrolled at Arizona in the mid-1930s, earned a degree in 1939 and got a teaching job at Fort Huachuca. After World War II, he used the GI Bill to enroll in the UA Law School and become its first African-American graduate.
Where are they now? Daniels, who in 1950 became the first African-American elected to the Arizona Legislature, practiced law in Phoenix until 1965, when he became a judge. He died in 1992.
How he did it: Gentry told me that UA basketball players Morris Udall and Stewart Udall urged Daniels to remain in Arizona after graduating from law school. "Hayzel was such a forceful personality," said Gentry. "The Udall brothers thought he could become a pioneer in legal work the way he had in football."
In 1953, Daniels successfully argued against segregation in the (Phoenix) Wilson Elementary School District. As a result, Judge Charles C. Bernstein ruled that segregation in public schools was an unconstitutional violation of the 14th Amendment. The U.S. Supreme Court used Bernstein's ruling to inform its landmark 1954 Brown v. Board of Education decision.
Daniels went on to serve as the first black assistant Arizona state attorney general and was appointed Phoenix City Court judge in 1965, becoming the first black judge in Arizona. Daniels belonged to the Arizona Black Lawyers Association, which changed its name to the Hayzel B. Daniels Bar Association in 1993.
---
Photo: Tucson High School football player Hayzel Daniels circa 1927. Photo courtesy of Tucson High School
No. 34 • Tucsonan, UA All-American Lenoir plays at Wimbledon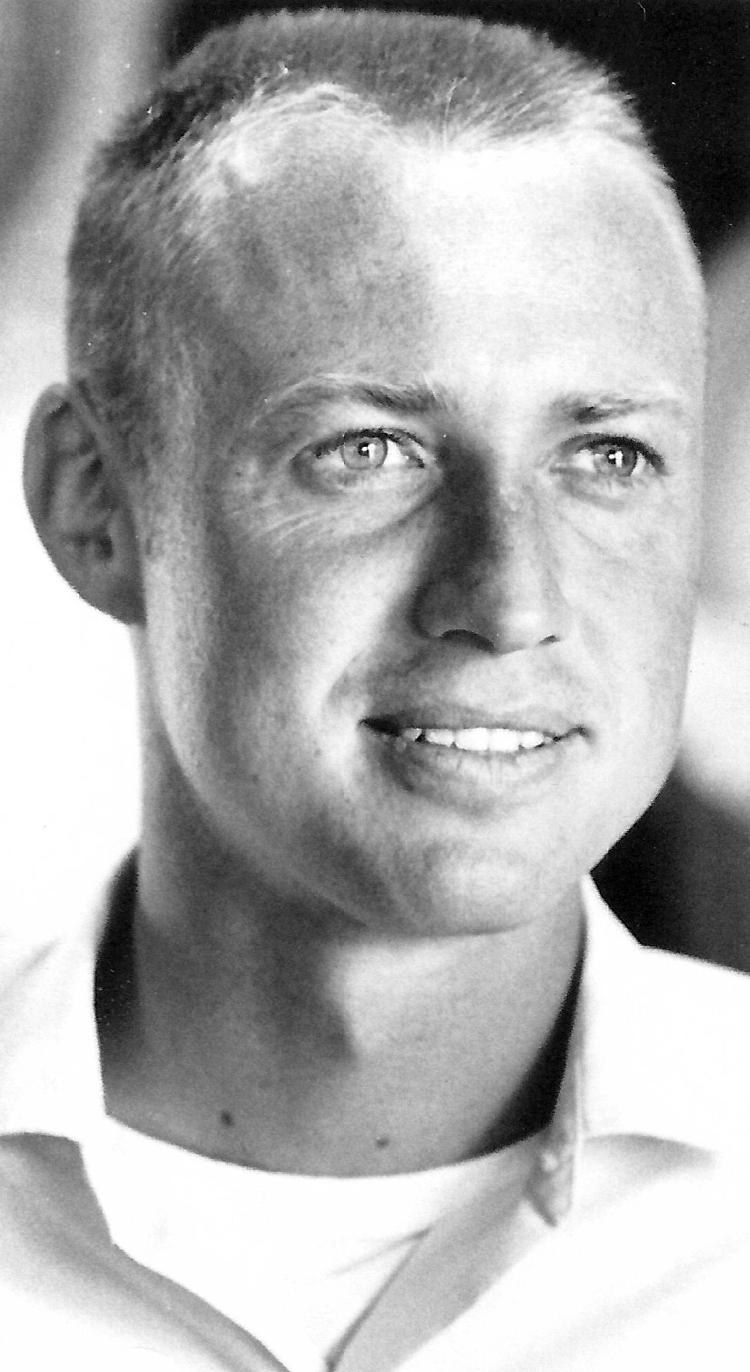 June 23, 1960: Bill Lenoir wins U.S. Junior Tennis Championship
Boys tennis players from Tucson have won 71 state singles championships. Some of them won four times, like The Gregory School's Pat Brick; some won three, like Rincon's Sudhaker Kosaraju, and a few won two, like Rincon's David Tzou.
It's almost poetry.
By any pronunciation, it's as impressive as any sports lineage in Tucson prep sports, dating from the first title, Tucson High's Merle Moore in 1928, to the last, Salpointe Catholic's Yash Parikh, 2016.
Tucson brothers have won state tennis championships — Palo Verde's Dominic and Carlos Bermudez; and Flowing Wells' Chris and Mark Evanson — and so have a father and a son, Sabino's Mike Lee and later, Catalina Foothills' aptly named Mike Lee.
Tucson state tennis titles have been won by the father of a major-league shortstop, Catalina's Mark Hardy (Orioles shortstop J.J. Hardy is his son), and by young men named Loveless, Tripp, Brewster and, more recently, Sri.
At the top of that list of 71 champions is a four-letter word in capital letters: BILL.
Bill Lenoir won the state championship for Tucson High in 1959 and 1960. In the summer of his senior year, he won the U.S. Junior National championship in Charlottesville, Virginia. He was just getting started.
Over the next six years, Lenoir would play at Wimbledon in 1963 and 1965, beat Arthur Ashe, Stan Smith, Dennis Ralston and Cliff Richey and three times become a first-team All-American at Arizona.
There's more: Lenoir, the son of a UA professor, was ranked in the top 20 by the United States Tennis Association five years in succession, chosen to the U.S. junior Davis Cup during a period he was ranked No. 1 for those 18-under.
The biggest local crowd to ever watch Lenoir play tennis came in the fall of 1964, when UCLA's great Arthur Ashe joined Lenoir and NCAA champion Rafael Osuna in a series of matches at the Tucson Country Club.
Lenoir didn't disappoint. He beat Osuna 9-7 and lost to Ashe 8-6. It might've been the most rousing day of tennis in Tucson history.
Lenoir was such a highly respected tennis figure, an ahead-of-his-time, double-fisted baseline player, that he was named the UA's head tennis coach when he was only 25. His team had a 16-3 record, best in school history, finishing No. 4 in the NCAA. Lenoir coached while he completed his master's degree (engineering) and maintained a 3.75 GPA through his college days.
Surprisingly, in a 1995 interview, he told me he left too much on the table.
"I'm mad at myself for not really going after it," he said, laughing lightly. "I quit too soon. I didn't reach my peak in tennis. I should've been better than I was."
He got married, started a family and, in the prime of his career, chose not to play in the 1965 U.S. Open.
"I had to get back for teaching and so did my wife. I'm tired," he told the Star in '65 after playing in five European events. "This winter I'm going to concentrate on my job teaching math at the UA. I'll play some tennis against the varsity team and try to point for next summer."
When he stopped playing regularly, Lenoir was ranked No. 19 in the U.S.
What came next was most unexpected of all: He agreed to become the head tennis coach at rival Arizona State, where he stayed from 1966-72.
"It was a very intense rivalry, but I knew what I was getting into," he told me in 1995. "I'm a Wildcat, but at the time it was the right thing for me to do. I was getting my doctorate and ASU was accommodating."
Where are they now? After 21 years as the head tennis pro at the Tampa Yacht and Country Club, Lenoir died of thyroid cancer in 2007. He was just 64. Earlier, he was the head pro at Scottsdale's Chaparral Racquet Club.
How he did it: As a 1962 All-American at Arizona, Lenoir drew the praise of UA coach Dave Snyder, who said "when I have my players take 10 laps around the field, Lenoir takes 13 laps. When it comes to practice, he always practices more than the others. Bill told me he hit more than 100,000 volleys against the boards in practice over the winter."
---
Photo: Bill Lenoir was named first-team ITA All-American three times for the Wildcats in the 1960s. Photo by Jack Sheaffer / Arizona Daily Star file
No. 33 • Ex-Wildcat Leiber becomes MLB All-Star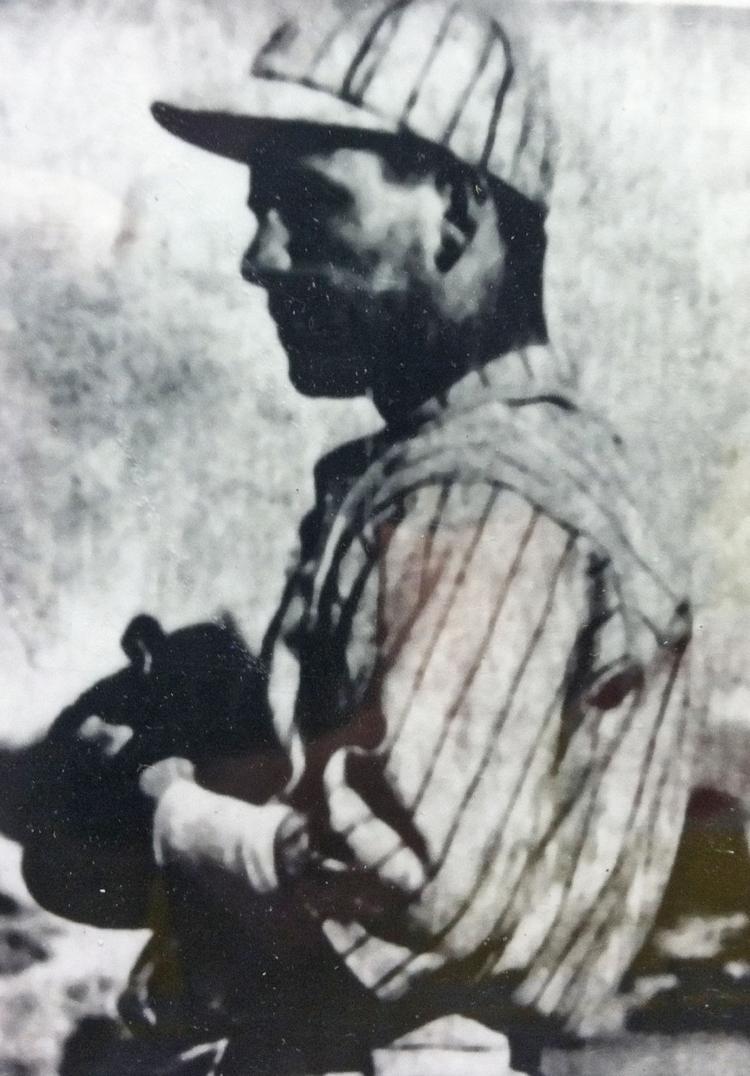 May 29, 1946: Hank Leiber plays in his last baseball game 
Until ASU's Reggie Jackson and Arizona's Terry Francona came along decades later, Hank Leiber was the most celebrated baseball player from this state.
He made the 1938, 1940 and 1941 MLB All-Star games, and played in the World Series of 1936 and 1937.
Leiber was a big, old cuss — maybe 6 feet 2 inches, 220 pounds — and there was little doubt he was The Big Man on Campus during his UA days.
Tough and stubborn, Leiber played football, baseball and basketball at Arizona, and was such a powerful hitter that New York Giants manager John McGraw personally offered him a bonus contract in 1928 and again in 1930.
Leiber hit 101 major-league home runs from 1933-42, but the story of his career became his early retirement.
"I was really just in my prime. I was 31," he told the Star in 1992. "I could have been up there with the all-time hot shots."
Some baseball people thought Leiber's career was over when he was hit in the head by a 100 mph Bob Feller fastball in 1937.
A wire service reported that Leiber "appeared unhurt" after the beaning (this was in baseball's pre-helmet days.) But Leiber walked to first base, then collapsed. He suffered a concussion that sidelined him for 101 games over three months.
"After getting out of New York Presbyterian Hospital, I had to learn to walk all over again. That took me another month," Leiber told the Star.
He was never able to match his superb 1934 season, when he hit 22 home runs, drove in 107 runs and batted .331. At 24, he established himself as one of MLB's rising stars.
Four years later, Leiber was again hit in the skull by a fastball, from the Giants' Cliff Melton.
"The home-plate umpire later told me, 'I thought you were dead. Your eyes were rolling around.' "
Leiber was never again the same hitter. His average dropped to .216 in 1941 and .218 a year later, when he was forced to retire.
But it wasn't the last baseball game he would play. That came unexpectedly on May 29, 1946 at Randolph Park (now Hi Corbett Field) before a crowd of 2,500 who paid to watch Leiber's semi-pro team, Tucson Mutual Life, play the Tucson Aztecas.
By '46, Leiber was a real estate salesman who would go on to make a fortune while helping to develop Oro Valley Country Club and Forty-Niners Country Club. But he was only 35 the night he inserted himself into the Mutual Life lineup, pinch-hitting in the ninth inning.
Leiber's return to baseball became an instant legend in 1940s Tucson.
When Leiber stepped into the batter's box, game tied at 7, he faced the most accomplished pitcher in Tucson history, former Amphitheater High School lefty Alex Kellner, who had returned to Tucson after World War II and would be on the American League All-Star team in 1949.
Leiber vs. Kellner. Classic.
Even though Leiber hadn't played all season, or taken batting practice, he hit a Kellner fastball back through the mound and into centerfield, winning the game.
Tucson attorney Burt Kinerk, who would later pitch at Tucson High and the UA, was the bat boy for that '46 Mutual Life team.
"I still remember that night," Kinerk said last week. "Leiber hit a rocket next to Kellner's ear. The stadium was rocking. Everybody knew about that hit. You couldn't intimidate him."
During his days as an Arizona baseball player, Leiber was teammates with future UA baseball coach Frank Sancet. Even though both were Wildcats, Sancet referred to Leiber as "Aggie."
It was short for "aggravating." Leiber did things his way.
Where are they now: Leiber died in 1993, at 82. He was a charter member of the Tucson Conquistadores, a scratch golfer (and 1950 club champion) at Tucson Country Club, and grandfather of former Canyon del Oro High School pitcher Zane Leiber, who pitched for the Chicago White Sox in 1993 and 1994.
How he did it: Leiber said he was 17 years old when he signed with the Giants. "I was playing semi-pro in Phoenix. I got $25 a game, and Frank Sancet got $20."
But because there was no NCAA to regulate eligibility, Leiber moved to Tucson and became Pop McKale's cleanup hitter.
"I was not old enough to sign," said Leiber, whose initial plan was to be a dentist. "My dad made me promise to finish my education before he'd sign for me. I'm still 12 hours short of my degree."
---
Photo: Undated photo of Hank Leiber, who played football and baseball at the University of Arizona, ca 1920s. Courtesy University of Arizona
No. 32 • MLS Spring Training comes to Tucson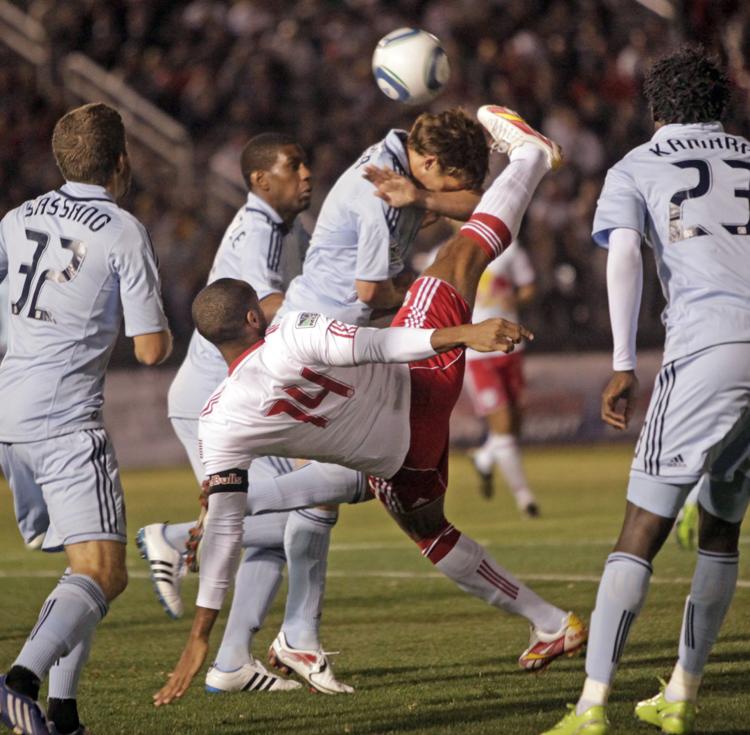 March 5, 2011: Major League Soccer teams draw 10,097 at Hi Corbett Field, trigger spring training
For two decades, the exodus of sports teams and organizations from Tucson went beyond humbling. It was crippling.
Will the last team to leave town turn out the lights?
The Chicago White Sox, Colorado Rockies and Arizona Diamondbacks moved to spring training bases in Phoenix. So did college football's Copper Bowl.
The Pacific Coast League's Tucson Sidewinders moved to Nevada and soon thereafter the Tucson Padres fled to El Paso. One-time Pro Fastpitch power Arizona Heat went out of business. USA Baseball moved to North Carolina, and both the LPGA Tour and WGC-Accenture Match Play Championship both abandoned Tucson.
Finally, in 2011, three Tucson men with a love for and belief in soccer stopped the bleeding.
Greg Foster, Jon Pearlman and Rick Schantz arranged for Major League Soccer teams Sporting Kansas City and the New York Red Bulls to play the "Desert Cup" at Hi Corbett Field.
After paying the city $11,000 to put sod over the infield where the Rockies had staged spring training for 18 years, the managing partners of FC Tucson, a semipro soccer organization, stepped back and turned the lights back on.
On an early March night, 10,097 paid to watch the Red Bulls and Sporting KC play the first-ever spring training MLS match in Tucson.
"All the pieces are in place to make this an event that's a signature event in Tucson for a long time," City Councilman Paul Cunningham said.
One of those at Hi Corbett Field that night was FC Tucson forward Fernando Gauna, a Salpointe Catholic grad who had been a standout at Pima College.
"We're a small city, and no one has really stepped up to take charge," he said. "Finally, we have leaders who decided, 'You know what? It's time to show what Tucson's got.' " Gauna's words and the vision of Foster, Pearlman and Schantz hit the bull's-eye.
"We're not a group of rogue, outside business people from somewhere else trying to turn a buck," said Pearlman, the group's general manager and former state championship soccer coach at Sabino High School. "We are Tucson people. We are a soccer events promotion company and a group that will run a premier developmental soccer team. Our goal is sustainability and community involvement."
Bingo.
A year later, 2012, the Los Angeles Galaxy, with superstar David Beckham, helped to draw 30,403 in four doubleheaders at the former Tucson Electric Park, a baseball stadium that played host to the Galaxy, Red Bulls, New England Revolution and Real Salt Lake.
The momentum was such that Pima County built a $2 million soccer stadium on what used to be Field No. 5, one of the Diamondbacks many baseball auxiliary fields. It officially seats 1,800, but at the sixth annual Desert Diamond Cup in March 2016, the championship game between the New England Revolution and Columbus Crew drew 2,250.
Foster, who played on Salpointe Catholic's first boys soccer team in 1982-83, left his law practice to work fully on making Tucson an MLS spring training hub, and beyond that, turning FC Tucson into one of the nation's top Premier Development League organizations.
He suspected the MLS was looking for a place like Tucson to stage spring training.
"Historically, MLS teams have not trained in one particular place," he said. "Some have gone to, say, Mexico for two weeks. Others have even gone to Turkey and Argentina. Some have even been in Phoenix, running around in a city park, unknown to most people."
Schantz, who is the FC Tucson head coach, a Salpointe grad who was the Star's 1992 boys soccer co-player of the year, said: "I think we're in the right place at the right time. We have the right demographics, weather and location."
Over the last six spring training seasons, MLS teams have drawn in excess of 80,000 in Tucson. Who didn't play here? The list of those who held training camps in Tucson includes the Seattle Sounders, Portland Timbers, San Jose Earthquakes, Chivas USA, the Colorado Rapids and the Houston Dynamo.
Where are they now? The FC Tucson partners initially hoped to play at Hi Corbett, but moved to the Kino Sports Complex when the UA's baseball program signed to have exclusive use of the ballpark in 2012.
How they did it: In addition to the Desert Diamond Cup and MLS spring training, the soccer stadium at Kino is the home to Pima College's nationally ranked men's and women's soccer programs, to FC Tucson and to FC Tucson's women's pro soccer league team.
---
Photo: New York Red Bulls' star player Thierry Henry (14) does a bicycle kick in the first half surrounded by Sporting Kansas City players during a Major League Soccer game during the 2011 Desert Diamond Cup at Hi Corbett Field. Photo by David Sanders / Arizona Daily Star 
No. 31 • Wildcats reach 2001 national championship game against Duke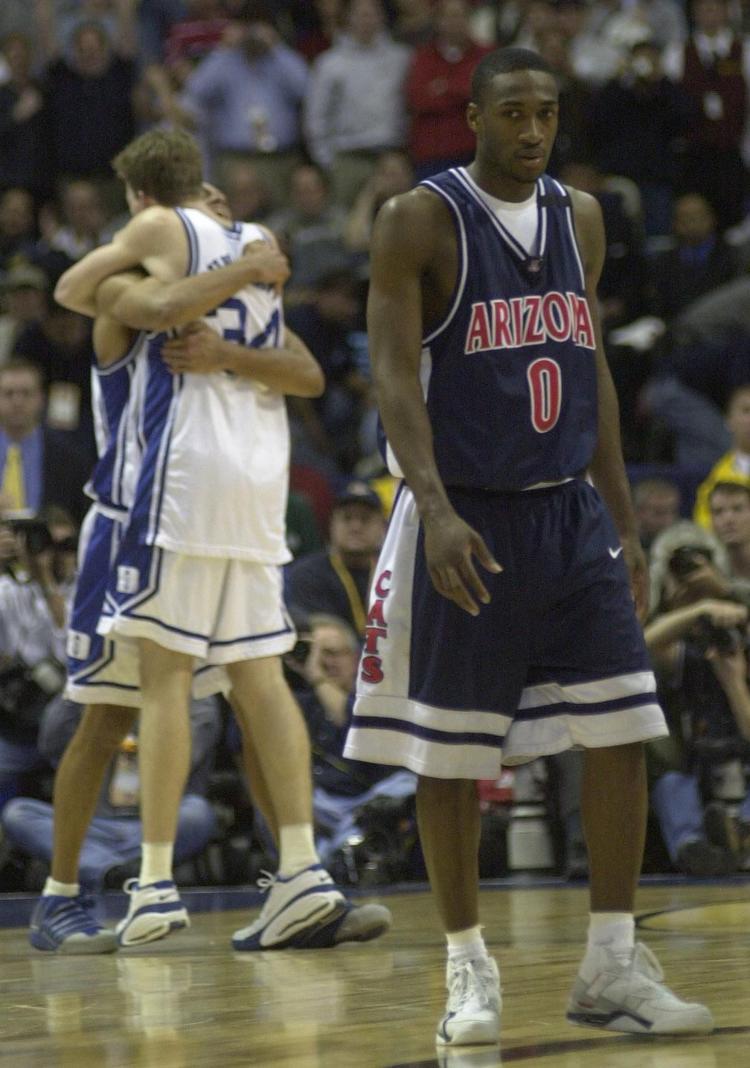 March 31, 2001: Arizona beats Michigan State, advances to national championship game
A few hours before Arizona was to play Mississippi State it the championship game of the 2000 Fiesta Bowl Classic, Lute Olson walked somberly into his team's locker room and told his players and staff he would not be coaching that night or possibly the rest of the season.
"Nobody knew what to say," UA assistant coach Jay John told me later that night. "A lot of the players cried. I couldn't get it out of my head; it was just so sad."
Arizona opened the 2000-01 season ranked No. 1 in all the polls, with five starters back from a No. 1 seed in the 1999-2000 NCAA tournament.
But over the first two months of the season, Olson's wife, Bobbi, became desperately ill with ovarian cancer, relapsing after two years of treatment. Olson did not attend an early December road game at Connecticut and some nights slept in a chair next to his wife's bed at University Medical Center.
Mississippi State beat the Wildcats that night, the first time Arizona lost a Fiesta Bowl Classic game in 16 years. Arizona's record was 7-4.
Bobbi Olson died early in the morning on New Year's Day 2001. She was 65.
"Nobody felt like playing basketball anymore," interim head coach Jim Rosborough said. "This went way beyond a ballgame."
After a private funeral service, the school staged a public memorial at McKale Center. UA junior forward Richard Jefferson represented the team, speaking emotionally for about three minutes as his teammates wept.
A day later, Arizona played No.1 Stanford at McKale Center and lost 85-76.
Someone placed a bouquet of roses in Bobbi Olson's seat — Section 16, Row 2, Seat 5. It was the first time in Olson's distinguished UA career that it didn't seem to matter if the Wildcats won or lost.
What happened over the next three months was like something from a Hollywood movie.
Olson missed four games and returned after two weeks. His team was 10-5. By the final day of March, Arizona had gone 20-2 and soared through the NCAA Tournament, beating Eastern Illinois, Butler, Ole Miss, Illinois and Michigan State by a combined 91 points.
They would play Duke for the national championship.
"Arizona is so tough," said Duke coach Mike Krzyzewski. "What they've gone through, and the caliber of play that they had — I didn't realize how good they were until we started watching the Michigan State game. I looked at (assistant coach) Johnny Dawkins and said, 'I knew they were good, but they're better.' "
The '01 Wildcats were almost without question the most talented team in school history, with an almost textbook roll call of players fitting into basketball's numbered positions, 1 through 5.
Point guard Jason Gardner, a sophomore with a ability to rise to the occasion, averaged 10.9 points.
Shooting guard Gilbert Arenas, also a sophomore, led the team with 16 points a game. He could beat anyone to the basket.
Small forward Jefferson, a junior, emerged as a defensive stopper, a selfless player who averaged 11 points.
Power forward Michael Wright, a junior, was the epitome of a low-block scorer. He averaged 15.6 points and 7.8 rebounds.
Seven-foot center Loren Woods was the most feared shot-blocker in college basketball; he averaged 13 points and 6.5 rebounds and would have the game of his life against Duke, scoring 22 and grabbing 11 rebounds.
Duke won a classic struggle 82-72, when shooting guard Mike Dunleavy Jr. broke open a two-point game with four 3-point baskets in the second half. The Blue Devils' defense was superb; they held Gardner and Arenas to 0-for-12 shooting from 3-point distance and 4 for 22 overall.
After the game in downtown Minneapolis, Olson found perspective instead of frustration.
"He told us how enjoyable it was to coach us, and how he will miss being with this team," said Woods. "Fans can react to this game and this season any way they want, but the people in this locker room will remember it as one of the best years of their lives."
When CBS rolled the credits and the first notes of "One Shining Moment," it signaled an end to one of the most remarkable seasons in UA history, there were no lingering doubts.
Duke was the better team. Arizona had gotten the most of what had earlier been a shattered season.
"The feelings of disappointment will be short-lived," John said. "The feelings of accomplishment will win out. This team played for the national championship. In the end, this is a feel-good story."
Where are they now: At 38, Woods played the 2016 season for Al Hala in the Bahrain EuroLeague, the sixth country in which he has played overseas. He also played for Houston, Toronto, Miami and Minnesota in the NBA. John is a radio analyst and fundraiser for the Cal Bears.
How they did it: "Duke was able to get a lead and keep a lead, and nobody has done that to us," UA forward Gene Edgerson said. "At times we didn't know how to react to that."
Arizona was physically limited in the title game; Arenas suffered a slight shoulder separation in the victory over Michigan State. Sixth-man Luke Walton had a badly sprained thumb on his shooting hand.
---
Photo: Arizona's Gilbert Arenas (0), right, walks off the court after Duke defeated Arizona in the NCAA national championship game on April 2, 2001. Photo by David Sanders / Arizona Daily Star 
No. 30 • MLB's first black manager Robinson opens 1975 spring training in Tucson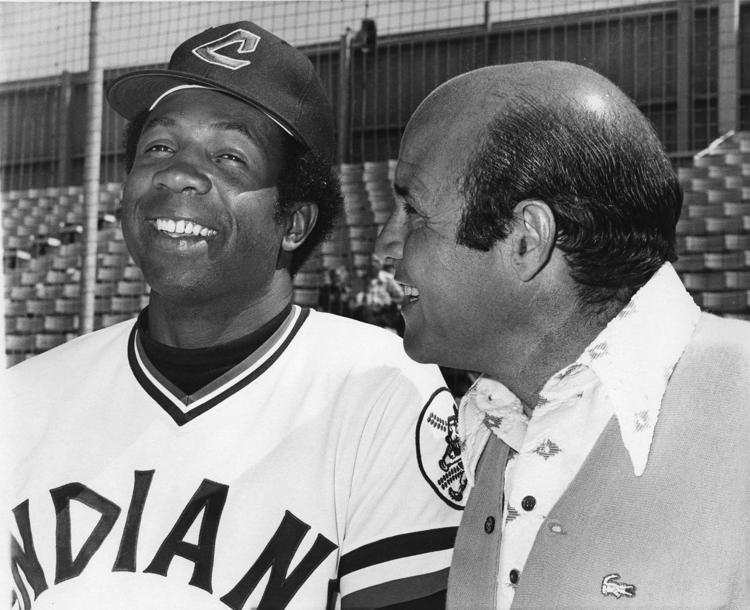 March 13, 1975: Frank Robinson, baseball's first African-American manager, skippers first game at Hi Corbett Field
Dr. Harry Edwards, one of America's most prominent civil right activists, was the keynote speaker for Black Culture Week at Pima College late in February 1974.
Edwards, a professor at Cal, was used to large audiences but this one was different. About 50 reporters had traveled to Tucson not necessarily to listen to Edwards, but to see the Cleveland Indians' new manager Frank Robinson.
The large media group wanted to know how Edwards felt about Robinson's debut as the first African-American manager in major-league history.
"I think about Jackie Robinson being the first (African-American) to play in the big leagues in 1947," Edwards said. "Now it's 1975; progress has been very slow."
A day later, with a media audience estimated at 100, Robinson held a press conference at Hi Corbett Field. Over the next month, reporters from The New York Times, The Washington Post, Time, Sports Illustrated, Ebony, CBS and ABC arrived in Tucson to interview Robinson.
A reporter from a Tucson TV station painfully asked Robinson "What does it feel like to be a black manager?"
Robinson, then 39, a Most Valuable Player in 1961 and 1966 who would be the Indians player-manager in 1975, handled the question with patience and good taste, as he did most inquiries during spring training.
Cleveland had nine African-American players on its 1975 roster, including star-level players Oscar Gamble, George Hendricks, Blue Moon Odom and Jim Bibby, but never had a baseball owner hired an black manager.
Robinson was no longer the productive player he had been during a Hall of Fame career that resulted in 2,943 hits and 586 home runs, but his was the biggest story in spring training.
When the Indians opened the season, at Hi Corbett Field on March 13, attendance was 4,771 for a Thursday afternoon game.
"To me, now it's official," Robinson said after the opener.
"I wasn't nervous until the game started, then my heart started beating faster. I thought about Jackie Robinson. It was no special thought; I just gave thanks to him and to black people, and just people in general who helped me in my career."
The game was such an event that NBC sent its top baseball personality, Joe Garagiola, to the game. Robinson was wired for sound, and a blimp hovered over Hi Corbett Field.
"I'll have to take some abuse without returning it," Robinson said. "I told my wife, whatever you hear, don't react.' "
The Indians of 1975 were not a contender; they finished 79-80. But on Opening Day in Cleveland, Robinson put himself in the lineup as a designated hitter and hit a home run in his first at-bat against the New York Yankees.
After that, Robinson did not often put himself in the lineup. He hit .237 and finished with nine home runs in just 118 at-bats.
Before leaving Tucson, Robinson hired baseball's stolen base champion Maury Wills as a baserunning instructor and for moral support.
"When Frank got the job, I was as excited as if I had gotten it myself," Wills told the Star. "I wanted to help Frank in any way I could. I extended my services to him."
Where are they now: Robinson, 80, who grew up in Oakland, California, and played in five World Series for Cincinnati and Baltimore, is now the honorary president of the American League. He was fired by Cleveland during the 1977 season and later managed Montreal, Washington, Baltimore and San Francisco to a 1,065-1,176 career record.
How he did it: As Cleveland's new player-manager, Robinson spent little time working out in Tucson. "It's going to be hard to find extra time to get my swings and running in," he said. "I'll do it when I can, even if it's after the workouts. But I find out as I get older, I don't need as much time to get in shape. I'm not going to put my personal goals before the team."
---
Photo: Cleveland Indians in Tucson. Frank Robinson, left, and Joe Garagiola in April, 1975 at Hi Corbett Field. Arizona Daily Star file photo
No. 29 • Tucsonan Kinerk's horse runs Kentucky Derby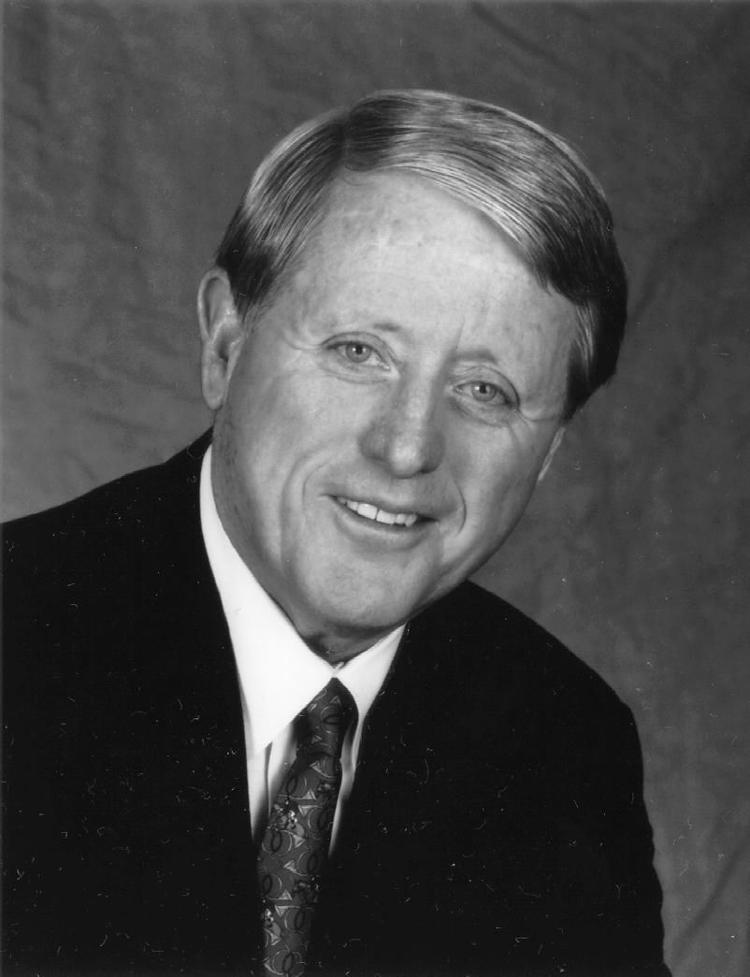 May 4, 1996: Tucson attorney Burt Kinerk's horse races in the Kentucky Derby
If Burt Kinerk ever writes a book, the title is a lock: "How I Went Fishing in Argentina and Wound Up in the Kentucky Derby."
Chapter 1: In 1988, Kinerk was on a plane when he dreamed up an idea to buy a world-class thoroughbred for a monumentally discounted price. He didn't have a sheet of paper to work the figures, so he worked the math on an airsick bag.
A top Argentine thoroughbred could be acquired for about $20,000. Even at 1980s prices, a Kentucky-bred yearling cost as much as $400,000.
No one would be getting sick.
So Kinerk, a 1953 Tucson High School grad and former UA baseball player, phoned a veterinarian, an Arizona grad who worked the horse racing circuit at Arlington Park near Chicago and at Florida's Gulf Stream Park.
They booked flights to Argentina and took their fly-fishing gear. But the real purpose of the trip was to examine race horses.
"I don't remember if we caught any fish, but I bought Festin for $18,000," Kinerk said last week. "It was the break of a lifetime."
By 1991, Festin finished sixth in the Breeders' Cup Classic at Churchill Down and would win more than $2.3 million. Five years later, Festin's son, Corker, was in the Kentucky Derby.
When Kinerk reached the owner's box at Churchill Downs on the first Saturday in May, 1996, he was presented a jacket for the occasion. His name was spelled wrong. But by then it didn't matter. His journey from Tucson's Rillito Race Track and the horse racing circuit in Sonoita and Arizona's other county fair tracks had taken him to the Kentucky Derby.
Corker finished 11th, but, in retrospect, who cares?
It was Kinerk's willingness to ignore the "snob appeal" of American racing and establish his own bloodline, via Argentina, that made it work.
"Kentucky is the gold standard," he said. "To get a good offspring, you need a good mare, and you have to get the seal of approval. In other words, you have to marry her into the right family."
He found that family in Argentina.
Kinerk, who grew up near the UA campus where his father operated a dry cleaning shop, became one of the leading figures in more than a century of Tucson sports. He was a founding father of the Copper Bowl football game held at Arizona Stadium from 1989-99 and is a life member of the Conquistadores, helping to operate more than 30 PGA Tour events at the Tucson Open.
Kinerk was the agent and negotiator for a Who's Who of Tucson sports history: NBA All-star Sean Elliott, Olympic bronze medal sprinter Michael Bates, Olympic gold medal swimmer Crissy Perham, and UA football legends Chuck Cecil, Byron Evans and Tedy Bruschi, among others.
Here's how connected he is: At the 2010 Kentucky Derby, when UA grad Bob Baffert's horse, Lookin At Lucky, was considered the favorite, it was virtually impossible to get an interview with Baffert.
I was standing outside Lookin at Lucky's stables about 6:30 one morning as the sun broke over Churchill Downs. It was Friday, a day before the big race. The main interview sessions had been conducted days earlier. I waited and waited and waited.
Nothing.
About 9:30, Kinerk walked to the barn.
"Are you waiting for Bob?" he asked.
I nodded.
"Let me get him," he said.
In about 90 seconds I was able to interview the biggest name in horse racing.
Where are they now? As Corker began his road to the '96 Derby, Kinerk's reputation spread. He was joined, as full partners, by Bob McNair, now the owner of the NFL Houston Texans, and by Arthur Hancock, who has been one of the most influential men in the horse breeding/racing business for 30 years.
At 80, Kinerk hasn't slowed much, if at all. He still works regular hours at his River Road law firm, flies to Alaska in the summer to fish with Bruschi and eagerly prepares for October's elk hunting season.
How he did it: Kinerk's investigative work in Argentina was remarkable. Festin came from impeccable bloodlines. His father was Mat Boy, a horse that debuted in Florida in 1984 and ran away with a series of top-grade races, including the Gulfstream Park Handicap. He developed some tendon problems, however, and was returned to Argentina to help produce a family of thoroughbreds.
Festin won the first race he ever entered in Argentina in 1988. Then he finished second in a race considered to be the second jewel in Argentina's triple crown. After that, Kinerk brought Festin to Sonoita, where he was stabled at Art Pollard's Breeding Ranch.
After that, it was comparatively easy.
---
Photo: Handout photo of Burt Kinerk, 1996.
No. 28 • NBA superstar Michael Jordan plays baseball at Tucson's Hi Corbett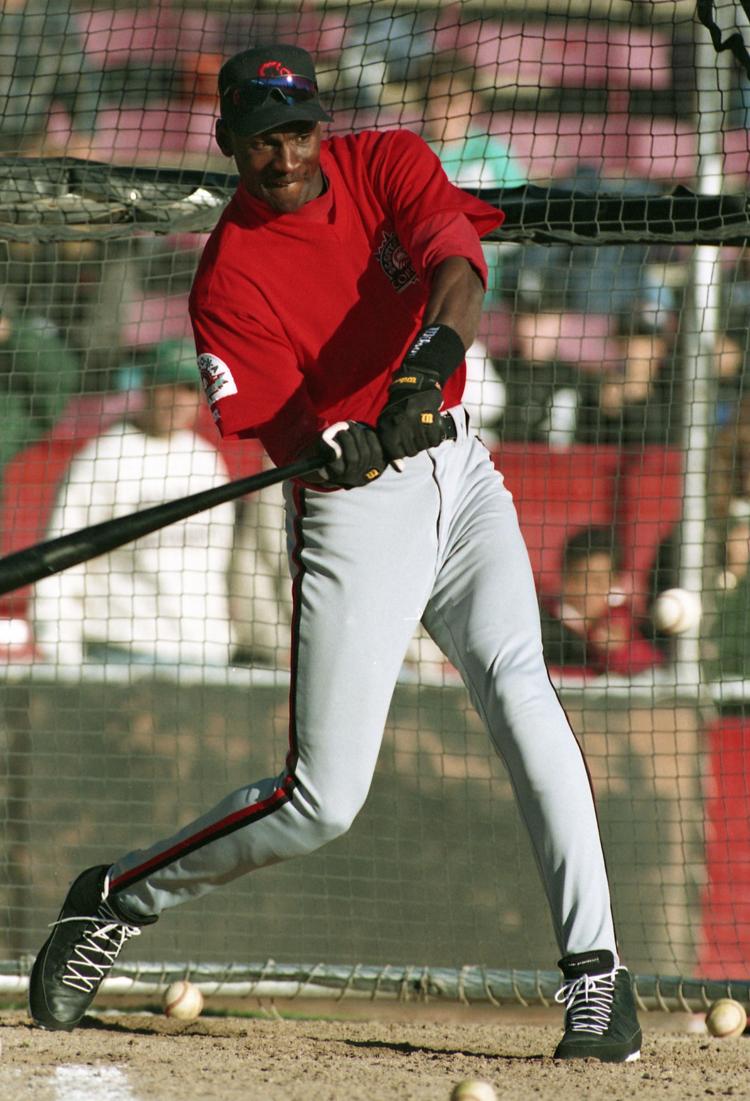 Nov. 28, 1994: Michael Jordan plays baseball at Hi Corbett Field
Interest in the Tucson Javelinas during the inaugural Arizona Fall League baseball seasons of 1992 and 1993 was so scant that the club averaged 294 fans per game and left town.
The AFL consolidated six teams in the greater Phoenix area at precisely the time Chicago Bulls star Michael Jordan "retired" from basketball and, at 31, spent a year playing in the Chicago White Sox system.
When the White Sox announced that Jordan would be playing for the Scottsdale Scorpions in the 1994 AFL — he hit .202 that summer for the Class AA Birmingham Barons — Tucson hoped to get a piece of the action.
Tucson Toros general manager Mike Feder began negotiating with the AFL. It didn't look promising, because Hi Corbett Field was resodded following the '94 Pacific Coast League season and the AFL season ran from early October to late November.
But that didn't stop the persistent Feder, whose promotional skills enabled the Toros to draw an unprecedented 300,000 fans five times in the 1990s.
Here's what it came down to: The AFL demanded that Feder pay the equivalent of 5,000 admissions for a typical Jordan-in-the-lineup AFL game in exchange for one late-season game at Hi Corbett Field. The league would also get revenue from souvenir and program sales. The Toros would pocket revenue from concessions and all tickets sold in excess of 5,000.
The game sold out in one day. The Toros sold 8,736 tickets. Fans began arriving at Hi Corbett Field before noon for a 5:30 p.m. start on a Monday night.
That shouldn't have been a surprise; Scottsdale drew 82 percent of the AFL's attendance in 1994. The average crowd at Michael Jordan games was 3,000. In games without him, the league drew about 200 fans.
Jordan got off the Scorpions bus at Hi Corbett Field two hours before the game, accompanied by the most accomplished baseball player in UA history: Terry Francona, the Scorpions manager, had also been Jordan's manager at Birmingham.
Jordan was also accompanied by two bodyguards who never left his side.
It was like Elvis holding a concert in Tucson in 1959.
Sports Illustrated assigned a photographer to the game; reporters from Chicago and New York were in the crowded press box.
Francona held a pregame press conference in the first-base dugout and was engulfed by a crowd of media.
"My goodness," said Jordan, walking by as the reporters talked with Francona.
"There's a lot of writers in this town."
The only negative part of the night was that Francona chose to use Jordan as a designated hitter, rather than play him in his customary left field. When the starting lineups were announced, Jordan received a thunderous ovation, far more than those for ex-Arizona Wildcats Alan Zinter and Tony Clark, who played for the opposing Tempe Rafters.
Jordan singled up the middle in his first at-bat, driving in a run. Zinter's errant pickoff throw enabled Jordan to reach third base; he later scored.
Later in the game , Jordan walked. He promptly stole second base, with a Pete Rose-type head-first slide. A few pitches later, he stole third base, also head-first.
The crowd roared.
"If he can help you win, it doesn't matter what age he is," Francona said. "Besides, he doesn't have a 32-year-old body. He can do just about whatever he wants."
After seven innings, Jordan was replaced. When the game ended a half hour later, the sellout crowd at Hi Corbett Field had been reduced to no more than several hundred diehards, hoping to get a final look at Jordan.
"The crowd here was very energetic, very enthusiastic," Jordan said in a brief news conference after the game.
"I was happy that I was able to do some good things. I struck out a couple of times, but I felt good about how I played."
Where is he now? Jordan returned to the NBA the following season, leading the Bulls to championships in 1996, 1997, 1998 and 1999.
How he did it: Jordan completed the AFL season hitting .258. Most of those he played against in '94 were virtually unknown to the fans. Future Red Sox shortstop Nomar Garciaparra played in that game in Tucson. Hall of Famers Mike Piazza and Derek Jeter were in the AFL in 1992.
---
Photo: Michael Jordan, former NBA basketball star, taking batting practice with the Scottsdale Scorpions Fall League team at Hi Corbett Field on Nov. 28, 1994. Photo by David Sanders / Arizona Daily Star
No. 27 • Arizona basketball coach Snowden hired, becomes first black D-I coach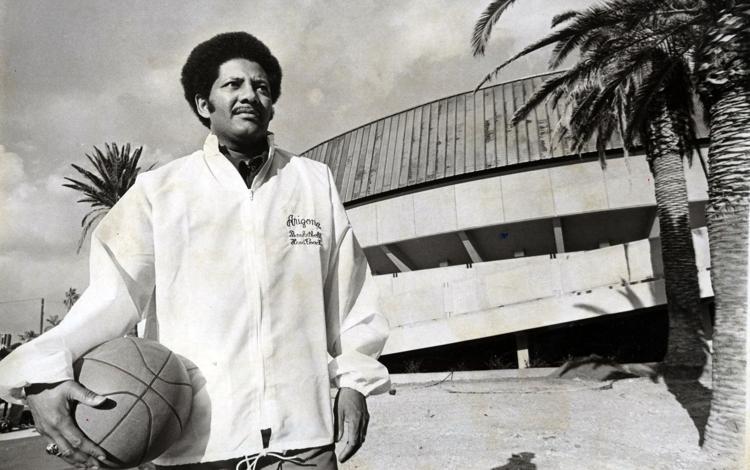 March 21, 1972: Arizona hires Fred Snowden to coach basketball 
The lead paragraph to Daily Star sports columnist Abe Chanin's piece of Dec. 18, 1968, said: "UA athletic director Dick Clausen wants to add a Negro coach to the staff." 
"We don't have many Negroes in our school," said Clausen. "We hope to change that in the future."
A year later, in what is believed to be the first hiring of an African-American head coach at a Division I school, Clausen hired Compton (California) High School coach Willie Williams as Arizona's head track and field coach.
When Clausen retired in 1972, new Arizona AD Dave Strack added to his legacy. Strack hired Fred Snowden to be Arizona's basketball coach.
At the time, there were two African-American head coaches in college basketball — Cal-Riverside's Fred Goss and Illinois State's Will Robinson — but Snowden became the first at a Division I school.
Snowden's arrival in Tucson generated the hiring of African-American coaches John Thompson at Georgetown and George Raveling at Washington State.
Two years ago, I visited Strack in his Oro Valley assisted living facility a few days before his 90th birthday. I asked him about the genesis of hiring Fred Snowden.
"Actually," he said, "I tried to hire Tom Jorgensen," said Strack, something I had never heard. "He had played at Michigan and been my top assistant coach there. But he was coming off a fine season at Northern Illinois (21-4 in 1971-72) and wasn't sure about moving all the way to Arizona and taking over a program that had gone through some bad times."
The Wildcats had gone 6-20 in 1971-72 and 28-50 over the previous three seasons. Not only did Strack interview Jorgensen, he talked to Long Beach State coach Jerry Tarkanian about becoming Arizona's head coach.
"Well, Tark was in the middle of that great run at Long Beach," Strack told me. "He thought he could win the national championship there the next season. We didn't get too far along."
That left the 35-year-old Snowden, a Wayne State alumnus who had coached that school's junior varsity to an 80-0 record and then went 101-5 at Detroit's Northwestern High School.
As a third choice, Snowden was more than a home run hire. He was a grand slam.
On the day Snowden was hired, McKale Center was in the final stages of construction; it would open 11 months later. The responsibility of filling those 14,000 seats seemed overwhelming at times; the UA averaged fewer than 2,200 in the final season at Bear Down Gym.
Most new coaches are quick to speak about "changing the culture" at their new school; Snowden changed the identity of Arizona basketball. He said he declined a chance to be San Jose State's head coach a year earlier, saying he preferred to wait for a better opportunity.
"My program got off the ground quicker than those at Georgetown and Washington State and I think for the future of blacks in college coaching, it was a good thing one of us succeeded right away," Snowden said in 1989.
"Because I was the first, I felt a lot depended on whether I did well and whether I was perceived as a person of quality for the other black Americans who would come along."
In his first month on the job, Snowden successfully recruited Detroit schoolboys Coniel Norman and Eric Money, that era's equivalent of 5-star recruits. A few weeks later he landed another 5-star, forward Al Fleming of Indiana.
When the UA added Wisconsin point guard Jim Rappis it became the top recruiting class in school history, by far, and some might say the top ever assembled at Arizona even now. A year later, Snowden added two more "5-star" recruits: Michigan center Bob Elliott and Pennsylvania shooting guard Herman Harris.
All were African-Americans who probably would not have considered playing at Arizona under other circumstances. They didn't just lay a foundation for Tucson as a basketball town, they did the framing and wiring, too.
Snowden's first five UA teams went 102-39 (in the previous five years Arizona had gone 56-73). The UA reached the 1976 Elite Eight and routinely drew crowds in excess of 12,000 to McKale Center to watch Snowden's up-tempo teams.
Where are they now: Snowden died of a heart attack in Washington D.C. in 1994. He was 57. After his five opening seasons at Arizona, he cut back on recruiting, he said, because of his fear of flying. Once the UA entered the Pac-10, Snowden's Wildcats got progressively worse, going 34-47 his final three years. He was asked to resign in January of 1982, and later became an executive for Baskin-Robbins in Los Angeles, among other projects.
How he did it: "We are in the entertainment business," Snowden said in 1972. "We will play exciting basketball."
Exciting? In his team's first public appearance, at Bear Down Gym, the final score was 135-128. Money scored 53 points.
After that, the culture of UA basketball changed forever.
---
Photo: Arizona basketball coach Fred Snowden stands outside of McKale Center in 1973. Photo by Manuel Miera / Tucson Citizen
No. 26 • Sunnyside completes perfect basketball season with state title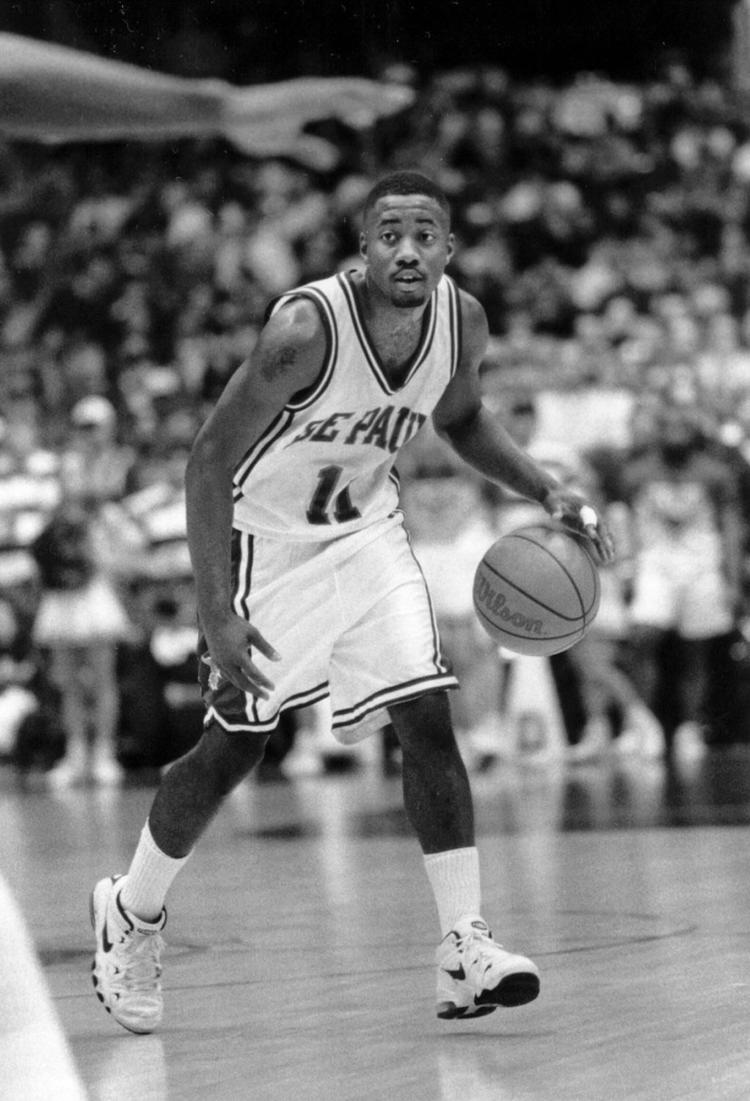 March 4, 1993: Blue Devils go 29-0 to win state basketball title 
Over 23 years, Tucson's last undefeated boys high school basketball team has scattered, as with any high school class.
Coach Dwight Rees underwent heart surgery and retired. Arizona Player of the Year Jermaine Watts played at DePaul and now works in Tucson for the Arizona Department of Transportation. Clutch forward Hector Montaño has been a policeman in Phoenix for 18 years. Power forward Quinton Guarzo became an Army recruiter. Sixth man David Miller is a Tucson police officer.
By the purest definition, the '93 Sunnyside Blue Devils were a neighborhood team. Unlike today's super powers in Arizona prep basketball, there was no recruiting and no moving from district to district to align with a rising program and well-known coach.
Five years after the Blue Devils went 29-0, they went 0-24, and that's what makes Sunnyside's 1993 championship so enduring. Rees made the most (and then some) out of who walked through the front door on the first day of school.
It wasn't luck or serendipity, either. Rees was the Daily Star's prep Coach of the Year in 1975, 1977, 1987, 1980 and 1993, and in the middle of that Pima County Sports Hall of Fame career, spent four seasons as the head coach at Pima College.
Here's some perspective: In more than 100 years of high school basketball in Tucson, only five big schools have gone undefeated.
1948: Tucson High, 28-0
1949: Tucson High, 23-0
1962: Tucson High, 21-0
1978: Pueblo, 28-0
1993: Sunnyside, 29-0
The game has changed so thoroughly, with summer AAU travel teams feeding well-stocked suburban schools, especially in Phoenix, that it wouldn't be much of a surprise if a Tucson boys basketball team didn't go undefeated for the next 30 or 40 years.
Typical of its identity, there was no big celebration after Sunnyside rallied to beat Sabino 60-53 in overtime at America West Arena on that March evening in 1993.
"I remember we had a pizza party underneath the America West Arena. It was a restricted area where only the Suns had access," Montaño said last week. "I remember the cart of pizza boxes being brought down to us in an elevator. We thought we were celebrities.
"We also used the Suns' locker room and the secret basketball court underneath the stands for pre-game warmups. For a high school kid it was surreal."
The '93 Blue Devils didn't even buy championship rings. They were so expensive that it was cost prohibitive.
"We didn't need a ring to remind us," Rees says now. "That being said … I might feel different about it today."
In 1993, competition in Tucson prep basketball was as strong as at any time in history. Many teams had stick-it-out, career-type coaches such as Sahuaro's Dick McConnell, CDO's Dan Huff, Tucson's Barry Wilson, Pueblo's Barry O'Rourke, Salpointe's Brian Peabody, Amphi's Pat Derksen, Cholla's Paul Dull, Marana's Joe Acker, Palo Verde's David Gin, Sabino's Tim DeMarchi and Santa Rita's Mel Karrle.
The day of the career-coach has long since vanished. Only Rincon's Rich Utter, who, fittingly, is one of Rees' close friends, is approaching 500 career victories, remains from the '90s era.
Where are they now: Rees returned to Sunnyside, as an assistant coach, a few years ago. When he moved from Globe High School to take the Blue Devils job in the mid '70s, after serving as a graduate assistant at Arizona, Sunnyside wasn't a gem of a job.
"People told me I should try to pick a place like Sahuaro," he said. "I'm glad I didn't listen to them." When Rees was hired at Sunnyside, the school had 16 losing seasons in its first 18 years.
How they did it: Sabino had won 20 straight games and was 25-4 when it met the Blue Devils in the state title game. The Sabercats led 41-34 with 4:41 remaining, but a 3-pointer by Watts tied it at 50 and then Montaño hit four straight foul shots in overtime to win it. Watts scored 34 points.
"For about a minute and a half everything went our way," said Rees. "When it was over I just felt relief not really happy we won the state championship just relief we didn't blow it along with the undefeated season."
---
Photo: Sunnyside standout Jermaine Watts went on to play for DePaul. The Blue Devils went 29-0 in 1993. Handout photo
No. 25 • Cleveland Indians become first team to host Spring Training in Tucson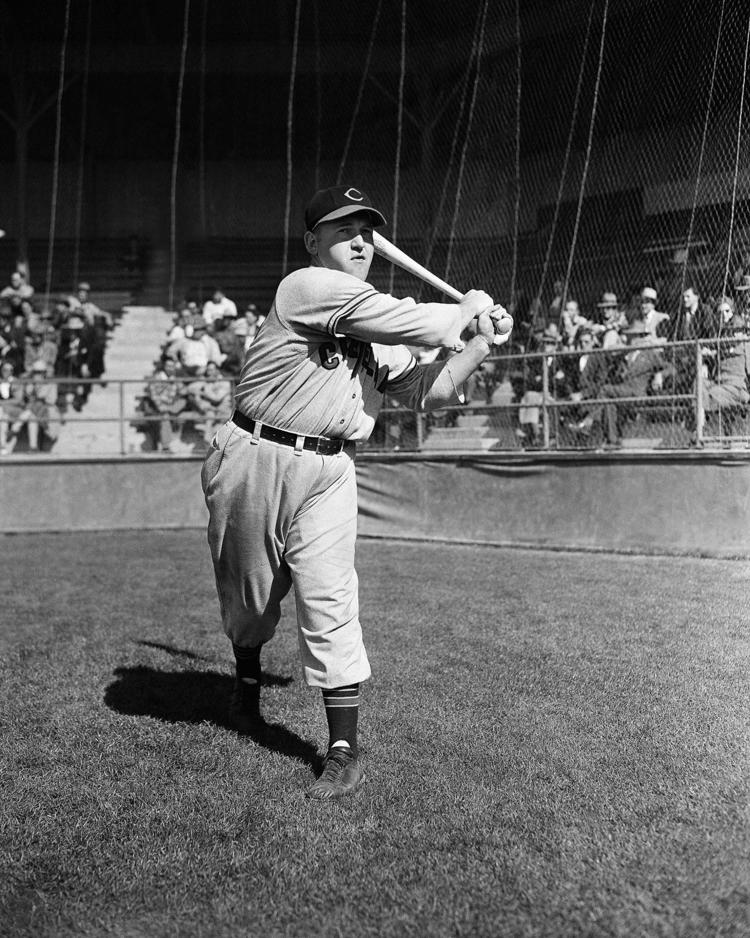 March 8, 1947: Cleveland Indians begin 46 years of spring training in Tucson
Bill Veeck bought the Lazy V Ranch near the Rincon Mountains because he wanted a sanctuary, peace, quiet and a place to entertain friends.
Friends?
Movie legend Hopalong Cassidy visited. So did comic genius Harpo Marx. But for the sake of Tucson's future, the most fortunate meeting at the Lazy V Ranch was the day Tucson developer Roy Drachman met Veeck, owner of the Cleveland Indians.
It would forever change Tucson's identity both as a place to live and a place for sports.
"In 1946, Veeck acquired the Indians," Drachman told the Star in 1992. "I talked to him about having them train here. So one day, he called up and said, 'I think you have a good idea. I want to drive up to see (New York Giants owner) Horace Stoneham.'
"Horace had a home in Phoenix. We drove up there on a Sunday and we talked to Horace Stoneham. Bill said, 'I'll bring the Cleveland Indians to Tucson if you'll bring the Giants to Phoenix and we'll train (together).'"
The Indians moved from Clearwater, Florida, and for the next 46 years staged spring training at Hi Corbett Field, a baseball enterprise that would endure until the Arizona Diamondbacks, Chicago White Sox and Colorado Rockies left Tucson in 2010.
This is how things changed in Tucson almost overnight: When the Indians reported to Tucson to open training camp, on February 28, 1947, baseball legends Rogers Hornsby and Tris Speaker — Hall of Famers who produced a combined 6,444 hits — arrived with Veeck at Hi Corbett Field.
Veeck hired Hornsby and Speaker as special ambassadors/coaches for Cleveland and made them available to the Indians' stockholders. Two days before the Indians played their first-ever game as Tucson's spring training tenant, an invitation-only crowd of about 2,000 watched the Indians in a scrimmage.
Photographers took pictures of the two Hall of Famers posing with Veeck's stakeholders near home plate. Later, they held a party at the Lazy V that lasted past midnight.
On Opening Day, a Saturday afternoon, a record crowd of 4,934 attended. It was almost double any baseball crowd in Tucson history.
Putting Tucson on the map is a shared credit. John Wayne and the movie industry took part, as did the wonderful winter climate. The arrival of spring training might've been as important as any.
"We knew what we had; nobody in the city put up a maze of red tape once Bill made it known Tucson was his choice," Drachman told me in 1995. "We spent about $300,000 to upgrade old Randolph Park (renamed Hi Corbett Field in 1951), with new fields adjacent to the stadium and new locker rooms.
"You can't put a value on what having spring training meant to the growth and appeal of Tucson."
The Indians of 1947 were a high-profile acquisition for anyone. Hall of Fame pitchers Bob Feller and Bob Lemon were nationally-known ballplayers. 
The Indians played seven games in Tucson in 1947, drawing 15,597. In Phoenix, the New York Giants drew 23,192 for eight games. Both teams made a 10-day trip in California.
By the mid-1980s, the Indians looked to leave Tucson. Club leadership asked for better facilities at Hi Corbett Field, but none were forthcoming.
In 1992, I asked Cleveland manager Mike Hargrove what he thought about the Indians' plans to leave Tucson for a proposed $18 million facility in Homestead, Florida.
He took me to his office.
"Look at this place," he said. "I've seen better facilities in the rookie league."
Where are they now? The Indians' plans to train in Homestead were ruined by Hurricane Andrew. They relocated to a used facility in Winter Haven, Florida, and moved to Goodyear, a Phoenix suburb, in 2009.
How they did it: Veeck used the Lazy V Ranch as part ranch, part hotel, part saloon.
"I'd buy 10 to 15 cases of beer — Coors — a week and a lot of Camel cigarettes," his long-time assistant Beth Aycock, told the Star's Mark Stewart in 1992. "He smoked three packs a day. He could drink more beer than any man I ever saw, but I never heard him swear or tell an off-color story, which was surprising to me. I was used to being around rank old cowboys."
Veeck sold the Indians in 1949 when his finances were engulfed in a divorce case. He bought the St. Louis Browns (who would become the Baltimore Orioles in 1954) but later had to sell the Lazy V Ranch to meet the Browns' payroll.
---
Photo: FILE — In this Feb. 20, 1947 file photo, Pat Seerey, one of the heavy hitters on the Cleveland Indians roster, warms up at the club's training facility, Hi Corbett Field in Tucson, Ariz. (AP Photo/File)
No. 24 • UA alum Baffert wins first Kentucky Derby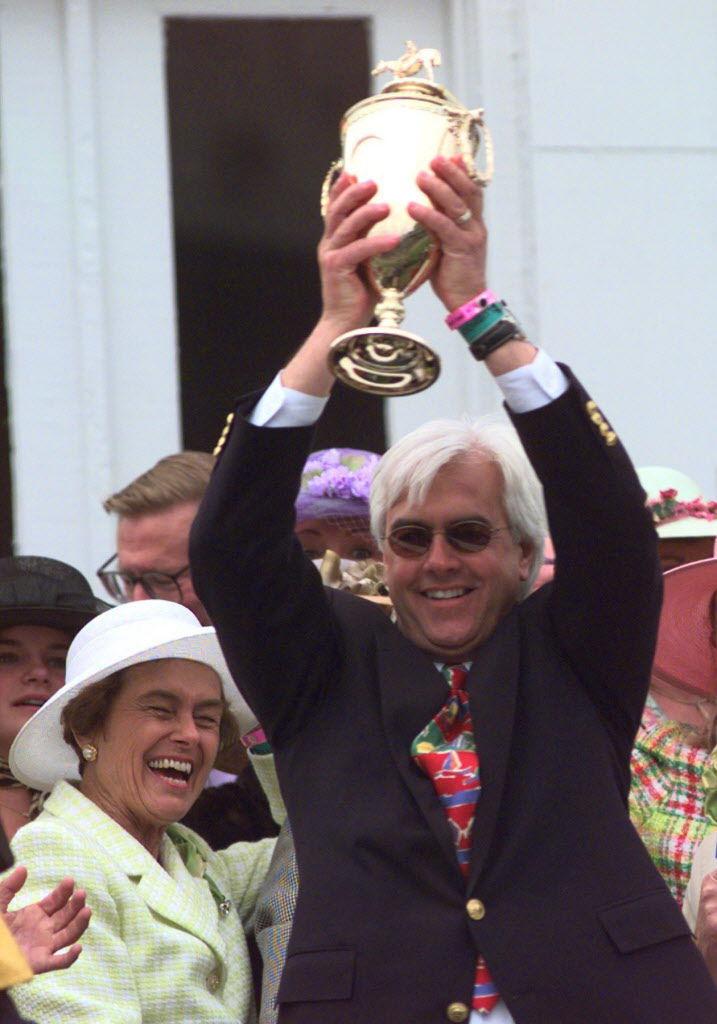 May 3, 1997: Horse trainer Bob Baffert wins his first Kentucky Derby
In the late 1970s and early 1980s, when few in Tucson knew Bob Baffert from Bob Lewis, their lives took a path that would merge side by side in the winner's circle at the 1997 Kentucky Derby.
They didn't live charmed lives. They lived Silver Charmed lives.
In the winter of 1991 at California's Santa Anita horse track, Baffert was a 38-year-old rising star in the thoroughbred training business, and Lewis was a mega-wealthy beer distributor who hoped to get involved at the highest level of horse racing.
Baffert and Lewis met at Santa Anita.
"Are you related to Melissa Baffert of Nogales?" Lewis asked the relatively unknown Baffert.
"She's my cousin," Baffert said.
"Well, my daughter, Nancy, became good friends with Melissa at the University of Arizona. I used to own a Porsche dealership in Tucson."
Lewis ultimately told Baffert he would give him $2 million to buy a horse at auction.
A bit later, while studying videos of the top 2-year-old thoroughbreds in Florida, Baffert got his first look at Silver Charm. Bingo. He contacted Lewis, who, acting on Baffert's advice, made an $85,000 payment for Silver Charm.
In 1997, Baffert, Lewis and Silver Charm broke through, winning the Kentucky Derby, launching Baffert into a career in which he has become the world's leading thoroughbred trainer. Silver Charm went on to win $6.94 million.
"Sometimes there's a diamond in the rough in those 2-year-old sales, and we happened to find him," Baffert said in 1997.
A year later, the son of a Nogales rancher won his second Kentucky Derby, with Real Quiet. As with Silver Charm, a victory in the Preakness followed. Baffert became a celebrity. He was photogenic, quotable and funny. Most of the funny stories came from the stories of his childhood days in Nogales and from his eight-year grind to earn an undergrad degree at the UA.
In 1999, Baffert wrote a biography, "Dirt Road to the Derby," which is a candid account of his party-filled days (and nights) in Nogales, the UA and of his struggling days as a quarterhorse trainer at, among other places, Tucson's Rillito Park racetrack.
It was as much "Animal House" as a story about horse racing.
How did all this happen? How did Baffert and his greatest horse, American Pharoah, win the 2015 Triple Crown?
In "Dirt Road to the Derby," Baffert traces his instincts for recognizing and developing talent to his days as a kid on his father's ranch. The Baffert kids were active in 4-H Club programs: Bob grew up judging goats, cattle and horses. He took care of his horses' teeth. He wrapped their legs, studied their personalities, rode 'em, shoe'd 'em, fed 'em.
To make extra money, he sold eggs that he gathered from the chickens on his farm.
"He gives you that loosey-goosey, let's-find-a-party, laugh-a-minute routine," Mac McBride, for 25 years part of the administration at Del Mar racetrack outside San Diego, told me. "But when you see him conduct his business, he is the king of detail. He has wonderful organizational skills. He runs a very tight ship."
That's a long way from Baffert's profile at his first Kentucky Derby, 1996, when his horse, Cavonnier finished second by a nose.
When Baffert climbed onto a timer's stand during the week's final workouts, he found himself near an ESPN analyst.
"Hey," the analyst said, pointing to Baffert. "Can you run down to the media center and find my runner, Sally, and tell her ESPN is here?"
Baffert turned to a friend, deadpan, and said, "Go find Sally and tell her Norm needs more hot towels."
Things changed in a hurry. After winning the '97 Kentucky Derby and Preakness, Baffert told ESPN he "felt like the Pope."
Where are they now? Lewis, who owned a Porsche-Audi dealership on East Speedway in Tucson from 1977 to 1985, died in 2006. He was 81.
How he did it: Baffert hasn't forgotten his Tucson connections. After winning the '97 Kentucky Derby, he scouted claiming races in California, looking for prospects for his old Tucson buddies, Bill Belton and Forest Metz, both with strong histories as horsemen. Baffert recommended they spend $16,000 to claim Busy Little Beaver.
"We didn't have any intention of claiming a horse that day," Belton told me. "We didn't even have a check with us. But Bob was persuasive. He had been watching him and had a good feeling. He said he'd front us the money, so we went ahead and claimed him."
Busy Little Beaver won its next three races and won in excess of $90,000 in three months.
---
Photo: Trainer Bob Baffert holds the trophy aloft after Silver Charm won the Kentucky Derby at Churchill Downs in Louisville, Ky., on Saturday, May 3, 1997. (AP Photo/Ed Reinke) 
No. 23 • Tiger takes Tucson's 2008 Match Play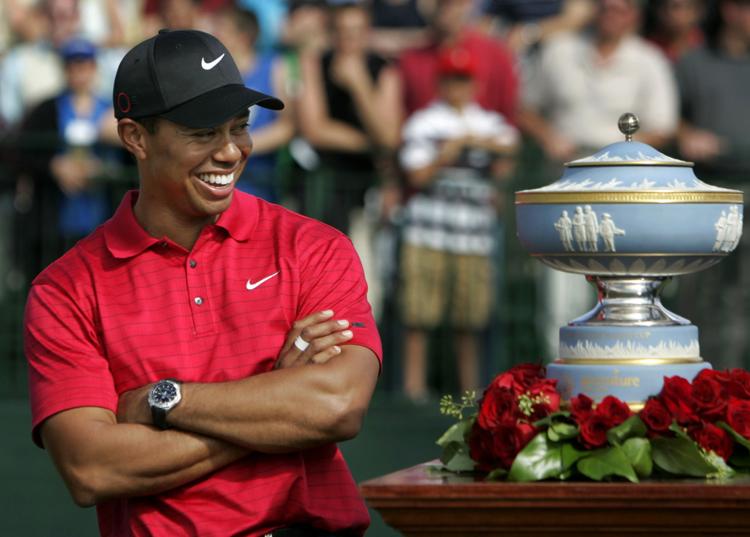 Feb. 24, 2008: Tiger Woods wins the WGC-Accenture Match Play Championship at Dove Mountain
The list of Tucson's greatest moments in golf is long and distinguished.
Arnold Palmer, in his prime, shot 15-under par to win the 1967 Tucson Open.
Phil Mickelson, an Arizona State student, won the 1991 Tucson Open as an amateur.
Tom Watson won the 1986 Seiko World Match Play championship at Randolph North.
Golf immortals Ben Hogan and Sam Snead played in the early days of the Tucson Open at El Rio Golf Course. Johnny Miller, setting scoring records, won three consecutive Tucson Opens from 1973-75. Tucsonan Don Pooley won the U.S. Senior Open and Sahuaro High School grad Cindy Rarick won five LPGA championships.
And then there's a litany of UA All-Americans and national championships, from Annika Sorenstam to Mr. 58, Jim Furyk.
But the snapshot that best captures the impact of golf in Tucson happened on a Tuesday morning, Feb. 19, 2008. Jack Nicklaus held a press conference at the WGC-Accenture Match Play Championship at The Gallery Golf Club. He updated the progress of the Ritz-Carlton Golf Club, a course that would serve as home to the Match Play championships from 2009-14.
As Nicklaus was leaving the media center at The Gallery's south course, Tiger Woods, then 32 and in his prime, stood at the door, awaiting his press conference.
Nicklaus and Woods saw one another, shook hands and talked privately for a minute or two.
I thought it couldn't get any better than that, but a day later Woods staged the most compelling comeback victory in Match Play history, a round — and a week — of golf unmatched in Tucson.
Woods trailed J.B. Holmes by three holes as he walked off the 13th green.
Tournament organizers, the Tucson Conquistadores, 12,000 fans and NBC golf executives all cursed the format. Woods was about to be eliminated on the first of five days.
Then came four unforgettable holes:
Tiger made a 14-foot putt at 14. Birdie. Fist pump.
He made a 17-foot putt at 15. Birdie. Fist pump and a shout.
He made a 21-foot putt at 16. Birdie. Fist pump and a much louder shout.
He made a 36-foot putt at 17. Eagle. Many of the golf broadcasts showed the video of that moment for years.
About 500 yards away, watching on TV in the Conquistadores compound near Wild Burro Wash, the tournament's executive director, Michael Garten, sensed that the week had been saved.
"In the compound, we would hear a roar," said Garten, "and seven seconds later, which was the TV delay from live action, we'd see Tiger's putt drop into the cup."
No one was more thunderstruck than J.B. Holmes, who lost at the 18th hole.
"I think I shot 2 or 3 under on the backside," said Holmes, who was slow to believe that even his birdie at the 17th lost the hole. "I didn't choke and I didn't back down or anything like that."
I followed Holmes as he retreated from the scene at the 18th green, walking quietly with a security guard down an isolated path to the driving range. He stopped once to sign autographs for three tournament volunteers. The only distractions were distant cries of "Tiger!" "Tiger!"
"You were great today," one of the autograph seekers told Holmes.
"Great wasn't enough," he said.
Four days later, Woods won the Match Play title with the most lopsided victory in the event's history. He closed out Stewart Cink 8 and 7, meaning that he won on the 29th of 36 possible holes.
He was so dominant that PGA Tour commissioner Tim Finchem and his support crew had to race to the 11th green for the trophy presentation, much earlier than planned.
But it was Woods' comeback victory over Holmes that became the signature event in the Match Play's eight years in Tucson, and perhaps in Match Play history.
"I was running out of holes," he said. "I was pumped."
Where is he now? Woods never again advanced past the second round on Dove Mountain, losing to, among others, Thomas Bjorn, Tim Clark and Charles Howell III.
How he did it: "He's never going to mess up. He's just always in control. He never loses his composure," Cink said after the 2008 final.
Woods' victory in Tucson, No.63 in his career, surpassed Palmer's career total of 62.
---
Photo: Tiger Woods admires his hardware, the Walter Hagen Cup, after he defeated Stewart Cink to win the Accenture Match Play Championship at the Gallery South Course in Marana, Ariz., on Sunday, Feb. 24, 2008. Photo by David Sanders / Arizona Daily Star
No. 22 • Arizona's basketball mecca, McKale Center, opens in 1973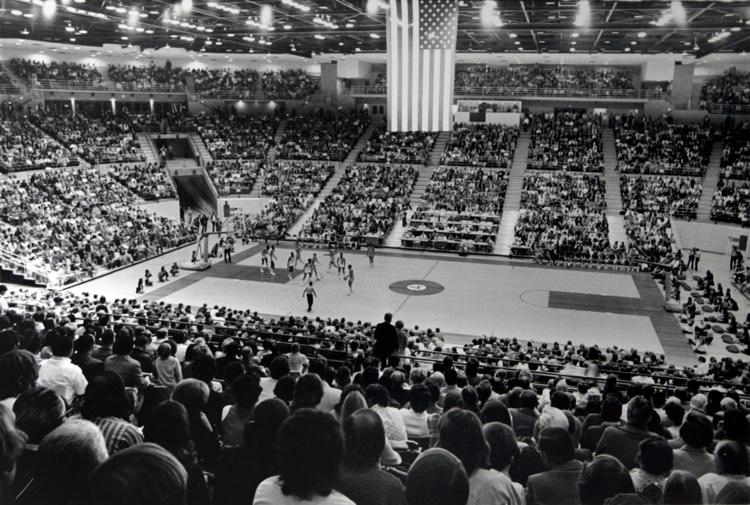 Feb. 1, 1973: McKale Center opens
New Mexico was the first of the basketball-centric WAC schools to design and build a basketball arena, opening The Pit in December of 1966 for $1.4 million.
Envy spread. As The Pit opened, every other school in the WAC was playing in a facility at least 50 years old and, in a word used a lot in those days, antiquated.
Bear Down Gym, built in 1926, was ancient by every definition. Capacity was limited to 3,000. The University of Arizona's basketball program crawled along, with little recruiting power.
Alas, the UA couldn't immediately raise the necessary money to replace Bear Down Gym.
Others had no such difficulty. Utah went to work on what is now Huntsman Center. It was a jewel. It opened in December 1969 at a whopping $10.3 million, although it included two underground gymnasium complexes, offices and a PE plant.
Even small schools like Utah State and New Mexico State were quicker to reprogram their basketball facilities. USU built the Spectrum in 1970 for $3 million, and NMSU opened the Pan American Center in November 1968 for $3.5 million. Both schools became consistent NCAA tournament contenders.
Arizona President Richard Harvill was successful in getting a $2 million appropriation for the Legislature in 1968 and dispatched Robert L. Houston, director of the school's physical plant, to visit both New Mexico arenas and the Forum and Sports Arena in Los Angeles.
"Most of the places we visited were beyond our reach," Houston told the Star. "It still looks to me like we have to plan for the ultimate and then do what we can with the money we get."
Arizona hired the Tucson architectural firm of Place and Place, which had designed, among other Tucson buildings, Pueblo and Rincon high schools, the UA's administration and chemistry buildings, and Centennial Hall.
Harvill met with the Legislature and was granted an additional $2.5 million, but progress stalled.
"McKale Center was delayed because money appropriated by the Legislature for it was put into bonds and there were no monies for the architect's fees," wrote Lew Place in his memoirs, "Places in the Sun." "We didn't start on the work until the third year and it took us over a year to do the complete set of drawings and specifications. By the time we were ready for builders' bids, the cost had doubled to $8 million.
"Dr. Harvill was on my back like a bear, saying it was my fault."
By then, even Arizona State — a notable football school — had begun working the Legislature for a new basketball arena. Time dragged. The Wildcats would go 28-50 over three years in the old gymnasium. (ASU's basketball arena was completed in 1974).
In Tucson, some crazy notions were tossed around. One included putting a roof over Arizona Stadium. Another was to build a multipurpose stadium on the west side of Interstate 10 near downtown.
Place's architectural firm consulted with a Kansas City group and asked for help. As Price wrote in his memoirs:
"The Kansas City people would roof the entire stadium for $2 million, with steel trusses and roof. We would have had to close the north end and air condition it. Now, there would have been a field house and dormitories and places for everything, including a basketball court."
Place said that Harvill told him to forget it.
"He said that if I didn't shut up, he'd get somebody else to do McKale Center. So I shut up."
Harvill ultimately worked the Legislature with such persistence — and the pledge of naming the arena after UA icon James F. "Pop" McKale — that he was granted the funds to finish the plans and break ground in November 1970.
The first game was played Feb. 1, 1973. Arizona beat Wyoming 87-69 as freshman Coniel Norman scored 37 points. A capacity crowd of 15,000 attended to watch first-year coach Fred Snowden's "Kiddie Corps."
In retrospect, it was astonishing the game was played that night.
A week before the Wyoming game, Arizona Daily Star photographer Jack Sheaffer sat in a courtside seat after a photo shoot. The seat collapsed.
The Sundt construction company tested other seats, but could find nothing wrong. A few days later, a group of university VIPs visited the arena. When they sat in the seats, they, too, collapsed.
Finally, after much examination, it was determined that body heat from someone sitting for a period of 10 minutes or more caused the plastic seat bottoms to soften, bend in the middle and give way.
The manufacturer, based in Kansas City, shipped parts that would fix the problem, but the parts didn't arrive until game day. About 20 carpenters were hired. Inspectors finally approved McKale Center 90 minutes before tipoff.
Whatever the struggle, the long-ago project of Harvill and Place turned out to be a winner.
Over the last 43 years, McKale Center has become the palace of all West Coast college basketball arenas, and the most formidable home-court atmosphere in the Pac-12. Arizona has led the league in attendance every season since 1985.
Where are they now? Place, who died in the 1980s, chose the copper roof.
"We put some material on that copper to turn it green," he said in his memoirs. "Copper, when it turns green, is a beautiful soft green. But that roof didn't turn out that way. When it was first built, you could see the shine coming off that copper, but it turned rather brownish. I don't remember what we specified to put on there but it didn't work the way I wanted it to."
How they did it: When McKale Center opened, it included multipurpose rooms for the drama department. That was one of the conditions to access government money for the project. They were mostly makeup rooms for potential concerts and university plays. But Snowden took control of the small labs, which were painted pink. He turned one of them into the team's main locker room and had it painted gray-blue.
The UA locker room, part of an $80 million renovation project last year, is now red and blue.
---
Photo: Opening night of McKale Center on Feb. 1, 1973. Photo courtesy of University of Arizona Special Collections
No. 21 • Arizona's Desert Swarm defense leads UA to 16-3 win over No. 1 Washington
Nov. 7, 1992: Arizona beats No. 1 Washington
Arizona's football team entered the 1992 season without any sort of nickname. The Wildcats were coming off their first losing season (4-7) since 1980. Then it got worse.
The UA lost at home to Washington State and then tied woeful Oregon State. An imposing game at No. 1 Miami followed.
Gulp.
But on that October day at the Orange Bowl, the Wildcats fought back. They lost 8-7, a memorable game in which it became apparent that Dick Tomey's defense had the makings of what a few weeks later would be would become known as Desert Swarm.
After the bitter loss at Miami, the Wildcats routed No. 11 UCLA, stuffed No. 8 Stanford, beat Cal and New Mexico State. Suddenly, as if overnight, Arizona was ranked No. 12.
That set the stage for one of the most anticipated showdowns in school history: a nationally-televised classic against No. 1 Washington, a team with a 22-game winning streak, a juggernaut that had outscored its last 14 Pac-10 foes an astonishing 524-130.
Each of the 58,510 fans who squeezed into Arizona Stadium that afternoon knew how dominant the Huskies had been: Washington embarrassed Arizona 54-0 and 54-10 the previous two seasons.
Over the next three hours, Desert Swarm became a national brand. Nose guard Rob Waldrop, tackle Tedy Bruschi, safety Tony Bouie, linebacker Sean Harris and cornerback Keshon Johnson dominated the Huskies, winning 16-3.
Eleven years earlier, Arizona shocked No. 1 USC at the Los Angeles Coliseum 13-10, which triggered the most successful decade of football in school history. Beating the No. 1 Huskies in '92 launched a similar decade of UA football success.
The Wildcats' defense was so dominating that as UW linebacker Jamal Fountaine left his team's locker room, he told reporters: "To me, they're No.1 now."
He meant the Wildcats.
"I admit, sometimes I do get amazed," said Waldrop, who would become a two-time consensus All-American and College Hall of Fame inductee. "I've never been part of anything like this in my life."
Long after the game ended, Tomey sat on a folding chair in the corner of basement room at the stadium. A large group of reporters from coast-to-coast, the kind of people who usually didn't come to Tucson unless it has something to do with basketball, carried on as if they had just discovered the mother lode. To them, it was a fresh and romantic story.
The Other Guy beats the odds.
How did it feel to be discovered after 15 years as a head coach?
"Well, it beats anything we've had lately," Tomey said, typically understated.
He said he would go home, have dinner, watch a tape of the game, meet a few recruits and avoid any breast-beating.
"I like to stay home," he said.
But he did give his rare captive audience something to take home to tell their readers.
"This team now has beaten Washington in three of five games," he said. "It has beaten UCLA three out of four, and USC two in a row. At some point, the Arizona program needed to get some credit for what it's been."
The next morning on ESPN's college football weekend review program, hosts Beano Cook and Dick Schaap began with Arizona's victory over No. 1 Washington.
Cook: "Where did Tomey come from? Didn't he coach at Hawaii?"
Schaap: "I think he walked across the ocean."
Cook: "Arizona is the talk of college football, the hottest thing going."
Where are they now? The UA's team orthopedic surgeon, Dr. Kim Hewson, was part of the emotional postgame celebration. He wept as player after player embraced him.
During the UA's scuffling 4-7 season of 1991, Hewson performed virtually all of the surgeries on the battle-scarred team. Vince Smith, Terry Vaughn, Billy Johnson, Barry Julian, Mike Ciasca, Richard Griffith and Sean Harris all required surgery. Johnson was the star of the UW game, rushing for 99 yards.
Hewson is now retired and lives in Telluride, Colorado.
How they did it: Arizona only completed five passes, behind George Malauulu. It relied on its defense.
"We were going to run inside, and then when it didn't work, we were going to run inside again," Tomey said. "That's where we thought we could do the most damage and also keep them off our quarterback.
"Patience is what we had to have."
Trailing 9-3, the Huskies' last gasp was choked off with 8:19 left when Mark Brunell passed to Jason Shelley, who had the ball for a fraction of a second.
That's when free safety Tony Bouie smacked into Shelley at about the UA 20. The ball popped in the air, coming to rest in the hands of cornerback Keshon Johnson. Game over.
---
Photo: Arizona's Desert Swarm defense led the Wildcats to a 16-3 win over No. 1 Washington in 1992 at Arizona Stadium. Arizona Daily Star file photo
No. 20 • Tucsonans Pooley, Rarick win PGA, LPGA Tour events on same day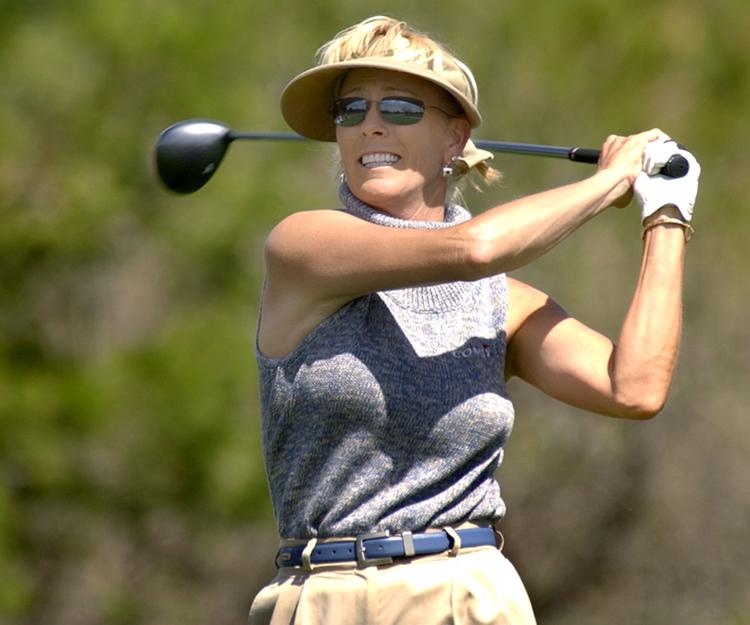 May 31, 1987: Tucsonans Don Pooley and Cindy Rarick win PGA Tour, LPGA titles on same day 
Don Pooley and Cindy Rarick have almost nothing in common except golf.
Pooley grew up in Riverside, California, and rarely attracted attention for his golfing skill.
"I was never a prospect to anybody," he told me. "I never won a junior championship."
He was one of 108 players in a mass tryout at Arizona in 1969. He shot 77 and was added to the club as a walk-on. He got a scholarship two years later, but never won a tournament in his UA days.
Rarick (then Cindy Flom), was so good as a junior at Sahuaro High School that she was added to the Cougars' boys team and became a standout. Everybody in the Tucson golf community knew about her, especially her mentor, Tucson golf icon Dell Urich.
She went to Hawaii on a golf scholarship, quickly won the Hawaii women's match play title and was on the LPGA Tour at 25. She won he LPGA Hawaiian Ladies Open at 27, the first of five championships.
Pooley lost his PGA Tour card in 1977, went back to Qualifying School and got the last spot in a field of 156 golfers. He broke through in 1980, winning the B.C. Open.
Although they were 421 miles apart, their destinies crossed on Memorial Day weekend, 1987. Pooley staged a terrific rally to win the Jack Nicklaus' Memorial championship in Dublin, Ohio, while Rarick birdied the last four holes, similarly roaring from behind to win the LPGA Corning Classic in Corning, New York.
What are the odds of two pro golfers from Tucson winning on the same day?
"The win was so thrilling because of the way I came back," Rarick told me. "It was so unexpected. Everybody thought 'where did she come from?' because I birdied the last four holes."
Rarick beat LPGA stars Betsy King and Patty Sheehan by one stroke that day. It was the prime of her golf career; Rarick would soon win the 1989 Chrysler Plymouth Classic, the 1990 Pat Bradley International and the 1991 Northgate Computer Classic.
She was on leaderboards everywhere, earning $2.1 million (which included the $41,250 she won at the Corning Classic).
Pooley's prime years were delayed by two back surgeries and one neck surgery, keeping him out of about half of the PGA Tour events from 1991-94, but his final round at the '87 Memorial wasn't soon forgotten.
He began the round four strokes off the lead, but made an epic, 20-foot, downhill putt on the 17th green for a birdie and won by three strokes. He was paid $140,000.
"Starting the final round, I had no expectations," Pooley said. "It definitely depended upon Scott Hoch. If he shot a good round there was nothing I could do. It surprised me."
Where are they now: Pooley, 64, a prostate cancer survivor, is retired from the Champions Tour and lives in Tucson. He is a volunteer coach for the UA men's golf team and a regular attendee, sitting behind the UA bench at McKale Center basketball games.
Rarick, 56, has been the winery director of Silvara Vineyards in Leavenworth, Washington, near Seattle, for eight years. Her top Tucson golf moment was a second-place finish at the 1995 LPGA Ping/Welch's Tucson Classic. Her last event on the LPGA Tour was 2009.
How they did it: Pooley's greatest moment in golf was when he beat Tom Watson in a classic sudden-death finish at the 2002 U.S. Senior Open. Pooley shot a 63 in the third round to get in contention.
A few months later, he reflected on his career, which included four victories and the 1985 Vardon Trophy, awarded to the golfer with the lowest average score (70.43) on the PGA Tour. He was regarded for years as one of the best putters in the world.
"Today nobody's more surprised than me," he said. "I was never a great junior player, I was never a great college player, and I never had a lot of success growing up, but I've had a lot of success on the Tour. ''
Rarick, who helped to organize the LPGA Legends Tour, including two events at the Omni Tucson National, said in 2008 that she was at peace with her career.
"I was home in January this year for the first time in 25 years, but that's fine," she said. "It seems like those years went by in a blink, but my life is good; I couldn't have scripted it any better."
---
Photo: Cindy Rarick tees off on the 13th hole at Randolph Golf Course on March 21, 2002. Photo by Benjie Sanders / Arizona Daily Star.
No. 19 • UA legend Drachman tosses first pitch at D-backs first-ever Spring Training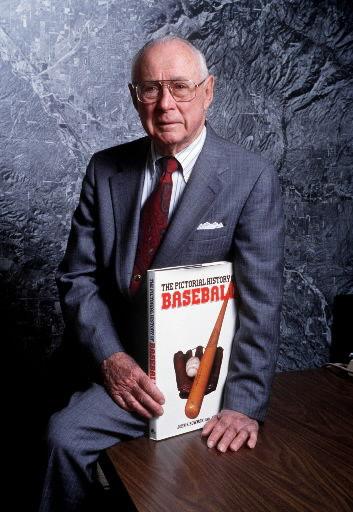 Feb. 27, 1998: Roy Drachman throws out first pitch in Diamondbacks' first-ever game 
At a 2002 celebration of Roy Drachman's life, an old black-and-white photograph of Drachman in his 1922 Tucson High School baseball uniform was on display at the Tucson Country Club ceremony.
Drachman, however, didn't throw his best pitch until 1998, when he was 92 years old.
The occasion drew a then-record 11,298 fans in the first game ever played at Tucson Electric Park (now Kino Stadium). It was the debut of the Arizona Diamondbacks, the newest team in the National League.
"I thought back to the day the Indians played their first game at old Randolph Park in 1947," Drachman told me after delivering an off-speed pitch to Diamondbacks catcher Kelly Stinnett. "I've been fortunate to be part of both."
Nobody ever named a Tucson baseball stadium after Drachman they way they did for his long-time baseball partner Hi Corbett. In fact, the UA named its track facility Drachman Stadium, after he gave the school a $400,000 gift 30 years ago.
But Drachman was a baseball man to the soul, from his days as a Tucson Badger to his prominence in bringing MLB spring training to Tucson in 1947. Drachman told me he attended virtually every World Series game from 1946-57; he was close friends and business partner of Yankee owner Del Webb.
Drachman later joined other Tucson leaders such as Dan Schneider, Eddie Leon and Pat Darcy in restoring spring training after the Indians departed in 1992.
"I know how important Roy has been to baseball in Tucson," Diamondbacks managing partner Jerry Colangelo said on that chilly (it was 41 degrees at first pitch) Opening Night in 1998. "There was no other choice to throw out the first pitch."
The Diamondbacks were awarded a MLB franchise on March 9, 1995 and on that day Colangelo announced that the D'backs would hold spring training in Tucson.
A lot of issues remained: Where would the ballpark and training facility be located? Who would pay for it and how much would it be?
And would Colangelo be able to deliver on a further promise: to bring a second team to Tucson to share what would be TEP and the Kino Sports Complex.
But there was some political intrigue. Drachman and Colangelo talked. They knew that the Tucson v. Phoenix rivalry had been an ongoing feud for almost 100 years.
"I'm very, very aware of the history of the relationship, or lack of relationship, between the communities," Colangelo said in a Tucson meeting. "But we can bridge that gap."
At the time there was an unwritten code that every Tucsonan held dear: The only good Phoenician was a Phoenician named Mike Bibby.
Tucson's glacier-cold, keep-your-distance, second-city, isolationist attitude faced a crucible like never before. But for the next 12 years, first with the D'backs in spring training and later with the Tucson Sidewinders in the Pacific Coast League, Tucson was able to make Phoenix part of the sports fabric.
The Diamondbacks made all the right moves.
They asked Tucson to build them a ballpark (for $37 million) and we did.
"We are going to have as fine a facility as there is in major-league baseball for spring training, without question," Colangelo said.
They said they would bring the Chicago White Sox into partnership with Tucson, and they did.
They asked us to be their Class AAA affiliate, and we were.
They said they would make us a 10-month-of-the-year operation, the site of winter, spring and summer baseball of all levels. And they did.
They opened a Tucson office strictly for public relations a year before the first pitch was thrown.
Until it all fell apart long after Drachman's first pitch, after new D'backs ownership pursued a greater bottom line and moved to a new facility near Scottsdale, the Diamondbacks were Tucson's Team.
Now? No.
After Colangelo's departure the Diamondbacks all but fell off the face of the baseball earth, here and in most baseball precincts.
Now the Diamondbacks don't employ a single person in Tucson; they even eliminated a bus ferrying Tucsonans to Chase Field.
Where are they now: Colangelo, 76, left the Diamondbacks after an ownership change in 2004. He is now director of USA Basketball, responsible for the U.S. Olympic basketball team. Drachman died in 2002 at 95. Mayor Lew Murphy was the emcee at his celebration of life. The past president of Ford Motor Company spoke at the service.
How they did it: The first game in D'backs history was sold out three days in advance. Albert Belle of Chicago hit the first home run at TEP. Tickets cost $14.
When the D'Backs rallied in the ninth to beat the White Sox 6-5, Arizona manager Buck Showalter said: "Everybody was excited. I didn't think there was any coolness on the part of the veterans. It was a good day."
---
Photo: Roy Drachman poses for a photo in 1992. Photo by Bruce McClelland / Arizona Daily Star 
No. 18 • Ed Brown becomes Tucson's first black HS coach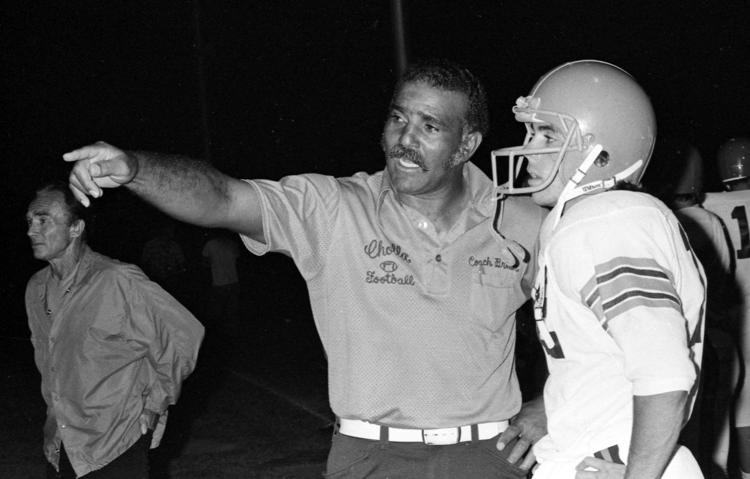 Dec. 17, 1968: Cholla's Ed Brown becomes Tucson's first African-American head coach
Ed Brown was one of three African-Americans in the 1950 graduating class of 1,400 at his Colorado Springs high school, a two-way football player, guard and linebacker, with major-college ability.
But no one recruited Brown. He joined the Marine Corps and soon found himself playing on the San Diego Marine Recruiting Depot team, making the All-Service teams of 1951 and 1952.
Along the way, he played football with Joe Stribling, who had been a standout under coach Warren Woodson at Hardin-Simmons University.
Stribling wrote a letter to Woodson, then the head coach at Arizona, telling him about Brown. Without seeing Brown play, without meeting him in person, Woodson offered Brown a spot on the UA's 1954 football team.
"I had finished a year in Korea and moved to Tucson," Brown told me at a 1988 roast in his honor at the Hilton Tucson East hotel. "There was only one other black football player. That's the way I grew up in Colorado Springs. I could handle it."
From 1954 to 1957, Brown was a three-time All-Border Conference guard and linebacker at Arizona. At 6 feet 2 inches and 210 pounds, he played every down during the 1956 and 1957 seasons.
"He was quick, strong, intelligent and maybe the hardest worker I ever saw," Woodson said in 1988. "He was a wonderful human being."
After graduating from the UA — Brown was the school's Outstanding Senior Athlete in 1957 — he was hired by Pueblo High School to be a teacher and assistant coach in football and track. He remained at Pueblo for 10 years; no African-American had ever been the head coach at a school in Southern Arizona.
Times changed slowly.
Finally, when Cholla and Santa Rita high schools were completed for the 1969 school year, Brown was given a choice to be the head football coach at either. After he chose to stay close to Pueblo and be the Chargers' first coach, UA athletic director Dick Clausen phoned and asked if Brown would meet him on campus at Bear Down Gym.
"I offered Ed the head track and field coaching job," Clausen told me in 1998. "He would've been the first black head coach of any sport in Division I. That's how much I thought of him."
Brown chose to stay at Cholla.
"I had to think first of our three children and what it would mean to them if I had to be away from home (to do) so much recruiting," Brown said in 1975. "I did what I thought best for my family."
Brown coached 20 football seasons at Cholla, a school that rarely had enough talent to challenge for championships. His teams were 91-98-2. After an 8-3 season, he was selected as the Star's 1980 Coach of the Year.
A photograph of that year's All-Tucson team reflects the change that had taken place in Brown's first 11 seasons at Cholla. The team included six African-American players: Sunnyside's Fred Sims, Ron Barrow and David Adams; Cholla's Vance Johnson; Salpointe's Jay Williams and Sahuaro's Skip Peete.
Johnson, who became an All-Pac-10 running back at Arizona and played in three Super Bowls for the Denver Broncos, returned to Tucson for Brown's 1988 roast. He presented him with his Broncos' jersey, No. 82, and told the audience, "I consider Coach Brown a second father; he kicked me off the football team one year, and he kicked me off the track team one year, but he was fair to everybody. I love him."
Brown was born in Mississippi in 1932 and soon moved to a segregated neighborhood in Colorado Springs. It probably wasn't much different than racially divided Tucson of the 1930s, '40s and '50s.
Brown made the best of it. In 1975, he wrote a guest column for the Tucson Citizen. He talked about his schoolboy days in Colorado.
"I was a cocky freshman with a number of undesirable characteristics," he wrote. "Then one day my high school coach took me into his office after practice and told me the facts of life. He really gave me a talking-to. But I'll never forget it.
"For once there was someone outside my family who gave a darn about me."
In June of 1988, after he retired from coaching, TUSD named the Cholla High football field Ed Brown Stadium.
Where are they now: Brown died of leukemia in 2012. He was 80. He was inducted into the Pima County Sports Hall of Fame in 1992 and the UA Sports Hall of Fame in 1997.
How he did it: Jerry Gastellum, who was the athletic director at Cholla, among other TUSD schools and a Pac-12 football referee, told the Star: "There has never been a greater man to work with students, not just athletes."
---
Photo: Cholla High School football coach Ed Brown, left, talks to a player during a game against Salpointe Catholic High School on Oct. 14, 1977. Photo by P.K. Weis / Tucson Citizen
No. 17 • Arizona caps greatest season ever with victory over Nebraska in 1998 Holiday Bowl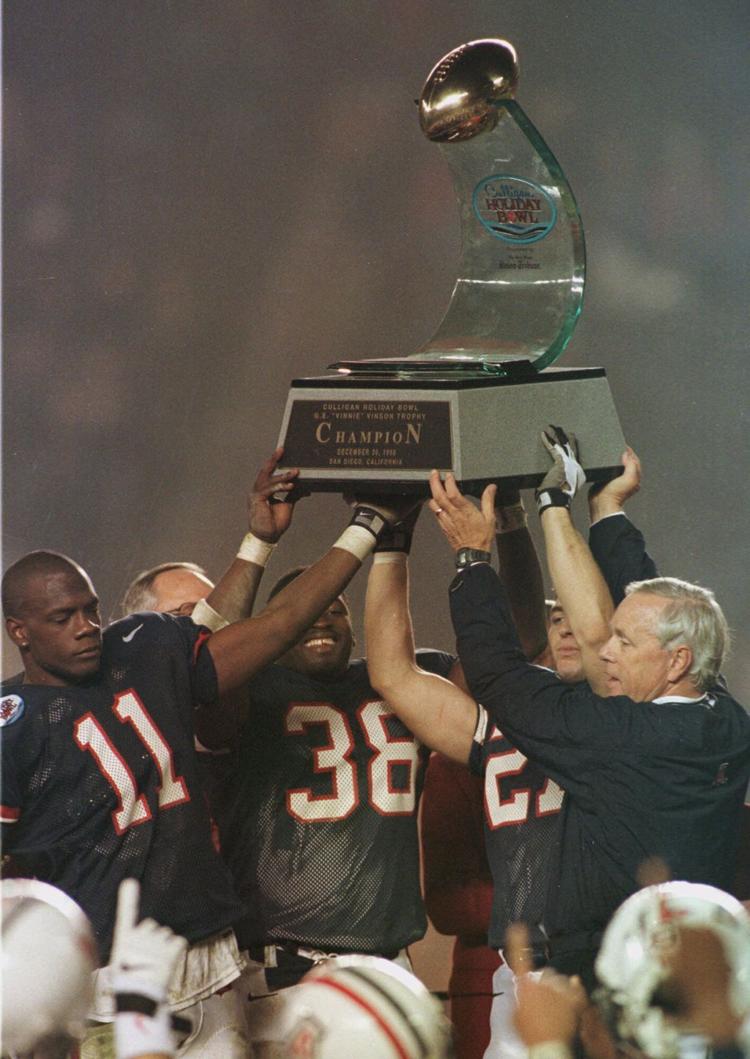 Dec. 30, 1998: Arizona beats Nebraska in Holiday Bowl, finishes 12-1
For 98 years, no Arizona football team from any era or generation was able to say it was the best in school history. At least not with any conviction.
Tex Oliver's 8-2 club of 1937? The Wildcats didn't even have facemasks in '37.
Jim LaRue's 8-1-1 team of 1961? The single loss came to West Texas A&M.
Jim Young's 9-2 powerhouse of 1975 lost its season finale at ASU. "The Catch" by John Jefferson lingers. It remains perhaps the most bitter loss in school history.
Larry Smith's 9-3 squad of 1986, beloved forever for Chuck Cecil's 106-yard interception return to beat Rose Bowl-bound ASU, was swept by USC and UCLA.
And Dick Tomey's Desert Swarm teams always lost the game they couldn't afford to lose, at Cal in '93 and at Oregon in '94.
This all began to change on a Saturday morning, Dec. 5, 1998. The 11-1 Wildcats sent representatives to the Tournament of Roses House in Pasadena, California, eagerly prepared to accept a formal invitation to play in the 1999 Rose Bowl game.
One final detail remained. UCLA, undefeated at 10-0, had to beat Miami that afternoon to clinch a spot in the BCS championship game. Once that happened, the Wildcats would go to the Rose Bowl.
As if eternally jinxed, the Wildcats' various "watch parties" ended in football horror. The No. 3 Bruins blew a three-touchdown lead and lost 49-45 to a Miami club that had been routed 66-13 by Syracuse a week earlier.
A day later, at the UA's annual year-end banquet, Tomey grabbed a microphone as he looked into the audience, seeing the faces of a team that had won 16 of its previous 17 games and was ranked No. 5.
"This is the best Arizona team of all time," he said, "None of this is diminished by what happened in the UCLA game."
From that moment, the Wildcats embraced the opportunity to beat 9-3 Nebraska in the Holiday Bowl. It was almost unthinkable that an Arizona football team could win 12 games in a season, capped by a victory over the mighty Cornhuskers.
The '98 season was a highlight reel, week after week.
It began when All-America cornerback Chris McAlister returned the season's opening kickoff for a touchdown at Hawaii.
A month later, on third-and-goal from the Washington 9-yard line, no timeouts remaining, 12 seconds on the clock, quarterback Ortege Jenkins scrambled through the middle of the UW defense. Surrounded at the 3, he somersaulted into the end zone, landing on his feet. Arizona won 31-28. Ever heard of "The Leap By The Lake"?
A week later, No. 3 UCLA and No. 10 Arizona met in one of the most anticipated games in school history. It was tied at 28 entering the fourth quarter when UCLA roared to a 52-28 victory.
"It's the game we've always waited for," said Tomey. "But the score is misleading. This is going to be a very good team."
In the Territorial Cup game, Arizona beat rival ASU 50-42 when tailback Trung Canidate ran for a school-record 288 yards, making 50-yard runs seem routine.
That set the stage for the Holiday Bowl, which drew 65,354 fans, then a record for the game at Qualcomm Stadium.
When Nebraska rallied for a 20-16 lead with 10:22 remaining, overcoming a 9-0 deficit, it looked like same-old, same-old at Arizona.
"We were talking in the huddle, saying, 'This day won't ever come again,' " said All-Pac-10 receiver Dennis Northcutt. "Everybody always talks about how they want to win, but we had to show it. We wanted each individual to say, 'I'm going to do my job,' because we didn't want to live to regret it."
Quarterback Keith Smith, who would be the game's MVP, then led the Wildcats on a 68-yard drive to win it 23-20. A late interception by McAlister, a cornerback who would make the Pac-12's All-Century team, destroyed Nebraska's final drive.
At once, it was the best season in Arizona history and among the five or six most meaningful victories.
"This catapults our whole university," said Canidate, who rushed for 101 yards. "This gives us respect all over the nation."
During the trophy presentation after the game, Smith accepted the MVP award, walked down a few steps and was greeted by Jenkins, with whom he shared the QB job all season.
Jenkins was crying.
They embraced for about 30 seconds, reveling in the greatest moment of their football careers, the snapshot of all snapshots in Arizona's 12-1 season.
When they broke apart, Smith, too was crying.
"I don't know what this means yet," he said. "But it's something sweet, something real damn sweet."
Where are they now: Smith is the offensive coordinator at his alma mater, Newbury Park (California) High School. Jenkins is the owner and operator of 1 Body Strength and Conditioning LLC in Los Angeles. His clients have included former UA basketball All-American Jason Terry.
How they did it: Defensive coordinator Rich Ellerson, later the head coach at Army, designed a special, stop-the-option defensive scheme to limit Nebraska's running ability. He surprised the Cornhuskers by using an extra linebacker, a scheme Ellerson had not used all season. Ellerson is now the defensive coordinator of FBS power Jacksonville; the Dolphins went 9-2 last season.
---
Photo: Arizona football coach Dick Tomey, right, with the help of his players, hoists the Holiday Bowl trophy after Arizona defeated Nebraska 23-20 on Wednesday, Dec. 30, 1998 in San Diego, Calif. (AP Photo/Kevork Djansezian)
No. 16 • Arizona Stadium becomes Wildcats' football home in 1929
Oct. 11, 1929: Arizona Stadium opens
USC, Cal, Ohio State and what would become the Rose Bowl all began or completed construction of football stadiums in 1921. UA football coach Pop McKale planted seeds do to the same at Arizona.
But it wasn't a fully popular notion.
An Associated Press commentary of 1921 said: "The mere bigness of intercollegiate athletics constitutes a danger to amateur sports. Immense stadia will breed professionalism."
Professionals? In 1921 Tucson, the UA's first bowl team, which played Centre College of Kentucky in the Christmas Bowl, didn't have enough money to buy new bowl uniforms.
Readers of the Star contributed $243 to a fund to properly outfit the Wildcats. The paper reported: "Our readers were determined those boys should not make a shabby appearance before their adversaries."
Incredibly, Tucson High School was judged to have a better football facility than the UA.
The Badgers completed their new football field in December of 1922.
"The field will be, by all odds, the best in the state," the Star wrote. "As soon as a University stadium is built, Tucson will have the two highest class fields in the state. Such a variety will make Tucson the center for athletic activities for years to come."
Building what would become Arizona Stadium was a long and frustrating campaign.
The Board of Regents stipulated that the alumni must raise $100,000 before an architect could be hired and property acquired. Ultimately, that fund reached $160,000 of the final cost of $166,888.
A list of donors reflected on the magnitude of the copper industry in 1920s Arizona.
Donors of $3,000 or more were: United Verde Copper Co., $20,000; Phelps Dodge Co., $7,500; Inspiration Copper Co.; $7,500; Colonel and Mrs. Boice Thompson, $5,000; New Cornelia Copper Co., $4,370; Miami Copper Co., $4,000; Calumet and Arizona Copper Co., $3,790; Nevada Consolidated Copper Co., $3,000.
The state appropriated no money to the project, although the Board of Regents purchased two blocks of land. The entire project was called Varsity Stadium, replacing West Stadium.
Finally, Arizona Stadium debuted against Cal Tech on Oct. 11, 1929. It was an event like few others in Tucson history.All 8,000 seats were full for a 3 p.m. kickoff. Gov. John Phillips gave a speech before the game.
"Ceremonies will be short and the kickoff will mark another round of the Wildcat gridiron crews advances up the ladder of southwest football prominence," the Star reported. "It will mark the graduation of Arizona into big-time football."
All of the male spectators at the game wore white shirts and ties. Most wore hats.
Arizona won 35-0. Two years later, with the UA as a driving force, the Border Conference was created. By 1931, lights were installed at the stadium for $4,800.
Bear Down Gym had been completed two years earlier, a basketball plant that endured until 1973. Arizona Stadium will begin its 87th football season in September, although it now has 48,000 more seats than the original building.
In an editorial after the debut game in 1929, the Star wrote: "The stadium will call attention to an athletic plant for Arizona's sons who leave home for college. … The future plant contains 14 acres on which stands the stadium, the gymnasium, swimming pool, baseball field and several practice fields."
Where are they now? Tucsonan Roy Place was the architect of Arizona Stadium. He also designed the Pima County Courthouse and many buildings on the UA campus. He died in 1950 at 63.
How they did it: Place created step-by-step plans to expand Arizona Stadium over the next 25 years, many of which were implemented. In 1949, the first permanent press box was built for $14,000. In 1965, Place's son, Lew, designed an addition of 10,600 seats to the west side of the stadium for $1.4 million. It included another new press box, which was used until 1989.
The only debt from the original construction was for east-side bleachers and turf. It left the athletic department $20,000 in debt.
No. 15 • Finch wins 40 straight, Wildcats claim 2001 national title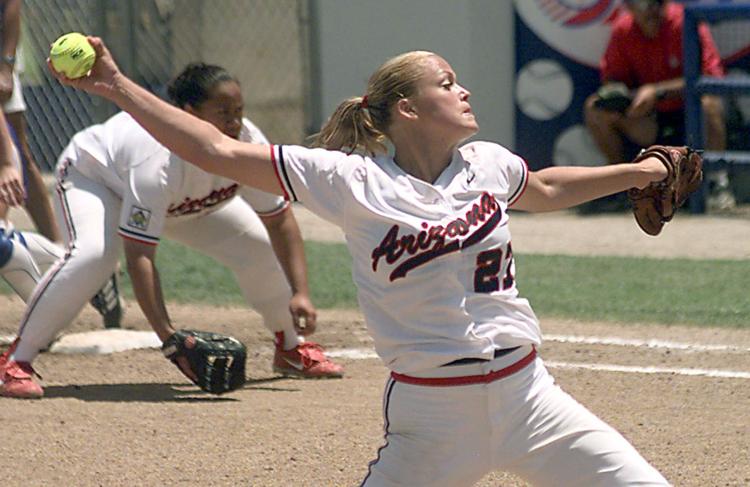 May 28, 2001: Jennie Finch wins 40th straight game as Arizona claims title
At 12, Jennie Finch pitched the 12-and-under California Cruisers to the ASA national championship in Chattanooga, Tennessee. At 14, she did it again, for that age group.
Once she entered La Mirada High School in the Los Angeles area, Finch was probably the top female athlete in American prep sports, or if not, she was close. She was the captain of La Mirada's volleyball and basketball teams, and the No. 1 pitching recruit in high school softball.
"If she had never thrown a pitch in her life, she still would've been a top prospect as a hitter," UA coach Mike Candrea once told me. Indeed, Finch hit 16 homers and batted .335 while playing first base part-time as an Arizona sophomore.
Even though Finch went 29-2 that sophomore season (2000), winning her final eight games, few had any idea she would soon reach an entirely higher level in 2001. Or that there even was a higher level.
In 2001, Finch went 32-0 with a 0.54 ERA and 19 shutouts. She pitched Arizona to its first Women's College World Series championship since 1997 and extended her winning streak to 40 games.
In the title game, against No. 2 UCLA, a team with a 62-5 record, Finch was so good that the Bruins' first four hitters in the lineup went 1 for 13.
"We had our key hitters up," said UCLA coach Sue Enquist. "I got the feeling we were going to bust out and get it done. I felt so good about it — but we just couldn't get to Jennie."
Arizona won 1-0. Finch was the most dominant player in softball, winning the Honda Award, the equivalent to football's Heisman Trophy. No other pitcher before (or since) had gone more than 29-0 in a season.
The Wildcats went 65-4 in '01. Some insist it was the best of Candrea's eight national championship clubs, better than the 64-3 team of 1994 and superior to the 61-5 squad of 1997.
"It's a good debate, and for me it's a very fun topic," said Candrea. "But we'll never know. I wouldn't want to face any of them."
Finch, third baseman Toni Mascarenas, catcher Lindsey Collins and outfielder Nicole Giordano made the All-WCWS team, but it was Finch's team and Finch's year.
When she returned as a senior in 2002, she was told she needed 11 victories to break former Florida State pitcher Rebecca Aase's NCAA record of 50 consecutive wins.
"I'm like, 'What?'" Finch told the Star. "What's the record?"
Finch broke the record, winning No. 51 at the championship of the Wildcat Invitational in late February 2002. A capacity crowd of 2,652 squeezed into the ballpark on a Sunday afternoon.
"I could say that there wasn't, but I'd be lying," Finch said of the pressure. "Hearing it from the media and the fans constantly, there was added pressure. But once I got onto the mound, I didn't even think about it."
After the game, the crowd chanted "51! 51! 51!" over and over.
Six weeks later, Finch's streak reached an unthinkable 60 consecutive victories, which simultaneously gave Arizona a 70-game winning streak at Hillenbrand Stadium.
The 60th victory was among the best of her 119-16 UA career; it came against No. 1 UCLA on April 6, 2002, at Hillenbrand. She had not lost in 101 weeks.
When the streak was broken, against UCLA (who else?), Finch got past it quickly.
By late May, Arizona was back in Oklahoma City attempting to win back-to-back national titles. Finch pitched 1-0 shutouts in OKC, beating Arizona State and Nebraska, and was 34-5 entering the championship game. But Cal's Jocelyn Forest pitched a one-hitter to power the Bears to the title and end Finch's remarkable UA career.
Where are they now? Finch, who turns 36 in September, is married to former Arizona Diamondbacks pitcher Casey Daigle and lives in Louisiana. They have three children. She travels around the country giving softball clinics and making public appearances.
How she did it: Finch's windmill-type pitching motion was created with the help of her father, Doug, who invented the Finch Windmill, a pitching, throwing and shoulder exercise device.
It was Finch's windmill motion that made the ball so difficult for opposing batters to see, especially at about 65 to 68 mph, which was the speed of her average fastball.
In 2005, at the Pepsi Celebrity All-Star Game near Los Angeles, she struck out St. Louis first baseman Albert Pujols, Mets catcher Mike Piazza and several other MLB hitters. No one hit a fair ball. She later pitched to Barry Bonds at the San Francisco Giants' spring training camp. In 12 pitches, Bonds made contact just once, a dribbler foul.
---
Photo: Arizona pitcher Jennie Finch delivers Monday, May 28, 2001, during the championship game of the Women's College World Series in Oklahoma City. Finch pitched a 1-0 shutout against UCLA to lead Arizona to the national championship. Finch was named the series MVP. (AP Photo/Jerry Laizure) 
No. 14 • Elliott, Wildcats make first Final Four appearance in UA history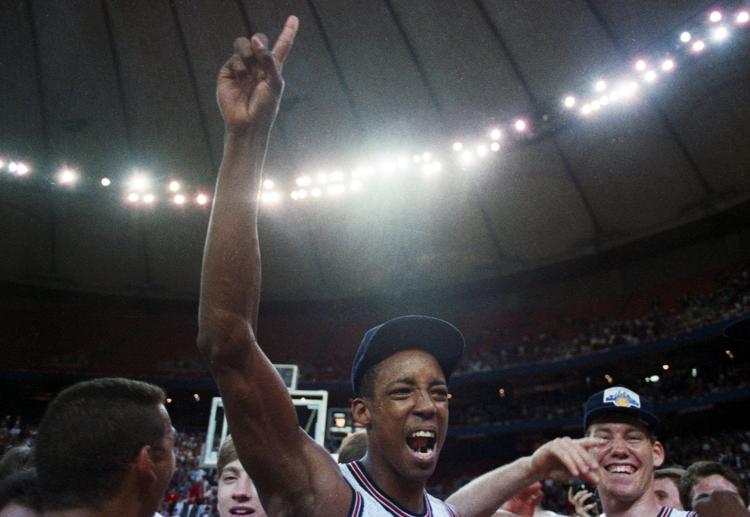 March 27, 1988: Arizona beats North Carolina to qualify for its first Final Four
At Media Day for the 1987-88 Pac-10 basketball season, USC coach George Raveling walked to the podium at a Los Angeles airport hotel, adjusted the microphone and held aloft a copy of the Arizona Daily Star.
"This story says Arizona is the big favorite to win the championship," said Raveling, a quotable and entertaining speaker. "It says Sean Elliott is the best player in the league and that Lute Olson is establishing a dynasty. It says they might be the first team in the Pac-10 ever to go 18-0. Well, why don't we just give them the trophy today and save us all some time?"
And then Raveling laughed.
Arizona was coming off a disappointing 18-12 season and had gone 0-3 in the NCAA Tournament under Olson. True, the Pac-10 was at an ebb, struggling to become relevant after five years as one of America's least successful basketball conferences. But the return of point guard Steve Kerr from a knee injury, combined with starters Elliott, Anthony Cook, Tom Tolbert and Craig McMillan, gave the Wildcats some national attention.
Arizona opened the season ranked No. 17 in the AP preseason poll. By Christmas, the Wildcats were No. 1.
It didn't take long for Arizona to establish itself as a Final Four contender. The Wildcats stunned No. 9 Michigan and No. 3 Syracuse to win the Great Alaska Shootout. They had an even better December, winning at No. 3 Iowa in Olson's emotional return to his former school, and then shot down No. 9 Duke in the championship game of the Fiesta Bowl Classic.
"Arizona has had the best preseason of any team in history," CBS analyst Billy Packer said after the Duke game. "I think they can win the national championship."
The Wildcats would be ranked No. 1 for a total of six weeks.
Elliott became a consensus All-American, Kerr established three-point shooting records that few believed possible, Cook and Tolbert became future NBA players. Arizona's only losses came in wild, inhospitable road venues at New Mexico and Stanford. By Selection Sunday, the Wildcats were 31-2 and a No. 1 seed.
Someone wrote a song called "Wild About the Cats."
Someone filmed a documentary, "Memories '88."
A marquee outside a local business said, "Air Lute, All the Way to KC."
In the NCAA Tournament, Arizona beat Cornell by 40, Seton Hall by 29 and Iowa by 20 in a rematch of the epic game in Iowa City three months earlier. All that remained was a much-anticipated showdown at the Seattle Kingdome with North Carolina and Hall of Fame coach Dean Smith.
"This is what we've wanted all year," said Kerr. "If you're going to get to the Final Four, you have to beat a team like North Carolina."
Olson rebuffed the critics, including those in the media audience in Seattle, who knew how weak the Pac-10 of 1988 had been.
"We felt we've had a great ball club all year long," Olson said. "I don't think a lot of other people did. I've heard all kinds of things like, "Well, wait'll they're tested,' or 'How good are they going to be when somebody is right there with the pressure on?'"
The Tar Heels led 28-26 at the half, and Olson didn't hold back. He told Tolbert, a senior center, that if he didn't play with more fire, the Wildcats would lose.
"I asked Tom, 'Don't you want to go to the Final Four?'" Olson said.
Trailing 42-40 with 14:09 remaining, Tolbert answered his coach. He scored on a twisting, backward, blind layup and was fouled by UNC's J.R. Reid. The three-point play gave Arizona the lead. Five minutes later it was 55-46 and Arizona was in control. UA would win 70-52 as Tolbert would score 21 points.
His three-point play is probably the seminal shot/play in UA basketball history. It fueled the team's drive to its first Final Four and won what some insist is the most meaningful game in school history.
At game's end, Smith knew the better team had won.
"We did better than anyone else," he said with a half smile.
"They only beat us by 18 points instead of 20."
Arizona shot 54.9 percent. Its underrated defense held the Tar Heels to  35.7 percent shooting .
Arizona flew home from Seattle that night and drove directly to McKale Center. At about 10 p.m., a crowd of almost 8,000 fans sat in the seats and cheered as Olson and his wife, Bobbi, led the team to center court for a late-night celebration.
Where are they now? Tolbert is a sports talk-show host in San Francisco and part of the Golden State Warriors' radio broadcast crew. McMillan is the head basketball coach at Santa Rosa Junior College near San Francisco, where he won the state championship in 2013.
How he did it: "I wasn't very amazed," Tolbert said of his game-changing three-point shot. "I used to mess around in my driveway when I was little with shots like that all the time. It wasn't the shot itself; it was having somebody that weighs 300 pounds come down on me. I thought it was Hulk Hogan or something coming down off the top rope."
---
Photo: Sean Elliott and the Arizona Wildcats celebrate their victory over North Carolina during the NCAA Tournament on March 27, 1988. Photo by Clarence Tabb / Tucson Citizen
No. 13 • Arizona swimming team breaks through in 2008 to sweep NCAA titles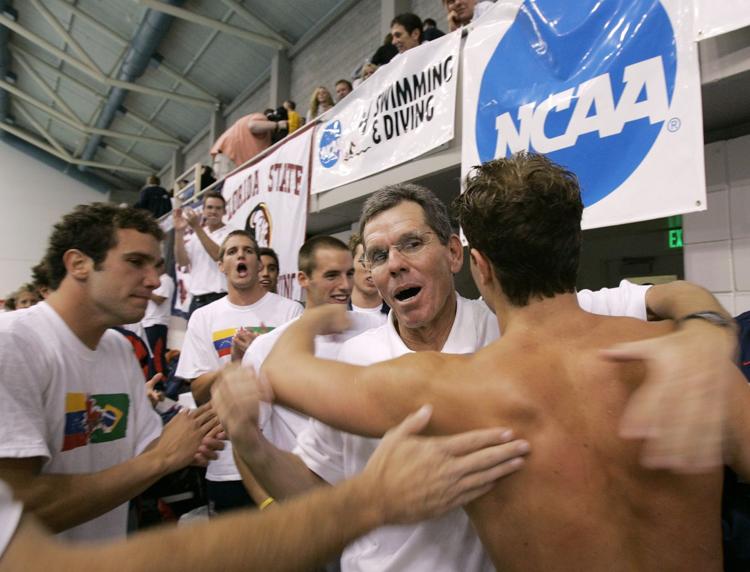 March 28, 2008: Arizona wins NCAA men's and women's swimming championships in eight-day span 
Stanford and USC owned West Coast swimming forever. If you wanted to take a shot at the Cardinal and Trojans, it would be like a basketball coach at a lower-tier Atlantic Coast Conference school taking on Duke and North Carolina.
When Arizona hired Frank Busch from Cincinnati in 1989, the UA's swimming program was in chaos. The previous coach had been fired in midseason for off-field improprieties; the Wildcat swimming program hit bottom.
Over the next 22 years, Busch had a run to rival any coach in Arizona history, including Lute Olson and Mike Candrea.
The Wildcats won 49 NCAA individual championships and 31 NCAA relay titles.
Busch was named the NCAA Coach of the Year six times, and the Pac-10 Coach of the Year 11 times.
Those figures are not typos.
A few days before the 2008 NCAA championships, Busch told me it was time the Wildcats broke through and won it all.
"We've been so close for so many years," he said. "I really believe this is our time."
In astonishing eight-day span, Arizona won the NCAA women's national title and the NCAA men's championship. It won the women's title first, in Columbus, Ohio, routing the nation's No. 1 swimming school, Auburn, 494 to 348.
"It was probably the meet of a lifetime," UA assistant coach Augie Busch, Frank's son, now the head coach at Virginia, said at a welcome-home celebration. "We seemed to have all of the big horses. And now we are going for the sweep."
The following weekend in Seattle, Arizona scored a whopping 500½ points to whip Texas (406) and Stanford (344)
"This is big time," said assistant coach Rick DeMont, himself a former world record holder who is now Arizona's head coach. "You don't get a lot of big times in life, and this is one of the big times."
How did this happen?
Arizona recruited as well or better than any swimming program in America for two decades.
Busch coached the UA women's team to No. 2 finishes at the NCAA in 1998, 2006 and 2007. His rosters were a roll-call of Olympic medalists, from Amanda Beard and Beth Botsford to Crissy Perham and Ashley Tappin.
It was the same on the men's side. Busch signed nine-time NCAA champion Ryk Neethling from South Africa, which triggered a run of Olympians that included England's Simon Burnett, Venezuela's Albert Subirats and South African gold medalists Darian Townsend and Roland Schoeman.
The '08 women's national champions, however, were built around Marana Mountain View's Lacey Nymeyer, who scored an incredible 210 points at the finals, winning the 100 freestyle herself and keying four championship relay teams.
All-Americans Annie Chandler, Ana Agy, Justine Schluntz and Lara Jackson piled up points.
"I'm so happy for my coaches," Busch said. "We've been together for a long time. We've dreamed of this. We've talked of this. We've wondered how you do it."
Winning the men's title a week later was not surprising. Arizona built its men's program on national champions Chad Carvin, Seth and Martin Pepper.
In '08, Subirats, Townsend and All-Americans Cory Chitwood, Marcus Titus of Flowing Wells High School, Canada's Joel Greenshields and Brazil's Nicolas Nilo were dominating.
"A title has been a different language to them," Busch said. "Now they get it. They want ed it. They had the idea that there's an opportunity to make history for this program, and all the guys are part of it."
Where are they now: Busch, 65, left Tucson in 2011 to accept a position as National Team Director for USA Swimming. He was elected to the American Swimming Coaches Hall of Fame 10 years ago.
How he did it: "I didn't need to give them a Knute Rockne speech," said Busch. "I just told them exactly the things they need to focus on, and as long as they engage in it, this is what happens.
"You realize it's not magic. It just takes persistence and getting enough people on the same page at the same time. It came together this week just like it did last week. It's almost surreal."
---
Photo: Coach Frank Busch, second from right, hugs UA swimmer Jean Basson, of South Africa, after Arizona won the 800-yard freestyle relay event with a new record time at the end of the second day of the 2008 NCAA Men's Championships. (AP Photo/Ted S. Warren)
No. 12 • Tucson Toros win 1991 championship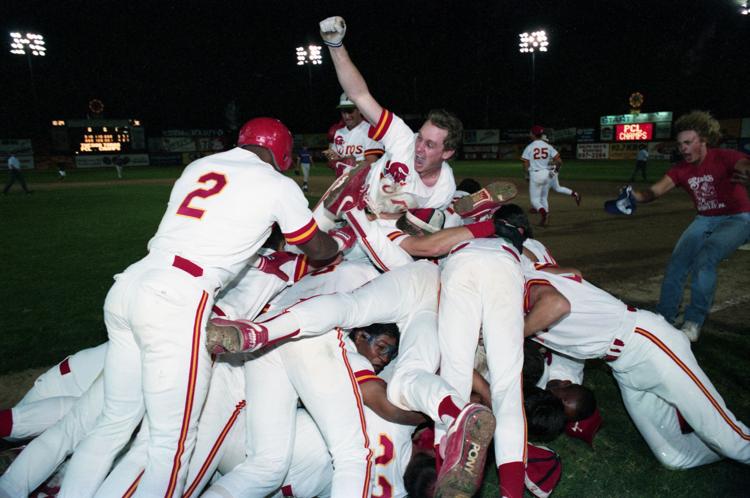 Sept. 13, 1991: Tucson Toros win first PCL championship 
The old press box at Hi Corbett Field was a relic of the 1960s, with one row of seats comfortably seating maybe 12 people. I usually didn't see any more than five or six people there during a Tucson Toros game.
But on the night I nominate as the greatest baseball game in Tucson history, there must've been 30 people bunched together, including the mayor, the director of parks and recreation and the general manager of the Houston Astros.
It was standing room only everywhere at Hi Corbett Field that Friday night, the championship game of the 1991 Pacific Coast League season. It was four years after the epic baseball movie "Bull Durham," but the Toros of '91 were a better story.
In 23 years as a PCL franchise, the Toros had mostly been laughable losers. They had not reached the playoffs since 1980 and were routinely last in the league in attendance.
But on September 13, 1991, it all came together when the Toros and Calgary Canons went to the bottom of the ninth inning tied at 3. The Toros had lost the first two games of the best-of-five series in Calgary, then returned home to win 7-1 and 2-1, forcing a winner-takes-all-showdown.
Attendance that night was listed at 8,919, but it was not accurate. Fans kept arriving at Hi Corbett Field after the fifth inning and into the ninth. Since the game was not televised, a radio broadcast was the only way to stay current. Hundreds of people listening in their cars and at home drove to the old El Con Mall, parked, and walked a half-mile, squeezing into the ballpark without paying admission.
A few minutes before 11 p.m., the Toros staged the most exciting ninth inning in Tucson's 44 years of Triple A baseball.
Leadoff hitter Doug Baker reached on an infield error. Trinidad Hubbard was inserted as a pinch-runner.
The crowd stood and roared when former UA basketball standout Kenny Lofton came to the plate. His grounder to first was bobbled for another error as Hubbard reached second base.
Then came something out of the movies.
Outfielder Joe Mikulik, who spent all but the final week of the season in Class AA, a reserve outfielder who went on to play 1,053 minor-league games (306 of them as a Tucson Toro) walked to the plate.
Mikulik had taped his wrists with white tape and written ''NEVER SURRENDER" with a pen.
Mikulik sliced a fastball into right-center field as Hubbard bolted past third base, beating the throw to the plate. The Toros won 4-3.
"Believe it or not," said Mikulik, who only had four at-bats for Tucson that season, "I thought of bunting for a base hit."
Champagne flowed. Lofton, the series MVP, sprayed everyone within reach, including pitching coach Brent Strom of Tucson and shortstop Dave Rohde, who had been a key player on Arizona's 1986 College World Series championship team.
"Sweep! Sweep! Sweep!," bellowed Lofton as he stood in a shower of champagne in the Toros locker room.
It was the Game for the Ages in a city that for 23 years identified its pro baseball franchise by failure.
General manger Mike Feder, thinking ahead, had ordered commemorative championship T-shirts that morning. He put them on sale immediately after the game; lines were 20-deep at 11 p.m.
"I've only been on this team for a week or two," said Mikulik, whose gave Tucson its first pro baseball title since 1953. "But you could tell right away there was something special about these guys. I don't know what it's like in the (major leagues), but if it's better than this. ... wow."
The '91 Toros were no Cinderella story. Rohde hit .372. First-baseman Jose Tolentino had a 31-game hitting streak. Lofton batted .308 with 17 triples and 40 stolen bases. Pitcher Terry Clark led the PCL with 14 victories. Future major-leaguers Tuffy Rhodes, Andujar Cedeno and Curt Schilling contributed to the 79-61 record.
But it was the rally to win the final three playoff games, setting up the bottom-of-the-ninth drama, that made it a historic night.
Where are they now: Manager Bob Skinner, in his third of four seasons in Tucson, had been on World Series champions with the Pittsburgh Pirates in 1960 and the St. Louis Cardinals in 1964. Skinner, 84, is retired and lives in La Jolla, California. Mikulik, 52, is the manager of the Texas Rangers' Double-A affiliate, the Frisco Roughriders. He has been a minor-league manager for 18 years.
How they did it: Toros president Rick Holtzman, a Chicago businessman who bought the club in 1988 and hired Feder to change the franchise's image, carried the PCL championship trophy around Hi Corbett Field for 30 minutes after the game.
The '91 Toros drew a then-franchise record 317,347 fans. "I think we might've been able to sell 30,000 tickets to this game if we had the seating capacity," said Feder. As it was, Hi Corbett Field ran out of beer and hot dogs in the fifth inning.
---
Photo: Tucson Toros players pile-on in celebration after defeating the Calgary Cannons in five games to win the Pacific Coast League Championship on Sept. 13, 1991. The Toros broke a 3-3 tie in the final inning to earn their first title and the hearts of fans. Photo by David Sanders / Arizona Daily Star 
No. 11 • Fred Batiste breaks color barriers, becomes first black athlete at UA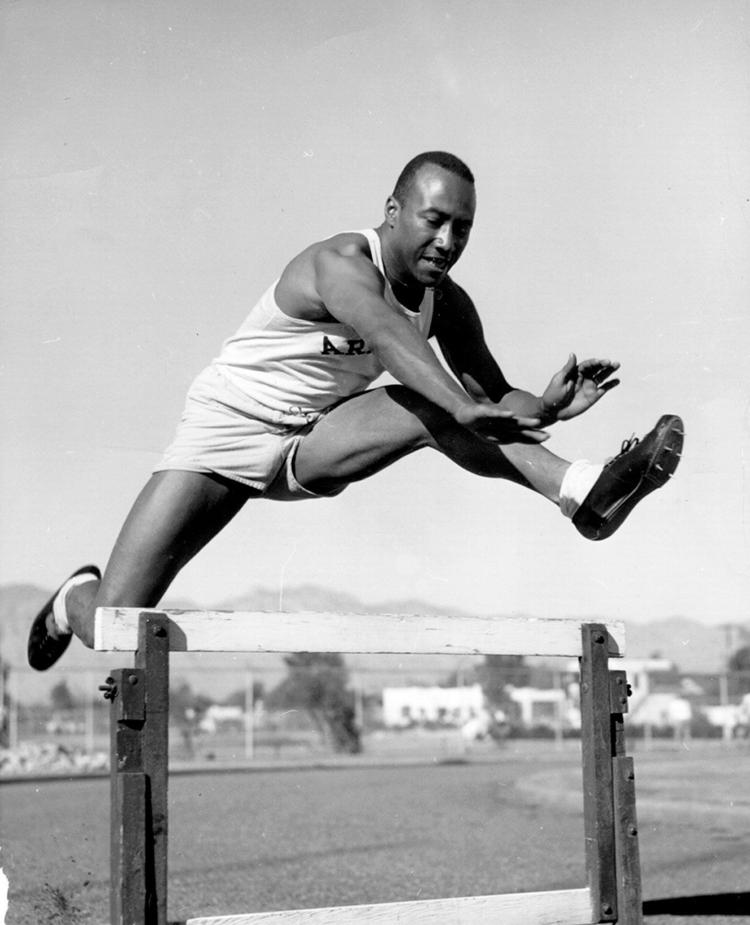 Sept. 24, 1949: Fred Batiste becomes first African-American athlete to play a game for Arizona 
Fred Batiste was 23, a World War II veteran, when he left Compton Junior College in the spring of 1949. He moved home to Tucson where he had been the state's football and track player of the year in 1943-44.
Only then, five years after Batiste left Tucson High School, did the UA offer him a chance to play on the Wildcat football team.
After the first day of training camp at Fort Huachuca, an Arizona Republic headline said: "Fred Batiste Ready."
Two days later, a Tucson Citizen headline read: "Fred Batiste Shines." The accompanying article said "Batiste has been accepted by the rest of the boys."
In 1993, I asked former UA assistant football coach Don Vosberg about Batiste's pioneering route as the first African-American athlete to play in a game, any sport, at Arizona.
"Fred was good, but he had been in the service and lost some of his edge," said Vosberg, a Tucson TV analyst. "Had he been allowed to go straight from Tucson High to the UA, he would've been one of the best they ever had."
The UA added a second black football player, Phoenix's Don Beasley, for the 1951 season. By 1960, the Wildcats had eight black players on the football team.
Batiste's first season at Arizona created one headline after another. He was not permitted to play in an Oct. 14 game at Texas Tech because, the Star reported, "of a racially restrictive clause" in the agreement between Arizona and the Border Conference's Texas schools, including UTEP, West Texas State and Hardin-Simmons. (Batiste was withheld from the UA's 1950 game at UTEP.)
But later in the '50 season, five days before his final UA football game, Batiste was told that West Texas State had rescinded its "Negro ban." It was Nov. 22, 1950, three years after Jackie Robinson broke MLB's race barrier. Fred Batiste charted a similar path at Arizona.
It wasn't easy, in Tucson or elsewhere.
In his 1970s book "They Fought Like Wildcats," Star sports columnist Abe Chanin wrote that UA athletic director Pop McKale "did nothing to encourage black athletes to enroll at Arizona. … (He) held many of the prejudices that were commonplace in Tucson, a city that once flew the Confederate flag and also once segregated blacks in elementary and junior high schools."
The culture of Tucson in the 1949 football season was so unlike the 21st century. No females were allowed in the UA marching band. The full-page ad on the inside front cover of the UA-Utah game program was for Phillip Morris cigarettes. Its slogan: "You'll be glad tomorrow that you smoked today."
Batiste was the only African-American of 108 fellow football players. The UA basketball program would not have an African-American player until 1954.
Batiste's legacy at Arizona was twofold. He broke color barriers and left memories of what might have been.
In a 1950 home game against Hardin-Simmons, the Wildcats trailed 28-0 at halftime. In what is believed to be Arizona's largest comeback victory in history, the Wildcats won 32-28, as Batiste broke up two passes in the end zone on the game's final series. He similarly saved the Iowa game later that season, breaking up a pass on the game's final play.
At that time, the Batistes were regarded as the greatest athletic family in Arizona history; you could make a case they still are.
Ernest and Loretta Batiste left Lake Charles, Louisiana, in 1926 driving an old truck, headed for a better life in California. Their truck broke down in Tucson. They stayed. Ernest found jobs as a laborer.
Ernie, the oldest of four sons, was not allowed to play football at Tucson High. He broke his neck playing sandlot football and became the sports supervisor for the Tucson Parks and Recreation Department for 31 years.
Joe was so dominant at Tucson High that he broke the American record for the high hurdles. The school didn't allow him to play football until Mesa High School tried to recruit him to play at MHS. Then Joe played football and became the state's Player of the Year. His chance to be on the USA Olympic teams of 1940 and 1944 were ended by World War II.
Frank set a state record in the low hurdles, was an all-state football player, but was not allowed to play at Arizona. He set the NJCAA record in low hurdles at Compton College. Fred followed him to Compton.
"I don't think you'll get much argument that my brother Joe was the best athlete this city has ever had," Ernie Batiste told me in a 1984 interview. "But he couldn't play football at the UA because blacks weren't allowed there. There were just so many restrictions then.
"Through the years, the racial prejudices of Tucson have changed. But I've always wondered how it would've been for my family, my brothers, to have been given the same treatment that Tucson gives its black athletes now.
"We just came along at the wrong time."
Where are they now? Fred Batiste died in 1978 from complications related to diabetes. He was 51. He worked in the airline industry in Los Angeles. His grandson, Michael McDonald, was the starting point guard for Stanford's 31-3 basketball team of 2000-01.
How they did it: Ernie Batiste died in Tucson in the spring of 1988. His six children, all college graduates, attended the services. The funeral service closed with a recording of Ray Charles singing "America."
"It was his favorite song," Candace Selwyn, one of Ernie Batiste's children, told me. "He loved this country."
---
Photo: Handout photo of Fred Batiste — the first African-American football and track athlete at the University of Arizona — in 1950.
No. 10 • Beloved Wildcat Kerr leads UA past ASU just after father's assassination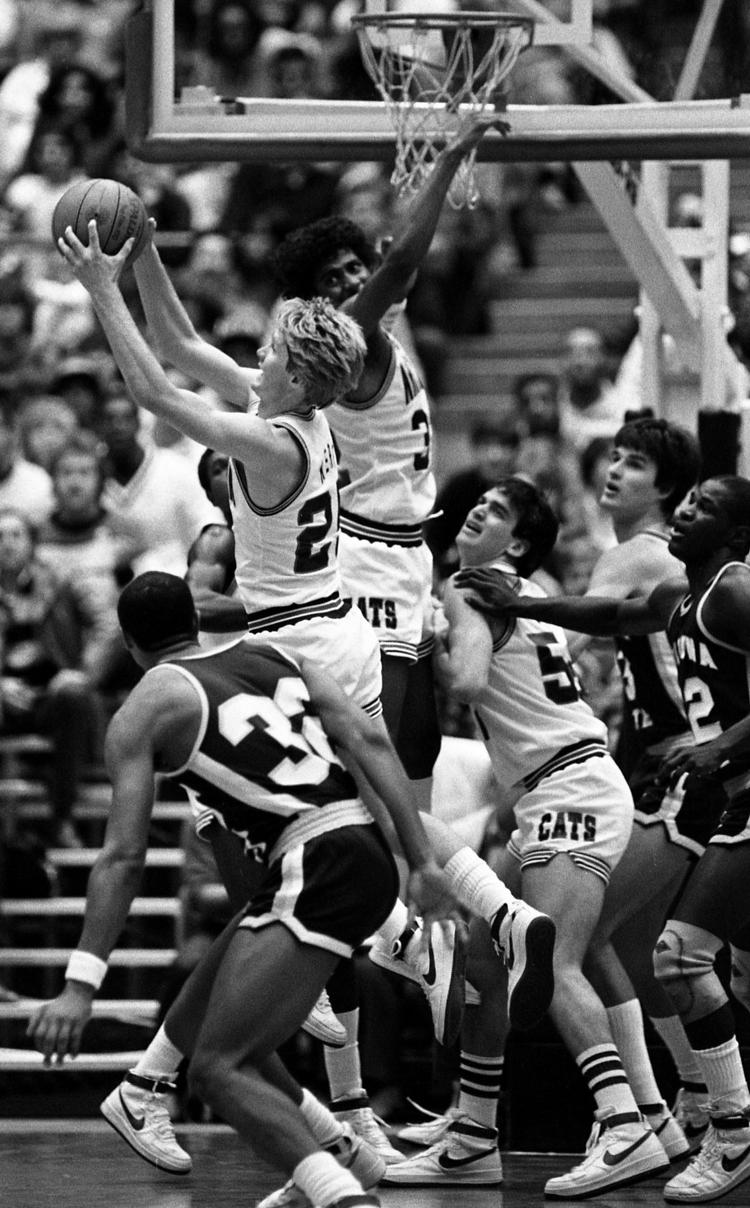 Jan. 20, 1984: Steve Kerr plays first game after his father's assassination
The largest McKale Center crowd in two years (10,213) filed into the arena for the annual UA-ASU game on Jan. 20, 1984, and they weren't there to see the Sun Devils or what remained of a once-heated rivalry.
Arizona was 3-11. ASU had a nine-game winning streak against the Wildcats.
Many came to honor All-America linebacker Ricky Hunley, who was presented with his jersey, No. 89, at halftime. And some came to see first-year coach Lute Olson; 30 of his Augsburg College classmates had flown to Tucson from Minnesota for the weekend.
Most, however, came to see little-known freshman guard, Steve Kerr, whose father, Malcolm Kerr, president of American University of Beirut, had been assassinated two days earlier.
Kerr, a backup guard, averaged 3.7 points per game.
None of the 10,213 could have suspected the Friday night game in late January would trigger one of the most amazing stories in college basketball history, and ultimately, in the NBA.
One of the worst days in UA sports history would become one of the best.
A few minutes before tipoff, Arizona assistant coach Scott Thompson told Kerr there would be a moment of silence before tipoff. The team would remain in the dressing room until it was over.
UA coaches were trying to get the proper read on their freshman guard from Pacific Palisades, California. Would the ceremony be too much for him? Was it appropriate to put him in the game a little more than 48 hours after he learned of his father's death?
Most in the crowd of 10,213 didn't know Steve Kerr from any of the other newcomers on Olson's first Arizona team.
But Kerr told Thompson he wanted to be on the court.
"It was pretty tough," he said after the game, the first time he had been interviewed by reporters in Tucson. "It was probably the most emotional moment of my entire life."
Two years later, sitting on a patio of a Champs-Elysees restaurant on a Sunday afternoon, preparing for the 1986 World Championships, Olson told Jack Rickard of the Tucson Citizen and me his memories of that night at McKale Center.
"I cried," he said. "Who didn't? And I didn't just cry once."
Olson said he did not alter his game plan to suit Kerr, or play to the crowd.
"By then, after three months with Steve, we knew a little bit of what we had," Olson said. "He was a remarkable shooter and a leader. But all the rest? No. I don't think anyone knew."
Eight minutes into the game, Olson inserted Kerr. On the UA's first possession, 18 seconds later, Kerr caught a pass in front of the Arizona bench. He shot from about 20 feet.
Nothing but net.
Those at McKale Center reacted with an ovation normally reserved for a game-winning finish.
Ninety seconds later Kerr hit another jumper. By game's end, Arizona ended ASU's 9-0 streak and won with ease 71-49. Kerr scored 12 points in 25 minutes, with no turnovers.
"I had to play," said Kerr. "What happened to my father was a tragedy, but life goes on. The easiest time in the last few days was when I was out there on the court shooting. If I'd have sat out this game, it would've been 10 times tougher."
Even ASU coach Bob Weinhauer was engulfed by the moment.
"It's hard to sit here and say I felt good for him," said Weinhauer. "Maybe I'm not as upset as I should be, but I didn't want him to make every shot."
The struggling UA basketball program, 4-24 a year earlier, struggled no more; they went 8-6 in the final 14 games and a year later were in the first of 25 consecutive NCAA Tournaments.
Seats at McKale Center were valued like never before. As the love and legend of Kerr grew, public address announcer, Roger Sedlmayr began a singular chant.
After each of Kerr's baskets, the PA man would say "Steeeeeve Kerrrrrr!"
The crowd, even louder, would repeat it. "Steeeeeve Kerrrrrr!"
By 1986, Kerr was an All-Pac-10 point guard. That summer, he was part of the rotation in Team USA's gold medal run at the World Championships, a team of amateurs beating the pros from the Soviet Union, Yugoslavia, Brazil and Italy. Kerr tore the ACL in his knee in the semifinal victory over Brazil and flew home a day before Olson's team upset the Soviets in the gold medal game.
Six weeks later, recovering from knee surgery at his California home, Kerr wrote a letter to the Star. It was published on Sunday, August 17, 1986.
"I'm writing this letter to thank the people of Tucson for all the incredible support I've received in the weeks since I injured my knee," he wrote. "I've received hundreds of cards and letters. During my stay at St. Mary's Hospital my room was filled with flowers, plants and candy. All this support has really cheered me up, and also inspired me to rehabilitate my knee and return to the court as soon as possible.
"As much as I'd like to thank each and every one of you with a personal letter, that would be impossible. Instead, I write this one letter to thank all of you for your concern and support.
Steve Kerr, Pacific Palisades, Calif,
P.S. I'll be back in 1987-88 to help the Cats to our third straight Pac-10 title."
Not only did Kerr return in '87-88, he led Arizona to the nation's No. 1 ranking, a 35-3 record and the Final Four.
Where are they now: Kerr, who played on five NBA championship teams in Chicago and San Antonio, coached the Golden State Warriors to the 2015 NBA title. He turns 51 in September.
How they did it: Gonzaga had the first crack to recruit Kerr out of Pacific Palisades High School, but second-year coach Jay Hillock did not offer Kerr a scholarship after a campus tryout when he was matched against Zags senior point guard John Stockton.
Cal State Fullerton coach George McQuarn offered Kerr a scholarship and he accepted.
"I think Arizona was trying to find someone better," Kerr told me during that 1986 trip to France and Spain. "I waited but Fullerton was persistent. I figured I wouldn't hear from Arizona so I accepted, although I didn't sign anything."
A few days later, Olson phoned and said he was sorry Kerr would not be a Wildcat.
"Somewhere along the line we had a miscommunication," Olson told me. "I thought he wanted to go to Fullerton."
A few days later, with Malcolm Kerr as an intermediary, Kerr told Olson he wanted to play at Arizona.
The rest is pinch-me-it's-true history.
---
Photo: Arizona's Steve Kerr grabs a rebound against Arizona State on Jan. 20, 1984, at McKale Center. Kerr, a freshman, was playing just days after his father was assassinated in Beirut. Photo by Joe Vitti / Arizona Daily Star
No. 9 • Arizona softball coach Candrea leads USA to 2004 Olympic gold medal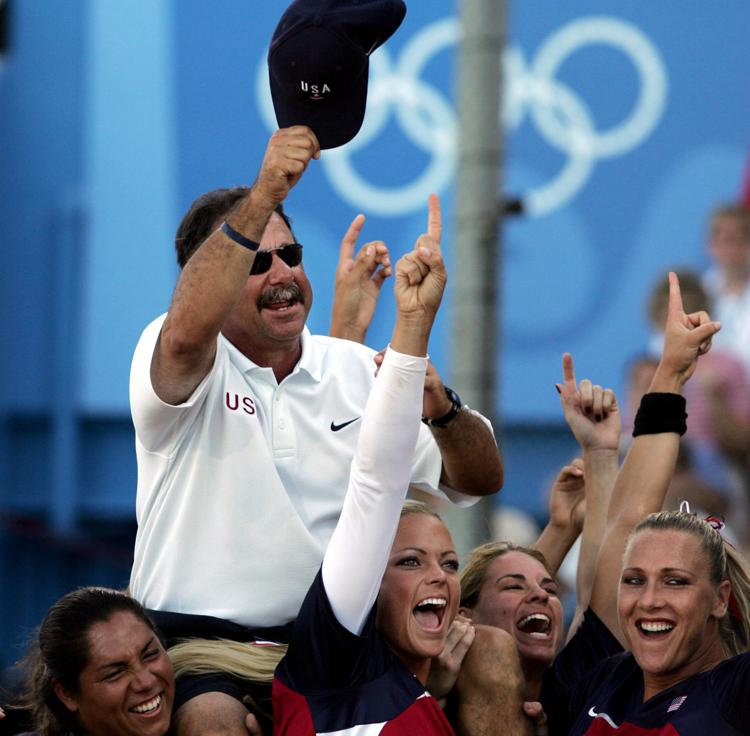 Aug. 23, 2004: Mike Candrea coaches Team USA to Olympic gold
On a muggy Friday morning in July 2004, most of the seats at the St. Augustine Cathedral in downtown Tucson were full. The front door had been closed for several minutes in attempt to keep a comfortable temperature.
A black SUV stopped near the cathedral's steps and Team USA Olympic softball coach Mike Candrea emerged. He was wearing black sunglasses and a black suit. He was sobbing.
His son, Mikel held the coach's arm as they walked slowly to the front row of seats. I looked into the crowd at UA softball legends Jennie Finch, Nancy Evans and Jenny Dalton. They, too, wept.
Softball competition at the 2004 Athens Olympics would begin in 21 days, and no one was sure if the head coach would make the trip to Greece.
Six days earlier, near the end of a 50-game, "Aiming For Athens" tour across America, Sue Candrea collapsed at an airport in Stevens Point, Wisconsin, and was taken to a local hospital. She died of a brain aneurysm. She was 49.
After the funeral in Tucson, Team USA was scheduled to leave for Greece in five days; Candrea had privately told USA Softball officials and his assistants he planned to be on the plane and coach in Athens.
"I just know Sue will be with me," he said a few days later. "This is what she would want me to do. I'm just going to forge ahead."
Mike and Sue Candrea met while he was a baseball player at Central Arizona College. They were married on August 7, 1976, when he was just 20 years old. For the next three decades, as he graduated from ASU, became a baseball (and then softball) coach at Central Arizona, Sue helped to raise two kids and work as an accountant as Mike followed his coaching dream.
Hired by Arizona in 1986, Candrea had won six NCAA championships and in 2001 accepted an offer to become the U.S. Olympic softball coach.
Sue quit her job to be with Mike on the "Aiming for Athens" tour. And then just like that she was gone.
"Coach isn't sleeping; he can't sleep," Amy Chellevold Hillenbrand, a four-time UA All-American, 1992-95, and Candrea's former assistant coach told me that morning.
"I'm glad to hear he plans to be in Athens, because this was Sue's dream as well as his. His kids feel strongly about it."
Candrea did not speak at the funeral that morning. His son, Mikel, spoke for him when he said "to put a positive spin on this, you could see that Mom's last six months were the best six months of her life, no doubt. She retired, traveled with dad and was a different person."
Once Candrea and the Olympic team arrived in Athens, he betrayed no sense of vulnerability. His team opened with a 7-0 victory over Italy as Finch pitched a one-hit shutout.
Over the next nine days, Team USA became known as "The Real Dream Team." That's what Sports Illustrated labeled its August 30, 2004 cover. It ran a full-page image of Candrea's softball team, choosing to feature softball over swimming, basketball, track, field, everything.
Candrea's Dream Girls went 9-0 and outscored their opponents 51-1.
What made it more special was that four of Candrea's leading players were from Tucson. Finch pitched two shutouts. Second baseman Lovieanne Jung, an All-American second baseman from the UA, hit .300 and scored a team-high 11 runs. First baseman Leah O'Brien Amico, another former UA All-American, was a steady run producer in the middle of the lineup. Salpointe Catholic grad Tairia Mims Flowers was the club's top utility player, at catcher, first and third base.
On August 27, barely a month after Sue Candrea was buried in Casa Grande, Team USA was awarded its gold medals in Athens. As is Olympics custom, coaches are not awarded medals, but Candrea's leadership and influence for USA Softball spoke for itself.
"This is probably the hardest thing I've ever been through," he said upon returning to Tucson. "But I know I did the right thing. The team made everyone, including Sue, proud."
Where are they now: Flowers is the head softball coach at Cal StateNorthridge. Jung is a firefighter in Riverside, California. Amico is an inspirational speaker living in Eastvale, California, a mother of three who travels the country working in Finch's softball camps.
How they did it: After Team USA's 112-game winning streak was broken at the 2000 Sydney Olympics, losing the gold medal to Japan, Candrea built the '04 team around pitching and defense. In Greece, he used four starting pitchers — Finch, Lisa Fernandez, Lori Harrigan and Cat Osterman — to limit nine opponents to just one total run.
---
Photo: Members of the United States softball team lift their coach Mike Candrea as they celebrate their gold medal win over Australia at the Olympic Softball Center at the 2004 Olympic Games in Athens, Monday, Aug. 23, 2004. USA won 5-1. (AP Photo/Eric Gay)
No. 8 • Cecil's 106-yard touchdown knocks off rival Sun Devils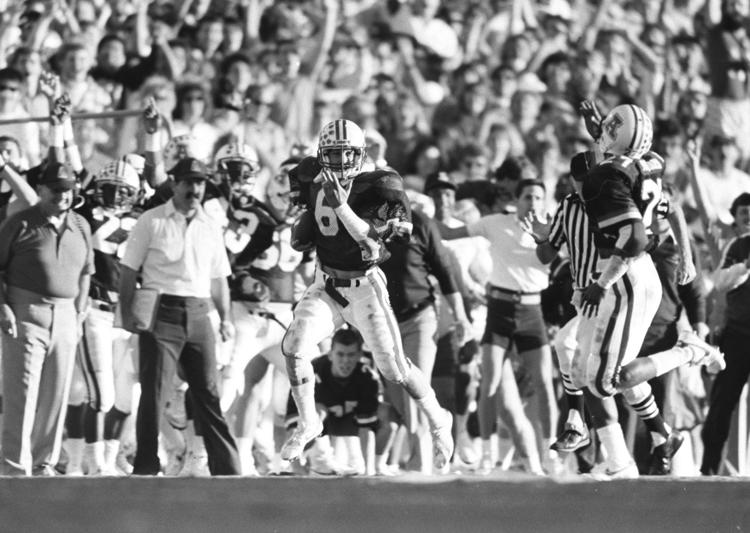 Nov. 22, 1986: Chuck Cecil returns interception 106 yards to take down undefeated Arizona State
To celebrate the school's football centennial in 1999, Arizona brought Chuck Cecil and former NFL quarterback Fred W. Enke to campus to talk about the good old days.
Cecil didn't need a cue.
"When I look back on my years at Arizona it seems like a fairy tale," he said after a lunch with reporters. "In a way it's like something that really couldn't happen — except it did."
The Chuck Cecil Story has four provocative chapters.
Chapter I: He was a walk-on from San Diego who slipped five or 10 pounds of weights in his pockets at his initial weigh-in at Camp Cochise. That put him to 160 pounds and got him a spot on the meat squad.
Chapter II: He was soon discovered and earned an identity in practice by defensive coordinator Moe Ankney, who referred to him as a "heat-seeking missile."
Chapter III: He broke the Pac-10 record with 21 career interceptions, including four one afternoon at Stanford, but none more legendary than his 106-yard , fourth-quarter return to beat Rose Bowl-bound and undefeated ASU in a 1986 Game For The Ages.
Chapter IV: After becoming a consensus All-American (and one of six NCAA Scholar-Athletes of the Year in 1987), Cecil was featured on a 1993 cover of Sports Illustrated with the title "Is Chuck Cecil Too Vicious For the NFL?"
Everyone who has followed UA football has felt the goosebumps while watching and re-watching Cecil's iconic interception return of 1986, and later experienced a glow when Cecil was elected to the College Football Hall of Fame in 2009.
But I always wondered: Where did he get that extraordinary toughness? From what blessed gene pool did he come?
One of the answers came early this month when Cecil's grandfather, former Iowa farm boy Frans "Doc" Aardema died at 95 near Jerome, Idaho.
Doc Aardema was part of the 2nd Armored infantry division's "Hell on Wheels" division in World War II. He walked alongside tanks at the Battle of the Bulge and suffered through the winter of 1944-45 with frozen feet and fingers, surviving the war to raise a family and thriving dairy farm in southern Idaho.
One tough sucker begat one tough sucker.
What went unsaid during Cecil's glory days at Arizona was that he was THIS CLOSE to moving to Idaho to work on his grandpa Doc's farm, and to hell with college football.
After the UA's football centennial luncheon in 1999, Cecil told me this story:
UA coach Larry Smith had promised Cecil a scholarship in January 1984. So after spending fall semester on the practice squad, Cecil went to Smith to see about the scholarship.
Smith said there were no scholarships available.
Cecil, who had yet to unpack after returning to campus from Christmas break, informed Smith that he couldn't pay for tuition and attendant lodging expenses.
"I wished Coach Smith the best and was on my way out of town, going to Idaho to milk the cows at my family's dairy," he told me. "I was on the next bus out of town."
Serendipity: Before Cecil could leave McKale Center, he bumped into his academic advisor, Armando Ronquillo.
"I'm gone," he told Ronquillo.
"Wait," Ronquillo said. "I'll talk to Smith."
Ten minutes later, Ronquillo located Cecil and escorted him to the office of Smith's secretary, Pat Evans, who later confirmed the story.
"I signed two papers, and Coach Smith came in and said, 'Congratulations, you're on scholarship. I'm sorry I can't stick around, but I'm on my way to Dallas to recruit.' "
Over the next three seasons, Arizona would go 24-14-1, sweeping ASU, knocking the Sun Devils out of the Rose Bowl in 1985 and spoiling their unbeaten run in 1986. The Wildcats were so good that Smith was hired to be the football coach at USC.
Cecil stayed his senior season and was a consensus All-American under Dick Tomey. The last time Cecil touched the ball in a UA uniform it was against the team he tormented, ASU.
With 25 seconds remaining in the 1987 Territorial Cup at Sun Devil Stadium, ASU appeared to have broken Arizona's five-year winning streak. The Sun Devils led 24-21.
At his home in Los Angeles, Smith and his wife, Cheryl were watching the final moments as the Sun Devils lined up for a punt that would in effect run out the clock.
"Just before that punt," Smith told me, "I turned to Cheryl and said, 'Chuck's going to get that punt.' "
When ASU's Mike Schuh dropped the snap from center, you need not guess which of the 22 players on the field emerged from a frantic scramble with the ball. Chuck Cecil. He picked up the ball and sprinted into the end zone, although the 1987 rules did not permit him to advance the ball. Today, it would've been a winning touchdown.
Either way, the Wildcats kicked a tying field goal on the last play of the game and preserved their streak over ASU until 1991.
Where is he now: After eight years in the NFL, Cecil is the secondary coach for the Los Angeles Rams. He has coached in the NFL since 2001.
How he did it: "When the whistle blows, he's super intensity plus," Smith said in 1986. "He'd win the superstars competition because he's the best competitor on the team. But as far as pure strength and speed, he's just an average, or above-average athlete. However, he's unique and you'd like to have a hundred just like him."
---
Photo: Arizona's Chuck Cecil (6) races down the sideline en route to a 106-yard interception for a touchdown in the 4th quarter of a game against the Arizona State Sun Devils on Nov. 22, 1986. Photo by Bruce McClelland / Arizona Daily Star
No. 7 • Tucsonan Sean Elliott breaks Alcindor's Pac-10 scoring record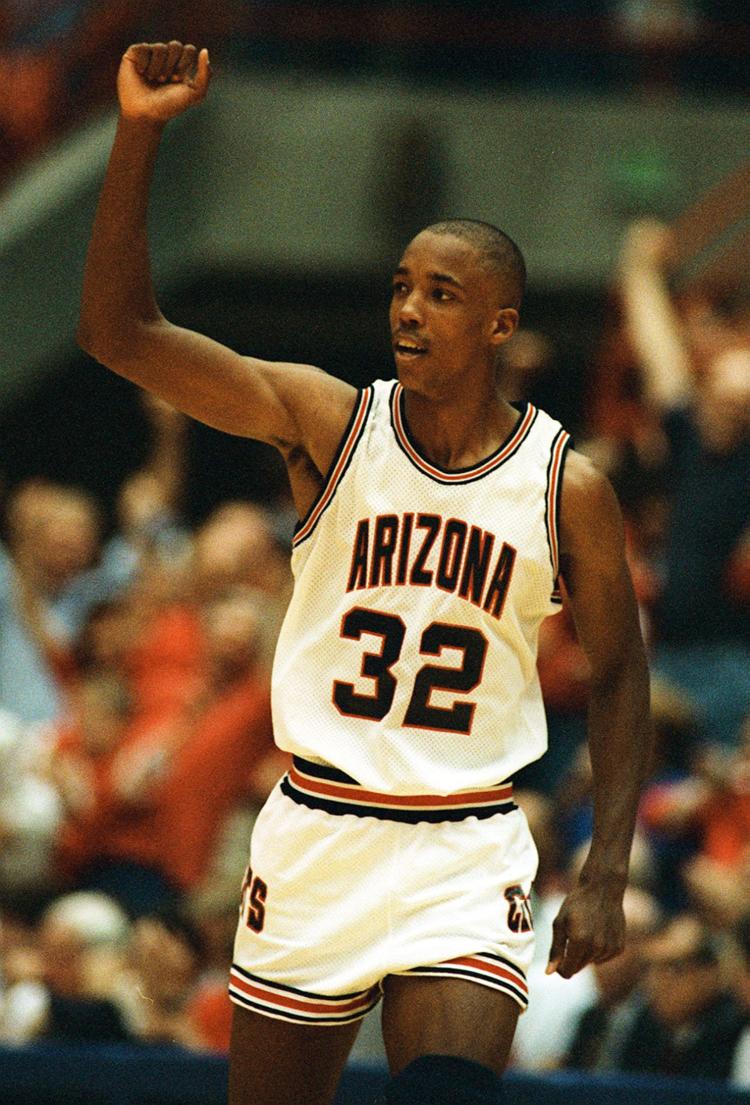 Feb. 18, 1989: Sean Elliott breaks Lew Alcindor's Pac-10 career scoring record
Lute Olson asked his secretary for directions to Cholla High School on a Tuesday afternoon, January 31, 1984. His first Arizona basketball team was 3-12 and he was looking for players.
About all he knew of Cholla junior Sean Elliott is that he had grown from 6-feet 2 inches as a sophomore to 6-6 as a junior and that almost nobody was recruiting him, except New Mexico State and UTEP.
In those days, the Aggies and Miners had basketball programs superior to those at Arizona.
Elliott scored 22 points that night against Sunnyside and Olson knew in an instant Elliott was a worthy prospect. But how worthy? What he didn't know was that Elliott would grow another three inches that year.
What he didn't know was that Elliott was one of the best young athletes in Tucson history, and that he was late to make basketball his sport of choice.
Five years earlier, Elliott was the MVP of his youth soccer and football teams while at Tolson Elementary School. He was a baseball all-star and finished third in his weight class in a wrestling tournament.
Elliott was such a skilled young athlete that at 11 he flew to West Virginia to compete in an age-group competition and finished third nationally in the softball throw. His top accomplishment, however, was that he broke a state age-group record in the long jump.
A few years later, Elliott walked into the gym at Cholla and met Chargers basketball coach Mel Karrle.
"What's your best sport?" Karrle asked the 13-year-old Elliott.
"Soccer," he said.
When Karrle told me that story 30 years ago, he remembered that he suggested Elliott strongly consider playing basketball.
"His arms were THIS long," Karrle said, with emphasis. "He had a basketball body. I thought, 'let's get this kid on the court.' "
Once Elliott chose basketball, he played on the Chargers' freshman team. It wasn't promising. Cholla lost to Amphi 101-18.
But by the middle of Elliott's junior year, word spread about the former saxophone player who had a quick first step, shooting range to 20 feet, and could beat any guard in Tucson off the dribble.
In the summer of 1984, Elliott was discovered on a national stage at the BIC All-Star Camp in Rensselaer, Indiana. Coaches from Maryland, Washington State, UTEP and ASU made contact with Elliott.
Before the camp ended, Elliott was flattened when a stray elbow smacked him in the face. UA assistant coach Ken Burmeister got to a pay phone and called Elliott's mother, Odiemae.
"I think he's going to be OK, but he was knocked out briefly," Burmeister said. "We'll check with the doctors and keep you updated."
Odiemae Elliott was a single mother, a nurse who worked the graveyard shift at the VA Hospital, devoted to Sean's upbringing; she spent countless hours driving Sean to all of his basketball, baseball, soccer and track practices before her shift at the VA.
Olson and his assistant coaches established a bond with Odiemae and ultimately that's why Elliott declined a chance to take a recruiting visit to any other school. He committed to Arizona on September 4, 1984.
Four basketball seasons later, Elliott became a consensus All-American, leading Arizona to a 35-3 record, the nation's No. 1 ranking and the Final Four. His best was yet to come.
On a Saturday morning, February 18, 1989, Elliott awoke early for a 4 p.m., McKale Center showdown against UCLA. He wanted to do something special for the nationally-televised game against the Bruins, so he shaved his head.
When the new-look Elliott walked onto the court for pre-game introductions, the crowd was unusually loud. It seemed to sense something special was at hand; everyone knew Elliott needed 35 points to break Lew Alcindor's Pac-10 career record of 2,326 points.
Elliott was superb. He made six 3-pointers. He grabbed 11 rebounds. He had 20 points at half. And with 7:10 remaining, fouled while going to the basketball, all 13,621 in the crowd knew the score. Elliott had 33 points.
He swished both free throws to break Alcindor's record. Arizona won 102-64, and the Wildcats rushed the court to embrace the former saxophone player from Cholla High School.
"I couldn't keep from smiling," Elliott said.
UCLA coach Jim Harrick put the day in perspective. "How many guys have you seen better than he is?" Harrick told me in the Bruins locker room. "Really? How many?"
At Arizona? None.
Where is he now? At 48, the 1989 NCAA Player of the Year is the radio/TV analyst for the San Antonio Spurs, and frequently works Pac-12 games for Fox Sports 1.
How he did it: "All during the game (against UCLA), coach kept yelling 'clear, clear' every time down court," former UA forward Jud Buechler said. "It meant we should get out of Sean's way and let him work; you could see the smile on Sean's face. It was like heaven for him.
"I got a little teary-eyed. It's something I'll never forget."
---
Photo: Arizona's Sean Elliott acknowledges the crowd during a record-setting game against UCLA in McKale Center in 1989. Photo by Bruce McClelland / Arizona Daily Star
No. 6 • Arizona wins school's first College World Series in 1976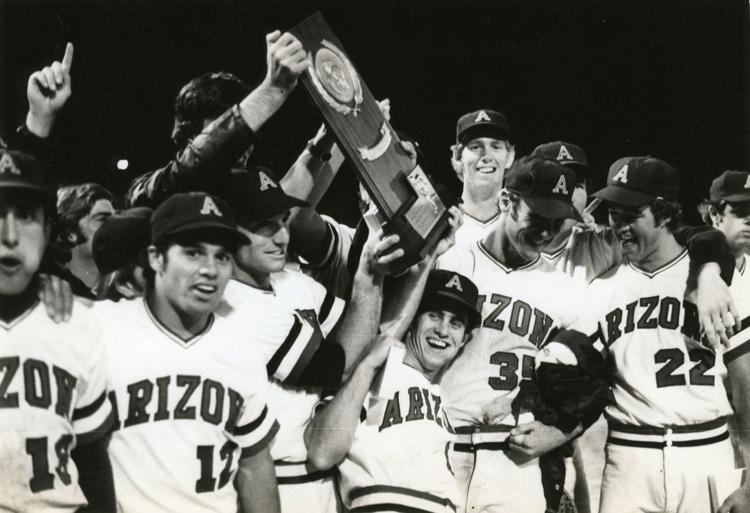 June 18, 1976: Arizona stuns ASU and goes on to win College World Series 
If there is a surviving video or old black and white tape of Arizona's Game of the Century, no one has declared its existence.
"All we've got are old newspaper stories and photographs," said UA outfielder Pete Van Horne, who hit .520, then a College World Series record, in 1976. "It's the only downer of the whole experience."
The UA's Game of the Century was played at old Rosenblatt Stadium in Omaha, Nebraska, on a steamy Friday afternoon in 1976. A crowd of 11,025 paid to watch.
The setup was irresistible.
No. 1 ASU, 64-9, was to play No. 2 Arizona, 54-17, in the College World Series semifinals. The loser would go home. You could feel the tension for 1,269 miles, all the way from Omaha to Tucson.
Incredibly, the Sun Devils were 7-0 against the Wildcats in 1976, including a theatrical 7-6 victory in the opening game in Omaha, one in which ASU overcame a 5-2 deficit in the ninth inning.
Never before, or since, in any sport, had ASU and Arizona met with so much at stake.
"I was rooming with (All-American catcher) Ron Hassey, and when it got down to us and ASU again, he would roll his eyes and say, 'We've gotta play those guys AGAIN?' " Wildcat pitcher and Tucson businessman Steve Powers told me in 1999. "But it was that kind of humor that I think defined how we felt. There was no sense of awe. I never considered that we would lose to them again."
Sun Devil coach Jim Brock hoped to avoid an eighth game against Arizona. He knew the baseball gods — the baseball odds — weren't altogether favorable.
"The odds of beating a club eight straight times are astronomical," he said the day before the game. "But not if you've already beaten them seven times. Unfortunately, I hate to admit this, they have really improved."
More drama: the Wildcats would be facing unbeaten (15-0) pitcher Don Hanna, a Rincon High grad. The Sun Devil roster overflowed with talent, perhaps the best team in ASU history; 13 Sun Devils would ultimately reach the major leagues.
The six games in the regular season were typical of the intense rivalry. Games played in Tucson attracted capacity crowds close to 10,000 at Hi Corbett Field. The Sun Devils won three tight games, 2-1, 6-5 and 11-9. The only lopsided game in the series was a 9-4 ASU win at Hi Corbett.
Brock's lineup was imposing. Ken Landreaux, who set an NCAA record with 93 RBIs, batted third. He was batting .413. The first six men in the ASU batting order — Bob Pate, Rick Peters, Landreaux, Clay Westlake, Ken Phelps and Mike Colbern — all batted .346 or higher.
But it's not like Arizona was out of its element.
The three-year stretch under Jerry Kindall, 1974-76, was and remains the best period in school baseball history. The Wildcats won 157 games. No other three-year period produced more than 132.
Arizona's '74 team went 58-6, rolled through the WAC at 16-2, and became the No. 1-ranked team in the nation. But inconceivably, the Wildcats were knocked out of the postseason in a shocking doubleheader loss at Northern Colorado.
A year later, Arizona was at it again, 43-13, eliminated from the NCAA tournament in a painful 1-0 loss to eventual national champion USC.
If anyone was due, it was Arizona. The Wildcats had lost in the championship game in Omaha in 1956, 1959 and 1963.
The stoic Kindall became uncharacteristically demonstrative after the opening-game loss to ASU. The team retreated to a locker room at Rosenblatt Stadium and Kindall walked in, removed his hat and threw it across the room.
He never did that.
"It was as emotional as I ever saw him," Van Horne told me. "We didn't have time to be dejected. It was all business."
Kindall didn't throw his hat in anger, but frustration.
"In the terrible aftermath of that game, our team was just furious," he said. "Not at the umpires or anyone in particular, but furious at the thought of once again having lost a close game (to ASU). I was just heartsick for them. I raised my voice a bit and reminded them that we still had a chance, a very good chance, to win the national championship. They weren't losers. I told them that."
Arizona faced an unlikely trail in the loser's bracket, one that required five consecutive victories. There was no margin for error.
The Wildcats beat Oklahoma, Clemson and Eastern Michigan to set up a rematch with ASU. (The Sun Devils had lost to EMU's All-American pitcher Bob Welch two days earlier).
In 1999, UA right fielder Ken Bolek told me: "People said then, and I would think it holds true now, that ASU might've been the best team in the history of college baseball that year. You'd look for a weak link on the team, someone batting seventh or eighth, and you'd see (1978 NL Rookie of the Year) Bob Horner."
Arizona took a commanding 5-0 lead behind pitcher/hitter Steve Powers and won 5-1. Powers, Hassey, Van Horne, pitcher Bob Chaulk — who pitched a complete-game 7-1 victory over EMU in the finals the next day — and All-American outfielder Dave Stegman were selected to the All-World Series team.
Kindall immediately knew the implications of overcoming the Sun Devils baseball dynasty.
"Beating them was a watershed game for us," Kindall told me in 1991. "For the fans in Tucson, who had suffered longer than I (Kindall was hired in 1972) from the dominance, first under Bobby Winkles, and then Jim Brock, it was such a cleansing victory.
"I had become aware of how much our fans had endured; so many great players and coaches (at the UA) had come so close so many times. It was just beginning to crystallize how important to the university and to the community it was to win the championship. Baseball was our signature sport in 1976."
The reaction from the Sun Devils was numbing.
"It's like a death in the family," Brock said.
Where are they now: Van Horne, 61, who played one year in the Chicago Cubs system, is an account executive for CT Corporation in San Francisco, a licensing and liability firm. Kindall, 81, is retired and living in Tucson. He coached the UA to national championships in 1976, 1980 and 1986 and retired in 1996.
How they did it: When the UA returned to Tucson, more than 6,000 fans crowded the terminal to greet the national champs. Said Kindall: "I feel like a mountain climber who has reached the summit."
---
Photo: The Arizona Wildcats celebrate after UA's first national championship title at the 1976 College World Series in Omaha, Neb. Photo by Lou Pavlovich, Jr. / Tucson Citizen
No. 5 • UA leaves WAC for Pac in 1976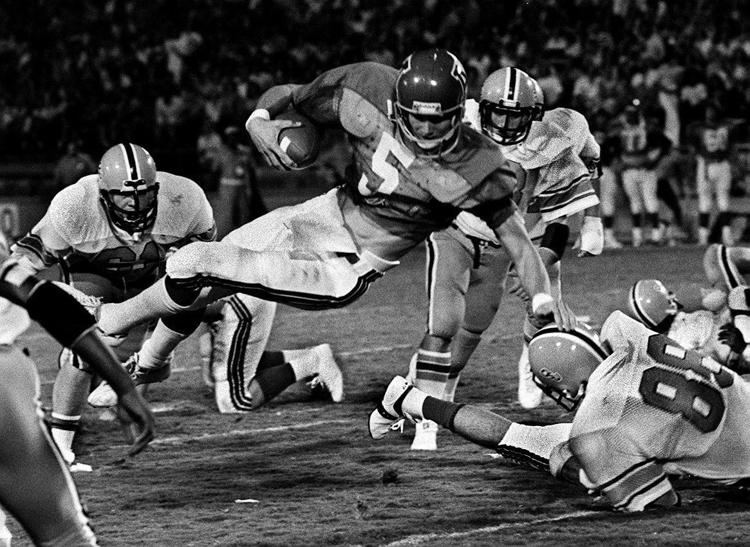 Dec. 13, 1976: Arizona invited to join Pac-8 Conference
Presidents and athletic directors of the Pac-8 required a unanimous vote to expand the conference in 1976 but first there was a lot of huffing, puffing and bluffing to be done.
"I've consistently said I'm opposed to the two Arizona schools joining the league," Washington president John Hogness said.
But Cal athletic director Dave Maggard said that adding ASU and Arizona "might save the conference."
That's because USC chancellor Charles Young, the most influential man in the league, threatened to move the Trojans to a "super-conference," with UCLA, Penn State and possibly Notre Dame if the league did not expand.
To make it more confusing, ASU was uncertain if it wanted to leave the WAC and join the Pac-8.
"We're a big fish in a small pond," said ASU football coach Frank Kush, who was the most respected (and feared) athletic voice in the state. "I don't see any reason to leave what we've got."
But powerful USC football coach John McKay, whose school refused to play Washington State in small-town Pullman — the Trojans insisted on playing WSU in Seattle in 1972 and 1976, and in Spokane in 1970 and 1974 — said he welcomed the addition of the Arizona schools.
There was no unanimity. In November of 1975, the Arizona Board of Regents voted 5-1 to give the Wildcats and Sun Devils permission to leave the WAC.
ASU was the big fish in WAC sports; under Kush, the Sun Devils had gone 62-9 from 1970-75 and were ranked Nos. 2, 6, 8, 9 and 13 in the final AP football polls. They were dominant in track and baseball.
UA athletic director Dave Strack conceded that joining the Pac-8 would give the Wildcats more academic prestige and more athletic clout, but admitted "we are happy with the WAC, and it's probably more fun in the WAC."
Pressure mounted; New Mexico pleaded with the Wildcats to stay, and Strack listened. The basketball rivalry between the Lobos and Wildcats was among the best anywhere.
As amazing as it seems four decades later, the WAC of the late 1960s and most of the 1970s was a superior basketball league to the Pac-8, which had been UCLA and the seven ghosts.
Star sports columnist Tom Foust was concerned that Arizona's 1970s rise to national relevance in baseball, basketball and football would be diminished. What would happen when thrown in against the wolves at USC and UCLA?
"The two Arizona schools are the kingpins of the WAC; they have it made," wrote Foust in 1976. "It's a young league with a future."
Intentional or not, Arizona and ASU had been moving toward the Pac-8 since the WAC began. The Wildcats played 15 football games against Pac-8 schools between 1961-76, and ASU played Pac-8 schools 20 times. The growth of Phoenix and Tucson as metropolitan centers — and the geographic nearness to Los Angeles — made it more appealing to the Pac-8 schools, many of whom had fought internally for 20 years.
The genesis for the partnership was an academic junket to Taiwan in 1975 when UA president John Schaefer and UCLA president Jack Hubbard reduced the issue to its most common theme: USC and UCLA were losing money playing football at WSU, Oregon and Oregon State.
"To many, the Arizona schools were more attractive financially," Schaefer told the Star in 1978. "But to me, our academic affiliations were first."
Arizona's Schaefer and USC's Young were given most credit for making expansion possible. Momentum grew; Stanford president Richard Lyman, who earlier said he didn't view Arizona and ASU as academic equals, helped to persuade the last holdout, WSU, to make the vote 8-0.
Schaefer worked in harmony with ASU's administration and shared his academic-first vision. Ultimately the rival schools fully understood the value of moving into a league with Stanford and UCLA, abandoning long partnerships with UTEP, Wyoming, Utah and BYU.
On September 16, 1978, Arizona played its first Pac-10 game, beating Oregon State 21-7 at Arizona Stadium. Two years later the Wildcats stunned No. 2 UCLA and in 1981 the Wildcats rocked No. 1 USC.
The good old days of the WAC were quickly forgotten.
Where are they now: Schaefer, 81, was president of the UA from 1971-82. He has operated a research firm and been involved with biotech corporations and founder of the UA's Creative Photography Center, among other pursuits. He lives in Tucson.
How they did it: Strack, who died three years ago in Tucson at 90, left his job as athletic director in 1983. The last time I met with him, Strack said ASU athletic director Fred Miller was initially reluctant to leave the WAC.
"I told Fred, 'Well, that's your decision. We're going,'" Strack said. "'You want to stay? That's OK with me. We'll be one-up on you in scheduling and recruiting.' "
ASU soon joined Schaefer and Strack's effort to change conferences.
---
Photo: University of Arizona quarterback Jim Krohn in Arizona's first Pac-10 game against Oregon State in 1978. The Cats won 21-7 at home. Photo by Jim Davis / Arizona Daily Star 
No. 4 • Tucsonan Strug wins 1996 Olympic gold medal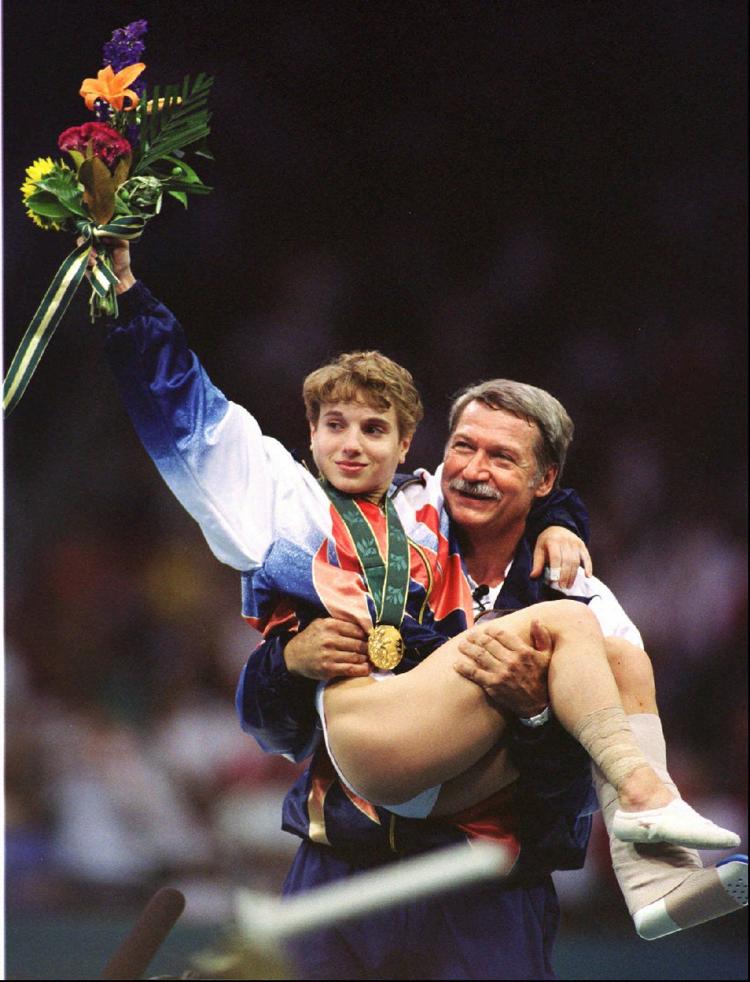 July 23, 1996: Strug's dramatic vault wins Olympic gold medal
Over the last 20 years, Kerri Strug has become a wife, mother, marathon runner and schoolteacher. She earned a master's degree from Stanford, wrote two books, worked for the Justice Department and for a U.S. senator.
It would take a third book to list all that she has done since that transcendent Tuesday afternoon at the Georgia Dome on July 23, 1996.
Remember?
More than 26 million Americans watched as the 4-foot-8-inch, 90-pound Tucson gymnast vaulted into sports history, an indelible moment kindred to Dodgers slugger Kirk Gibson, limping to the plate in the bottom of the ninth inning, hitting a winning home run in the World Series.
By now, more than 260 million Americans have surely seen the video of Strug's unforgettable vault, watched her dab away tears — and wipe away their own tears — as USA Olympic coach Bela Karolyi carried his injured champion to the gold medal ceremony.
It was part fairy tale and part Hollywood. And all of it was true.
"It's pretty amazing to think that, in a couple of seconds, my life changed, and I made an impact on so many people," she told me when I spent a day at her second- grade class at the Matsumoto Elementary School in San Jose, California, in 2002. "To me, it was my job to make that vault. No matter what the circumstances were, I was supposed to do it."
I first heard the name Kerri Strug in 1989. UA gymnastics coach Jim Gault, who was Kerri's teacher for six formative years, had flown with the 11-year-old gymnast to a summer competition in Europe. He phoned the sports desk from an airport in New York.
"I've got a story for you," he said. By the end of our conversation Gault said "I think she will be in the Olympics some day."
I asked him how to spell Kerri.
Strug won a team bronze medal at the 1992 Barcelona Olympics but the greater story was that she was burned out by Karolyi's manipulative nature and his immoderate demands. She left Karolyi, left his Texas gym, and enrolled at Tucson's Green Fields Country Day School for the 1994-95 school year.
In the fall of '94, former USA Olympic coach Yoichi Tomita told me that Strug had begun working out at his Gymnastics World facility on Fort Lowell Road.
"We're not going to yell at her and lock her out of the gym," he said, a veiled reference to Karolyi's coaching tactics. I was so naïve about international-level gymnastics that I thought Tomita and his partner, Jerry Hinkle, could successfully coach Strug to the 1996 Atlanta Olympics while simultaneously coaching 200 other local gymnasts.
When I walked into Gymnastics World a few days later, I was introduced to former Russian national champion Artur Akopian, who had been sent to Tucson by USA Gymnastics to captain Strug's preparation for the '96 Olympics.
"I usually spend a week here with Kerri," Akopian said. "When I leave, USA Gymnastics sends Geza Pozsar to work with her."
Geza Pozsar?
"He's a former Romanian national gymnastics champion who worked for Karolyi. We alternate working with Kerri."
That's when I fully understood what it takes to build and become and Olympic champion, and how far Kerri Strug had come since her days with UA coach Jim Gault.
Eighteen months later, the day before Team USA began competition at the Atlanta Olympics, Strug and Karolyi had reconciled. She was in her prime, a relative unknown to more famous teammates Dominique Moceanu, Amanda Borden and others from the "Magnificent Seven."
In a media session in a steamy tent outside the Georgia Dome, I asked Karolyi about Strug's chances to win a gold medal.
"You'll never see Kerri on a Wheaties box," he said. "You'll never see her in a commercial. She competes because she wants to compete and that's why it is so special to coach her.
"She thinks different about her athletic career than 99 percent of the others. "
Ten days later Strug was on the cover of a Wheaties box.
Where is she now: Strug is married to Tucson attorney Robert Fischer. They have two children, Tyler, 4, and Alayna, 2.
How she did it: Strug's father, retired Tucson heart surgery Burt Strug, was a tennis player at Brandeis University. Her mother, Melanie, was a ballerina. They moved to Tucson from Houston in 1977 when Melanie was pregnant with Kerri.
"Ever since she was little she was upside down rather than right-side up," Melanie told the Star in 1992. "Kerri used to watch the movie 'Nadia Comaneci,' about the famous Romanian gymnast, over and over. She'd watch it so frequently that if you turned the sound down she knew the words."
---
Photo: United States gymnast Kerri Strug is carried from the medal stand by coach Bela Karolyi after the United States' women's team was awarded the team gold medal at the 1996 Summer Olympics in Atlanta. Strug, who assured the American win on her vault routine, only to hurt her ankle, was sent to a hospital after the medals ceremony. Photo by Erich Schlegel / Dallas Morning News
No. 3 • Arizona takes down No. 1 Kansas on way to winning 1997 national title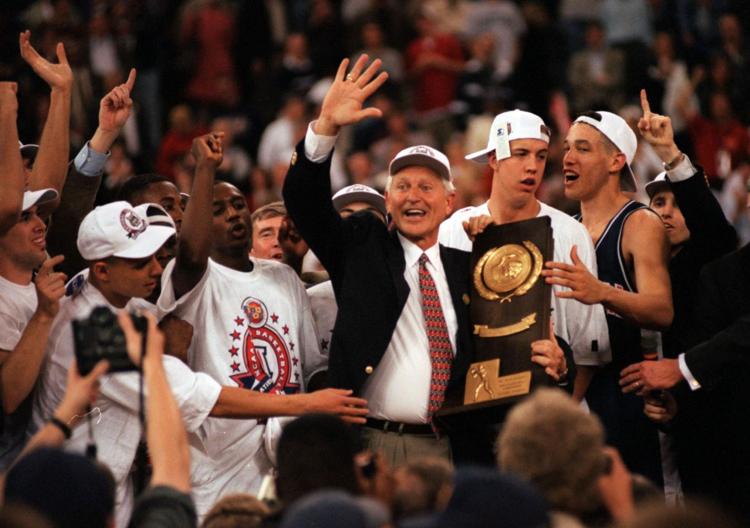 March 21, 1997: Arizona stuns No. 1 Kansas in Sweet 16, goes on to win national championship
On March 1, 1997, Rhonda Wilkerson, a senior accounting major at Kansas, paid $30 to get a temporary business permit to sell Final Four T-shirts in Lawrence, Kan.
She had orders for 10,000 shirts and planned to sell them from three locations in and around the KU campus. She would buy the shirts from a wholesaler for $7.50 each and sell them for $16. If all 10,000 shirts were sold, Wilkerson would have netted almost $90,000.
Bottom line: She blew $30.
A month later, Sahuaro High School and UA grad Ray Martinez, proprietor of a sporting goods store on Tanque Verde Road, hit the mother lode selling Arizona national championship T-shirts.
"I thought I did well just getting to sell Sweet 16 T-shirts," he said. "I was up all night ordering Final Four T-shirts at the last minute."
No one saw Arizona's bolt to the 1997 national championship coming, except maybe Lute Olson.
After losing at Cal and Stanford to close the Pac-10 season in fourth place, the Wildcats squeaked by South Alabama (trailing 53-43 with 7:34 remaining) and survived a last-second shot by College of Charleston to advance to the Sweet 16 against 34-1 Kansas.
The Jayhawks started four seniors; their only loss was a double-overtime game at Missouri six weeks earlier.
Oddsmakers listed KU as an 11-point favorite, a spread almost unknown to a Sweet 16 game.
Before flying to Birmingham, Alabama, for the Friday night game, Olson became agitated when a reporter asked him about being stacked up against the Goliath of college basketball.
In his inimitable manner, Olson fired back.
"Who's David and who's Goliath?" he wanted to know.
Olson's provocative statement got Kansas' attention and a prominent, lead-in feature on ESPN's "SportsCenter." By the time Olson got to Alabama, he backtracked a bit.
"We have faced good teams all season," he said, "but we haven't faced one as good as Kansas."
But there would be no Jayhawk Cakewalk.
Arizona, with no seniors in the rotation, took a 75-62 lead and stunned the Jayhawks 85-82, moving KU coach Roy Williams to tears.
"You never know when you'll get a special team like this again," he said. "But Arizona was the best defensive team we've played all year. I like their chances."
The Wildcats of '97 were just getting started.
They beat Providence in overtime to reach the Final Four. Upon arriving in Indianapolis, bracketed against No. 1 seed North Carolina, the Wildcats got even better. They beat the Tar Heels 66-58 and then beat a third No. 1 seed, Kentucky, in the championship game.
Now, 19 years later, it doesn't seem like a series of upsets.
The Wildcats opened the '96-97 season beating No. 7 North Carolina in a neutral court game in Massachusetts. They whipped No. 3 Utah in a made-for-TV game in Anaheim. They played a pre-Christmas game against No. 4 Michigan in Detroit and barely lost in overtime.
Even the year-end sweep at Cal and Stanford was overblown. The 81-80 game at Stanford came down to a buzzer-beating shot by the Cardinal's Pete Sauer, and the Wildcats had the last shot to beat Cal in a 79-77 setback at the old Cow Palace in San Francisco.
Cal and Stanford both reached the Sweet 16.
"By the end of the season, we were as good as anyone," UA assistant coach Jim Rosborough said. "Did I think we'd run the table against three No. 1 seeds? No. Who does that? But it wasn't a fluke."
Here's how it happened:
Freshman guard Mike Bibby, who shot 66 percent from the foul line in the regular season, shot 85 percent in the NCAA Tournament. It seemed like all of his free throws were game-changers.
Junior guard Miles Simon, the Final Four's Most Outstanding Player, averaged 25.2 points in the last four, everything-on-the-line games. For the rest of the season, he averaged 17.8.
Center A.J. Bramlett had 64 rebounds in six games; he was the top big man on the court in all six NCAA games.
Most important, Arizona's defense, spurred by Michael Dickerson, Bennett Davison and Jason Terry, was the difference-maker.
"Every time I curled around a screen, I had someone waiting for me," said Kentucky's leading scorer, Ron Mercer. "They play outstanding defense and were all over us. I haven't been guarded like that all season."
Where are they now? Dickerson, 41, was forced to retire after five NBA seasons with a sports hernia injury. He has homes in Vancouver, British Columbia, and near Seattle. He has spent time in recent years helping the University of British Columbia Thunderbirds coaching staff. Davison, 40, played professional basketball overseas for 11 years. He lives in Dallas and is a residential and commercial real estate broker.
How they did it: Over six close games, Arizona outscored its opponents 123-56 from the foul line. Simon attempted 17 in the championship game against Kentucky.
"The greatest percentage play in basketball is the foul shot," said Olson. "Our guys were aggressive the whole way. That made the difference."
---
Photo: Arizona basketball coach Lute Olson holds the Division I NCAA national championship trophy with his team, from left: Jason Lee, Miles Simon, Jason Terry, Lute, Justin Wessel, and Bennett Davison after they defeated Kentucky in 1997. Photo by David Sanders / Arizona Daily Star
No. 2 • 'Button' Salmon tells the team to 'Bear Down'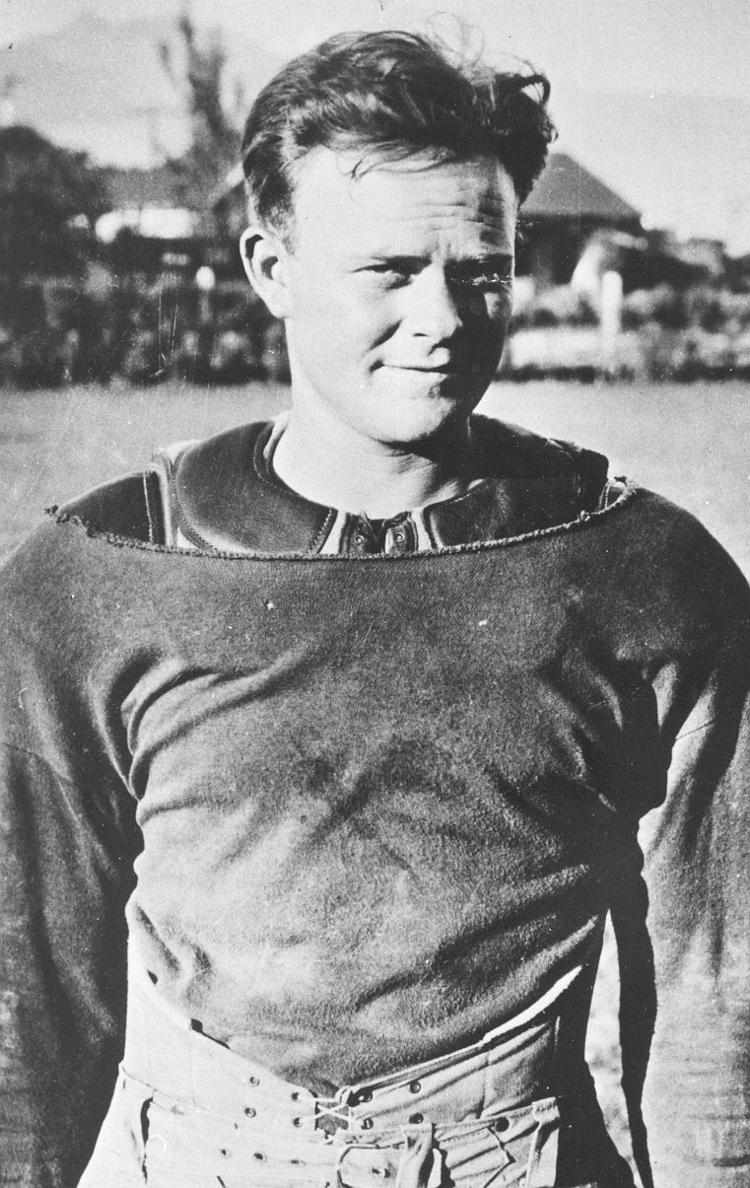 Oct. 23, 1926: Pop McKale tells the UA football team about "Button" Salmon's "Bear Down" wish
John Byrd "Button" Salmon lie motionless at St. Mary's Hospital in the early evening of October 17, 1926. He was paralyzed below his second rib, his spine shattered from an automobile rollover 14 days earlier.
Two Tucson doctors, Victor Gove and E.J. Gotthelf knew that even though Salmon regained some function in his arms, further surgery was useless.
UA football coach James F. "Pop" McKale visited his senior quarterback that evening, as he had every night since Salmon's automobile rolled on top of him near Florence as he was returning from a visit with a fraternity brother in Phoenix.
Gove and Gotthelf probably told McKale that his 5-foot-7-inch, 145-pound quarterback/baseball catcher would die soon, although Salmon's sister, Clyde "Babe" Lockie, told me in 1986 that the family had been encouraged when Button started moving his arms.
"We were afraid he might be permanently paralyzed," Lockie said when she returned to Tucson for the unveiling of her brother's statue outside McKale Center. "But we didn't think he would die."
Before leaving St. Mary's that night, McKale asked Salmon if he had anything he wanted to tell his teammates.
"Tell them … tell the team to bear down," he said.
Salmon died at 6:15 the next morning.
• • •
Frank and Kathryn Salmon moved from Texas to Bisbee in 1905, shortly after their second son, John, was born. Frank had been a teacher and Kathryn had studied at the Boston Conservatory of Music.
In Bisbee, Frank rose through the ranks in the copper industry, becoming the chief of security at the Copper Queen Mine. Although they lived in what today would be described as a ramshackle hut, they were people of means. They had enough money to send Button and his older brother, future Phoenix attorney Riney Salmon, to the UA.
At Bisbee High School, Button became the vice president of the student body in his senior year, 1920-21. Next to his yearbook picture he wrote:
"He trudged along unknowing what he sought, and whistled as he went for want of thought."
In the school play, "Quality Street," he starred as a recruiting sergeant. At the senior class Christmas party, Salmon was Santa Claus, handing out gifts at the conclusion of the party. His photographs in the school yearbook show that he was the shortest player on the football team, with a shock of red hair, shaved close on both sides, as was the style of the day.
Button didn't immediately become an athlete of significance at Arizona. As a junior, after a breakout-type football game against Nevada in 1925, the Star described him as "only a scrub at the beginning of the season" who had emerged as "the tow-headed wizard from Bisbee."
Later that season, against USC, the Star had even more praise.
"Greatest of all was little Button Salmon," it reported. "His punting was a revelation to the fans. The "Leaping Tuna" was everywhere at once and he was just about the main cog of the machine."
In the summer, he played semipro baseball for the Bisbee Bees with former New York Yankee first baseman Hal Chase and two infielders from the 1919 Black Sox World Series scandal, Buck Weaver and Chick Gandil.
Little Button Salmon, a catcher with some bite, seemed to have a future in pro baseball, but first he would complete his senior year at Arizona, 1926-27. He had some important business ahead; he had been elected student body president.
• • •
The magnitude of the death of the school's star quarterback and student-body president was such that Salmon's body lie in state at the school's assembly hall from 3 p.m. Tuesday afternoon until the 1 p.m. funeral a day later.
Members of Sigma Nu fraternity, the Bobcats, the A Club and the Chain Gang took turns as an honor guard, on vigil for 22 hours. Wednesday's classes were canceled.
At the funeral, McKale was one of four speakers. According to the UA Library Special Collections, the coach said:
"John overcame the handicap of a diminutive frame and labored as an uncomplaining sub, finally achieving the places of star quarterback and first-string baseball catcher. He advanced his ambitions over all obstacles."
The Star reported that more than 1,000 people drove from campus to Evergreen Cemetery on Oracle Road for a graveside service and burial. Button's headstone says, simply:
SALMON
1903 – 1926.
• • •
The UA chose not to cancel a game at New Mexico State three days later. In mourning and beset by grief, McKale did not attend the team's workouts Thursday or Friday.
His squad of 24 players, assistant coach Fred Enke and a trainer departed on a Southern Pacific train a few minutes before midnight Friday.
Just before the afternoon kickoff — not at halftime, as the legend has it — McKale gathered his players for final instructions.
On the day Salmon's statue was dedicated in 1986, former UA lineman Martin Gentry, a Bisbee attorney, described the scene for me.
"It was a very emotional moment," he said. "Mac said that he had asked Button if he had a message for the team. And Button had told him 'Tell them … tell the team to bear down.'"
Arizona scored in the fourth period to win 7-0.
"We almost lost, and we should've won easily," Gentry, then 83, said. "We were all uptight. We were all thinking about Button."
Former UA assistant coach Frank "Limey" Gibbings, a backup QB on the 1926 team, told me in 1986 that none on the team doubted McKale's words.
"Mac was a good talker," said Gibbings. "He could always get a team stirred up. I had never heard him use the term 'Bear Down' so I think he told us exactly what Button said."
A year later, after the construction of the UA's first large-scale gymnasium, Gentry made a motion at a student hearing that "Bear Down" be used as the school's official slogan.
In 1991, Ralph Deal, a classmate of Gentry and Salmon who would become one of the leading basketball and football referees in college sports, invited me to his Tucson home to talk about the Bear Down legend.
He showed me an old black and white photograph of the roof of the UA gymnasium in 1927. Deal was on the roof, helping to paint a huge B. And for 89 years BEAR DOWN has been visible on the roof of what then became Bear Down Gym.
"It wasn't just some emotional friends getting carried away," Deal said. "Button was a take-charge guy. Cocky, self-assured, a natural leader. When he said something, he meant it. He didn't allow anybody to dog it.
"It didn't take hold immediately, but once the newspapers started writing 'Bear Down' it picked up."
For most of the next 60 years, Arizona's athletic department didn't fully understand the scope of the Bear Down legend.
In 1961, after he retired, McKale told the Star: "I didn't think there was great significance to (Bear Down) then. But I enjoy the sense of tradition it gives the school."
By 1985, spurred by athletic director Cedric Dempsey and marketing whiz Dave Sitton, the UA began to emphasize the legend of Button Salmon. A year later, $20,000 was spent to build a statue outside the main entrance to McKale Center.
"If you look around at all the schools, nobody has a legend like this," Sitton said in 1985. "There have been times, especially when I've talked to people who knew Button, that it moved me to tears."
Ten years later, "Bear Down" was written in script on the field at Arizona Stadium.
Now the football team has the slogan on its helmets. Athletic director Greg Byrne completes most of his conversations by saying "Bear Down." So do many UA coaches and fans.
After 90 years, the diminutive Button Salmon is bigger than ever.
Before Button's sister, Babe Lockie, left the McKale Center statue dedication exactly 60 years after her brother's death, she posed for photographs.
"All of this excitement is wonderful," she said. "But to me, it's still rather sad. John was just 22 years old when he died. I just hope that now his name will live on."
---
Photo: John "Button" Salmon. Photo courtesy of University of Arizona
No. 1 • Arizona knocks ASU out of 1982 Rose Bowl, kills off 'little brother' image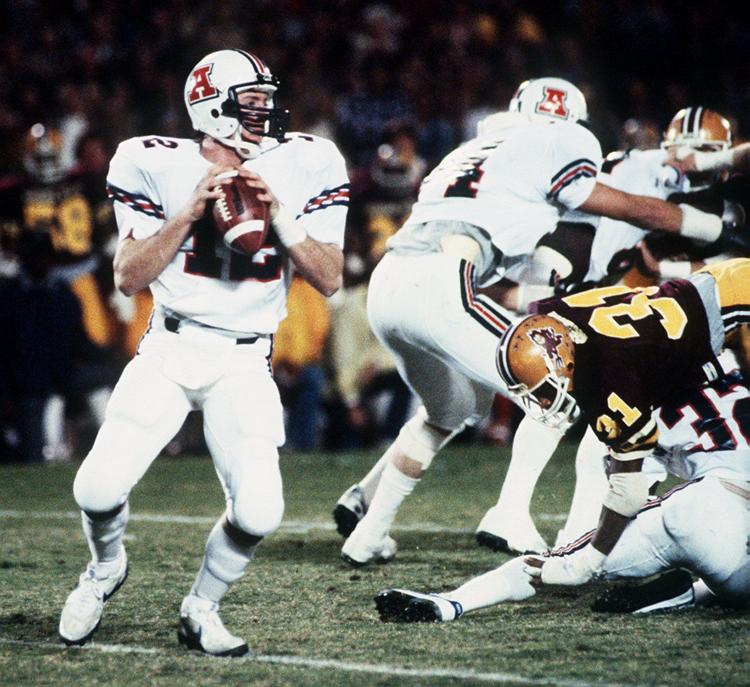 Nov. 27, 1982: Arizona knocks Arizona State out of the Rose Bowl as UA athletics rises to untouched heights
The day after Cedric Dempsey was hired as Arizona's athletic director, he drove to Camp Cochise to watch the Wildcats' afternoon football practice. He was greeted not just by his new coach, Larry Smith, but by a fierce thunderstorm.
It was symbolic of the UA athletic department in late August 1982: storm clouds everywhere.
Smith and Dempsey retreated to the Cochise gymnasium to get to know one another. At times, looking over the approaching storm on the Mexican border, Dempsey must have wondered what he had gotten himself into.
Arizona's athletic department was $417,000 in debt and the football program was under an NCAA investigation for improper payments to players dating to the mid-1970s. Worse, the Wildcats had been humbled by powerful, Frank Kush-inspired ASU football teams for 17 years. More bad news: the UA basketball program was about to begin a 4-24 season, the worst in modern school history.
Entering their fifth season as a member of the Pac-10, the Wildcats appeared to be in over their heads, positioned to become a perennial bottom feeder to rank with Oregon State and Washington State.
Dempsey had accepted a base salary of just $66,000 to leave a similar position at Houston, and, frankly, some wondered if he had properly thought it through. Behind Phi Slama Jama, Houston was in the middle of three consecutive berths in the Final Four. The Cougars' men's golf team had just won the 1982 NCAA title, and Houston's football team had gone a remarkable 34-13-1 in four seasons, including two trips to the Cotton Bowl, then one of the Big Four of college football.
"I've wanted to be the (AD) at Arizona since 1972, but I was turned down then," Dempsey said in attempt to explain his unexpected move. "We can make it work here."
When the storm broke and Dempsey returned to the football field, a rainbow appeared to reach all the way to Mexico.
Over the next 15 years, the sun would shine on the UA athletic department with unprecedented brightness. The Wildcats would surpass ASU in football and basketball and become one of the NCAA's 10 leading athletic departments, year after year, as recorded by the Sears Directors' Cup.
It didn't take long; two days after Thanksgiving, November 27, 1982, the UA's ascent began with one of the most dramatic football games in school history.
The Wildcats (5-4-1) were supposedly looking down the wrong end of another Sun Devil juggernaut, a 9-1 team that only needed to win in Tucson to jump into their first Rose Bowl game and further expand the competitive gulf between the rival schools.
ASU had created a revolutionary, blitz-from-everywhere defense that included future NFL standouts Vernon Maxwell, Jim Jeffcoat and Mike Richardson. The Sun Devils were 12-point favorites.
There was no telecast, live or delayed, of the game. A crowd of 58,515, which was then  an Arizona Stadium record, settled in on a chilly November evening.
Walking back from the practice field Thursday night, Smith told the Tucson Citizen's Corky Simpson and me that he wasn't sure Arizona could beat ASU "even if we play a perfect game."
"I've never seen a defense like it," he said.
But Smith was the mastermind of three colossal upsets in his first three UA seasons. He bumped off No. 2 UCLA in 1980, shocked No. 1 USC in 1981, and took down undefeated and No. 9 Notre Dame a month earlier in South Bend, Indiana.
It wasn't like Arizona was without talent; All-America linebacker Ricky Hunley and future NFL starters Randy Robbins, Vance Johnson and all-conference players Max Zendejas, Jeff Kiewel and David Wood populated the roster.
It was scoreless early in the second quarter when junior quarterback Tom Tunnicliffe retreated into the end zone under a typically strong ASU blitz.
"My assignment was to dump the ball off quickly when ASU blitzed," Tunnicliffe said. "They had to leave someone open."
Tailback Brian Holland stood alone at the 8-yard line, unguarded by the onrushing Sun Devils. Tunnicliffe tossed him the ball and Holland sprinted 92 yards for a touchdown.
In the 87 years of football at Arizona Stadium, the noise created during Holland's long run probably set a record for decibel levels. But it would get even louder in the third quarter when nose guard Joe Drake smothered ASU tailback Darryl Clack for a safety, giving Arizona a 12-0 lead.
Ninety seconds later, after an ASU fumble, Tunniciliffe beat the ASU blitz again, throwing a quick strike to future NFL receiver Brad Anderson, who beat man-coverage and ran 65 yards for a touchdown.
Bedlam. Arizona 19-0.
The Wildcats capped their stunning victory when Drake buried another ASU tailback for a safety in the fourth quarter. Arizona won 28-18. Both goal posts were torn down and paraded up and down Speedway Boulevard until the wee hours.
"I don't like to say this is the 'greatest something' or that was the 'biggest win,'" said Smith, who had cried like a baby while being carried off the field. "But this is as good as it gets. UCLA will be a great representative in the Rose Bowl. We were happy to help."
ASU did not beat Arizona again until 1991.
Momentum grew. Part III of the Dempsey Trifecta didn't take long to fall into place. Three months later, he fired basketball coach Ben Lindsey and flew to Kansas City in search of a new coach and a new vision.
After Villanova beat Iowa 55-54 in the Sweet 16, Dempsey told Iowa athletic director Bump Elliott he planned to talk to the Hawkeyes' basketball coach, Lute Olson, about the vacancy at Arizona.
After Olson's season-ending press conference in KC, Elliott pulled him aside.
"The athletic director at Arizona wants to talk to you about their coaching job," he said.
Olson, 48, three years removed from a stirring run to the Final Four, agreed to meet Dempsey for breakfast the next morning, a Saturday.
By Sunday afternoon, Lute and Bobbi Olson were in Tucson, touring McKale Center and meeting boosters hand-picked by Dempsey. In record speed, Olson agreed to become Arizona's coach and 36 hours later, at 10:30 a.m., on Tuesday, March 29, Olson held a press conference at McKale Center.
"It's going to take a lot of hard work," he said, "but I'm not coming here to finish second."
In the space of seven months — the most defining period in UA sports history — Arizona changed the face of its athletic department. By the time Dempsey left to become executive director of the NCAA in late 1993, the Wildcats began an eight-year period in which they never ranked lower than No. 9 in the Sears Cup rankings of NCAA athletic departments.
"What (Dempsey) accomplished here was unprecedented," UA president Manuel Pacheco said upon Dempsey's departure. "He set the bar as high as it can be set. It's a tough act to follow."
Where are they now: Dempsey, 83, is retired and lives in San Diego. As a consultant in 2010, he acted as a one-man search committee who recommended the hiring of Greg Byrne as Arizona's athletic director.
How he did it: Dempsey completed the link to Arizona's legendary AD/coach Pop McKale. Both men graduated from Albion (Michigan) College. Small world, huh?
---
Photo: Tom Tunnicliffe's second-quarter pass beat an ASU blitz for a 92-yard touchdown and started the Wildcats on their way to a 28-18 win in 1982. Photo by Benjie Sanders / Arizona Daily Star