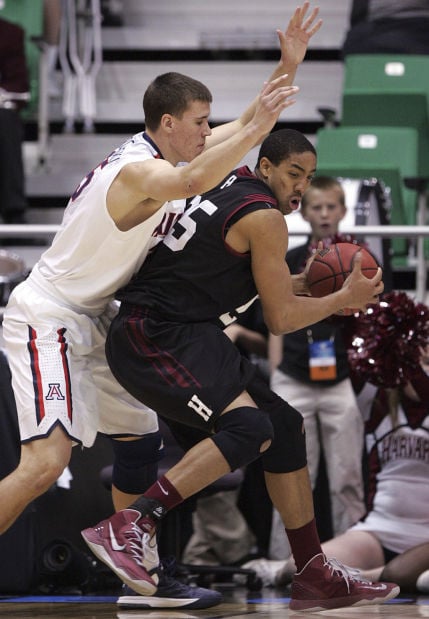 Even today, 50 years later, you can run your finger down the long-ago records of the exemplary Arizona Wildcats golf program, 1935-2012, and not find a single entry of the 1962 Wildcats, as if they didn't exist.
Do you know what happened? They didn't have enough money to go to the NCAA tournament. Even though they finished No. 7 nationally two years earlier, the Wildcats stayed home.
The school's record book marks this unusual event with a series of dashes, as if to say: season postponed on account of no bank account.
This so bothered Tucson business legend Roy Drachman, the triggerman of Arizona's spring training baseball industry, that he rented a room at the El Conquistador Hotel and summoned 29 fellow pacesetters to talk about the future of Tucson sports.
This was 50 years ago Monday. The Tucson Conquistadores were born.
Six of the 30 original Conquistadores survive, and on Tuesday one of them, Fred Boice, a fourth-generation cattle rancher from Arivaca, went to mayor Jonathan Rothschild's office to commemorate the occasion.
"We have raised $26 million to support community sports events and been part of the PGA Tour for almost five decades," said Boice. "I think it probably put us on the map."
On the map? In the winter of 1967, Boice softly placed the dashing Conquistador helmet on the head of Tucson Open champion Arnold Palmer. And on Tuesday, mayor Rothschild became the latest to model the coveted, gold-plated headgear, designed in Toledo, Spain.
The Conquistadores have no equal in the body of Tucson sports. They are No. 1. It's not just the $26 million they've put back in the sports community, but the dignity with which they've handled their partnership with the PGA Tour and their insistence on high standards.
Do you realize they funded a summer basketball camp for Cholla High School's Sean Elliott, the future 1989 NCAA basketball Player of the Year, and also made it financially possible for 2012 London Olympics silver medalist Caitlin Leverenz to pursue swimming opportunities outside Tucson?
Their impact hasn't been felt merely by stars-in-the-making. Here's an entry, typical for any year, from the 1979 sports projects funded by the Conquistadores:
$12,500, lights for the ball fields at Amphitheater Middle School
$500 for the Tucson Swim Kittens club team
$1,021 for the Sahuaro Little League travel expenses
$500 for the All-State High School Rodeo
$4,000 for YMCA sports equipment
"Roy established the Conquistadores because he feared, in part, that we would lose the PGA Tour," Boice remembers. "These organizations stop and start in a hurry. For example, before us, the Tucson Golf Association asked its members to each sell $500 of tickets to the Tucson Open or write the check themselves.
"Everybody resigned. The group just disintegrated."
Now the Conquistadores, 50 strong, are each responsible for $20,000 of tickets for the yearly WGC-Accenture Match Play Championships.
The most impressive part of the Conquistadores' 50-year history is how they hit the pavement with authority. For 30 years, they would play host to a mid-winter sports banquet, honoring the leading figures - high school, college and pro - from Southern Arizona.
This wasn't a ma-'n'-pa affair. Incredibly, for 30 years, their keynote speakers included Sandy Koufax, Stan Musial, Fran Tarkenton, Lefty Grove, Merlin Olsen and on and on.
Evel Knievel showed up. So did Reggie Jackson, George Blanda, Joe Louis and Bob Feller. It gave Tucson a sense of importance, helping to change the community's identity.
And the Conquistadores just kept hitting it out of the park. Still do.
"The guys who came after us, the original 30, deserve the most credit," said Boice. "These things can go bust really quickly, and to their credit, they've kept it together. They've kept the focus on raising money for kids. They've stayed away from getting imbued with self-importance.
"This hasn't been an 'I, I, I' or 'me, me, me' organization. I'm terribly pleased with what has been done for 50 years."
The surviving charter members are typical of the Conquistadores' diverse reach and makeup: Buck O'Reilly was an auto dealer; Bobby Felix was a dentist; Al Kivel was an investment specialist; Tom Chandler is an attorney; Chuck Pettis was a real estate broker.
Fifty years ago this week, Roy Drachman told this newspaper: "We'll be a working organization, not an honorary. We'll try to get young men interested to work hard for the betterment of the community in support of all local sporting events."
As 50th anniversaries go, this one gives hope for 50 more just like it.