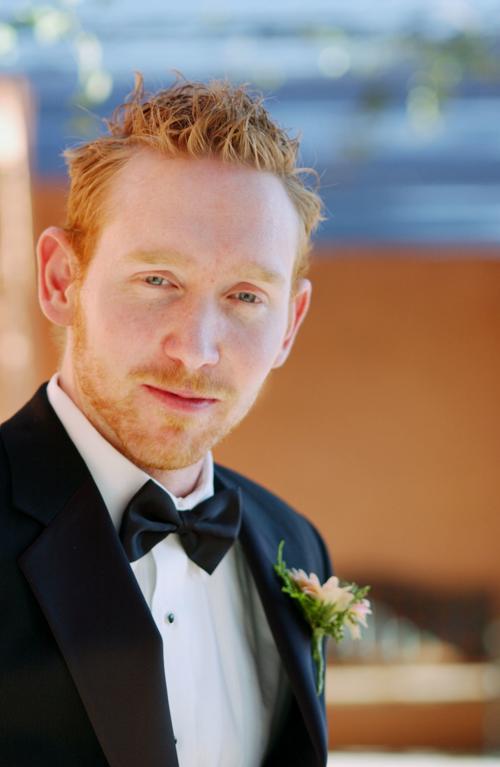 The phone buzzed at midnight. I let it buzz.
A minute later, it buzzed again. My son Tyler was calling. I was engulfed by a sense of dread. Tyler and his family were in San Diego, visiting the zoo and dipping their toes in the ocean. He would not call at midnight unless something was terribly wrong.
"I think Jake is going to die," he said. I had not heard Tyler cry since he was 8.
Outside of his condo in Lakewood, Colorado, my son Jake — Ty's older brother — had collapsed onto a path where he walks his dog, Murph.
No oxygen to the brain for 10 minutes.
Jake was on life support at St. Anthony's Hospital.
I began throwing clothes into a suitcase. The phone buzzed again, this time with a 720 area code. Denver.
"If your son lives," said Dr. Scott Matson, a pulmonary critical care specialist at St. Anthony's, "I'm worried that he won't return to where he was before. There's a very slight chance he won't suffer a loss of brain function."
I wrote those words onto a notepad as Dr. Matson spoke.
My son Jake was born with a congenital heart condition: hypertrophic cardiomyopathy. The medical people refer to it as HCM. I've always referred to it as Hell.
It's the same disease that killed Jake's mother, his aunt and his grandfather. Another aunt required a heart transplant. It is responsible for a stroke his older brother, Ben, had 13 years ago. HCM first manifested itself 30 years ago, when Tyler, who was only 7, required open-heart surgery.
Until that early-October night in Lakewood, Colorado, Jake had lived a life without physical restrictions. He played club hockey in a Denver league. He became clubhouse manager of the beautiful Hiwan Golf Club in the mountains west of Denver.
Somewhere along the way, when I wasn't paying attention, Jake became a soccer and hockey guy. When I'd talk about the Yankees, he would talk about Celtic FC of the Scottish Premiership. He even went to Scotland to experience what a real soccer country was like.
I grew up talking about Mantle and Mays, Jake grew up talking about Henrik Larsson and Messi. I'd ask him if he'd been to Coors Field to see the Rockies play baseball, and he'd switch the conversation to the Colorado Avalanche.
Soccer and hockey. Jake has always been an independent, gentle soul.
Early on Oct. 10, a Wednesday, Tyler drove from San Diego to Tucson. We took an afternoon flight to Denver and tried to be as upbeat as possible. Dr. Alexander Kogan, a critical care specialist, phoned and said Jake was in a medically induced coma and "paralyzed."
"It'll be 24 hours before have a better idea of whether he'll survive," Dr. Kogan said. "He was down for quite a while."
When Tyler and I walked into the ICU unit, Room 248 at St. Anthony's Hospital, it was worse than I expected. Jake was indeed paralyzed and sedated. The intubation lifelines seemed to come from everywhere. He was on 16 medications to keep him alive.
Dr. Nima Aghili, an intervention cardiologist, was candid and informative.
"The next 48 hours will be critical," he said. "We think he went without oxygen to the brain for about 10 minutes. From what we know, it is very fortunate someone found him."
Dr. Aghili's "very fortunate" is Jake's "miracle."
After he collapsed from a cardiac episode outside of his condo at about 8 p.m. on a Tuesday, Jake lay alone, in the dark, unattended. Only his dog, Murph, was in the area.
We'll never know with certainty, but about five minutes later a young man named Brian opened the door to his nearby condo to admit a friend. As he began to close the door, he noticed Murph, agitated.
Then he saw a Jake on the ground.
Brian sprinted about 50 yards, dialed 911 and set the timer on his phone. Brian is, of all things, a paramedic. What are the odds? He began chest compressions and applied CPR for almost eight minutes, although Jake's heart was not beating when the paramedics arrived.
Dr. Aghili said paramedics shocked Jake's heart three times and worked on him for more than 20 minutes. Again, fortunately, St. Anthony's trauma center was only a mile away.
Forty-eight hours after Jake arrived at the trauma center, his ICU nurse, Juhee, changed his socks. He was still fully sedated and had not moved. The nurse noticed that his toes were a blackish color.
She looked at me and said "I'm so sorry," and explained that because his feet had gone so long without blood flow that it was possible there would be permanent damage.
I asked if that meant that his foot would have to be amputated.
"Ask Dr. Kogan," she said.
A day later, Juhee changed Jake's socks again. The blackish color was gone. His toes were fleshy.
"I'm in shock," she said.
Later that afternoon, Dr. Kogan stopped the medication that had kept Jake in a paralyzed state.
"Jacob," he said, "if you can hear me, move your right thumb."
Jake's right thumb moved slightly.
"Jacob," he said, "open your eyes."
Amazingly, Jake opened his eyes, if only halfway.
"Jacob," said Dr. Kogan, "if you see your dad, raise your left thumb."
A day later, the ICU nurses got Jake out of bed. He was still hooked up to his IV fluids, but he took a lap around the ICU unit. It was the victory lap of a lifetime.
Five days later, with a defibrillator implanted to prevent another cardiac event, Jake walked unaided out the front door of St. Anthony's Hospital.
On Friday, he will return to work at the Hiwan Golf Club.
Do you believe in miracles?
Contact sports columnist Greg Hansen at ghansen@tucson.com or 573-4362. On Twitter: @ghansen711