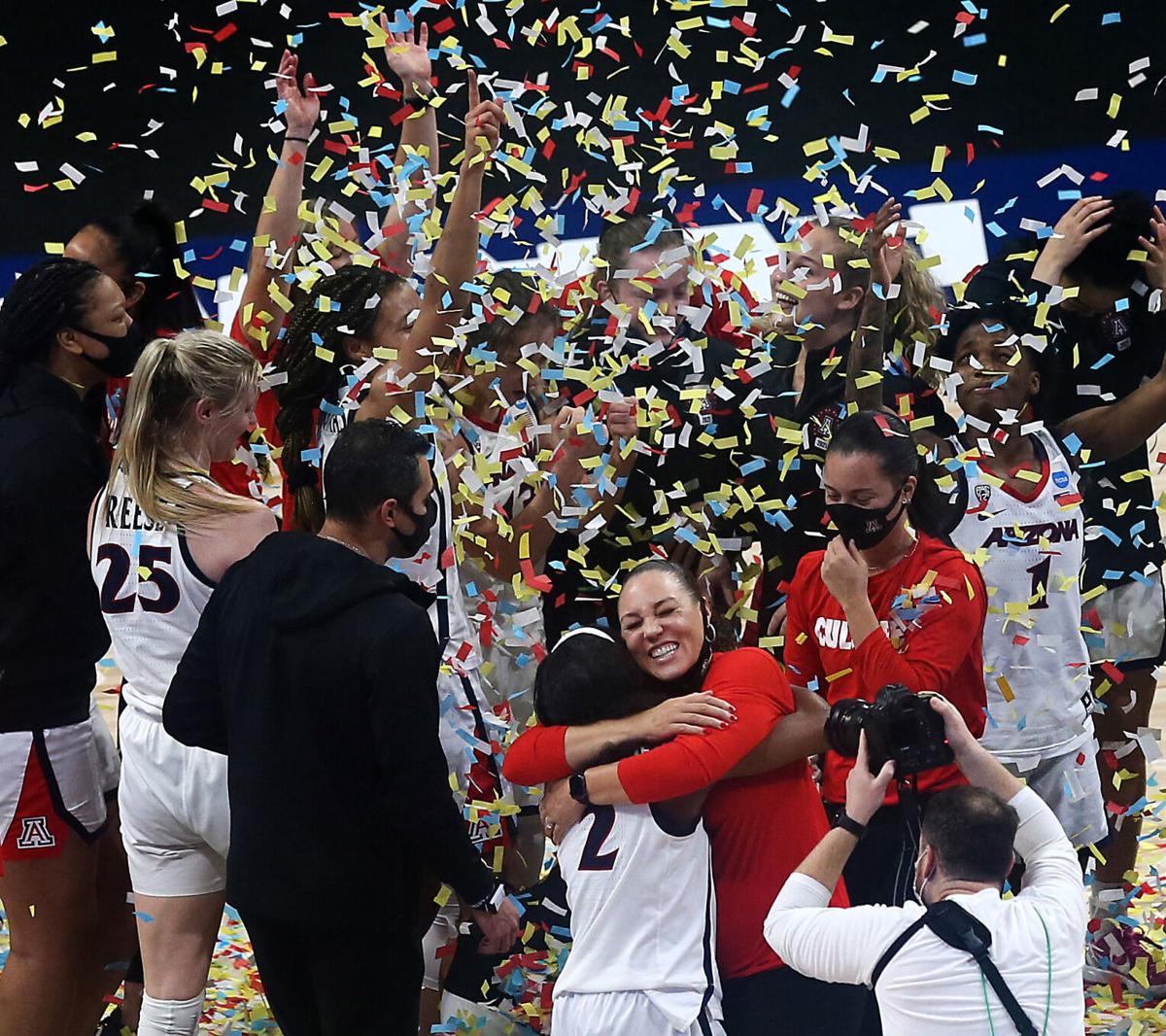 If you are a women's college basketball coach who is being sought by Baylor, a school that would double your salary from about $650,000 to $1.2 million, you ask where to sign, right?
You say it's not all about money? Baylor has gone 87-3 in the Big 12 the last five conference seasons. Arizona has gone 39-50 in the Pac-12 in the same period.
If you are Arizona coach Adia Barnes, you put your signature on the contract before Baylor athletic director Mack Rhoades changes his mind, right?
But you pause because you have long been considered the best women's basketball player in Arizona history. You pause because your quality of life in Tucson is off-the-charts exceptional. You can practically walk to McKale Center from your home near campus.
So why take the Baylor job, or any other job?
You've got a winning legacy in Tucson and it might double or triple in the next decade. You are already the most popular coach on campus, only 44, entering the prime of your career. Season ticket sales are about to double the school record.
That's what Barnes had to be asking herself last April, three weeks after Arizona played in the Final Four championship game, one shot — a few lousy inches — from an NCAA championship.
Can I do any better for myself than stay home and coach at Arizona?
Rhoades arranged for a private jet to fly to Tucson and bring Barnes and her husband, assistant coach Salvo Coppa, back to Waco, Texas, and complete the deal. Rhoades was armed with his best stuff, the best pitches an AD can make in women's basketball.
He surely told Barnes about the $100 million campaign to build a new basketball arena on the Baylor campus, one to replace 33-year-old Ferrell Center, at which Baylor's women's basketball team has not averaged fewer than 5,849 fans the last 15 seasons.
Baylor has won 11 consecutive Big 12 regular-season championships. It won the Final Fours of 2005, 2012 and 2019. Baylor women's basketball is the equivalent of Duke or Kansas men's basketball.
Nobody turns down a job at a Duke or a Kansas.
Barnes did. Maybe Rhoades will never say as much on the record; that would undermine the coach he eventually hired, WNBA head coach Nicki Collen. And it's unlikely Barnes will ever publicly say that the Baylor job was hers to turn down.
But two days after Baylor hired Collen from the WNBA's Atlanta Dream, UA athletic director Dave Heeke announced that he had reworked Barnes' contract, awarding her a five-year, $5.85 million deal. A month earlier, Arizona and Barnes had agreed to a five-year contract worth $3.35 million.
Two contracts in a month at the same school? Such is the power and appeal of winning in college sports.
It's not much different now than in 1985 and 1989, when men's basketball blueblood Kentucky twice tried to steal Lute Olson from Arizona. UA athletic director Cedric Dempsey acted swiftly to keep Olson then, and to Heeke's credit, he was alert and proactive, doing all he could to keep Barnes from becoming a Texan.
It's easy to see why Barnes appealed to an elite program such as Baylor.
She has not once used the term "rebuilding" since Aari McDonald's shot to win the NCAA championship rolled off the rim last April in San Antonio. She could. No one could blame Barnes for requesting patience.
McDonald was a once-in-a-generation player, a program-changer who helped Barnes and the Wildcats go from a 6-24 season to the Final Four in three years. But Barnes rebuilt Arizona in 2017 and 2018. Now it's go-time, not "give me some time."
On Wednesday morning, Barnes sat on a podium during a 30-minute Q&A session at McKale Center and talked about how things have changed.
"The standard here is now so high," she explained after the AP preseason poll ranked Arizona No. 22. "When you're ranked 22nd it's like, 'ugh.'"
Not only that, Arizona is ranked a modest No. 5 in the Pac-12 preseason coaches' poll. The Pac-12 is crazy good in women's basketball, which Barnes knows more than anyone.
"It's a gauntlet," she said. "When I was (an assistant coach) at Washington, we finished fifth in the Pac-12 and went to the Final Four. We are so deep. I've never had a team where one is bad."
A few days ago, junior forward Koi Love, a coveted transfer from Vanderbilt who averaged 20 points per game for the Commodores last year, put the loaded Arizona roster in perspective when she told Barnes: "No one (on our team) sucks."
At 44, Stanford coach Tara VanDerveer was entering the 1997-98 season. She has since coached the Cardinal to nine Final Fours.
At 44, UConn coach Geno Auriemma was entering the 1998-99 season. He has since coached the Huskies to 18 Final Fours.
Let your imagination run wild.
VanDerveer is 68. Auriemma is 67, nearing the end of their Hall of Fame careers. At 44, Adia Barnes is just getting started, one of the most promising two or three "next generation" coaches in women's college basketball.
No wonder Baylor wanted her on that plane to Waco.
Contact sports columnist Greg Hansen at 520-573-4362 or ghansen@tucson.com. On Twitter: @ghansen711