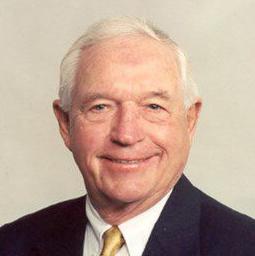 On Senior Day at McKale Center on March 7, the loudest ovation wasn't for a departing Arizona ballplayer. It came during a first-half TV timeout as Tucsonan Mike Lude walked to center court wearing his Marine Corps cap and T-shirt.
For a full minute, Lude was engulfed by the ovation. He stood on the A at midcourt and gave a military salute to 13,604 fans.
Before leaving the court, Lude nodded toward the Washington bench. It was sort of a "remember me?" moment.
Lude was the Huskies' athletic director from 1976-91, a period in which he was widely viewed as the league's most effective AD, turning a $400,000 deficit into an $18 million surplus, becoming chief of the league's most profitable organization; the Huskies played in five Rose Bowls, won the 1991 national co-championship, set Pac-10 football attendance records and established the template for building modern athletic facilities before Nike spent a dime at Oregon.
Monday afternoon, Lude wasn't into building $12 million football scoreboards, as the Ducks are, or lamenting the cancellation of March Madness. He was looking for solutions.
"What if this shutdown of college athletics extends into August, or later?" he asked. He talked about the urgency of creating a plan to manage rosters that are sure to be inflated when the seniors of 2020 are granted an extra year of eligibility in 2021.
As Lude knows as well as anyone in college athletics, expanded rosters create more spending, more budget issues, growth of the mushrooming "transfer portal" and, in general, more crisis management than ever in an industry that seems forever stuck in crisis upon crisis.
Lude has told me several times that before he dies he wouldn't be surprised if college athletics implodes and returns to the "Ivy League model." And Lude is 98.
If there is anyone on this planet who could offer sanity to college athletics, it is Lude, who was a football coach at four colleges before becoming the athletic director at Kent State, Washington and Auburn, a 47-year administrative and coaching career that began in 1948 at small-town Hillsdale College in rural Michigan.
Each time I am privileged to spend time talking about college athletics with Mike Lude, I marvel at his spirit, his perseverance and his problem-solving genius.
If you seek positivity during the coronavirus tumult, you would benefit from the company of someone like Lude, the son of sharecroppers on a Michigan farm who made a living selling hogs for three cents a pound during the Great Depression.
Lude's we'll-get-through-this bearing is the product of 98 years of "getting through this." I share his story today because it helps me feel confident about America's immediate and long-range future.
On Dec. 7, 1941, Lude was a sophomore biology major at Hillsdale College, eating a pancake supper at the Chi Omega sorority house when he was told about the Japanese attack on Pearl Harbor.
Three months later he enlisted in the Marine Corps. His vivid stories about boot camp and Officer's Candidate School are absorbing.
"The mood was edgy because we knew the job would be extremely dangerous," he wrote in his 2004 book "Walking the Line." Indeed, many of his boot-camp friends were killed at Iwo Jima.
After three years in the Marines, served mostly at Pearl Harbor, Lude returned to Hillsdale, completed his degree work, got married, and began coaching at his alma mater. A year later he became an assistant coach at the University of Maine, where he learned one of the most valuable lessons of his career.
The AD at Maine took out an insurance policy from Lloyd's of London to protect the school in the event of a football calamity, anything from low attendance revenues to catastrophic injuries. When Lude became Washington's AD 25 years later, he worked with Lloyd's of London to protect the UW's athletic department.
As we've learned during the coronavirus uneasiness, you never know, right?
In the winter of 1987, as construction crews were near completion on a $17 million addition to Husky Stadium — adding 13,500 seats and building an upper deck — Lude looked out his window just as 250 tons of steel collapsed onto the lower stadium.
"My God!" he said while in the middle of a staff meeting. "The stadium's going."
It didn't seem possible that Husky Stadium would be ready for its Sept. 5 opener against Stanford, but Lude and construction officials worked out a plan for double-shift and weekend work that beat the deadline by one day.
That was much different than the horrifying May afternoon in 1970 when Lude was in an Ohio hotel, hopeful to become the new athletic director at Kent State.
That was the day members of the Ohio National Guard shot and killed four unarmed students, wounding nine others, during a mass protest against the bombing of Cambodia by United States military forces.
Lude was ultimately offered and accepted the job at Kent State. "The place was depressed and subdued, almost morbid," he remembers.
But he got through it, and four years later accepted the AD job at Washington.
On Monday, talking about America's health crisis, Lude spoke of patience and faith. Patience and faith? In January 1961, while an assistant coach at Delaware University, Lude was offered the head coaching job of the Denver Pioneers, then in the Skyline Conference with, among others, BYU and Utah.
He accepted the job and went to bed excited to get a chance to restore Denver's program, which had gone soft after rising to No. 18 in the AP poll in 1954.
The next morning, Lude answered a call from Denver's athletic director.
"Sorry, Mike," he said. "But our chancellor this morning decided to eliminate football."
Pushing on, Lude applied to become the head coach at Colorado State. A year later he was hired. It wasn't a job for the timid; CSU had lost 16 straight games. The returning personnel was so bad that Lude went 0-10 his first season, 1962.
"We had a 26-game losing streak," he said Monday, shaking his head. "I worried that my career was over. We had three young children. I had no choice but to dig in and make the best of a bad situation."
Twenty years later, 1982, Lude was elected president of the National Association of Collegiate Athletic Directors. In 1988, he was elected to the NACDA Hall of Fame. By 1992, he was the AD at Auburn, whose football program was in disarray.
Lude hired Terry Bowden to be the head coach. Bowden went 11-0 and 9-1-1. Only then, after another crisis had been solved, did Lude retire.
When McKale Center's Senior Day crowd cheered for the Marines' World War II Company Commander, 5th Battalion, First Amphibious Group, it was because Lude had represented our country so well in time of crisis.
His service to college athletics merits similar applause.
Contact sports columnist Greg Hansen at 520-573-4362 or ghansen@tucson.com. On Twitter: @ghansen711
Be the first to know
Get local news delivered to your inbox!