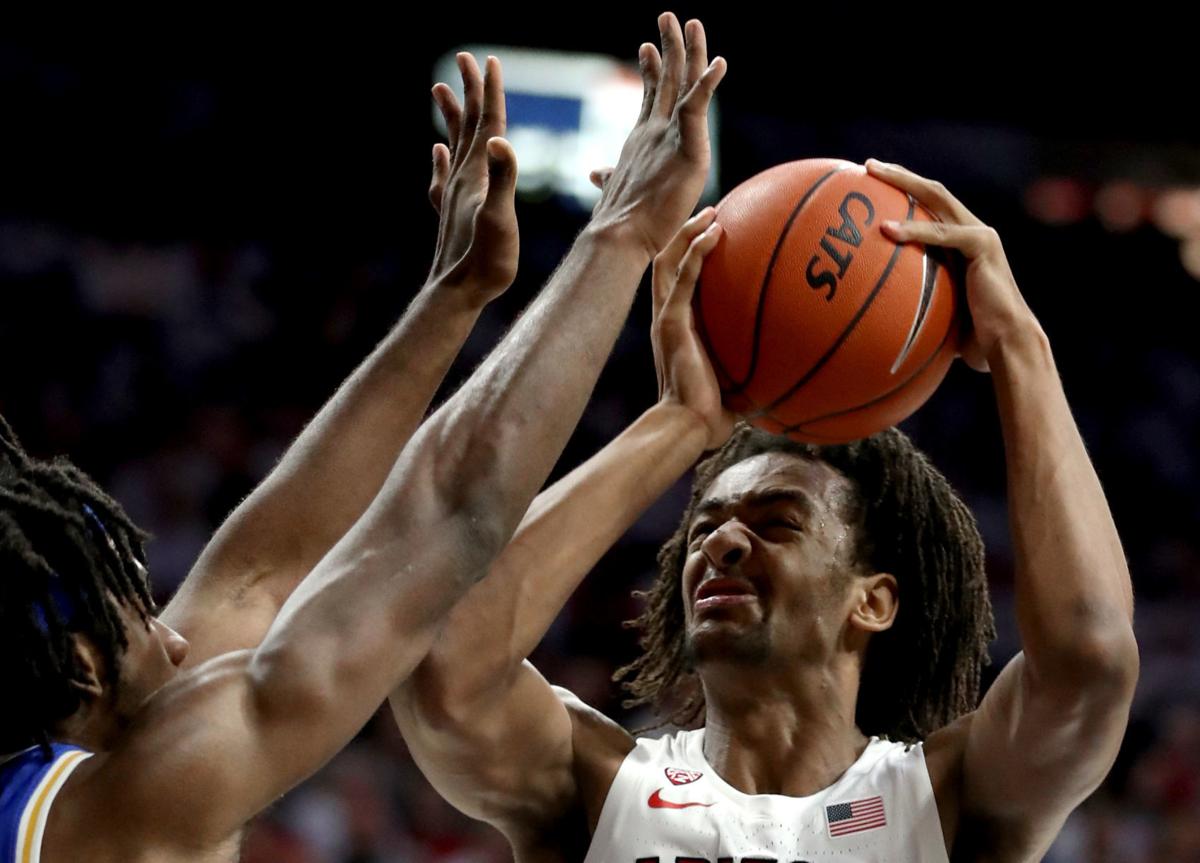 Over the last 47 years, 725 coaches have walked out of the visitor's locker room at McKale Center, many of them feeling as though they had been lined up against the wall and experienced a basketball execution.
When coach No. 726, UCLA's Mick Cronin, emerged from the Bruins' noisy locker room late Saturday night, he said "pick a wall.''
But it wasn't anything like it sounded. Cronin merely wanted to avoid a group of joyous Bruins fans speeding up and down the corridor to celebrate their dominating 65-52 victory over Arizona.
It was a historic occasion. The Bruins' physical and relentless defense so overwhelmed the Wildcats that Arizona shot 25.4%, the lowest shooting percentage by any UA team over those 47 years and 726 games at McKale Center.
And it wasn't a tip-toe through the record books, either. Until Saturday, Arizona's worst-ever shooting night at McKale was 32 percent, in 1980 against Oregon. If Arizona had been so fortunate to shoot 32% against UCLA, it probably would've won and generated chatter about winning another Pac-12 championship.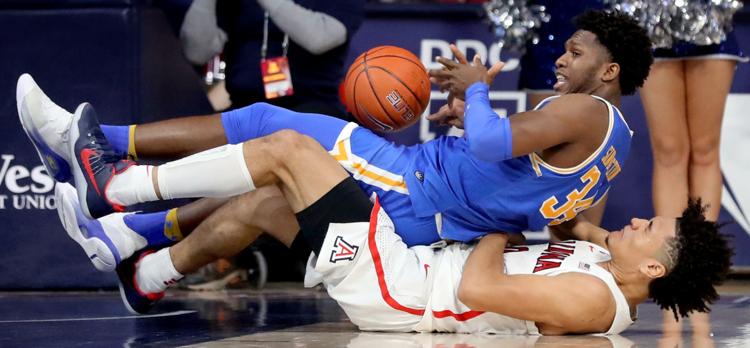 What compounds the degree of worry is that two months ago Arizona shot 26% in a loss at Baylor, a brick-shooting figure believed to be the school's lowest percentage in modern history.
Two weeks ago, Arizona blew a 22-point lead and lost at ASU, shooting 28 percent in the second half, missing every 3-pointer it attempted, just as it did in an 0-for-12 second half against UCLA.
So, no, it doesn't appear to be just one bad night at the ballpark. It has become a chronic problem.
Anybody want to check with the NCAA to see if Salim Stoudamire has any eligibility left?
Cronin chuckled when informed Arizona broke its McKale Center record for shooting issues.
"Thank God it was against us,'' he Cronin, who must've come across like a bad dream for Arizona coach Sean Miller. The two were hard-fisted, cross-city rivals when Miller coached at Xavier and Cronin at Cincinnati from 2006-09. And now, suddenly after all these years, Cronin shows up to wreck Arizona's season, because, lets face it, the trajectory of Arizona's season lost its pop Saturday night.
"We just weren't ready for it,'' said Miller. "It's a man's game. You have to go through contact, you have to be physical, you can't cry. Their toughness and physicality wore on all of us.''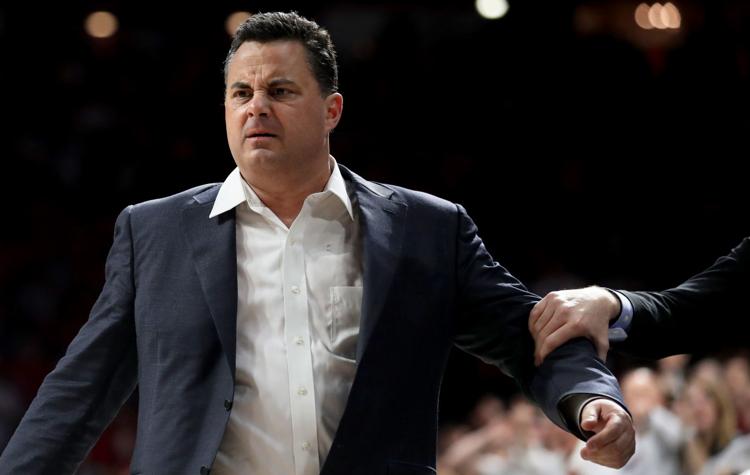 UCLA entered Saturday's game ranked No. 122 in the Kenpom standings. That's not a typo; the Bruins were a slot or two behind Wright State, Ball State and North Dakota State.
That's not a typo, either, but it sure came off that way after a Bruins club so unlike the feared and highly-ranked UCLA teams that have played at McKale all these years played as if they're bound for the Final Four.
Here's a question for even the most knowledgeable Arizona basketball fan: Could you have named more than one or two Bruins before Saturday's game?
This was a team that lost 84-66 two days earlier at Arizona State, a night the Sun Devils swished 14 of 24 3-point shots.
"For us, it was the law of averages,'' Cronin said, smiling. "The team we played the other night couldn't miss.''
If there is one person in the college basketball universe that saw this coming it was Sean Miller.
His team did not make a field goal in the final eight minutes of Thursday's near-collapse against USC, and he did not dismiss it as a young team coasting to a finish.
In his post-USC game press conference, he warned the audience about UCLA. Nobody paid much attention. This wasn't Don MacLean or Kevin Love or Reggie Miller wearing Bruin colors.
This was a team that lost to Hofstra and Cal-State Fullerton this season.
If Cronin's in-your-face defense is to be the identity of UCLA basketball for the next five or 10 years — especially when he has time to field a lineup that isn't stocked with Steve Alford leftovers — consider yourself warned. Consider the rest of the league worried.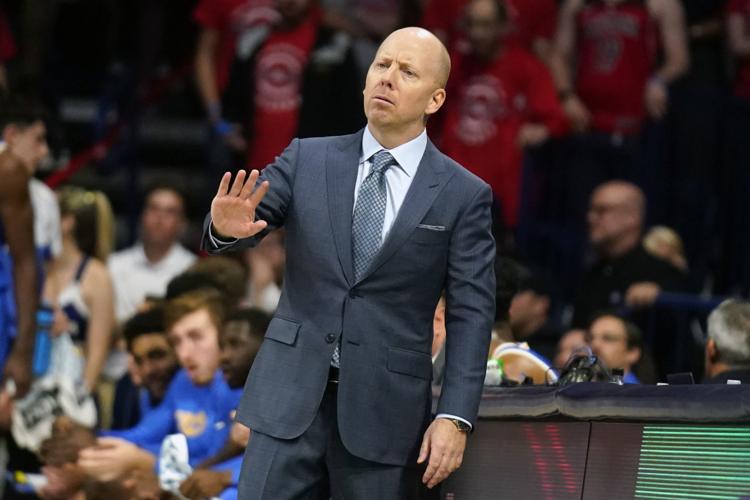 Every UA basketball loss seems to be treated with the-world-is-coming-to-an-end grief. This one doubled the grief because it was so unexpected and so humbling.
But the reality is that it wasn't as costly as any of those epic UA-UCLA games of the '90s, when Pac-10 championships seemed to be at stake in every Wildcat-Bruin game.
Reality? This Arizona team doesn't appear to be built for the long haul. Is a temporary team, the core of which are one-and-done NBA prospects. It shouldn't be a shock to see them struggle. If you want full-on grief, go back to the worst-ever UA loss to UCLA.
In March of 1983, a 4-22 Arizona team coached by Ben Lindsey closed a ruinous season by playing a weekend series at UCLA and USC. Lindsey, who handled many of his team's travel plans, scheduled a 7:40 a.m. flight to Los Angeles on the day of the game. That dictated a 5:30 a.m. wakeup call.
Upon arrival at the Los Angeles airport, the bus Arizona had chartered was a no-show. The team waited at the airport for another bus. When they finally got to their hotel, the rooms weren't ready. It was a basketball circus.
A few hours later, Arizona showed up at Pauley Pavilion and lost 111-58. A few days later, Lindsey was fired. A few weeks later, they hired Lute Olson.
In the bigger picture, this, too, shall pass.
Contact sports columnist Greg Hansen at 520-573-4362 or ghansen@tucson.com. On Twitter: @ghansen711
Be the first to know
Get local news delivered to your inbox!