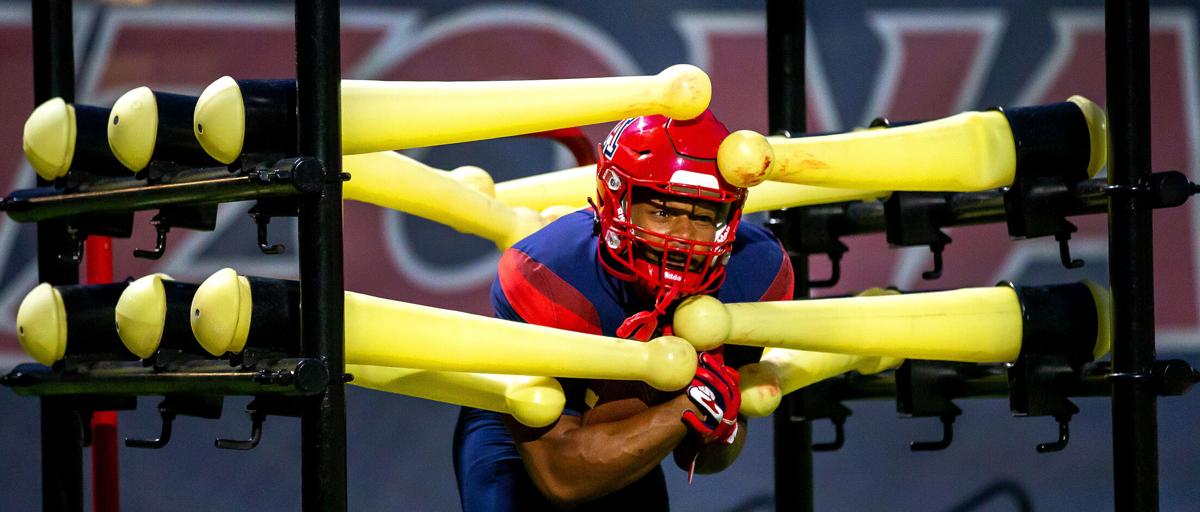 Notice anything new about the AP's preseason Top 25 football poll? I do. Two decidedly non-football schools — Iowa State at No, 7 and Indiana at No. 17 — share positions of relevance with the LSUs and Texas A&Ms.
The odds of it lasting, the odds of the Cyclones and Hoosiers becoming full-scale football powers, is about the same as Arizona and Arizona State sustaining football success for a decade or more, maybe worse.
At the Power 5 conference level, success is fleeting. Nobody is backing up to make room for a newbie.
In the last 25 years, only two Western teams, Oregon and Utah, have climbed from the mid-pack, or lower, to become steady Top 25 teams.
The Ducks did so only when they gained access to Nike co-founder Phil Knight's seemingly endless wealth. The Utes did so the old-fashioned way, following the lead of Mr. Grinder, coach Kyle Whittingham, who tapped into the booming Polynesian population of the greater Salt Lake valley. That motherlode of football talent changed the face of college football in Utah.
From 2014-20, a time Arizona and ASU had won (or recently won) South Division titles and seemed to be legitimate challengers to USC and UCLA, the Utes stepped up and have gone 58-27. They hit the accelerator and passed the Wildcats and Sun Devils like they were stuck in traffic.
Arizona has gone 36-45 in that period, ASU 45-36.
How do you get it back? The most obvious answer is you probably don't.
UA coach Jedd Fisch probably didn't know what tough looked like until he set up shop at the Lowell-Stevens Football Facility. The man who coached for football icons Bill Belichick, Pete Carroll, Sean McVay, Steve Spurrier and at power-blessed schools Michigan and Miami surely had a this-is-going-to-be-tougher-than-I-imagined moment since moving to Tucson.
Over the past 35 years, neither ASU nor Arizona has put together winning seasons for more than four years in succession. Both schools keep hiring and firing head coaches — they've combined to deploy 12 head coaches in that 35-year span — but college football is unforgiving.
Unless you have Phil Knight's money or Kyle Whittingham's coaching chops — for my money he is the league's top football coach — you come, you go, you hire and you fire.
The Utes and the Ducks are exceptions, and college football does not often produce exemptions. Stanford? Highly-respected Stanford coach David Shaw slumped to a 4-8 season in 2019. From 2008-18, Stanford had the league's most victories, 94 — even more than Oregon's 89.
But now Shaw is having difficulty getting back on even ground with the Ducks and Utah. Many in the game now refer to Whittingham as the new David Shaw.
Of all people, Houston Cougars basketball coach Kevin Sampson put the difficulty of FBS football in perspective while speaking to The Sporting News last week.
"Basketball is in a different building. Basketball is more for everybody," Sampson said. "Football is built for the top teams, whereas basketball is built for everybody. That's why we don't have a I-A or I-AA, or FBS or FCS in basketball. We've got one NCAA Tournament, and we've got 68 spots, and everybody's got a chance.
"You've got a chance to get in the NCAA Tournament and build a legacy for your program. That's not the way it is in college football."
There are no Butlers, no Cleveland States and no Gonzagas in college football.
Sampson coached Houston to the Final Four in April. That would be like Iowa State or Indiana getting in the college football playoffs this year. It just isn't going to happen.
What is most likely to happen is that a mega-power will hire 41-year-old Iowa State coach Matt Campbell before the Cyclones revert to historic form. Iowa State last had three consecutive winning seasons from 1976-78.
Utah is fortunate that Whittingham is not a job-jumper. He grew up in the greater Salt Lake City area, played at BYU, and prefers the quality of life in Utah to that of Los Angeles. If Whittingham had wanted the UCLA or USC job the last decade, those schools would've hired him overnight.
After a period in which ASU, Cal, Stanford, UCLA, USC and Washington all diminished seating capacity at their football stadiums, the Utes added 6,000 seats to Rice-Eccles Stadium in recent months. All were sold before construction was completed.
A home game at Rice-Eccles has become the most feared Pac-12 venue for visiting teams.
There is no secret formula to hiring a coach like Whittingham, who can sustain success. Indiana coach Tom Allen has the most unlikely background of any Top 25 coach this year. Allen spent the first 15 years of his coaching career at high schools in Indiana and Tennessee. He then coached at Wabash, Lambuth, Drake and Arkansas State before getting a spot on a FBS staff, at Ole Miss.
But over the last two seasons, Allen's Hoosiers have gone 14-7. The last time Indiana had two consecutive winning seasons was 1993-94.
Notice to all of those who plan to pack IU's once-dreary Memorial Stadium for the Hoosiers' Oct. 23 showdown with Ohio State: Enjoy it while you can.
This ain't college basketball.
Contact sports columnist Greg Hansen at 520-573-4362 or ghansen@tucson.com.
On Twitter: @ghansen711