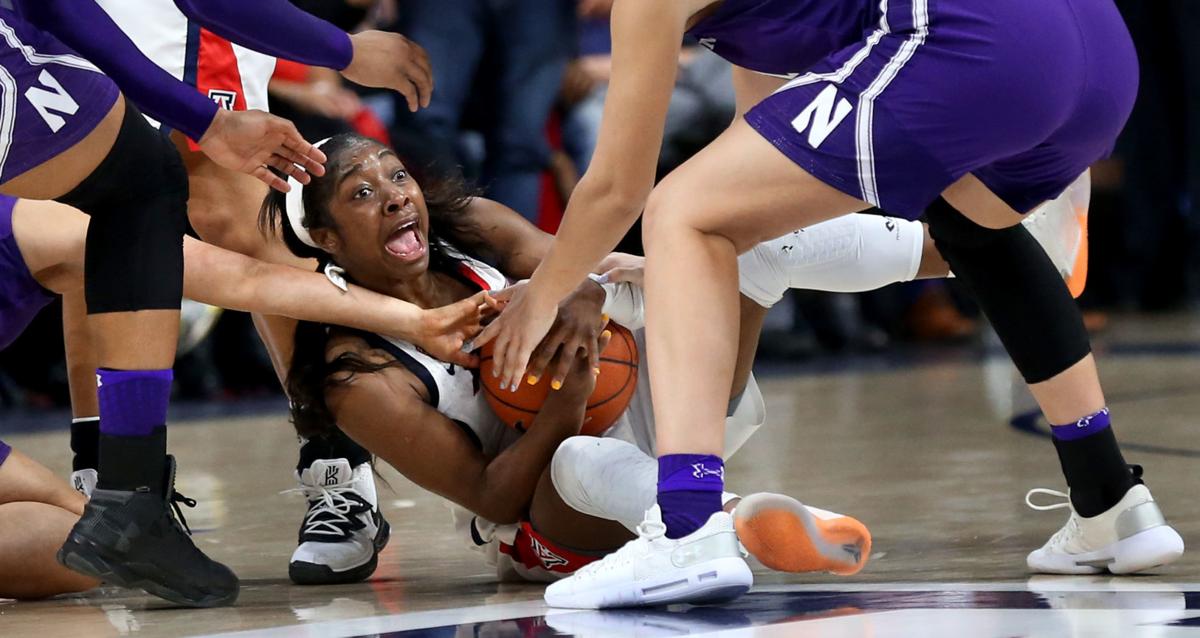 Late in Aari McDonald's freshman season at Washington, the 10th-ranked Huskies outscored Arizona 91-55 and moved into first place in Pac-12 women's basketball.
It was about that time, February 2017, that McDonald was "discovered."
"Whatever situation you put her into," said UW coach Mike Neighbors, "she makes it GO!"
The exclamation point and capital letters were later used in McDonald's school bio.
Neighbors said that when he was recruiting McDonald at Brookside Christian High School in Stockton, California, "I saw her get 15 rebounds in a half — and she's probably no more than 5-foot-5."
The UW's media relations staff didn't always use exclamation points and capital letters in Neighbors' comments about McDonald, but since transferring to Arizona in the summer of 2017, McDonald's performance as a Wildcat can be described by one exclamation point after another.
She scored a school-record 44 points at No. 23 Texas!
She scored a school-record 890 points last season!
She led the Pac-12 in scoring last year and is leading it again this year!
She led the Pac-12 in steals!
Her Arizona team has won a school-record 17 consecutive games and sold out McKale Center in the WNIT championship victory!!
McDonald, a 5-foot-7-inch dynamo from Fresno, California, added so many exclamation marks to Tucson's sports landscape that she is No. 1 in the Arizona Daily Star's Top 100 Sports Figures of 2019.
"The thing with Aari," says UA coach Adia Barnes, "is that she's never satisfied. She's getting better, and that means we're getting better."
McDonald's journey to Tucson is as improbable as it is impressive. Former Arizona coach Niya Butts lightly recruited McDonald before being fired almost four years ago, but McDonald wanted to play for a winner, more expressly, she wanted to play for Barnes, long considered the greatest player in UA women's basketball history.
"It seemed like Adia would call me every day, and not just call me, but insist that we do FaceTime," McDonald remembers. "She was so thorough. I knew I wouldn't be making a mistake to play for her."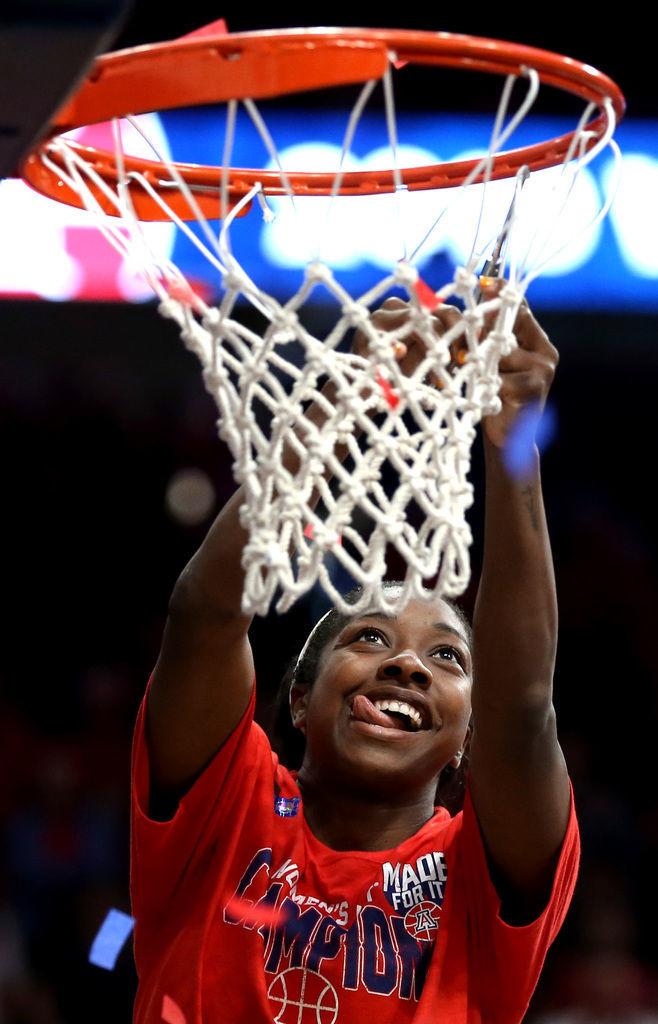 Barnes was Neighbors' top assistant coach at Washington in 2016-17, a season in which the Huskies featured consensus All-American Kelsey Plum, went 29-6 and reached the Sweet 16. McDonald was at first considered an extra piece; she missed the season's first seven games with a back injury.
But once inserted into Washington's rotation, McDonald did for the Huskies what she has done for Arizona — injected a bolt of lightning into the way Washington played basketball.
"She plays so hard," says Barnes. "She just won't quit. It is contagious."
McDonald is the female equivalent of baseball's Pete Rose. Charlie Hustle on the dribble.
Most Tucsonans are aware of how McDonald's presence has transformed Arizona's women's basketball program from one that finished 6-24 during her redshirt season, 2017-18, to one that has climbed to No. 18 nationally.
Wherever she has played, winning follows.
In her splintered high school career — McDonald averaged 25 points as a Bullard High School freshman in hometown Fresno before transferring to a more basketball-centric private school in Stockton and sitting out her sophomore season to gain eligibility — McDonald's teams went a combined 71-19. She scored 2,205 points.
She has now gone 64-19 in college, scoring 1,382 points.
Getting to this level has required two transfers, two years of sitting out, and a lot of tears.
"When my mom (Andrea) drove me to Stockton, dropped me off to begin my sophomore year, she was bawling," McDonald remembers. "I was sobbing, too. But it turned out for the best."
McDonald lived with the family of a Brookside Christian teammate in Stockton, a period in which she was so dominant that she had six triple-doubles and a quadruple-double. As a high school junior, she averaged 26 points, nine rebounds, six steals and six assists.
Realistically, Arizona had no chance to recruit McDonald then, but when Barnes was hired as Arizona's head coach in the spring of 2017, Neighbors bolted for the coaching job at Arkansas and Washington's program splintered. McDonald chose to follow Barnes to Tucson.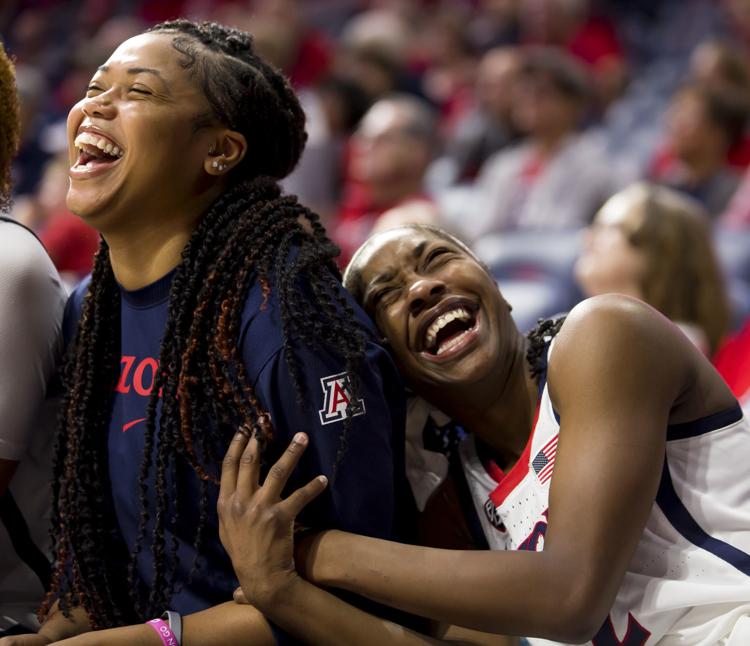 "I had only been to Tucson once, my freshman year, when we won pretty easily (90-73)," she recalls. "There weren't many people at McKale that day."
This year the Wildcats are averaging a school-record 4,650 fans at McKale. Part of it is Barnes' engaging personality and ability to connect to the community, part of it is three strong recruiting classes in succession, and part of it is McDonald leading the way.
The old American credo — "everybody loves a winner" — has come to fruition.
What lies ahead may be the most difficult challenge of McDonald's career: Pac-12 women's basketball is inordinately difficult. Four teams have been ranked in the top 10 most of the season. Unless McDonald and her teammates are at their best, the Wildcats will be challenged to finish 9-9 in league games.
"I've had challenges my whole life," she says. "When I was in the eighth grade I played in a boys league."
She nods her head and purses her lips when asked if she was able to hold her own against male opponents.
"Oh, yeah," she says. "One guy in particular was trying to intimidate me, elbowing me, really going too far. But I didn't back off. That's how I play."
And now, following McDonald's lead, the Wildcats do, too.