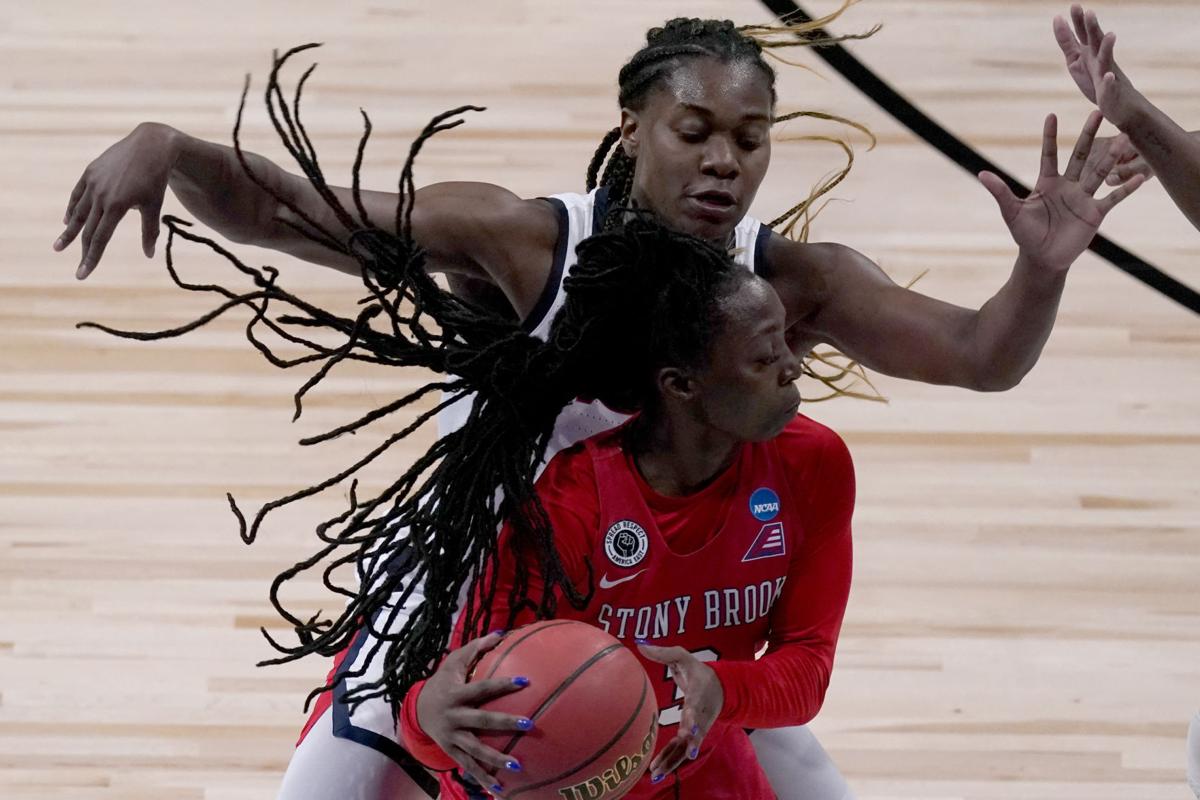 Since Arizona last played in the women's NCAA Tournament, 955 tournament games had been played. South Dakota State and Quinnipiac both won three times. Wisconsin-Green Bay won four.
It wasn't just a feeling of being left out and forgotten, it was like not getting a date to the prom for 15 consecutive years. The school next door, Arizona State, went dancing 11 times.
Talk about taking hunger to a higher level.
On Monday, Adia Barnes' Wildcats didn't wait for the music to start. They took a 26-10 lead over Stony Brook almost before Florida Georgia Line could've sung "Here's to the Good Times."
"I saw a different hunger," said Barnes.
Stony Brook, appearing in its first NCAA Tournament, never had a chance.
"That was so physical," said Stony Brook coach Caroline McCombs. "It was like nothing we had ever seen."
Barnes said her team came out "fearless." Well why not? Hadn't they waited long enough?
"My teammates and I live for these moments," said All-American guard Aari McDonald.
Please note that McDonald used the plural "moments" instead of "moment." If the Wildcats play anywhere near as well against BYU on Wednesday as they did in a 79-44 victory over Stony Brook, their extended stay in San Antonio should stretch well into next week.
It could indeed turn from a singular moment into year to remember.
If you run your finger down a list of the unremarkable women's basketball programs to win an NCAA Tournament game since Arizona last did so in 2005 — a Cinderella group that includes Liberty, George Washington, Marist, Vermont, Delaware, Albany and Ball State — you can understand that the Wildcats were overdue to land the first punch.
No No. 14 seed has ever won a game in the women's NCAA Tournament, and Arizona made sure Monday it would not be the first victim. Let someone else deal with the stress of being the first to break a streak that is now 108-0.
"Other than the late third quarter, I'd give us an A+ for effort," said McDonald.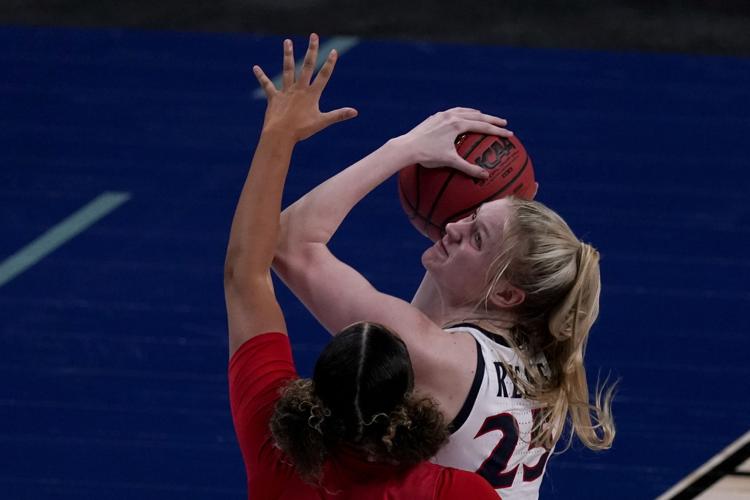 If you're handing out grades, McDonald gets whatever is higher than an A+. Put it this way: she scored 20 points in what seemed like 20 minutes and was like an option quarterback who played both ways, rushing for 100 yards, passing for three touchdowns and intercepting three passes.
"It all starts with Aari," said Barnes. "She was ready."
After spending the last two seasons in a conference stacked with national powers Oregon, Stanford, Oregon State and UCLA, the Wildcats rarely had a spotlight to themselves. Monday was spotlight day, if only for two hours. That's how it works.
Some will say it was a "statement" game, but there is no such thing as a statement game in March Madness. Work in two hour blocks and go back to game preparation. The fleeting nature of the NCAA Tournament is a caution to never look ahead. Never.
Barnes said she did not watch any of the BYU-Rutgers game that began two hours before Arizona's tipoff; she didn't even sneak a peek to see what team the Wildcats might play.
"I can't do that," she said. "I don't like to jinx myself. If you look ahead you get your butt kicked."
Don't Tucson basketball fans know that feeling all too well?
Perhaps No. 1 Arizona thought it had made a statement when it opened the 1988 men's NCAA Tournament with a 90-50 blowout over Cornell. But two weeks later the Wildcats were sent home by Oklahoma.
And maybe you recall 2018 Pac-12 champion Arizona, with No. 1 overall NBA draft pick Deandre Ayton at center, a landslide pick to beat little ol' Buffalo in a first-round NCAA Tournament game, losing 89-68.
No. This isn't about statements. It is about putting all your efforts into beating Stony Brook, even though the Seawolves had been swept by UMass-Lowell and lost to New Hampshire and Maine. It wasn't that long ago — Feb. 28 — that the Wildcats weren't properly motivated and lost a regular-season finale to an ASU team that was 5-9 in the Pac-12.
In preparation for Wednesday's second-round game against BYU, the Wildcats will surely discover that the Cougars lost 77-48 to Washington this season. Really. The Huskies were dreadful, 11th in the Pac-12, losing to Arizona 77-55 and firing coach Jody Wynn.
Forget it. It's meaningless.
After BYU eliminated favored Rutgers on Monday, Cougars coach Jeff Judkins said: "I think that's the best team we played all year."
No argument there. Rutgers, a two-time Final Four program, had won nine straight games before the Big Ten tournament. The Scarlet Knights were rolling. Now they're rolling all the way back to New Jersey, eliminated by a BYU team that lost to the Pac-12's 11th-place team by 29 points.
Judkins, the BYU coach, is no beginner in this month of Madness. He has coached BYU to eight NCAA Tournaments. More so, 23 years ago this week Judkins played a big role in one of the most hurtful losses in UA history.
When Utah eliminated defending national champion Arizona from the 1998 men's NCAA tournament, stunning the No, 1 seeded Wildcats 76-51 in the Elite Eight, Judkins, who was Utah coach Rick Majerus' top assistant coach, danced all the way to the Final Four.
The music starts again Wednesday, ready or not.
Contact sports columnist Greg Hansen at 520-573-4362 or ghansen@tucson.com. On Twitter: @ghansen711