Much of the battle of being a winning football coach at Arizona is to accept that you are not Stanford or USC, and to understand there's another way to win.
When Kevin Sumlin's first full recruiting class begins signing letters of intent Wednesday, pay attention to the names Myles Tapusoa, Trevon Mason and Josh Donovan.
Those three junior-college linemen are an indication that Sumlin knows he's not at Texas A&M any more.
To win consistently at Arizona, a coach must do more than pursue three-star and four-star high school prospects. Anybody can do that.
Arizona would be wise to follow the Kansas State model for piecing together a college football roster: Sign six or eight JC transfers every year and make it a priority — a positive and productive resource the way KSU's Bill Snyder did successfully for 27 seasons.
Rich Rodriguez started just four JC players in his six Arizona years: center Steve Gurrola, linebacker Paul Magloire, defensive lineman Dereck Boles and receiver Shawn Poindexter.
RichRod signed a mere 11 JC players; six were busts. No wonder he got fired.
At a football school like Arizona, JC players should help to make up the natural recruiting gap against, say, UCLA and Oregon.
It became telling — and very awkward — when Pima College coach Jim Monaco disclosed that RichRod had never spoken to him. Arizona did not pursue PCC players like Timmy Hernandez, who went on to catch 107 passes at Oregon State, and guard Jordan Agasiva, who became an All-Pac-12 first-team lineman at Utah.
Three other 2017 Pima standouts signed with Colorado, Oregon and Utah.
Sumlin, by comparison, didn't take long to establish a presence at Pima. He invited Monaco and several PCC prospects to campus in March. Even though Arizona won't sign an Aztec this week — two Aztecs have committed to Vanderbilt and Nebraska — it was a sign that Sumlin gets it.
In my research of Arizona's JC recruits of the last 40 seasons, it was immediately clear that the UA's three culture-changing teams — Larry Smith's 9-3-1 club of 1986, Dick Tomey's Desert Swarm-founding 6-5-1 team of 1992, and Tomey's 12-1 squad of 1998 — were laden with JC players.
Get this: In '92, Arizona started nine JC players: receiver Troy Dickey, offensive linemen Vince Smith, Mike Heemsbergen and Earl Johnson, cornerbacks Darryl Morrison and Keshon Johnson and linebackers Brant Boyer, Richard Maddox and Jamal Lee.
By '98, as Arizona completed the season ranked No. 4 in the AP poll, the Wildcats started seven JC players: receiver Jeremy McDaniel, offensive linemen Edwin Mulitalo and Manua Savea, fullback Paul Shields, safety Greg Payne, cornerback Chris McAlister and rotation pass rusher Mike Robertson.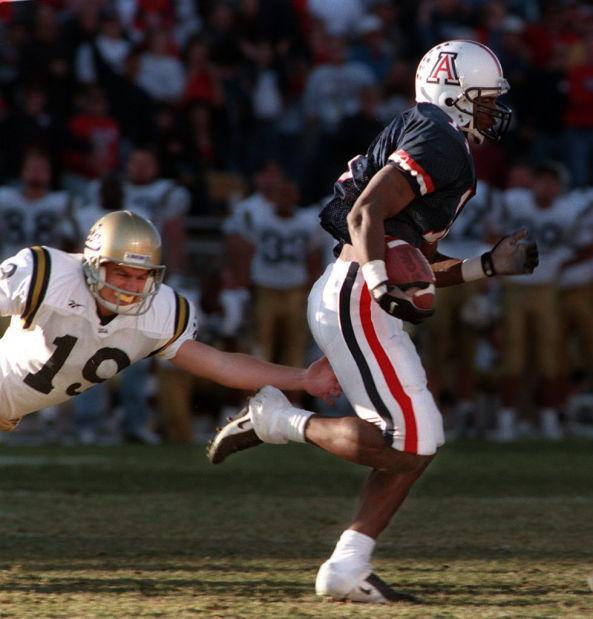 The ever-resourceful Tomey studied Smith's success; he knew that in order to play with the big boys in college football Arizona had to take bounce-back and second-chance players, the players you often find in JC football.
In '86, Smith won nine games with JC players like linebacker Danny Lockett, nose guard Stan Mataele, tight end Ryan Vickers, guard Frank Arriola, punting star Ruben Rodriguez and even long-snapper Tim Shanahan.
Smith recruited JCs with enthusiasm; when the Wildcats opened the 1983 season ranked No. 3 in the AP poll, he started three JC players on the offensive line: Byron Nelson, Charlie Dickey and Nils Fox.
The Wildcats of '83 were so talented that two All-Pac-10 linebackers, Ricky Hunley and Lamonte Hunley, were joined in the starting lineup by future NFL linebacker John Kaiser, a JC transfer from College of the Sequoias in California.
You might wonder how the elimination of all seven JC football programs in Arizona might affect future Sumlin recruiting classes. Not as much as you might think.
From 1980 to 2017, Arizona deployed just 17 starters from Arizona's junior college system. In all, Arizona signed an estimated 120 JC players in that period.
The intrigue of the JC system is that junior college players aren't scouted as heavily as high school prospects. The cash-poor JCs don't have the facilities and staff resources to maximize player skills, whether it be strength and conditioning, nutritional training or a lack of coaching numbers.
It can be more difficult for a coach to evaluate a JC player, because the level of competition, training and motivation is so inconsistent.
For example, UA coach Mike Stoops successfully recruited the most-coveted JC defensive player of 2007, Scottsdale Community College pass rusher Louis Holmes. He became, if anything, an ordinary Pac-10 player. Yet Scottsdale CC in 1979 produced mostly unknown punter Sergio Vega, who signed with Arizona and became a second-team All-Pac-10 punter in 1980, the first of Smith's many special teams game-changers.
Arizona recruited just one Phoenix College player in 40 years, but Morrison — a cornerback — was at the core of the Desert Swarm's emergence,
This year, Sumlin and his staff went to Thatcher to recruit Tapusoa, a 6-foot, 3-inch, 320-pound defensive lineman who is expected to sign with Arizona on Wednesday. Arizona had not recruited an Eastern Arizona College player for 28 years; that's when Tomey's staff signed Heemsbergen, a tackle.
It was an overnight success that required years to click. Heemsbergen played at Santa Rita High School but tore an ACL and was forgotten. He enrolled at EAC and played on teams that went 0-9 and 1-8. But Tomey liked Heemsbergen's size and potential and signed him in February 1990.
After a redshirt year, Heemsbergen switched from defense to offense, started eight games in 1991 and all 12 games of the '92 season, as the Wildcats beat No. 1 Washington, No. 8 Stanford and No. 11 UCLA with nine JC players in the starting lineup.
This isn't to suggest that Arizona should become the next Kansas State, or even a good imitation of the JC-blessed teams of Larry Smith and Dick Tomey.
But what better option is there?