For $19.95, you can subscribe to kenpom.com, which provides detailed statistical analyses of all 353 college basketball teams and more than 4,000 players.
How detailed? You get a minute matrix, raw tempo rankings, home-and-road data of every referee from Kipp Kissinger to Chris Rastatter, and a home-court advantage analysis that includes geographic elevation.
No wonder Kenpom.com ranks Colorado's CU Events Center — elevation: 5,430 feet — as No. 2 of all home-court advantages entering this season.
How accurate is this data?
Statistical guru Ken Pomeroy ranks McKale Center as the No. 124 home-court advantage in college basketball which is, ahem, one spot behind Montana State.
OK, so it's not infallible.
I pay the $19.95 every year because Pomeroy was the first in the industry whose numbers told us that Sean Miller's offenses were clock-controlled, low-risk basketball far adrift from Lute Olson's dash-and-cash systems of an earlier age.
For a bit, this provided some ammunition against Miller's walk-it-up style. Each time the Wildcats bombed out in an NCAA Tournament game against Wichita State, Xavier and Buffalo — average UA points in those games: 64 — Miller's tempo was a convenient target.
Hey, man, just let 'em play, right?
But after two seasons of FBI investigation hell in Tucson, tempo and style and what Lute Olson did decades ago no longer matter as much. It's not what happened in 1994 that counts. It's what lies ahead.
And no one but the NCAA investigators know what that may be.
Arizona will play on, Miller will cash his paychecks estimated at $58,000 per week, and 14,644 Tucsonans will obligingly fill McKale Center for each of 18 home games with one shared wish: Please, please, please figure it out and return to the Final Four before we all die.
Here's where Kenpom.com comes in. The website's metrics predict the Pac-12 to finish this way:
1. Arizona: 21-8 overall, 13-5 in Pac-12 play
2T. Colorado: 21-8 overall, 12-6 in Pac-12 play
2T. Oregon: 21-8 overall, 12-6 in Pac-12 play
4. Washington: 20-9 overall, 11-7 in Pac-12 play
5. USC: 20-9 overall, 11-7 in Pac-12 play
That's how tight it should be in Pac-12 basketball this season. Five teams bunched at the top with Arizona prevailing, in the opinion of the sport's unparalleled number cruncher.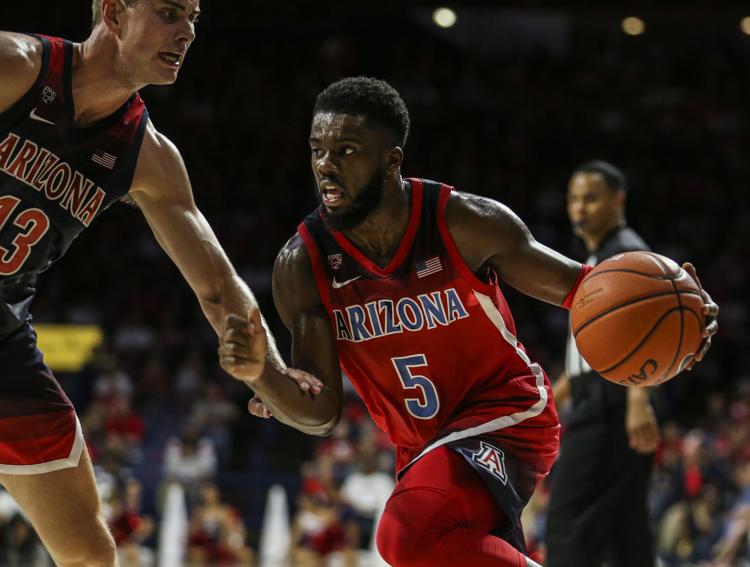 But the Kenpom.com analytics can't predict a future with so many uncertainties. Such as: Can freshman point guard Nico Mannion be a franchise player? Will freshman shooting guard Josh Green be more reliable than his predecessors — especially Rawle Alkins, Brandon Randolph and Gabe York? Has Ira Lee improved? Will Chase Jeter be durable enough to stay in the lineup for four months?
And, can Miller's 11th Arizona club restore a winning mentality that was shot to pieces last season when the Wildcats not only lost seven straight games, but lost seven games by double figures? The last time Arizona produced that dreaded 7-7 double was 1982-83. Ben Lindsey was the coach.
It's astonishing that eight months after Arizona was hammered at home 69-55 by Washington State — yes, Wazzu — that anyone majoring in math would rank Arizona No. 1 in anything.
If Arizona indeed wins the Pac-12 it would be one of the most remarkable overnight rebuilds in school history, a tribute to Miller's dogged recruiting success in the wake of an FBI investigation and the forced departure of his two leading assistant coaches.
This is one time Miller's tempo won't be a sticking point. It's all about the final score, not the beauty of it. In that regard, I don't think Mannion or Green or anybody has to take on an unusually heavy load, which is a too-much-too-soon scenario anyway. The most significant factor in winning at Arizona, from 1985-2019, has always been a share-the-load process.
Do you realize that the Wildcats haven't had the Pac-12's leading scorer in 20 seasons? That was Jason Terry in 1999. Since Arizona entered the Pac-12 41 years ago, Cal leads the league with eight single-season scoring leaders. Oregon State is next with five, followed by Washington State and Arizona with four.
WSU's Robert Franks, No. 1 in 2018-19 with 21.6 points per game, didn't take the 11-21 Cougars to the Big Dance. Roberto Nelson, No. 1 in 2013-14, didn't deliver Oregon State to anything but a 16-16 season.
It's not about the power of one. It's about the ability of Max Hazzard to bury a 3-pointer in the final minute of a one-possession game at ASU, and it's about Ira Lee holding his ground in the paint, not fouling, forcing Oregon State's Tres Tinkle to miss a last-minute shot at Gill Coliseum.
Arizona didn't do the little things last year, and you can verify that with Kenpom.com. A year ago, Arizona made just 48% of its 2-point shots. The UA hadn't gone below 50% since 2012, the last time Arizona did not qualify for the NCAA Tournament.
Those 2-point shots are little things, gimmes and put-backs. In Miller's back-to-back Elite Eight seasons of 2014 and 2015, Arizona shot a combined 57% on 2-point shots. That 9% changes games, changes seasons, changes the future.
For $19.95, you can read all about it.