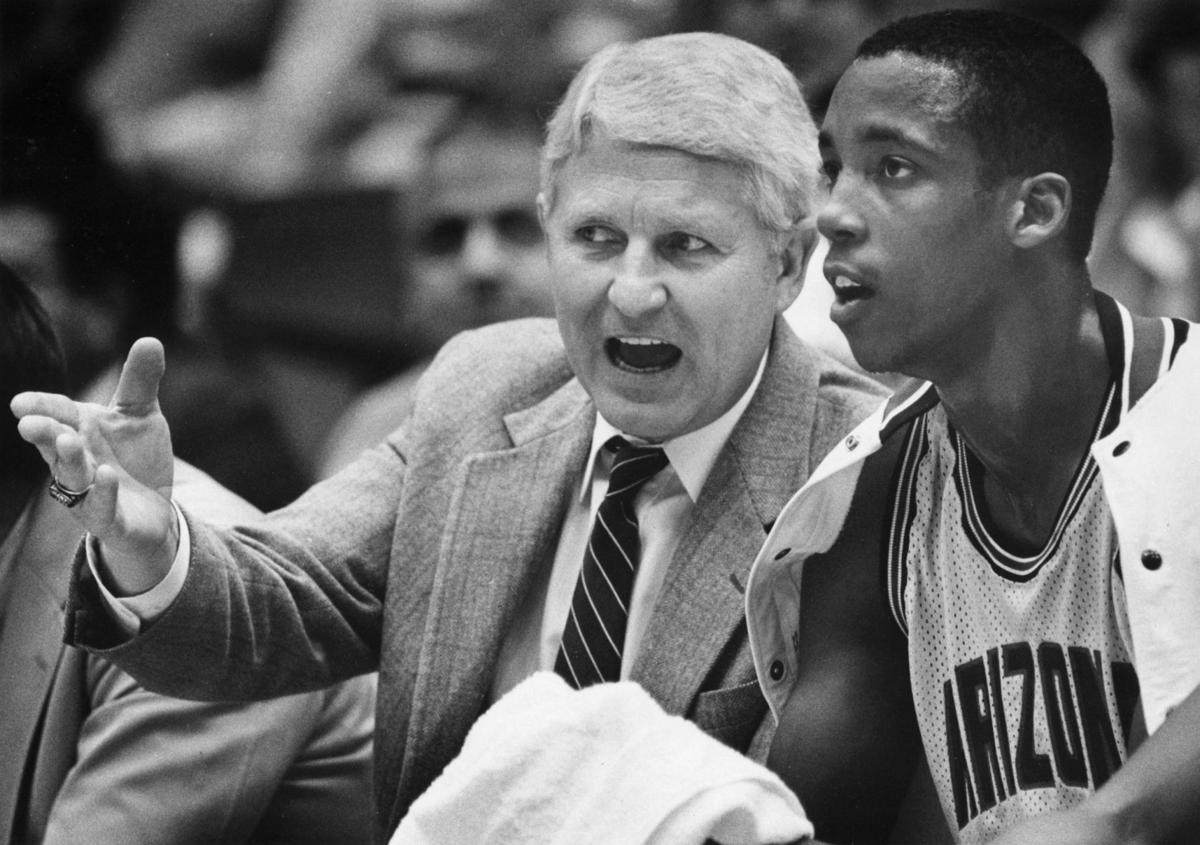 Steve Kerr texted Sean Elliott earlier this week, expressing the urgency to contact Lute Olson. Both knew Olson was desperately ill, and by mid-August it became clear that Olson might not live to his 86th birthday next month.
"It was uncanny," Elliott told me Friday. "I got a similar text from (former UA assistant coach) Scott Thompson within five minutes of Steve's. I just thought 'Oh no,' and called right away. Lute's wife, Kelly, put me on the phone."
The conversation between the greatest player in UA basketball history and his Hall of Fame coach was brief but meaningful.
"I told Coach that I loved him and that I was thinking about him," says Elliott. "He could barely speak, but I know he heard me. It was just sad, just sad."
By Friday morning, former Wildcat guard Harvey Mason had helped to organize a Zoom gathering in which as many as 100 former Wildcat basketball players, coaches and UA staff members plan to hold their own memorial service for the Hall of Fame coach.
"This will serve to immortalize Coach," says Elliott. "We can't get together in big groups right now, but we want to come together in some way and reminisce about all of our great memories. It would be better if we could have a service at McKale Center, but this will do for now.
"If we can record our Zoom meeting and put it out there for the public, it might do the coach justice."
On the day Olson was hired by Arizona — March 29, 1983 — Elliott was a sophomore at Cholla High School, playing mostly on the junior varsity. No college coach in America had ever heard of Sean Elliott.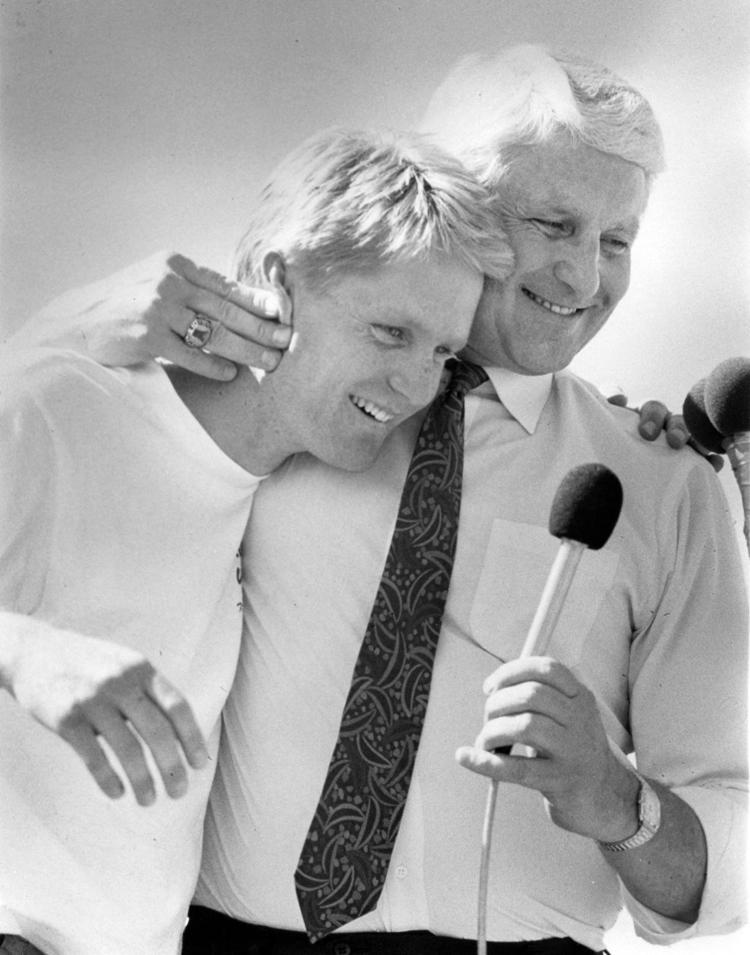 Six years later, Elliott was the NCAA Player of the Year and the Pac-10's career scoring leader. Over two seasons, Arizona had spent 11 weeks ranked No. 1 in the AP poll. Olson, Kerr and Elliott had become the most recognizable people in Tucson history, sports or otherwise.
It was like a fairy tale. The transformation of Tucson from Trail Dust Town to what seemed like the center of the college basketball universe had changed the way Tucsonans viewed themselves. Winners like Olson, Kerr and Elliott begat winning which begat a communitywide embrace of the UA basketball program now nearing its 40th anniversary.
"No one could've seen it coming," said Elliott. "When I was a kid I went to McKale and bought a ticket to the nosebleed seats. After a few minutes I walked down to the bottom level and sat near the UA bench. The arena was almost empty. You could pick the best seat in the house."
As Elliott moved on to be an NBA All-Star and help the San Antonio Spurs win the 1999 world championship, Olson's legend similarly grew, if that's possible.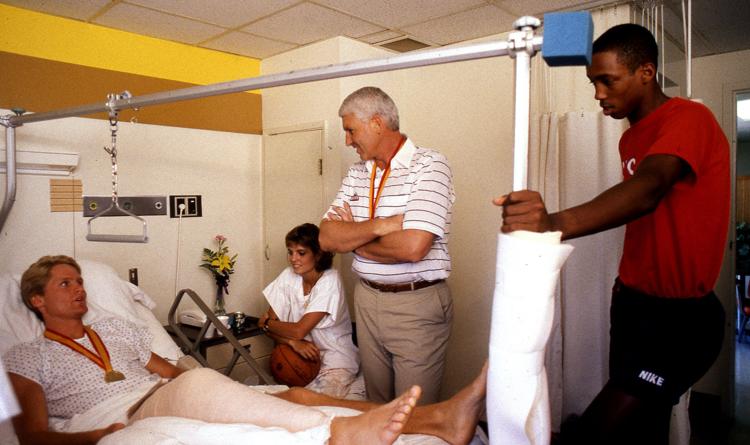 After beating No. 1 seed Illinois in the Alamodome to qualify for the 2001 Final Four, Olson opened the UA's locker room door to invite Kerr and Elliott — then Spurs teammates — to be part of what seemed to be a never-ending celebration of Arizona basketball.
The coach and his foundational twosome, Elliott and Kerr, never let their relationships cool.
"Lute came to the (2018) Final Four when it was in San Antonio and my wife and I had the chance to take him and Kelly to lunch," said Elliott. "It was one of the best times I ever had. It was one of the few times we had a chance to just sit and talk, telling stories. I could have never imagined being that close to him when I was at Arizona because he was like a god. He just commanded your respect."
The young Sean Elliott came to know Olson as a disciplined, precise coach who had a reputation as one of the most effective practice coaches in NCAA history. Although his public image is (deservedly) that of a man who knew the value of cultivating a relationship with fans and community, Olson was a man of few words when he was on the clock.
"He's the best practice coach I've ever seen," said longtime UA and Iowa assistant coach Jim Rosborough.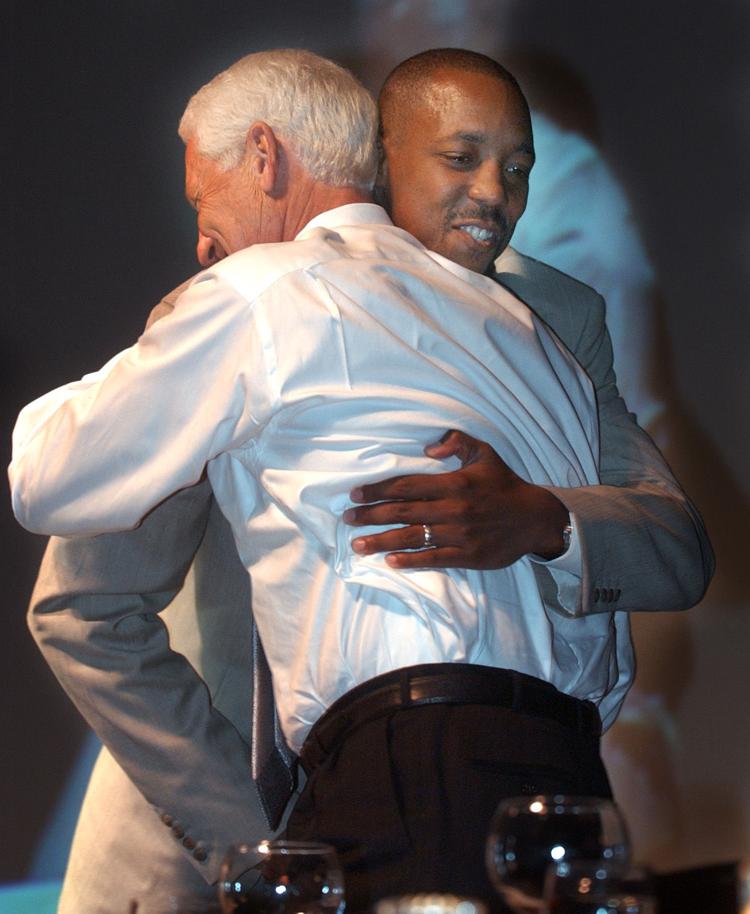 For Olson, it was all about the business at hand.
After Elliott blossomed into a Top 25-level prospect in the summer of 1984, he entered his senior season at Cholla as the top prospect in Arizona. He had grown about 5 inches, to 6 feet 9 inches, during his high school days, and Olson wasn't about to wait until Elliott suited up for the Wildcats to begin coaching him.
"I saw him sitting in the stands when I was a senior, and I was inspired to impress him," Elliott remembers.
"I scored a bunch of points and had about nine blocked shots. I was pretty impressed by myself. The next day he called; I asked what he thought of the game. I asked him what I needed to work on.
"He said, 'Sean, we've got to get you to play some defense.' I was like, 'What is this guy talking about?'
"It didn't take me long to learn that he was right. When I got to Arizona, we had very thorough position drills in practice, it was just incredible the detail. No wonder so many players developed to the best of their ability under him."
By Elliott's junior year, 1987-88, Arizona became a national force. It climbed to No. 1, went 35-3, whipped North Carolina to qualify for the Final Four and the mania for Arizona basketball — for Olson — became boundless. Led by Mason, a junior guard and future Grammy winner, Elliott and his teammates recorded a song "Wild About the Cats."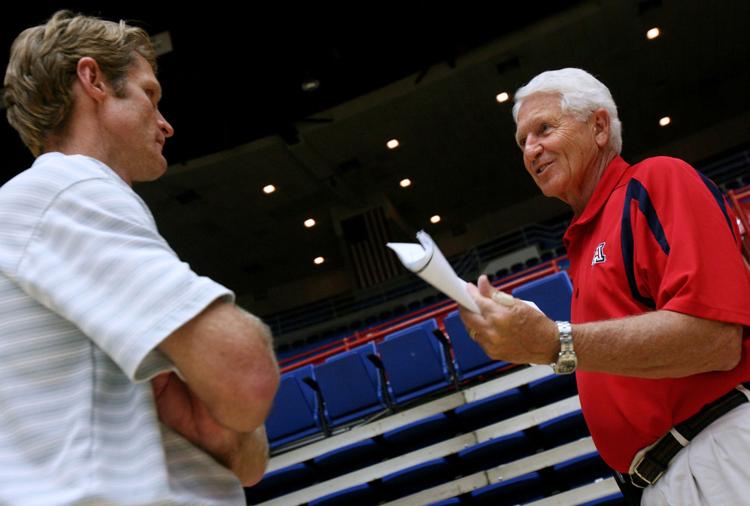 TV producer Dana Cooper released a must-watch documentary — "Memories '88" — of the unforgettable season.
Looking back now, 32 years later, it's easy to forget Arizona didn't win The Big One. It lost to the defensive-minded Oklahoma Sooners in the Final Four. Yet the 1988 season is often viewed as Olson's best team and the most beloved in school history.
Time has rewritten so much of Olson's coaching history. He is remembered far more for his 34 NCAA Tournament victories and 11 conference championships than for any setback.
"I thought we were the best team in the country in 1988," says Elliott. "We wanted to win for Steve Kerr and Joe Turner, for Craig McMillan and Tom Tolbert. It hurt so much then, but now I know it hurts more to lose Coach Olson."
Contact sports columnist Greg Hansen at 520-573-4362 or ghansen@tucson.com. On Twitter: @ghansen711.
Be the first to know
Get local news delivered to your inbox!