Arizona's nonconference home tennis schedule of 2015-16 was what you'd expect for a men's tennis team that had been kicked around and all but stomped into submission for decades by Pac-12 superpowers UCLA, Stanford and USC.
That schedule included UC Riverside, Pacific, Tulane, Fresno State, Nevada, UCSB, Denver and seemingly every low-level tennis program except Slippery Rock.
That's why I squinted into the sunshine Thursday at 9:45 a.m., when I saw the No. 5 Texas Longhorns walk across the UA Mall to the Robson Tennis Center and begin warming up.
Did the 2019 NCAA champions make a wrong turn on the way to Los Angeles? Did the Longhorns' men's tennis program, which has qualified for the NCAA Tournament every season since 1982, lower its standards?
The Longhorns don't play road matches against just anybody the same way Duke's basketball team doesn't play road games unless you are in good standing in the Top 25 polls.
The man who made it possible to play home matches this season against No. 5 Texas, No. 2 Baylor and No. 24 Oklahoma is Clancy Shields, who arrived in Tucson in the summer of 2016 to find the school's men's tennis program in the same type of bottom-feeding condition that Adia Barnes found Arizona's women's basketball program at the same time.
Last year, Shields' Wildcats reached the Sweet 16 for the first time since the 1960s. This year, they might be better.
"We beat seven teams in the top 25 last year," he says. "This is the best team I've ever coached."
Shields and the Wildcats received a stamp of authentication last spring when they played the No. 7 Longhorns to the wire, losing 4-3 deep in the heart of Texas. A day later, I received an email from the Godfather of Arizona tennis, Dave Snyder, who coached Arizona to the NCAA semifinals in 1962 and 1967, and from 1958-74 consistently turned out All-Americans and top 25 teams when the UA didn't even have its own tennis facility.
"Clancy is the real deal," wrote Snyder, who retired as Texas' Hall of Fame men's tennis coach after a remarkable career, 1974-2000. "This isn't a one-shot deal. He came within a whisker of beating the Longhorns."
If you build it, they will come, right? That's what the Longhorns were doing Thursday morning at the Robson Tennis Center, preparing for Friday's 1:30 p.m. match.
In his first five Arizona seasons, Shields was selected Pac-12 Coach of the Year twice (2019 and 2021). Last year, his club broke losing streaks of 72 and 61 matches against USC and UCLA. After establishing Arizona's legitimacy, one of Shields' remaining goals was to get national powers to play a home-and-home schedule against the Wildcats.
"I got rejected quite a few times, and still do," Shields says. "We focused on improving our squad and improving our ranking and the rest took care of itself. I think coaches see the value in playing a Top 25 team; they like how our team competes, it's always a battle. It's feisty and respectful, what college sports is all about. I hope we can keep getting them (in Tucson)."
A few months ago, Arizona athletic director Dave Heeke acted purposefully, signing Shields to a contract extension through the 2026 season.
What makes Arizona's burst into the national polls so compelling is that wasn't able to tap into the limited vein of elite American talent the way UCLA, Stanford and USC have. The Bruins have seven Californians on their roster; the Cardinal and Trojans have five each.
Shields used his recruiting budget to scour Europe for NCAA Tournament-level prospects. Bingo. He got 2021 Pac-12 Freshman of the Year Gustaf Strom from Sweden, where Shields earlier found Filip Malbasic, who has won more singles matches than anyone in UA history, and Jonas Ziverts, twice an all-Pac-12 second-team selection.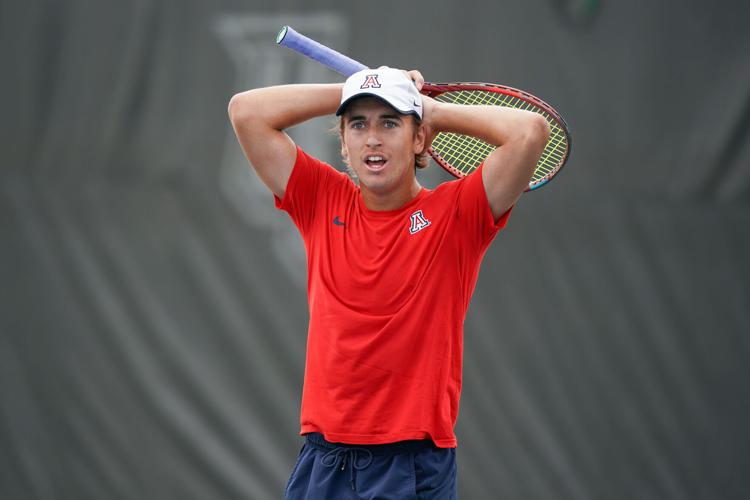 One of Shields' first signees was two-time state champion Carlos Hassey of Shadow Ridge High School near Phoenix. All of that led to the signing of Seattle's Colton Smith, who was ranked as high as the No. 2 recruit in America a year ago.
The depth of Arizona's men's tennis team is almost unprecedented; Shields has 10 players with winning records; they're competing day after day for spots in the starting lineup.
Friday's match against Texas won't define the UA's season, which is just beginning. The Wildcats don't begin Pac-12 competition until March 18, with what might be the most difficult road trip in men's college tennis, at USC and UCLA.
Since Arizona joined the Pac-10 in 1978, Stanford, UCLA and USC have combined to win the NCAA Championship 26 times. Over the last 20 years, only Washington has broken into the Trojans-Bruins-Cardinal group to win a league championship, in 2005.
This year's Wildcats are probably the strongest threat since then.
Last May, Arizona was eliminated in the NCAA's Round of 16 by No. 3 Tennessee in a back-and-forth 4-3 match that could've gone either way. This week, Tennessee is ranked No. 1.
Times have changed. You don't have to squint into the sunshine to see it.