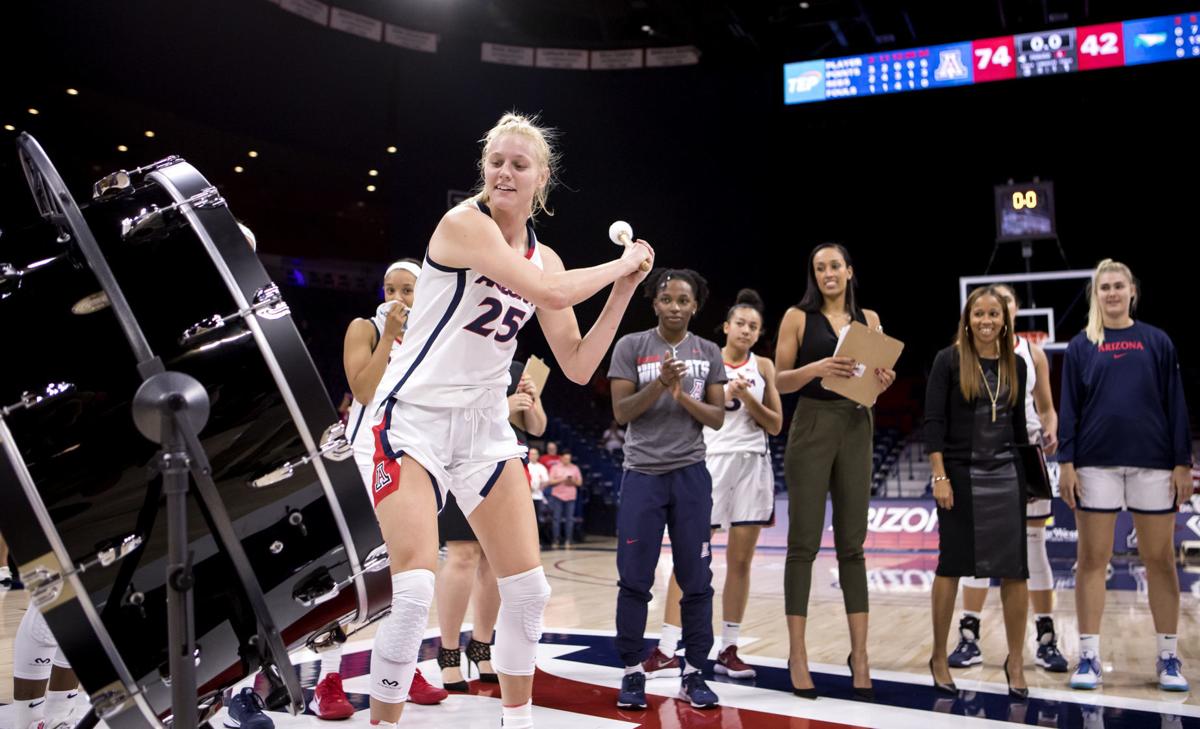 Not every Pac-12 precinct shares Tucson's readiness for the college basketball season.
Stanford, Oregon, Cal, USC and UCLA opened at home this week and drew a combined crowd of 28,245, which is roughly 53% of capacity. Even the mighty Ducks, the ranking power in Pac-12 men's basketball, pulled in just 6,779 at Matthew Knight Arena, capacity 12,314.
Compare that to the mid-major Mountain West Conference, which averaged 8,369 for mid-week home openers at basketball-friendly San Diego State, Utah State, Nevada and UNLV.
Meanwhile, Tucson is abuzz after freshman Zeke Nnaji had a once-in-a-decade freshman debut against NAU. McKale Center had about 2,000 empty seats on Wednesday, but I suspect Nnaji's presence will fill the upper-deck seats for Sunday's game against Illinois, even in a not-so-desirable 7 p.m. made-for-TV tipoff.
After significant turbulence, the romance with UA men's basketball continues.
But a bigger story was Arizona's ability to draw a season-opening school-record 3,240 fans for Tuesday's women's basketball opener against North Dakota.
It was a triumph before a triumph, as Adia Barnes' club won 74-42.
Women's basketball in Tucson has struggled to be relevant mostly forever. It has drawn opening-night crowds of 778 and 853, and those figures were probably inflated. Even during Joan Bonvicini's remarkable, decadelong run that included seven NCAA Tournament appearances, 1996-2005, the Wildcats had opening-night crowds of 1,168 and 1,325 at McKale.
Now it has all changed, and I can think of two reasons why: Barnes' smile and ability to engage and connect with those who rarely considered attending a UA women's basketball game and, of course, Aari McDonald's emergence as the new torch-bearer for Point Guard U.
The Wildcats are good with a chance to be really good once Barnes has time to fold first-year players Amari Carter, Mara Mote, Helena Pueyo and Sevval Gul into a rotation that finished last season by drawing 45,622 fans in six WNIT victories.
Barnes and her fast-climbing club are about to show that Act II could be just as compelling.
Put this down and mark it on your appointment calendar: the top three January sporting events in Tucson will be women's basketball games.
Jan. 10: No. 7 Oregon State at Arizona.
Jan. 12: No. 1 Oregon at Arizona.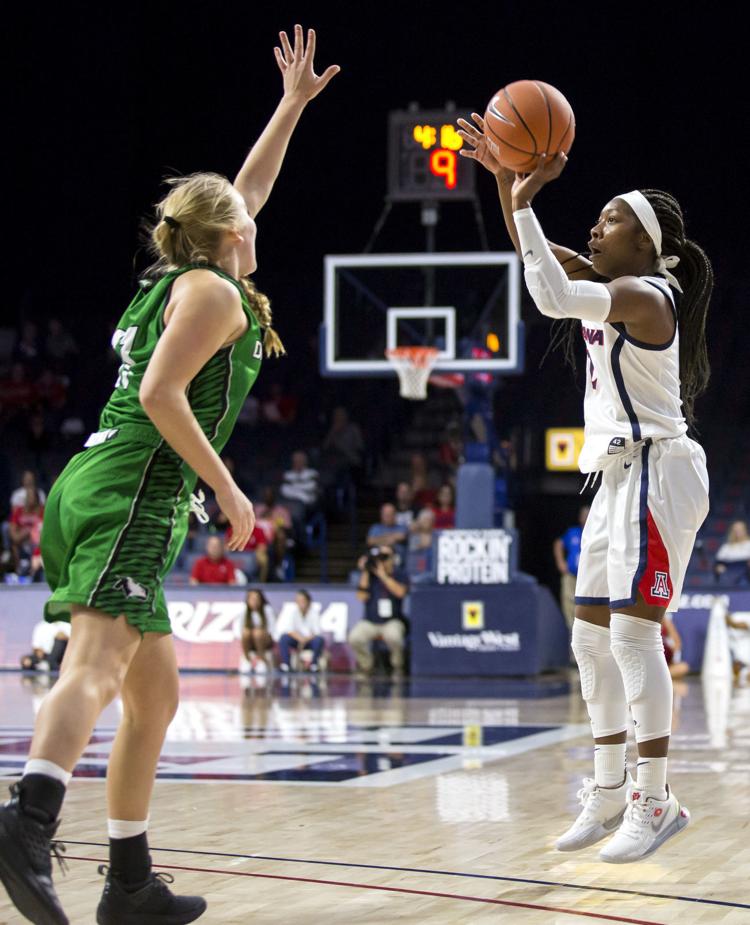 Jan. 24: No. 20 ASU at Arizona.
Tucson is getting a second chance at big-time women's basketball, and this time the energy and momentum suggest the Wildcats will be 10-1 or 11-0 and moving up the Top 25 poll .
Is it possible 10,000 fans will attend the ASU game? I think so.
Pac-12 women's basketball is ridiculously strong this season. It mirrors the overwhelming challenge faced annually by UA volleyball coach Dave Rubio, UA women's golf coach Laura Ianello and UA soccer coach Tony Amato. Pac-12 women's sports stand alone in NCAA competition, a power bloc at the top in virtually every women's sport.
Arizona hasn't been able to keep up in Pac-12 basketball since Bonvicini's 2004-05 team, the last of her seven NCAA tournament squads. But all that has changed as Barnes begins the fourth season at her alma mater.
Three things stood out during Arizona's opening victory over North Dakota:
Sophomore forward Cate Reese, the most coveted women's basketball recruit at Arizona in almost 20 years, has improved significantly from her freshman season. She's a battler, aggressive and determined. She'll hold her own this year against the top 10 talent at Oregon, Stanford, Oregon State and UCLA.
Junior Sam Thomas can play for anybody, from UConn to Notre Dame to Oregon. The former four-star wing from Las Vegas has quietly become a force, a shooter with range and a defensive presence.
Barnes' recruiting class, especially Europeans Mote and Pueyo, is as strong as advertised. Arizona can go nine or 10 deep, if Barnes chooses. The competition for playing time is as fierce as it has been at Arizona in more than a decade.
There's one sticking point: Arizona's nonconference schedule is, to be polite, really bad. All of the home games are against non-Power 5 conference opponents. The only upscale competition before the Oregon-OSU-ASU gauntlet is a Nov. 17 game at No. 15 Texas.
But Barnes said most of the 2019-20 games were scheduled almost a year out, and now that she has filled her roster with capable players, future seasons at McKale will reflect the UA's rise in the game.
That's the way her mentor, Bonvicini, did it at Arizona a generation ago.
Once Bonvicini had a chance to put her brand on UA women's basketball the Wildcats played No. 1 Purdue at McKale Center — it drew a then-record 3,076 for the 1999-2000 season opener — and followed with No.5 Notre Dame, No. 8 Georgia and a bold road schedule that included games against No. 2 Louisiana Tech, No. 9 Maryland and No. 10 Auburn, among others.
It takes time; Barnes' Wildcats are still introducing themselves to Big Game basketball.
That will come in time. Between now and the Pac-12 season, Barnes has 10 more games to identify a working rotation, and continue to introduce Mote, Pueyo and Gul to a new culture and a different way of doing things.
In the 2011-12 preseason, Arizona opened 11-1 against a collection of small colleges and no-names, building what proved to be a false foundation. Once the calendar flipped to January, Arizona went 3-15 in the Pac-12. The Wildcats didn't recover until last year's WNIT.
Contact sports columnist Greg Hansen at 520-573-4362 or ghansen@tucson.com. On Twitter: @ghansen711.