Picture this lifetime memory for 7-year old Bill Leith of Beacon, New York:
On September 26, 1961, Bill's father, William, returned early from his job at IBM and instead of telling his son to "get out the bats and mitts" as he often did, he told young Bill they were going to Yankee Stadium.
"It was a Tuesday night, a school night," Bill remembers. "It was something special."
Baseball has always been part of the Leith family DNA. Bill's grandfather, William "Shady Bill" Leith, pitched in the big leagues, for the 1899 Washington Senators and for a handful of minor-league teams in Connecticut, New Hampshire and Massachusetts. His son, William, was the New York district director of the Babe Ruth baseball organization.
When Bill and his father arrived at Yankee Stadium, that night's lineup between the Orioles and Yankees featured Mickey Mantle, Yogi Berra and Brooks Robinson. Ordinarily, those future Hall of Famers would be enough incentive to get a father and his son to drive the 60 miles from Beacon to the Bronx.
But on this night they came to see Roger Maris, who, with 59 home runs, was in hot pursuit of the most revered number in sports: Babe Ruth's mystical record of 60 home runs, set in 1927.
In the fourth inning, sitting above the third-base dugout, William and Bill Leith watched in awe as Maris hit his 60th home run.
Fifty-seven years later, on the Fourth of July, Bill Leith had another unforgettable baseball moment. As he stood on the turf at Kino Stadium, he looked into the stands and shook his head in awe as about 8,000 people watched his creation, the Sun Belt College Baseball League, and its 2018 All-Star Game.
"Oh my God," he said to his long-time baseball partner Bill Fronzaglio. "Maybe we have something here."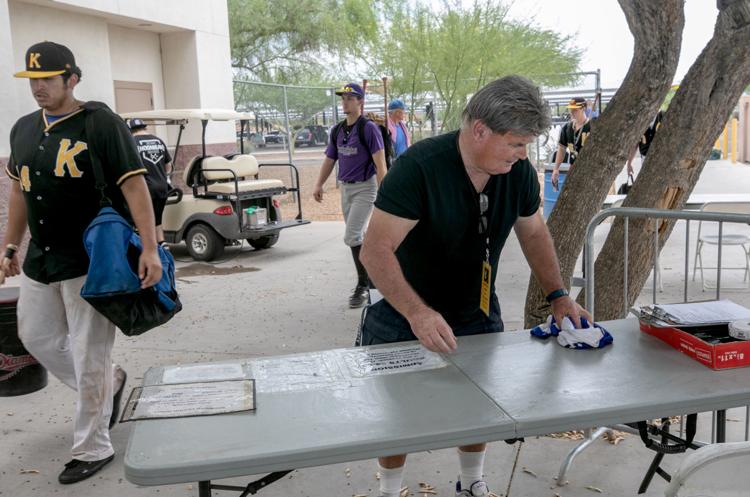 That's the understatement of the year in Southern Arizona baseball.
Since Leith retired nine years ago from the UA's facilities management organization, he has become Mr. Baseball in this town.
He took command of the Connie Mack, American Legion and Pony League programs. He created a league for high school freshmen and another for high school varsity players. Finally, in 2012, he began the Sun Belt College summer league.
"We said, 'Let's see if this sticks,'" he said.
This is what you might call "sticking": In nine years, Leith's grand idea to grow baseball in Southern Arizona has involved 1,200 teams, 15,000 players and about 5,000 games.
And because Leith and Fronzaglio established the entire operation as a 501(c)(3) nonprofit, it's not about the money. It's all about baseball for Southern Arizona boys from 10 to college age.
"With Bill, nothing was or is impossible," says former Desert Christian High School baseball coach Grant Hopkins, whose state championship teams of 2013, 2014 and 2015 were heavily involved in Leith's programs. "He dreams big and puts in the time and effort to get it done.
"It's one thing to have good ideas, but it's a rarity to see people actually follow through with those good ideas and turn them into reality. The Tucson and Southern Arizona baseball community owes him such a debt of gratitude."
Asked what his schedule is, Leith says, modestly, "Let's see, I'll be at the Kino baseball complex on Monday night and Tuesday night. I'll be there Wednesday and Thursday night, too. And of course I'll be there Friday and Saturday night."
Tucson isn't the first baseball community to profit from Leith's devotion to baseball.
In 1992 he was elected to the Dutchess County Sports Hall of Fame — that's his home turf near West Point, New York — for his involvement in youth baseball. The former All-County first baseman, a lefty, does not wish to take credit for Tucson's mushrooming youth baseball operation.
"Look, Bill Fronzaglio handles the fields, all the umpires, the scheduling. He's invaluable. And I got many of these ideas from the days I would sit with (ex-major leaguers) Doug Jones and Tom Waddell at Tom's baseball training center, The Yard. We had all these empty fields, especially after the (Triple-A) Sidewinders left town. The high school coaches were so helpful: Len Anderson of CDO, Rod Allen of Sabino, Grant Hopkins and men like that bought in. We couldn't have done it without them.
"I thought youth baseball in Tucson needed some help. Once I retired, I needed a hobby. This is it."
The Sun Belt College Baseball league involves players from Arizona, California and as far away as Ohio. It's makeup is about 75 percent those from Southern Arizona. Some of the area's top names are participating this summer — including Nogales' Marcel Bachelier and Tucson High's George Arias Jr., who are bound for Arizona's baseball roster in 2019, and some of Tucson's leading high school players, such as Cole Altherr and Tyler Wiltshire.
Coaches? Former minor-leaguers Carlo Colombino, Gilbert De La Vara and Antonio Fernandez are part of the summer league landscape.
Leith moved to Tucson in the early 1990s and became involved with the CDO Little League. Why Tucson?
"I had relatives here, plus I had grown up watching Jerry Kindall's teams win all those College World Series," he says.
"I thought it would be great to live somewhere you could play baseball 12 months a year. All five of my kids went through the Marana school district and have gone on to wonderful careers. Moving to Tucson is about the best decision I ever made."
Leith's many summer league programs end this month. The fall league programs start soon, so it's not like he'll kick back and hit the beach. He is also the chairman of the Tucson Youth Baseball Association, founded by ex-New York Yankee and UA slugger Shelley Duncan, an organization that includes prominent Tucson baseball names like Blake Eager and Shane Folsom.
For Leith, the baseball season never ends.
"For this to work," he says, "you have to have a presence, people have to see that you put in the time."
In Tucson baseball, Bill Leith is front and center.