Scott T. of Tucson asks: "Is it just me, or was Boise State just not excited about being in our little bowl game?''
Dear Scott T: As much as any team in college football, Boise State views every bowl game, big and small, as a badge of honor. In BSU's weekly football news release, its second paragraph begins with "BOWL ELIGIBILITY.''
It then proudly boasts that only Ohio State and Georgia have longer consecutive streaks of bowl eligibility. The Broncos have played in every conceivable "little'' bowl game: the Humanitarian Bowl, the Poinsettia Bowl, the MPC Computers Bowl. They have played Northern Illinois, East Carolina and UTEP in bowl games.
Boise State was so set on playing in Friday's Arizona Bowl that it dispatched its huge 18-wheeler football equipment truck to Tucson on Sunday. It drove straight through, arriving in Tucson early Monday.
A day later it turned around and drove 1,000 miles back to Boise. The four-person Boise State advance crew, which was to complete the logistics for a traveling party of about 300, also arrived Monday. They scrambled to find transportation back to Idaho.
The final score arrived four days before Friday's scheduled kickoff at Arizona Stadium: COVID-19 shut out the Broncos. Literally.
Inside the Arizona Bowl headquarters on Stone Avenue, Chairman of the Board and co-founder Ali Farhang described the scene as "demoralizing, man.''
The bowl's five full-time employees and scores of bowl committee volunteers worked to inform game-day food vendors, security personnel, traffic control officers from the Tucson Police Department. dozens of ushers, ticket takers, beer salesmen and the University of Arizona game management staff that Friday's game against Central Michigan would not be played.
"For one night, I had a pity party of one,'' said Farhang. "But at the same time, I was so proud of the effort we made to get a replacement team.''
Executive director Kym Adair and chief operating officer Del Arvayo oversaw a transition from game prep to crisis management. Marketing and events director, Ben Chulick, began the painful process of canceling a year's work of preparation. Jacquie Harbour, director of ticket operations, went through the exasperating course of finding a way to refund (or honor in 2022) an inventory of almost 25,000 tickets.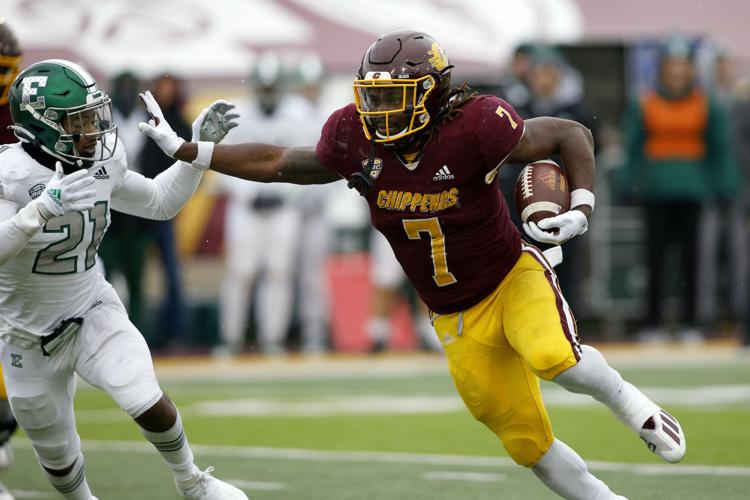 "We were close to filling the lower bowl, almost 40,000 seats,'' said Farhang.
The Arizona Bowl may not be the Rose Bowl, but it is no "little'' bowl.
It's not like Farhang and his staff didn't take a swing at COVID-19. They spent hours trying to arrange a replacement for Boise State, following NCAA guidelines that all FBS teams with a 5-7 record can be used if there are bowl game vacancies.
Illinois was interested but since the Illini had not played or practiced since Nov. 27, and since their football players aren't on campus, they had to back off. Negotiations began with East Carolina, South Alabama, Troy and Charlotte. But ultimately, Farhang said, "the logistics were too much to overcome.''
Putting a team together on short notice and arranging for a charter flight to Tucson just didn't work. Simultaneously, Central Michigan's football team and large traveling party had been invited to replace Miami in the Sun Bowl.
"We weren't going to hold Central Michigan hostage and make it difficult for them to get out of our agreement,'' said Farhang. "In a situation like this, you act with integrity and be a good partner.''
CMU continued to practice at Salpointe Catholic High School and stay at the Westin LaPaloma until Thursday.
One lesson the Arizona Bowl painfully learned is that although the NCAA allows 5-7 teams to be emergency fill-ins for bowl games, it does not permit them to keep their football players on campus and continue to practice and work together once their regular season ends. You can't safely or realistically put a college football team together in two or three days and travel thousands of miles to Tucson.
Given the uncertain future in a world rocked by a pandemic, this would be a good time for the NCAA to change end-of-season workout rules for 5-7 teams.
The Arizona Bowl will continue with Thursday's Arizona Scramble Golf event at LaPaloma, a fundraising activity that has become part of the game's $4.5 million donation to local charities since the game's inception, 2015. Friday's Taco Bell New Year's Eve Downtown Bowl Bash will be held as scheduled.
A little rain might seem inconsequential after what Farhang, Adair and their crew have gone through.
Much like the Fenway Bowl, Military Bowl, Holiday Bowl and Hawaii Bowl, the Arizona Bowl will be out the tens of thousands of dollars spent preparing for one of the "little'' bowl games, sometimes lost among the vast schedule of 40-plus college football bowls.
But that's misleading. There is no such thing as a "little'' bowl game.
One-hundred years ago this week, Dec. 26, 1921, Arizona played in its first bowl game: the East-West Christmas Classic in San Diego. The game was played in a rainstorm at Balboa Stadium; Arizona lost 38-0 to the undefeated Centre College Praying Colonels of Kentucky.
Now, 100 years later, that bowl game is remembered for posterity at Arizona Stadium, listed on a 90-yard facade along the east grandstands, getting equal billing with the UA's memorable 1998 Holiday Bowl victory over Nebraska and a mighty victory over Miami in the Fiesta Bowl on New Year's Day in 1994.
At a school starving to be in any bowl game, big or small, the value of the Arizona Bowl should be understood in Tucson as much as any place in college football.
Contact sports columnist Greg Hansen at 520-573-4362 or ghansen@tucson.com. On Twitter: @ghansen711