Arizona's sixth-ranked women's basketball team added a new member to its traveling squad last week: 12-week-old Capri Coppa, daughter of head coach Adia Barnes and her husband, UA assistant coach Salvo Coppa.
"I'm not going to leave her home," says Barnes. "It's my personal situation and I'm going to deal with it."
Before the team landed at the Denver airport, where it began a weekend sweep over Colorado and Utah, someone snapped a photo of Barnes snuggling Capri against her shoulder.
"For me, this is a blessing," says Barnes. "How many 43-year-olds can have a baby?"
Blessings abound for UA women's basketball.
In her fifth season as Arizona's basketball coach, Barnes has confronted and conquered one imposing challenge after another. The Wildcats had gone 14-76 in the previous five seasons before she was hired. They were the bottom of bottom-feeders in Pac-12 basketball.
The program was in such disarray that its nonconference schedule was seven games short of NCAA limits. Now they have won 37 of their last 43 games, emerging as a certifiable Final Four contender. Last season they beat No. 4 Stanford, No. 8 UCLA, No. 9 UCLA and swept No. 16 ASU.
As such, the Star has selected Barnes as its Sports Person of the Year, 2020.
Barnes refers to her 4½ seasons at Arizona as "The Climb." That doesn't do justice to how difficult it has been.
She endured a 6-24 season in 2017-18 while raising an infant son, Matteo, who was 8 months old when Barnes was hired off the Washington Huskies' staff in the spring of 2016.
She also overcame a miscarriage in 13 weeks into a pregnancy in February 2018. After leaving the hospital, she was back at work the next morning. Barnes then worked 10 consecutive days before getting a chance to sit back and grasp what she had gone through.
"It was hard," she told the Star. "But what was an alternative? Stay home and cry?"
During Barnes' Zoom conference with Tucson reporters recently, Matteo popped in and out of view, mugging for the camera, doing what 5-year-olds do. In the background, one could hear Capri fussing.
All of this came a few days after Arizona rallied from an 11-point deficit to beat No. 9 UCLA. The challenges keep on coming; the Wildcats are scheduled to play No. 1 Stanford on New Year's Day at McKale Center.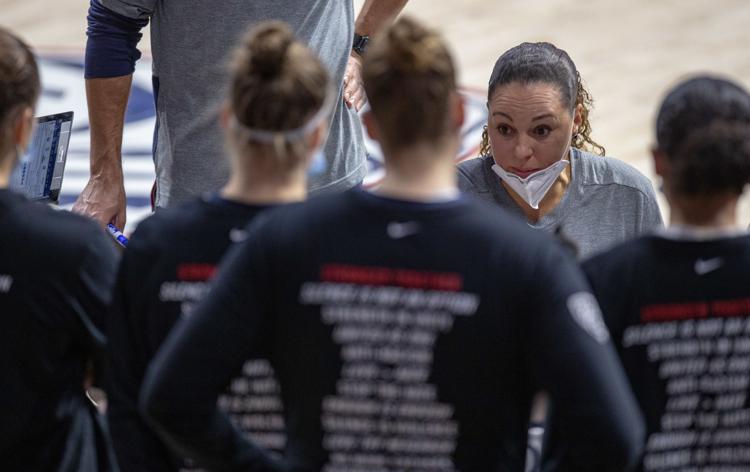 After Arizona athletic director Greg Byrne fired women's basketball coach Niya Butts in March 2016, he embarked on a national search for her successor. Byrne was tempted to hire Florida Gulf Coast coach Karl Smesko, who was coming off successive 33-6 and 31-3 seasons. He investigated Alaska-Anchorage coach Ryan McCarthy, who had gone 38-3 that year, finishing second in the NCAA Division II finals.
Either of those coaches would've been considered winning acquisitions.
But Byrne hired Barnes and emphasized it was not because she was considered the leading player in UA women's basketball history, 1995-98, or just because she played a significant role in Washington's burst to the 2016 Final Four.
"It was all of that," said Byrne. "It was her personality. It was her ability to engage and communicate. It was her proven record of recruiting. It was her work ethic and desire to return her school to prominence."
In her second season at Arizona, Barnes was introduced to Steven and Sharon Corben, potential donors to the athletic program who had recently moved to Tucson after Steven's 40-year dental career in Massachusetts.
Rather than wait until "The Climb" had time to mature and impress potential donors, Barnes invited the Corbens to accompany the team on a game at Arizona State. The Wildcats were 6-20. They lost to the Sun Devils 75-50 that night.
She wasn't about to deny the reality of what had been 10 years of bad basketball.
"She is very transparent, and this is why she was able to resurrect the women's basketball program," says Steven Corben.
"Sharon and I first met Adia when her team had only won a few games the previous year and McKale was truly empty. It was so empty that you wouldn't even know a game was being played. We went out to lunch and spent a couple of hours with Adia. Her transparency, desire to win, honest caring about the kids and their development into responsible young adults — many of which came from extremely hard backgrounds — was evident."
A year later, the Corbens sat in court-level seats when the Wildcats sold out McKale Center, 14,644 fans in the stands, and won the WNIT championship game.
Contact sports columnist Greg Hansen at 520-573-4362 or
On Twitter: @ghansen711