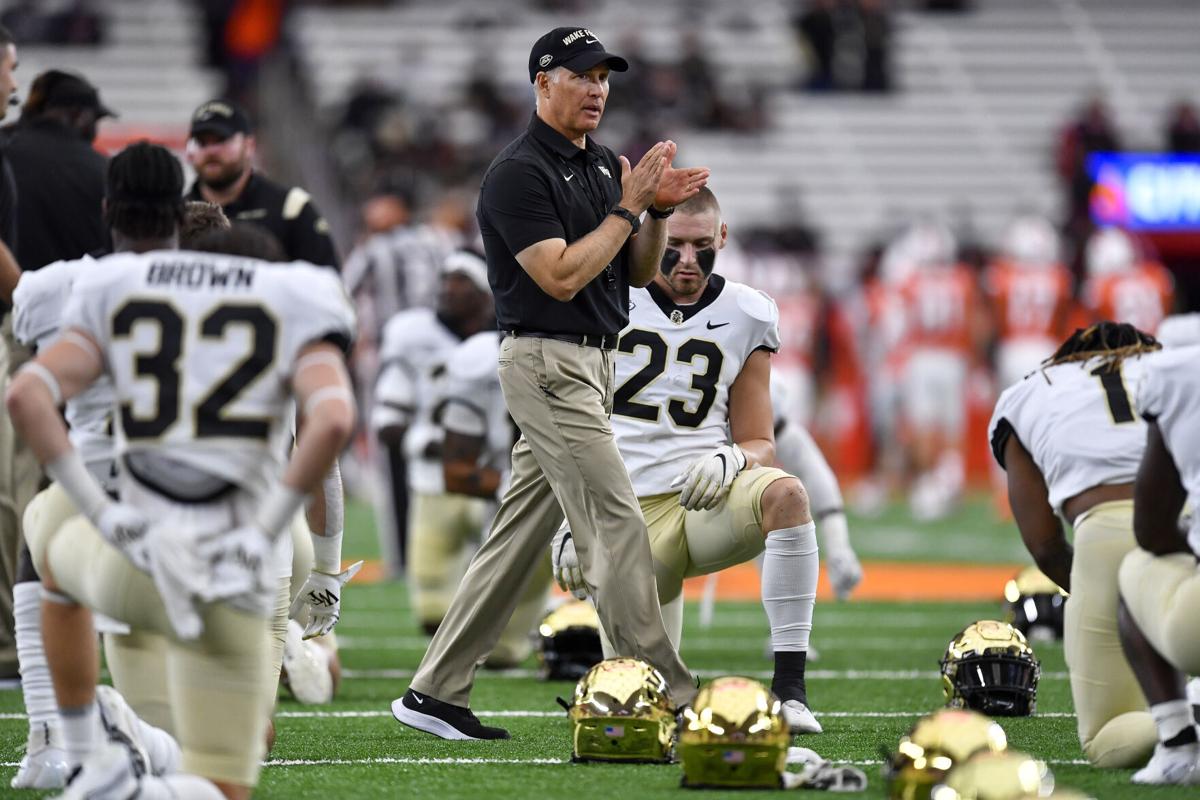 College football, 2021 in five easy pieces:
The story of the year isn't Georgia's defense or Oklahoma's quarterback or Cincinnati's burst into the big time. It is Wake Forest.
If you haven't been paying attention, the Demon Deacons are ranked No. 10 in the AP poll. They are 8-0. They are averaging 43 points per game and it's 99-to-1 that you have no idea who coaches the Deacons.
It is a story that should encourage Arizona fans, because if Wake Forest is 5-0 in the ACC for the first time in history, it means Arizona can be in the top 10 and start the Pac-12 season 5-0 someday, perhaps in our lifetimes.
In late 2013 ,when absolutely no one outside the city limits of Winston-Salem, North Carolina, was paying attention, Wake Forest hired Dave Clawson to be its football coach. In a league with Clemson, Louisville and Florida State, a coach like Clawson — a coach without a pedigree or a link to Nick Saban or the NFL — was as anonymous as a coach of the Fordham Rams.
In 1999, Clawson got his first head coaching job — at Fordham. He went 0-11. Few were surprised because Clawson's background included assistant coaching stops at Albany, Lehigh and Villanova. Did you even know Villanova had a football team?
But Clawson soon coached Fordham to a 10-3 season and was hired by Richmond, where he opened 3-8. A few years later he went 11-3. Then he was hired to be Bowling Green's head coach, where he was 2-10 in his second season. A few years later — as he did at Fordham and Richmond — Clawson won big, going 10-3.
Wake Forest, which has been a Bottom 10 football franchise forever, decided to be patient with Clawson. He opened 3-9 and 3-9. The Demon Deacons were awful, losing six consecutive games to end his second season in 2014.
But little by little, Wake Forest improved just enough to get your attention, going 7-6 then 8-5 and now 8-0.
Arizona is where Wake Forest was in 2013. It has a coach whose profile was no higher than Dave Clawson's profile was in 2013. It takes time. In reality, there is no urgency to a project that it might take three to five years for Fisch and Arizona to show tangible signs of a move toward the Top 25.
Of all teams, Wake Forest is showing the way.
After Saturday's loss at USC, Trojans coach Donte Williams paid a compliment to Arizona before he began talking about his team's victory.
"Arizona has no quit in them,'' said Williams. "Hats off to them because they won the second half of the football game.''
You didn't hear that from ASU coach Herm Edwards after last year's 70-7 Territorial Cup humiliation.
Not quitting isn't a statistic, but it is a tangible sign that Arizona has moved beyond the hurtful memories of the Kevin Sumlin years.
On Fisch's post-game radio interview, he spoke about being "impatient.'' He was talking about UA fans, not his team, which has been competitive in six of its eight losses.
Impatience does not win football games. Last week, Fisch somehow found the time to re-watch all 315 of Arizona's passing attempts, game by game, play by play. It was the equivalent of a forensics expert going through piece by piece of a crime scene to find out what went wrong, and why.
Before you can win, you have to know why you lose. By breaking down all 315 of Arizona's passes on a schedule that often finds Fisch working 16-hour days, it was a signal to Wildcat fans that he's not just going through the motions, as Sumlin did for three seasons.
How do you get a football player like USC receiver Drake London on your team?
London is the Pac-12's best player this year, any position, no contest. Before he was injured on a touchdown catch against Arizona, he had caught 88 passes for 1,084 yards and 17 touchdowns. He is so good he appeared to have been on loan from the Tampa Bay Buccaneers.
Arizona offered London a scholarship in 2018 but he chose USC over his other options, such as UCLA, Oregon and ASU.
After Saturday's game, Donte Williams spoke about USC's running game, saying "it was a great feeling to get back to 'SC ways as far as the way we run the ball. We're fortunate to have big-time backs here. We're in a very good situation.''
No kidding. And yet the Trojans haven't truly been an elite rushing team since Pete Carroll left for the NFL over a decade ago.
What Williams didn't say was that it was London who set the tone for the game, not his running game. He made so-so quarterback Kedon Slovis look like a superstar. After London was injured, Slovis looked like Slovis.
If London isn't able to return this season, it'll be a shame because he was on a path to break the Pac-12's records for season receptions, 128, set by OSU's Brandin Cooks in 2013. London might've caught 140 passes.
He has been so superior to the rest of the league that the overall No. 2 receiver is Arizona's Stanley Berryhill, who has caught 59 passes.
USC running back Keaontay Ingram, who rushed for 204 against Arizona, is a Trojan courtesy of former Salpointe Catholic High School running back Bijan Robinson. That's collateral damage of Robinson's decision to leave Tucson and play for the Texas Longhorns.
In 2019, Ingram led Texas with 853 rushing yards. Robinson was a senior at Salpointe that season.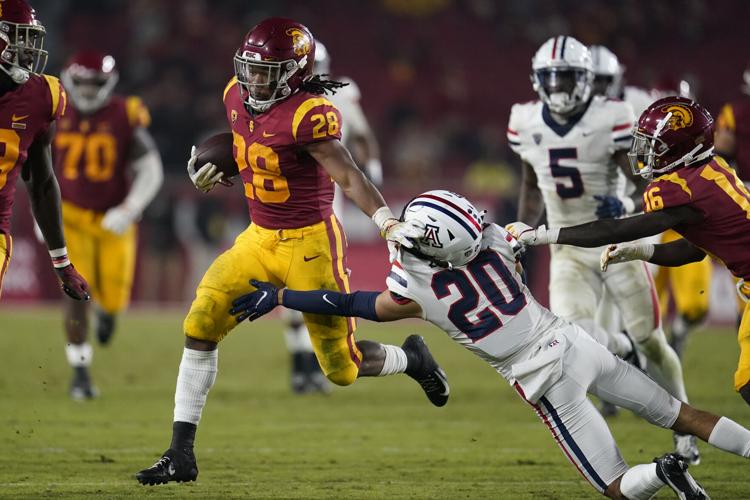 But in 2020, Robinson won the No. 1 running backs job at Texas, gaining 703 yards. Keaontay was forced to the bench, gaining 250 yards. So he jumped into the transfer portal and became a Trojan.
That should provide some perspective on how good Robinson is.
The Pac-12 is on pace to set its lowest average home attendance — as a league — since Arizona and ASU were admitted in 1968.
Average home attendance this year is a tick over 45,100. The previous low, set in 2019, was 46,166. That broke the record set in 2018, of 45,489. It's a discouraging trend, created by late kickoff times, a changing demographic and new generation of 20-year-olds with other interests, and, let's face it, the league that hasn't been this mediocre since the mid-1980s.
On Saturday, ASU drew just 46,136, even though the Sun Devils were still somewhat in the chase for the Pac-12 South title. Judging from the overhead shots on the TV screen, the actual in-house attendance at Sun Devil Stadium was closer to 30,000. ASU is averaging a 50-year low of 44,901 this season.
True, some of the attendance decline is related to COVID-19 issues, but it's the same league-wide (except for Utah, which has expanded Rice-Eccles Stadium to 51,000 seats and sells out most games). Washington is down almost 8,000 per game.
USC is averaging a bare 53,886, down about 5,700. The Trojans announced Saturday's attendance at 53,434, but it looked like it was closer to 35,000. Even the football-mad community of Eugene, Oregon, hasn't fully jumped back on the Ducks' bandwagon this season.
The Ducks are averaging a mere 47,508 at Autzen Stadium this year, about 11,000 below capacity.
Arizona's noon homecoming kickoff Saturday against Cal isn't optimum. It'll be close to 80 degrees with direct sunlight on the east-side stands and fans in the north end zone. If Arizona can authentically draw 40,000 to see a team on a 20-game losing streak play an unattractive opponent like the Bears, it might be a hint that the community still has interest in college football.
Contact sports columnist Greg Hansen at 520-573-4362 or ghansen@tucson.com. On Twitter: @ghansen711