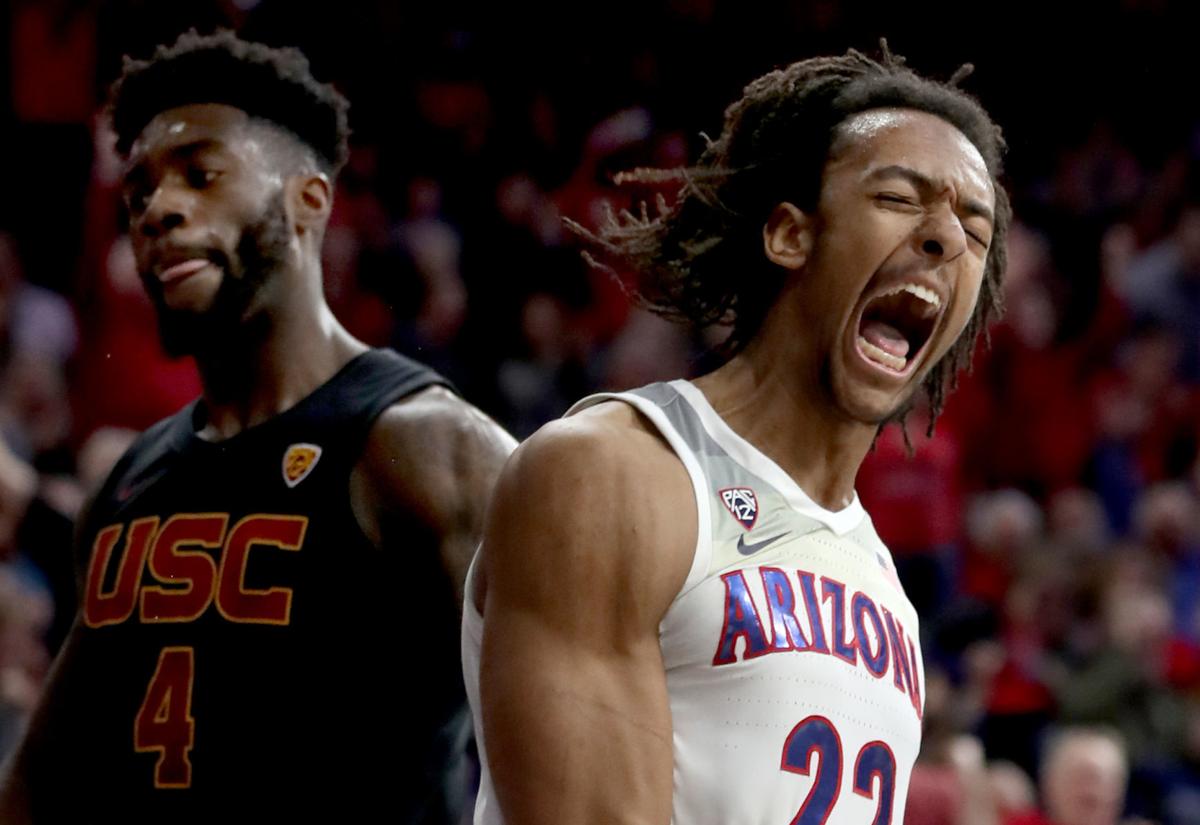 USC wins so infrequently at McKale Center — twice in the last 35 years — that it's difficult to imagine anything less likely than a Trojan victory over Arizona.
But times change. As Arizona beat USC 85-80 in a mostly suspense-free game Thursday at McKale, two against-the-odds moments occurred.
One, the school attempted to honor Sean Miller for his 400th career victory before he could escape to the locker room.
Miller isn't a let's-celebrate-in-February guy — he's not a hey-look-at-me-guy at any time — so he grabbed the game ball from UA President Bobby Robbins and was gone, the most impressive fast break of the evening.
Miller looked at Thursday's game much differently than the average guy who was pumped by the slump-breaking performance of UA freshman Josh Green. But other than a positive reaction to Green's 18-point game, Miller's tone was that of a coach who had just lost his 400th career game.
He referred to his team as "sloppy, fat and happy."
"We didn't play well, we didn't play smart," he said. "I really felt like we struggled throughout the game."
In March, you take any victory over a team as good as USC and move on with a sense of accomplishment. But in early February, at home, you use it as a teaching moment, as Miller so often does.
"It's like the jockey coming down the stretch," said Miller. "You've got to pick and choose, but you can only hit it so hard. We were very fortunate to win tonight."
This is straight out of Coaching 101. Miller is taking no chances on putting a sloppy, fat and happy team on the court Saturday night against UCLA.
He prefers — and expects — Secretariat at McKale.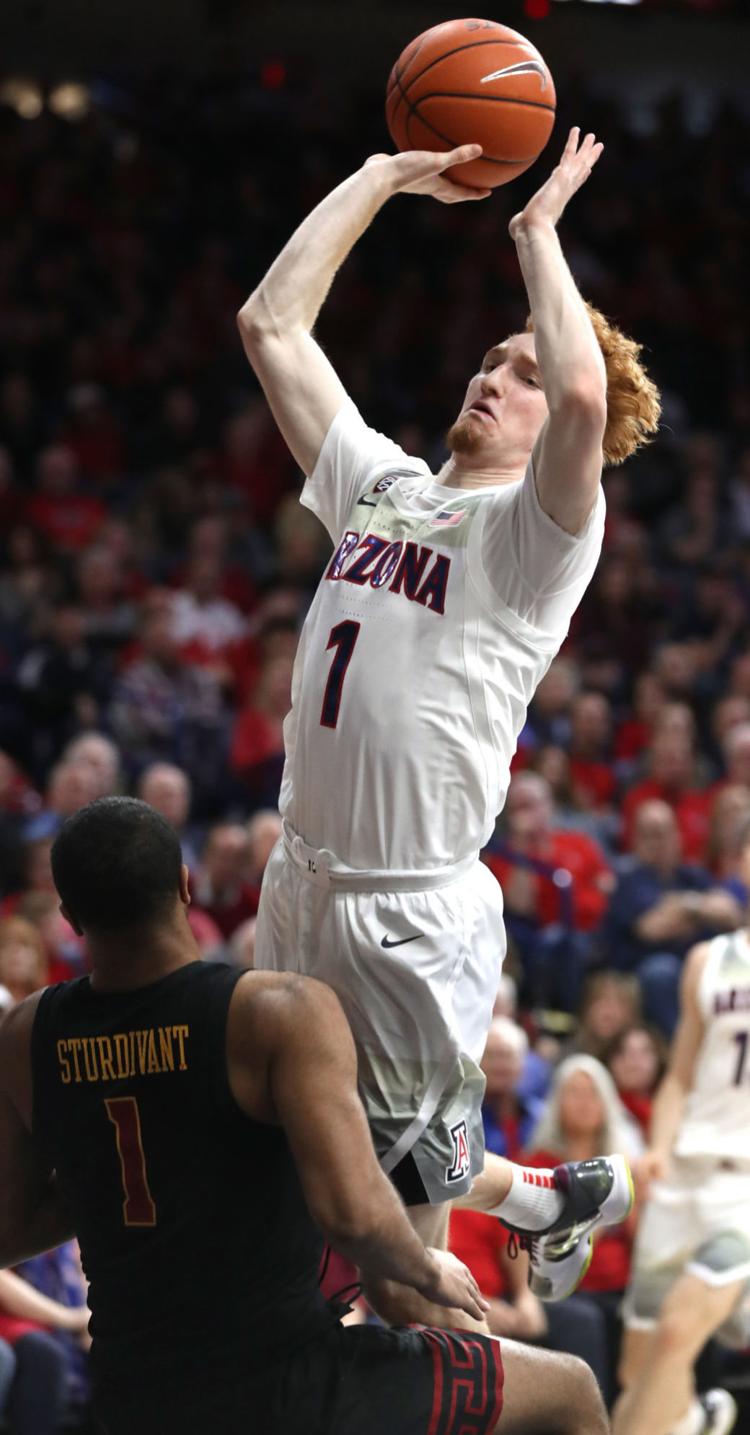 The second against-the-odds item Thursday was that Arizona used the massive McKale Center TV screen to advertise a ticket package for its five remaining home games. What is this, ASU's Desert Financial Arena?
The Wildcats are now marketing a four-ticket package, including four hot dogs and four drinks, for $95. It's like something out of the 1992 Tucson Toros sales plan. As I recall, the last time Arizona needed to market tickets to McKale Center was 1984.
That was the last time the Wildcats didn't lead the Pac-12 in home attendance, but if you looked into the dark upper deck Thursday night, especially to Sections 103, 121 and 126, you saw the same empty seats that have been unoccupied for most of the last two seasons.
Arizona sold out only the Gonzaga and ASU games this season and is averaging 13,551 at the gate. It's even below last year's sobering average of 13,744, the lowest at McKale in eight seasons.
The UA hasn't averaged below 14,000 two consecutive seasons since 1988, when capacity at McKale was about a thousand fewer than the current occupancy maximum of 14,644.
So what's 1,000 tickets a game? For starters, it's probably close to $30,000 per game . No. 2, and probably more important, it's a blow to the UA's pride. There's a certain feeling of accomplishment — and expectation — when you can put 14,644 in the seats every night, as Miller's teams routinely did from 2014 to 2018.
A lot of Thursday's angst was predictable.
Arizona's three leading scorers — Green, Nico Mannion and Zeke Nnaji — are freshmen.
But through 22 games, Green, Mannion and Nnaji have only finished a clean 1-2-3 in scoring against Illinois, St. John's and South Dakota State. That's the most clear sign of a young team trying to find itself. Green, Mannion and Nnaji take 67% of Arizona's field-goal attempts, so you might expect they would've been 1-2-3 in scoring (in any order) in most games.
But if you check the NBA draft evaluations on Nbadraft.net, you'll see that Green is rated a 6 and Mannion a 7 on a 1-10 scale in the "NBA ready" category.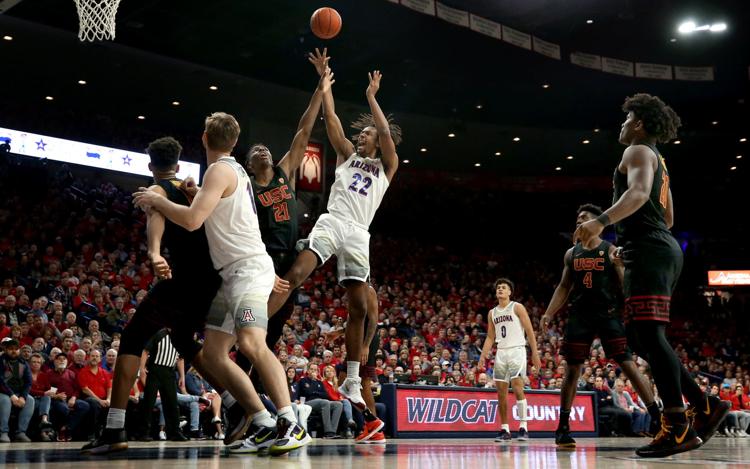 Getting them to a 10 is what occupies so much of Miller's time, and as we've learned through 10½ seasons, he's not an easy grader. He insists on more than he's getting from everyone on his squad.
"We had a hard time practicing leading up to the game," said Miller. "We didn't have a good shoot-around (Thursday). We have to learn from this, try our best, and see if we can be better Saturday."
This season's Arizona-UCLA showdown at McKale Center cannot be compared to those of the last 40 years. Given UCLA's transition from Steve Alford to the more intense and defense-first Mick Cronin, it's going to be a while before those at McKale get a view of UCLA's best shot.
But that's a UCLA problem.
As much as anything else on Thursday, it became manifest that Miller's sole intent before this season ends is for Tucsonans to see the best version of the Mannion-Green-Nnaji Wildcats of 2020.
"There's so much at stake for players individually," he said. "But what they don't understand until it's over, is that the respect in college basketball is always and has always been given to those teams and programs that win and thrive. The team success carries the individual players."
Predictions? Arizona's "fat and happy" days are gone. Miller's 401st victory will be much more satisfying.
Contact sports columnist Greg Hansen at 520-573-4362 or ghansen@tucson.com.
On Twitter: @ghansen711.