Fall, 1967. Jim Fogltance officiated his first high school varsity football game. Coolidge at Marana. The young schoolteacher was to get $22 and assigned to a crew headed by Jim Estrada, a future Pima County Sports Hall of Fame official and coach.
"The other officials didn't know me," Fogltance says now, chuckling. "Jim asked me what experience I had. I told him it was my first game. He shook his head and said, 'Leave your flag in the locker room.'"
Last week, Fogltance worked the USC-BYU game at the Los Angeles Coliseum. He was paid about $4,000 by the Pac-12 to be chief of a four-man TV replay crew. Until 2004, Fogltance worked as an on-field official in the Rose Bowl, Fiesta Bowl, Sugar Bowl, at the Territorial Cup, Apple Cup, the Big Game and while standing below the "Touchdown Jesus" emblem at Notre Dame.
Fogltance worked perhaps the most infamous game in college football history, "The Band Is On The Field!" chaos, Cal's five-lateral finish to beat Stanford in 1982.
He is not one to be intimidated by a big setting with millions of people waiting for him to make a call.
"The replay system is so sophisticated," he says. "I have 12 video screens in front of me with 30 different views. It's like a kaleidoscope. You have to react to every single play. Get it right right now. The pressure is greater in the replay booth than on the field. No question."
He did not buckle to the never-ending pressure.
"I enjoyed it," he says. "But I did look forward to those 3-minute TV timeouts to catch my breath."
The son of a violin player and accountant whose family immigrated from Czechoslovakia to Cleveland and then Tucson after World War II, Fogltance has an impressive Tucson sports lineage that stretches back to the '60s, when he officiated games that included Canyon del Oro High School running back Ed Hochuli, who is probably the most well-known referee in NFL history.
"I not only officiated games that Ed played in, I was later on the same crew with him when he began to call high school games," says Fogltance. "The list of football officials in Tucson history is very special: Cleo Robinson, Dean Metz, Rip DePascal, Bobby Rauh, Pat Flood, Bob Beal, Jerry Gastellum. I could go on and on. I'm fortunate to have learned from all of them."
After Saturday's USC-BYU game, Fogltance, Amphitheater High School Class of 1961, decided to leave the game while he was on top. He is retiring after 54 years.
"I wanted to go out on my terms," he says. "You don't want someone to say, 'Time for Fogie to go.'"
If you ask the former high school, middle school and elementary school principal to list the Big Games of his career, he doesn't go the big-time route. He is as likely to talk about Sunnyside High School coach Paul Petty as USC's John Robinson. Fogltance has officiated dozens of high school playoff and state championship games. He has gone jaw-to-jaw on the sidelines with the iconic names of Tucson prep coaching: Vern Friedli, Ollie Mayfield, Jeff Scurran, Howard Breinig, and an even longer list of famous college coaches: Don James, Lou Holtz, Pete Carroll, Frank Kush, Dick Tomey, Larry Smith and Terry Donahue.
You can ask him a dozen questions about the big stage, and the first one he mentions is an early 1980s Sunnyside-Santa Rita game.
"I inadvertently blew the whistle on a big play, and it almost cost the Blue Devils the game," he says. "I got lucky."
After a decade in the game, Fogltance hoped to advance from high school, junior-college and small-college officiating and get a shot officiating in the expanded Pac-10 in 1978. The league's supervisor of officials, Jack Springer, told Fogltance that about 2,000 officials applied to get into the Pac-10 every year.
He applied anyway. Mayfield, the coach at Tucson High, and Petty, the coach at Sunnyside High, wrote letters advocating Fogltance.
"I didn't think I had a shot; I didn't have any big-time college coaches recommending me." he says. "But one day I got a letter saying I had been approved." A year later he was on the field at the L.A.Coliseum, working the USC-Minnesota game.
"I was in awe," he says. "I had no clue what was going on in that first quarter. I was overwhelmed. But it wasn't too long that I was working a Rose Bowl game with Bo Schembechler working on me. It was quite a journey."
There were highs — in 2015, he was the second Tucsonan to be inducted into the Arizona Officials Association Hall of Fame. In 2019, he was elected to the Pac-12 Officials Hall of Fame.
There were lows — while officiating a UA scrimmage before the 1992 season, Fogltance collided with quarterback George Malauulu, driving Fogltance to the turf. He shattered his shoulder, required two major surgeries and missed the 1992 season.
And then there was that crazy band-on-the-field finish to the 1982 Stanford-Cal game.
Fogltance wasn't originally scheduled to work that game, but when Pac-10 supervisor of officials Bill Richardson was forced to miss the game while preparing to take a test to become a fire chief in San Francisco, Fogltance stepped in.
There have been multiple TV documentaries on that five-lateral play. Someone is in the process of writing a book, which is to be published early next year. But Fogltance, who was trailing the play as the field judge, said there is no longer any mystery about what should've been called.
"If we had today's replay capability, the last lateral would've been called an illegal forward pass," he says. "Game over. Stanford wins. Maybe John Elway wins the Heisman."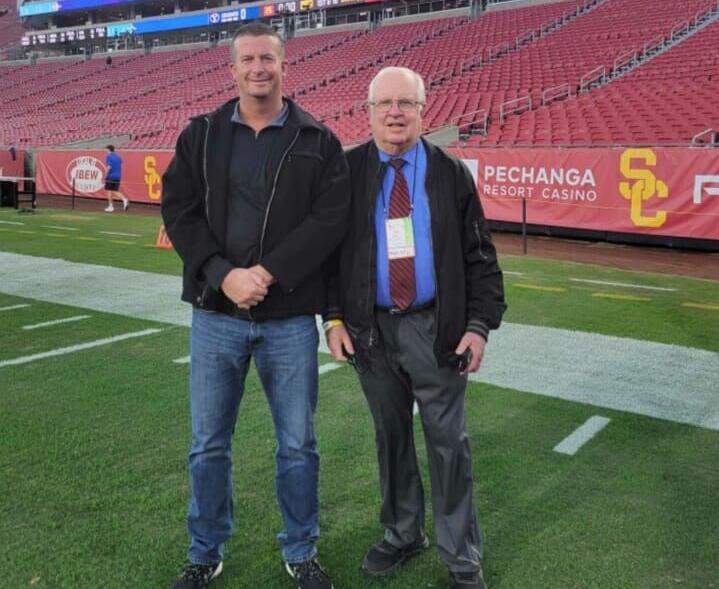 Fogltance's name will carry on. His son, B.J. Fogltance, a teacher and athletic administrator in the Amphi school district, has officiated in the Mountain West and Big 12 conferences, as well as state football championship games. They have officiated scores of games together. They were together at his father's farewell game last week at USC.
"It was a great ride," Jim Fogltance says. "A great journey."
Contact sports columnist Greg Hansen at 520-573-4362 or ghansen@tucson.com. On Twitter: @ghansen711