Gronk's first name is no longer necessary. He is surely one of the most recognized names in sports, close behind Tiger, LeBron and maybe Usain.
Gronk has caught 47 passes for 682 yards for the Super Bowl-bound New England Patriots this season. Do those numbers sound familiar?
Gronk caught 47 passes for 672 yards in his final healthy college season, 2008, at the UA. Those similar numbers have little in common.
The difference is that Gronk now does it on the biggest stage in sports. On Sunday, he caught 25- and 15-yard passes to set up the Patriots' final two touchdowns in an epic finish against Kansas City.
So much for those "Gronk is washed up" stories.
Each time Gronk and the Patriots go to the Super Bowl — this will be his fifth trip — I shake my head at how relatively little Arizona accomplished in his two seasons as a Wildcat.
Pac-10 finishes: Sixth and fifth.
Notable losses: Swept by the New Mexico Lobos.
Biggest victory: Las Vegas Bowl, 2008, over BYU.
How did Arizona get so little out of a once-in-a-lifetime talent like Gronk?
The only worthy comparison that surfaces is NBA mega-talent James Harden's college career at Arizona State, one that ran simultaneous to Gronk's days in Tucson.
In a weak Pac-10, the Sun Devils went 20-16 with Harden, never finishing higher than fourth place. ASU's lone NCAA Tournament victory in the Harden days was against 11th-seeded Temple. A year earlier, the Sun Devils were eliminated from the NIT by Jacksonville.
Arizona was not the only entity failing to understand just what it had in Rob Gronkowski, a 6-foot-6-inch, 260-pound tight end who will likely be a first-ballot NFL Hall of Famer someday.
Rivals.com ranked Gronk as the No. 4 overall tight end in the high school Class of 2007. He trailed No. 1 Aron White of Missouri, who went to Georgia and caught 34 passes in his below-expectations career, and No. 2 Mike Ragone of New Jersey, who went to Notre Dame and caught 13 passes in his career.
The 2008 John Mackey Award, the Heisman Trophy for tight end s, went to Missouri's Chase Coffman, a consensus All-American who caught 18 passes, total, in a brief NFL career.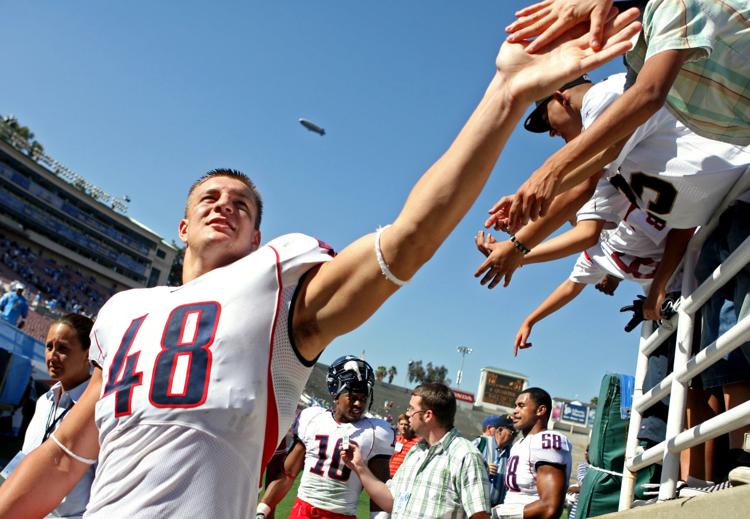 In the 2010 NFL Draft, the first tight end selected was Jermaine Gresham of Oklahoma. He was chosen 21st overall. The Patriots picked Gronk, who missed the 2009 season after undergoing back surgery, with the 42nd pick. Gresham has caught 29 touchdown passes in his NFL career. Gronk has 79, with five seasons of at least 10.
But as much as Gronk was overlooked by recruiting services, All-American voters and NFL scouts, it is Arizona that was most unaware of Gronk's program-changing possibilities.
The Wildcats were unable or unwilling to build an offense around a younger Gronk when he was healthy.
In his Arizona days, Gronk caught 75 passes. He was just part of the gang. Mike Thomas caught 157 passes in that period, Terrell Turner 93 and Delashaun Dean 90.
Gronk was Option No. 4. Unreal. He led Arizona in receptions in just four games in his career.
Sonny Dykes was breaking in as Arizona's offensive coordinator in 2007 and it took a bit to gauge Gronk's skills.
After a breakout game late in Gronk's freshman season — six catches for 94 yards and a touchdown in a win over UCLA — Dykes said, "The good thing about Robby is that he still has a lot of upside. He's still learning how to run routes and set people up. He's getting better all the time."
Robby? Nobody calls him Robby now.
Before the 2008 season, Dykes spoke in terms of Gronk catching 80 to 100 passes. "Hopefully we can start building our package around him," head coach Mike Stoops said.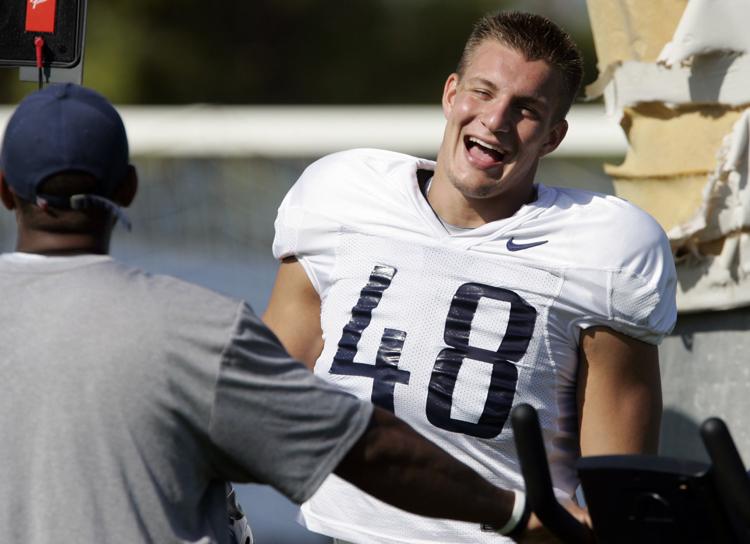 Gronk missed the three opening games of 2008 with mononucleosis, but then caught five touchdown passes in victories over UCLA and Washington. Gronk seemed capable of leading a Willie Tuitama-led UA offense to a 10-win season.
But in a dispiriting loss to a 3-3 Stanford team, it became clear that Gronk was just another part of the Thomas-Dean-Turner receiving gang.
Leading Stanford 20-17 with six minutes to go, Arizona faced a third-and-goal from the 6. It would've been a clinching touchdown. It would've forgiven the decisions to run the ball ineffectively on first and second downs.
Every UA fan thought the same thing: THROW IT TO GRONK!
Instead, Tuitama threw into a non-Gronk crowd, incomplete. Arizona settled for a field goal and ultimately lost 24-23 on a last-minute Stanford drive.
His final game as a Wildcat, the 2008 Las Vegas Bowl, was symbolic of his lack of use. Gronk caught just four short passes, for 27 yards. The game-clinching play was by a Gronkowski — older brother Chris Gronkowski, who caught a 27-yard touchdown pass to seal a 31-21 victory.
This was nothing new to Gronk. In his senior year at Pennsylvania's Woodland Hills High School, he caught just eight passes for 152 yards.
It wasn't until he was coached by New England's Bill Belichick in 2010 that he became The Man, leading the Patriots with 10 touchdown passes and igniting a career that few could've imagined.
Gronk's name and jersey number are not on display atop the press box at Arizona Stadium, a special place of honor that thus far includes Chuck Cecil, Ricky Hunley, Art Luppino, Darryll Lewis, Chris McAlister, Steve McLaughlin, Antoine Cason, Tedy Bruschi and Rob Waldrop.
After five Pro Bowls and now a fifth Super Bowl, the school needs to put Gronk in that special place, too.