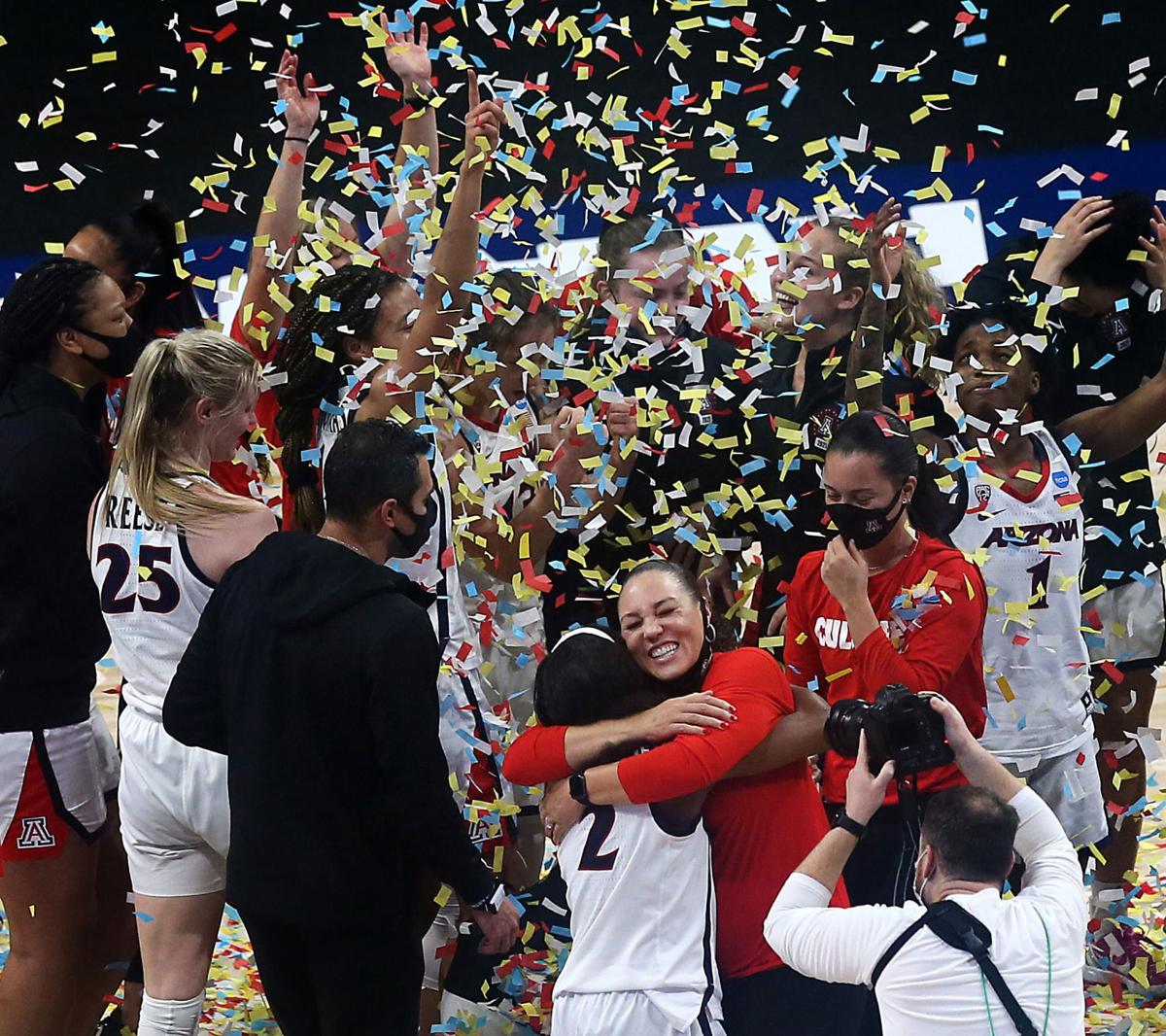 During a year of doubt, distress, heartache and fear, Arizona's women's basketball season was a bridge over troubled water.
It helped to ease your mind, dry your tears.
It was almost providential that a few basketball games became a source of joy and comfort in this community.
One morning in early January, when COVID-19 numbers continued to spike and spread uncertainty through the community, I logged into a Zoom call with UA coach Adia Barnes. She was sitting in her living room, unsure if that week's game at Washington would be played. (It wasn't).
As she was outlining the logistics of her team's first road trip, her 6-year-old son, Matteo, jumped into the background and began mugging for the camera. He ducked in behind his mom and made a funny face. He squealed. He darted out of the picture, then back in. Matteo loved being on stage.
It was basketball, after all, not a visit to a hospital trauma center.
Throughout the 30-minute Zoom conference, the tiny voice of Barnes' months-old daughter, Capri, could periodically be heard. "She's just fussing," the coach said. "She's ready to be fed."
There has never been a college basketball season like 2020-21 in Tucson. Not at McKale Center, not at Bear Down Gym, never, ever, ever.
At one point, the Wildcats paused their Pac-12 season for 15 days. Five nonconference games were canceled. A year after Barnes' team set an attendance record with 95,098 fans, not a single ticket was sold.
And yet last Sunday evening, an ESPN audience estimated at 4 million watched Barnes and the Wildcats come eyelash-close to winning the national championship, one shot away from the single most dramatic victory in school history.
When I think back of the UA's magical season, my first memory isn't Aari McDonald's last shot against Stanford bouncing off the rim. It is the image of ever-present Suzy Mason sitting a few rows behind the Arizona bench, cradling seven-month old Capri Coppa, soothing her, a selfless act in the most extraordinary basketball season of our lives.
Mason is the UA's senior associate athletic director for event management. During Arizona's weeks-long stay in San Antonio, she went far beyond event management, far beyond winning and losing. She made sure Adia Barnes wouldn't have to be worried about her baby.
In many ways, even though Arizona didn't win the national championship, it felt like it. It feels like it, thanks not just to Barnes and McDonald and Sam Thomas and Cate Reese, but also to those like Suzy Mason who came together to make it all such a success.
Arizona's journey to the national championship game can trace its roots to 10 years ago this spring, when Barnes was a radio analyst for the WNBA's Seattle Storm and trying to figure out what comes next in life.
The Washington Huskies had just signed Xavier women's basketball coach Kevin McGuff to take over a listing UW program coming off 11-17 and 13-18 seasons. McGuff brought his Xavier assistant Mike Neighbors to be his top aide, and then hired Cal assistant Kevin Morrison to fill the second of three slots.
McGuff was determined to fill his final coaching vacancy with a woman who could help in all matters related to recruiting, communicating and team bonding. He preferred someone familiar with Seattle. The name that kept bouncing to him was Adia Barnes.
After interviewing Barnes, McGuff was immediately sold. When he announced she was joining the UW staff on May 10, 2011, he said "Adia Barnes is one of the brightest, most up-and-coming coaching talents."
He paid her $81,000 a year. After three years, McGuff left to become the head coach at Ohio State and Neighbors took charge, coaching the Huskies to their first and only Final Four, in 2016. That's when then-UA athletic director Greg Byrne made contact and, while Barnes was in Indianapolis at the Final Four, offered her $240,000 a year and a five-year contract to become the head coach at her alma mater.
A few days before the Wildcats left for San Antonio, Arizona announced Barnes had agreed to a contract extension through 2026, worth an estimated $3.3 million. Money well spent.
On March 15, the night Arizona learned it was a No. 3 seed in an NCAA Tournament bracket opposite mighty UConn, Barnes again appeared on a Zoom call. She was up-front and frank, as is her personality. The Wildcats had been bounced from the Pac-12 Tournament by UCLA and finished the regular season by losing to ASU.
Rather than deal in doom and gloom she said, "my young women aren't always perfect, but I'm not always perfect, either. I really feel like we haven't done anything yet. I think this year we finally have the pieces to make a run."
Contact sports columnist Greg Hansen at 520-573-4362 or ghansen@tucson.com. On Twitter: @ghansen711