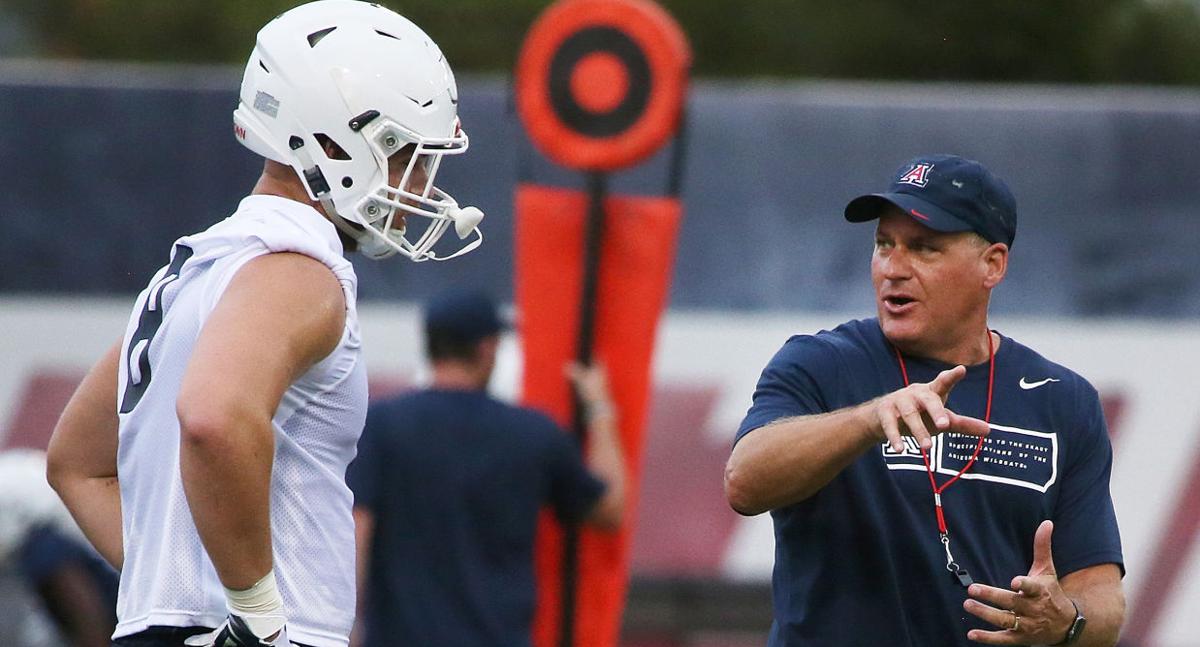 The truth, the whole truth, half-truths, shades of the truth and other items admissible as sports news:
ITEM I: Arizona began moving its football training camp to cooler areas as long ago as 1951, when coach Bob Winslow bused the Wildcats to Fort Huachuca. For 30 years, Jim Young, Larry Smith and Dick Tomey staged week-long sessions at Camp Cochise near Douglas.
That helped deter potential recruits from being told "it's too hot in Tucson" during training camp.
On Monday, it was too hot in Tucson to play football outside. It is likely to be that way all week. Arizona is one of the last Sun Belt football programs without an indoor practice facility; who knows how many recruits have gone elsewhere when told that practicing in Tucson in August is crazy uncomfortable.
Even Arizona's Game 3 opponent, UTEP, spent 13 August days at Camp Ruidoso, lodging at the MCM Elegante Lodge and Resort at 7,000 feet elevation in the New Mexico mountains.
Camp Cochise is no longer viable for Arizona's training camp because Cochise College doesn't have a suitable facility. Plus, moving weight-training equipment, hot tubs, cold tubs and the attendant necessities for 21st century college football isn't feasible.
So on Monday, coach Rich Rodriguez made the strongest suggestion yet that an indoor facility is close to reality.
"I think there might be news forthcoming; there's some momentum," he said.
The UA's planning, design and construction website estimates the cost to be $15 million.
Let's just hope its not one of those blimpy-type, eye-sore white bubbles that Arizona State erected a few years ago.
ITEM II: Thirteen years ago in Bend, Oregon, Arizona junior golfer Nate Lashley helped the Wildcats qualify for the NCAA finals.
Later that night, his mother, father and girlfriend were killed in an airplane crash in the Wyoming mountains. It was horrific. Lashley completed his UA eligibility in 2005 and has since played on every conceivable golf mini-tour and mini-mini-tour in the game. He even quit golf for a year, attempting to make a living selling real estate.
Finally, in 2016, Lashley broke through and was the PGA Latino America Tour player of the year. On Sunday, Lashley finished 11th in the Web.com Tour yearly points race and earned his PGA Tour card for 2018. He is now 34.
There is no better story going in pro golf.
ITEM III: Tucson's high school football Game of the Year, or at least the Game of the First Half of the Year, is Salpointe Catholic at Cienega on Sept. 28. Both project to be 5-0 and surging toward the highest seeds in the state tournament.
Knowing how the Vail area supports high school football, it will probably be the biggest crowd of the regular season in Southern Arizona. If you go to one game all year, this is the one to see. Here's the hook: Cienega senior quarterback Jamarye Joiner is probably the best high school QB in Tucson since Sahuaro's Rodney Peete in 1983.
In last week's pulsating 57-50 victory over Marana, Joiner had video-game type numbers: 170 rushing yards for five touchdowns and 239 passing yards and two more touchdowns. Joiner has committed to play for Arizona and also has been offered by ASU and Utah. The last nationally recruited Tucson prep quarterback to commit to Arizona was Santa Rita's Anthony Sanders in 1992; Sanders instead signed to play baseball for the Toronto Blue Jays, ultimately reaching the big leagues.
Joiner is not unlike UA starting QB Brandon Dawkins: big, fast, mobile, versatile, more of a runner than a thrower. Joiner began his career as a 2014 freshman at Salpointe, a tailback-receiver-QB who, after transferring to Cienega, has become the biggest name in Tucson prep football.
ITEM IV: About 100 Tucson golfers participated in the Bobby Gaona Memorial event Sunday at Gaona's home course, the El Rio Golf Club. More than $12,000 was raised to help the family of the former PGA Champions Tour regular pay its mortgage and household bills.
Gaona, who died last month at 77, is a former state champion from Tucson High who touched every part of Tucson's golf community for more than 50 years.
That much was apparent Sunday, when those who teed off at El Rio included the top amateur golfer in Arizona history, Ed Updegraff, club pros such as Rich Mueller, Rick Price, Mike Wilson, Danny Medina and Dennis Palmer, the USGA's Joe Hickle, the Tucson Conquistadores' Judy McDermott and Burt Kinerk, and UA coaches Rick LaRose, Mike Candrea and Jim Anderson. Former touring pros Cindy Rarick, Phil Ferranti and Don Pooley helped fund the event.
Talk about star power. Gaona would've been impressed and thankful.
ITEM LAST: For the last few weeks, I kept hearing TV analysts and sports fans say the Floyd Mayweather-Conor McGregor "fight" might be the best in history.
Nonsense. Mayweather probably isn't one of the 10 leading boxers of the last 50 years, and certainly nowhere near the Muhammed Ali, Joe Frazier, George Foreman, Sugar Ray Leonard, Tommy Hearns, Marvin Hagler, Oscar de la Hoya level.
In my time as a follower of sports, the single most absorbing event I attended was Ali-Frazier I, staged in March 1971. My friend and I bought $70 tickets to watch the closed-circuit broadcast at the Salt Palace in downtown Salt Lake City. That was a small fortune for a college freshman.
About 12,000 people filled the Salt Palace. It was electric. I told my friend even before Ali and Frazier got in the ring that it was worth far more than the $70 — and not a punch had not been thrown.
Ali was 31-0. Frazier was 25-0. Both fighters seemed indestructible and for 15 rounds they beat each other into near-submission. Finally, in the 15th round, Frazier knocked Ali down for the first time in his career. Ali climbed to his feet and finished the fight, won by Frazier on a unanimous decision.
I stood with the other 12,000. Stunned. It was a moment never to forget.
On Monday, digging through an old shoebox, I found the ticket stub from Ali-Frazier I.
Contact sports columnist Greg Hansen at 520-573-4362 or ghansen@tucson.com. On Twitter: @ghansen711