Each door of the Hillenbrand Aquatic Center is adorned with an 8x11 sheet of paper that can be read from 10 yards away:
The USA Olympic Swimming Trials are scheduled to begin June 21 in Omaha and about 15 of those who train at Hillenbrand are expected to be in the field, including four-time gold medalist Matt Grevers and contenders such as Leah Smith and Brooks Fail.
But where will they train? Even the Olympic-sized pool at the UA Rec Center was shut down Tuesday.
On Monday, the International Olympic Committee declared it is fully committed to staging the 2020 Tokyo Games as planned. Unlike many titans of American sports — the Masters, March Madness, the Kentucky Derby, the NBA Finals — the Olympics will go on as planned.
"In my very humble option, I really do feel the Olympics should be canceled," says Tucsonan Frank Busch, USA Swimming's National Team director at the 2012 and 2016 Olympics. "And I think the USOC should be the leader on that."
Late Tuesday, the Olympic Training Center in Colorado Springs closed. Swimmers, wrestlers, cyclists, boxers and all Olympic-vested athletes were sent home.
"We could go to Tokyo next year," says Busch, who was Arizona's 11-time Pac-10 swimming coach of the year from 1990-2011. "Just postpone it a year; all the facilities will be there. Everybody could take a couple of months off now to allow this country and the world to get past this tremendous health challenge. It would just make so much sense if the USOC would take leadership and then, obviously, NBC."
And it's not just swimming. UA track coach Fred Harvey trains two Olympic 400-meter hurdles veterans, Georganne Moline and Sage Watson. The UA's Drachman Stadium, where Moline and Watson train, has been shut down.
Watson paused her training and flew home to Alberta, Canada, over the weekend. The Canadian Track and Field Olympic Trials are scheduled for June 25-28 in Montreal.
"We were training at Drachman until (Tuesday) and we'll have to figure out a training regimen with Georganne," says Harvey. "Sage is back in Canada because we have been concerned about potential border closures. She's with her family. So we'll do what we can to stay on top of their preparations, but they can no longer do so at Drachman."
Watson, a former Arizona All-America hurdler who was part of Canada's fourth-place finish in the 4x400 relay in the 2016 Rio Olympics, tweeted that she is in "self-quarantine" near Medicine Hat, Alberta.
The Olympics might be the last sports organization to give in to the inevitable and postpone the 2020 Tokyo Games. Why the delay? There's no mystery; it's all about the money.
According to several published reports, Japan has spent an estimated $28 billion in preparing for the Games. The IOC made more than $4 billion in revenue in the last four-year Olympic cycle from broadcast rights. And NBC, it's biggest broadcast partner, alone has sold more than $1.2 billion in advertising.
What is far more important than the money is the health and well-being of the athletes and coaches who continue to train for the Olympics. To continue to train would be to put the athletes in danger.
Do the right thing. Shut it down. Put the athletes before the money.
Says Busch: "It just seems to me we're putting so much pressure on the athletes, coaches and facilities. I don't see any leadership here in any way, shape or form. Given the health issues before us, the Olympics are such a small thing in the world right now."
Once the Olympic Training Center closed this week, all of America's elite-level swimmers had no option but to train elsewhere. Busch estimates about a third of the USA swim team, men and women, base their training in California. All of the major aquatic facilities in California are closed.
"I spoke to a coach who has several Olympic medalists and they are now using a three-lane pool at a YMCA in Florida," says Busch. "I have no idea how you can properly prepare for the Olympics using 25-meter community pools."
On Tuesday, USA Softball stopped its "Stand Beside Her" Tour, one that opened Feb. 18 at Hillenbrand Stadium. It means that UA catcher Dejah Mulipola is idle, her dreams for the Olympics uncertain.
USA Softball hasn't canceled the Tour, but it has postponed 15 stops through May 17, when it will reevaluate America's health crisis. It would then have 13 exhibition games through late June.
"Why not just take the pressure off our athletes and allow people to get the hell away from everything for a couple of months?" says Busch. "It doesn't make sense to worry about whether you will qualify for the Olympics or not when there are far more important issues in the life of every person."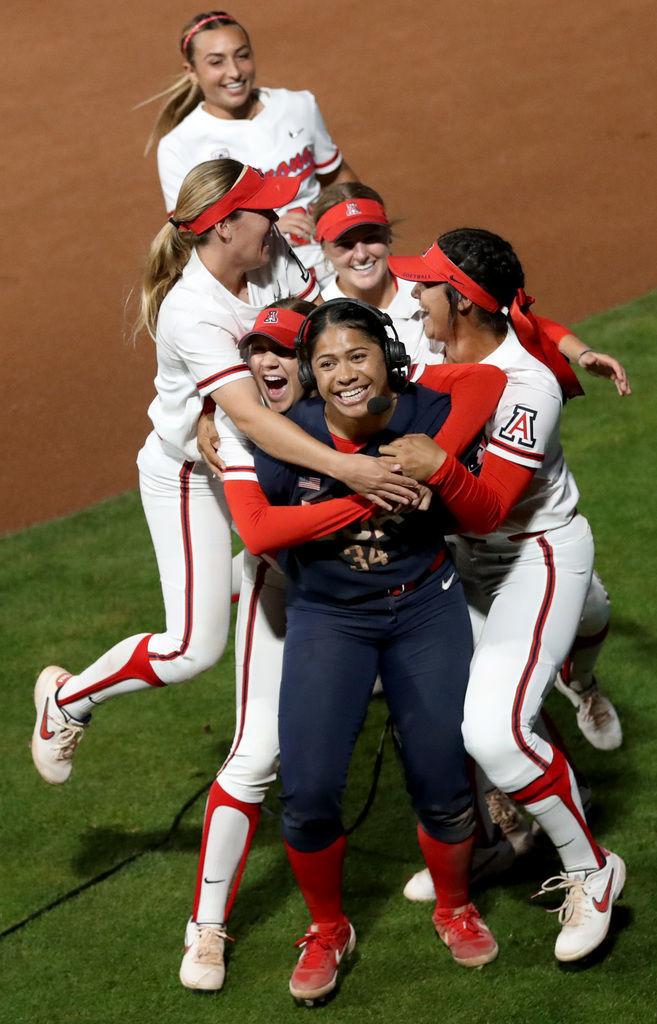 Harvey has been attending the Olympics since 1992, when he coached Tucson's Michael Bates to the bronze medal in the 200-meter finals in Barcelona. Currently, Harvey has a stable of Olympic-hopeful athletes, from shot-putter Jordan Geist to middle-distance runner Carlos Villarreal and high jumper Karla Teran.
"My priority is to make sure young people aren't put in compromising positions," he says. "Our No. 1 goal must be to make sure the athletes are safe. We're not going to force anyone to continue to work out. It is now completely voluntary if they want to stay in the training process."
The IOC said that it will make a final decision on the Tokyo Olympics in late May. By then, there may not be available air travel to get more than 11,000 Olympic athletes to Japan.
By then, the 2020 Olympics are more sensibly apt to become the 2021 Olympics.
Contact sports columnist Greg Hansen at 520-573-4362 or ghansen@tucson.com. On Twitter: @ghansen711.
Be the first to know
Get local news delivered to your inbox!