In Khalil Tate's final 10 football games at Junipero Serra High School in Los Angeles, 2015, these were his rushing totals, game to game, first to last:
• 25 for 295 vs. Narbonne
• 19 for 185 vs. Notre Dame
• 19 for 201 vs. Bishop Amat
• 14 for 185 vs. Chaminade
• 20 for 175 vs. Westlake
• 28 for 356 vs. Mater Dei
This wasn't 8-man football and he wasn't playing against Tombstone High School. All the kids just called him "Sir."
When Tate finally got a chance to be Arizona's quarterback of record in October 2017, these were his rushing totals, week-by-week, in his first six games:
• 14 for 327 vs. Colorado
• 16 for 206 vs, Oregon State
Nicknames were suggested: Ka-Thrill Tate. See-You-Tater. The Pac-12 had rarely seen a quarterback like Khalil Tate. He was a mold-breaker and a headline-maker. Over the last 50 years, the only QB in Pac-12 history to run for more than Tate's 2,078 yards in a career has been Oregon's Heisman Trophy winner Marcus Marriota, with 2,237.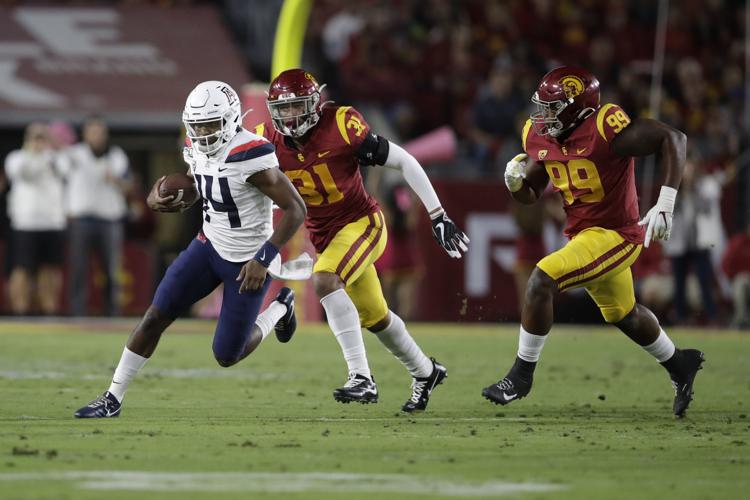 But something has gone terribly wrong.
For the remainder of the 2017 season and all of 2018, Tate's cumulative rushing total, 342 yards, barely exceeded that of his 2017 debut game against Colorado.
Across the last three weeks he has gone backward, with a net of minus-32 yards.
• 4 for 23 yards vs. Colorado
• 8 for minus-28 yards against Washington
• 9 for minus-27 yards against USC
There has never been anything like this in Pac-12 football. Not in 40 years, not in 100 years. No offensive talent like Khalil Tate has been so fully blunted and ultimately, last week, benched.
It's like using Wilt Chamberlain as a point guard.
I will never buy the theory that opposing defenses figured Tate out. Nuts. Opposing defenses knew Ka'Deem Carey was going to get the ball when he rushed for 1,929 yards in 2012. A year later, with defenses spying on him, stacked to stop him, Carey gained 1,885 yards.
Pac-12 defensive coaches spent 12-hour days trying to scheme against Nick Foles after he threw for 3,191 yards with 20 touchdowns in 2010. Arizona had no real rushing game to take the pressure off of Foles; Keola Antolin led the runners with a scant 568 yards. But Foles returned in 2011 and greatly improved his numbers, passing for 4,334 yards and 28 touchdowns.
Someone has messed with the recipe. What once was sweet and irresistible has lost its flavor.
Once Rich Rodriguez was shown the door, someone — either Tate or his advisers or Arizona coaches Kevin Sumlin and Noel Mazzone — decided that Tate would be a passer and stay out of harm's way. Each game seemed to become a passing audition for NFL scouts.
In his sizzling debut season, 2017, Tate averaged 19 passes per game as the UA's QB-of-record. Last year he amped that total to 27½ per game. This year he attempts 26 passes each game.
More telling, his rushing attempt averages dropped from 17 per game to seven. This season he averages nine rushes per game.
Even the guy sitting on his sofa who doesn't know an X from an O knows something is horribly wrong with this strategy.
It's one thing to turn Tate into a throwin' machine if you've got Dennis Northcutt, Bobby Wade and Rob Gronkowski lining up on every play. It's another when you've got a bunch of guys named Joe, undersized and lacking big-play speed and game experience, as Arizona does.
There has been no public or frank discussion of the way Tate is used. Mazzone is not made available for in-season media interviews. Tate's media availability has been limited to a minute or two after a handful of games. Sumlin does his best to talk in generalities, declining to make a simple and definitive statement on where the Khalil Tate of 2017 has gone.
If they're protecting Tate, good for them. If they're protecting themselves — remember Mazzone is being paid $600,000 this season — it'll probably lead to another losing season and thousands of empty seats at Arizona Stadium.
And it's not like Mazzone has been shy to use a quarterback as a run-pass option guy. From 2012-14 at UCLA, quarterback Brett Hundley ran 479 times under Mazzone, the only QB in Pac-12 history to exceed 400 rushing carries.
It's the mystery of the year.
In his time at Arizona, the one skill Rich Rodriguez exhibited on a level with anyone in college football was his ability to develop quarterbacks and game-plan to their skill. He rescued Matt Scott from three years in exile and helped turn him into the Pac-12's second-team all-conference QB, an honor shared in school history only by Tom Tunnicliffe, Willie Tuitama and Keith Smith.
Then came unknown junior-college QB, B.J. Denker, out of left field, who got every ounce of his ability in 2013, passing for 2,516 yards and rushing for 949 more. He wasn't an NFL prospect but he was a serious threat, week after week.
Anu Solomon? He was small, slow and didn't possess abundant arm strength.
As a freshman, he threw for 3,793 yards and 28 touchdowns as Arizona won the Pac-12 South.
Now it's Khalil Tate, fighting for redemption, the most puzzling story in college football.