College football's first experience with so-called free agency came long ago, 1987, and it wasn't called the transfer portal. It was commonly known as the "Death Penalty."
Arizona, of all teams, profited more than anyone when an estimated 100 college football coaches arrived at the SMU campus in attempt to sign the suddenly free-to-play-anywhere Mustangs.
On Page 29 of the March 9, 1987 issue of Sport Illustrated, Arizona assistant coach Marc Lunsford was pictured in the SMU locker room, sitting next to starting SMU guard Kevin McKinney.
McKinney and his teammates had been given an exemption to transfer anywhere, with immediate eligibility. The "Death Penalty" was the result of the NCAA shutting down SMU's football program in 1987 and 1988; an investigation discovered that 13 Mustangs were paid in excess of $65,000 by SMU boosters in the early 1980s.
Six weeks later, about 56 Mustangs had transferred. Lunsford's mission was considered a full success. Arizona signed McKinney, who would become a strong addition to Arizona's offensive line, and SMU starting quarterback Bobby Watters, who had thrown for 2,041 yards in 1986.
It wasn't easy. It took Watters six weeks to make his decision; he visited Purdue, West Virginia, Baylor and Arizona before choosing the Wildcats for the most predictable reason: the promise of abundant playing time. The only returning QB on Arizona's roster was sophomore Craig Bergman, who had attempted one pass in his career.
At the time, Arizona had never deployed a QB transfer from another Division I school. Now, 35 years later, Washington State's Jayden de Laura is the third FBS quarterback to transfer to Arizona in the last year.
De Laura's transfer process took about five days. He announced he was leaving WSU last Friday; by Tuesday he was in Tucson, signing scholarship documents and posing in his new jersey, No. 7.
College football's version of free agency may be viewed as insanity by some, but if you don't fully participate it's like investing in Blockbuster Video instead of Apple.
There hasn't been enough time to accurately document the percentage of transfer portal football players who become more productive at their new school versus those who bust. But the numbers of transfer QBs at Arizona from four-year schools since SMU's death penalty has a very low rate of success.
How low? Exactly 25%. Two of eight.
Watters busted. He fractured his thumb in his third game, at UCLA. Although he was granted an extra year of eligibility in 1988, he could do no more than share the job with sophomore Ronald Veal in what became known as the "Veal-Bone" offense.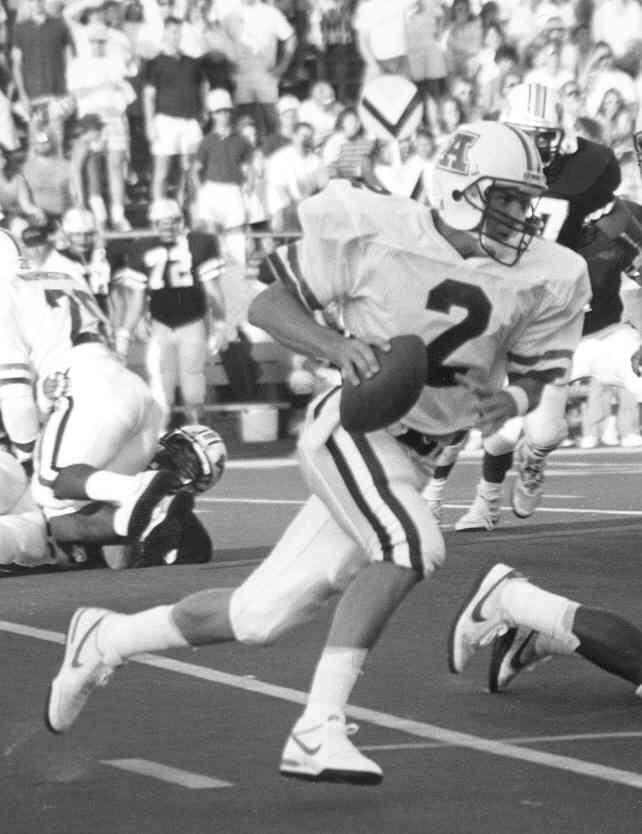 That didn't derail Arizona from attempting to pursue QB transfers to fix what many claim to be an enduring quarterback jinx — the Wildcats haven't produced the All-WAC or All-Pac-12 first-team QB since 1975.
Here's how it worked out since Watters arrived from SMU:
1993: Arizona signed Penn State reserve QB Dan White, who immediately became the UA's starter, leading the Wildcats to seasons of 10-2, 8-4 and 5-6. White, a gamer with the knack for making big plays, passed for 5,446 yards.
2001: Arizona signed Tennessee backup QB John Rattay, who had been the equivalent of a five-star prospect upon leading Phoenix Desert Vista High School to the 1998 state championship. But Rattay, a 6-foot-4-inch lefty, only threw 59 passes at Arizona before leaving school and ending his career.
2009: Arizona signed Michigan State backup Nick Foles, who initially committed to ASU but subsequently injured his throwing arm and was considered damaged goods. Well, not quite. Foles established Arizona's career passing yardage record, 10,068, which led to successful seasons that ended at the Alamo and Holiday bowls.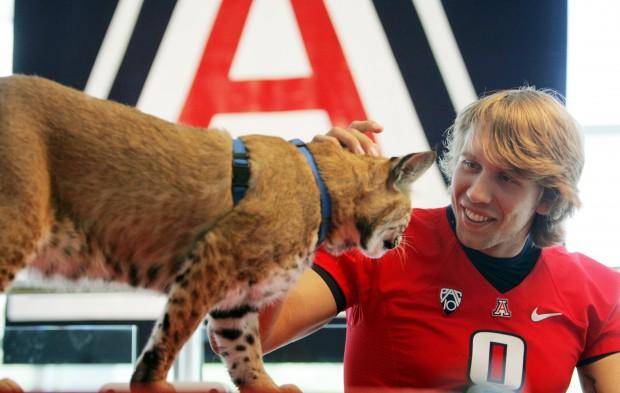 2014: Arizona signed former elite USC prospect Jessie Scroggins. His career had been detoured by a fractured thumb at 'SC. At Arizona he couldn't beat out Anu Solomon and threw just 16 passes before completing his career at NAIA Lindenwood University in Missouri.
2015: Arizona deployed once-coveted LSU quarterback Jerrard Randall, who had mild success in 2015, mostly as a run-pass option threat; Randall ran for 702 yards in 2015 but couldn't beat out Solomon.
2021: Gunner Cruz, from Washington State, and Jordan McCloud, from South Florida, both became starters, with limited success. Both were ultimately sidelined by season-ending surgeries amid a 1-11 season.
On paper, de Laura is the most accomplished transfer QB to enroll at Arizona — and by a huge margin. He was recruited and offered scholarships by Ohio State and USC. He is a member-in-good standing at perhaps the most QB-endowed school in the West, Saint Louis School of Honolulu.
His predecessors at Saint Louis include Oregon Heisman Trophy winner Marcus Mariota; the Ducks' uber-successful 2008-09 starter, Jeremiah Masoli; Washington State 2002 Rose Bowl QB Jason Gesser; Alabama national championship MVP Tua Tagovailoa; and Hawaii's Timmy Chang, who set the NCAA record with 17,072 passing yards.
Arizona has never fielded a quarterback with the pedigree and pre-Arizona production — 3,688 passing yards and 12 Pac-12 starts at WSU — as de Laura.
Unlike Bobby Watters and his broken thumb in 1987, the acquisition of de Laura has created a thumbs-up mood in Tucson's football community.
Contact sports columnist Greg Hansen at 520-573-4362 or ghansen@tucson.com. On Twitter: @ghansen711