After Khalil Tate threw an especially lamentable pass late in the second quarter Saturday — over the middle, in traffic, intercepted — Arizona offensive coordinator Noel Mazzone asked Tate to take a walk with him.
The two men walked alone to the 25-yard line with Mazzone doing all the talking. As Tate listened, Colorado quickly scored to take a 13-7 lead.
I'm not a trained lip-reader, but with the aid of a powerful set of binoculars I scribbled down what Mazzone appeared to be telling his quarterback:
"Look, Khalil, forget it. Everybody's going to be open. Just be patient. Colorado has so many newbies out there on defense that you'll pick them apart in the second half. I'll call the plays. You hit the open receivers."
And just like that, Tate completed 23 of his last 27 passes. Mazzone's game-planning and Tate's accurate passing worked in tandem so well on Arizona's game-winning drive in the fourth quarter that Tate threw 11 straight passes and completed nine.
By then the Buffaloes were gassed. Their makeshift defense, with three new faces in the secondary, had to be wondering where the real Khalil Tate was. This wasn't the same guy they saw on film all week, the one who rushed for 327 yards on the same patch of grass two years ago.
But this time Tate passed for 404 yards and executed Mazzone's short-passing game so well that the video of it should be called "The Clinic."
Arizona won 35-30 and if you've been following UA football, you can appreciate what it means to win a Pac-12 game on the road.
"Up-tempo, slow tempo, whatever works," said Tate. "However we can manipulate the defense, you do it."
You'll need to spend a few hours in the UA football archives to find the last time Arizona won a game when its leading rusher (Nathan Tilford) gained 27 yards.
This was exactly the kind of Pac-12 game Arizona usually lost the last 4½ seasons. Something would always go wrong, especially on the road. But this time, Arizona committed just one penalty — remember, the UA led the Pac-12 in penalties in 2018 and through the first month of this season. And this time Sumlin and his staff were resourceful enough to find a winning strategy to reverse Colorado's stout running defense and home-field advantage.
There were 52,569 fans at Folsom Field, a sellout, and, as CU coach Mel Tucker said, "it was an electric atmosphere. There are a lot of folks who left disappointed, but there is no one more disappointed than us."
Sumlin and his staff were savvy enough not to go down with a game plan that wasn't working. Before kill-the-clock time in the final two minutes, Tate had rushed just three times, all early in the game; eight of Mazzone's first 13 calls were runs.
"Basically," said Sumlin, "they were loading the box in the first half and they've got some big dudes in there."
So the team that led the Pac-12 in rushing in 2017 and 2018, and was also No. 1 entering Saturday's game, went into a disguise.
"That's what football is," said Tate. "Shut down the run, you can pass."
It helped significantly that CU was without starting secondary players Aaron Maddox and Chris Miller, both out with injuries. Late in the first half, starting defensive back Mikial Onu was injured and didn't return. That meant the Mazzone-Tate plan was implemented against 165-pound true freshman cornerback K.J. Trujillo and two other relatively new faces: Sam Noyer, who had only participated in seven plays this season, and Derrion Rakestraw, also a relative newcomer.
In the middle level of Pac-12 football — a territory both Arizona and Colorado are trying to vacate for a better neighborhood — the difference in these games is often who's available and who isn't.
Look at it this way: The Buffaloes gained 496 yards and Arizona 487. The difference essentially came down to one play — Arizona stopping CU at the 3-yard line, forcing a field goal with 11:29 to play.
The kick gave CU a 30-28 lead, but it put the ball in Tate's hands and he put it in the hands of some receivers you might not have heard much about — Tayvian Cunningham, Brian Casteel and Michael Wiley, who combined to catch seven passes on the game-winning drive. All are first-year players who weren't around when Tate became something of a folk hero at Folsom Field two years earlier.
They set up the winning touchdown, a 5-yard run by Tilford, a power back who had only carried the ball 24 times in his 2½ UA seasons.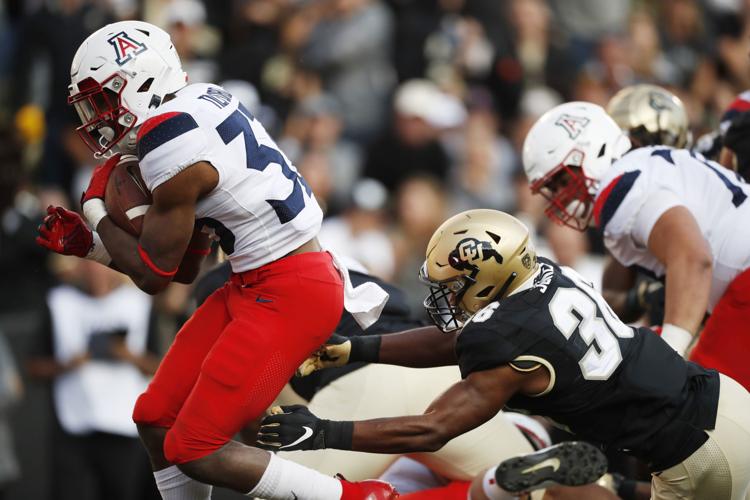 Even though Tilford spent most of the game on the sideline, he knew what was going on.
"They were just stopping (the run)," he said. "We had to figure something out and we did."
Before Saturday, Arizona was 1-6 in its last seven Pac-12 road games. Winning in Boulder not only boosts team morale but the club's belief system. The season's most daunting road trips await — games at USC, Oregon and Arizona State — but you've got to start somewhere.
Beating the Buffaloes in Boulder is the first tangible sign that Sumlin is changing the culture in the locker room, which often as important as recruiting a brigade of better football players.
About two hours before kickoff Saturday, UA defensive coordinator Marcel Yates stepped into the Folsom Field press box, getting a look at the place before returning to the field for final instructions. No UA coach or player has been under more scrutiny that Yates this season. A few feet to Yates' left was a sign on a large sliding window that reads:
"WARNING! Do not exit windows to access ledge."
But there would be no ledge-walk for Yates or the Wildcats on Saturday. When you win on the road in the Pac-12, you can almost float all the way home.