College football will not succumb to COVID-19. ESPN is scheduled to broadcast a tripleheader of games Saturday. By the end of the month, Sept. 26, there will be 33 FBS games in one day.
The message is clear: Bring it on. Enthusiasm reigns.
It wouldn't be much of a surprise if Arizona and the rest of college basketball begins Thanksgiving weekend, when the UA's Adia Barnes might be able to unveil what has the look of a Final Four women's basketball team.
With due respect to the coronavirus, it is clear American sports will not be forever (or long) subdued.
Of course, it is not an all-systems-go scenario. The Pac-12 is not moving forward with such optimism, and it has little to do with pushing the football season to January. In fact, it appears to be stuck — burdened by commissioner Larry Scott.
Scott's future with the league — or lack of one — sometimes commands more attention and interest than the Pac-12's return to sports. It has become the Pac-12's public relations problem of the times, a festering issue that attracts more comment than the fade of USC's football program or the NCAA investigation of basketball at Arizona.
Earlier this week, investigative reporter Jon Wilner of the San Jose Mercury News revealed that Pac-12 presidents and chancellors have had discussions about the "entire structure and composition" of the conference, notably Scott and contract issues.
In the internal documents obtained by Wilner, Oregon president Michael Schill, chair of the league's CEOs, says "our values go beyond maximizing revenues."
Once Scott replaced 25-year commissioner Tom Hansen in 2009, the league has been foremost about money, sometimes embarrassingly so, given Scott's $5.3 million salary and the league's annual rent of $6.9 million at a glitzy downtown San Francisco locale.
A week ago, Arizona athletic director Dave Heeke told me he, like Oregon's Schill, also values the collegiate model.
"There's nothing like the thrill of seeing a student-athlete be successful, watch them compete and ultimately graduate," said Heeke. "I'm inspired by that every day. I just believe wholeheartedly in the college model. Where is this going? I don't want it to be a bridge too far.
"I believe in higher education as it is tied to athletics."
Since Scott was hired from the women's pro tennis circuit in 2009, all but two of the presidents who approved his employment have left the league. Every athletic director who was in the league in 2009 has moved on.
In their place are more men and women like Heeke and Schill, those who have shown they do not believe the correct order of college sports is (1) money and (2) education.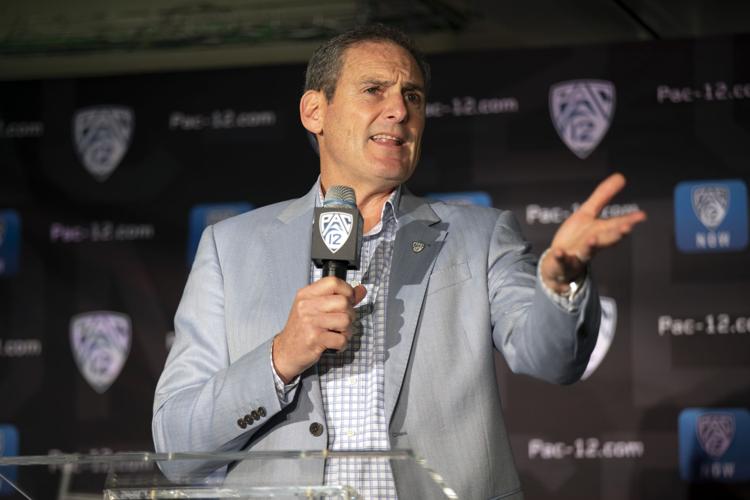 It's time to declare that Scott's shelf life is over; it's time to admit that those who pursued and ultimately approved the acquisition of Scott 11 years ago strayed too far from the collegiate model. It just didn't work effectively.
Scott has made prolific use of the word "footprint" when talking about the Pac-12, but he is an alien to the Pac-12 and never seemed to understand he rubs people wrong. Scott grew up in New York, played tennis at Harvard and has little in common with his peers, the other commissioners of Power 5 schools.
The Big Ten's Kevin Warren is from Tempe, of all places, a graduate of Grand Canyon University. His father was on the Fiesta Bowl committee. His brother played football at Stanford. Warren spent 21 years working for the NFL in a mighty Big Ten footprint — Minneapolis and Detroit.
The SEC's Greg Sankey spent 13 years as an SEC administrator before getting the league's top job. He was commissioner of the nearby Southland Conference. He had a lifetime of experience in college sports before he took charge of the SEC.
The Big 12's Bob Bowlsby was the AD at Stanford, Iowa and Northern Iowa. He wasn't a stranger to the common man — the guy sitting in the $15 tickets in the end zone — when he took over at the Big 12.
The ACC's John Swofford grew up in North Carolina, the hub of the ACC.
He played quarterback for the Tar Heels and, after working in the athletic department of ACC rival Virginia, became the AD at his alma mater. Swofford has been commissioner of the ACC for 23 years.
Scott broke the mold, so to speak, and not in a good way.
His predecessor, Hansen, who grew up near Seattle, became a journalist in Washington, worked at the NCAA and then was a willing (and effective) low-profile commissioner for 26 years (1983-2009). He knew the league. He understood the constituency. He didn't try to force the league to adjust to his personality.
A few months before he retired, Hansen told me "the commissioner's job isn't to run the conference, it's the institution's jobs to run the conference."
Yes, times were greatly different under Hansen. He chose not to be part of the headlines. He laughed one day, telling me that his biggest criticisms came when he showed up at McKale Center.
"Everybody would get on me about the referees," he said.
When Scott shows up at McKale, or at the Pac-12 tournament, he is roundly booed. That stems from the 2013 Pac-12 tournament when he fined Sean Miller an unprecedented $25,000 for being critical of an official's call.
It was the first time I had ever heard of the Pac-12, Pac-10 or Pac-8 fining a coach for anything.
Previously, coaches were given a public reprimand and told there would be consequences if they erred a second time. It was the college way.
But Scott made it about money, a misstep that will forever be his legacy.
Contact sports columnist Greg Hansen at 520-573-4362 or ghansen@tucson.com.
On Twitter: @ghansen711.