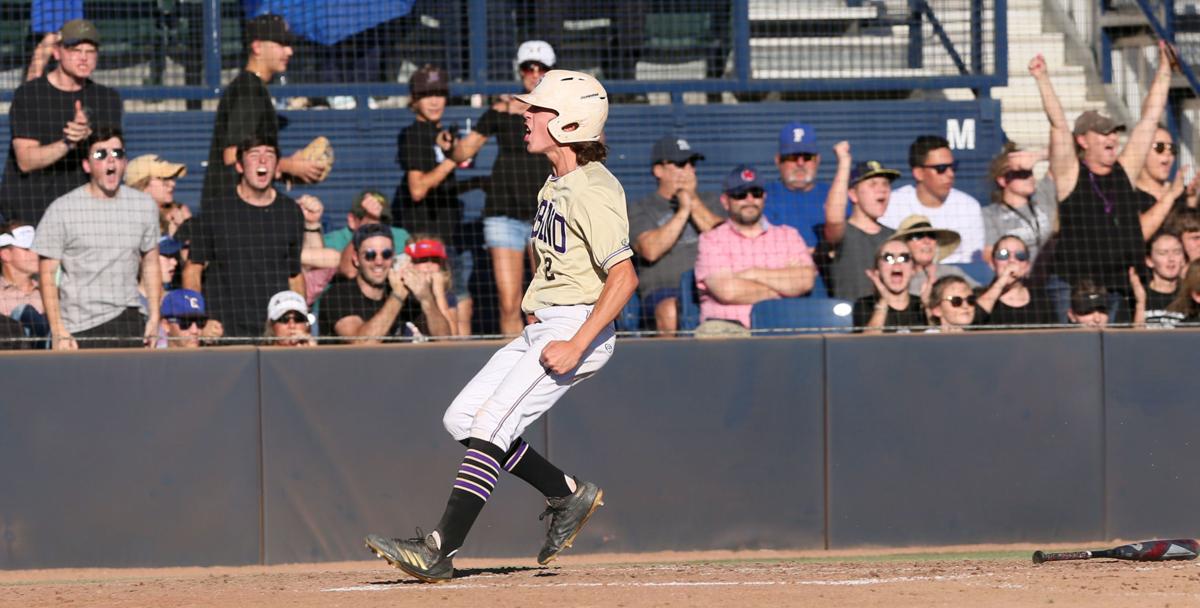 You could write such an impressive résumé of Mark Chandler's career that he could star in one of those "Zip Recruiter" TV commercials where hiring the right person always seems so obvious.
Baseball standout at Casa Grande High School and Central Arizona College.
A distinguished member of the United States Marine Corps.
Degrees from the UA and Grand Canyon University.
Part of the coaching staffs of two Hall of Fame baseball coaches, CAC's Clint Myers and San Manuel's Donnie Payne.
A long-time social studies teacher at Sahuaro High School.
Tutor of major-leaguers Pat McCoy and Alex Verdugo, and coach of all-conference college players Mike Brownstein and Cesar Salazar.
And then there's this: When Mark Chandler went to work Monday afternoon, he had coached 293 victories over 15 high school seasons.
He just smiled when asked if he would've traded all of the above for No. 294.
"It's so darn hard to get to this point," Chandler said at sundown, lighting up the night at Hi Corbett Field with a happy smile. "I don't know what would be more fun than this."
This time Chandler and his Sabino Sabercats won the Last One — the Big One — beating Sahuarita 6-4 in the 3A state championship game.
His team went 29-3. They won despite falling behind 3-0 Monday. And the Sabercats won even though steadfast junior Preston Clifford — undefeated at 7-0 — had pitched just three innings over the last 24 days and wasn't sure if his once-aching arm could get through an inning.
"There's always drama," said Clifford's long-time pitching coach Tim Gillooly. "It lingers.
"I've never forgotten what it was like in 2007 when we were one out away from winning the state championship — and then a bad-hop grounder got through the infield and we lost in 10 innings. Those things tend to stay with you."
There is not always justice in high school sports, but to his credit, Chandler didn't allow himself to get caught up in it.
Those 2013 and 2014 state semifinal losses with a combined 51-13 record at Sahuaro?
But the problem is that those "next years" often run out before you get 'em.
Tucson High's retiring Oscar Romero, one of the leading high school baseball coaches in Arizona history, lost in state championship games in 2002, 2015 and 2016. Catalina Foothills' Jason Hisey was achingly close to the state title, but lost in the finals in 2002, 2004 and 2005. Sunnyside's Ernie Palomarez, who coached the Blue Devils to more than 500 victories over three decades, lost in the state finals in 1991 and 1994, and came within an eyelash of several more state championships.
On Monday, after Sahuarita scored three runs on a bases-loaded triple in the second-inning, Chandler and his long time coaching staff — Gillooly, Rick Bundy and Tim King — almost seemed cursed.
But at that moment, Clifford told Gillooly that his arm felt great.
"I'll get this," he said.
And so he did. Over the final five innings, Clifford was terrific.
He struck out eight and didn't allow a hit.
That's the script for a state championship.
Twenty minutes after the game, Clifford's teammates gathered in the visitor's locker room at Hi Corbett Field to soak in the moment and admire the AIA's championship trophy. But Clifford was missing. He was in the dugout getting a bag of ice wrapped onto his pitching shoulder. (And did anyone mention he also went 3-for-3 as a leadoff batter?)
Finally, when Clifford walked into the dressing room, the scene was one of absolute joy.
"We're state champions!" they yelled. "We're No. 1"
The trek began in earnest in June of 2016 when Sabino athletic director Jay Campos was told that baseball coach Kelly Johnson was resigning to take a similar position at Cienega.
"I called Mark that night," Campos remembers. "I wanted to gauge his interest and he told me he wasn't sure what he would do. I kept pestering him. I was very happy when, later, he said yes."
Sabino's only other state championship came in 1997, when pitcher Chad Cislak went 14-0 with a 1.33 ERA and hit .495, one of the singular performances in the history of Tucson high school baseball.
After that, the Sabercats, much like Chandler's days at Sahuaro, came oh-so-close to winning the Big One. Coach Rod Allen's teams went 28-8 and 25-6, but there was always a Cislak, or a Preston Clifford, in the way.
On Monday night, the road was finally clear. Sabino won the state championship with just three seniors in the lineup; Chandler's 15-year pursuit was fulfilled.
"I didn't tell the kids we had to win the state championship to be successful," he said. "But I could sense they knew we had some unfinished business."
Contact sports columnist Greg Hansen at 520-573-4362 or ghansen@tucson.com. On Twitter: @ghansen711