Most of those at a recent Arizona football practice did not know the unfamiliar gentleman who stood on the sideline.
As coach Kevin Sumlin neared, the 96-year-old man stepped forward and introduced himself.
"I'm Mike Lude," he said. "Nice to meet you, Kevin."
"Oh, I know who you are," Sumlin said.
In 1969, Lude, then the head coach at Colorado State, hired Leon Burtnett to be on his staff. It was Burtnett's first college job.
Fifteen years later, Burtnett became young Kevin Sumlin's head coach at Purdue. Much later, when Sumlin became the head coach at Houston, he hired Burtnett to be his linebackers coach.
College football is often a small world, with shared DNA. It all connects.
But it isn't Mike Lude's DNA that matters to Arizona football as much as what he did in December 1976. He became the man whose vote put Arizona and ASU into the Pac-10.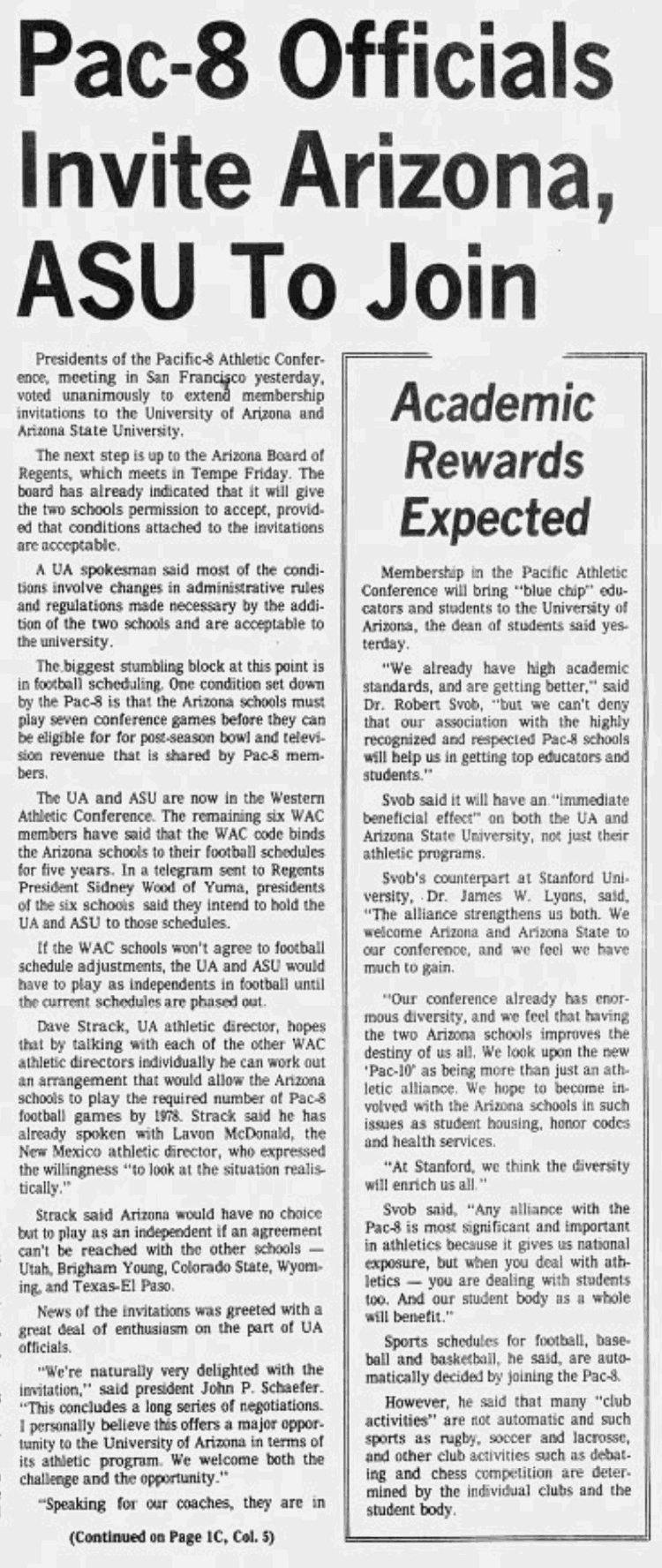 As Arizona celebrates its 40th anniversary as a Pac-10/12 school, Lude, the formidable Washington athletic director from 1976-91 — the Huskies were the Pac-10's top football school of that period — retains almost instant recall of the days in which Arizona and ASU were invited to join the old Pac-8.
It didn't look promising.
"We weren't enthused about adding Arizona and ASU," Lude said Tuesday. "My coach, Don James, was not for it at all. My president, Dr. John Hogness, didn't see any reason for expanding. Our faculty rep, Harry Cross, voted no."
Arizona and ASU needed unanimous support, 8 to 0, to gain approval. Once Stanford reconsidered, the vote was 7-1. Washington planned to scuttle the process.
On a December 1976 weekend at the elegant St. Francis Hotel in downtown San Francisco, the league's presidents and athletic directors met to take a final vote.
Arizona president John Schaefer was the force behind the expansion idea. He gained support of UCLA chancellor Charles Young and USC's Jack Hubbard. Schaefer longed for academic fellowship with the California schools.
But it was a longshot. Arizona State was not enthused about leaving the Western Athletic Conference for the simplest of reasons: The Sun Devils owned the league, top to bottom, a national power in football, baseball, track and, often, basketball. The new Sun Devil Stadium and its drawing power — the popularity of Frank Kush's football machine — was matched only by USC and Washington on the West Coast.
Kush famously said "we'd be getting out of a bass pond and into the ocean to fight sharks."

Ultimately, Schaefer and UCLA's administration persuaded the Sun Devils to rethink the future. But opposition remained.
Why would grand institutions such as Stanford, Cal, UCLA and USC want to go into partnership with Arizona and ASU?
"It was about the money, as you would guess," says Lude, who retired and moved to Tucson 20 years ago. "Oregon State, Oregon and Washington State had difficulty drawing even 25,000 to football games. They did not attract crowds when they played on the road."
Until modern media rights and TV money supplied Pac-12 schools with unthinkable resources, the Pac-8 depended on gate receipts to pay bills. USC and UCLA insisted that the Beavers, Ducks and Cougars play only in Los Angeles, or barring that, whenever the Trojans and Bruins visited the Northwest, the games would be moved to Spokane and Portland.
"Nobody wanted to play in Corvallis or Pullman," says Lude. "The crowds were very small."
In the 1980s and for part of the '90s, the Pac-10's formula to split gate receipts was elementary. Depending on the crowd, visitors would get between $125,000 to $200,000. That was coveted money then. But games at OSU, WSU and Oregon almost always paid the minimum of $125,000.
In turn, when they played in Los Angeles, they would almost always get the maximum, $200,000. The splits were much smaller in the 1970s when the UA-ASU expansion idea surfaced.

USC made a power move in 1976, threatening to withdraw from the Pac-8 and become an independent if Arizona and ASU, and their larger stadiums, were not added. It was a bluff, but only Lude and Washington dared to call it.
"On the day we took a final vote, I was in a room with the athletic directors and I voted no," Lude remembers. "A bit later, I got a tap on the shoulder. It was Dr. Hogness. He asked me to follow him to another room."
Once Lude and Hogness were alone, it was clear the UW president had switched votes.
"He told me, 'Mike, I think you've held out long enough,'" Lude says. "He said, 'I'm not telling you how to vote, but I won't be disappointed if you reconsider.'"
Lude laughed at the memory.
"I said 'Yes, sir.' We voted again and it was unanimous."
As the Huskies built a football power, playing in five Rose Bowls and winning the 1991 national co-championship, Lude had expansion ideas that predated current Pac-12 commissioner Larry Scott by a quarter-century.
"We wanted Texas and Texas A&M," Lude says. "We had A&M ready to go, and (Texas AD) DeLoss Dodds never told me no. We had enough to pursue and get both of them, I strongly believe that.
"But politics intervened. We ultimately realized we couldn't get Texas and Texas A&M without taking Texas Tech, too. But it was a fun romance while it lasted."
You would never guess Lude is 96. He remains robust and energetic; he could pass for 75. He was among the most influential ADs in league history, one who is cited for triggering the so-called "arms race" for facilities improvement in what had been a slow-to-progress conference.
More important, it was his vote for expansion in 1978 that forever changed college sports in Tucson.
Contact sports columnist Greg Hansen at 520-573-4362 or ghansen@tucson.com. On Twitter: @ghansen711