Arizona guard Helena Pueyo scored on a Euro-step move to the basket late in the third quarter of Friday's Final Four and a suddenly uptight UConn coach Geno Auriemma stomped his foot and reacted as if the CHECK ENGINE light on his car's dashboard had begun to blink.
What the heck is wrong? UConn trailed 48-34. Does UConn ever trail 48-34?
This was supposed to be a walk-thru for Sunday's championship game against Stanford. But It had become a pickle, and we're not talking sweet pickles.
Arizona never trailed. Do you believe that? Never. It beat 11-time NCAA champion UConn 69-59 and what will be remembered as perhaps the most exhilarating, unexpected and monumental victory by a UA women's athletic team ever.
You could almost see it coming. Really.
On Thursday, the NCAA did not include Arizona in a video hyping the Final Four. It was room-service motivation of the highest order.
"They think it's the Final 3,'' All-American point guard Aari McDonald said. "We're going to show you all. We shocked the world.''
A few minutes before tipoff, McDonald's extended family and friends from California walked down aisle A-120 next to the makeshift press row at the Alamodome wearing every conceivable piece of red Arizona women's basketball gear Friday night.
It got wild. Correction: It was really wild. The energized group from the Fresno area made more noise and commotion than the rest of the estimated 1,500 people at the Alamodome.
As Arizona extended its lead Final Four lead over UConn to 25-14 in the first half, her brother anticipated a 3-pointer from his sister. As she set to launch the shot, he rose from his seat.
It was three-part harmony all night at the Alamodome. When McDonald swished another 3-pointer to make it 32-20 it was:
McDonald had 15 points at halftime and the Wildcats were 20 minutes from the national championship game. It was like a dream. McDonald's entourage stood for 40 minutes. It was a basketball version of insane, in a good way.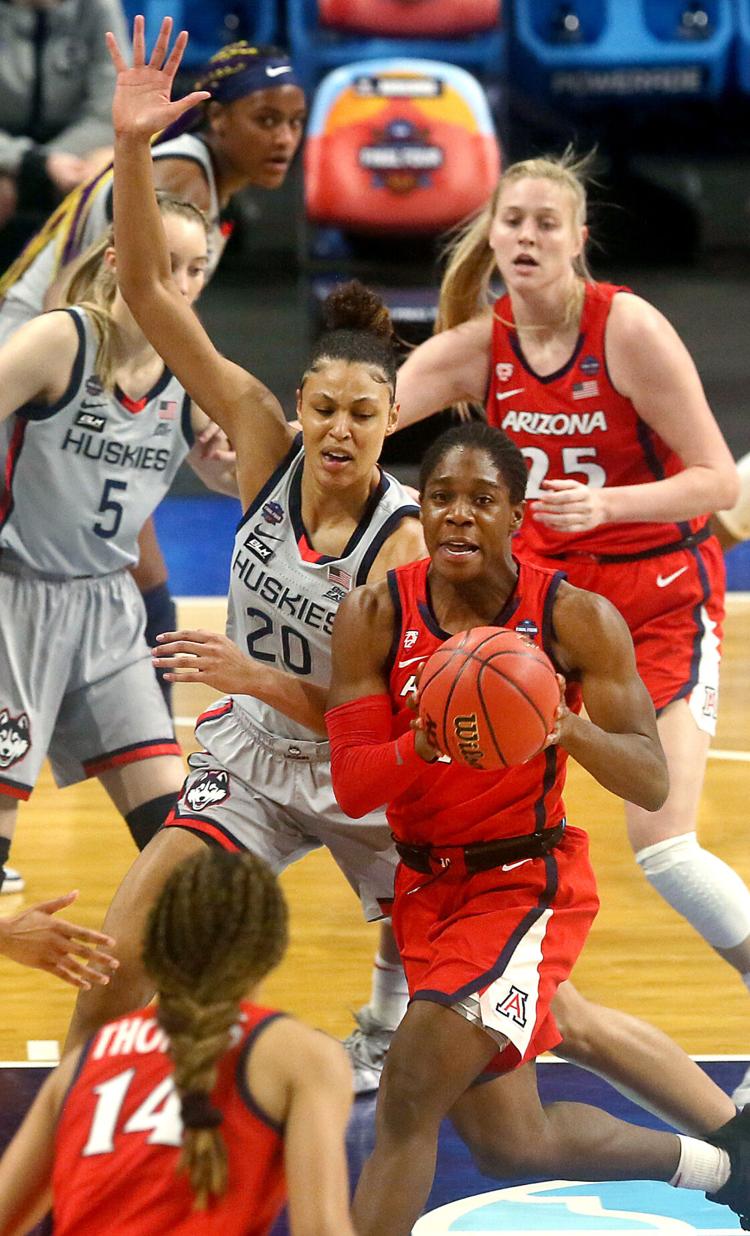 Nobody can beat UConn, can they?
Before UA coach Adia Barnes, her husband Salvo Coppa and their staff broke down film and put together a game plan for UConn, the Wildcats discovered that, indeed, the Huskies were human beings, capable of botching defensive assignments and being affected by pressure defense.
The first thing Arizona figured out before Friday's Final Four was that UConn was fallible. It wasn't learned from endless film study, or from Coppa's accomplished X's and O's background, it was a simple examination of the Huskies' schedule. It was awful
Women's basketball in the Big East is the same sort of thing Gonzaga's men's team run into in the West Coast Conference. The Big East is stocked with Pepperdines and Portlands.
Maybe this wouldn't be such a humongous, unthinkable upset after all. Ladies and gentlemen, start your imaginations.
"I wouldn't want to play UConn in a seven-game series,'' said Barnes. "All the chips have to fall your way, all the stars have to align. I'm just glad it happened to us.''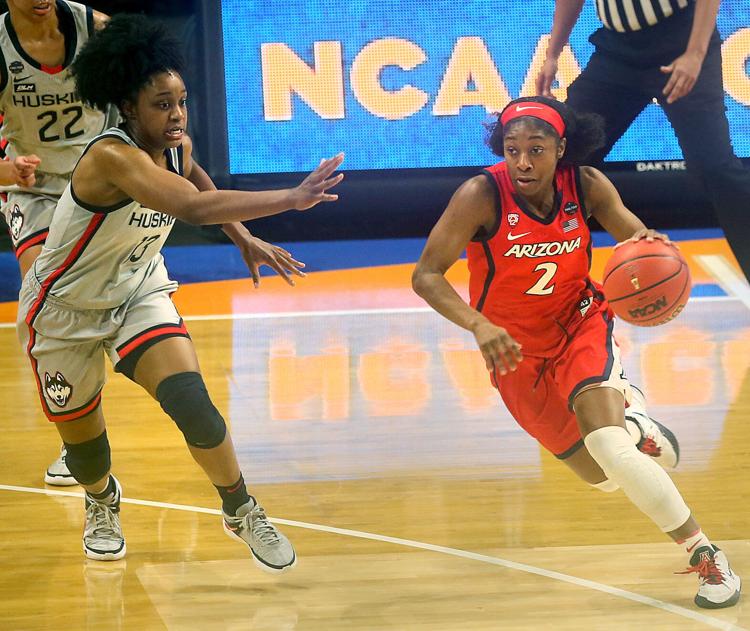 A typical UConn Big East road trip was a 77-32 win at St. John's followed by a 83-32 blowout at Xavier. Those are not typos. In 24 of its 25 games leading to the NCAA Tournament,, UConn won by double-digits. Its only close games were against fellow Final Four participant South Carolina; a 63-59 win at home, and a 90-87 loss at Arkansas, which won 19 games and got to the NCAA Tournament.
That's it. UConn was 24-1 entering the Big Dance. Arizona might've been 24-1 against that schedule, too.
And although the Huskies had certifiably the offensive player of the year in women's college basketball, freshman shooting guard Paige Bueckers -- a Steph Curry-type shooter -- Arizona could match her with the nation's top defensive player, No. 2, McDonald.
After Arizona lost its second game at Stanford, a not-as-close-as-the-score 62-48 loss on Feb. 22 and followed with a lackadaisical 66-64 loss at a below-average ASU team, they knew their defense wasn't sustainable. So they made a late-season change, with more trapping, more double-teaming, more pressure, more Aari, more energy, more everything.
The Wildcats started playing like a No. 1 seed.
They thwacked No. 1 seed Texas A&M in the Sweet 16, and in the first half Friday night UConn was similarly thwacked. The UA's outside trapping and defensive pressure was so intense and effective that Auriemma had to change his offense. His inside players had to leave the paint to help unstick their normally unstickable offense.
That left the Huskies vulnerable under the bucket.
The much smaller and less athletic --and less hyped -- Wildcat inside players were only outrebounded 19-18 at half. The top shooting team in women's college basketball shot 32 percent. The Huskies' yearly average was 52 percent. Not only that, Bueckers made just one bucket in the first half.
If it had been tennis, it would've been "advantage, McDonald.''
In the fourth quarter, Arizona turned it into a foul-shooting contest in the final three minutes. Check mate. At that moment, Auriemma was so concerned he began to pace.
Does he ever pace? Only against bluebloods like Stanford, Baylor and South Carolina. He paced Friday, over and over and over. It was like your house's security alarm going off just as you were planning to drift off to sleep.
But this time it was Arizona that put the Huskies to sleep.
Photos: No. 3 Arizona Wildcats beat No. 1 UConn Huskies in NCAA Tournament Final Four
NCAA Tournament Final Four: No. 3 seed Arizona vs. No. 1 seed UConn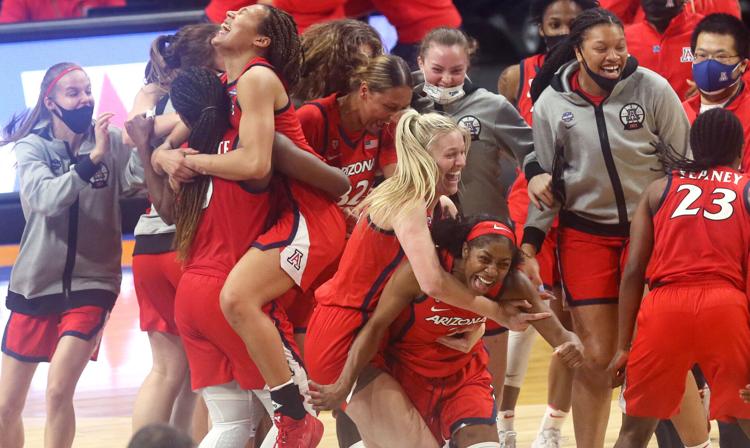 NCAA Tournament Final Four: No. 3 seed Arizona vs. No. 1 seed UConn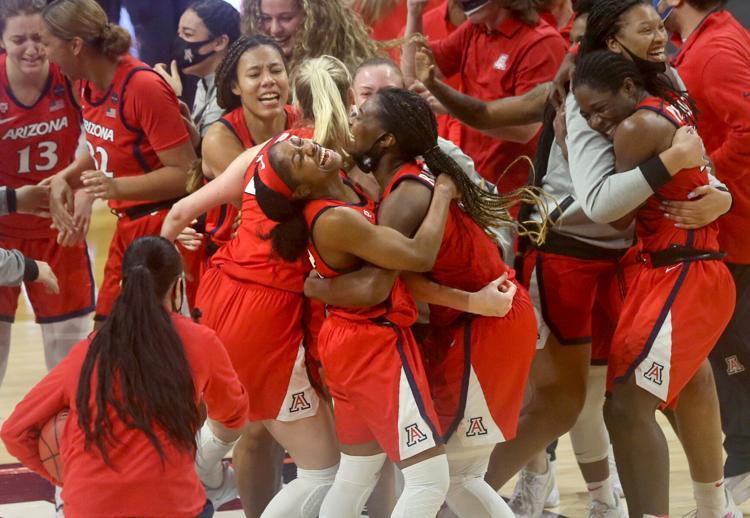 NCAA Tournament Final Four: No. 3 seed Arizona vs. No. 1 seed UConn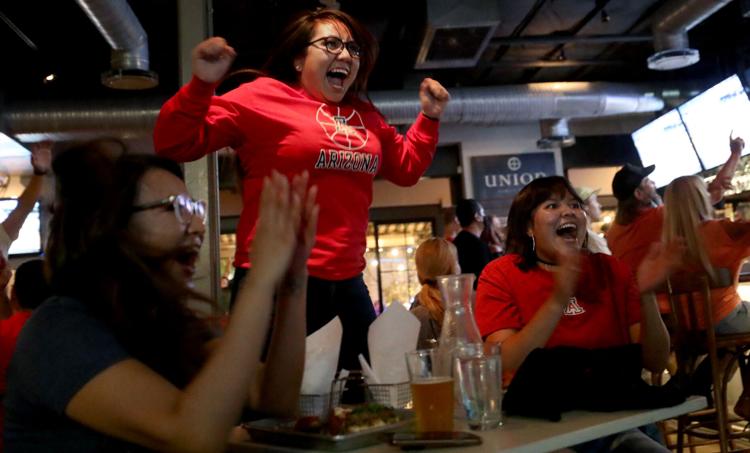 NCAA Tournament Final Four: No. 3 seed Arizona vs. No. 1 seed UConn
NCAA Tournament Final Four: No. 3 seed Arizona vs. No. 1 seed UConn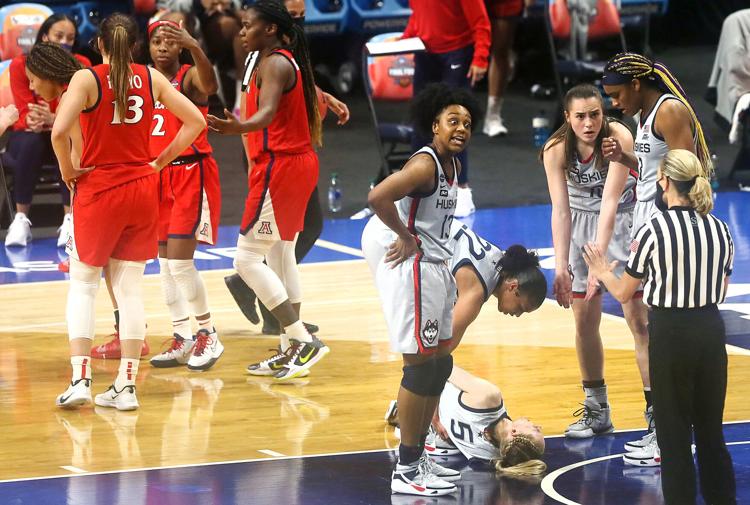 NCAA Tournament Final Four: No. 3 seed Arizona vs. No. 1 seed UConn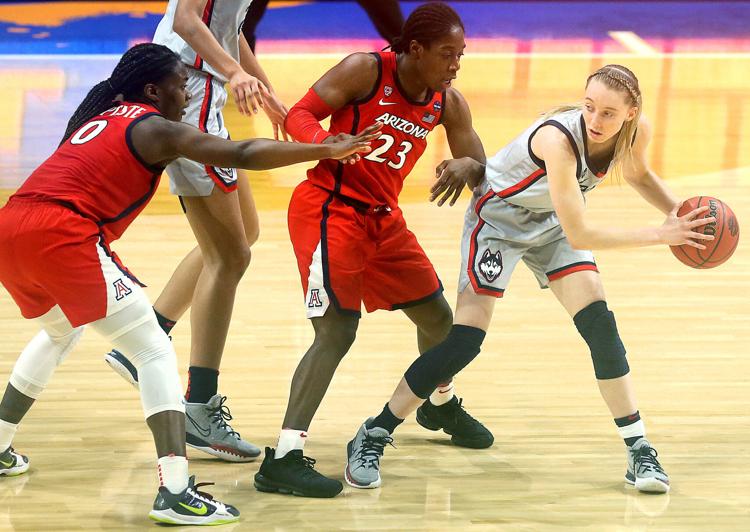 Arizona vs UConn, NCAA Tournament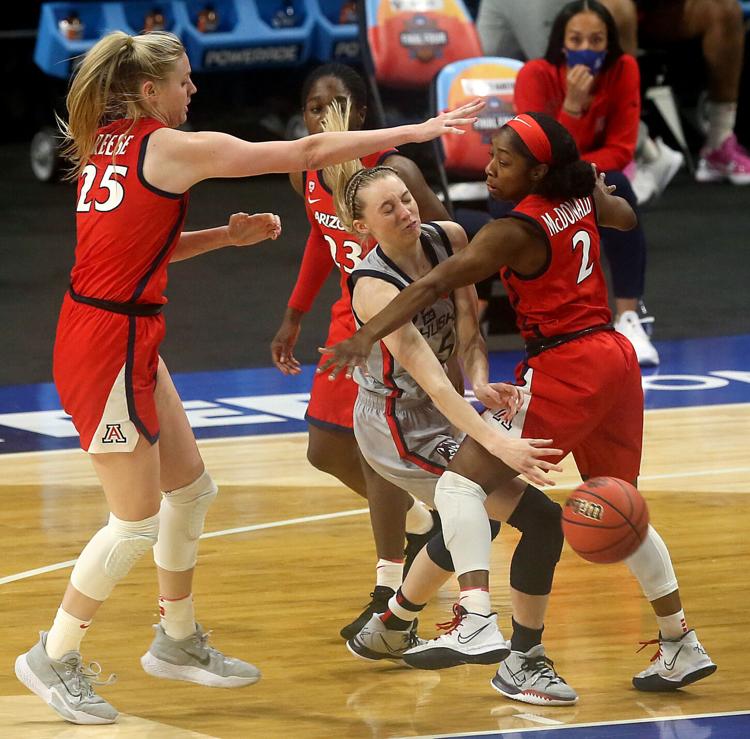 Arizona vs UConn, NCAA Tournament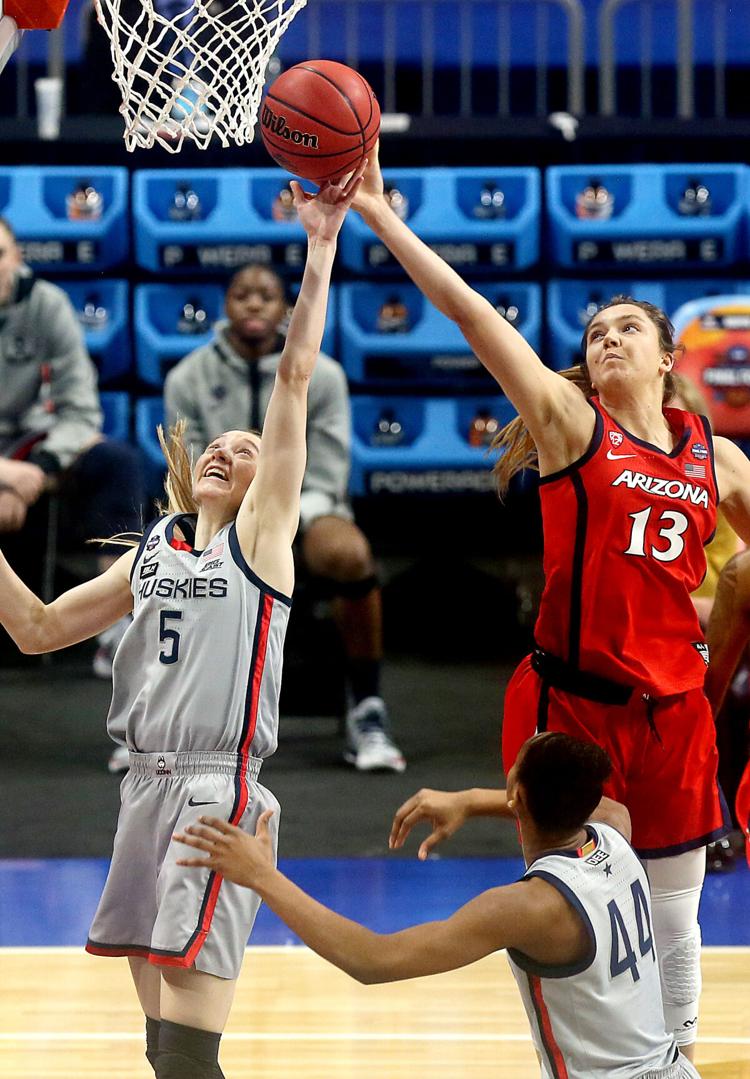 Arizona vs UConn, NCAA Tournament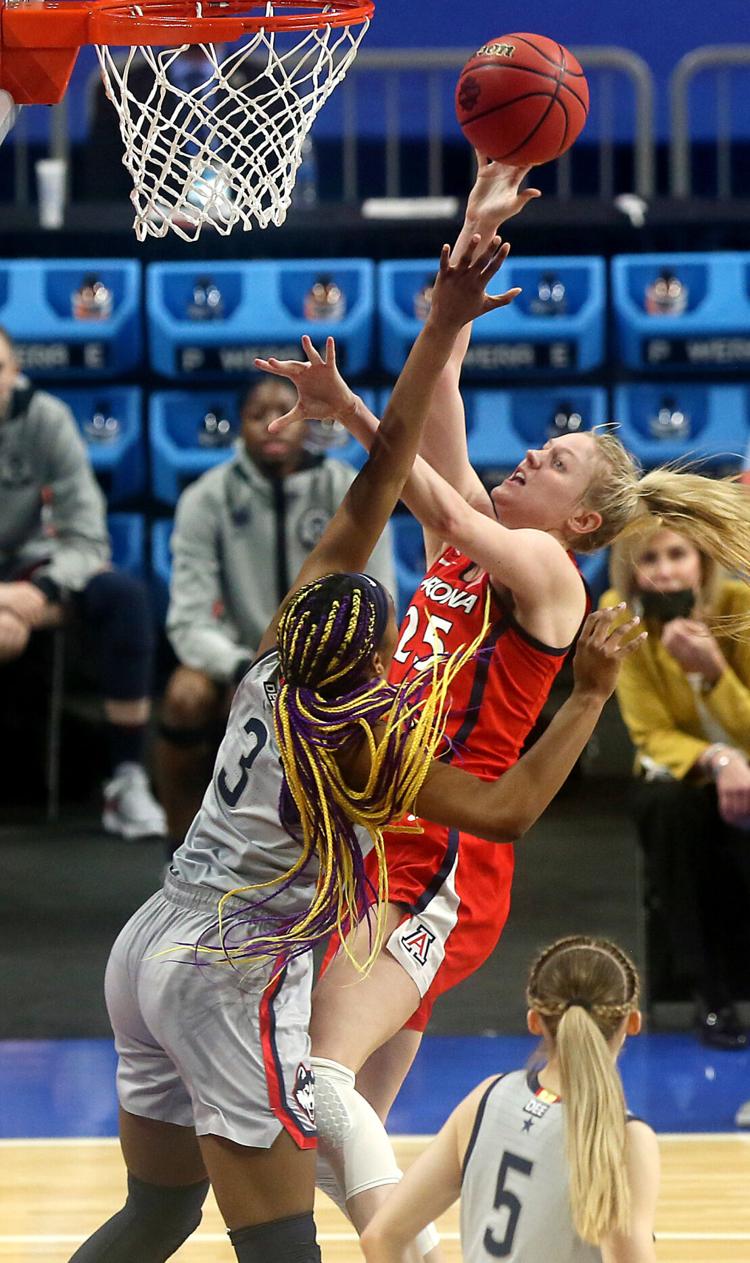 Arizona vs UConn, NCAA Tournament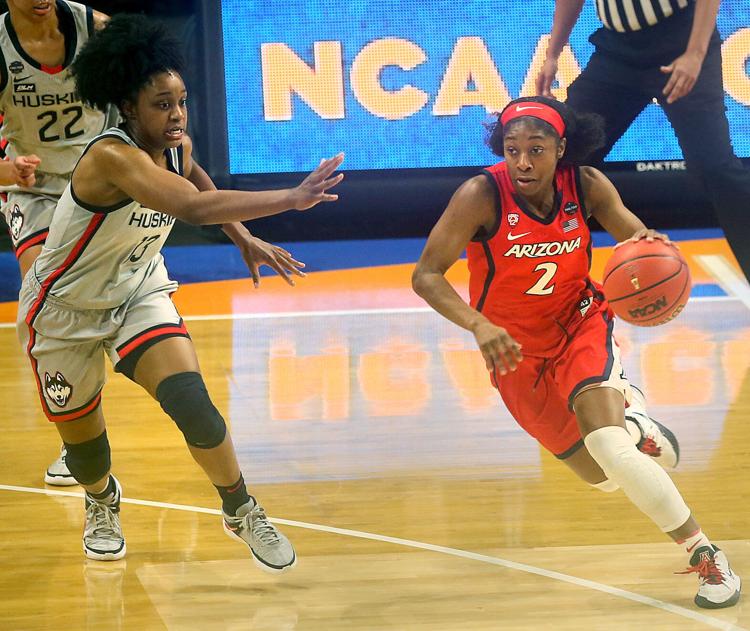 NCAA Tournament Final Four: No. 3 seed Arizona vs. No. 1 seed UConn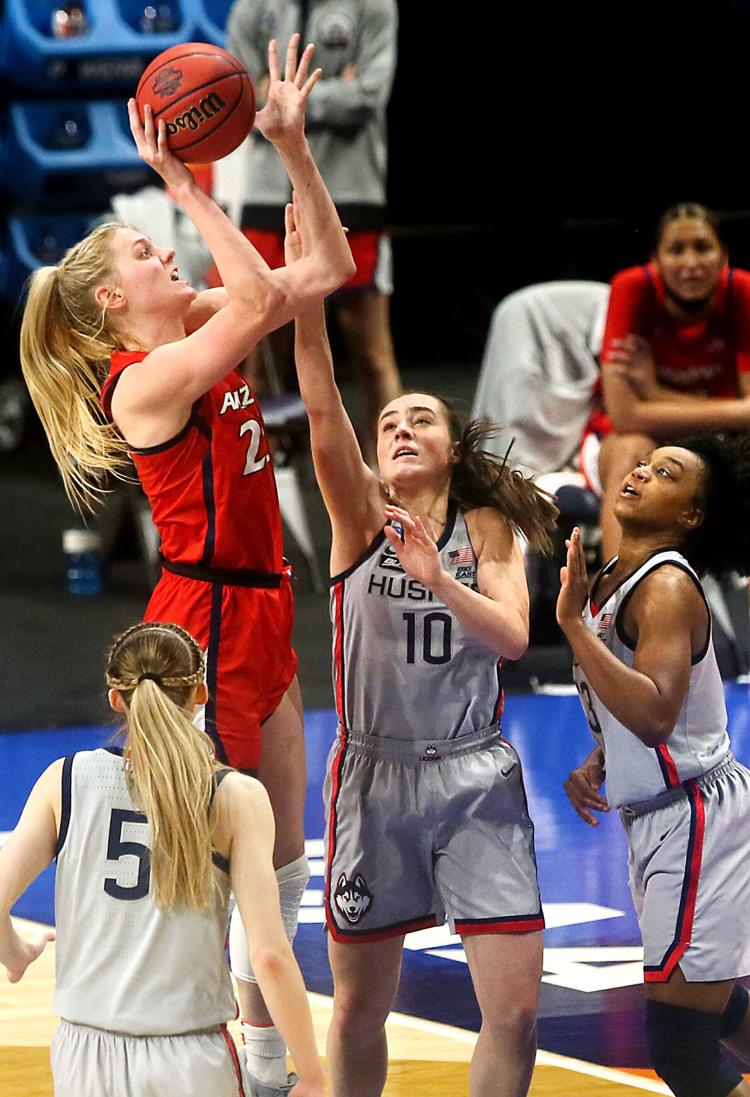 Arizona vs UConn, NCAA Tournament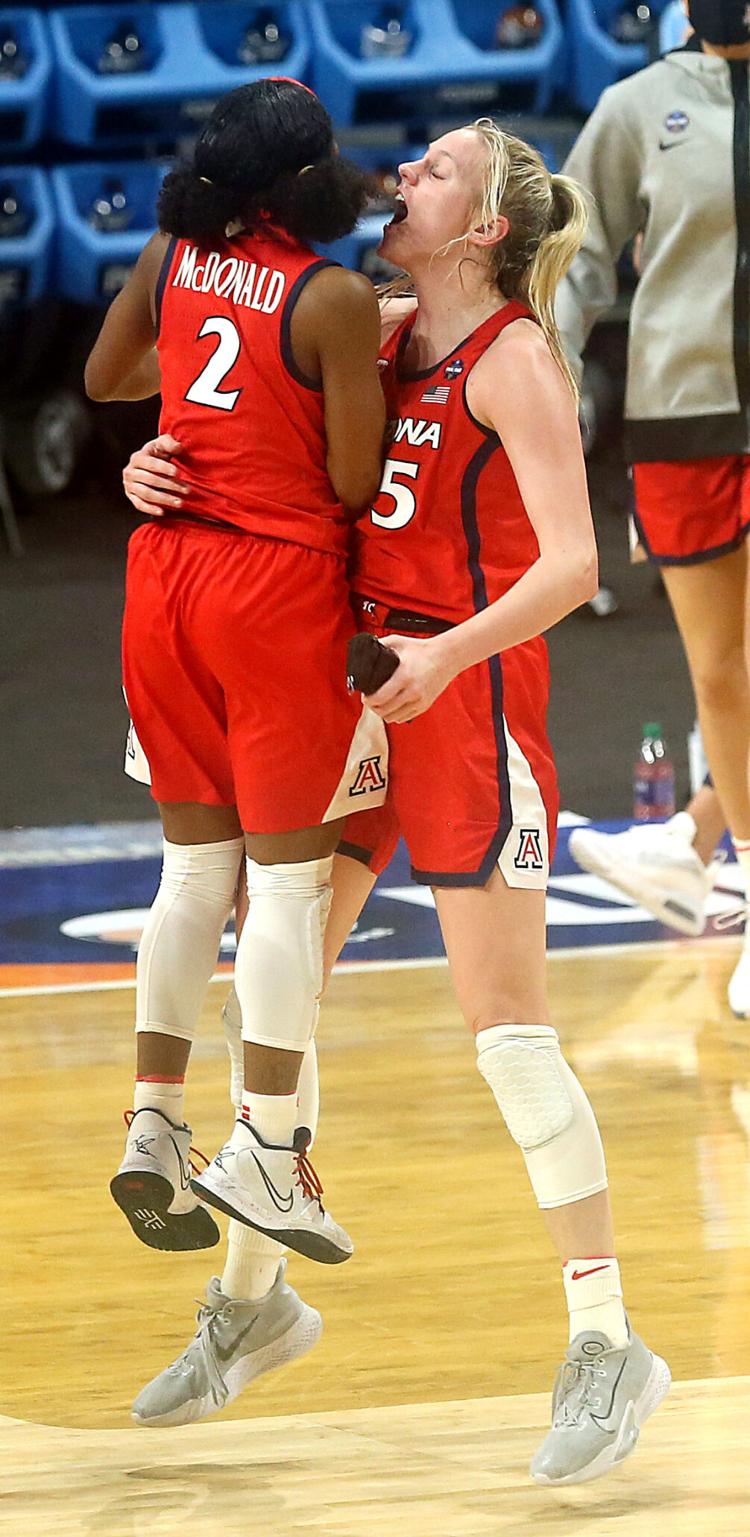 Arizona vs UConn, NCAA Tournament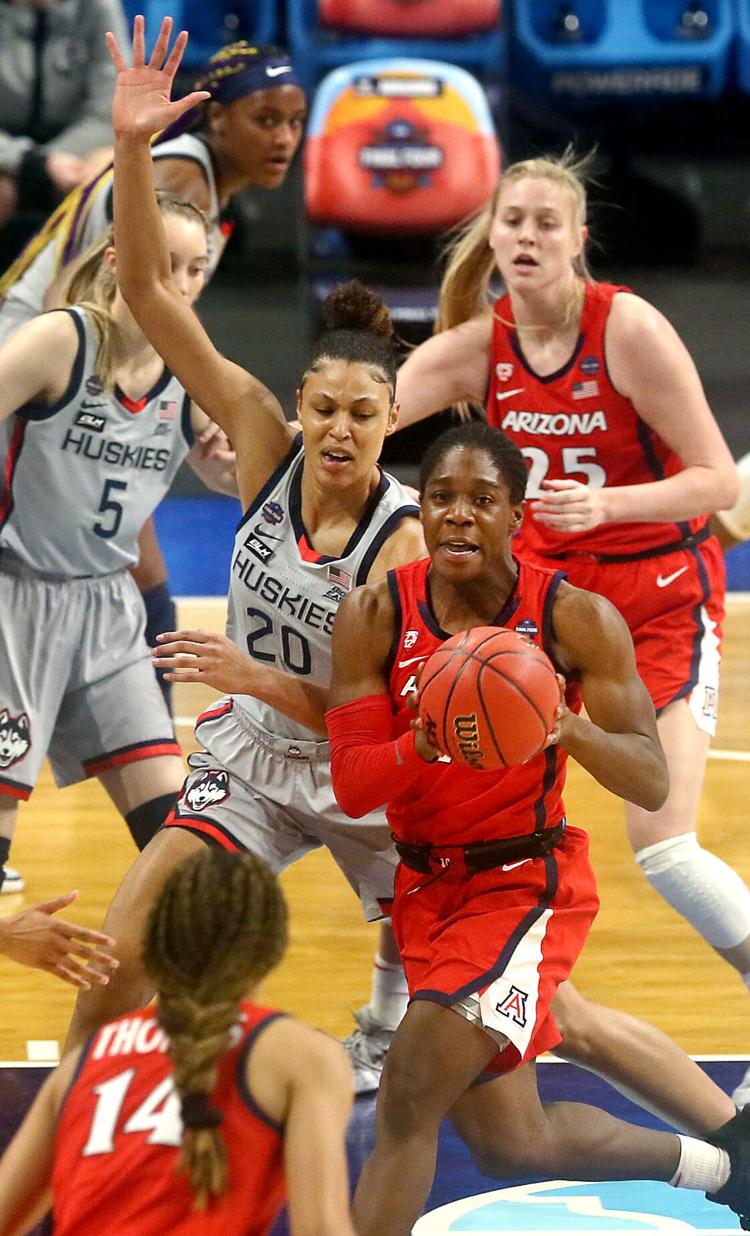 NCAA Tournament Final Four: No. 3 seed Arizona vs. No. 1 seed UConn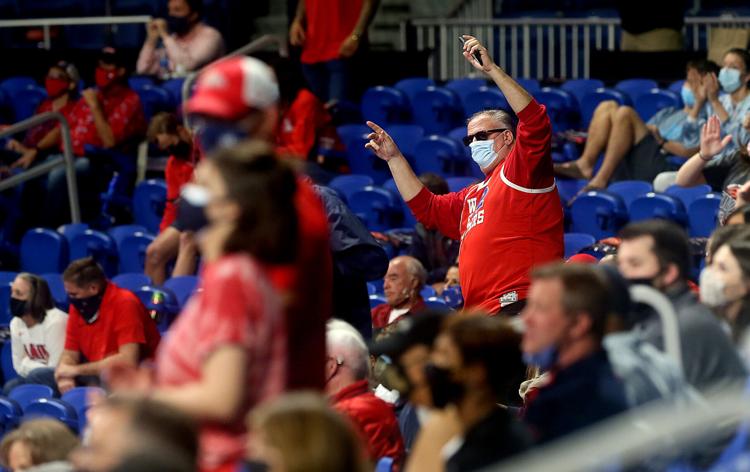 Arizona vs. UConn, NCAA Tournament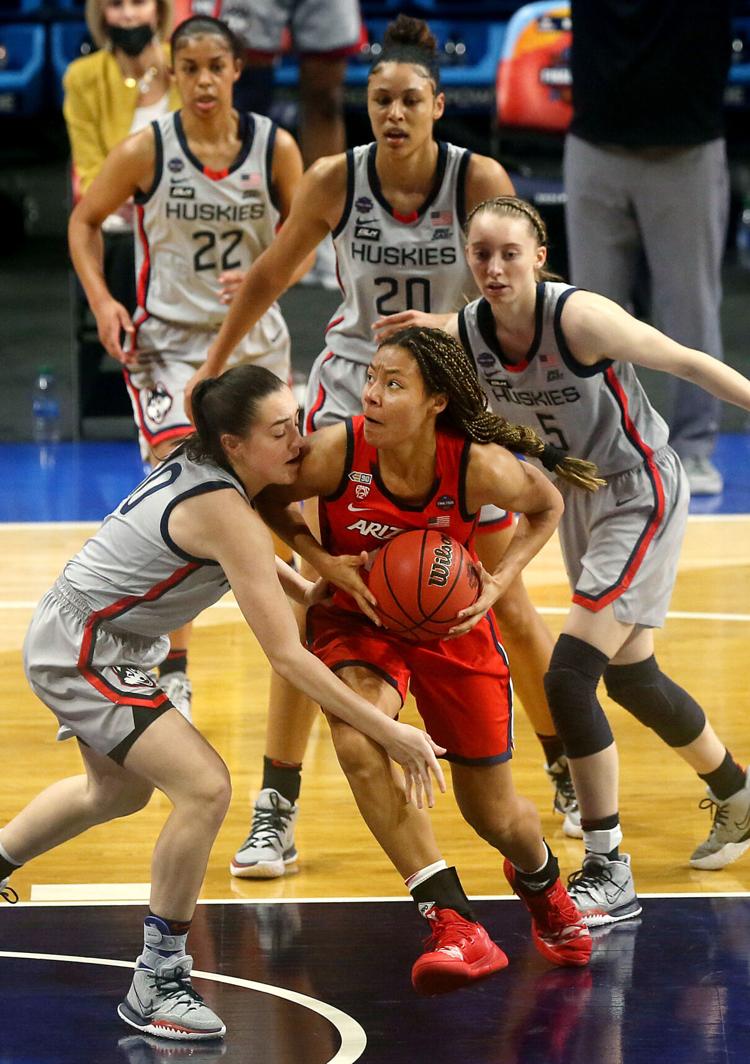 NCAA Tournament Final Four: No. 3 seed Arizona vs. No. 1 seed UConn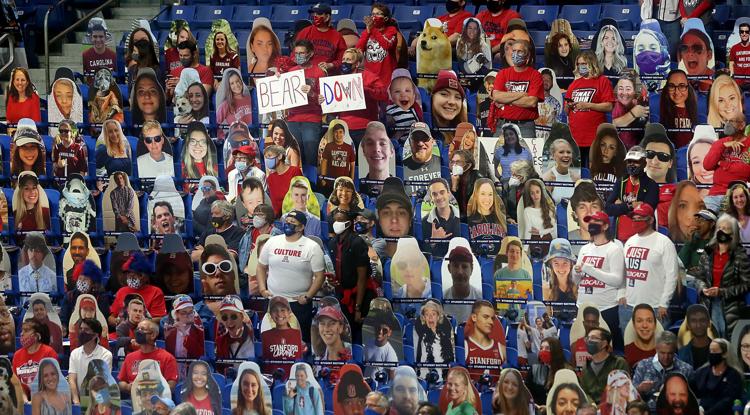 Arizona vs UConn, NCAA Tournament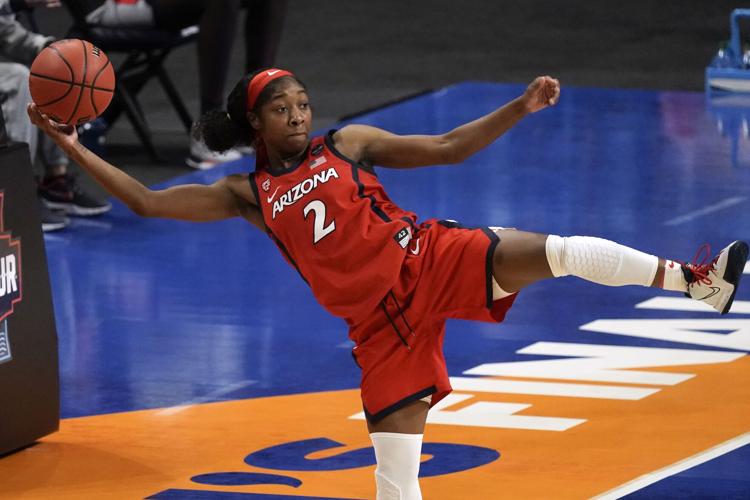 Arizona vs UConn, NCAA Tournament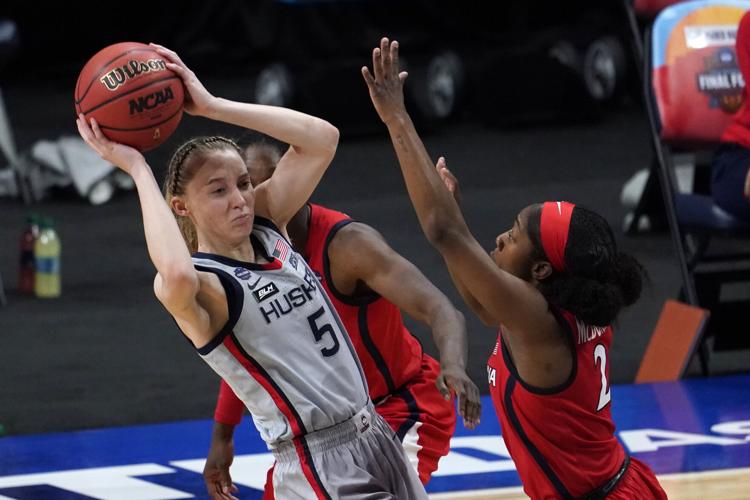 Arizona vs UConn, NCAA Tournament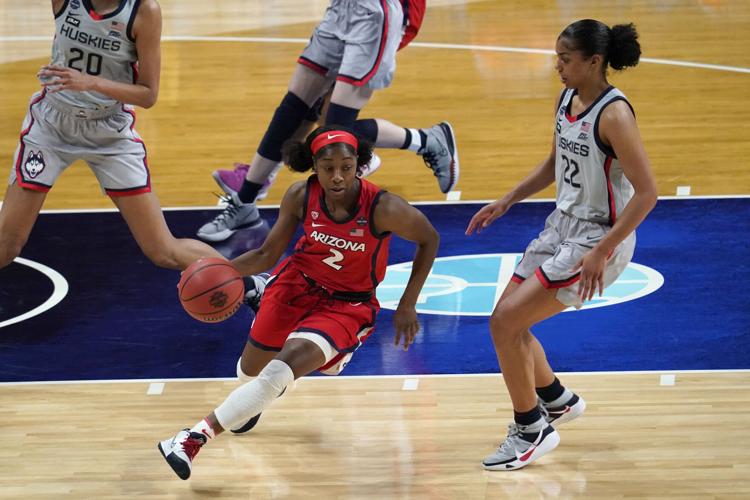 Arizona vs UConn, NCAA Tournament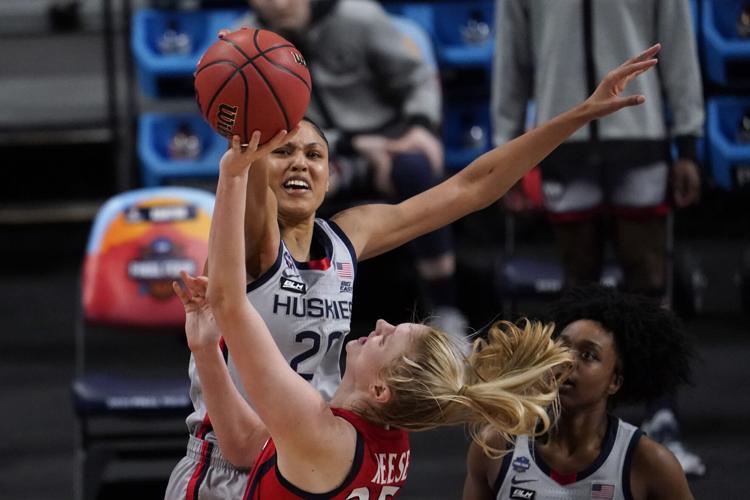 Arizona vs UConn, NCAA Tournament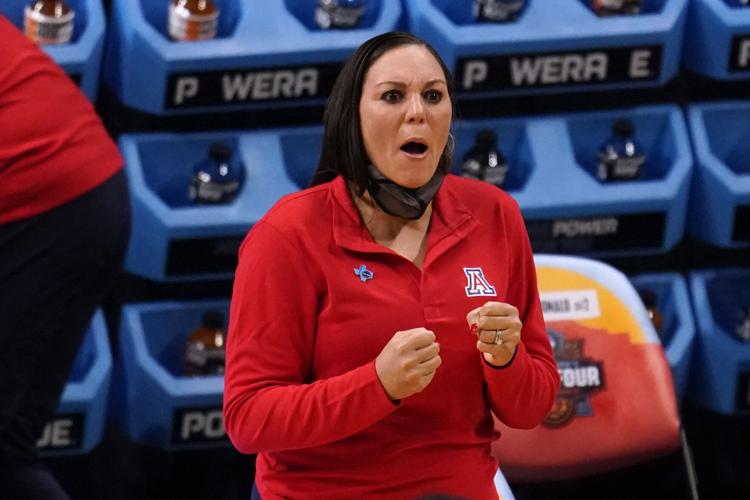 Arizona vs UConn, NCAA Tournament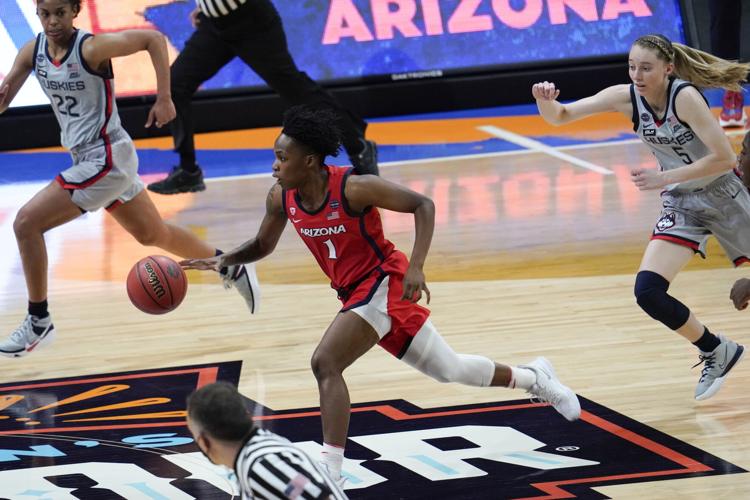 Arizona vs UConn, NCAA Tournament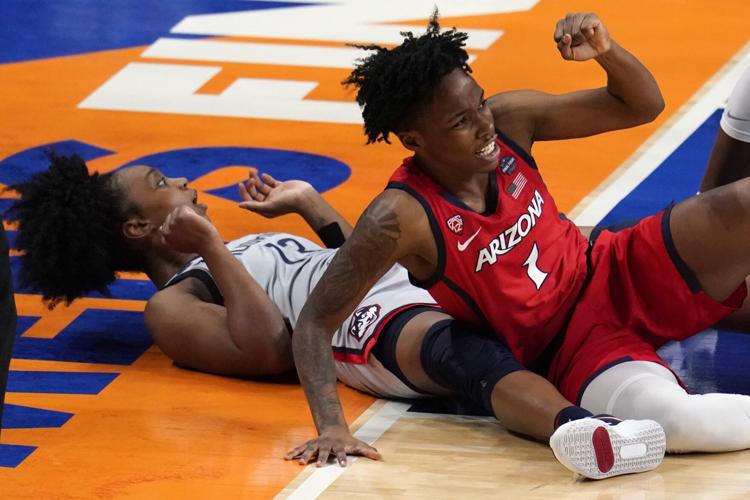 Arizona vs UConn, NCAA Tournament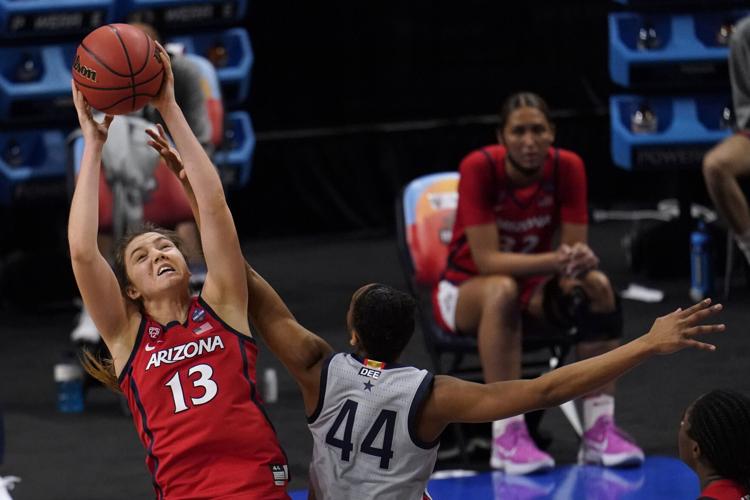 Arizona vs UConn, NCAA Tournament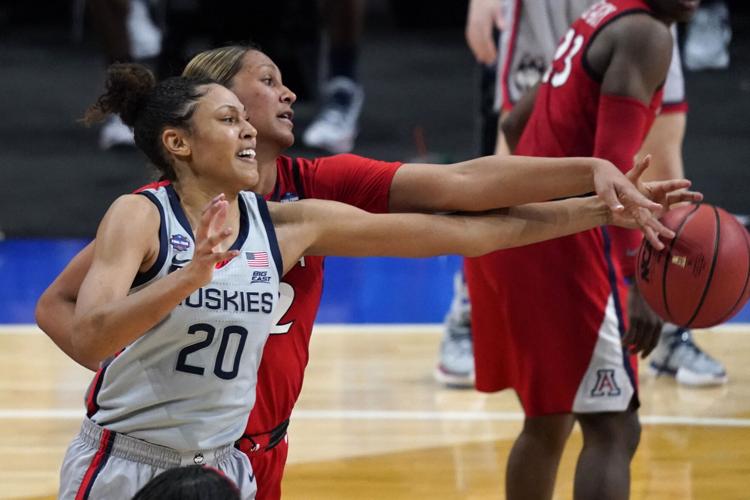 Arizona vs UConn, NCAA Tournament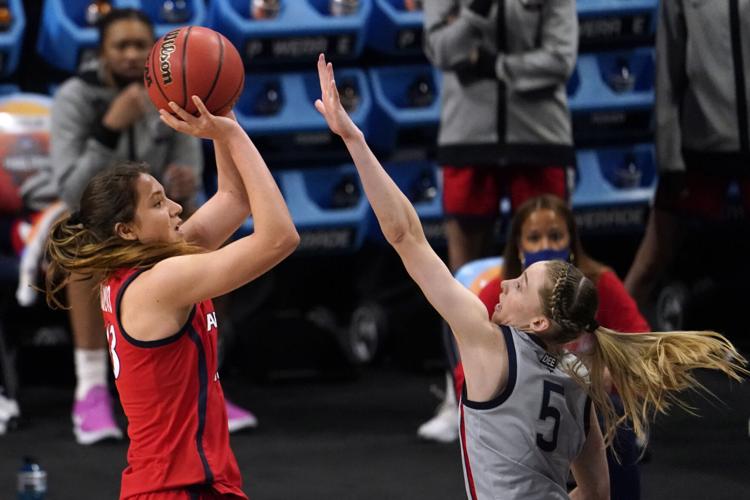 Arizona vs UConn, NCAA Tournament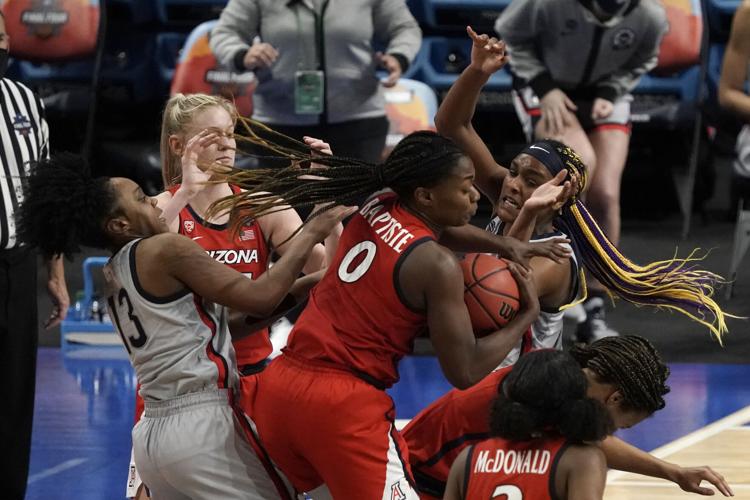 Contact sports columnist Greg Hansen at 520-573-4362 or ghansen@tucson.com. On Twitter: @ghansen711