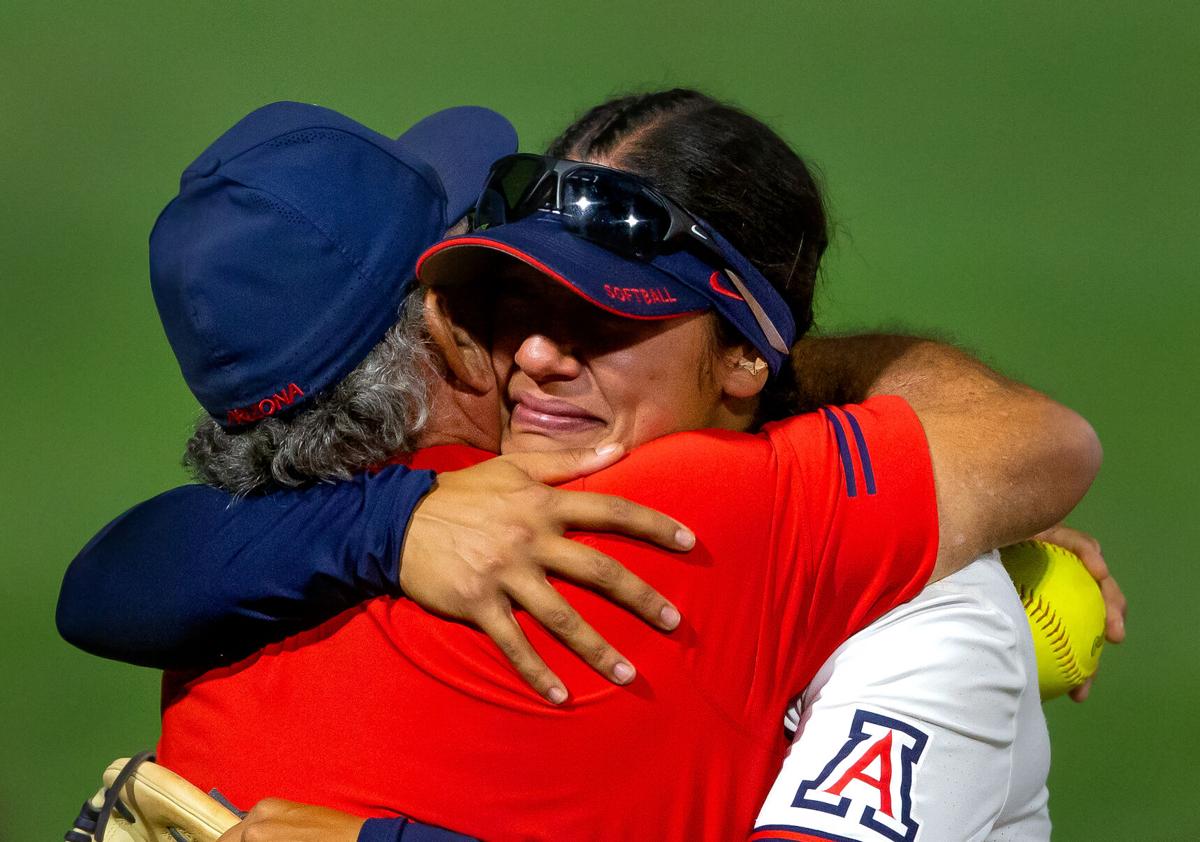 While Mike Candrea waited his turn for a postgame Zoom conference Saturday evening at Arkansas' Bogle Stadium, Razorbacks coach Courtney Deifel tried unsuccessfully not to cry.
With her voice cracking, Deifel said "I'm crushed for them … we're just crushed this is the last day we get to work with them.''
Over the last 35 years, no one has referred to Mike Candrea as "The Crusher'' because, for one, that's neither his style nor disposition. Yet no one in college softball history has eliminated more teams one step shy of the Women's College World Series than Candrea.
Who? Texas A&M, twice. Arizona State, twice. BYU, Florida State, Hofstra, Ole Miss, Maryland, UMass, Purdue, DePaul, Michigan and on and on. It would almost take less space to list those Candrea's teams haven't (a) sent home and (b) crushed. Tear jerkers? He's seen more than a few.
A much smaller list is how often Candrea has been the crush-ee. What goes around comes around, even if you are Mike Candrea, even when you have coached more victories in Division I softball than anyone in history.
But on Saturday in Arkansas, the goes-around-comes-around chronicle was too much to ignore. On May 27, 2002, Cal Bears catcher Courtney Scott — now Arkansas coach Courtney Deifel — was full of angst entering the seventh inning of the WCWS championship game in a scoreless tie against Arizona.
In the top of the seventh, the Bears faced Arizona's Jennie Finch, possibly the greatest softball pitcher in UA history. Put it this way: Finch had gone 32-0 a year earlier, pitching the Wildcats to the national championship.
But unaccountably, Cal scored six runs against Finch in that dreadful seventh inning. Scott was one of those who scored. It was the last game Finch would pitch for Arizona. She wept. She was crushed.
Now 19 years later, Candrea's perspective has changed. It's not all about winning, it's about enjoying the journey.
"For a long time, I took these moments for granted,'' he said Saturday. "This is a moment of time in my life I'll never forget.''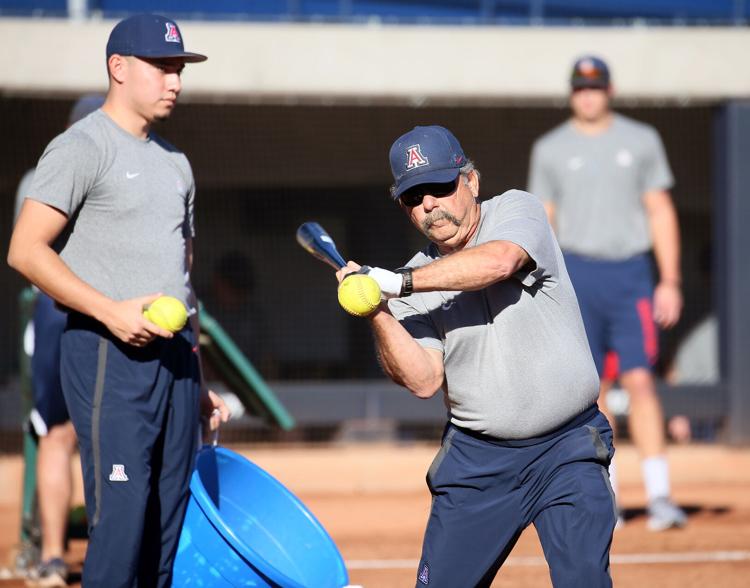 That statement hit the college softball world with some unexpected substance. Candrea has coached Arizona to 24 Women's College World Series, winning eight of them. Now every step of the way is accompanied by a latter-day appreciation.
"I'm the gatekeeper,'' he said. "If you really think about it, you're here for a short time.''
Candrea has been at Arizona for a short time the way Mike Krzyzewski has been at Duke for a short time.
Think about this: since Candrea was hired by Arizona in August 1985, Pac-12 opponents have employed 38 head softball coaches. He is now opposed by seven Pac-12 head coaches who used to play against the Candrea Wildcats of an earlier period: UCLA's Kelly Inouye-Perez, Washington's Heather Tarr, Oregon State's Laura Berg, Cal's Chelsea Spencer, Utah's Amy Hogue, Stanford's Jessica Allister and Oregon's Melyssa Lombardi.
What softball program hasn't he touched in his years at Arizona? If Candrea gives you his blessing, you're good. And on Saturday, he gave Deifel and the Razorbacks his blessing.
"They're going to be something to reckon with for a long time,'' said Candrea, and although it didn't ease the immediate pain felt by Deifel and her first-time SEC champions, Candrea's words carry a lot of weight.
If he endorses your product, you're good.
More to the point he also endorsed his product Saturday. "This senior class is the gold standard for a coach,'' he said, not to be taken lightly. "It took me 37 years to put together a group of seven (seniors) like this to run the show.''
What remains to be determined isn't just if this will be Arizona's ninth WCWS champion, but if Candrea will return for the 2022 season. His players and support staff have worn out the social media hashtag #4Coach and other variables. There was a similar placard in the Arizona dugout on Saturday.
It's not difficult to figure out the meaning of the win-one-for-Coach Candrea narrative. Is this it? Will he retire after the WCWS in Oklahoma City? He has not signed a contract extension beyond the 2022 season and, sure, wouldn't it be fitting to go out wearing an OKC BOUND winner's cap as he did after Saturday's victory?
Not all of his Pac-12 peers have been able to go out on their own terms.
When Candrea was first selected the Pac-10 co-coach of the year, 1987, the other honoree, Cal's Donna Terry, died of hepatitis a year later. ASU's two-time national championship coach Clint Myers was later fired by Auburn amid allegations of inappropriate behavior within the Tigers' program.
Candrea's first two coaching proteges, ex-Wildcat standouts Lisa Bernstein and Julie Standering, who helped build the UA softball foundation 30 years ago, were later dismissed from their head coaching jobs at Minnesota.
But Candrea's future is a story for next week or next month or next year. This week. it's all about those in the dugout, those who left Arkansas wearing those OKC BOUND caps.
Contact sports columnist Greg Hansen at 520-573-4362 or ghansen@tucson.com. On Twitter: @ghansen711