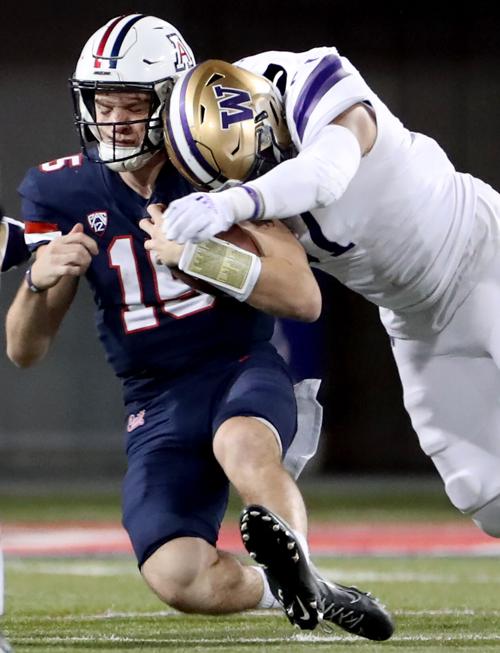 Dear Mr. Football: What does Utah coach Kyle Whittingham have in common with Arizona Ring of Honor offensive linemen Glenn Parker and John Fina?
A: Parker and Fina were coached and developed by Arizona offensive line coach Ron McBride from 1987-89, and Whittingham was hired by and developed under McBride, who was Utah's head coach from 1990-2002.
McBride was in the process of signing the nation's No. 1 offensive line prospect, Sahuaro High's Mike Ciasca, in December 1989. That's when Utah hired McBride to be its head coach. He soon hired Whittingham off of the Idaho State staff. If ever there was a disciple of Dick Tomey, it was McBride, a football man to the core, passionate, a father figure to his players and staff, the man who set the foundation for Utah's move to national prominence.
Dear Mr. Football: Where does Whittingham rank in modern Pac-12 coaching history, 1970-2021?
A: Here's the 100-win club of those who coached in the league across those 50 years:
Frank Kush, ASU, 176-54-1 (.764)
Terry Donahue, UCLA, 151-74-8 (.665)
Don James, Washington, 150-60-2 (.712)
Kyle Whittingham, Utah, 140-69 (.670%
John McKay, USC, 127-40-8 (.749)
Mike Bellotti, Oregon, 116-55 (.678)
John Robinson, USC, 104-35-4 (.741)
Whittingham will be a first-ballot Hall of Famer someday soon. If he gets to the Rose Bowl, they'll build a statue of him at Rice-Eccles Stadium and hold a parade in downtown Salt Lake City.
Dear Mr. Football: If the Pac-12 voted for an assistant coach of the year, who would you nominate?
A: Who has done more with less? Arizona defensive coordinator Don Brown, no contest. "Dr. Blitz" and Utah's Morgan Scalley are far and away the Pac-12's leading defensive coordinators. Put it this way: Arizona's defense is yielding 28 points and 356 yards per game.
Over the previous 10 seasons, Arizona's defenses yielded an average of 34 points and 474 yards per game.
That's a crazy-good improvement, especially given the young and inexperienced roster Brown inherited.
Dear Mr. Football: Did the celebration of Arizona's victory over Cal quickly subside?
A: Thursday at 7 p.m., defensive line coach Ricky Hunley walked into a dark Stadium Club at Arizona, told he was to be interviewed there by the Pac-12 Networks.
When he turned on the lights, he was overwhelmed by the presence of his brother, two sisters, former UA teammates Randy Robbins, Jeff Kiewel, Julius Holt, UA basketball icon Bob Elliott, UA coach Jedd Fisch and others.
It was Hunley's 60th birthday. Balloons were everywhere. So was cake. So were the tears in Hunley's happy eyes. The best football player in UA history (my opinion) had a very happy birthday. It was a perfect cap to Veteran's Day.
Hunley has proved to be one of Fisch's best hires. He has mixed and matched six players — Mo Diallo, Trevon Mason, Paris Shand, Kyon Barrs, Leevel Tatum III and JB Brown — into a productive group with steady Jalen Harris, turning the defensive line a positive force, which has been the UA's weakness since Ricky Elmore and Brooks Reed left school 11 years ago.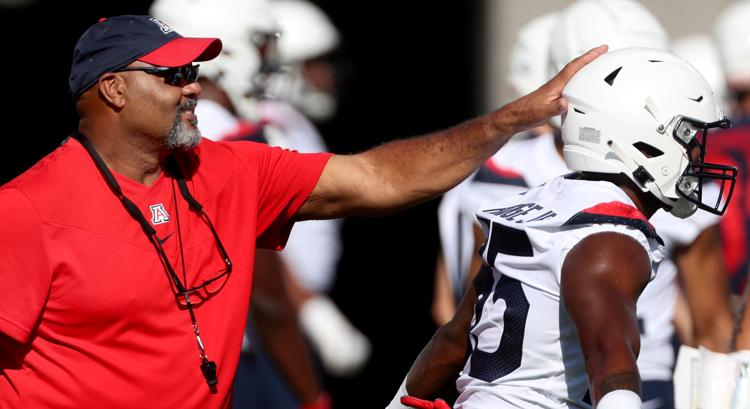 Dear Mr. Football: Why is it fitting that UA quarterback Will Plummer wear jersey No. 15?
A: After being injured twice against Cal, Plummer received medical attention in the locker room and returned to captain the UA's fourth quarter rally to beat Cal. Fisch (and others) referred to him as "tough as nails."
If you were to compile a list of the UA's "tough as nails'' football players the last 40 years, one of those included would be another No. 15, 1980s safety-quarterback Jeff Hammerschmidt, who was a lot like All-American safety Chuck Cecil, fearless and dedicated to winning. Hammerschmidt overcame ACL knee surgery and was a first-team All-Pac-10 safety.
Fisch this season awarded jersey No. 1 to receiver Stanley Berryhill and defensive end Jalen Harris based on toughness, leadership, dedication and academic achievement. Fisch might do well to create a similar process to awarding jerseys No. 15, No. 6 (Cecil) and No. 89 (Hunley) in the future.
Dear Mr. Football: Should the UA consider adding a "Tough as Nails" award to its annual post-season awards?
A: It should, and my nomination is that it names it the Adrian Koch Award. It would be a considerable honor to be linked with the former Desert View High School linebacker, who was among those in the stands at last week's victory over Cal.
Or maybe it could be called the "Few Good Men" award.
After playing at Desert View, Koch enlisted in the Marines. He became an infantry sergeant, serving in combat in Somalia and Bosnia. He returned to Tucson in 1996 and attended a walk-on tryout at Arizona. But Koch, who was 5 feet 9 inches and maybe 175 pounds, was too small. He used the GI Bill to begin his education at Arizona.
Ever persistent, Koch added weight and strength and soon was added to the UA roster. And awarded a scholarship. Amazingly, by 1999, he made 22 tackles as a backup linebacker and special teams standout.
At the Camp Cochise training camp in 2000, Koch tore/reinjured his ACL and his career appeared to be over. But a few days later, he requested that trainers wrap his knee and brace it. He would tough it out. Koch had two weeks until the opener against Utah.
"We thought he was done," said Tomey.
Instead, in the opener in Salt Lake City, Koch forced a fumble, picked up the ball and ran 10 yards for a clinching touchdown in a 17-3 victory. He started all 11 games that season, sharing starting LB duties with future NFL standouts Lance Briggs and Antonio Pierce. What were the odds of that?
One of nine children of a single mother, Susana Atkins, Koch has since been an educator and coach in Tucson. His name isn't in the Ring of Honor, but few in UA history have honored the football program as Koch did.
Dear Mr. Football: Do these early kickoff times mean that Arizona's opponent is usually sleep-walking?
A: The earliest kickoff at Arizona Stadium was 10:30 a.m. on Nov. 12, 1983 against Rose Bowl-bound UCLA, televised nationally by CBS. Arizona won 27-24 when Jay Dobyns, now the football coach at Tanque Verde High School, caught an 8-yard touchdown pass with 1:01 remaining.
That Arizona team had been ranked No. 3 a month earlier, starting five future NFL players on defense: Ricky Hunley, John Kaiser, LaMonte Hunley, Randy Robbins and Allan Durden.
Three decades later, Nov. 10, 2012, Arizona played Colorado at 11:30 a.m., at Arizona Stadium. It was Ka'Deem Carey Day. The Canyon del Oro High School grad set a Pac-12 record rushing for 366 yards in a 56-31 blowout.
UA fans were more responsive in 2012. Even though the Wildcats had lost 66-10 a week earlier against UCLA, a crowd of 51,236 attended. Saturday's crowd against Utah will surely be listed close to 30,000 by the UA, but it'll be fortunate if 20,000 are in the stadium.
Dear Mr. Football: What's the biggest difference between Arizona and Utah?
A: The Utes have 28 former players listed on current NFL rosters. Arizona has five. More telling, the Utes have 15 NFL linemen or linebackers. Arizona? None.
That's how well Utah has recruited and developed players the last 10 years, a period in which Arizona's recruiting efforts went bust and, in turn, so did its football program. Recruiting beats coaching almost every time. Is Whittingham a better coach than, say, Mike Stoops or Rich Rodriguez? Probably not.
But Whittingham has steadily recruited better than both Arizona and ASU since the Utes entered the league 10 years ago. Until Arizona recruits better over multiple seasons, the Wildcats will be fortunate just to hang tight with the Utes.
Contact sports columnist Greg Hansen at 520-573-4362 or ghansen@tucson.com. On Twitter: @ghansen711