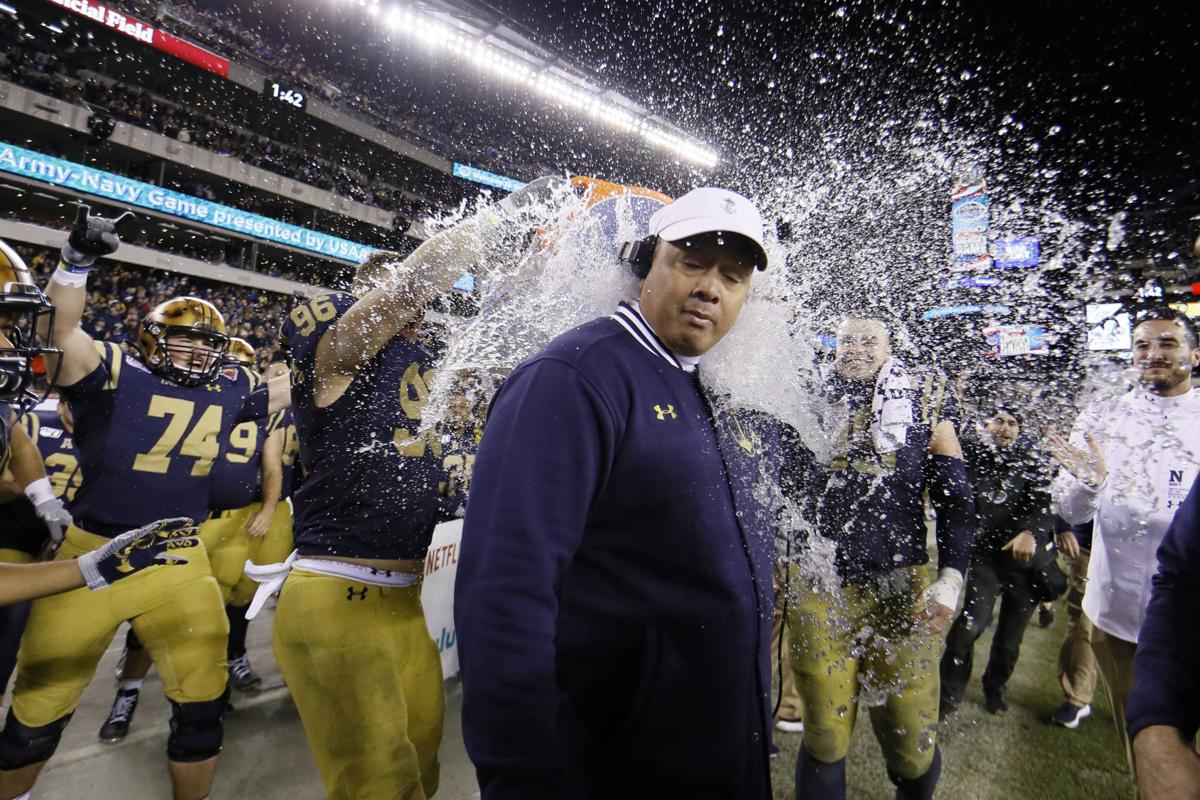 Dear Mr. Football: If you could get a message to Navy coach Ken Niumatalolo, what would you say?
A: Do not touch the Arizona job with a 10-foot pole. Stay at Navy. Enjoy your legacy. You will be 56 in May and these should be your happiest years. Nothing you can accomplish at Arizona would compare to beating Army, anyway.
The Wildcats will finish 1-11 or 2-10 next year, no matter how hard you work or how well you recruit — and likely 2-10 or thereabouts a year later. There will be no honeymoon in Tucson.
Dear Mr. Football: Would any proven coach be bold enough to coach at Arizona?
A: I was impressed Friday by the passion of Arizona athletic director Dave Heeke, insisting that (a) "Arizona is a very, very attractive job," and (b) "this can be a winning program."
I don't disagree, but it's an overwhelming job more suited to a younger head coach like Larry Smith, who was 41 when he left a rebuild of 9-3 Tulane to take over an imploding UA program being investigated by the NCAA and ultimately given a stiff two-year probation.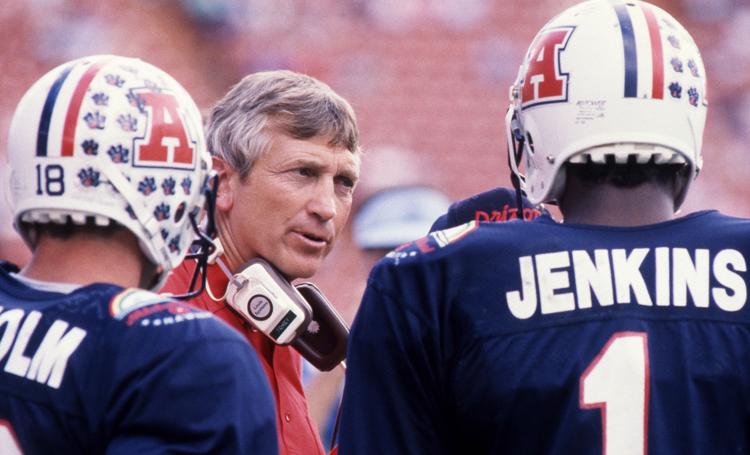 Smith was devoted and tough. He was willing to swim against the current and ultimately took down ASU's 30-year domination of UA football.
There's a reason established coaches don't walk into a fire like the one burning at Arizona Stadium. Oklahoma defensive coordinator Mike Stoops was 43 when he took over the ashes of the UA program in 2004. He was the best man for the job. In retrospect, it would've been difficult for any coach to rebuild Arizona's program with more success than Stoops did from 2003-11.
It's just that it took 3-8, 3-8, 5-7 and 6-6 seasons to stock the roster with enough talent to beat USC and Oregon.
The Pac-12 is more difficult now; Washington and Washington State were woeful during Stoops' years, and Colorado and Utah weren't in the league.
Dear Mr. Football: Has any long-term Pac-12 coach ever left their comfort zone and jumped into a raging football fire after establishing residency and well-being?
A: Oregon's Rich Brooks had spent 18 backbreaking years (91-109-4) getting it right for the football-poor Ducks. At 54 — after beating Arizona 10-9 to essentially steal the Rose Bowl away from Arizona — he got a chance to coach the NFL's St. Louis Rams. He was fired in two years and became an assistant for the Atlanta Falcons.
When Dick Tomey was separated from his job at Arizona, I got a call from Brooks, who asked a bunch of questions about his chances to replace Tomey. If there was a football man more like Dick Tomey than Rich Brooks — toughness, passion and character — I haven't met him.
Brooks never got an interview at Arizona; it hired John Mackovic.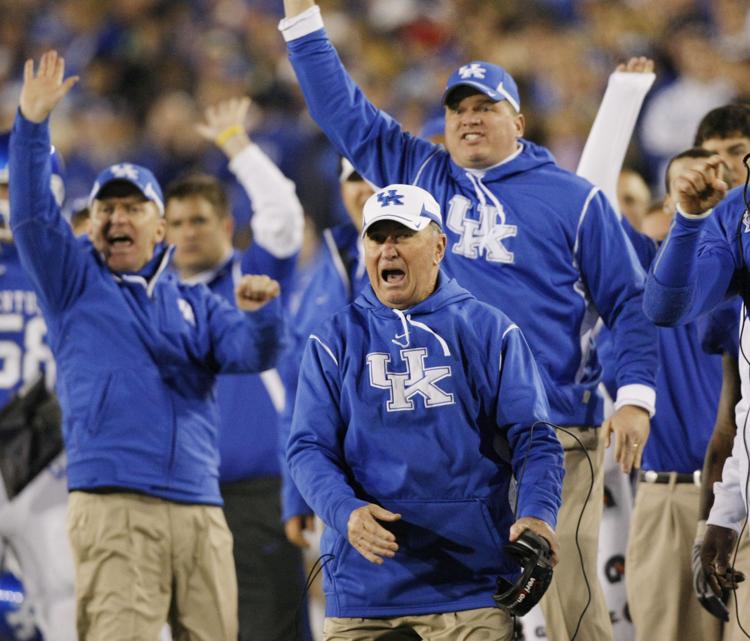 Brooks' story had a happy ending: he was hired as Kentucky's head coach at rebuilt UK the same way he built Oregon. Slow, steady, successful.
Niumatalolo is one of just 10 current FBS head coaches at his school for 13 or more years. All 13 have a special connection to a special job, and not necessarily winning big.
Duke's Dave Cutcliffe is in his 13th year. Northwestern's Pat Fitzgerald is in his 15th season. Air Force's Troy Calhoun is in year No. 14. Much like Navy, they are not top-25 programs, but the fans at those schools understand how difficult it is to win in those places. Niumatalolo has a similar respect at Navy. I'd be surprised if he walked away from that, if Arizona indeed pursues him again.
Dear Mr. Football: Does San Jose State coach Brent Brennan owe a bit of thanks to Kevin Sumlin?
A: Fifth-year senior QB Nick Starkel has led San Jose State to a 6-0 record and a spot in the Mountain West Conference championship game and put Brennan on the coaching map. Starkel is a former Texas A&M player whose absence essentially got Sumlin fired in 2017.
Starkel, a redshirt freshman, led A&M to a 38-10 lead over UCLA in the 2017 season opener. He broke his ankle in the third quarter and the Aggies collapsed, losing 45-44, a debacle that ultimately led to Sumlin's firing.
Starkel returned after surgery and started five games but it was too late; Sumlin was fired. With Sumlin gone, Starkel passed for 499 yards and four touchdowns in the 2017 Belk Bowl, a 55-52 loss to Wake Forest.
After transferring to San Jose State last spring, Starkel won the QB job and has completed 71% of his passes, with just two interceptions. Small world, huh?
Dear Mr. Football: Could Arizona find its own Nick Starkel ASAP?
A: Heeke said Friday that "relentless recruiting" will be the "lifeblood" of the UA program under its next coach. Well, that's always been the No. 1 variable at Arizona and anywhere.
But the rules have changed. It's possible Arizona's next coach can restock the roster more quickly than, say, Stoops did in 2004.
On NCAA letter-of-intent day earlier this week, Arizona State coach Herm Edwards used the words "free agency" to describe the 72 pages of players listed in the so-called transfer portal, including a handful of them like quarterback Grant Gunnell from Arizona.
That's a potential lifeline for talent-poor schools like Arizona.
"You have to have cards to play in that game as well," Edwards said of the portal. "We want to play in both worlds."
The clock is ticking on those free agents.
Dear Mr. Football: What has changed in Arizona's coaching search since December 2017?
A: In his Zoom call on Friday, Heeke repeatedly emphasized three words: passion, connection and accessibility. He didn't toss those words around when Sumlin was hired. Almost predictably, Sumlin was none of things.
I believe the mistake in hiring Sumlin was connected to a pair of variables.
One, Heeke had been in Tucson for just seven months. He didn't fully know the turf nor have a grasp of the Tomey culture or understand what it took — toughness — for Arizona to become a successful program from 1980-2000, and again from 2006-14. He probably had not had the time to truly know a Rob Waldrop from a Scooby Wright.
Two, I think ever-present UA President Robert C. Robbins was a helicopter boss, spending considerable time in the business of football when his time might've been better spent running the rest of the campus.
Was Robbins swayed by his days as CEO of the Texas Medical Center watching Kevin Sumlin win with a stockpile of talent at A&M? No doubt.
The two best football coaches in UA history, Larry Smith and Dick Tomey, were hired by one man and one man only, athletic director Cedric Dempsey, whose instincts were gold, unfettered by administrative pressure.
Now fully educated on the uniqueness of UA football, Heeke deserves a second chance to get it right.
Contact sports columnist Greg Hansen at 520-573-4362 or ghansen@tucson.com.
On Twitter: @ghansen711