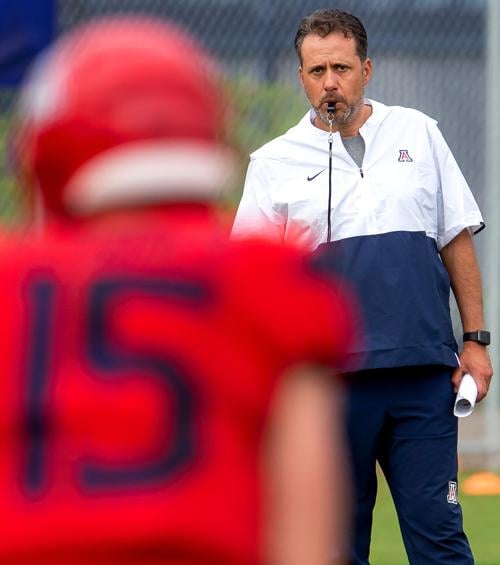 Dear Mr. Football: Was Jedd Fisch prepared for the cursed history of Arizona quarterbacks?
A: When Fisch exited the field at Arizona Stadium after Saturday's loss to UCLA, TV cameras pictured him walking astride Dr. William D. Prickett, the team's orthopedic consultant, director for sports medicine at the Northwest Medical Center.
Prickett is a former Arizona starting quarterback, 1991, who began his Wildcat career by breaking his wrist in 1988 and then fracturing his hand in 1989. Talk about a snapshot — Fisch and Prickett — worth a thousand words.
Prickett, a former walk-on who played high school football at Sahuaro and Rincon/University, began the 1991 season as the No. 3 quarterback behind George Malauulu and Chuck Levy, who was, in truth, the club's No. 1 running back and an emergency QB.
But Malauulu separated his shoulder, Levy was knocked out with an ankle sprain and Prickett started against UCLA (a 54-14 loss) and No. 2 Miami (a 36-9 loss).
With few exceptions, that's a defining history of UA quarterbacking. Get your No. 3 QB ready. On Saturday, it was injured QB Jordan McCloud who was introduced to Dr. Prickett at the worst possible time.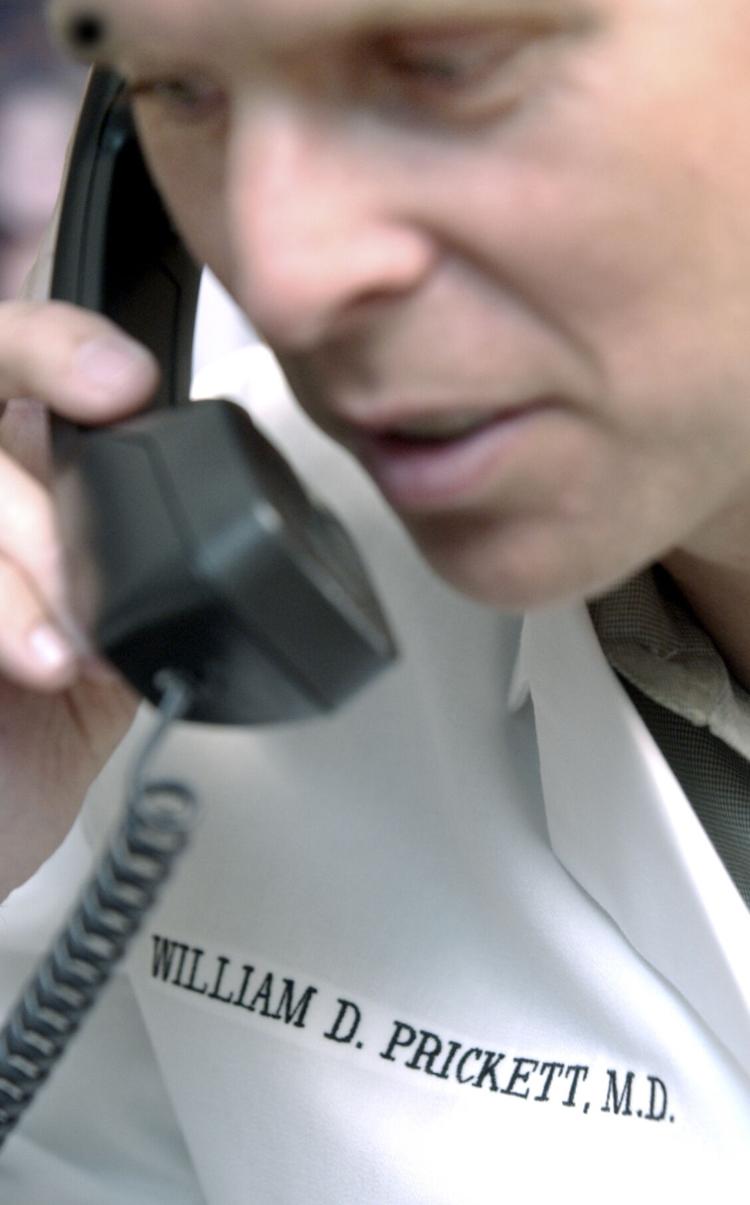 In the 30 years since Prickett played his last game at Arizona, he became as successful as any QB in Arizona history except maybe Nick Foles, who did win a Super Bowl for the Philadelphia Eagles. Prickett graduated with a 3.6 GPA, graduated from the Emory University Medical School, spent his residency at Washington University in St. Louis, and was awarded a fellowship at the New York City Special Surgery School.
Those long-ago losses to Miami and UCLA are forgotten. Prickett, who is also the team physician for the Canyon del Oro High School football team, turned out to be the real winner.
Dear Mr. Football: Has Fisch encountered significant QB troubles in his career?
A: The football gods have blessed Fisch. Since he began his full-time coaching career in 2002 for the Houston Texans, the QBs on Fisch's teams have essentially survived the season intact the last 13 consecutive seasons and in 16 of his 19 seasons.
That's overwhelmingly positive good fortune. Maybe Fisch was due for an unsettled QB season.
The QBs on Fisch's teams to get through an entire season without losing time to injury are, in order, as follows: David Carr, Houston Texas; Kyle Boller, Baltimore Ravens; Steve McNair, Baltimore Ravens; Jay Cutler, Denver Broncos; Adam Weber, Minnesota Golden Gophers; Matt Hasselbeck, Seattle Seahawks; Jacory Harris, Miami Hurricanes; Stephen Morris, Miami Hurricanes; Chad Henne, Jacksonville Jaguars; Blake Bortles, Jacksonville Jaguars; Jake Rudock, Michigan Wolverines; Wilton Speight, Michigan Wolverines; Josh Rosen, UCLA; Jared Goff, Los Angeles Rams (twice); and Cam Newton, New England Patriots.
The only splintered seasons for QBs on Fisch's watch were when Carr missed five starts for the Texans in 2003, when Boller and McNair split time at Baltimore in 2006 and when Boller was injured after nine starts in 2007.
In a football sense, it's almost as if the injury to McCloud was an accident waiting to happen.
Dear Mr. Football: What is the context of Arizona's success, or lack thereof, in Pac-12 quarterbacking?
A: In an interview with the Star's Justin Spears this week, former UA quarterback Khalil Tate, whose four October 2017 starts were probably the most statistically impressive over one month in league history, said: "... people who were surprised don't have a sharp eye for things that are exceptional.''
Yet Tate was an unexceptional 12-17 as Arizona's QB of record. If that's not a football curse, what is?
The Pac-12 record for career QB victories is 39 by Washington's Jake Browning, followed by 36 by Oregon's Heisman Trophy winner Marcus Mariota. That's an entirely different world from Arizona quarterbacking.
The UA's career record for QB victories is 26 by Bruce Hill, who led Jim Young's early 1970s teams to a three-year record of 26-7. Next? Alfred Jenkins, Dan White and Tom Tunnicliffe all were the QB's-of-record for 22 Arizona victories. The Super Bowl-winning Foles? Just 17.
Dear Mr. Football: Does Colorado coach Karl Dorrell have a compelling history against Arizona?
A:. As a UCLA receiver from 1982-86, Dorrell played in what might've been the four most memorable UA-UCLA games in history.
In 1982, the No. 8-ranked Bruins and visiting Wildcats finished in a 24-24 tie after John Lee kicked a field with two seconds remaining.
In 1983, the Wildcats beat UCLA 27-24 on a last-second field goal by Max Zendejas in Tucson.
In 1985, No. 14 UCLA all but snubbed out Arizona's first authentic Rose Bowl dreams, winning 24-19 in a fierce down-to-the-wire struggle in Tucson.
And in 1986, the Bruins again all but extinguished Arizona's Rose Bowl chances, marching 80 yards in the last 90 seconds to win 32-25, erasing an 18-0 Arizona lead to beat the No. 11 Wildcats.
If nothing else, Dorrell was a dream-killer in a UA football sense, He caught nine passes for 151 yards against Arizona but was never the best receiver on the field. Arizona's Brad Anderson, Mark Keel, Jay Dobyns, Derek Hill and Jon Horton all had superior statistics, year by year, against Dorrell's Bruins.
Now, 35 years later, Dorrell has found that Arizona is not in the dreams-to-kill stage.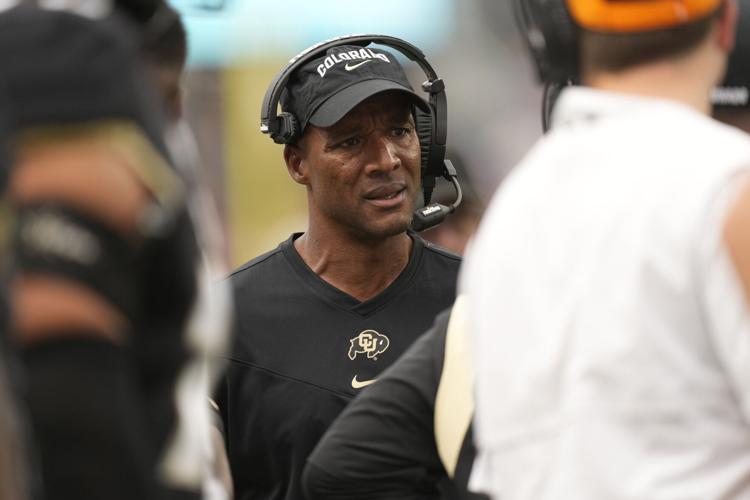 Dear Mr. Football: Why didn't Arizona recruit Dorrell?
A: As a senior at Helix High School outside of San Diego, Dorrell was the No. 1 recruit of the UCLA Class of '82. But Arizona got a superior player from Helix High that year, safety Allen Durden, who was a first-team All-Pac-10 player in 1984 and 1985, the player who began the Arizona legacy at Helix.
Arizona then recruited future All-Pac-10 first team defensive backs Chuck Cecil, Brandon Sanders and Jeff Hammerschmidt from Helix.
Cecil, now the UA safeties coach, and Dorrell were teammates on the 1982 Helix High baseball team that won the CIF regional championship. In fact, Cecil might've made the play of the year for Helix in '82. In the CIF 3A semifinals, Cecil, a catcher, blocked the plate in a collision with a Hilltop High School runner, tagging him out to save a 4-2 win.
Why is that not surprising?
Dear Mr. Football: Can Fisch survive and be successful if the Wildcats go 0-12 or 1-11 this season?
A: Iowa coach Kirk Ferentz, whose Hawkeyes are ranked No. 2, was a surprising hire by the Hawkeyes in 1999. He had never been a head coach, having spent previous years as an assistant for the Cleveland Browns and Baltimore Ravens.
Ferentz opened 1-10 at Iowa. Oops. And he followed by going 3-9. But in Year 4, Ferentz's Hawkeyes went 11-2. Bingo.
And then there's Barry Alvarez, a career assistant hired by Wisconsin off of the staff at Notre Dame in 1990.
Alvarez opened 1-10 in a Badgers program that had gone a combined 3-19 the previous two seasons.
Yet Alvarez went 10-1-1 in his fourth season and won the Rose Bowl.
Patience is advised, even if Arizona loses to a sinking Colorado program whose best-case scenario this season is a 2-10 finish.
Contact sports columnist Greg Hansen at 520-573-4362 or ghansen@tucson.com. On Twitter: @ghansen711