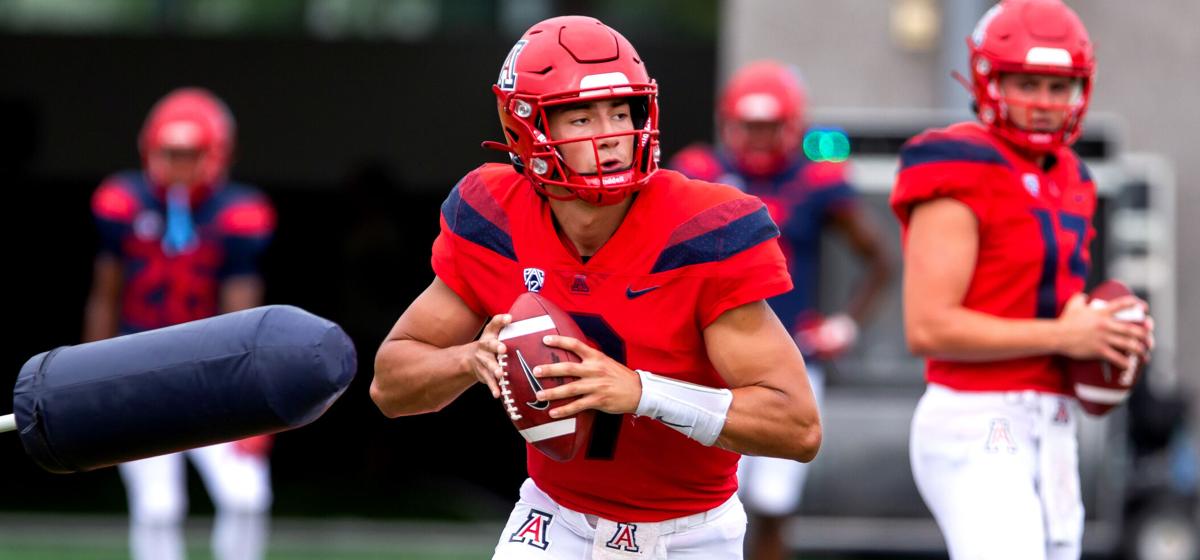 LAS VEGAS — Dear Mr. Football: Is there any football DNA that indicates why Arizona finds itself an 12-point underdog to BYU?
A: In the winter of 2016, Clark Barrington signed to play football for BYU. Now he is a 6-foot-6-inch, 305-pound starting guard for the Cougars described by BYU quarterback Jaren Hall as "the nicest guy you've ever met off the field, but just a bully on the field."
Barrington is the type of lineman Arizona has lacked for years. Two years after he became a Cougar, his brother, Campbell Barrington, who is 6-6, 295 pounds, signed with BYU. Neither of the Barrington brothers visited Arizona nor were aggressively recruited.
That's an example of the sloppy and ineffective recruiting that cost Rich Rodriguez and Kevin Sumlin their jobs and put Arizona on a 12-game losing streak. The result: BYU is a heavy favorite to beat Arizona on Saturday night in Las Vegas.
The Barringtons are the sons of Shawn and Jacque Clark Barrington. Ring a bell?
Jacque Barrington was the starting center on Joan Bonvicini's WNIT championship team of 1997 and a three-year Arizona teammate of Adia Barnes. Shawn Barrington was a starting left-handed pitcher on the UA baseball team at the same time, recruited by Jerry Kindall. After they graduated from the UA, the Barringtons moved to Spokane, Washington.
One thing Jedd Fisch has done at Arizona is to make sure legacy recruits like the Barrington brothers are identified and evaluated. That's part of why Fisch hired Arizona All-Pac-10 safety Brandon Sanders to be the program's Coordinator of Alumni and High School Relations.
Late last month, Fisch offered a scholarship to an eighth-grader, Brady Smigiel, an emerging prospect from Newbury Park, California. Brady's father is Joe Smigiel, a starting lineman on Arizona's 1994 Fiesta Bowl team.
When you are recruiting against USC and Oregon, you can't afford not to know if you've got an "in" like Arizona had but failed to exercise with the Barrington brothers. Fisch is in the process of changing that.
Dear Mr. Football: Does being a UA team captain have much history?
Senior pass rusher Jalen Harris, who is one of six UA captains, is the son of 1994 UA captain Sean Harris, a Tucson High grad. They are the only father-son captains in UA football history.
The captain connection to Tucson goes even deeper. Senior receiver Stanley Berryhill, another of the team captains, is the son of Stan Berryhill, who was selected to the Star's 1987 Arizona Super 11 football team, a running back on the best football team in Cholla High School history, gaining 910 yards for Hall of Fame coach Ed Brown. Berryhill later finished second in the state in the long jump at 23 feet, 10 inches.
Berryhill, who played at Mountain View High School, is just the 15th Tucson prep football player to be a Wildcat captain dating to 1940.
The local captains include Palo Verde's Mark Arneson, 1971; Amphi's Ransom Terrell, 1973, and Jim Krohn, 1979; Sahuaro's Bret Holley, 1988, and Steve McLaughlin, 1994; Salpointe's John Fina, 1991; Tucson's Sean Harris, 1994; Santa Rita's Barrett Baker, 1998; Desert View's Adrian Koch, 2000; Marana's Clay Hardt, 2003; Sabino's Brooks Reed, 2010; CDO's Jake Fisher, 2013; and Ironwood Ridge's Jared Tevis, 2014.
Dear Mr. Football: Were there any hard feelings between Arizona and BYU when the Wildcats left the WAC to join the Pac-10 in 1978?
A: It's not like they missed one another. Arizona and BYU didn't play for 28 years, from 1978-2006, even though the Wildcats played old WAC friends Utah, Colorado State, UTEP and New Mexico a combined 17 times before engaging BYU again in 2006.
What happened? A lot of it was that until the mid 2000s, BYU was far superior to the other WAC opponents. Arizona basically scheduled their old chums for easy nonconference victories, going 14-3 in those games. BYU was no walkover, then or now.
Since resuming their football relationship in '06, BYU is 3-2 against Arizona. The series continues in 2026 at BYU and a year later in Tucson.
Why the renewed interest in playing BYU? It's a money-maker. In BYU's two appearances at Arizona Stadium, 2006 and 2018, average attendance was 54,927, which is a higher home game average than any UA opponent the last 10 years, which includes UA-ASU games.
Dear Mr. Football: Does BYU always have better quarterbacks than Arizona?
A: I researched the QB statistics/results for both schools dating to 1977 and it was clear that BYU had more productive and winning QBs 36 of 44 seasons. Most of the time it wasn't close.
The eight Wildcat QBs who were superior were:
1998: Keith Smith/Ortege Jenkins
BYU has been so strong at QB that even when Willie Tuitama peaked in 2007 and 2008 — which included an '08 Las Vegas Bowl win over BYU — he was no more than a push with BYU's Max Hall, who threw for 11,365 yards as a Cougar, which is more than Foles' UA record mark of 10,011.
In 2018, Tate was perceived to be a potential Heisman Trophy contender but he plateaued and was outplayed that season by BYU's combo of Tanner Mangum and New York Jets rookie Zach Wilson.
Dear Mr. Football: What is BYU's biggest advantage over Arizona?
A: Age. The Cougars are consistently the oldest FBS team in college football, almost all of it related to this season's 47 players who served two-year Mormon missions. They've got so many super seniors — a COVID-19-inspired term — that they probably lead the NCAA.
In fact, BYU has 14 players on its two-deep depth chart who were on Cougar rosters of 2016 and 2017, and another, defensive back Jared Kapisi, who was on BYU's 2014 roster.
The best example of BYU's seniority is starting QB Jaren Hall, who is 23. He committed to BYU in 2014 from nearby Spanish Fork, Utah, went on a two-year mission to the Sacramento area, returned to campus and was a starter on BYU's 2019 baseball team before moving solely to football.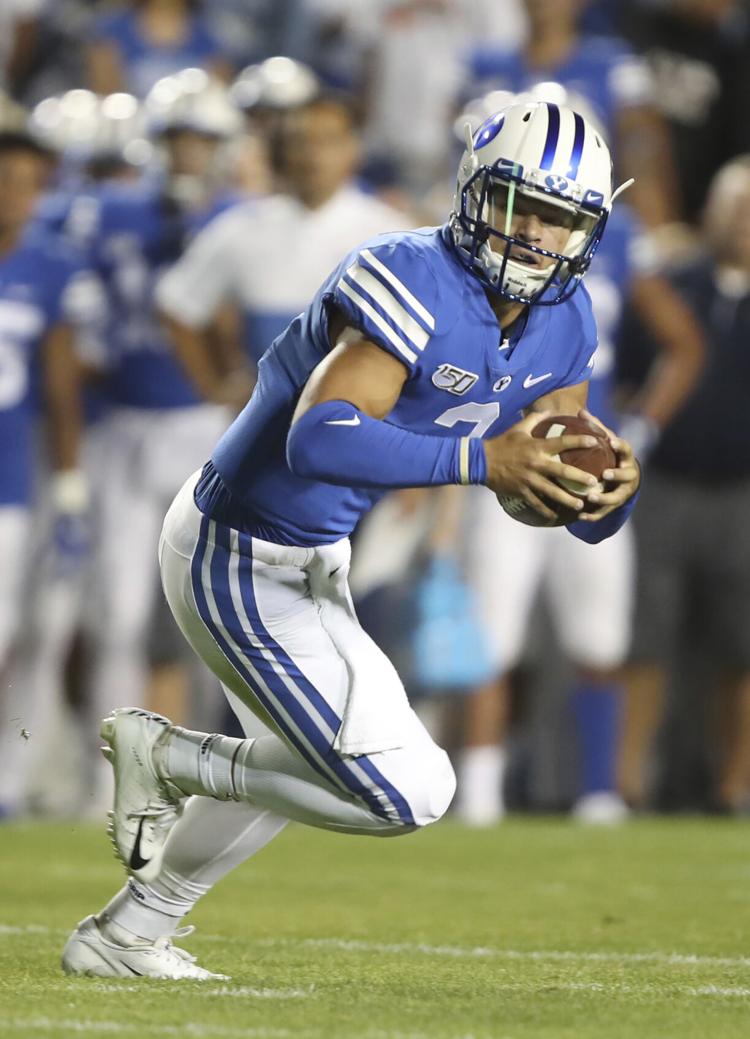 Hall, who is the first Black quarterback in BYU history, is married (Bre) and has a daughter (Jayda). The Deseret News reported that BYU has 41 married football players. There are no statistics available, but a good estimate would be that's more than all of the married players on Pac-12 football teams combined.
Dear Mr. Football: Is Arizona QB Gunner Cruz a franchise player?
A: Other than the seven passes he threw in two seasons at Washington State, Cruz has no way to know how he'll respond against a worthy college defense.
The last time Cruz played a full season, 2018 at Queen Creek Casteel High School, he opened the season against a cupcake schedule, defeating Globe 71-0, Payson 63-0, Empire 62-0 and ASU Prep 84-6.
If Arizona is to beat BYU, it'll be with defense and toughness, getting the most out of unfamiliar names such as sixth-year super senior Kenny Hebert, a starting linebacker who spent five seasons at Vanderbilt playing against heavyweights Alabama, LSU, Texas A&M and Florida.
But even that's not a predictable indicator. At Vanderbilt last year, Herbert played on an 0-9 team and one that was 1-13 in Herbert's last 14 games.
Arizona is a mystery team. BYU is under reconstruction, probably no better than Pac-12 lightweights Oregon State and Washington State. I like a good mystery.
Contact sports columnist Greg Hansen at 520-573-4362 or ghansen@tucson.com. On Twitter: @ghansen711